Vegan pumpkin chocolate chip muffins. Rich, soft and fluffy with a gentle spice flavor, bolstered with dark chocolate chips.
Jump to:
So, one day, whilst browsing Facebook, an ad popped up for a poster of 100 baking recipes. Once you've baked one, you scratch off a silver square and, assumedly, by the time you've scratched off your hundredth square, you'll be ready to apply for the Great British Bake Off. Or, that's what I guess.
Of course, as soon as I saw the poster, I ordered a copy, and, have already decided which ones I've already baked (brownies, scones) and which ones I'm going to bake. For me, this will be a really fun one to stay accountable with my baking and also to try and improve my vegan baking skills too.
I chose Chocolate Chip Muffins because I really love them, and they're pretty simple to make, but, whilst looking for a recipe that I could veganise, I came across Pumpkin Choc Chip Muffins. If you are intolerant or just don't like pumpkin, click here for my vegan Choc Chip Muffins.
These definitely sound like a mainstay of US coffee shops during the Fall, us Brits not being quite so big on pumpkin. However, if you are a Brit and want to try something a little different, I highly recommend this gently spiced muffins, spiked with dark chocolate chips, enrobed in a delicious muffin crumb.
As all muffin batter mixes, this is a breeze to prep. You can have 12 delicious muffins ready to eat within an hour, and that's my kind of baking.
If you enjoy baking but find you don't always have the time, muffins (or indeed cupcakes) are the perfect thing for you. It takes no time at all to knock up a batch and - given the opportunity - they last several days in the cake tin.
Instructions
The original recipe is from Dinner at the Zoo, but that version uses eggs, so I tweaked that, removing the egg element and replacing it with Orgran egg replacer. Her recipe used two eggs, so I use 2 tablespoon egg replacer and whisk that up with 4 tablespoon of cold water.
I also adjusted the sugar to make it a little more friendly for people who are watching their sugar intake (halved it, in fact, from 1 cup to ½), and added a homemade pumpkin pie spice, as that is not readily available over here.
Is Pumpkin Puree Healthy?
Yes! I mean, not as healthy as if you carve your own pumpkin and use the filling yourself, but if you buy a good organic tin of pumpkin puree, you will benefit from Vitamin A and E, a wealth of fibre and, (most interestingly for me as an anemic), is also high in iron.
This recipe only uses 1 cup of pumpkin puree, so I have plans to make pumpkin oatmeal or a smoothie with the remainder of the tin, but you can stir it into chilli or curry, or use it to replace eggs in baking. You can also pop the leftover pumpkin into a little jiffy bag and freeze it to make another batch of muffins another time!
(This is ONLY a list of ingredients for the recipe; please see recipe card below for complete printable recipe. Or if you use the JUMP TO RECIPE at the top of the page, it will take you directly to the complete recipe.)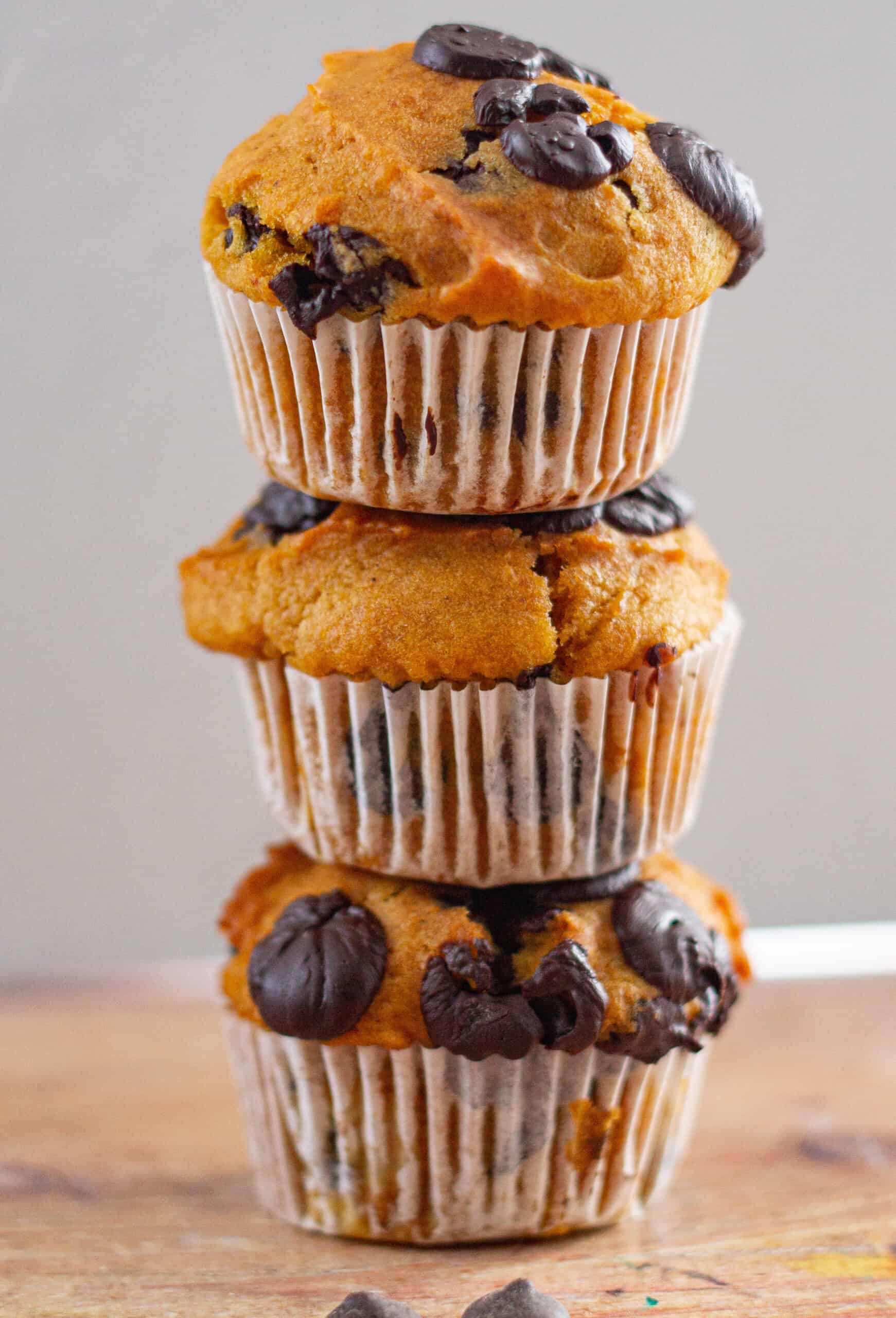 Substitutions
I wouldn't recommend removing the chocolate element as they add a certain something to the overall flavour. However, you can add any of the following:
Toasted Walnuts, Hazelnuts or Pecans
Cranberries
Coconut Flakes
A teaspoonful of peanut butter or vegan hazelnut spread to muffin just before baking
Vegan Cream Cheese Frosting
Try my other delicious vegan pumpkin recipes
📋 Recipe
PRINT
Vegan Pumpkin Chocolate Chip Muffins
How to make delicious and wholesome pumpkin muffins - not just for Thanksgiving!
Ingredients
2

tablespoon

Orgran Egg Replacer whisked up 4 tablespoon cold water

½

cup

White Sugar

1

cup

Pumpkin Puree

canned

1½

cups

White Flour

½

teaspoon

Bicarbonate of Soda

1½

teaspoon

Baking Powder

¼

teaspoon

Salt

1

teaspoon

Vanilla Extract

1

teaspoon

Pumpkin Pie Spice

1½

cups

Dark Chocolate Chips

vegan
Instructions
Line a 12 cup muffin tin with muffin cases

In a large bowl whisk together the pumpkin puree, egg replacer, oil and sugar, until smooth

Add the flour, baking powder, bicarb, salt and vanilla extract. Stir until just mixed and you can't see anymore flour.

Fold in the chocolate chips.

Spoon the mixture into your prepared muffin tin and bake for 25 minutes

Leave to cook in the tin for 5 minutes, then remove to a cooling rack.
Nutrition
Nutrition Facts
Vegan Pumpkin Chocolate Chip Muffins
Amount per Serving
% Daily Value*
* Percent Daily Values are based on a 2000 calorie diet.
Nutritional Information Disclaimer
The automated nutritional information on my recipes can often be inaccurate due to the limitations within the programming. For exact measurements, there are lots of apps and websites that can calculate this information more accurately.
Tried it and Loved it?
Mention @sweeterthanoats or tag sweeterthanoats!