Easy Vegan Puff Pastry Asparagus Tart
Easy vegan Puff Pastry Asparagus tart. If you're British you look forward to the first asparagus of the season. Along with Rhubarb and Strawberries, it seems to symbolise the onset of Summer.
If you just can't get enough asparagus this season, try my delicious and simple asparagus soup, just three ingredients and ready in time at all.
Now, I'm not going to treat you like idiots. You all know that the best way to have Asparagus is steamed and dripping with butter but what about when you get sick of having it that way (if that's possible)? Or how about surprising those people who say that Asparagus is over-rated (my grandparents, for example)? Last night I drove to our local PYO farm shop and bought two bunches of Asparagus to cook in other ways that still highlight the delicacy of this long-limbed emerald beauty.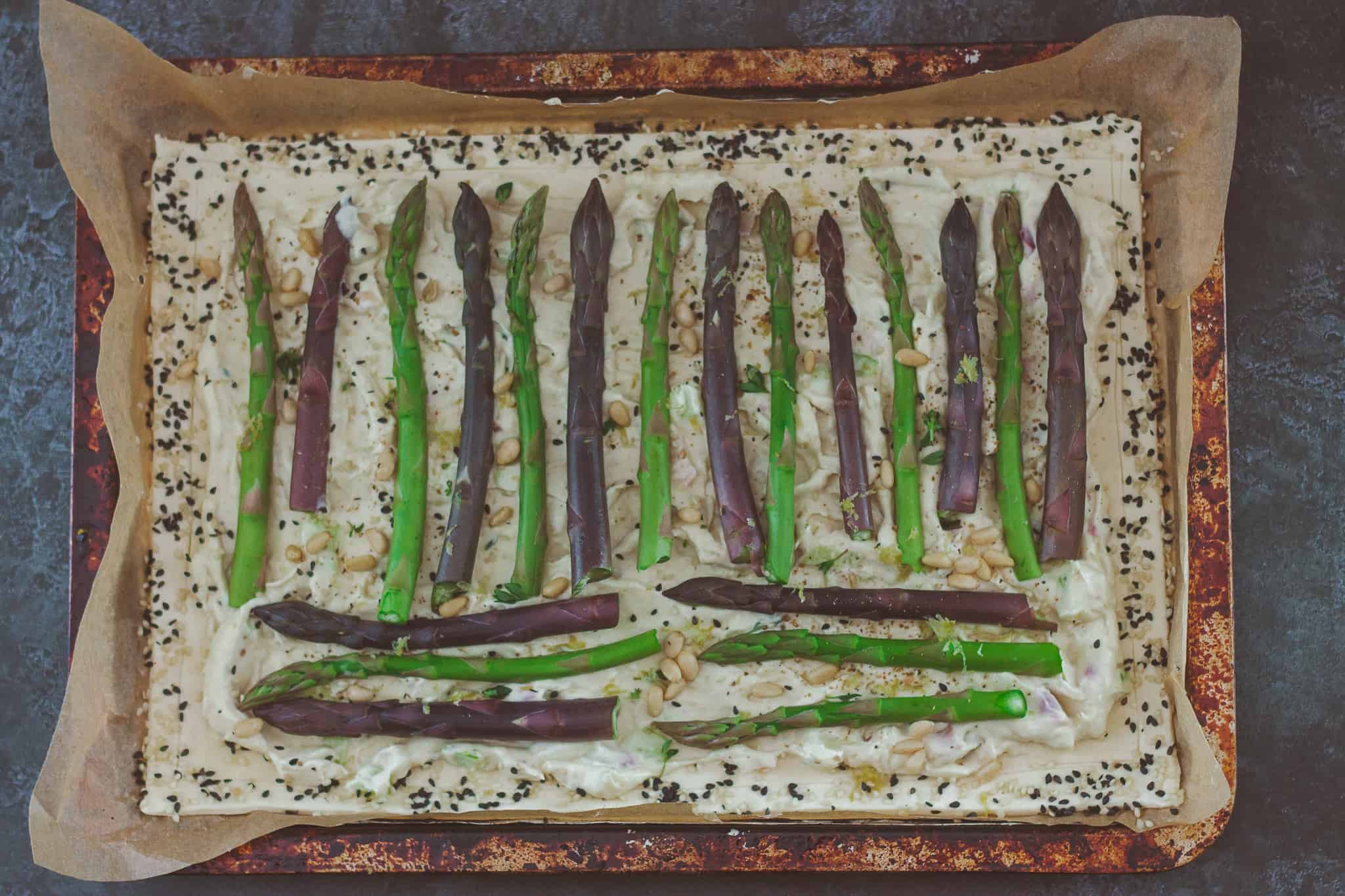 There is nothing like eating a stick of asparagus in the car, revelling in the slightly bitter 'flower' and marvelling at the sweetness of the stalk, so sweet that it almost tastes like pea pods. Later on in the season, the stalk will become woody and you will snap more and more of it off before preparation. For now though, it is another welcome treat from Spring. Katie over at Wholefood Soul Food Kitchen has a beautifully simple asparagus salad that just makes the natural flavor sing.
I toyed with different variations: adding some frozen peas, new potatoes. New season Asparagus needs no such fripperies yet. My one concession to any additional flavouring was a cheezy savoury custard to cradle the asparagus. It just adds another layer of savoury-ness that is sublime.
The tart is simple to make, particularly if you use pre-rolled puff pastry. The Asparagus spears will have bobbed to the top and scorched beautifully in places. Leave to cool for ten minutes then cut into soft, squidgy slices. The custard will not have set solid but instead is wobbly, creamily firm, almost like a soufflé. It is wonderful warm but great cold as well. And it keeps in the fridge (I had just had a slice for lunch). I have also made a more traditional but vegan quiche using asparagus here.
How do you make vegan Asparagus Tart?
As with many vegan recipes that rely on egg or dairy replacers, they are often much simpler than their non-veggie counterpart.
This has no egg in it, rather a creamy saucy base made with vegan cream cheese (I prefer Violife), but in this instance I used Tesco's own vegan version. I added some sauteed spring onions and a little fresh Thyme, then stirred this into my cream cheeze, along with some Dijon Mustard and thickened (and flavoured!) with nutritional yeast. No self-respecting vegan would be caught without Nooch in their store cupboard. It adds an authentic cheese-like flavour to sauces, whilst also thickening. Some people sprinkle it on buttered toast or on their salads as well. It also rich in nutrients.
You don't need to blanch the asparagus first, the heat from the oven will cook it through perfectly.
(This is ONLY a list of ingredients for the recipe; please see recipe card below for complete printable recipe. Or if you use the JUMP TO RECIPE at the top of the page, it will take you directly to the complete recipe.)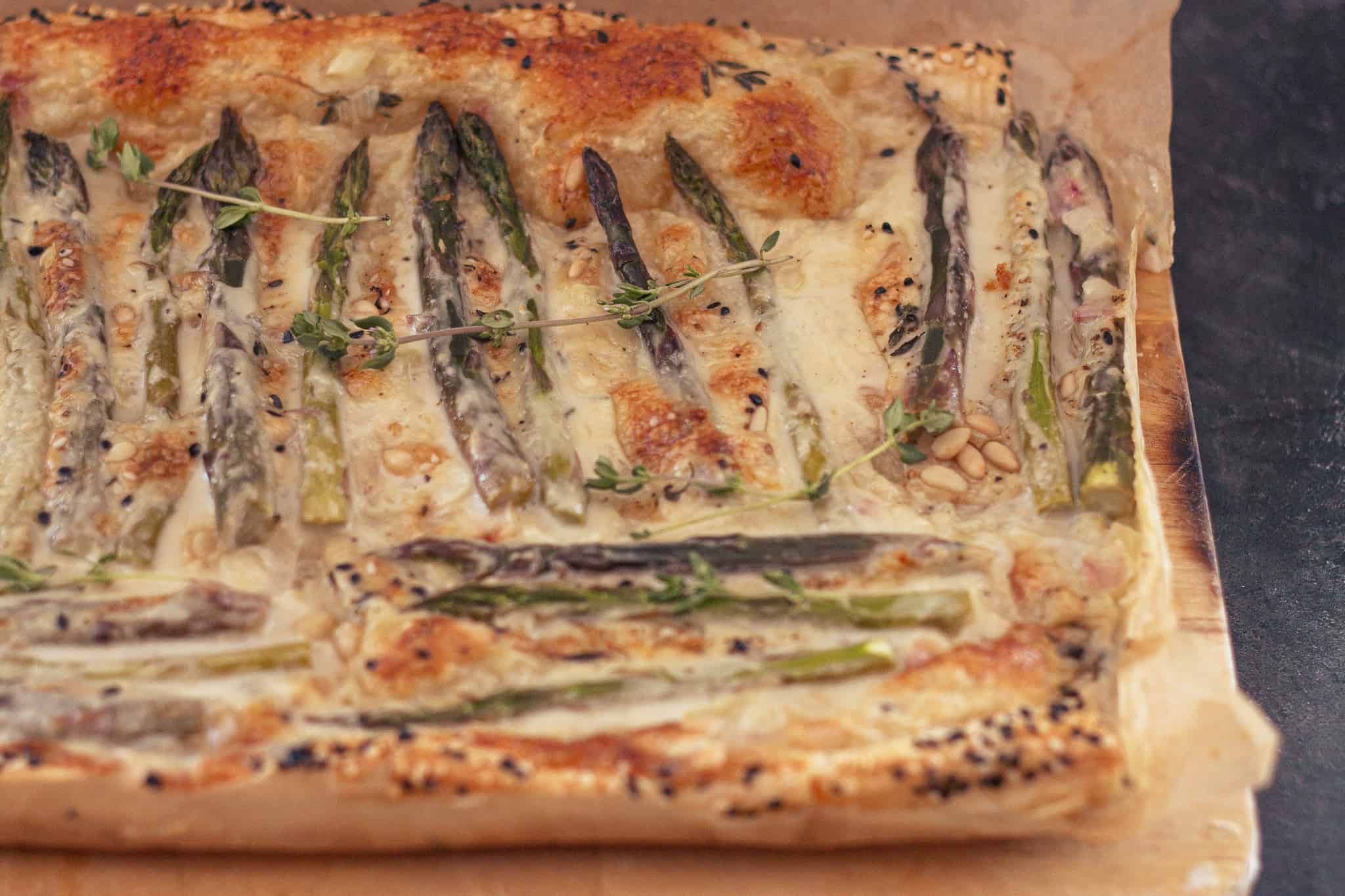 Substitutions
Asparagus out of season? No problem, try these alternatives:
Thinly sliced potatoes
Broccoli Florets
Green Beans
Thin slices of Courgette and Tomatoes
You can also use a mixture of different seeds instead of pine nuts. I added some sesame seeds to my pastry "frame" just for some added interest.
What is the difference between purple and green Asparagus?
I can honestly say, that using both purple and green in this tart, I didn't notice any discernible difference in flavour, and in fact, the purple lost it's colour after cooking! So you can use any asparagus you like
Vegan Asparagus Tart Recipe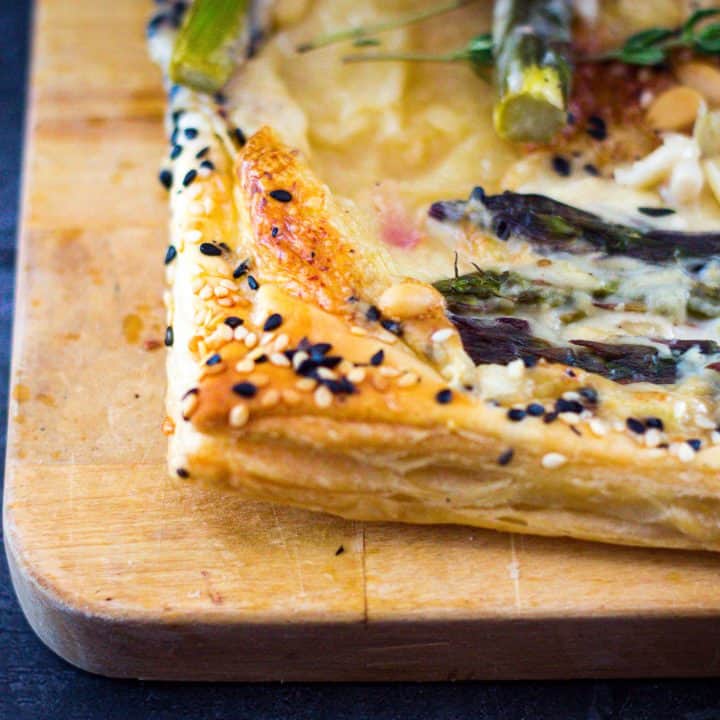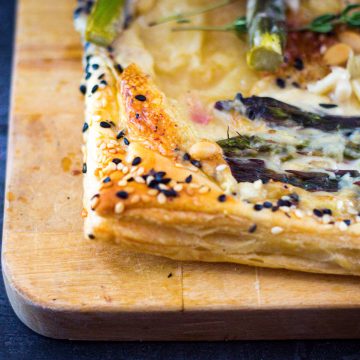 A creamy and flavourful vegan puff pastry tart that is so simple to make and looks fabulous!
Ingredients
320

g

Puff Pastry

ready rolled

20

stems

Asparagus

woody ends cut off

150

g

Vegan Cream Cheese

(I like Violife) room temperature

3

Spring Onions

sliced into rings

1

tsp

Olive Oil

1

tsp

Thyme

fresh

½

tsp

Dijon Mustard

1

tsp

Lemon Juice

Zest of one Lemon

1

tbsp

Nutritional Yeast

Salt and Pepper to taste

2

tbsp

Pine Nuts
Instructions
Prep your asparagus by snapping of the ends where it starts to yield. Discard these woody ends (or use them in a soup)

To make the cheezy mixture, place the vegan cream cheeze in a bowl and mix with a fork to soften.

In a pan, gently heat the olive oil and saute the spring onion and some fresh thyme leaves until softened. Add to the cream cheeze.

Add the nutritional yeast, mustard and lemon juice, Mix well, then season to taste.

Prep the pastry case. Place your prerolled pastry on your lined baking sheet. You may need to trim it fit if, like me, you're using a smaller sheet.

Score the pastry to form a "frame"

Spread the cream cheeze mixture within the "frame" of your pastry case, and layer the asparagus in one layer on top.

Sprinkle over the pine nuts and lemon zest.

Bake for 20-25 minutes, or until golden and puffed.

Remove from oven and let cool before cutting into squares and serving
Nutrition Facts
Vegan Asparagus Tart Recipe
Amount per Serving
% Daily Value*
* Percent Daily Values are based on a 2000 calorie diet.