Air Fryer Vegan Chocolate Biscotti (rich, dark and perfect for an edible gift!)
Air Fryer Vegan Chocolate Biscotti! Wanting to expand your air fryer repertoire? Try these vegan chocolate biscotti! Rich, with a deliciously grown-up flavour, these Biscotti are enhanced with roasted almonds and espresso powder!
PIN my vegan Air Fryer Biscotti to make later
It's July 2022 (for those of you reading this in the future), and it's super hot. I have decided to make chocolate biscotti, but in a crazy twist of events, experimented with baking it in the air fryer instead of putting the oven on. And it worked!
Biscotti are a traditional Italian biscuit, also known as Cantucini, served with coffee or Vin Santo after a meal. They are twice-baked, ensuring that they are dried right out. This drying out process produces a biscuit that will keep for longer and is perfect for dipping into an espresso.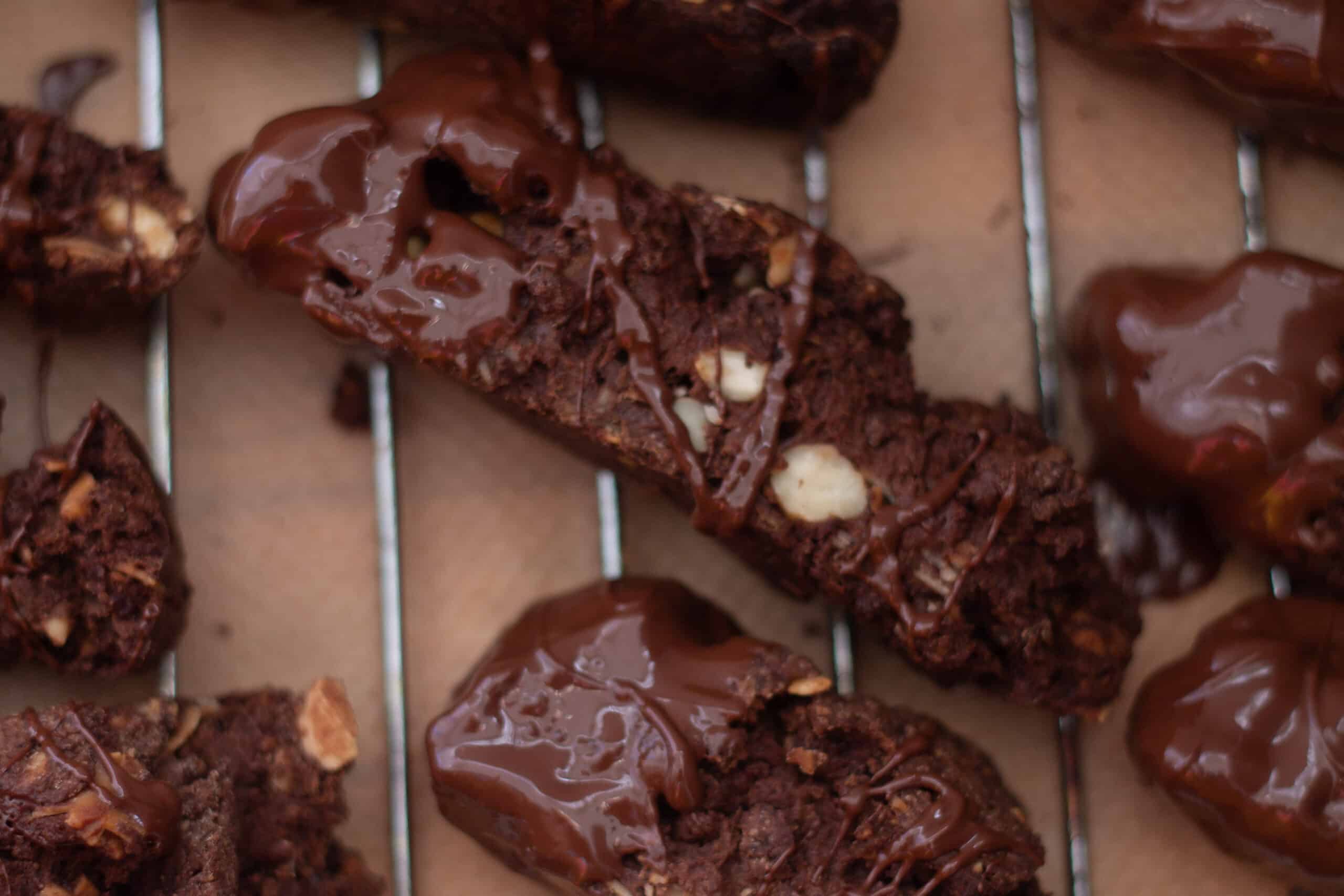 I have written at length about Biscotti in my fully loaded Biscotti post here, but I will briefly explain the process of making my air fryer vegan chocolate biscotti in the air fryer, although fundamentally it remains the same as in the oven.
Ingredients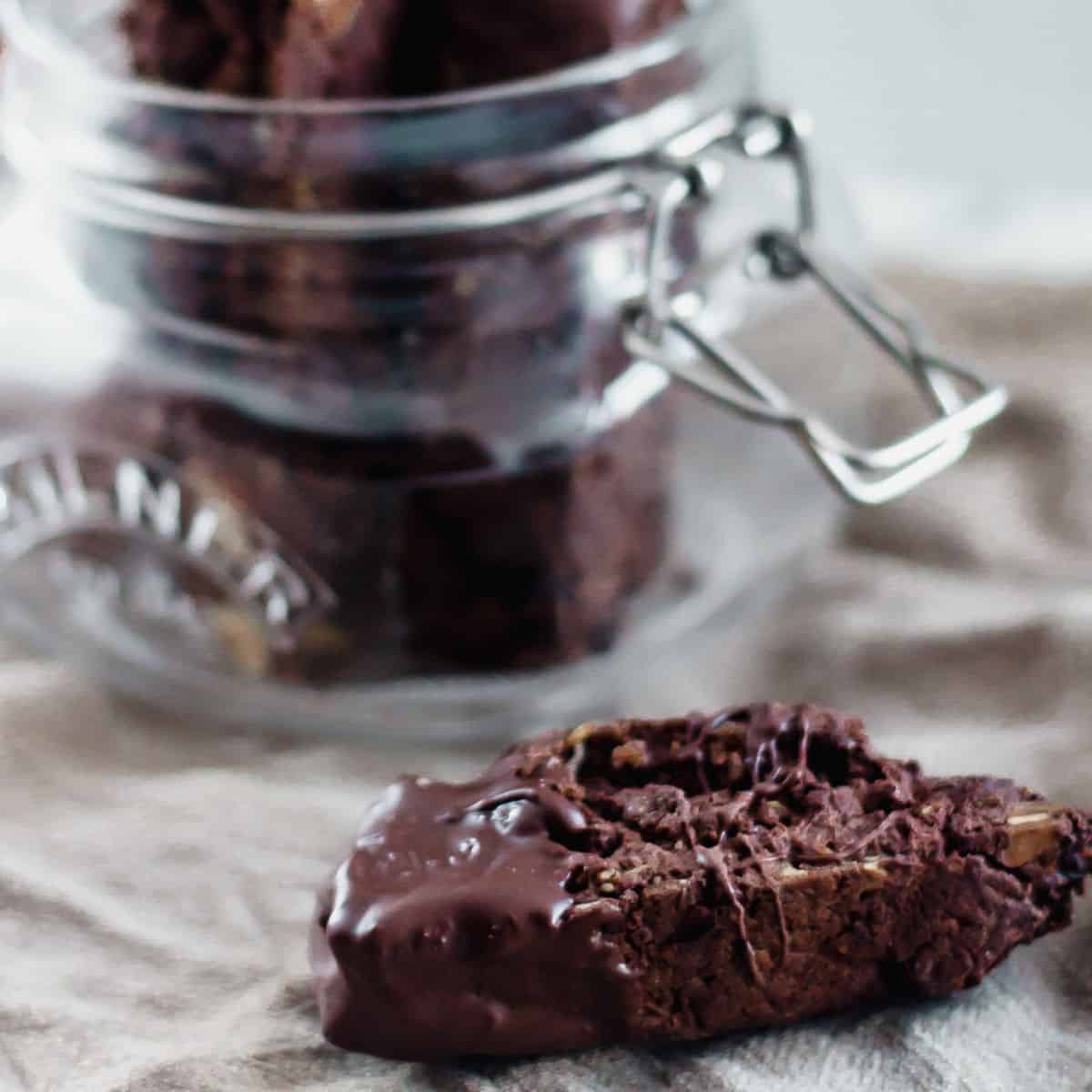 Vegan or plant-based chocolate chips
Espresso powder. These biscotti don't taste like coffee, but it enhances the dark, rich chocolate flavour.
Cocoa Powder. Use a good quality, dark cocoa powder.
Plain or all purpose flour.
Baking powder. Rather than add lift, these add air to the biscotti mixture.
White sugar and soft brown sugar. One adds sweetness and crunch (white sugar), the other adds a gently caramel flavour.
Vegan Yogurt. Used your favourite brand. I like Alpro plain. This replaces the egg element. If you find that your dough is really too stiff to bring together, try adding a little more yogurt.
Almonds. If you are nut intolerant, just omit, and add chocolate chips instead. Make sure to add an extra half a cup of flour to the mix too (remember that we blended up some of the almonds to make ground almonds).
Flavourings: almond and vanilla extract. The almond essence enhances the flavour of the nuts.
Method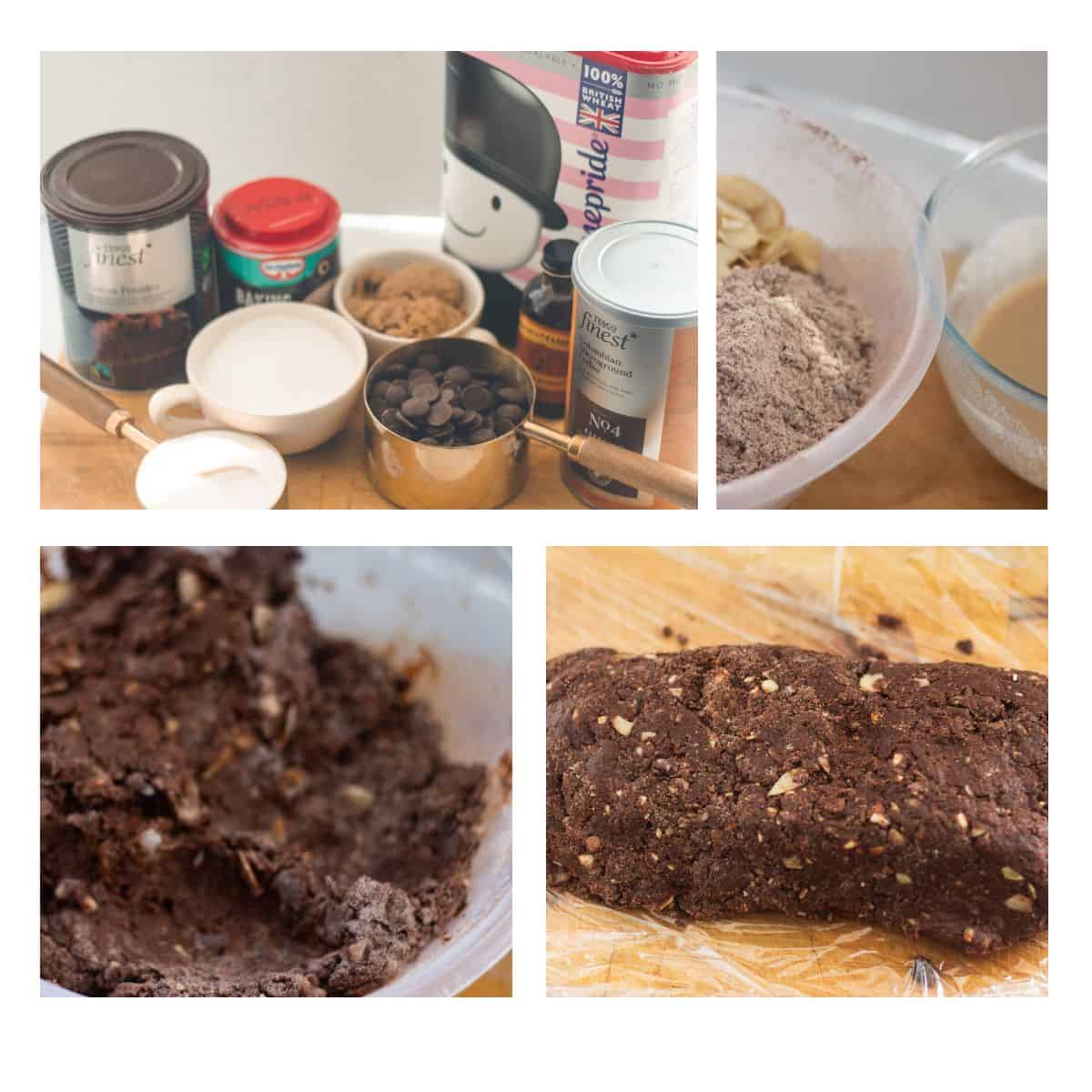 Get several bowls ready. This dough is quick to make but requires separate mixing of wet/dry/melted chocolate. After that, it's a breeze!
Firstly, toast your almonds. The original recipe (by Maida Heatter) uses whole almonds. I ran out of whole and so used a mixture of whole and slithered. That made for an interesting toasting job, where I had to move them constantly. The slithered almonds obviously toasting much quicker than the whole. I recommend using all whole (and buying enough in the first place!).
To toast almonds, I simply place them in one layer on the bottom of a dry skillet or frying pan. Shameless affiliate link for my Ninja Foodi Zerostick frying pan. I have it for nearly a year now, and it is still amazing.
Once the almonds are turning golden brown and smell fragrant and toasty, remove them to a bowl to cool off.
In one of the large mixing bowls, sift together the flour, cocoa, espresso powder, baking powder and salt, the stir in the white sugar.
Place all of the vegan chocolate chips and half and cup each of the cooled toasted almonds and the flour/cocoa mixture. Blend until you have a powdery mixture, then add this the rest of the flour mixture with the rest of the whole, toasted almonds.
In a small bowl, whisk together the brown sugar, extracts and vegan yogurt until smooth. Pour this into the dry mixture.
Now, mix this up until you get a stiff dough.
The dough is simple enough to make although it does get quite stiff, and requires a little elbow grease to get it all mixed. I actually gave up with my wooden spoon and just went in with my hands instead and that was much easier!
Divide dough into two.
Make sure to form the biscotti dough into a flat log shape, and wrap tightly in clingfilm. Chill for at least an hour, or overnight.
When you are ready to bake your biscotti, preheat your air fryer to Bake function, 180c.
I have a Ninja Foodi 9-in-1 Multi-Cooker, so I can just place the log of biscotti, on a sheet of tinfoil, and then straight into the basket. Bake for 15 minutes.
Carefully remove log from the air fryer and leave to cool for another 15 minutes.
Turn air fryer down to 150c.
Place on a chopping board and, using a sharp knife (a cleaver works best for this job), cut quickly into slices. I find if you cut slowly, the biscotti can fall apart.
Turn them over, cut side up, and place on tinfoil again.
Bake on each side for 5-8 minutes. Once one side looks dry, carefully turn them over using a spatula, then bake on the other side.
Once baked, leave to cool for a couple of minutes before popping onto a cooling rack and leaving to cool completely. They will harden up on cooling.
You can dip the freshly baked chocolate biscotti into some melted chocolate if you like, or serve just as they are! My vegan chocolate biscotti make a fabulous gift!
They will keep for at least a week in an airtight container.
Equipment
Try my other delicious vegan cookies
Air Fryer Vegan Chocolate Biscotti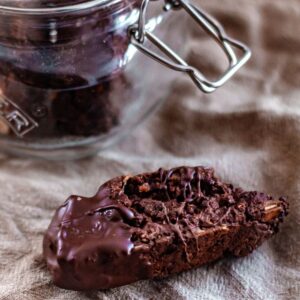 Crisp, dark and chocolatey, the most luxurious biscotti you've ever tried
Ingredients
2

cups

almonds

blanched, and toasted

¾

cups

dark chocolate chips

1¾

cups

Flour

1

tsp

Baking Powder

1

tbsp

Espresso Powder

¼

tsp

Salt

⅓

cup

Cocoa Powder

½

cup

Granulated Sugar

¾

cup

Plain Yogurt

plant-based

½

cup

Brown Sugar

soft

1

tsp

Vanilla Extract

¼

tsp

Almond Extract
Instructions
Toast the almonds. I place them in a frying pan or skillet over low heat and toast, turning them frequently once you can see them starting to colour. Leave to cool.

Place chocolate chips in a food processor or mini blender.

Sift together flour, cocoa, espresso powder, baking powder, salt and white granulated sugar into a large bowl.

In another small bowl, whisk together the yogurt, brown sugar and extracts.

Add half a cup EACH of the sieved flour/cocoa mixture and toasted almonds to the chocolate in the food processor, and blitz until you have a powdery mixture.

Add this, along with the remaining almonds back to the bowl with the flour/cocoa.

Now mix in the wet ingredients. The dough will be very stiff, and you will need to work at it to get it thoroughly mixed.

Separate the dough into two halves.

Place a piece of clingfilm, roughly twice the length of one of the balls of dough, onto a work surface.

Place one half of the dough onto the clingfilm, and shape into a log, about 3" wide, and 8" long. Wrap the clingfilm around it tightly and refrigerate for a least an hour. Repeat with the other half of the dough.

To bake, preheat your air cooker to 180c. Place one of your dough logs onto a piece of tinfoil and place into your air fryer.

Remove from air fryer and leave to cool for another 15 minutes.

Using a serrated knife, cut into slices.

Now preheat the air fryer to 150c and place the slices onto the piece of foil, cut side up.

Bake for 5-10 minutes (check after 5 to see if they feel dry). Now carefully turn them over and bake for another 5-10 minutes.

Gently remove from the air fryer and, discarding the foil, place the individual biscotti onto a cooling rack. They will harden up as they cool.
Nutrition Facts
Air Fryer Vegan Chocolate Biscotti
Amount per Serving
% Daily Value*
* Percent Daily Values are based on a 2000 calorie diet.