Vegan Currant Buns Recipe – An old-fashioned favourite
This post contains links to affiliate websites, such as Amazon, and we receive an affiliate commission for any purchases made by you using these links. We appreciate your support!
If you are looking for a tasty bake that brings back memories of old-fashioned baking, then try my easy currant buns recipe. These buns are a favourite among many, and for good reason. The sweet and juicy currants are perfectly complemented by the soft and fluffy bun. Whether you are a novice baker or a seasoned pro, this recipe is simple to follow and will impress everyone who tries it.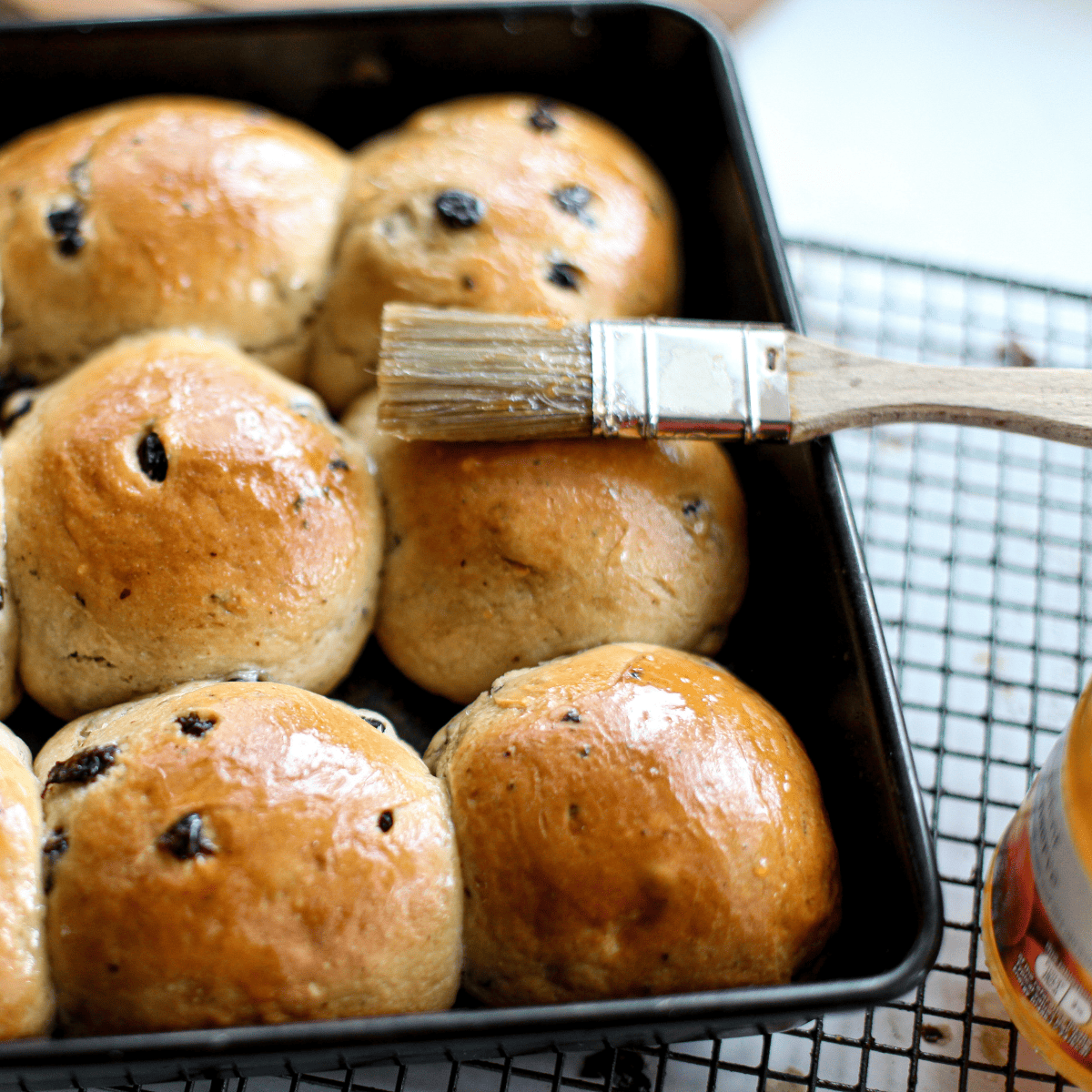 My vegan currant buns are delicious served at any time, but they are especially good toasted, and spread with some plant-based butter.
Why You'll Love my delicious Easy Vegan Currant Buns
Easy to make dough.
Store cupboard ingredients and economical
Eggless and Dairy free recipe
I'm not sure that I have had currant buns when I was younger, and you don't really see them too often in bakeries or supermarkets, which is a shame, because these are really very delicious. If you like toasted teacakes, you will definitely enjoy currant buns, which are a slightly less doughy teacake.
What are Currant Buns?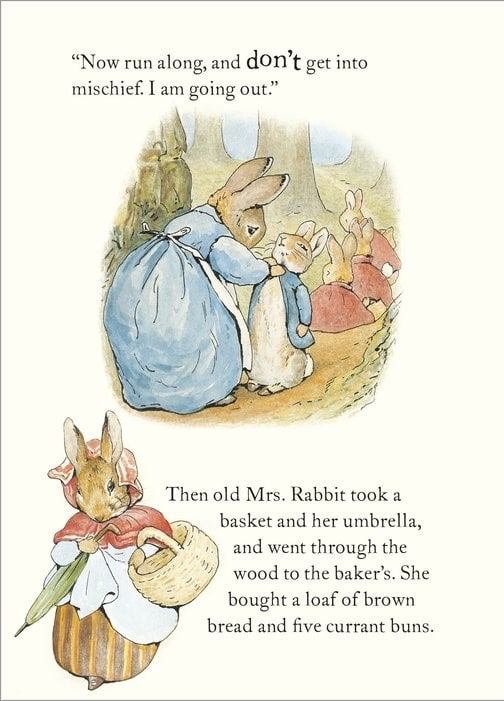 Currant Buns are a classic English bake, similar to Lardy cakes, Chelsea buns or a hot cross bun, indeed, all are yeasted, sweetened breads, studded with dried fruit. But don't confuse them with a Welsh Cake, which is something quite different ( but just as delicious!).
Perhaps you might have read about currant buns when Peter Rabbits mother bought them all buns as a treat from the local bakery, or just heard about them and thought perhaps they were a mythical bakery item. However, currant buns have been around, certainly in the UK at least, since the 17th century, to the extent that Reverend Samuel Wigley founded the Currant Bun Company during this time to fulfil the need for them.
It seems that time has seen them become less popular, as other fruited buns take their place, but these are such an easy and fun bake to make that I highly recommend you try them.
Ingredients
plain white flour
yeast, I use dried active. Make sure it is fresh.
vegan butter. This helps enrich the dough, making it soft and flavourful. I use unsalted but you can use salted.
currants. I soak the currants in a little boiling water to soften them, it makes it much easier to knead them into the dough!
sugar. To give sweet buns.
plant-based milk. I use soy milk, but use your preference.
This is ONLY a list of ingredients for the recipe; please see recipe card below for complete printable recipe.
Instructions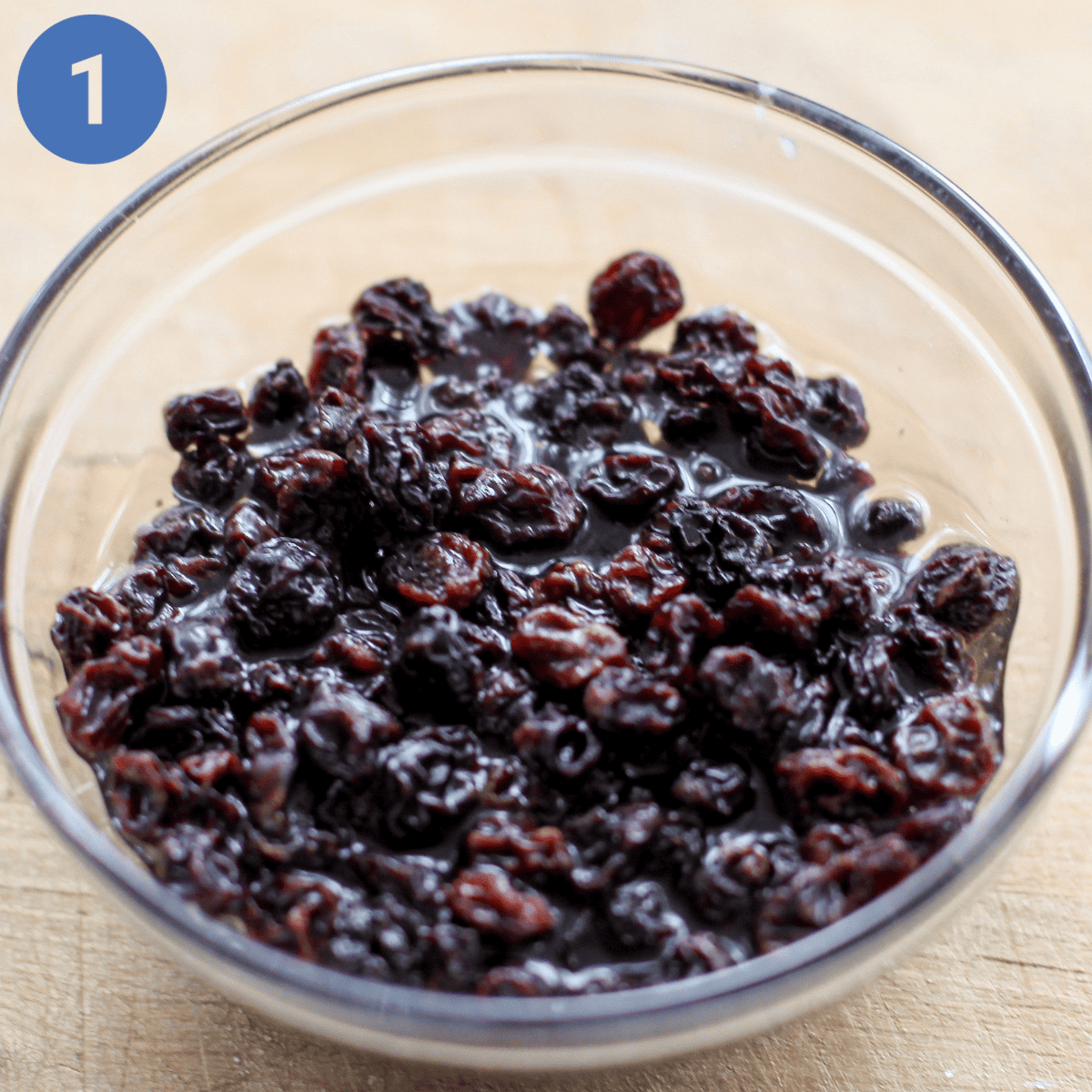 Soak the currants in a little boiling water.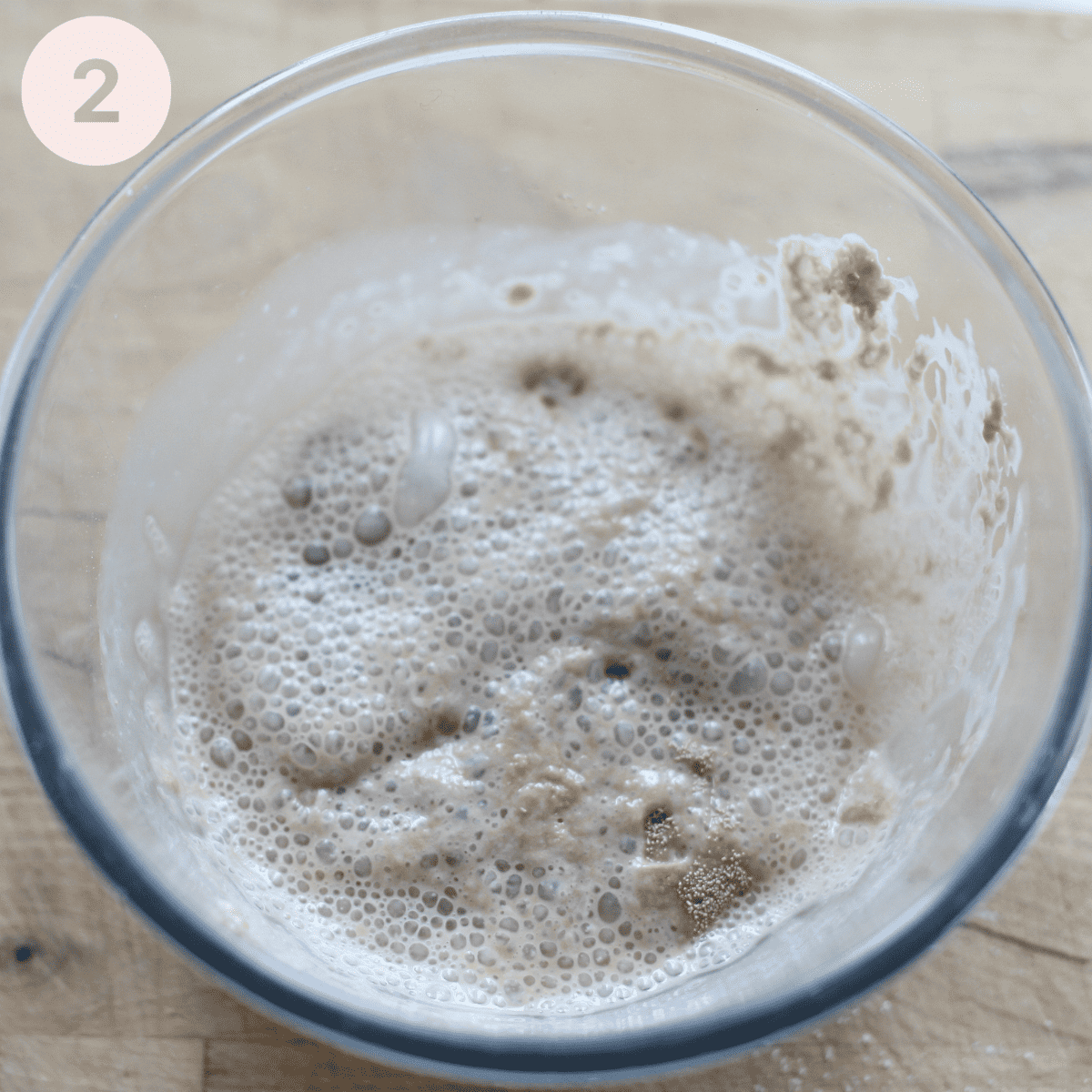 Sprinkle the yeast into the warmed milk, along with the teaspoon of sugar. Leave to activate.
Melt the butter and leave to cool.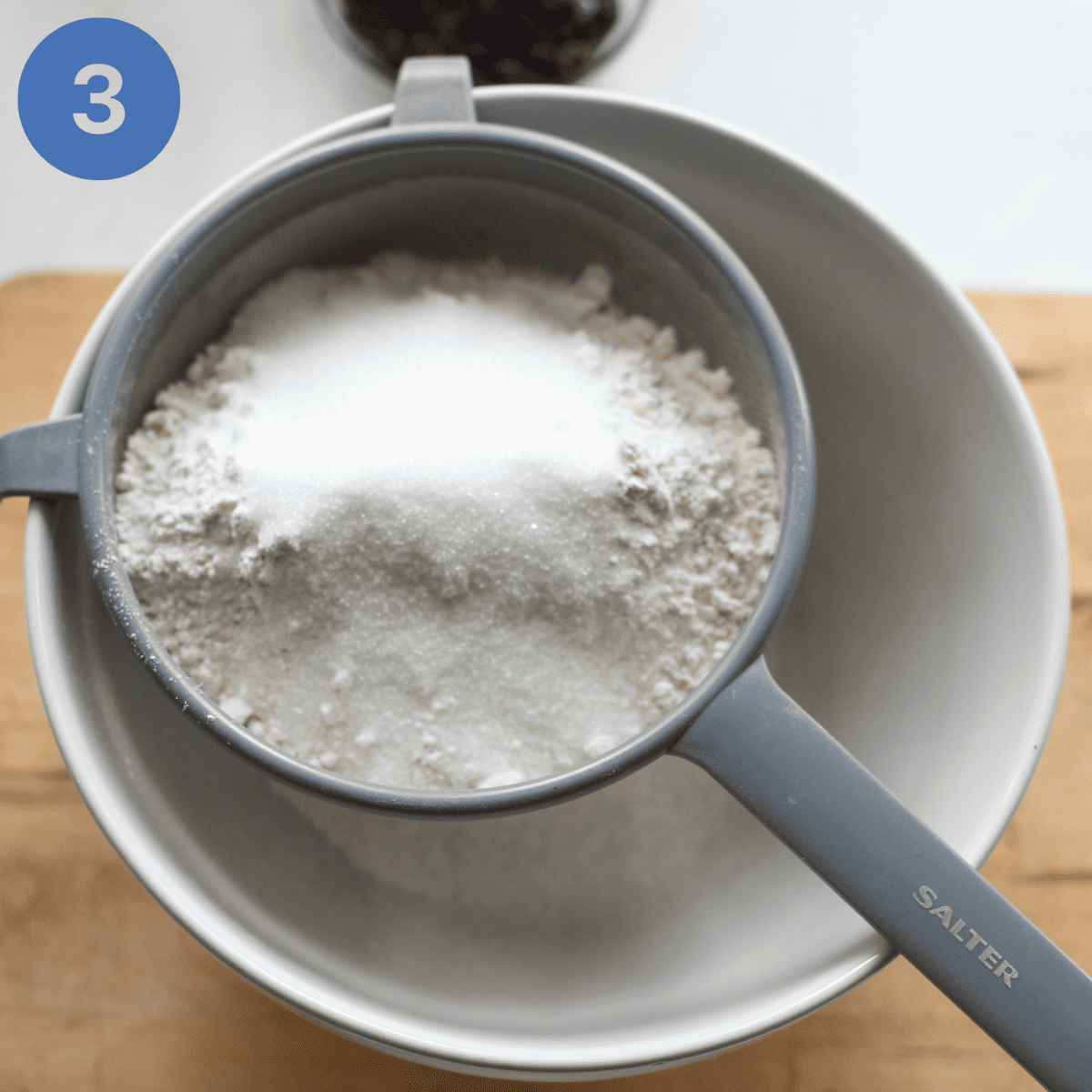 Sift the flour, salt and sugar into a large mixing bowl.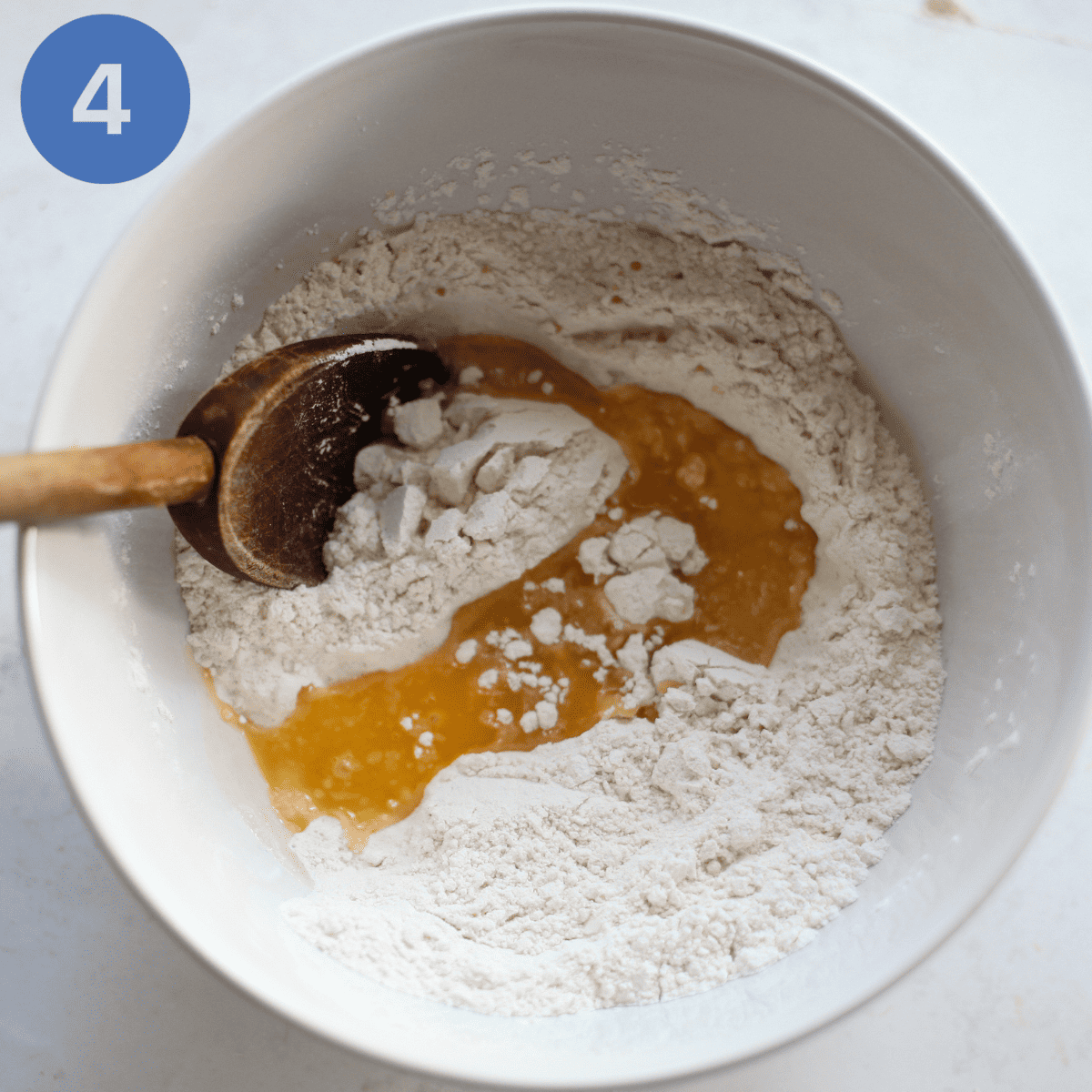 Stir the melted, cooled butter into the flour.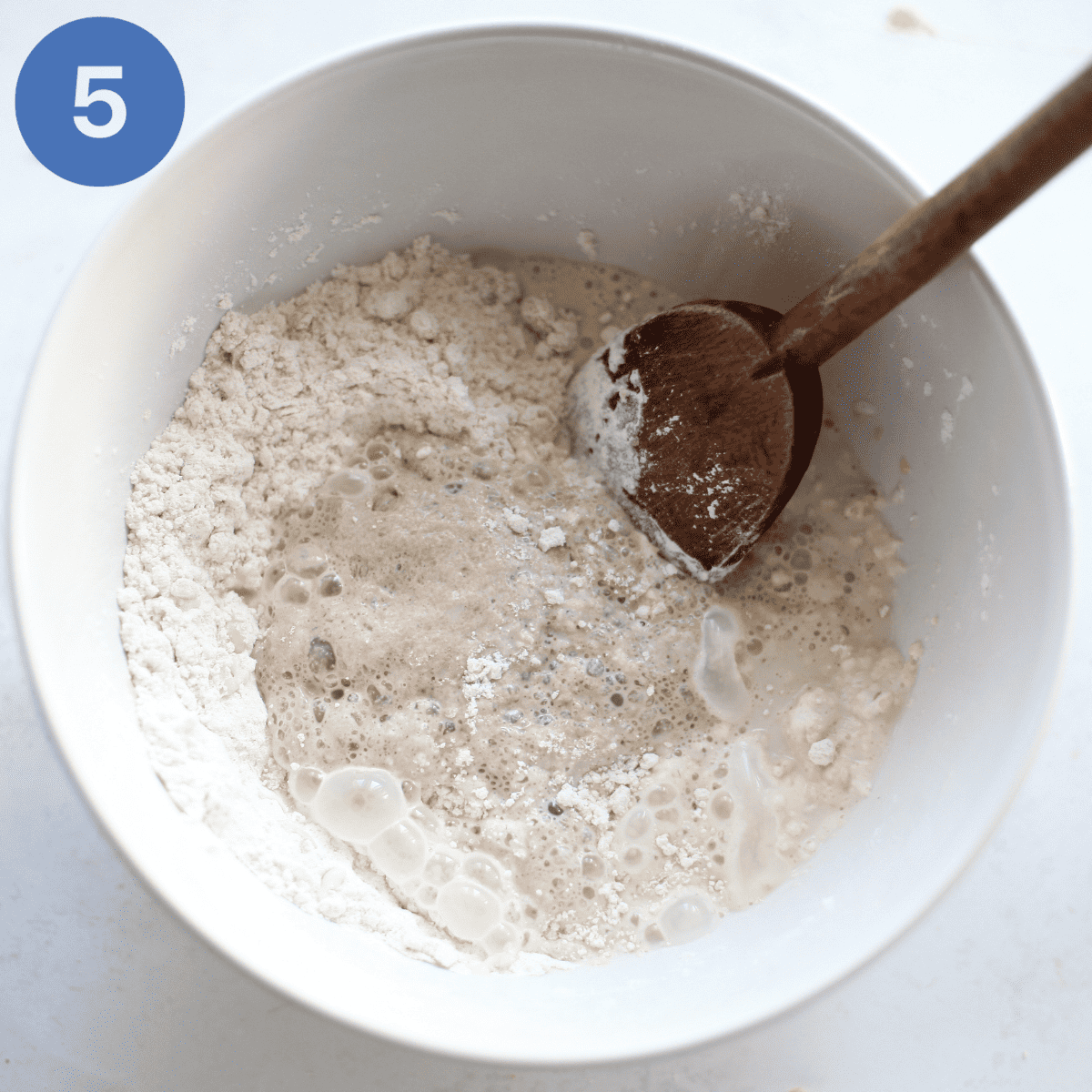 Now mix in the activated yeast with a wooden spoon.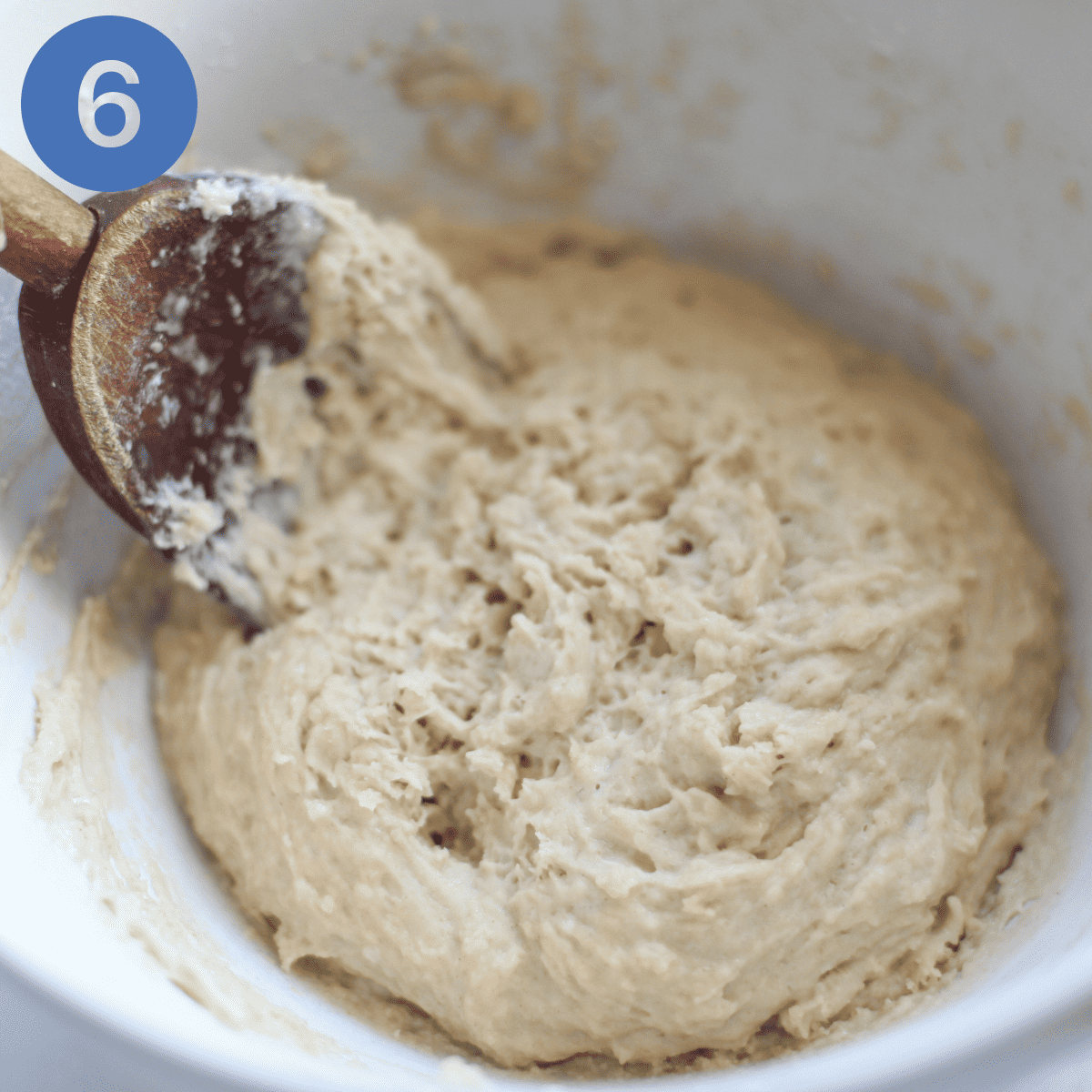 Leave to stand for half an hour.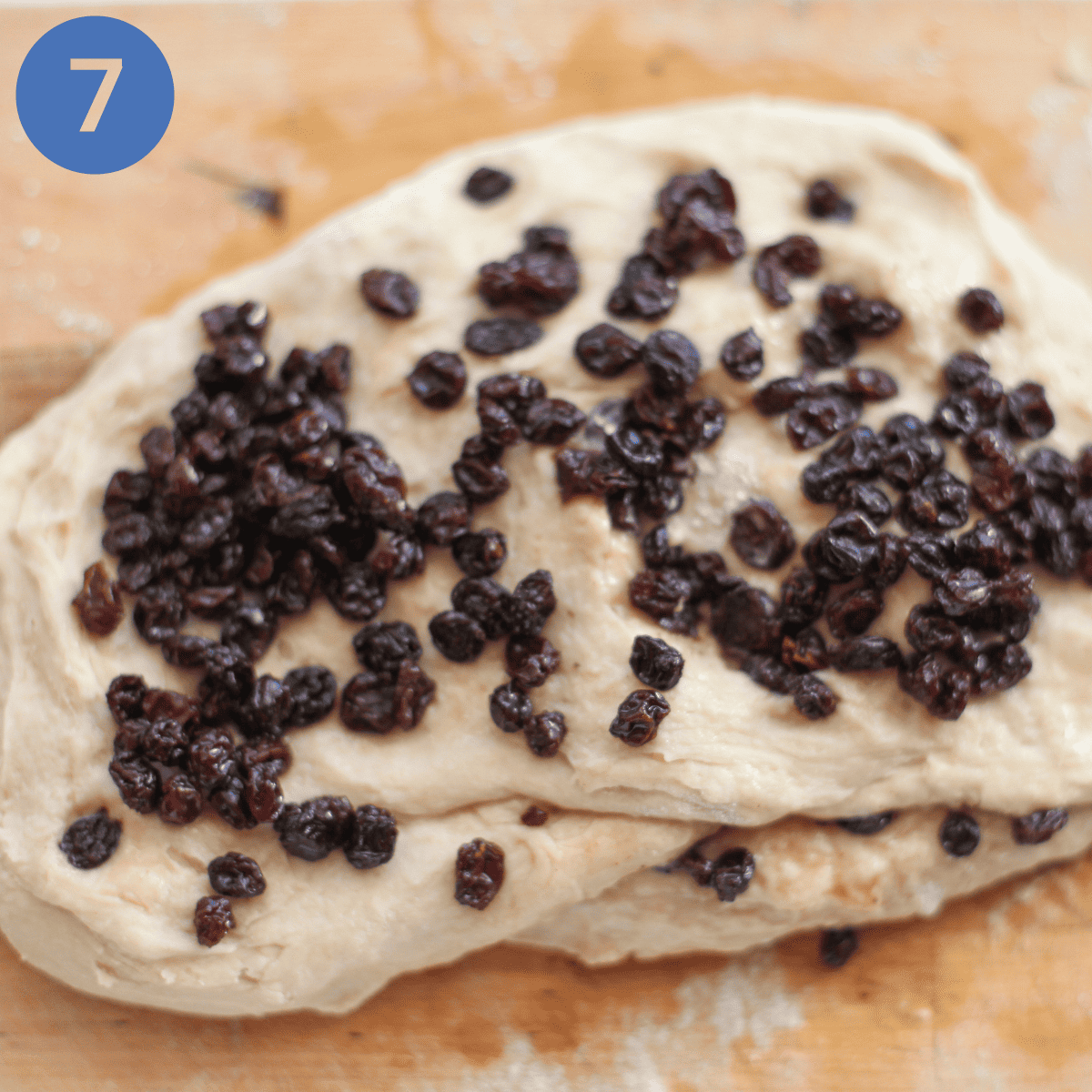 Turn out onto a floured surface, add the currants and knead in, adding more flour if necessary to give you a handleable dough.
Once the dough is soft and flexible, cover with a tea towel and leave to rise, until doubled, an hour or so.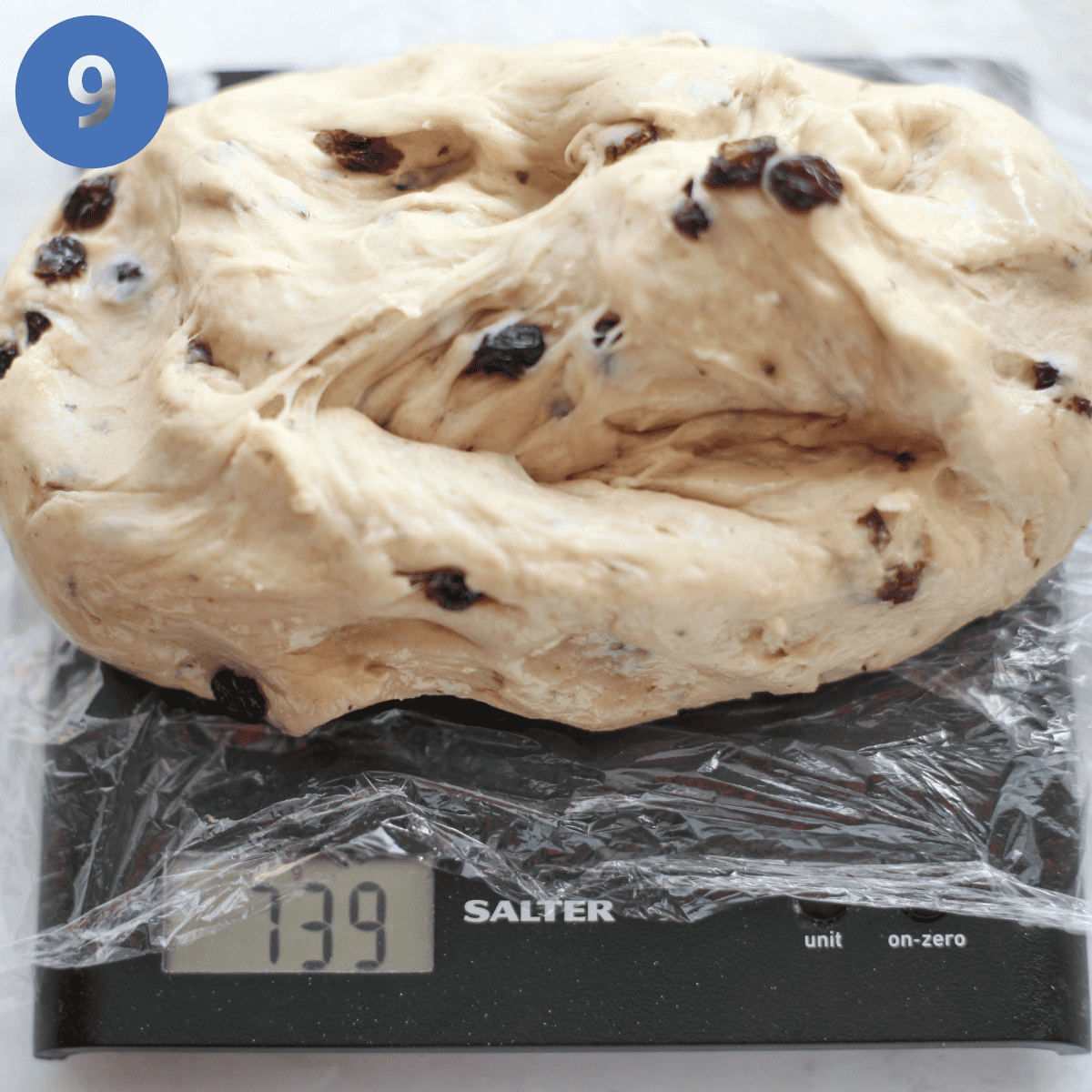 Once the dough has doubled in size, knock it down, then weigh it. Divide this number by 9. This will tell you how much each bun should weigh.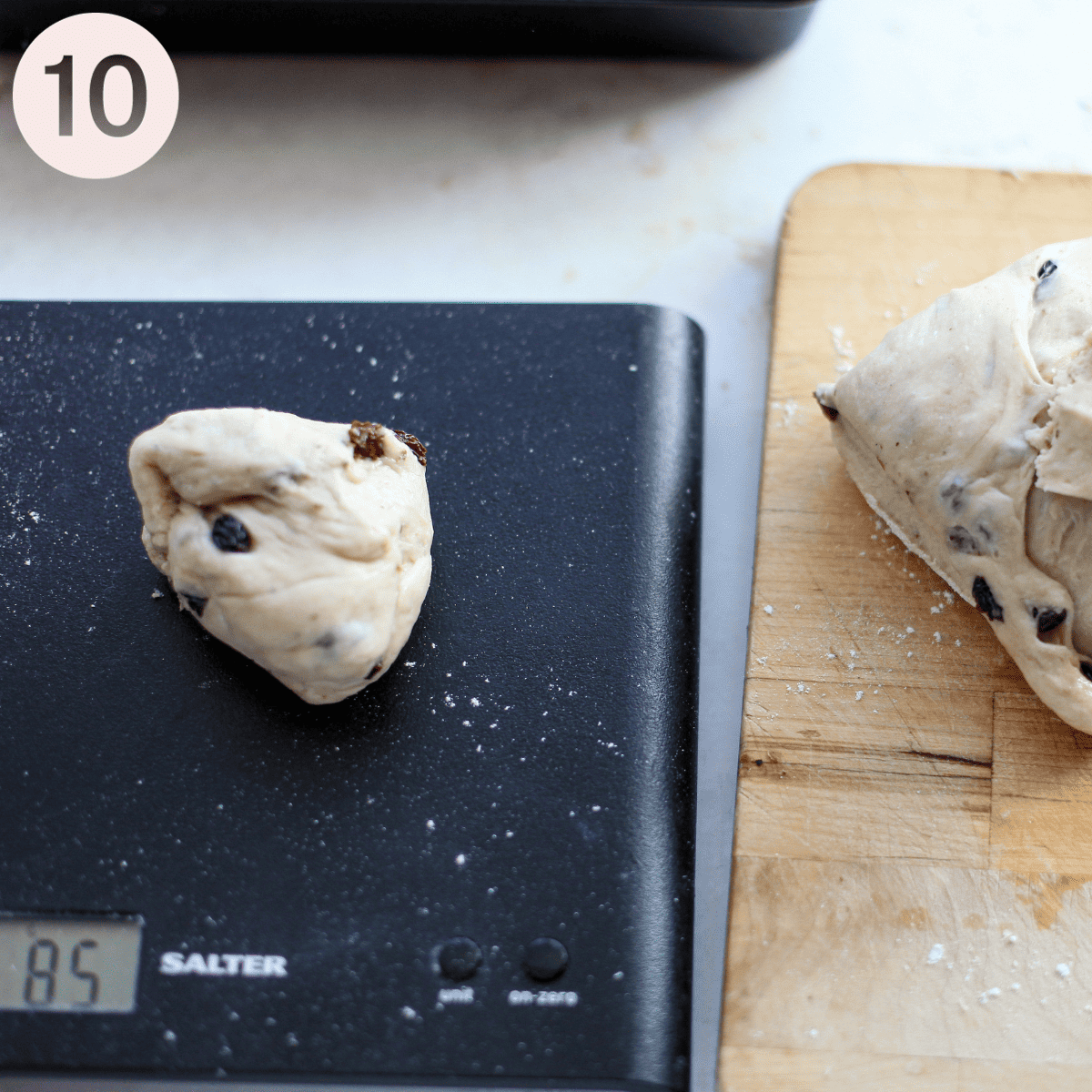 Divide the dough into 9, weighing each one to ensure that they roughly all weigh the same amount. This not only ensures they look the same, but you will get an even bake.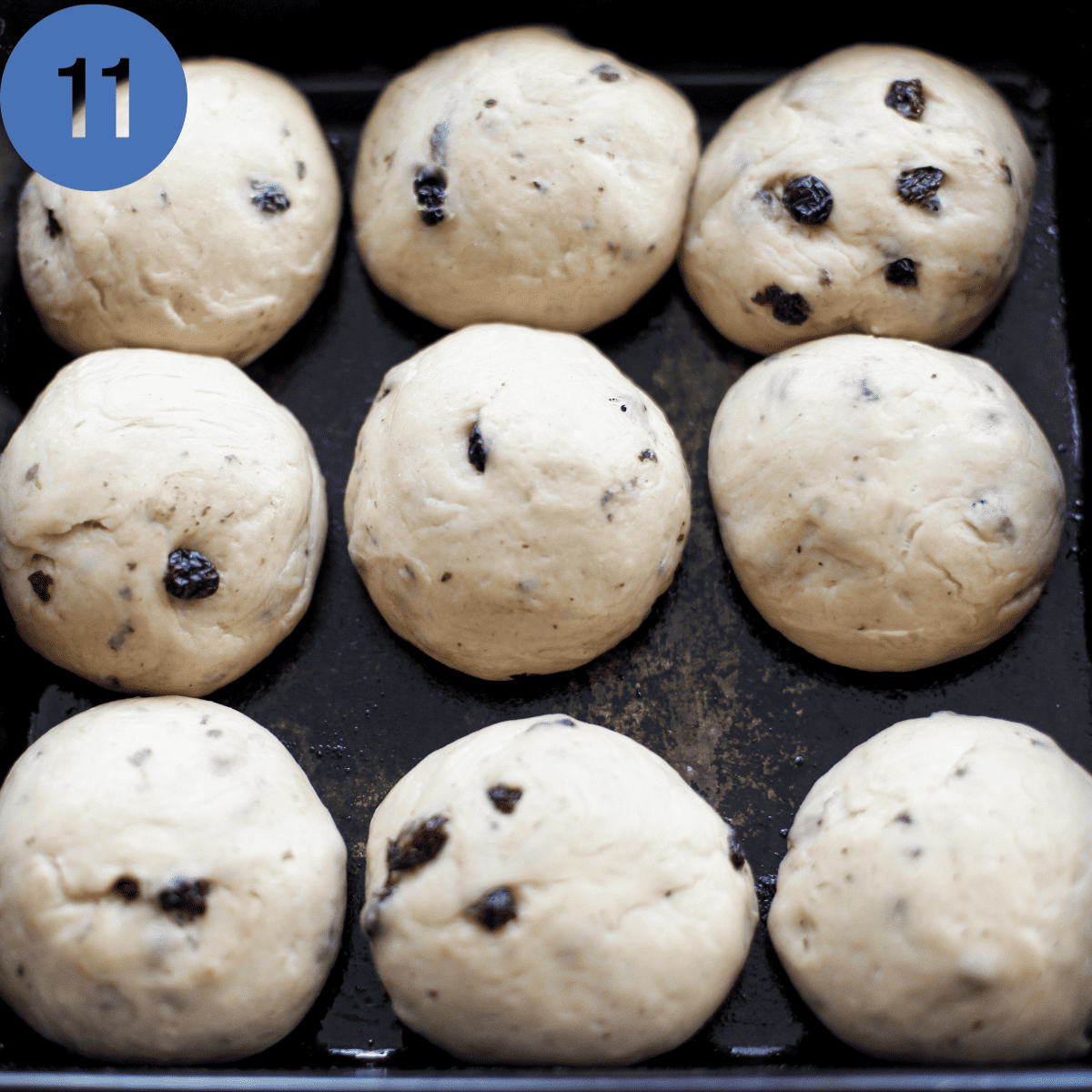 Place the rolled dough balls into a lightly oiled baking dish that will hold the buns snuggly, cover and leave to double in size again.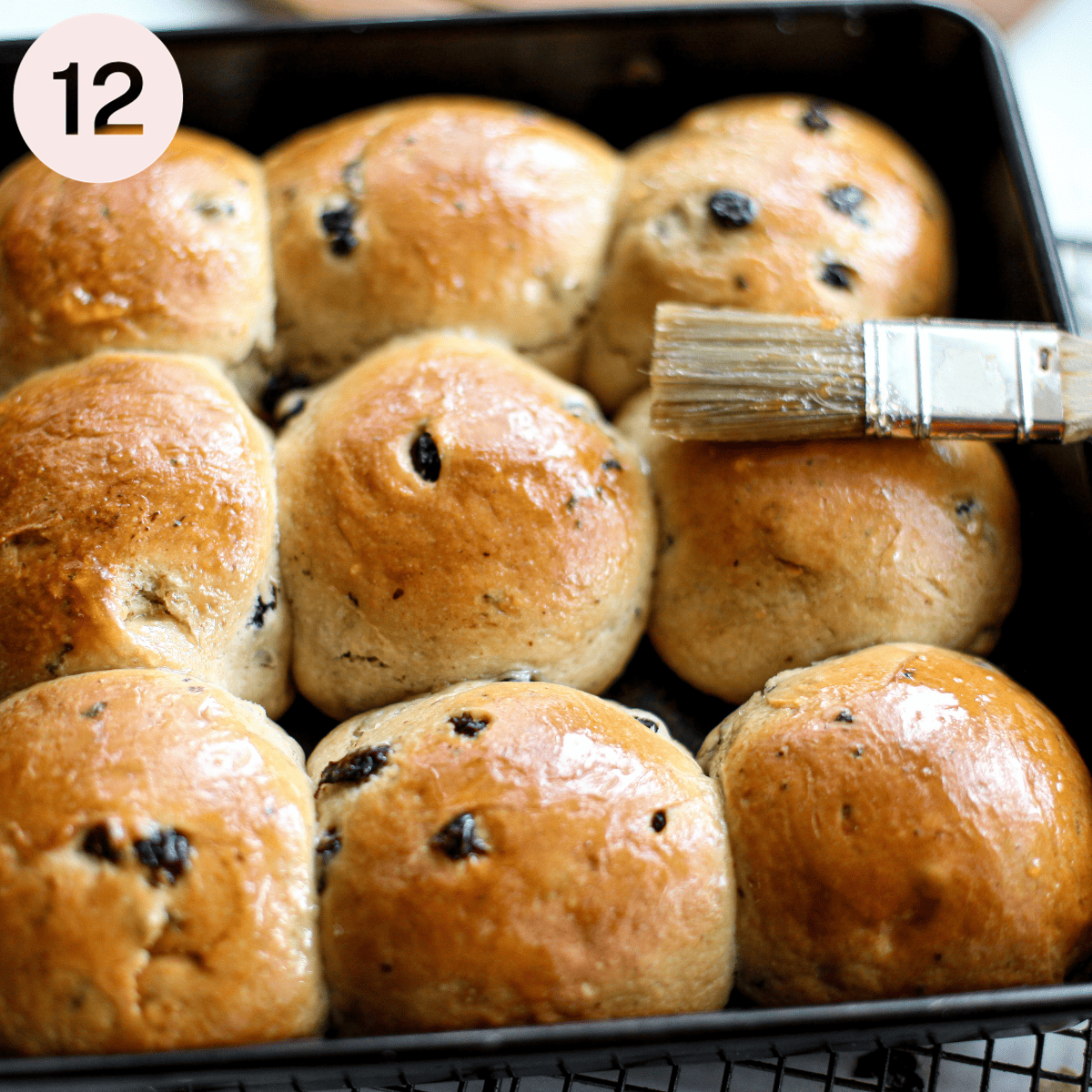 Bake for 30-35 minutes at 190c. Brush with some apricot jam, then return to the oven for another 5 mins. Remove from oven and leave to cool slightly before serving!
Hint: make sure to soak your currants overnight (or for at least half an hour) as it makes them much easier to work into the dough.
Substitutions
Flour – you can use wholemeal flour if you prefer, you might need to adjust the liquid slightly
Currants – you can use dried cranberries, raisins or chopped dates instead, or even tiny chocolate chips
Storage
You can freeze the rolled, unbaked currant buns. Place them in a freezer-safe container. When you want to bake them, allow them to thaw at room temperature and bake as above.
You can store the currant buns in a tin, once cooled, for a couple of days, although they are best eaten on the first day.
You can use stale leftover buns to make my cheats vegan bread and butter pudding!
Currant Buns Recipe
A traditional cosy favourite, perfect spread with butter and some jam
Equipment
1 Baking dish (I use a brownie pan)

lightly oiled
Ingredients
1½

tsp

Instant yeast

200

ml

Soya milk

-

or plant-based milk of your choice, warm

1

tsp

Sugar

-

this is to add to the yeast when activating

345

g

White flour

-

strong

55

g

Butter

-

vegan, or Stork

55

g

Sugar

-

white, this is for the dough

½

tsp

Salt

55

g

Currants

1

tsp

Apricot jam

-

optional, for glaze
Instructions
Activate the yeast in the warm milk, along with the teaspoon of sugar.

Sieve the flour, salt and sugar into a large mixing bowl.

Melt the vegan butter and leave to cool, then stir this into the flour.

Now mix the activated yeast mixture into the flour using a wooden spoon.

Mix until you have a raggy dough ball, and leave for 10 minutes to allow the gluten and yeast to activate.

Now turn the dough ball out onto a well floured surface and start to knead it. You might need to use a pastry cutter initially to bring the dough together, and keep adding little sprinkles of dough until it becomes kneadable by hand.

Once the dough is no longer sticky, gently flatten it out and sprinkle the currants onto the surface.

Fold

the dough over a few times to mix the currants into it.

Start to knead the dough, bringing any currant stragglers back into the dough (this happens a lot), until you have a smooth dough.

Place in a lightly oiled mixing bowl and cover, leaving to rise for an hour, or until doubled.

Knock back the dough, and weight it onto scales. Divide this number by 9. This is the weight you are roughly needing for each bun.

Now divide the dough into 9 equal(ish) pieces, rolling each into a smooth ball.

Place the rolled balls onto a lightly oiled baking sheet so that they're touching.

Rise for another 30mins to an hour, or doubled, again.

Bake for 30 minutes or until golden brown.

Brush with a little sugar syrup or melted apricot jam if desired and return to oven for another 5 mins (optional).
Please note that where the recipe asks for milk, butter or yogurt, this refers to any plant-based version that you prefer.
Nutrition Facts
Currant Buns Recipe
Amount per Serving
% Daily Value*
* Percent Daily Values are based on a 2000 calorie diet.