The Best Veggie Burger Recipe (Easy, Vegan and Full of Flavor!)
This post contains links to affiliate websites, such as Amazon, and we receive an affiliate commission for any purchases made by you using these links. We appreciate your support!
Looking for the best vegan burger recipe? Look no further! We have the ultimate plant-based burger recipe that is sure to satisfy your cravings. Our recipe combines wholesome ingredients such as mushrooms, TVP and walnuts to create a patty that is packed with flavor and texture. Top it off with your favorite vegan toppings and condiments, and you've got yourself a mouthwatering burger that even meat-lovers will adore. Give our recipe a try and taste the difference for yourself!
PIN my Incredible Veggie Burgers to make later
I love burgers, I make no secret of that, and I am constantly on a search to find the best vegan/veggie burger out there. Let me tell you that there's a lot out there! With meat replacement products that will fool the most hardened meat eaters. Never has there been so much choice for vegans and veggies to indulge in their favorite foods! If you have guests who love meat, try this good meatless burger recipe. Did I say good? I meant, great!
Why These Vegan Burgers are So Good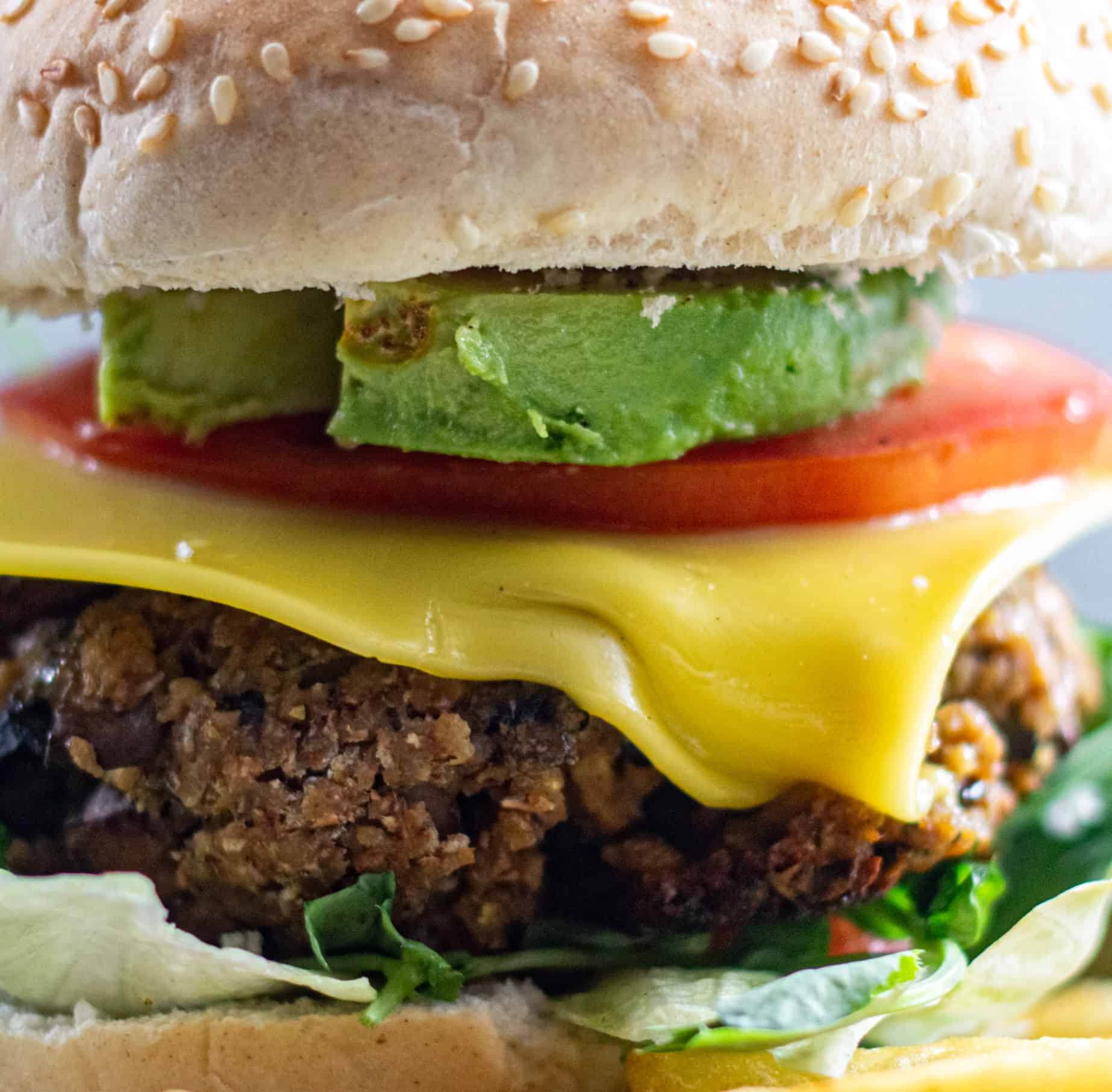 I'm not going to lie when I say that I think this is the best veggie burger. Sure, I probably said that about my spicy bean burgers too, but this is the best vegetarian burger that's a bit like a meat burger. It doesn't have too many ingredients and is so easy to prep. The burger is kept juice by adding sauteed mushrooms, then firmed up and given great texture with TVP (or any meat replacement of your choice). This will make your guests think that they are eating a homemade beef burger. Serve them in a hamburger bun with some melted vegan cheese, ketchup, lettuce, French fries, and dill pickles and you've got yourself an all-American classic!
Make a batch of the patty mixture and freeze them formed into patties but uncooked, and you've got yourself a quick meal after work! These great homemade veggie burgers also hold up on the grill, just brush them on both sides with a little oil before grilling. I recommend chilling them thoroughly first though, and you could cook them on aluminum foil if you have guests who are worried about cross-contamination.
Ingredients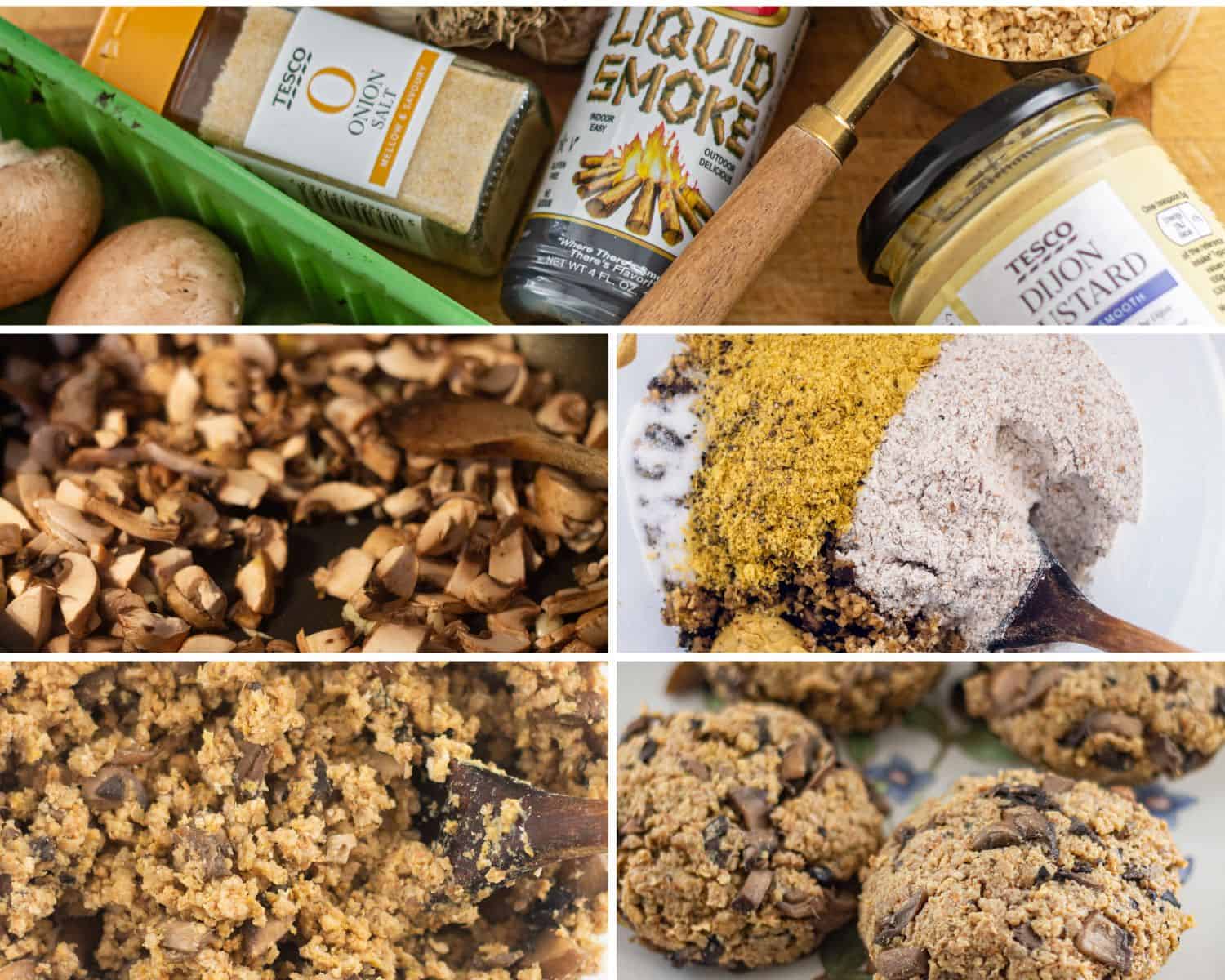 Mushrooms. I use chestnut mushrooms, cut into small. If you leave the chunks too big, the burgers will struggle to hold together. You can use large field mushrooms if you prefer, or button. Whatever you have. I don't recommend omitting the mushrooms as they add extra moisture, but you could replace them with zucchini perhaps.
Garlic cloves.
For the best texture, use TVP. In this kind of dish I prefer TVP as it doesn't go as mushy as some refrigerated meat alternatives; however, use whatever you have access to. Here's an article I wrote extolling the joys of using TVP and why every plant-based kitchen should keep some in the store cupboard!
Black Olives. I use these to add a deeply savory flavor to the burgers. Optional.
Half a small onion. Not too much, and chop it very finely. You could add some finely chopped green onions instead.
Nutritional Yeast. Adds more savory flavor.
Mustard. I use Dijon as it has a mild, yet spicy flavor.
Liquid Smoke. Optional. This adds a bit of a BBQ flavor but can be a little overpowering so be careful with it.
Black pepper.
Flour. I use wholemeal flour but you can use whatever flour you have. Go ahead and use gluten free flour too or rice flour or chickpea flour.
NOTE: I don't add salt at this point, I fry a little of the mixture in a pan and taste it for seasoning first, then add it if needed. There are a lot of strong flavors in this mixture already!
This is ONLY a list of ingredients for the recipe; please see recipe card below for complete printable recipe.
Method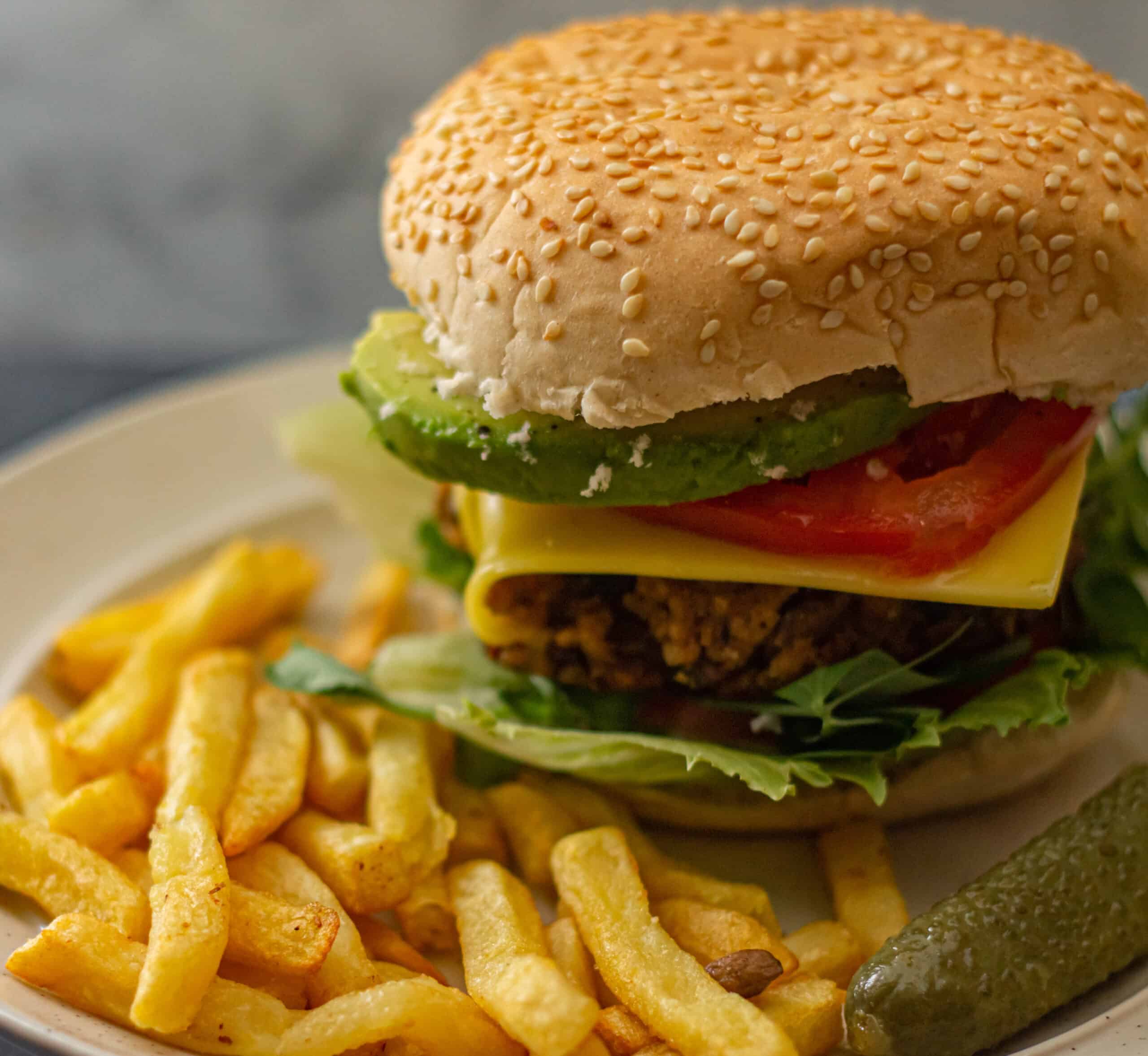 Sauté the onion, mushrooms, and garlic in a little olive oil in a large skillet until the mushrooms collapse.
Add some water and the TVP and mix well.
Place in a large bowl and leave to cool completely.
Once cool, add all the other ingredients and mix well until you have a cohesive mixture.
Sauté a little bit of the mixture in the skillet and test for seasoning.
Form into four patties and chill for a bit in the fridge if you're planning to cook them on a grill.
Heat a little oil in a skillet or grill pan over medium-high heat, place patties down carefully and cook them on each side until browned, maybe 3-4 minutes per side.
Drain on a little kitchen paper then place in prepared burger buns.
They will last 3-4 days in the fridge in an airtight container.
FAQ
Can I Freeze the Patty Mixture?
Once you have formed the burgers into patties, wrap them tightly in clingfilm and freeze them for upto 8 weeks.
Can I Replace the Mushrooms?
I would say no as they add to the juicy texture of the burgers. You could perhaps try chopped zucchini instead
Can I freeze the cooked Burgers?
You can. Leave them to cool completely, then wrap tightly in clingfilm and freeze for up to 8 weeks.
Try my other easy vegan suppers!
Veggie Burgers with Mushrooms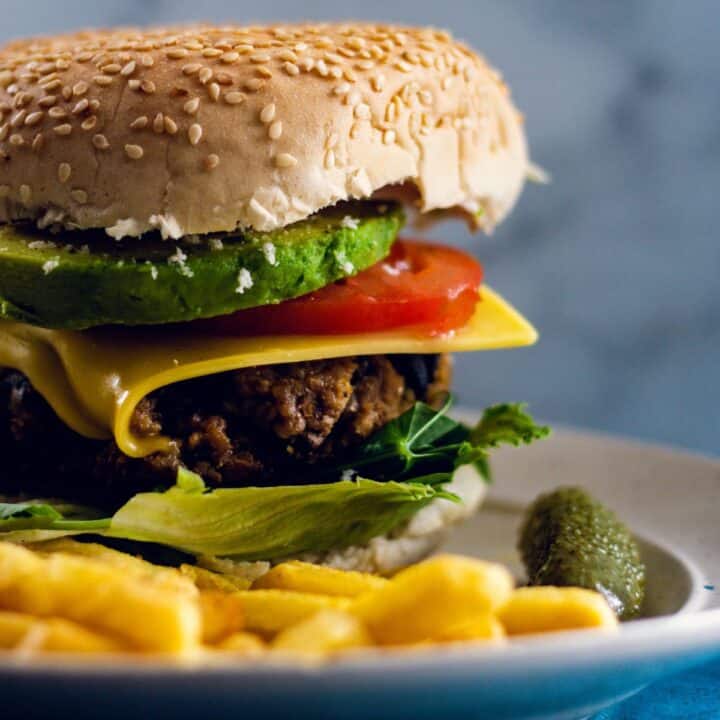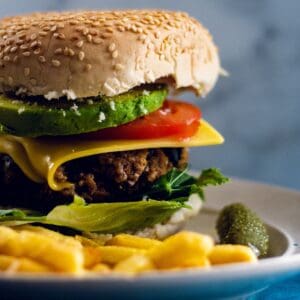 A delicious veggie burger to rival their meat-based alternatives on the grill!
Ingredients
2

tbsp

Olive Oil

250

g

Mushrooms

-

I used chestnut, but whatever you have, finely chopped

2

Garlic

-

cloves, peeled and finely chopped

⅛

cup

Black Olives

-

finely chopped, about 6 or 7

½

Onion

-

small, peeled and finely chopped

½

cup

Water

1

cup

TVP

¼

cup

Nutritional Yeast

½

cup

Wholemeal Flour

-

use gluten free if needed

1

tsp

Dijon Mustard

¼

tsp

Black Pepper

-

ground

¼

tsp

Liquid Smoke
Instructions
In a frying pan or skillet, heat the olive oil over medium heat, and saute the mushrooms, onion and garlic until soft and the mushrooms have reduced right down.

Add the ½ cup of water and the TVP, stir well, then remove from the heat and place mixture in a mixing bowl to cool.

Once cool, add the other ingredients and mix well.

Chill in the fridge for 10 minutes, then form into four equal size patties.

Heat a little vegetable oil in a frying pan, and fry on each side for about 3 minutes, or until dark golden brown. Alternatively, oil each patty on both sides and grill on a BBQ.

Place in a bun and serve!
Please note that where the recipe asks for milk, butter or yogurt, this refers to any plant-based version that you prefer.
Nutrition Facts
Veggie Burgers with Mushrooms
Amount per Serving
% Daily Value*
* Percent Daily Values are based on a 2000 calorie diet.