Vegan Lentils with Tomatoes and Tamarind – a simple, quick and delicious supper dish
If you're looking for something a little different for supper tonight, try my spicy vegan lentils with tamarind and tomatoes: easy and quick to prepare, this will become your new favourite!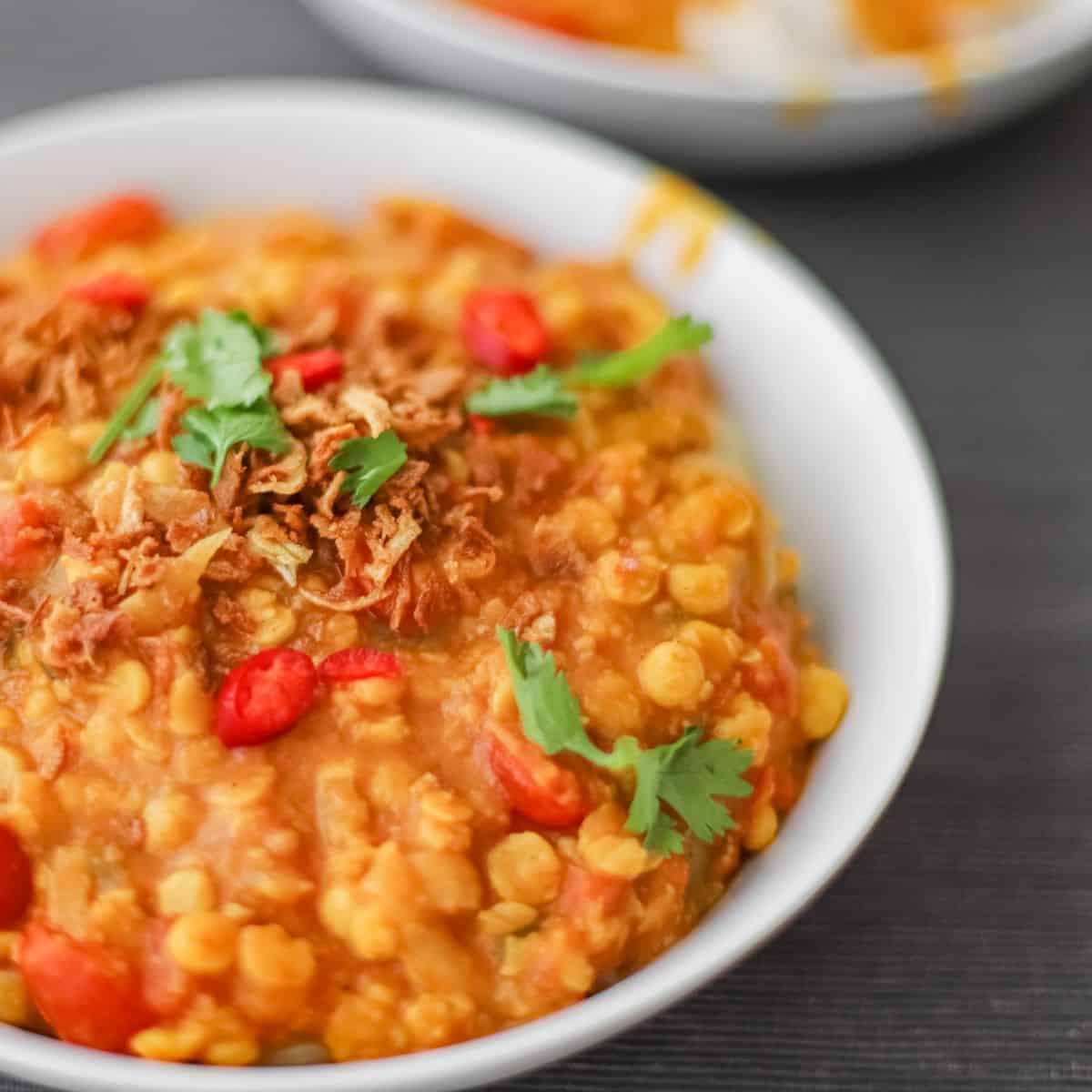 Sometimes I love spending a long time cooking a dish. Other times I enjoy a dish that I can put in the microwave or get delivered in a bag to my front door. For the times in between, there's dishes like my easy spiced lentils with tomatoes and tamarind.
This dish can be served plain or just with a naan bread, but I love to serve it over noodles or boiled rice. It makes a really filling vegan supper dish and I love to follow it up with my sweet and comforting carrot halwa.
If you are looking for a recipe that uses lots of store cupboard ingredients, this might be the dish for you! OK, so you may or may not have asafoetida in your cupboard, but I recommend buying a jar and keeping it in your spice drawer. It adds a unique garlicky/onion flavour that you might recognise from Indian takeaways. Likewise, I do recommend buying a jar of tamarind paste.
What is Tamarind Paste?
Tamarind paste is made from the fruit of the Tamarind tree. Tamarind fruit grows in pods that resemble very large dried pea pods, and grows in Africa. It is used widely in Asian cuisine, notably savoury dishes, because it adds a delicious sweet/sour flavour that is really unique. I use Mahi's version, which you can find in Sainsbury.
In this particular dish, the sourness of the tamarind balances the sweet onions, the fresh tomatoes and the spicy curry powder, and creates an explosion of flavour of the tongue (apologies for the cliché).
Ingredients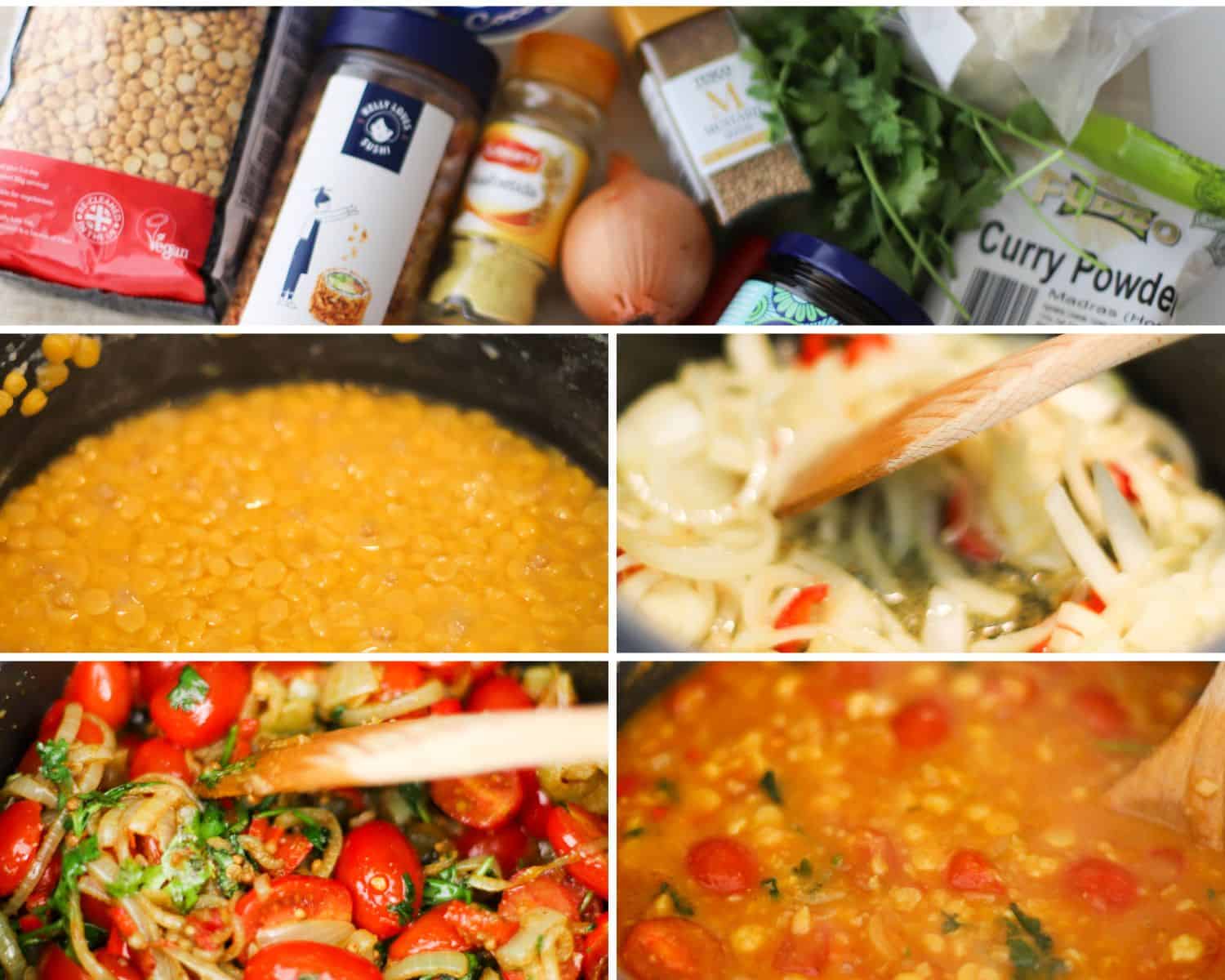 Lentils. I used chana dal, but you could use red split lentils or yellow lentils too. I wouldn't recommend puy because they have a flavour that is perhaps a bit too strong for this dish.
Tomatoes. I use a mixture of fresh and canned. The fresh add texture, and the tinned make the dish "saucy". You could use all fresh, or all tinned.
Mustard seeds. A classic ingredient in Indian spice mixes. Be careful when you put them in the hot oil as they will spit!
Tamarind. You can buy the paste in the supermarkets, or order online. I keep mine in the fridge once opened and it lasts ages. You can use fresh lemon juice instead.
Curry powder. I use whatever I have in the cupboard. The one I used for this recipe was a hot madras so I used it cautiously for heat!
Chilis. I use red chilis from the supermarket, use your favourite types and judge the heat level you enjoy.
Fresh coriander. Don't let a dislike of coriander put you off, you won't taste it overpoweringly in the finished dish. If you really must omit it, please use freshly chopped parsley instead.
Method
Make sure to rinse your lentils thoroughly, this avoids too much scum rising to the top. Add 4 cups water and bring to a boil. You may need to add more water, depending on the lentils. Skim off any additional scum.
Simmer the lentils under soft and starting to fall apart. This could take upto an hour.
Whilst the lentils are cooking, make your tomato/tamarind sauce.
Heat the coconut oil until it starts to ripple on the surface, then add the asofoetida and mustard seeds. Fry for 30 seconds.
Add the onions and chili and quickly turn down the heat. You want to saute the onions gently.
Once golden brown and fragrant, add the tomatoes, curry powder, coriander and water. Bring up to a brisk bubble and simmer for 15 minutes.
Stir in the tamarind then add to the lentils. NOTE: You don't need to drain the lentils.
Bring the lentil and tomato mixture up to a gently simmer and cook for another 15 minutes.
Taste for seasoning, adding more salt or tamarind if needed.
Serve over noodles or boiled rice and sprinkle with shop-bought fried onions. I don't miss this step, the fried onions are so good!
Try these other vegan meal ideas:
Spiced Lentils with Tomatoes and Tamarind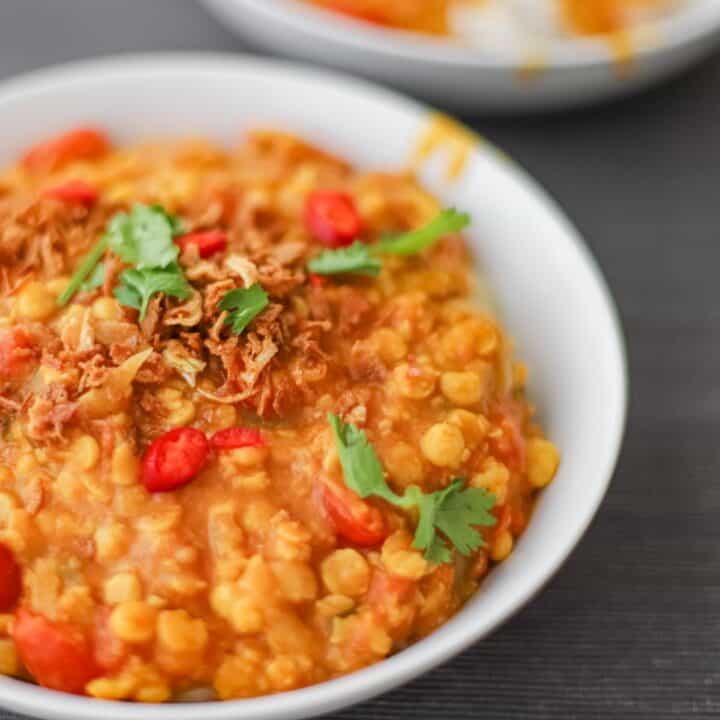 An outrageously delicious supper dish that improves in the fridge, and makes plenty of leftovers
Ingredients
2½

cups

Red Lentils

rinsed in a sieve

4

cups

Water

2

tbsp

Coconut Oil

1

tsp

Asofoetida

2

tsp

Mustard Seeds

1

Onion

large, peeled and cut into rings

2

Red Chilis

chopped.

2

tsp

Curry powder

use more if your powder is mild

250

g

Tomatoes

fresh, cut into large chunks

14.5

oz

can tomatoes

½

Coriander

bunch

1

tsp

Salt

2

tsp

Tamarind

paste, or use lemon juice

Fried Onions

optional
Instructions
Place the rinsed lentils into a large pan with the water. Bring up to a boil, cover and turn down to a simmer.

Simmer the lentils until they start to break up when pressed with the back of a spoon.

Whilst the lentils are simmering, prepare the tomato/tamarind sauce.

Add the coconut oil to a frying pan or saucepan and heat until it starts to shimmer.

Add the mustard seeds and asofoetida to the hot oil and stir briskly for 30 seconds.

Add the onions and chili, and turn the heat down.

Sauté until onions are pale golden brown and smell delicious!

Add the tomatoes, both tinned and fresh, curry powder, chopped coriander, and salt. Add 1½ cups water. Bring up to a brisk simmer.

Simmer for another 5 minutes before stirring in the tamarind (or lemon juice).

Add this spicy mixture to your softened lentils and stir until completely combined.

Simmer for another 15 minutes.

Taste for seasoning and then serve, over rice or noodles, sprinkled with fried onions.
Nutrition Facts
Spiced Lentils with Tomatoes and Tamarind
Amount per Serving
% Daily Value*
* Percent Daily Values are based on a 2000 calorie diet.