Easy Vegan Lemon Drizzle Loaf Cake
Vegan lemon drizzle loaf cake is one of those cakes nearly everyone has tried, and most people I know love it. My eggless lemon drizzle cake is simple and satisfying to make
It's a safe bet that if you make it for an event or your birthday at work, it will get demolished quite quickly. I'm not sure if it's the tangy, sticky, lemon-flavored sponge or the crunchy, sugary lemon glaze that makes it so popular, but it is always a crowd-pleaser.
I like to make it as a cake, in a square tin, but I also love a vegan lemon drizzle loaf cake, and I think it's such a nice gift to give someone, wrapped up in some brown paper. Loaf cakes also seem to last for ages in an airtight container too.
To make a vegan lemon drizzle cake, you need to replace the egg and butter elements. I use a powdered egg replacer (such as Orgran or Bobs Red Mill) here because I don't want a stodgy, potentially wet sponge. The lemon drizzle will keep the loaf moist.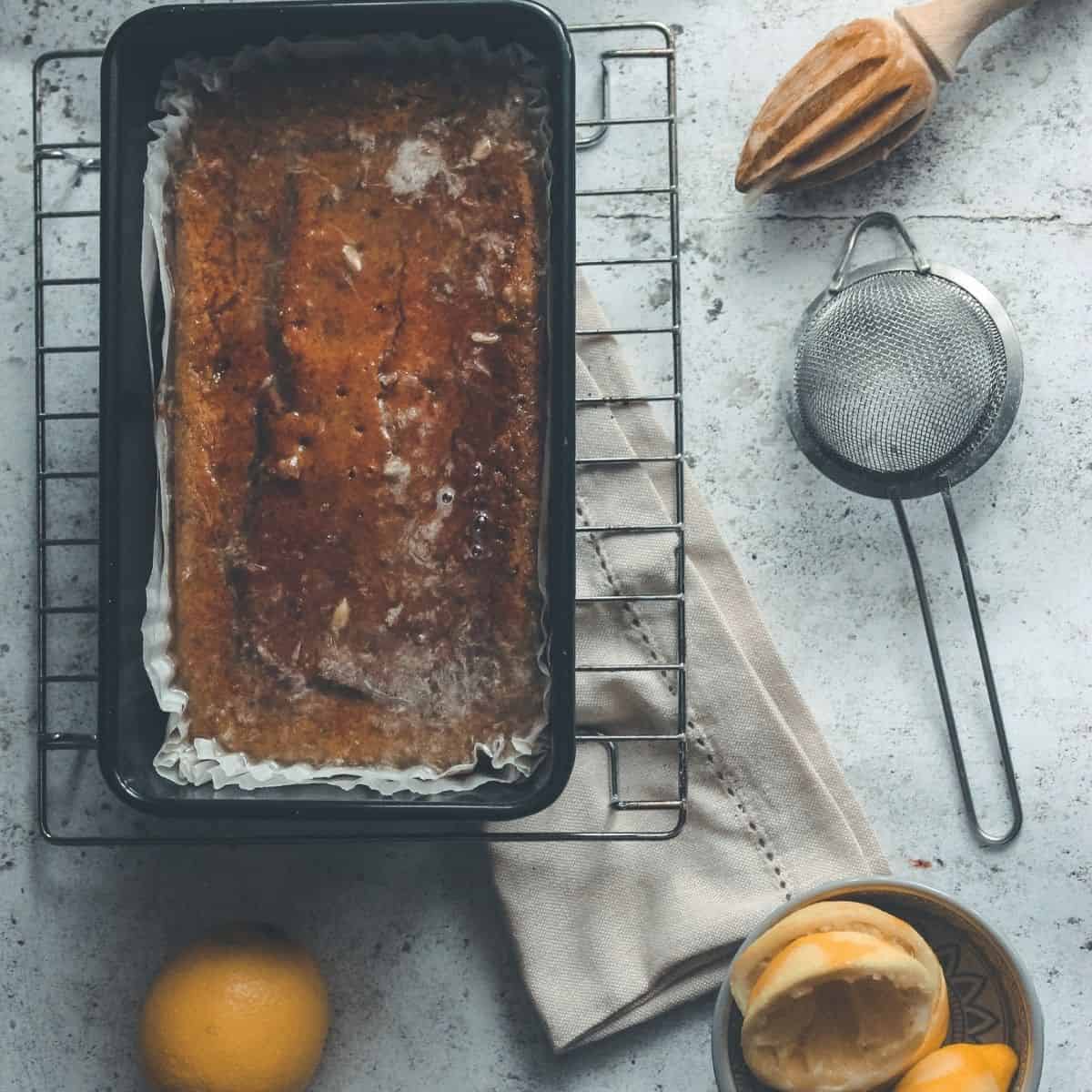 Instead of butter, I have used vegetable oil. I have had mixed results with making vegan creamed sponges, but oil generally gives you consistently reliable results. The beauty of this cake is that it uses simple ingredients that we all have in our cupboards or fridge.
Ingredients
Non-Dairy Milk, I use soy milk but you could use oat milk, coconut milk, or any vegan milk of your choice.
White Granulated Sugar. You can use brown sugar if you prefer. Make sure that you use white granulated sugar for the drizzle though, otherwise, you won't get that crunchy topping.
Vegetable Oil. You could use sunflower oil, melted coconut oil, or olive oil.
Lemon Zest and Lemon Juice. Of course, use fresh lemon juice from large lemons if you can find them: you'll be needing the zest of fresh lemons anyway, and you want to ensure you have enough lemon juice for the syrup too. If you want to boost the lemon flavour, feel free to add a couple of drops of lemon extract too.
Plain Flour (all-purpose flour)
Cornflour
Baking Powder. This is one of your raising agents, along with the egg replacer.
This is ONLY a list of ingredients for the recipe; please see recipe card below for complete printable recipe.
Method
In a blender (I use a smoothie blender), whizz up the milk, sugar, egg replacer, water, oil, 2 tbsp lemon juice and vanilla extract until smooth.
Sift the dry ingredients (flour, baking powder, cornflour, salt) over the top of the wet ingredients, along with the lemon zest.
Whisk until you have a smooth cake batter.
Pour the cake mixture into your prepared loaf tin and bake!
Just before the cake is baked, make the lemon syrup drizzle: whisk the granulated sugar and lemon juice in a small bowl until the sugar has dissolved.
Using a cocktail stick, prick all over, before pouring the prepared drizzle over the top of the cake.
Try my other delicious vegan cakes
Easy Vegan Lemon Drizzle Loaf Cake
A simple and quick tangy cake, based on the classic Lemon Drizzle Cake
Ingredients
1

cup

Soy Milk

or plant-based milk of your choice

1

cup

White Sugar

¼

cup

Oil

I use vegetable or sunflower

1

tbsp

Egg Replacer

I like to use Orgran

1

tbsp

Water

2

tbsp

Lemon Juice

1

tsp

Vanilla Extract

1½

cups

Plain Flour

¼

cup

Cornflour

2

tsp

Baking Powder

1

Zest of 1 Lemon

pinch

Salt
Icing
½

cup

Granulated Sugar

1

Lemon

juice only
Instructions
In a blender, whizz together the sugar, oil, water, lemon juice, egg replacer, milk and vanilla extract until smooth.

Pour this mixture into a mixing bowl.

Sift together the flour, cornflour, salt, lemon zest and baking powder over the top of the wet ingredients.

Using a whisk, mix together until there are no lumps.

Pour into your prepared cake tin. The batter will be quite thin.

Bake for between 25-30 minutes or until light golden and springs back to the touch.

Pour the lemon drizzle over the top of the loaf whilst still hot.

Leave to cool, in the tin, on a cooling rack.
To make the lemon drizzle
Whisk together the lemon juice and caster sugar in a small bowl.

Store in a tin for up to a week.
Nutrition Facts
Easy Vegan Lemon Drizzle Loaf Cake
Amount per Serving
% Daily Value*
* Percent Daily Values are based on a 2000 calorie diet.