Vegan Eccles cakes – the taste of many childhoods, this flaky, dried fruit pastry cake thingy is unique, slightly defying description but utterly delicious. My version is vegan, easy and absolutely scrumptious!
I love to make old fashioned British classics, and if you do too, try my spicy parkin for a real cold weather treat, my soft and sticky Chelsea Buns or perhaps my rock cakes?
I love to make sweets and biscuits and cakes above all else, the sweeter the better. This is not a new development.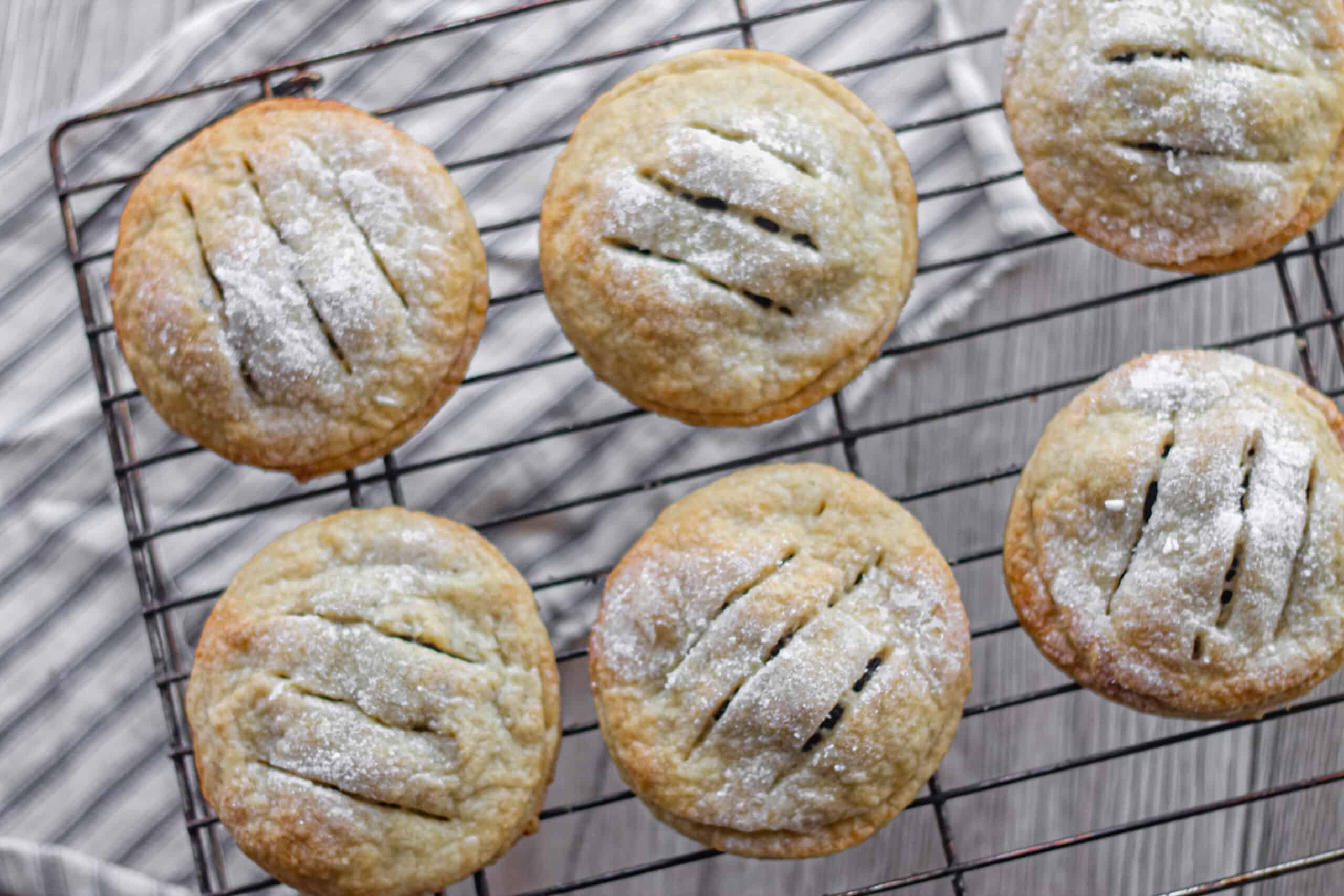 However, until I reached my late 20s, I had never eaten an Eccles Cake in my life. I hated currants, little black, chewy burnt tasting things that get stuck in your teeth. I would'nt have them in the house. So, I have rid the Eccles Cake of its most traditional ingredient, the one that gave it the nickname 'Squashed Fly' cakes and replaced it with raisins. Sorry to all purists.
What are Eccles Cakes?
I spent a while online researching the classic Eccles cake and came across various different recipes, some using puff pastry, some shortcrust and some flaky. Whilst I didn't have the time to make the first, I settled for rough puff, which, if well made, is very flaky and light anyway.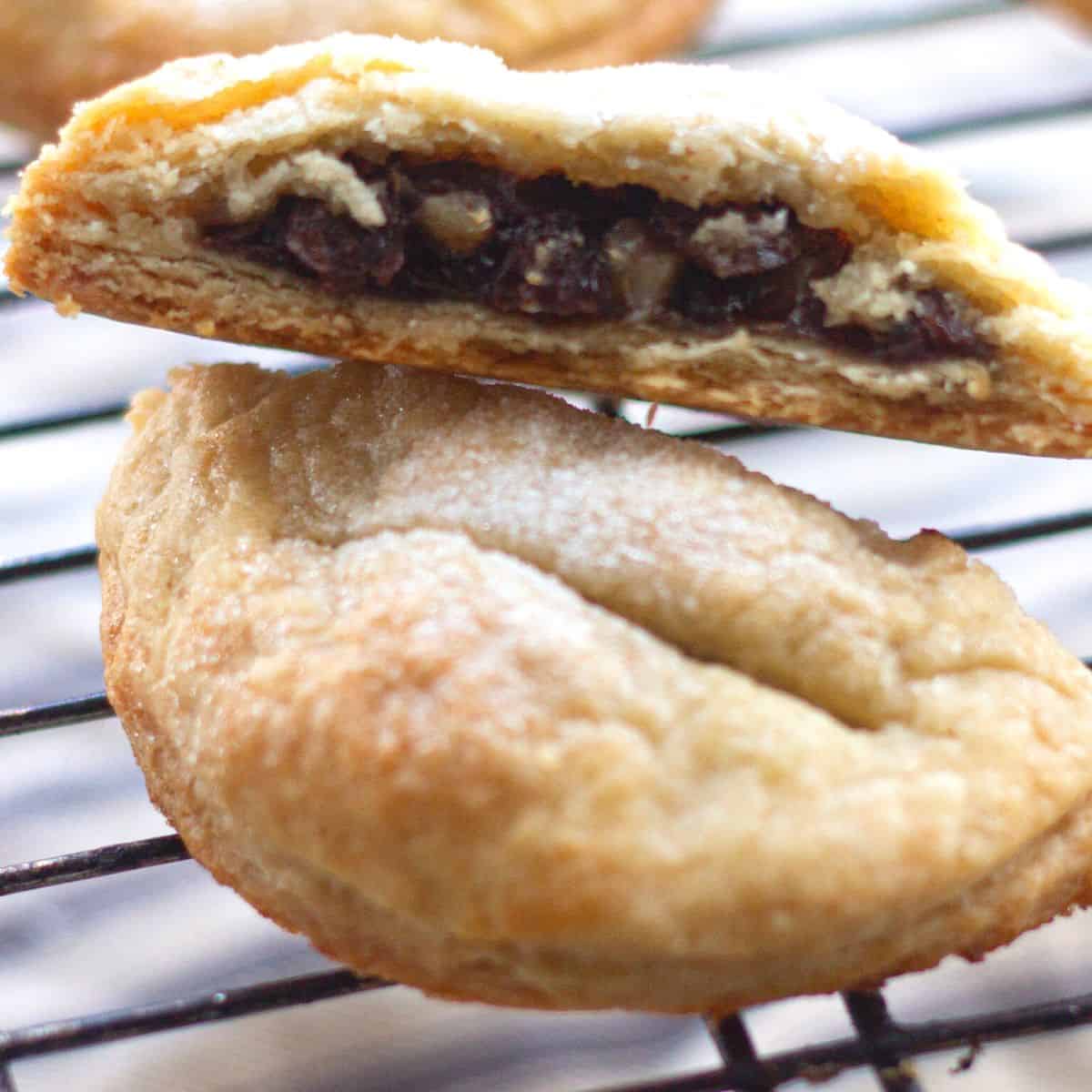 I eschewed all online fripperies such as dried blueberries, orange juice and golden caster sugar and used the ever-reliable Jane Grigson's recipe from English Food. Apparently these flat, unassuming little cakes gain their name via the town they were first invented, from the Greek word, ecclesia, meaning assembly. They have an interesting history too: when the Puritans came to power in the mid-1600s, the production and consumption of Eccles Cakes was temporarily banned because they were considered much too luxurious. I wonder what the Puritans would have thought of today's confections?
These spicy little eccles cakes get their distinctive aroma from allspice and fresh nutmeg and the tart addition of candied peel. I think that this version, without the 'squashed flies' is perfect for non-currant eaters but if you are one of those people, just add them back into the mix.
Ingredients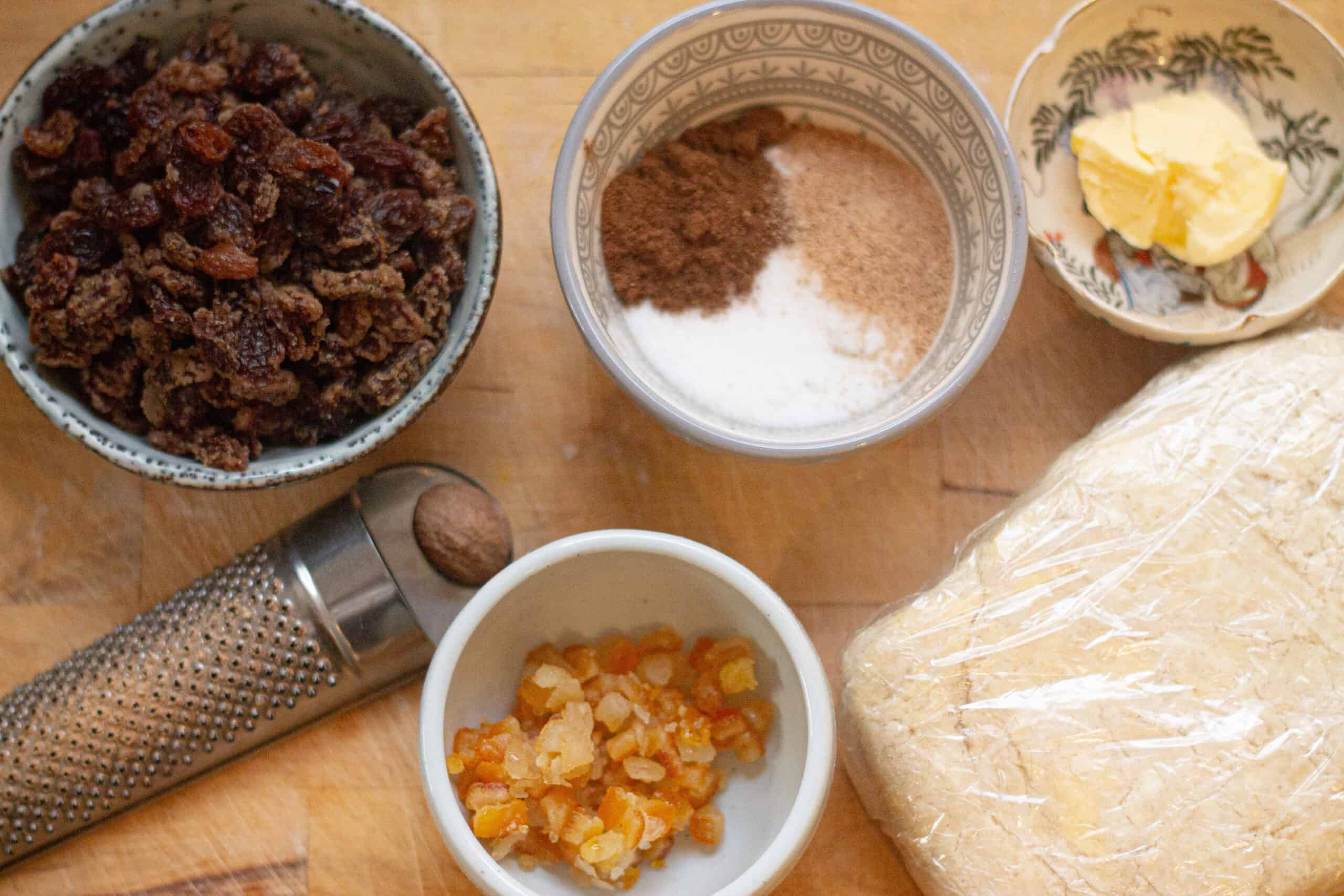 currants or raisins
rough puff pastry
allspice and nutmeg. I didn't have any allspice so I used mixed spice instead
See recipe card for quantities.
Instructions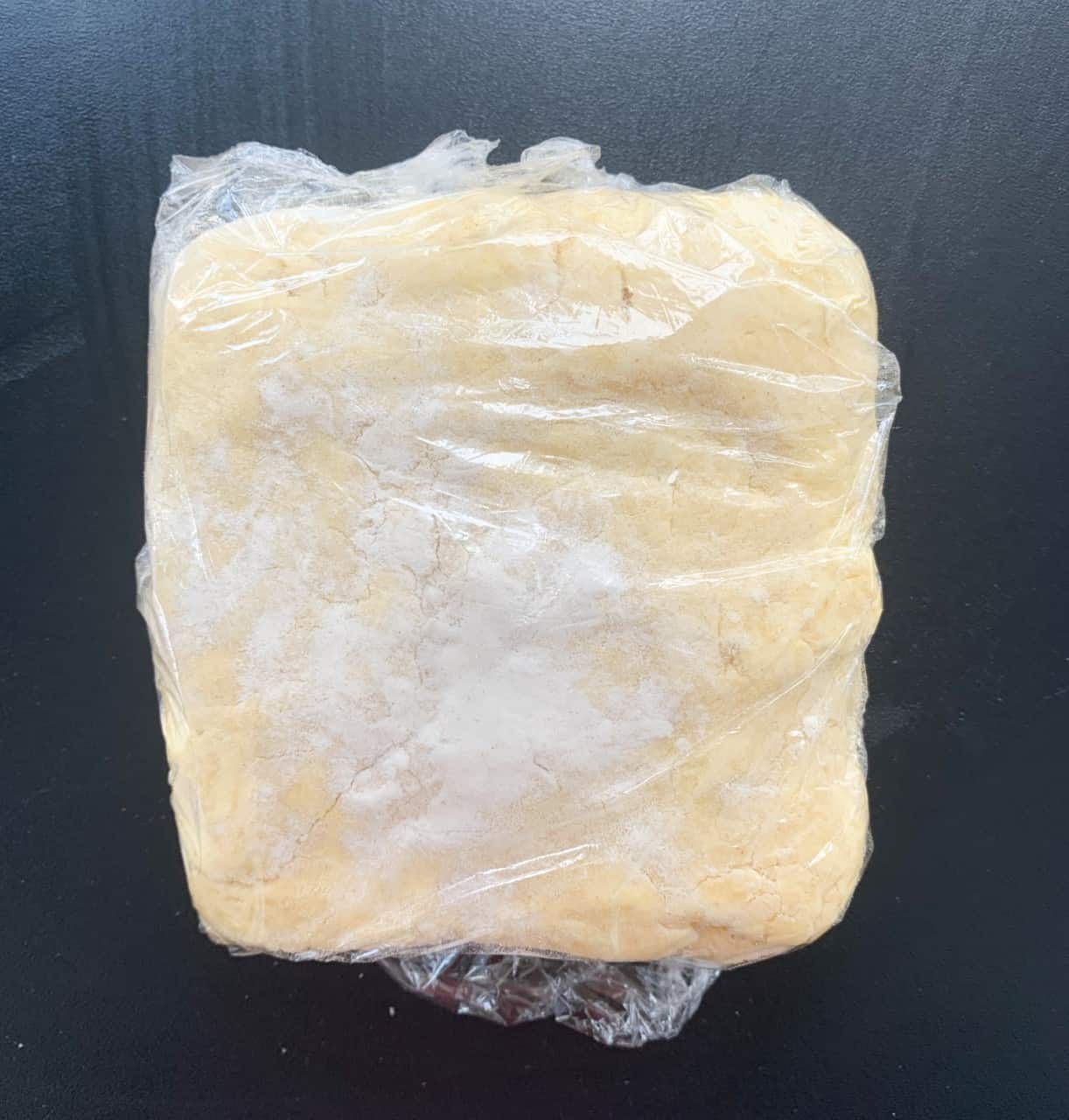 Make your rough puff pastry and chill. You can also use bought puff pastry if you prefer.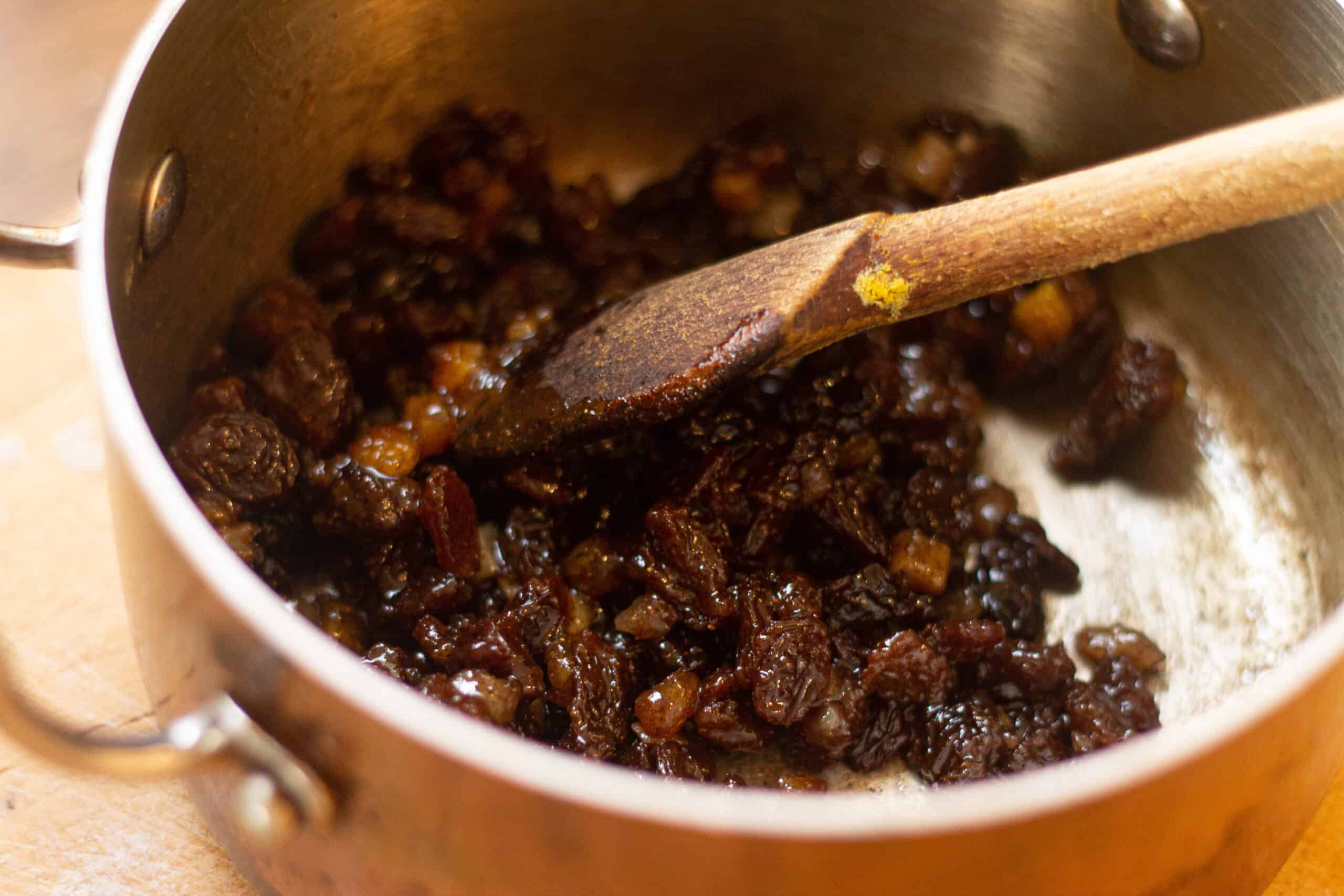 Whilst the dough is chilling, heat all the other ingredients in a small saucepan until the butter has melted and you have a sticky, cohesive mixture. Leave to cool.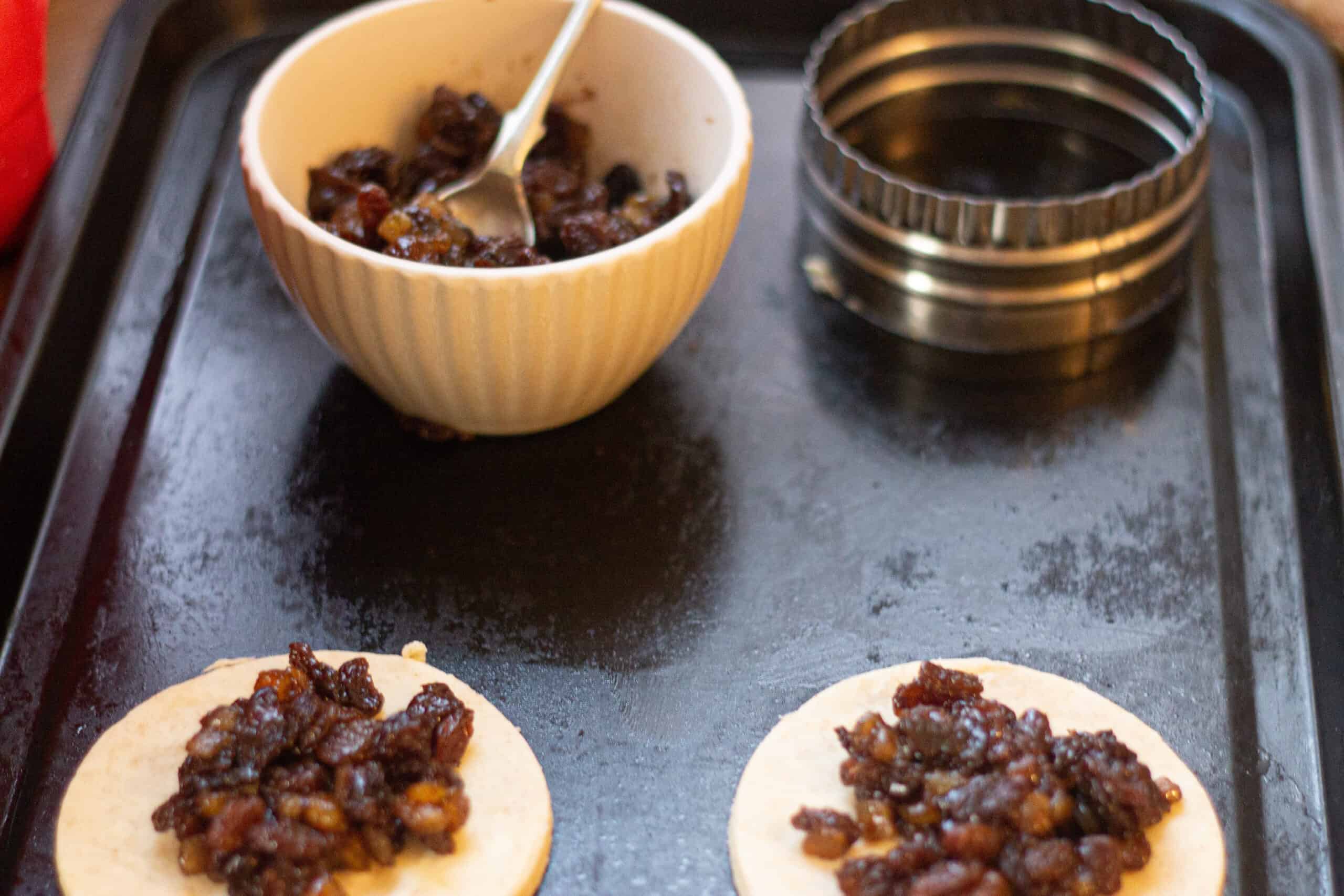 Roll out your dough to above 1/4″ thickness and cut into 12 x 3″ rounds.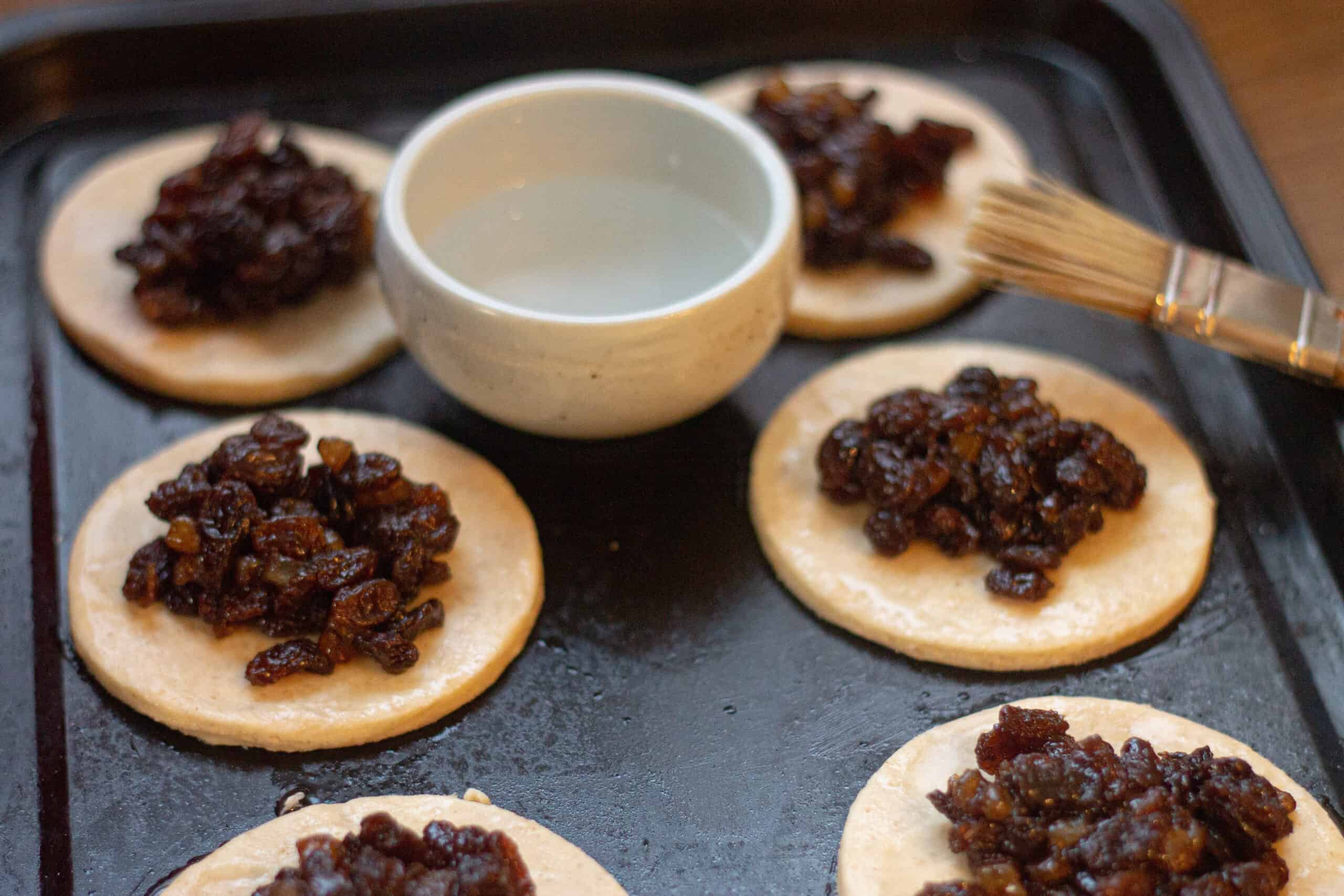 Place 6 of the rounds onto a lightly oiled baking sheet and place 2 scant teaspoonfuls of mixture in the centre of each.
Hint: I add a little lemon juice to the water before brushing onto the top of the eccles. Not only does this add a little flavour, but the juice helps the sugar adhere better to the pastry.
Substitutions
flour – use gluten free instead to make this gluten free
raisins/currants – try using different dried fruits like chopped figs, glace cherries, cranberries etc.
Storage
These will store in an airtight tin for at least a week, and probably longer. However, they will not last that long!
You can freeze these both before baking and after. I think they are better frozen "raw" and then baked straight from the freezer. However, you can freeze a baked batch once cooled, placed in a ziplock bag.
Top tip
If you are in a hurry, use shop bought vegan puff pastry instead of making your own. These will be ready in less than half an hour!
FAQ
Why are Eccles Cakes called Eccles cakes?
Because they first originated in the British town of Eccles, which is in Lancashire. They were first produced in the late 1700s!
Vegan Eccles Cakes
A quick and simple classic Northern treat!
Equipment
1 3" round cutter

1 Rolling Pin
Ingredients
Rough puff pastry

see my recipe here

125

g

Raisins

or currants, or a combination

25

g

Candied Peel

finely chopped

25

g

Sugar

1

tablespoon

Butter

vegan

½

teaspoon

nutmeg

½

teaspoon

Allspice

or mixed spice
Instructions
Make the rough puff pastry in the usual way, leaving to rest in the fridge for at least half an hour.

Melt the sugar and butter in a saucepan over a low heat.

Stir in the all the other ingredients and gently warm through until the sugar has dissolved.

Leave to cool completely.

Roll out the pastry to about 3mm thickness.

Cut out 3″ dia. circles.

Place a teaspoon of filling into the centre of half of the circles.

Moisten the edge of the circles and place an unfilled circle on top.

Using your fingertips, gently seal the two circles together.

Flip them over and roll gently with a rolling pin. If any pieces of fruit poke through, carefully use a small scrap of pastry to cover it up.

Using a pastry brush, gently brush water or soy milk over the surface and sprinkle with a thick coating of white sugar. Cut 3 lines into each eccles cake and then bake for about 20 minutes or until golden brown.
Nutrition Facts
Vegan Eccles Cakes
Amount per Serving
% Daily Value*
* Percent Daily Values are based on a 2000 calorie diet.