Tomato, Garlic and Olive Soup Recipe
This post contains links to affiliate websites, such as Amazon, and we receive an affiliate commission for any purchases made by you using these links. We appreciate your support!
Vegan Tomato Garlic and Olive Soup. Full of fresh Mediterranean flavors tomato, olives and basil, this soup will make you think of hot sunny days, even if you cook it in the middle of winter!
I used to love tinned soups. I would come home at lunchtime and crack open a can of lentil or minestrone, pour it into a bowl and microwave it (and I admit it, I used to enjoy seeing the peas explode), then devour it with several slices of thickly buttered bread.
That was until I decided to make my own soups. It started some years ago when I first made Wild Rice soup. I was thinking about this very first soup the other night and I came to the conclusion that it was a forerunner for my Risotto making frenzy of 2014, so thick and creamy it was, that it barely resembled soup.

After that, I have made many types of soup. It can be a quick supper or a slow simmered make-ahead meal. It can be restorative or comforting or perhaps both. It can be thick or thin, chunky or smooth, healthy or rich with cream.
Ahh, but I cannot resist the seductive lure of the bowl of soup. Last night was no exception. I have never made tomato soup before, and I have never been a fan of tinned tomato soup, finding it too sweet, too synthetic and the texture to be too thick. I like soups to have a little texture to them.
This particular recipe is borrowed from one of my favourite TV Chefs, Rick Stein. His food is always unpretentious and most importantly accessible to the home cook. There is nothing worse than finding a recipe that you simply must cook but you just don't have the skills or you can't get hold of the ingredients.
How do you make Tomato, Garlic and Olive Soup?
What makes this Tomato Soup a little different to others is that it doesn't rely on the tomatoes being roasted and it is seasoned – heavily – with black olives. This soup also contains a whole bulb of garlic!
Suffice it to say, I slashed the amount of garlic in both, thinking of my social status the next day, and the soup still turned out to be pungent with the strongest allium.
Not to worry. The flavour was rich, slightly tart and quite unlike anything you extract with a can opener. Rather than roasting the tomatoes, they are roughly chopped, stalks and all, and thrown into a pan with some sauteed garlic and olive oil and cooked for no longer than two minutes, until they just start to leech out some of their tart juices. This quick cook method retains that 'just picked' flavour of the tomatoes so it has a summery resonance (did you know that up until about a year ago, I could not eat raw tomatoes? That was until I tried some vine ripened ones. Standard budget supermarket tomatoes have tough skins, watery flesh and very little flavour. Those on the vine, whilst considerably more money, are definitely worth the added expense. I kept popping them in my mouth whilst chopping them up last night!).
At this point they are blended up and then some of the Tapenade is stirred through to taste. A final flourish of a chiffonade (that's thinly chopped to me and you) of fresh some Basil and the soup is done.

If you were really pushed for time and/or ingredients, you could use ready bought Tapenade too. Belazu do particularly good green and black olive versions. You may need to salt the soup a little more heavily though.
Vegan Tomato, Garlic and Olive Soup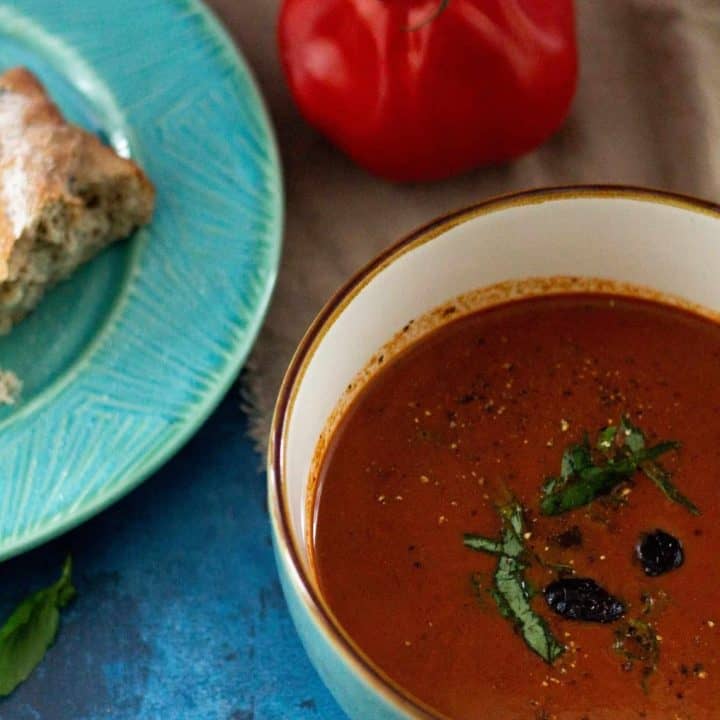 A delicious and simple soup
Ingredients
900

g

Tomatoes

-

preferably on the vine, roughly chopped

6

cloves

Garlic

50

ml

Olive Oil

¼

cup

Black Olives

Salt and Pepper

1

tbsp

Basil

-

fresh, shredded
Instructions
Sweat down the garlic in the warmed olive oil until fragrant, but not browned

Add the tomatoes which have been roughly chopped (I just quartered mine) and cook for two minutes more

Pour into a blender and process until smooth.

Push through a sieve into a clean pan

Stir through some Tappenade and taste for seasoning. More salt and pepper?

Finish with a final drizzle of Olive Oil and the shredded Basil Leaves (optional).
Please note that where the recipe asks for milk, butter or yogurt, this refers to any plant-based version that you prefer.
Nutrition Facts
Vegan Tomato, Garlic and Olive Soup
Amount per Serving
% Daily Value*
* Percent Daily Values are based on a 2000 calorie diet.
Love soups? Try my other delicious vegan soups: