Vegan smoked salmon. There are some foods that, at one time, it seemed impossible to veganise: steaks, caviar, chicken wings and smoked salmon.
Jump to:
Of course, these things are all available nowadays (perhaps in varying degrees of success), but for me, the most astoundingly effective is vegan smoked salmon. The idea of a vegan fish recipe that you can make at home is completely wonderful, as I miss the flavour and textures of fish.
What IS vegan Smoked Salmon?
Vegan smoked salmon is made with carrot (although I've seen some recipes use orange pepper too)! It really is a really simple process, thin slices of carrot infused with a smokey flavour (in this case, paprika and soy sauce), and a "fish" flavour from seaweed. Once the flavour is locked in, the carrot is then drizzled with oil, to give it the distinctive oily texture of real smoked salmon.
How do you make Vegan Smoked Salmon?
Some recipes bake the carrot, others marinade it over several days. I took elements from some of these recipes and made an easier, quicker version.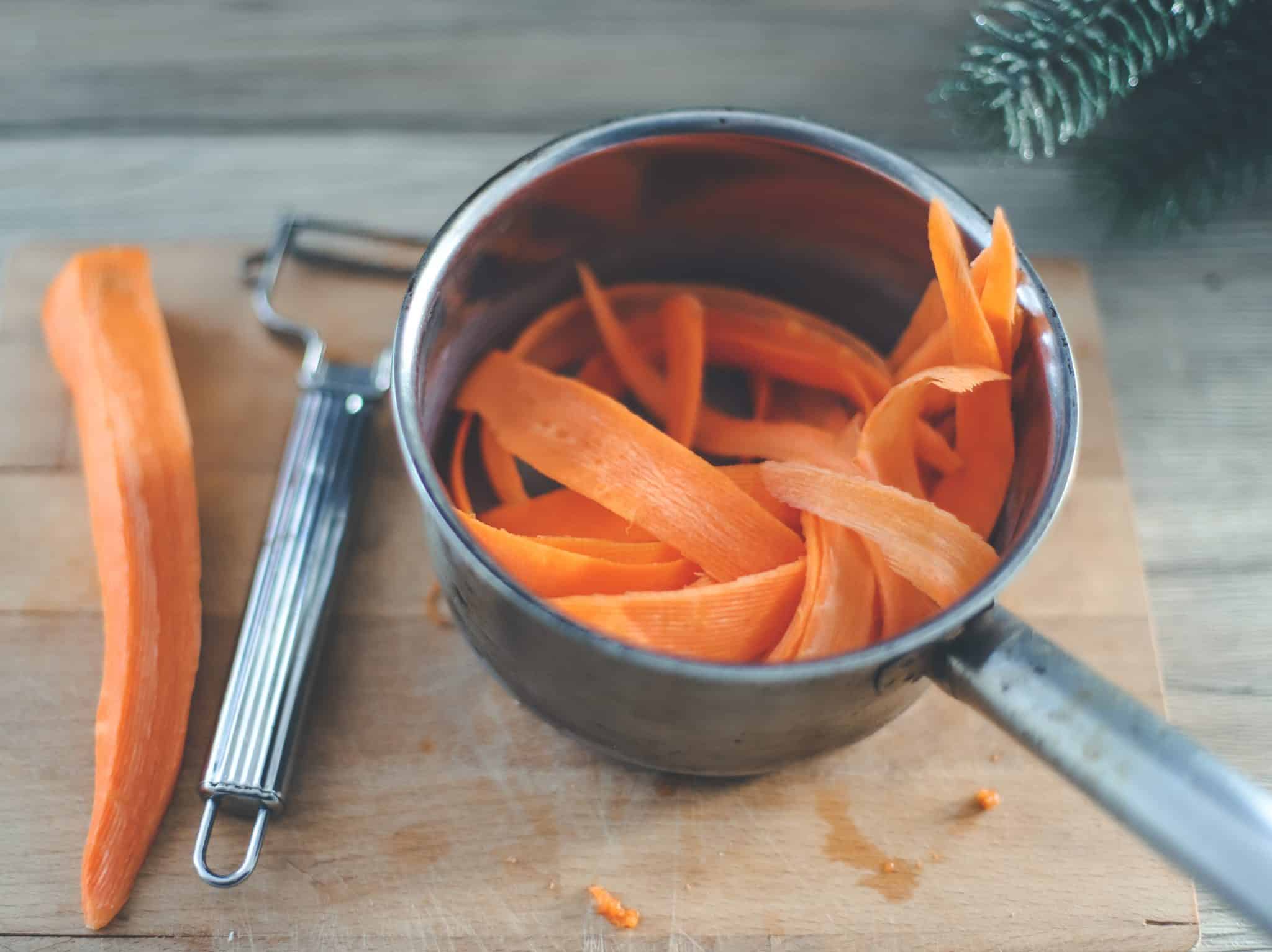 I used just one large carrot and found that it made enough "smoked salmon" to top 20 or more blinis.
Peel the carrot and, using either a spiraliser or large vegetable peeler, start peeling long strips of the carrot. This is the best way to get the classic smoked salmon strips.
Place these carrot ribbons in a pan, just covered with cold water.
To start flavouring the vegan carrot lox, add smokey paprika, maple syrup and soy sauce to the water. Some recipes use liquid smoke, but I was not able to find that locally.
Cut a little square of muslin and place a teaspoon of dry seaweed in the center. Tie this with a piece of string and add to the pan. You can use a crumbled nori sheet, or wakame, whatever you have or can find in the stores. This gives a flavour of the sea to the carrot.
Heat the soon-to-be salmon carrot strips in the water for just 10 minutes, then leave to cool in its' briny marinade.
Once cool, drain and dry on kitchen paper. Place in a small bowl and drizzle with lemon juice, oil, capers and fresh dill and black pepper. This final touch turns the carrot into carrot lox.
Keep in an airtight container in the fridge for at least 12 hours, but upto 48 before you need to use it.
(This is ONLY a list of ingredients for the recipe; please see recipe card below for complete printable recipe. Or if you use the JUMP TO RECIPE at the top of the page, it will take you directly to the complete recipe.)
How do you serve Vegan Smoked Salmon?
I love to serve it on vegan blinis, piped with a little vegan cream cheese, and topped with a little red onion, or capers. If you place the toppings in little bowls, it's fun for your guests to customise their own blini!
You can also serve on bagels, again with vegan cream cheese, or maybe make a kedgeree style rice dish.
I love to serve it with my delicious vegan cold spinach dip too!
Try my other vegan savoury snacks
📋 Recipe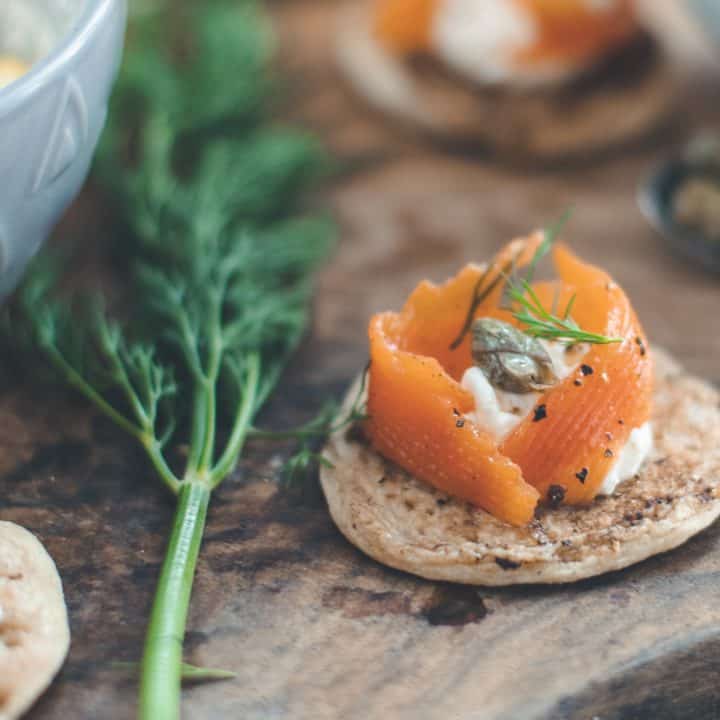 PRINT
Vegan Carrot Smoked "Salmon"
How to make a cruelty-free delicious version of smoked salmon
Equipment
Spiraliser or Vegetable Peeler

Muslin square
Ingredients
1

large

Carrot

washed, not peeled
Cooking Broth
1

tablespoon

Seaweed

dried, of your choice (I like wakame)

1

teaspoon

Soy Sauce

½

teaspoon

smoked Paprika

2

cups

Water

1

teaspoon

Maple Syrup

1

teaspoon

Salt
Marinade
1

tablespoon

Canola Oil

1

Lemon

juice

grind of black pepper

1

sprig

Dill

1

teaspoon

Capers
Instructions
Using your spiraliser, or vegetable peeler, carefully cut long thin strips of the carrot.

Place your carrot in a pan and cover with the water.

Place the seaweed into the square of muslin, tying into a little parcel and dropping in with the carrot.

Add the maple syrup, paprika, soy sauce and salt.

Bring the pan up to a gentle simmer and let the carrot gently bubble away for 10 minutes in its transformative broth.

After 10 minutes, turn off, cover with a lid and leave to cool. Drain, discarding the seaweed.

Spread the smoked carrot onto kitchen paper, letting it dry thoroughly.
To marinade the carrot
Place your carrot into a small bowl with the capers, black pepper, dill and drizzle over the oil. Toss gently, clingfilm and leave to chill overnight at a minimum.
Nutrition
Nutrition Facts
Vegan Carrot Smoked "Salmon"
Amount per Serving
% Daily Value*
* Percent Daily Values are based on a 2000 calorie diet.
Nutritional Information Disclaimer
The automated nutritional information on my recipes can often be inaccurate due to the limitations within the programming. For exact measurements, there are lots of apps and websites that can calculate this information more accurately.
Tried it and Loved it?
Mention @sweeterthanoats or tag sweeterthanoats!