Vegan No Bake Strawberry Cream Pie Recipe
Creamy, vegan, no-bake and full of fresh strawberry flavour, my Strawberry Cream Pie will be your new summer go-to recipe!
Vegan No Bake Strawberry Cream Pie recipe. Most of us are lucky enough to live near a farm shop or farmers markets. These little places are the future of shopping as we know it, so we had better get used to getting all of our fresh produce from them.
And why not? Seasonal, locally grown vegetables, organically produced dairy products, apple juice made from the fruit of apple trees that grow just up the road from you. Furthermore, if you buy organically produced goods from your local farm shop, you will, on average, save up to 25% than buying the same goods from your local supermarkets so-called 'organic' range.
Buying Local Produce
Of course, there are always those times when you find that the supermarket is more convenient, closer by, and has everything else you need to get all under one roof. This is undeniably true. However, just a once a month visit to your local farm shop will provide you with the best tasting vegetables and fruit that you can find in your local area.
You do have to exercise a little caution when you go organic food shopping. Not everything is as it seems. I know, almost unequivocally, that lemons are not a native fruit of the UK so when I see them displayed, all bright and yellow in their little straw baskets, that they are not from around these parts. However, I can't blame farm shops for needing a little bit of filler and you can often find organic chocolates, ice creams and alcoholic beverages too.
One of my local shop, Spencer's Farm Shop, is a great example of a long-running, locally supported industry. Established over 30 years ago as a small Pick-Your-Own, fruit business, they have expanded several times, most recently opening a thriving coffee shop which serves light lunches made, of course, from locally produced food.
I sat outside on the veranda with a coffee in the middle of the glorious Essex countryside, smelling nothing but fresh air and the fragrant scent of strawberries waiting patiently to be picked, imagining what I could prepare with the fruit I'd just purchased.
Summer Fruit Picking
The onset of summer always fills me with a strong desire to go fruit picking, those glossy red berries seemingly symbolising everything wonderful about the summer, and reminding us of eating raw berries with stained fingers when we were children.
Unfortunately, the shelf life of soft berries is as transitory as the season itself and unless you know people who will gratefully accept jars and jars of jams, you may find yourself throwing out strawberries that have grown grey fur coats out to the birds (they're not as picky as us humans).
Have you tried my delicious and simple summer pudding for another way to use up those summer berries or my foolproof chia jam!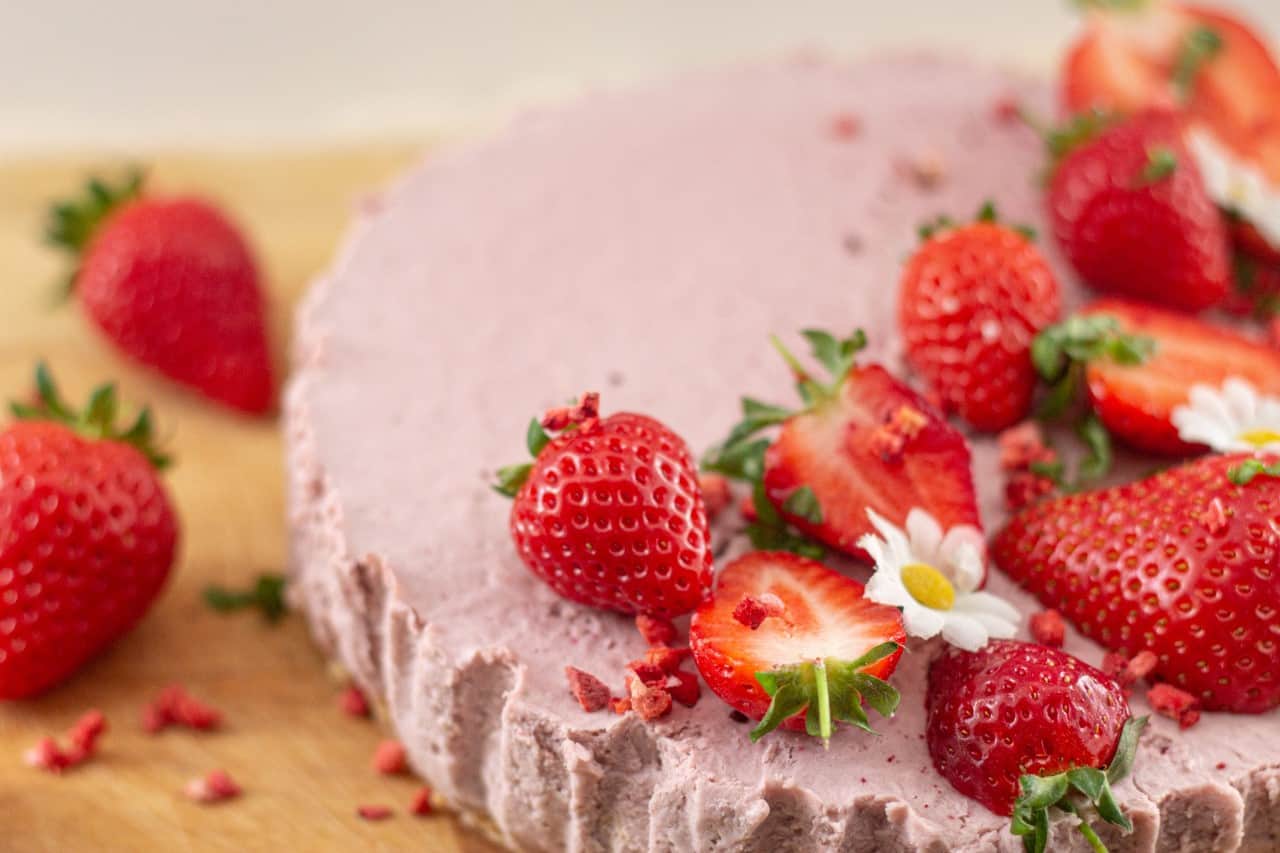 Fortunately, it is really easy to freeze fruits, you just need to lay them out flat on a baking sheet in the freezer for a day or so, before bagging up. By freezing in this way, you're left with whole fruits that haven't been crushed by other freezer hogging fruits that are demanding their own space in the bag.
The recipe that I'm sharing today is really simple but dazzlingly effective, perfect for a relaxed summer meal, my vegan no-bake strawberry cream pie.
Firstly, you can use any berries you want. I used purely strawberries (which particularly benefit from the baking sheet method of freezing) but raspberries, loganberries, blackberries or currants would be just as good. It gives you a feeling of having grasped onto a fleeting moment of the summer when, in the middle of winter, you extract a bag of frosty berries from the freezer.
If you enjoy the tartness that some early season berries carry, then you'll love this. If, like me, you have a sweet tooth that constantly needles your pancreas, then add a little bit of natural sweetness from some maple syrup.
How Do You Make Strawberry Cream Pie?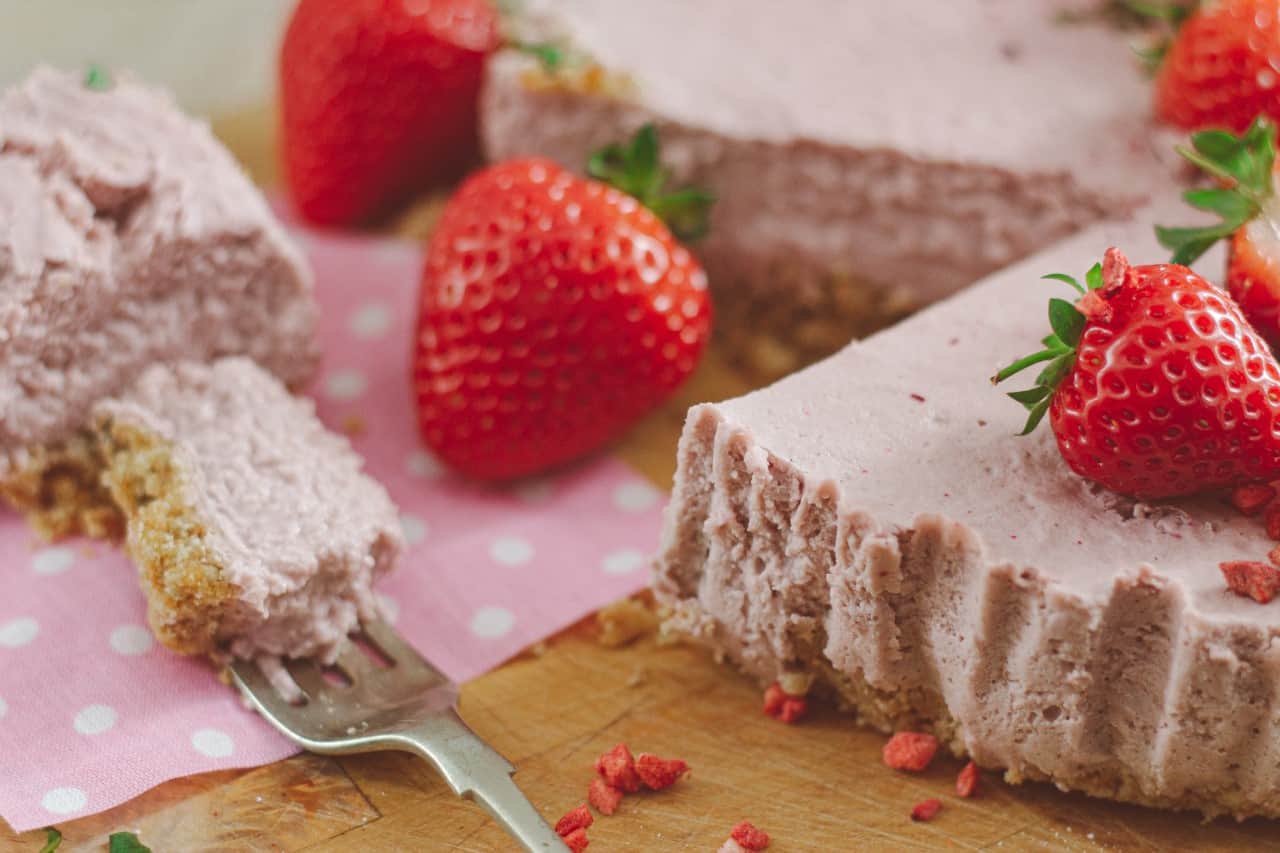 The recipe is very similar to my no-bake Key Lime Pies. A simple biscuit base, topped with blended strawberries and coconut cream.
This mixture is then poured over the base, and frozen for a couple of hours, and then you can remove from the freezer, and keep chilled. Decorate with fresh strawberries when you're ready to serve.
Try my other delicious vegan desserts
No Bake Vegan Strawberry Pie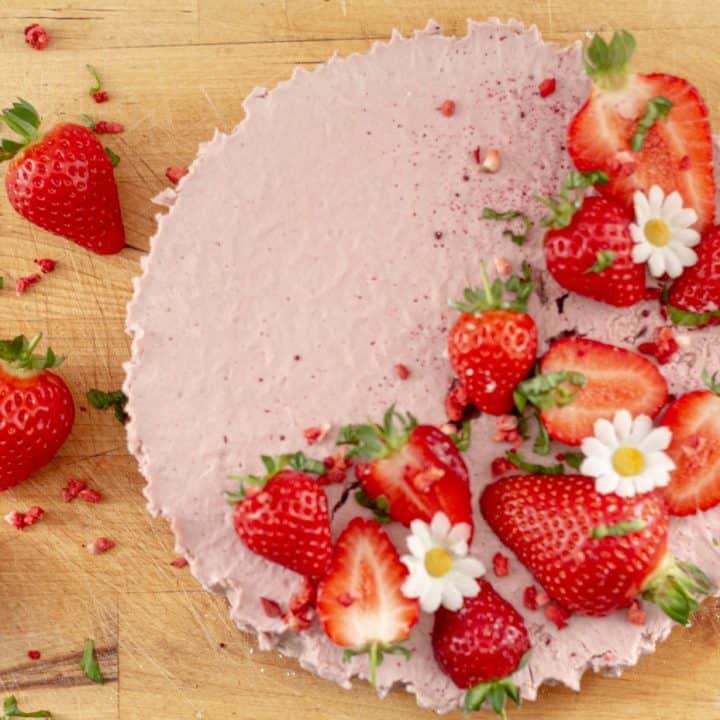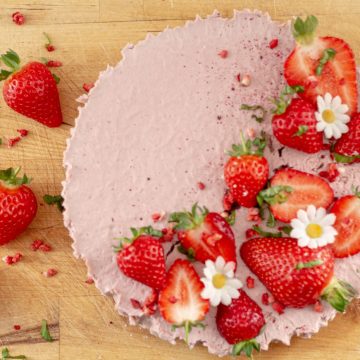 Creamy and full of real strawberry flavour, this easy vegan pie will become your new summer favorite!
Equipment
9" loose-bottomed tart tin

Blender or Smoothie Maker

Rolling Pin
Ingredients
For the Crust
1¼

cups

Vegan Digestive Biscuits

-

(gluten free can be used too) crushed into crumbs. This is about 12 Digestives (if you're in the UK).

⅓

cup

Butter

-

melted vegan
For the no-bake Strawberry Pie Filling
1

cup

Almonds

-

blanched, soaked for about an hour in cold water and drained

¾

cup

Coconut Milk

-

(can be low fat, just make sure to shake it up well)

¼

cup

Coconut Oil

-

melted

2

cups

Strawberries

-

hulled and chopped

⅓

cup

Maple Syrup

-

or liquid sweetener of your choice

1

tsp

Balsamic Vinegar

2

tsp

Lemon Juice
Instructions
To make the Crust
Note: This can be made in advance.

In a large bowl mix together your biscuit/cookie crumbs with the melted butter until fully coated and it all starts to clump together.

Press this mixture firmly into your 9" Tart Tin and put in the freezer to chill whilst you make the filling.
To make the No Bake Vegan Strawberry Pie Filling
In your blender or smoothie maker, blend together all of your pie filling ingredients until completely smooth.

Pour into your chilled prepared pie crust and return to the freezer for at least 2 hours.

To serve, remove from the freezer and let thaw for about half an hour. Decorate with some more sliced strawberries and serve!
Please note that where the recipe asks for milk, butter or yogurt, this refers to any plant-based version that you prefer.
Nutrition Facts
No Bake Vegan Strawberry Pie
Amount per Serving
% Daily Value*
* Percent Daily Values are based on a 2000 calorie diet.