Quick and Easy Vegan Carrot Cake
Carrot Cake was the first proper cake I ever baked in home economics, and I found it really easy. My version is even easier and quicker – simply blend and stir, plus it's eggless and dairy-free!
Pin my easy vegan Carrot Cake recipe to make later!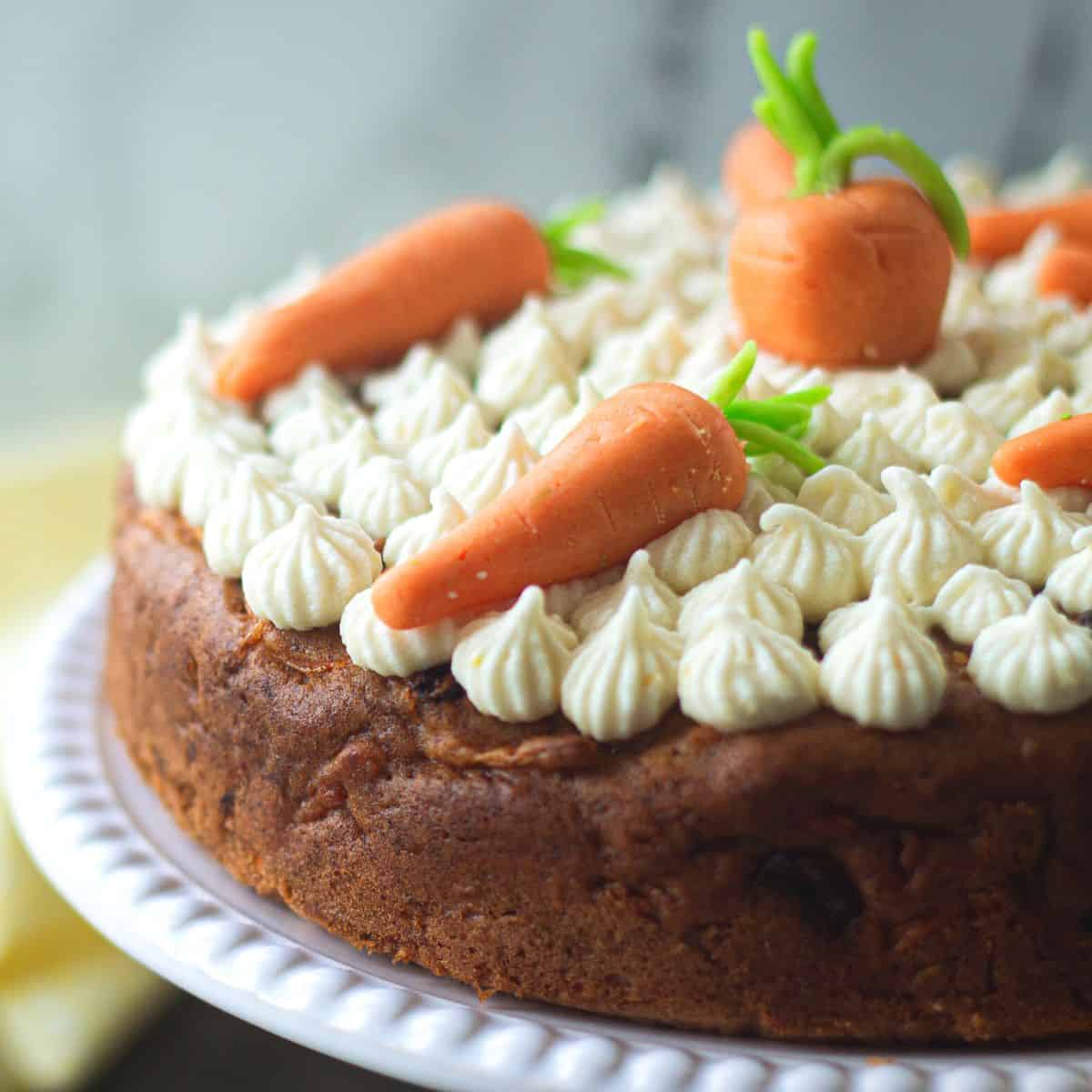 This was inspired by my popular vegan banana bread recipe, and my zucchini chocolate chip bread! I love to ice this cake with just a simple piping of my vegan cream cheese icing.
Once upon a time, a long while ago when it was still considered recherché to put vegetables into cakes, carrot cake was thought to be the cure-all, healthy version of cake.
It has a vegetable in it, so that must cancel out all of that fat and sugar, right?
As a vegetable-queasy vegetarian child, my mum thought that carrot cake was the answer to her prayers. It was one way that I actually enjoyed eating carrots and she thought that perhaps it might help my increasingly bad eyesight too. Of course, the payoff was that I had to grate the carrots.
Suffice to say, in spite of the enforced child labour, I wasn't complaining, I even went to so far as to bake a carrot cake for my first Home Economics class end of term exam, such was my love for this cake.
Asides from making people feel less guilty about consuming cake, now that the shock value of eating of a cake with carrots in it has long since passed, what are we left with?
Simply a moist, spicy cake that lasts exceptionally well in the cake tin and is a snap to make (aside from the utter tedium of grating the carrots, that is). If there could be one way to improve this rich, tender crumbed cake, what would it be? Of course, a Carrot Cake that is lower in fat. Enter the Healthy-ish Carrot Cake.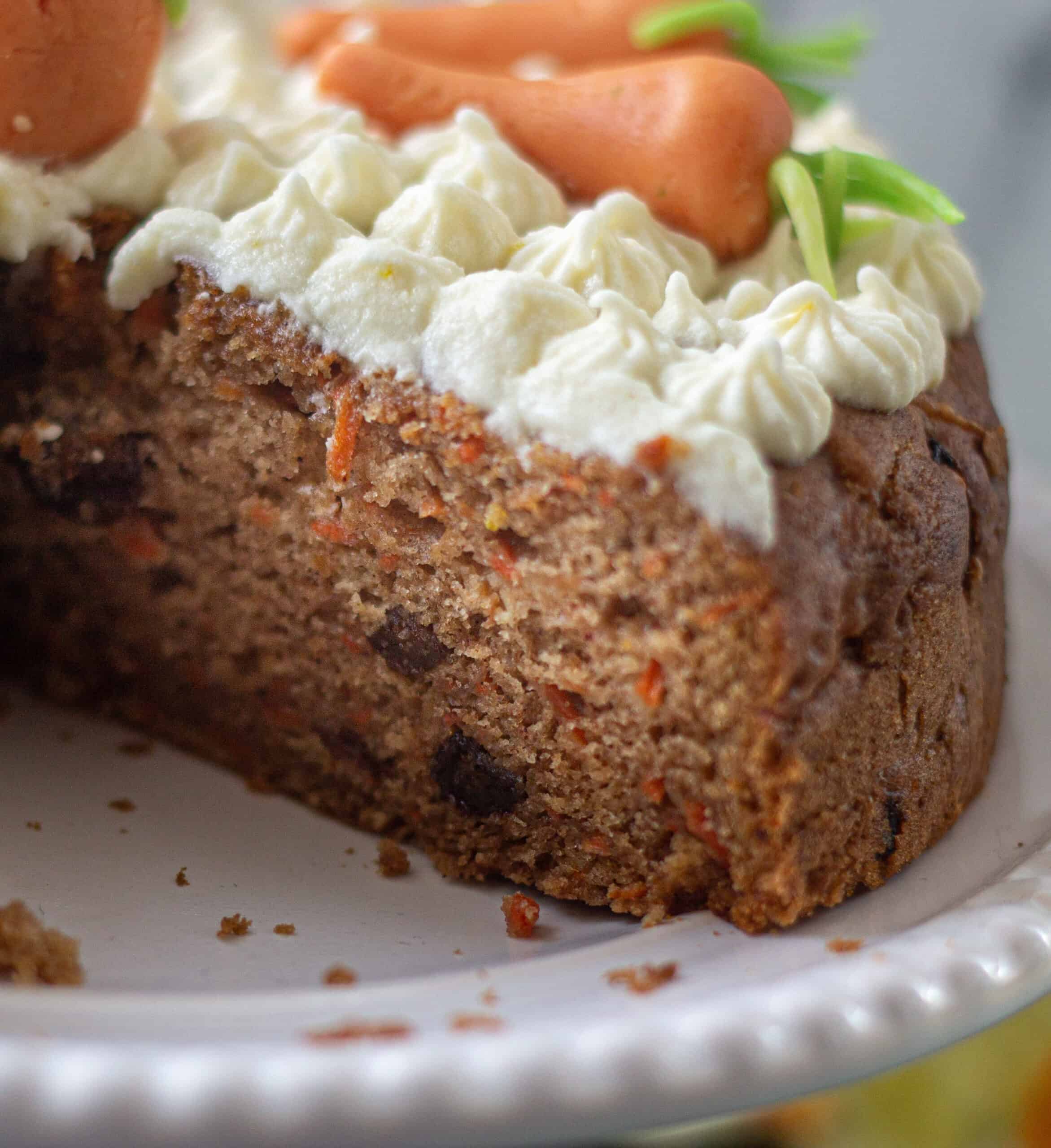 I say healthy-ish because you control certain elements of it. You can add fresh pineapple for a tropical hit. You can use a non-fat icing by simply combining icing (confectioners) sugar with some lemon juice until a thick, glossy, spreadable icing is achieved. Sure, you're still eating sugar but at least you're in control. Plus, there isn't much sugar in the cake and what sugar there is unrefined, which gives a richer flavour.
The butter element is replaced with vegetable oil and for additional natural sweetness we have golden sultanas. And of course, the carrots themselves are naturally sweet and generously exude this sweetness during the baking process.
I often find that shop bought carrot cake is just too sweet, and has too much icing, mine is just a single layer cake, piped with a generous layer of icing and some rather rough and ready marzipan carrots that I made.
For added interest, you could also add some desiccated coconut or chopped walnuts or pumpkin seeds, but I think that too many accessories detract from the natural beauty of the carrot cake.
I couldn't entirely forgo the butter element though and slathered mine with a rich vegan cream cheese icing. After all, it's the icing that makes a carrot cake as far as I'm concerned. However, this cake is naturally moist enough that you can omit the icing entirely.
As an alternative, I have mixed cream cheese with icing sugar and a spritz of lime juice and this works just as well, although it doesn't set as firmly. Either way, I can eat the icing straight from the bowl and to hell with the cake!
Ingredients
carrots, grated
plain flour and spices
vegetable oil
vegan yogurt
sultanas
brown sugar
Instructions
Place vegetable oil, yogurt, vanilla extract and sugar into a blender (I use a smoothie maker) and whizz up to a smooth paste. Whisk the dry ingredients (excluding the sugar, carrots and sultanas) in a large mixing bowl.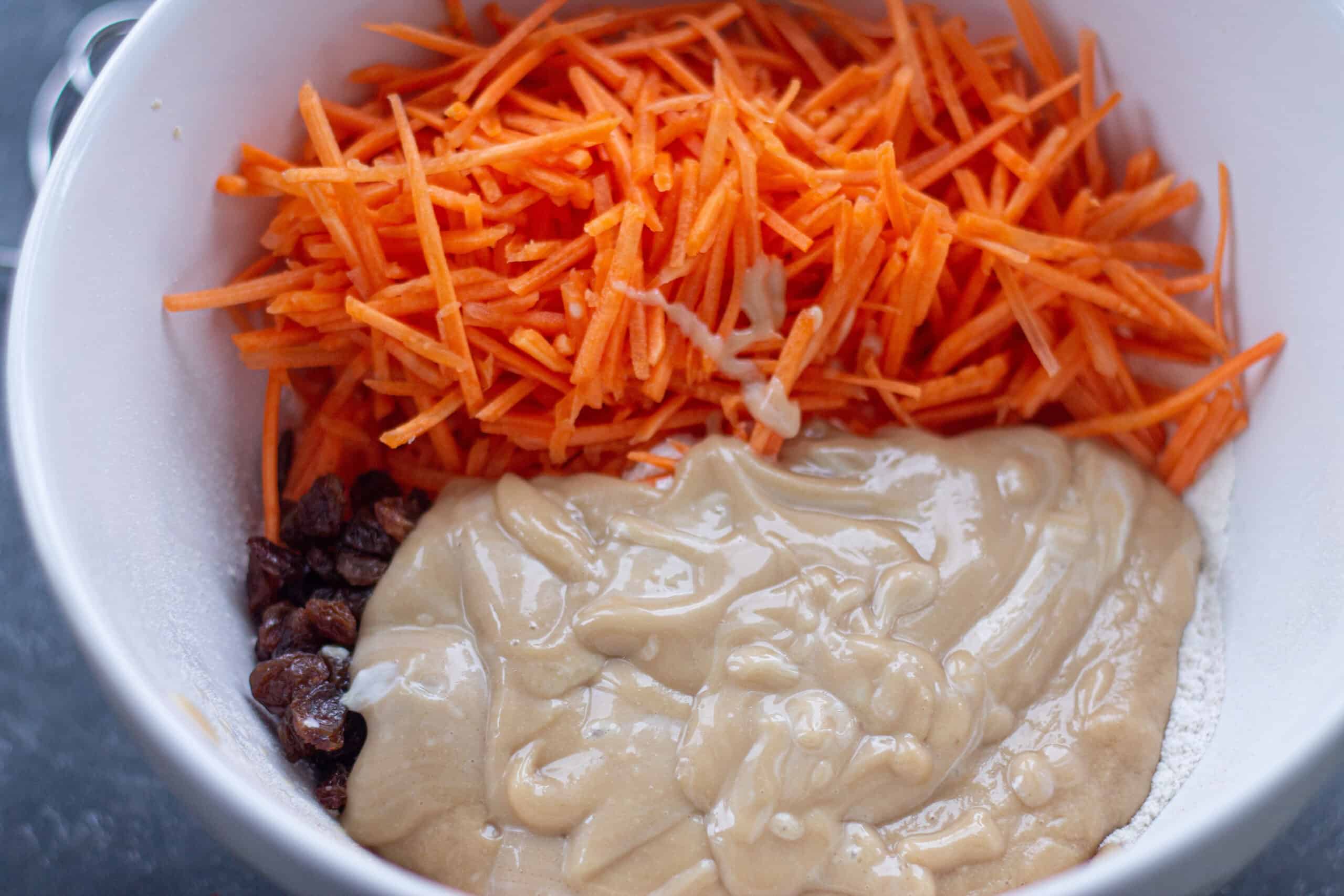 Stir this into the flour mixture, along with the grated carrot, walnuts and sultanas until there are no more dry patches of flour
Pour into lined 7″ cake tin and bake for about 40 mins at 180c.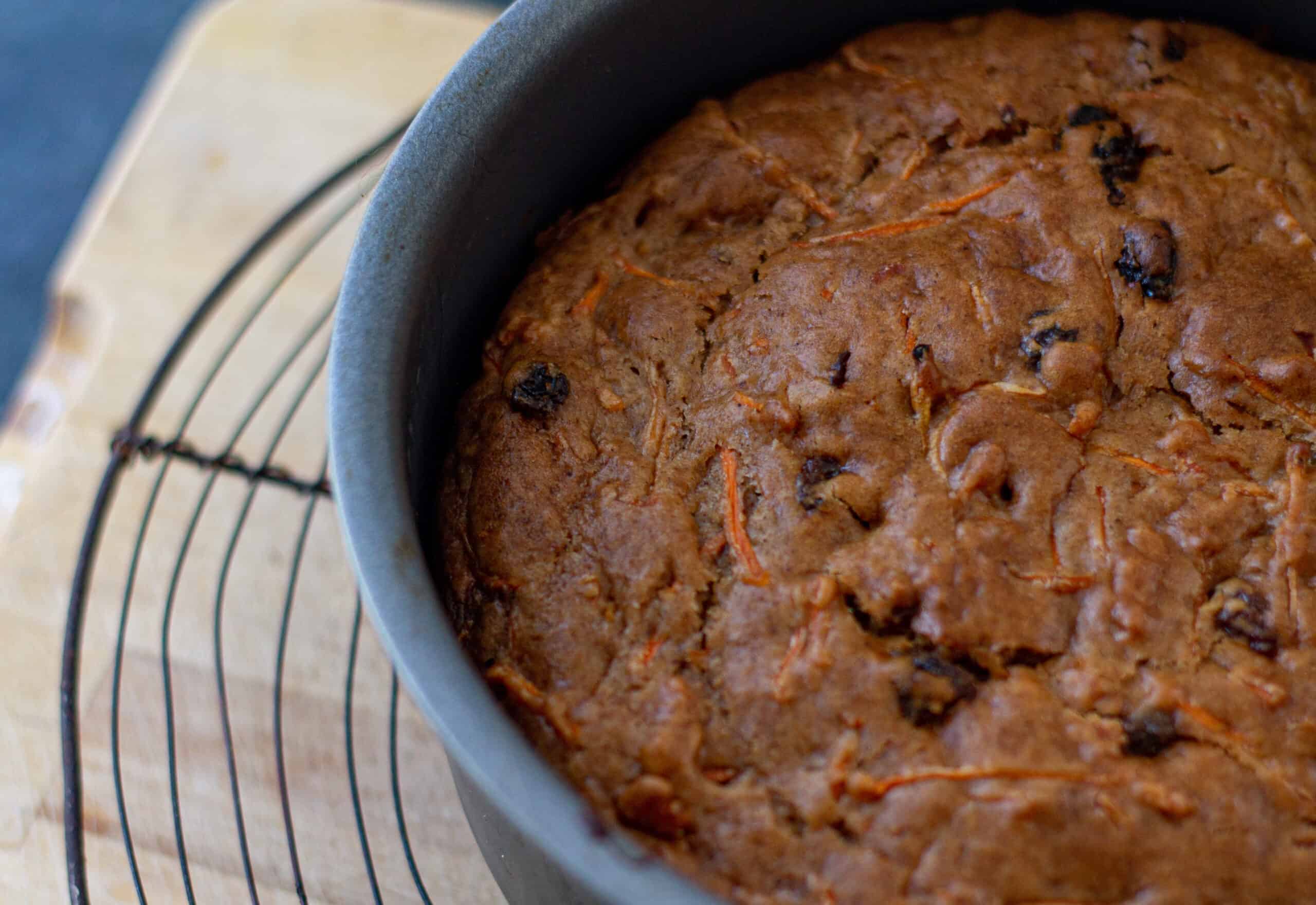 The baked cake, cooled and ready to be iced!
Hint: to make this even quicker, I buy pre-grated carrot, it usually comes in bags of 200g for about 50p (2023 Tesco prices), which seems like great value to me.
Substitutions
Gluten-Free – I have made this recipe using self-raising gluten-free flour and it works perfectly!
Storage
Store the baked and iced cake in an airtight cake tin at room temperature if cold, in the fridge if warm (to avoid the icing going soft).
You can freeze the cooled, un-iced vegan carrot cake by wrapping in a couple of tight layers of clingfilm, then tinfoil for about 3 months. To thaw, remove all the wrappings, and place on a plate, leaving to thaw at room temperature.
Related
Looking for other recipes like this? Try these:
Quick and Easy Vegan Carrot Cake
A quick and easy version of the classic cake
Equipment
1 7" cake tin, lined, square or round
Ingredients
1¼

cups

plain flour

1

tsp

baking powder

½

tsp

Bicarbonate of soda

1

tsp

ground cinnamon

¼

tsp

mixed spice

½

tsp

salt

½

cup

vegetable oil

¾

cup

yogurt

vegan, plain

¾

cup

brown sugar

200

g

carrots

grated weight

½

cup

sultanas

¼

cup

Walnuts

chopped, optional
Instructions
Line or grease and flour a 7" cake tin (square or round).

Sieve together the flour, spices, bicarbonate of soda and baking powder.

In a blender, whizz together the vegetable oil, yogurt and sugar until smooth. Stir this into the dry ingredients and mix until just combined.

Fold in the grated carrot and sultanas and walnuts (if using) until thoroughly amalgamated.

Pour into your prepared baking tin and bake for 40-50 minutes or a skewer comes out clean.

Leave to cool for five minutes in the tin, then turn out onto a cooling rack.

Leave to cool completely before icing.
Nutrition Facts
Quick and Easy Vegan Carrot Cake
Amount per Serving
% Daily Value*
* Percent Daily Values are based on a 2000 calorie diet.