The Simplest Vegan Zucchini Bread Recipe Ever – light, fluffy and prepped in minutes!
Soft, fluffy and full of flavor, plus you can finally use up those zucchini or courgette that your work colleague brought in and gave everyone – yes, it's my simple vegan zucchini bread!
This was inspired by my easy vegan banana bread. If you love easy bakes, also try my 2 minute prep beer bread.
Occasionally I encounter an American while out and about (how Midwestern). It's usually hard to pick out the accent in a throng of people as there are certain British dialects which sound similar, Irish for example. Today I had one such encounter. This time it wasn't the accent that gave it away, but rather the vocabulary. The word that piqued my interest was zucchini.
The equivalent here is courgette and while I occasionally hear eggplant instead of aubergine, I never hear the word zucchini. I personally prefer zucchini to courgette because it's just more fun. Ironically I was looking for courgettes (thinking zucchini) when I heard this woman say zucchini.
In my current bid to recapture my childhood I had decided to make zucchini bread. I had everything in the cupboard to do a great recipe from the classic book Beard on Bread (James Beard 1973) except for zucchini. Now my mom will wonder why I haven't used her recipe from the family cookbook, but I'm claiming immunity under the double jeopardy clause as this recipe has already been used once this year. Besides, it's only because of my mom that I like zucchini bread or rather despite my moms attempts to put me off zucchini forever.
The only thing that grew abundantly in my mum's garden when I was a kid was delicious runner beans and something I wasn't as fond of, zucchini. I hated it! When I was a kid, before the days of lazy parenting, or at least during the awkward phasing in period of lazy parenting, not liking food didn't mean not eating food. Since beans freeze and zucchini doesn't I was condemned to zucchini every single summer day.
My mom did make attempts at preserving these horrible marrows. I don't remember them all, but I'm sure she canned some and I know for a fact that she even managed to make zucchini powder. I remember it being in a little bottle and having it sprinkled over food in place of other seasonings, you know, the kind that actually tasted of something. While her attempts to maintain this particular method of torture throughout the winter months proved unsuccessful for the most part, at least her ability to disguise the device of torture was more refined. The most effective of her ruses was, you guessed it, zucchini bread!
What is Zucchini Bread?
I remember the taste and texture and how great this bread was cold with a layer of butter. I also remember that there was a lot of this when I was growing up. A funny thing happens when you use vegetables as the foundation of a bread dough or cake batter (and make no mistake, the word bread is only used to make this seem healthier. Zucchini Bread is actually a cake.).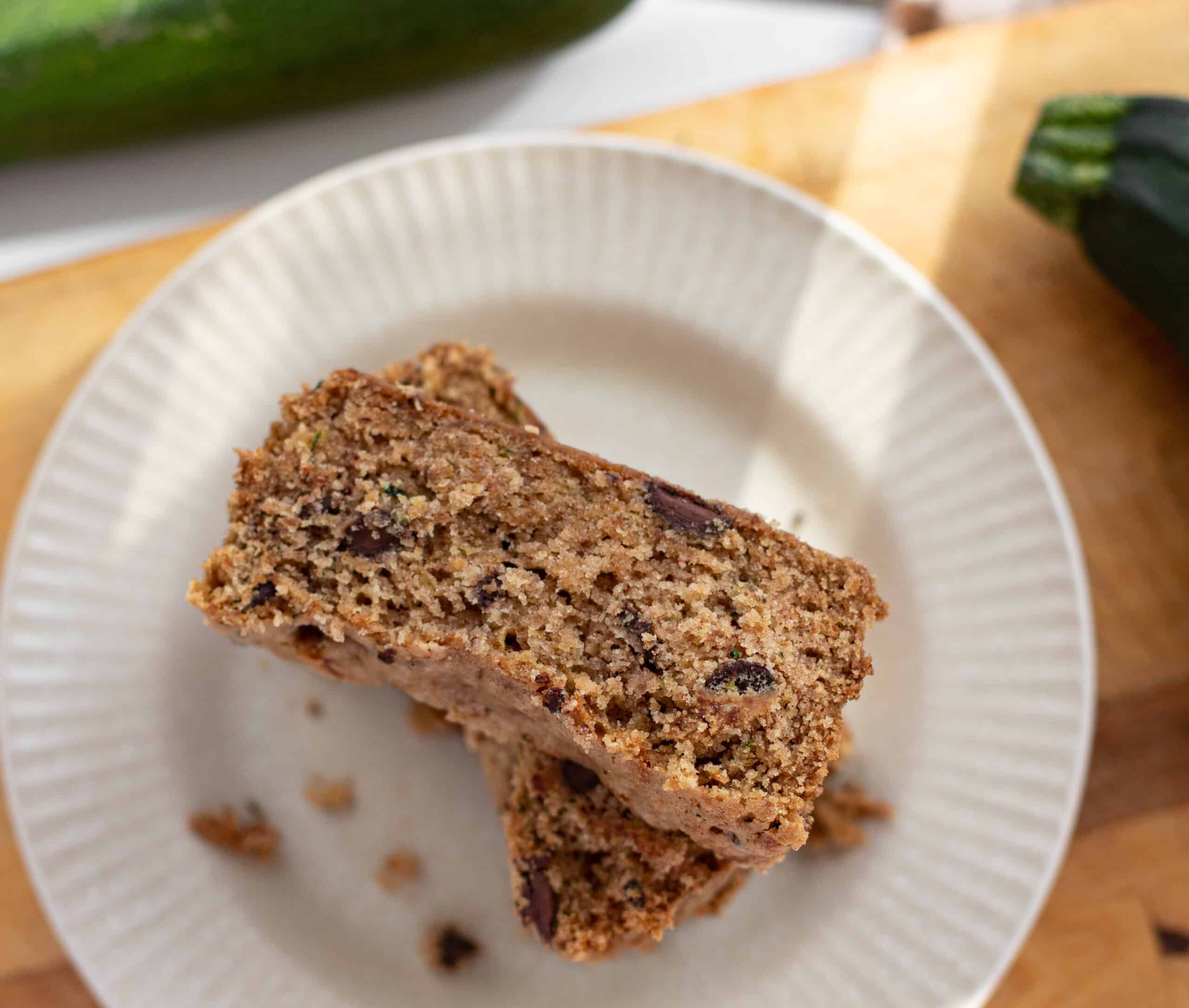 A natural sweetness and moisture is imparted into the baked zucchini loaf that can't be achieved by any other means. The reason is that vegetables have a very high water content, but for the most part retain their shape during cooking. When added to a bread or cake the cell walls of the vegetable don't break down until the baking process nears completion. This means that the moisture in the vegetable is delivered gradually through the process of osmosis over several days. The addition of a vegetable to bread or cake means the finished product will stay edible for several days longer. Want proof? Carrot cake!
My easy vegan zucchini bread is very similar to and, in my opinion, better than carrot cake. It's only the colour and absence of alliteration that prevents it from capturing the adoration by the masses currently heaped on the altar of carrot cake. Zucchini bread is carrot cakes ugly little brother. He doesn't get the chicks and he wouldn't be caught dead in the same outlandish wardrobe, but by gum, he will prove himself and he'll do it on his own merits!
Ingredients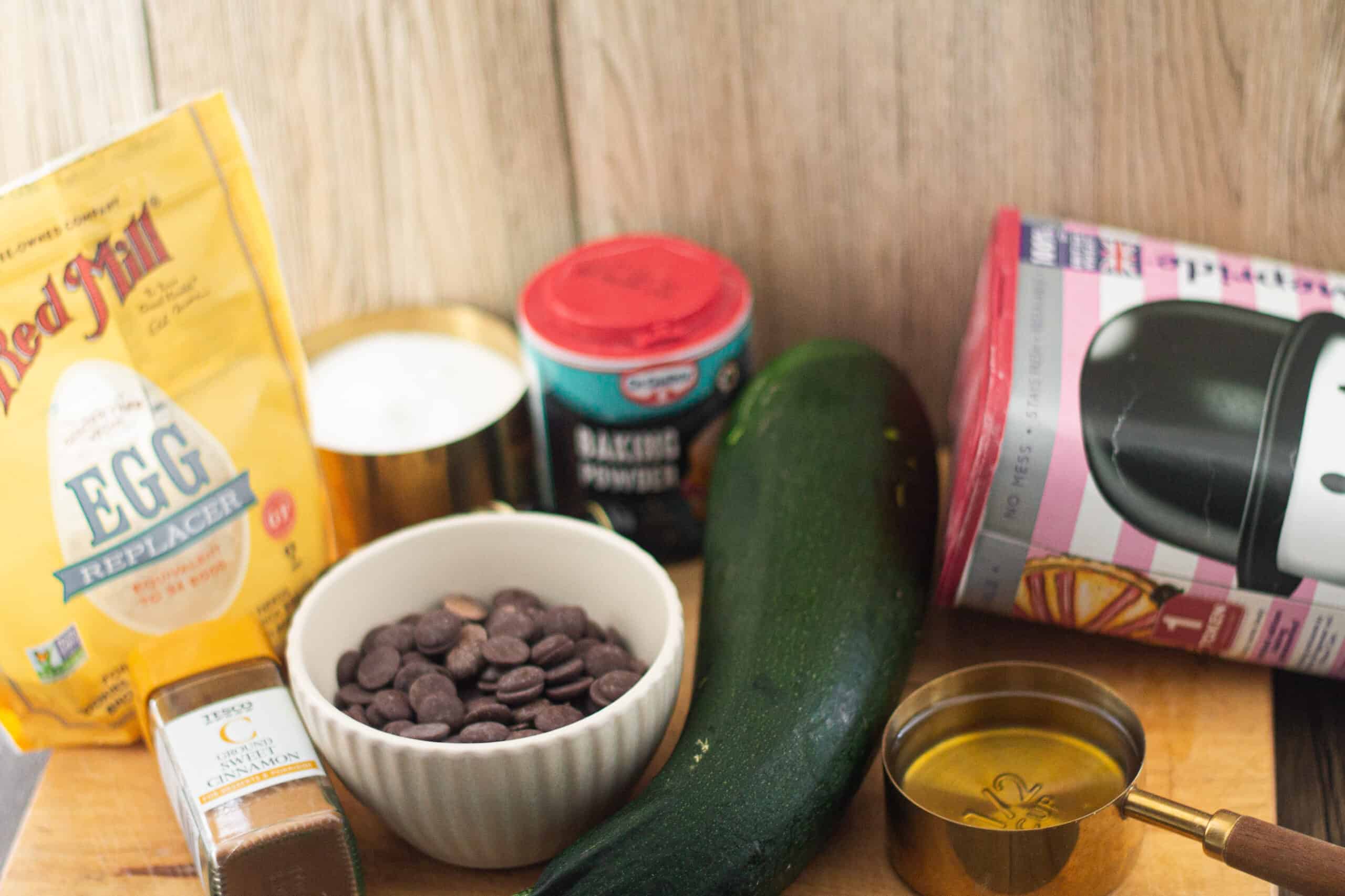 Zucchini or courgette. Whatever you call it, you can't make a zucchini bread without it! It doesn't matter if it's a large, verging on a marrow, zucchini, it will still work!
Sugar. The original recipe from James Beard uses white sugar, and quite a lot, however feel free to use soft brown sugar instead.
Oil. I use an unflavored vegetable oil, but you could use melted butter or coconut oil if you prefer.
Flour. I use plain white, but you could use gluten-free flour or wholemeal flour.
Cinnamon and vanilla for flavor.
Egg Replacer. I used Bob's Red Mill, but use your favorite brand. Make sure to whisk it up first though otherwise it can be quite lumpy.
See recipe card for quantities.
Instructions
Preheat oven to 180c.
Line a 1lb loaf tin with greaseproof paper.
Weigh and then grate your zucchini, placing it into a colander or sieve to drain. You don't need to peel it, but you do need to remove some of that excess water.
Sieve the flour, baking powder, salt, baking soda and cinnamon into a large mixing bowl.
In a blender, whizz together the egg replacer/water, sugar, vanilla and vegetable oil until smooth.
Pour the wet ingredients into the dry and mix until just combined.
Fold in the grated zucchini and chocolate chips. The batter will be quite thick.
Spoon into your lined loaf pan and bake for between 45-50 minutes or until it springs back to the touch.
It may sink in the middle on cooling but this is normal.
Leave to cool before cutting into slices and serving!
Add the grated zucchini to the wet ingredients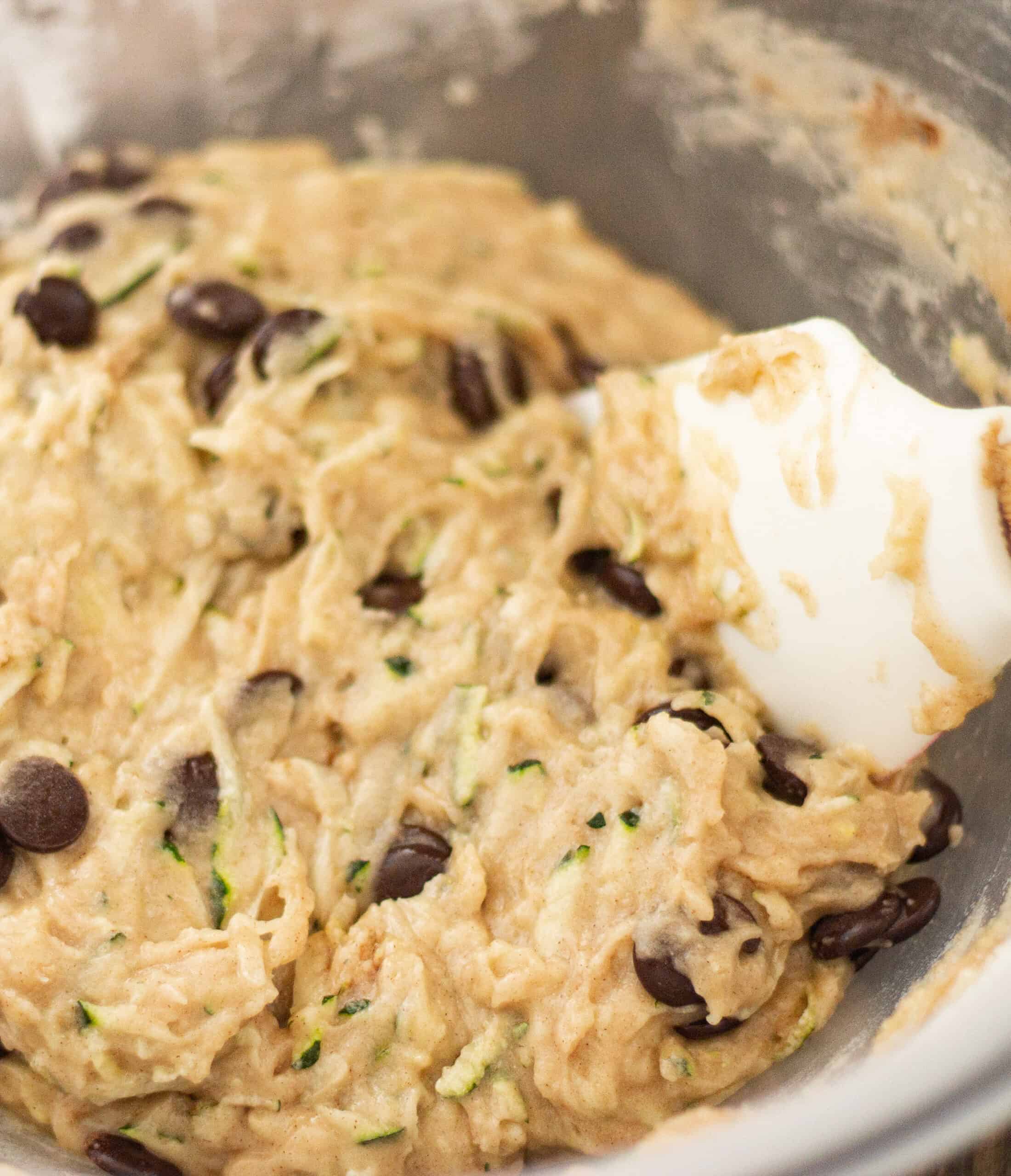 Stir into the dry ingredients, then fold in the chocolate chips
Hint: this cake tastes better if left overnight, and keeps great in the tin!
Substitutions
If you know how to make the recipe fit a certain diet, let the reader know here. Don't fake it – only provide guidance on topics you have actual experience with.
Zucchini – instead of using zucchini try sweet potato or banana instead
Flour – use gluten free flour instead of white flour to make this gluten free
Variations
Deluxe – add a lemon or chocolate icing to the cake then sprinkle with pistachios for a truly luxurious zucchini bread
Kid friendly – add plenty of chocolate chips!
Equipment
I like to use a good quality loaf pan for all non-yeast breads that I make as they stop burning around the sides, and also stop sticking. I line the pan too, using greaseproof paper.
Storage
If you can wait for the loaf to cool, wrap it up well in clingfilm and store it in a tin for up to 5 days. If the weather is particularly warm, store in the fridge.
To freeze vegan zucchini bread, wrap the loaf up in a couple of layers of clingfilm, then freeze for at least a couple of months. To thaw, remove from the freezer, remove the clingfilm and place in a low oven (about 100c) until thawed.
Top tip
Make sure to drain your zucchini a little before you add to the other ingredients, otherwise it can be a little too wet. I usually grate it, then place it in a tea towel, give it a little squeeze to get rid of the excess moisture.
Do I need to peel the zucchini for zucchini bread?
No, you don't need to at all! Zucchini skin is pretty tender, and you won't notice it at all in the bread.
Easy Vegan Zucchini Bread with Walnuts and Chocolate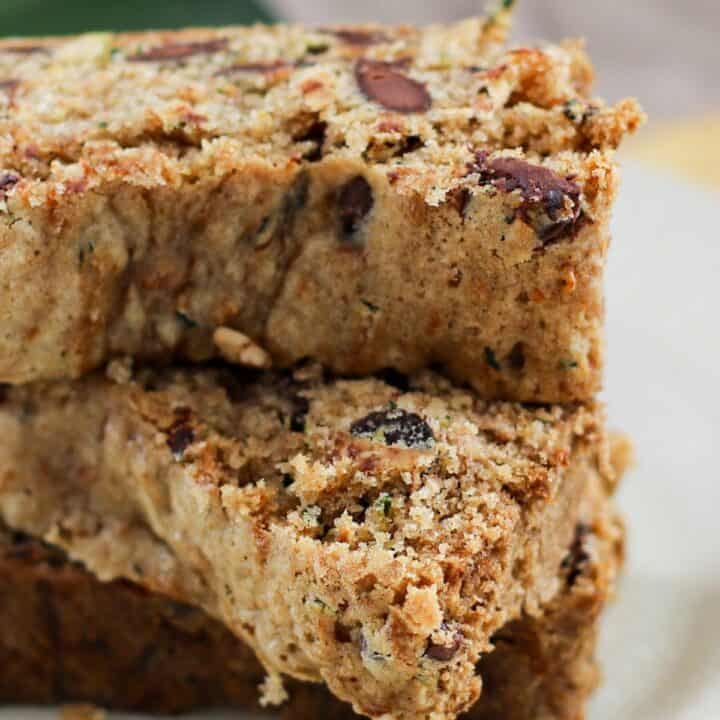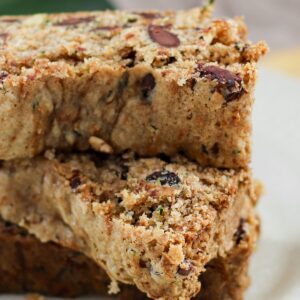 How to make an easy zucchini bread made extra luxurious with the addition of nuts and shaved chocolate
Ingredients
1½

tbsp

egg replacer

-

whisked with 4 tbsp water

1

cups

white sugar

½

cup

vegetable oil

-

I used sunflower

1

cups

zucchini

-

peeled raw grated zucchini

1½

teaspoons

vanilla extract

1½

cups

plain flour

1

teaspoon

salt

1

teaspoon

baking soda

⅓

teaspoon

baking powder

1½

teaspoons

ground cinnamon

½

cup

walnuts

-

coarsely chopped

½

cup

chocolate

-

cut into shavings or use chocolate chips
Instructions
Beat the egg replacer until light and foamy.

Add the sugar, oil, zucchini, and vanilla and mix lightly but well.

Combine the flour, salt, soda, baking powder, and cinnamon and add to the egg-zucchini mixture.

Stir until well blended, add nuts, and pour into a greased loaf tin.

Bake in a preheated oven (350°F/175°C) for one hour.

Cool on a rack before serving.
Please note that where the recipe asks for milk, butter or yogurt, this refers to any plant-based version that you prefer.
Nutrition Facts
Easy Vegan Zucchini Bread with Walnuts and Chocolate
Amount per Serving
% Daily Value*
* Percent Daily Values are based on a 2000 calorie diet.