Sourdough Chocolate Chip Shortbread
A deliciously crisp shortbread, studded with dark chocolate chips and with the haunting flavour of sourdough.
PIN my Vegan Sourdough Chocolate Chip Shortbread to make later
I was googling "what to do with sourdough discard" and came across this fabulous recipe by Du's Dough and she writes so eloquently and with great knowledge about sourdough that I couldn't help but try and veganise her recipe!
This was inspired by my traditional shortbread recipe, and but also has a strange affinity with my vegan brown butter chocolate chip cookies.
You may have been reading about my breadmaking adventures, here, here and here and wondered what do I do with my sourdough discard? The truth: firstly I tipped it down the sink until the drain got blocked with all that goopy flour. So then, I put it in the bin. But it felt wrong, wasting this product.
I had a meeting with my good friend Mr Google and together we found ways to recycle that discard. Sadly, none of my friends or work colleagues wanted to inherit my sourdough spawn, so I started to use it in waffles, pancakes and finally shortbread.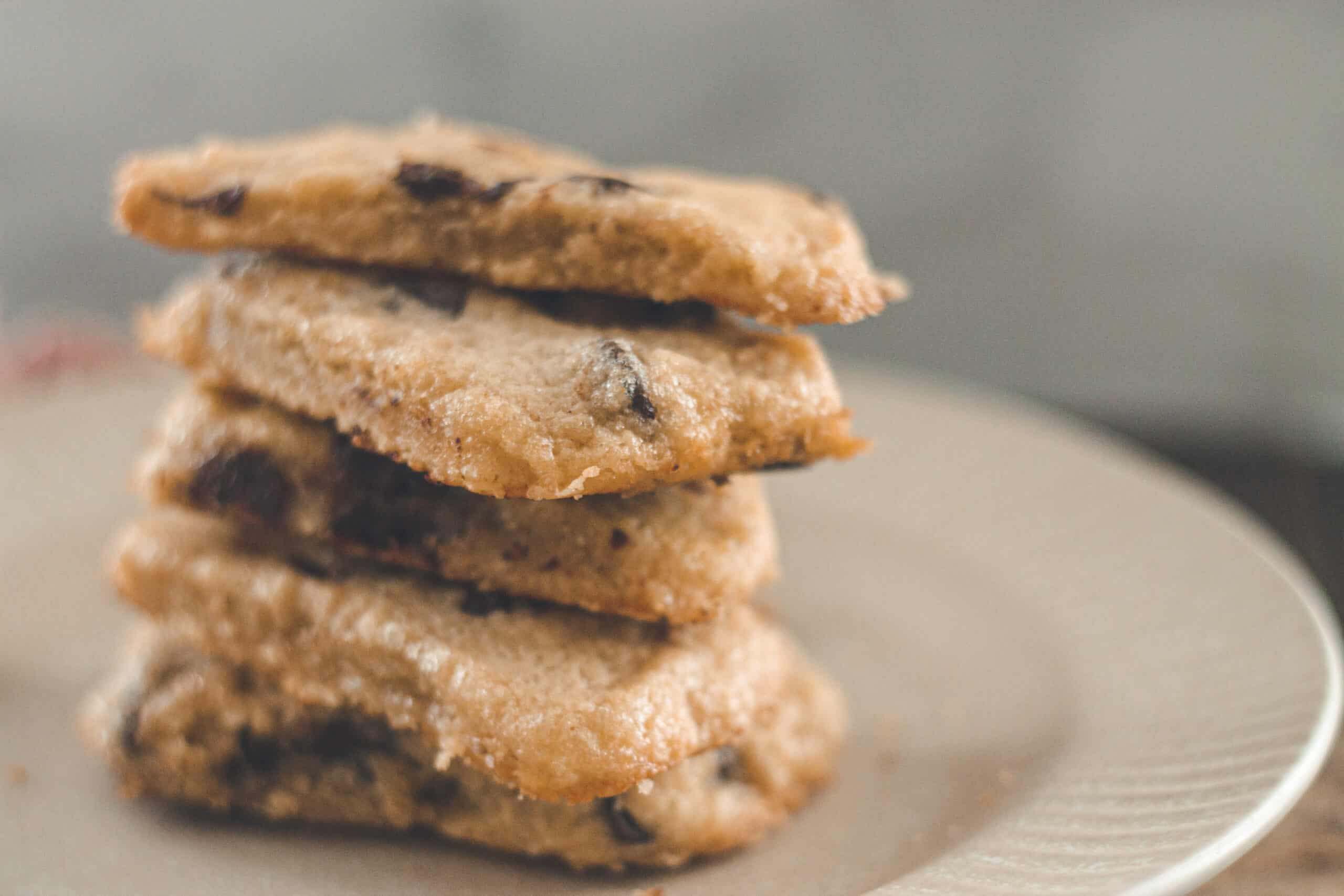 I had used sourdough discard before, notably in waffles, but I didn't like the flavour, finding it a bit too salty, oddly enough. It did add a richness but one I wasn't fond of.
After reading and re-reading Du's website, I finally understood that you can't just dump a bunch of sourdough discard into a batter and expect magic. As with all baking and cooking, there is finesse, there is magic and, above all else, there is plain old science.
It turns out that you need to remove part of the flour and liquid element, replace it with the sourdough, and then you have the correct ratio. Here was me just dumping, oh, a quarter cup or so of sourdough and expecting it to work. No Freya, life and baking doesn't work like that.
And of course, then we have the eggless, vegan element of the baking, which always makes things more…interesting. So firstly I have to veganise a recipe (remove the egg, think about the butter replacement) and then adjust that depending on what you hope the final outcome to be (crisp cookies, fluffy cake etc). Baking really is a science.
But, with Du's instructions, and a few tweaks, we have produced some delicious (and my friend Imy actually used the word "banging") vegan sourdough chocolate chip shortbread.
And they are pretty easy to make, they just need time to chill (as we all do), before you even think about slicing and baking.
Ingredients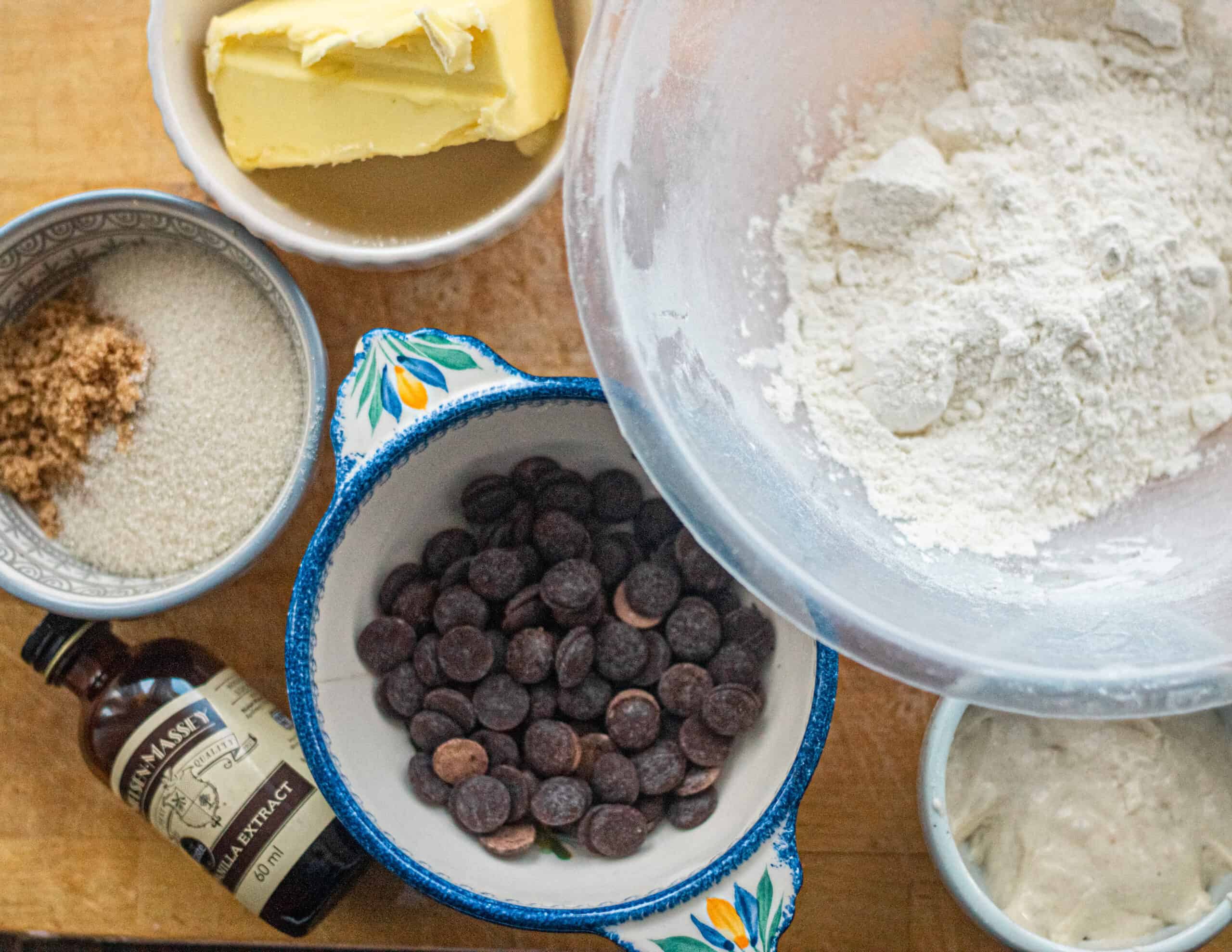 plain flour
some sourdough discard
sugar
chocolate chips
vegan butter
(This is ONLY a list of ingredients for the recipe; please see recipe card below for complete printable recipe. Or if you use the JUMP TO RECIPE at the top of the page, it will take you directly to the complete recipe.)
Instructions
Cream the sugars and butter until fluffy, then add the vanilla extract and discard.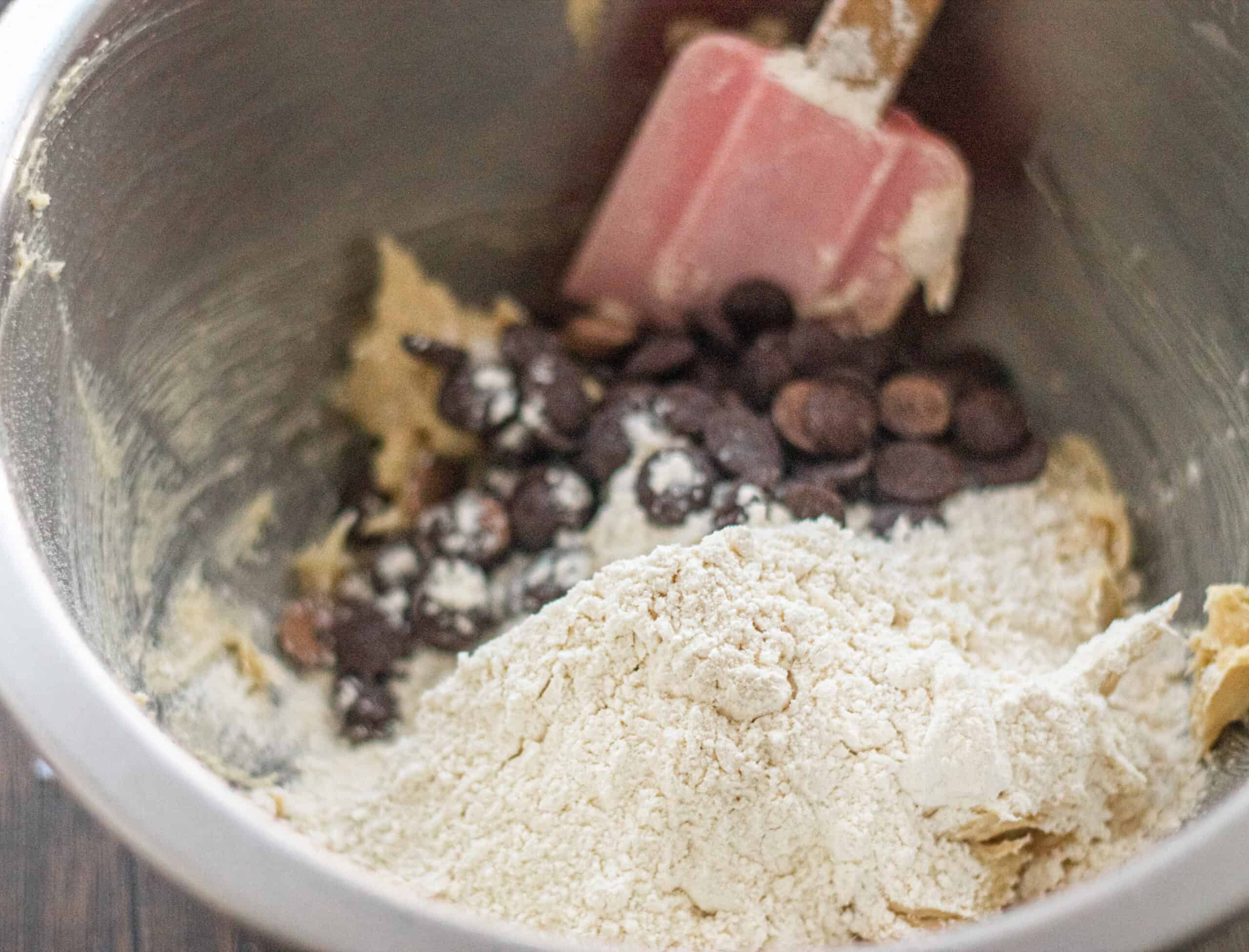 Fold in the flour and chocolate chips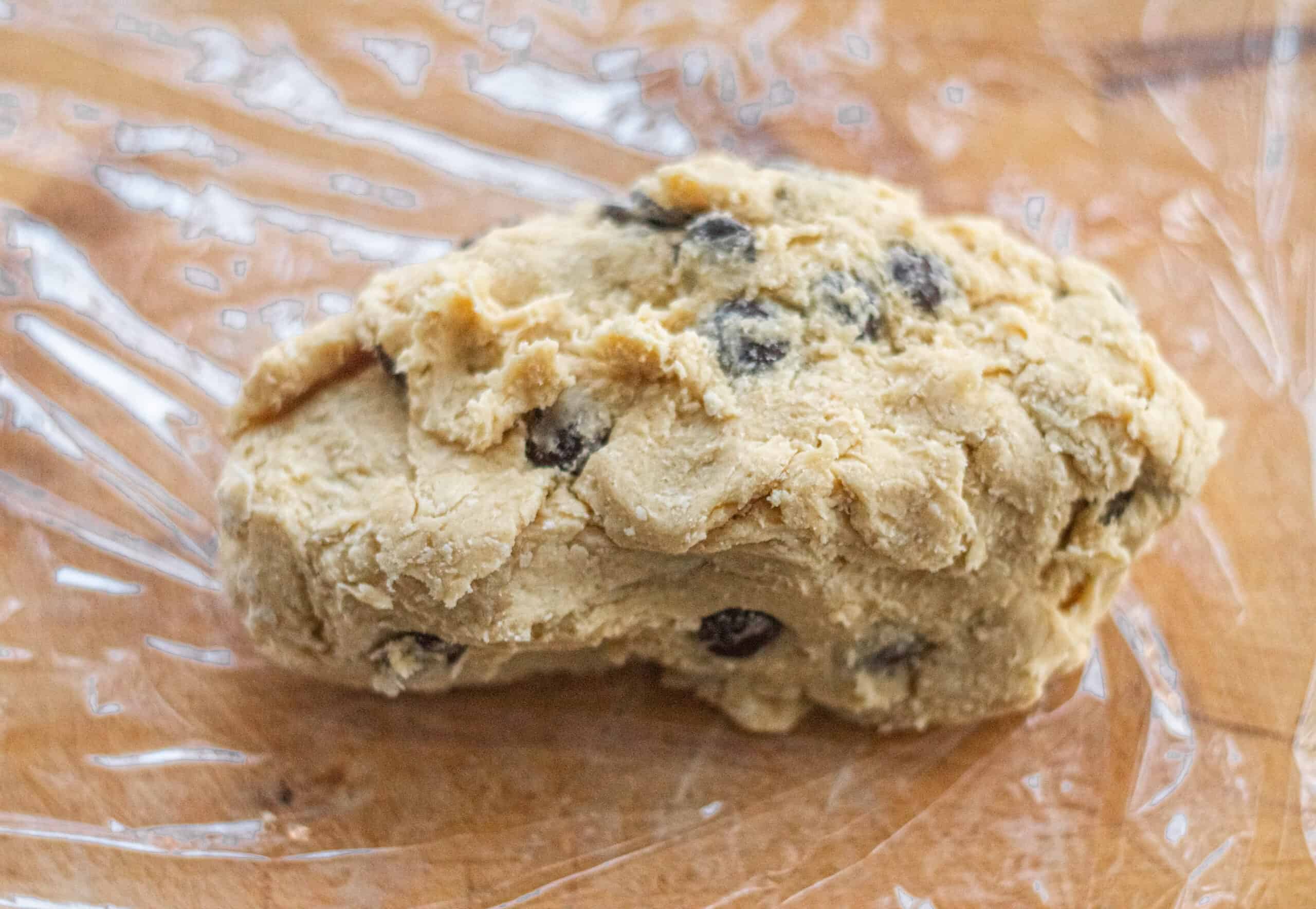 Wrap the cookie dough in clingfilm before shaping into a log.
Once chilled, cut into cookies, sprinkle with a little sea salt (optional) and bake for 12-15 minutes, until very lightly golden.
Hint: Du recommends sprinkling them with a little pinch of sea salt before baking and I absolutely concur.
Variations
Chocolate Chips – use toasted pecans or hazelnuts instead, or maybe some dried cranberries
Deluxe – drizzle with some melted chocolate, or dip the ends in chocolate to make them extra special!
Storage
Store the baked and cooled shortbread in an airtight tin for up to 7 days.
You can chill the dough for 2 weeks before rolling out, or you can freeze it for up to 6 months before using.
Vegan Sourdough Chocolate Chip Shortbread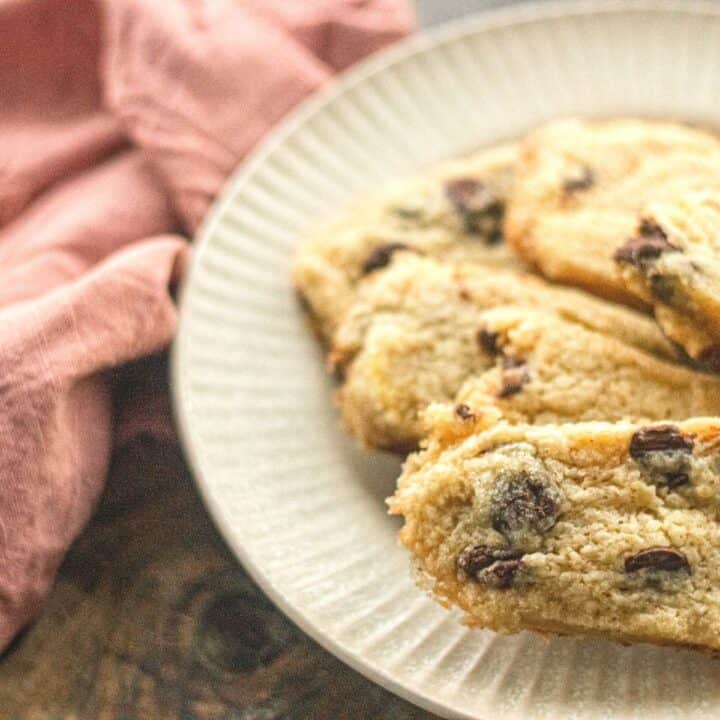 Ingredients
110

g

Butter

-

vegan, softened (or at room temp)

25

g

Brown Sugar

35

g

White Sugar

50

g

Sourdough Discard

1

tsp

Vanilla Extract

2

cups

Plain Flour

120

g

Chocolate Chips

-

vegan
Instructions
Cream the butter with the two sugars until light and fluffy.

Now beat in the sourdough discard and the vanilla extract

Sift in the flour and

fold

until fully combined.

Stir in the chocolate chips.

Wrap the dough in clingfilm and form into a log shape. Chill for at least 3 hours.

Remove dough from oven and cut into slices.

Place on a lightly oiled baking sheet, an inch apart and bake for 12-15 mins, until just starting to turn golden around the edges.

Leave to cool for a couple of minutes on the baking sheet until removing to a cooling rack.
Please note that where the recipe asks for milk, butter or yogurt, this refers to any plant-based version that you prefer.
Nutrition Facts
Vegan Sourdough Chocolate Chip Shortbread
Amount per Serving
% Daily Value*
* Percent Daily Values are based on a 2000 calorie diet.
Top tip
Make sure to keep an eye on your cookies. They will start to colour very quickly in the oven and burn.
FAQ
Can I make these without sourdough discard?
I highly recommend that, to avoid me having to do all the math, that you pop over to my traditional shortbread cookie recipe, and add the chocolate chips to that recipe.