Vegan Brown Butter Chocolate Chip Cookies
Brown Butter Chocolate Chip Cookies. I have, and will no doubt continue to search for the perfect vegan cookie recipe.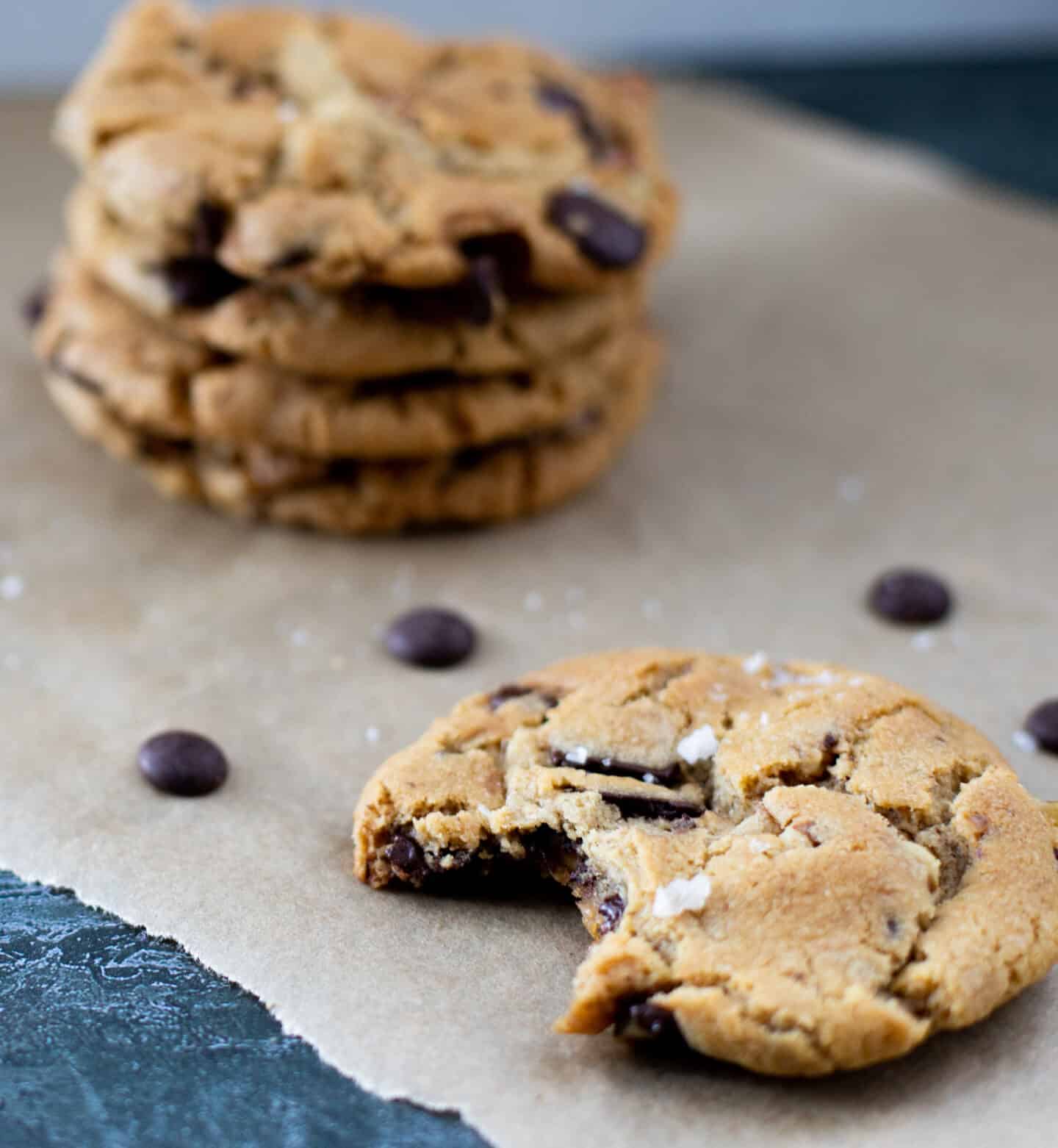 One that isn't too sweet, not too soft, and has just the right amount of fillings. I will also continue to write about my love affair with chocolate on here, and I wait, patiently, for the perfect vegan milk chocolate to appear, magically, in our stores.
I have linked below to several of my favorite vegan chocolate chip cookie recipe, each of them are different, and I love them all equally. I hope that you will try to them all and let me know which ones you like best!
What are Vegan Brown Butter Cookies?
This recipe is different in that it uses brown butter instead of regular butter. What is brown (sometimes called browned butter) butter? Here is my easy primer on brown butter. Simply put, it is your favorite brand of vegan butter melted over medium heat until it fizzles and starts to separate and turn a rich nut color. This elixir has an almost indefinable flavor that is unique, and so good in baked goods. Brown Butter works well in all cookies, oatmeal, plain, brownies and so much more.
How do you make Vegan Chocolate Cookies?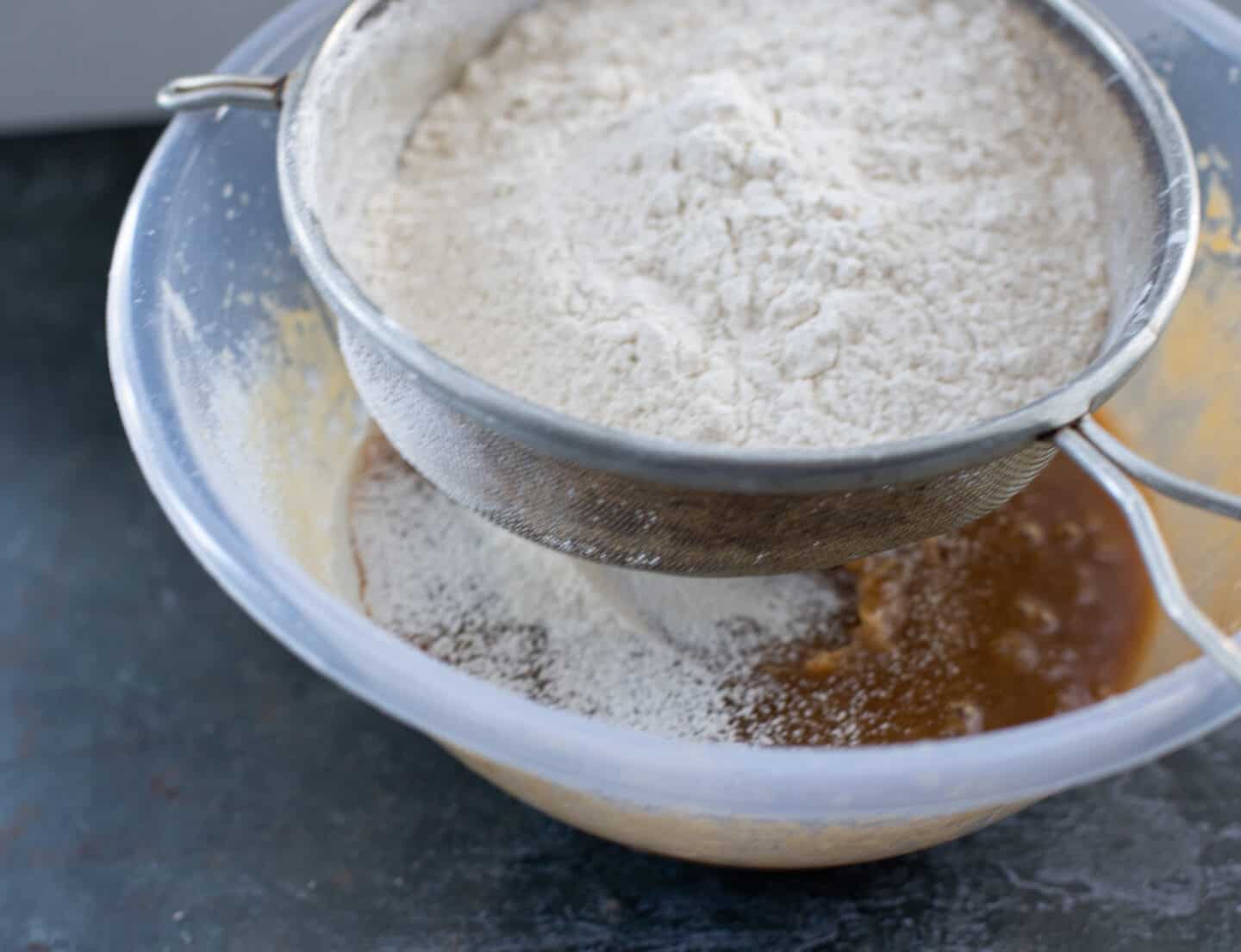 Cookies are so easy to make! You make the dough in one mixing bowl, and then, using a scoop or spoon, portion out cookies to whatever size you want. I like the size that you can buy in the supermarket, fresh from the bakeries. Yes, the ones the size of saucers!
Method
Make sure to prepare your brown butter in advance, you want it to cool to room temperature. Don't worry, unlike real butter, vegan butter does not return to it's solid state!
Once cooled, add this nutty brown butter to a medium bowl with the sugars (a mixture of granulated sugar and dark brown sugar), and beat until light and creamy. I like to use an electric mixer, as the mixture gets quite stiff, Of course, you can use a wooden spoon!
Then beat in the vanilla and egg replacer. I like to use Orgran Egg Replacer normally, but I've been experimenting with Bob's Red Mill.
Next, the dry ingredients: mix in the flour, salt, and baking soda. You will now have a stiff dough.
Fold in the chocolate chips and nuts (if using), using a rubber spatula.
Using a scoop, portion out your cookies on a lined cookie sheet, sprinkle with a little flaky sea salt, and bake cookies for 10 minutes.
These balls of dough need to be spread quite far apart, about 2″ because they will spread out a lot.
Leave to cool for a few minutes on the tray before removing to cooling wire racks.
The baked cookies will not last long, however, store in an airtight container, and they will last 7 days
The good thing about this recipe, is that you can make them any size you want. If you choose to make smaller ones, you can make a lot of cookies!
Modifications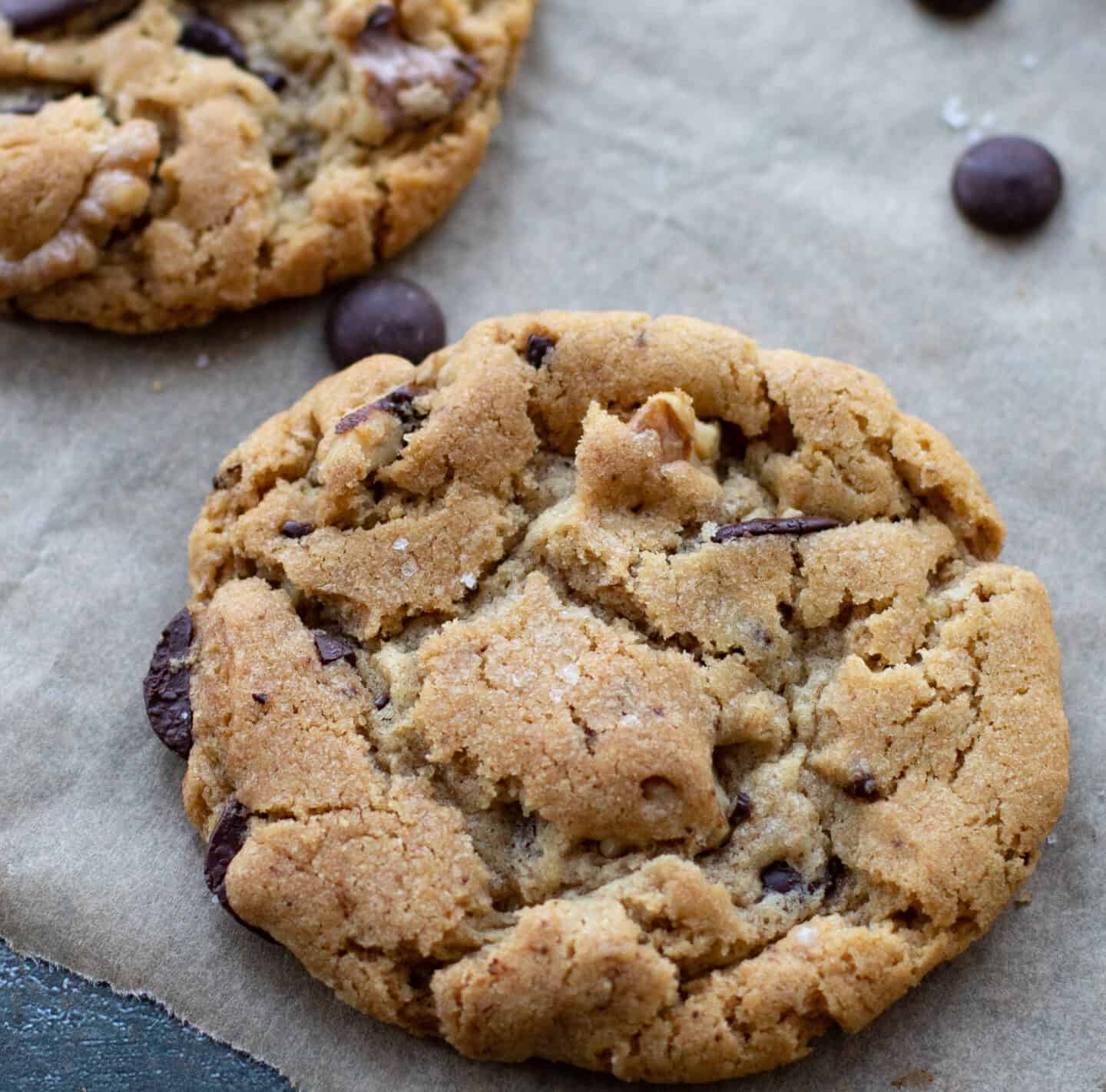 If you'd rather not use brown butter, simply use 1 cup of butter, softened instead
Replace the dark chocolate chips with raisins or dried cherries/cranberries
Make a nutty cookie, with a selection of your favorite nuts instead of chocolate chips
You can omit the flaky salt, but I think it adds a delicious further element to the sweetness of these chewy cookies
Try my other delicious vegan chocolate cookies and treats
Vegan Brown Butter Chocolate Chip Cookies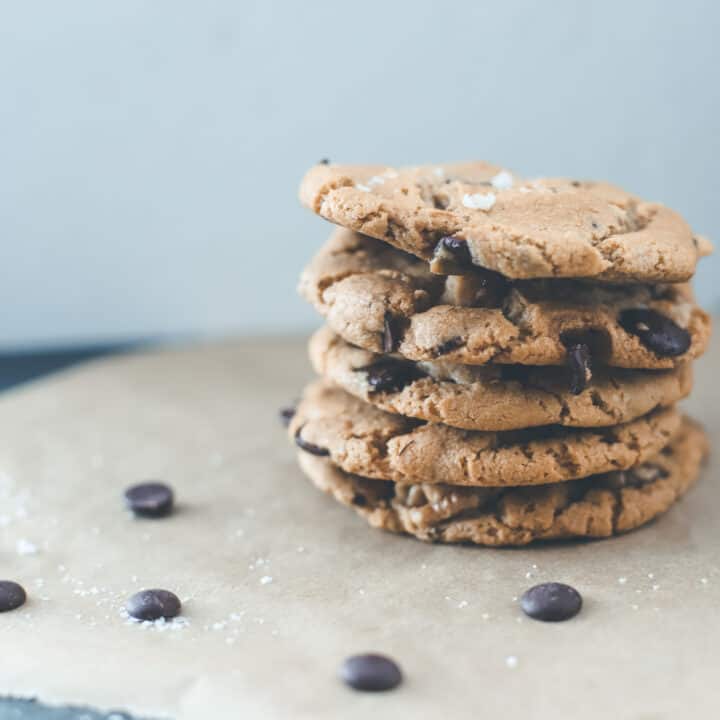 Delicious, crisp and rich chocolate chip cookies, enriched with brown butter
Equipment
1 Baking Sheet

lined with greaseproof paper
Ingredients
1

cup

Butter

vegan

3

tbsp

Egg Replacer

whisked up with 6 tbsp water

¾

cup

Granulated Sugar

½

cup

Brown Sugar

2¼

cups

White Flour

2

tsp

Vanilla Extract

1

tsp

Baking Powder

1

tsp

Salt

1

cup

Chocolate Chips

vegan

1

tsp

Sea Salt

for sprinkling, optional

1

cup

Walnuts

chopped, optional
Instructions
Make the brown butter, leave to cool to warm

Add the cooled brown butter to a large bowl with the sugars. Beat, using an electric hand whisk, for a couple of minutes until smooth

Beat in the egg replacer and vanilla extract

Sift in the flour, baking powder and salt, then thoroughly mix

The mixture will be quite stiff now. Using a spatula, fold in the chocolate chips and nuts (if using).

Roll the dough into golf ball size portions and place onto prepared baking sheet, about 2 inches apart. Gently flatten the cookie balls a little.

Bake for 10 minutes until lightly golden.

Remove from oven and leave to cool on the baking sheet for about 5 minutes, before removing to a cooling rack. Do not remove beforehand as they are very delicate!
Nutrition Facts
Vegan Brown Butter Chocolate Chip Cookies
Amount per Serving
% Daily Value*
* Percent Daily Values are based on a 2000 calorie diet.