Vegan chocolate caramel Turtle cookies. I know. They don't look like turtles. It's fine, we don't really have Turtles in the UK full stop, so any British readers will hopefully be none the wiser, and anyone else, well...I hope you can forgive my lack of turtle shape.
Jump to:
What are Turtles Candy?
I think I first heard of Turtles as a candy when I first visited the US, back in 2003. My then mother-in-law bought us bags and bags of Amish candy, and the turtles were always the first to go when I brought the confectionary back the England. However, the name "Turtles" and, I guess the shape, is copywritten by DeMet's Candy Company, who have been producing Turtles since 1918. They are still popular today, both to purchase and for the home cook to replicate.
I think that combination of chocolate, nuts, and caramel is alluring to many people with a sweet tooth, but I am more of a cookie/biscuit gal. So, when I was browsing one of my many vintage cookery pamphlets from the 50s and 60s, I bookmarked this particular recipe, a Pillsbury Bake-off Winner, no less, from 1961: Mrs Vernon Reese of Minneapolis' Candy Bar Cookies. Yes, it is a pretty generic name, but that turtle copyright infringement was probably looming large in the minds of the Pillsbury team back then.
In Mrs Reese's defence, her delicious recipe barely resembles Turtles visually; however, they do rely heavily on the three main turtle components: chocolate, pecans and caramel. The ace in Mrs Reese's sleeve is that she put these three elements onto a sweet cookie base. Genius!
Obviously, this is 1961, the recipe needed some modern updating, although it was more a case of swapping out certain ingredients for others.
These cookies are rich, chewy, not for the faint of heart or those on a diet. They are heavenly and delicious, the dark chocolate topping tempering the sweetness of the caramel perfectly.
How do you make Vegan Turtle Cookies?
This is a time consuming cookie, although not difficult. I like to make the cookie dough the night before. It is a very soft dough so needs at least a couple of hours to set up in the fridge, and I think overnight is better.
Your cookies need to be completely cool before you add your toppings. Despite this being a soft dough, they are very easy to handle once cooled.
I prefer to make the caramel sauce, top the cookies with that, and then make the chocolate sauce. There are two reasons why: 1. the caramel filling needs to cool slightly before you top it with the chocolate and 2. the chocolate topping will start to firm up and become more difficult to spread as soon as it starts to cool.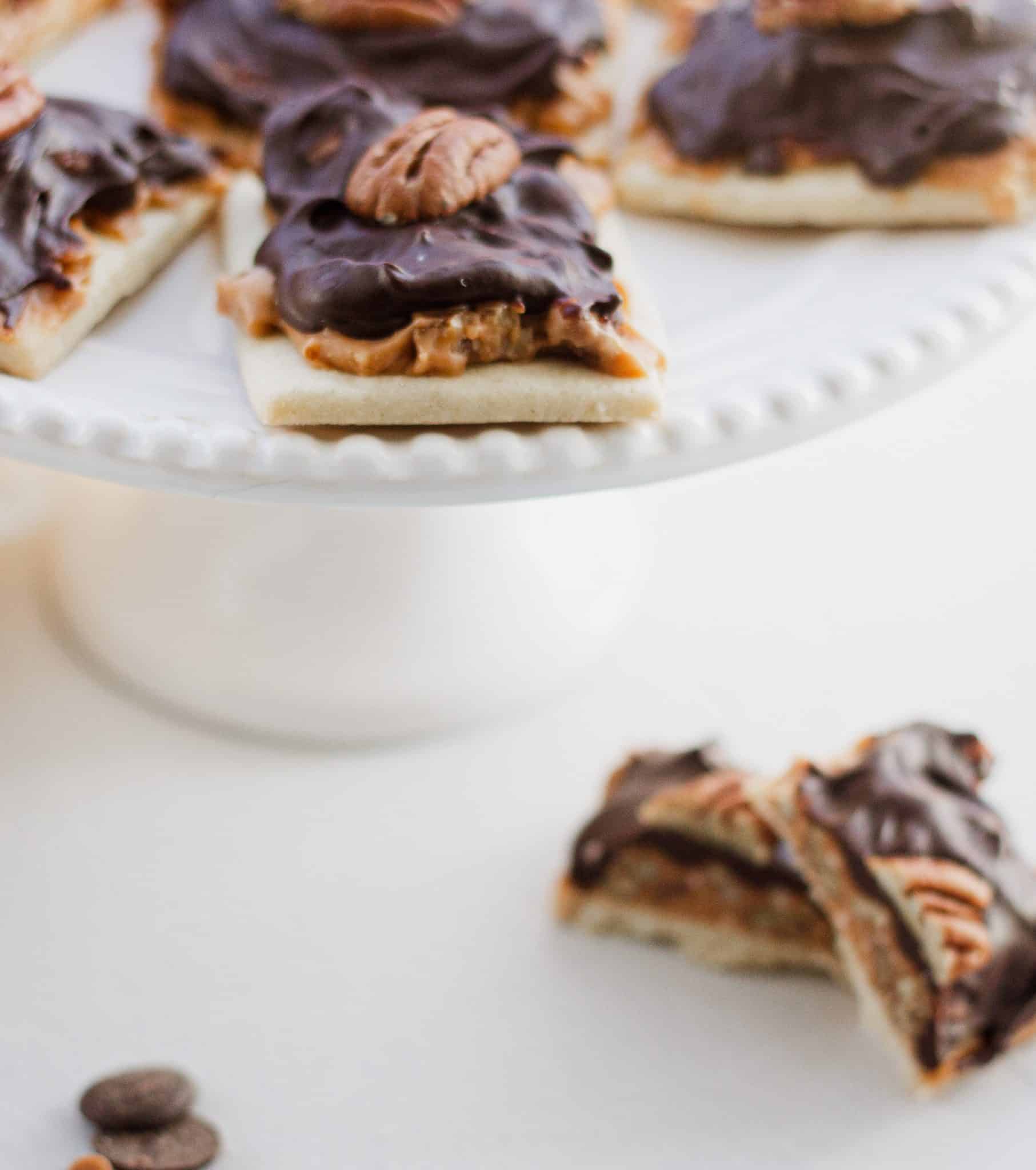 If you do decide to make both at the same time and you find the chocolate starts to set up, just microwave it for no more than 5 seconds at a time until it reaches a spreadable consistency again.

Try my other delicious vegan cookies
📋 Recipe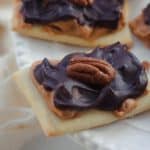 PRINT
Vegan Caramel Chocolate Pecan Turtle Cookies
Potentially the world's longest named cookie befits one of the scrummiest cookies ever!
Equipment
Baking Sheets, lined but not buttered

Mixing Bowls
Ingredients
Cookie Base
¾

cup

Butter

vegan, at room temperature

¾

cup

Powdered Sugar

2

tablespoon

Milk

plant based, I used Soya

1

teaspoon

Vanilla Extract

½

teaspoon

Salt

2

cups

Plain Flour

sifted
Caramel Filling
1

cup

Caramel

King David or Liebers make vegan caramel chips that are perfect for melting

¼

cup

Milk

plant based

¼

cup

Butter

vegan, room temperature

1

cup

Powdered Sugar

sifted

1

cup

Pecans

chopped
Instructions
To make the cookie dough
In a large mixing bowl, blend together the powdered sugar and butter until pale and fluffy

Blend in the milk, salt and vanilla, then add the flour.

Mix until you have a cohesive dough. It will be quite sticky, so turn the dough out onto clingfilm and chill for at least a couple of hours.
To make the cookies
Divide your chilled cookie dough into two. If you want to save half for later, you can freeze it in a ziplock bag. Just remember to half the mixture for the toppings (which can be done quite easily)

On a very well floured surface, roll out your dough into a rectangle, until the dough is about ½cm thick.

Trim the edges, and then cut into squares, about 2" by 2". You can use a cutter for this if you prefer.

Place cookies onto baking sheet and bake for about 12 minutes, until pale golden, but not darkened.

Leave to cool for a minute on the baking sheet, then remove to a cooling rack.
To make the caramel filling
Melt the caramel chips and milk in a bowl, over a pan of simmering water (or a double boiler), until smooth and creamy.

Remove from heat and beat in the butter and sugar, then stir in the chopped pecans.
To make the chocolate topping
In a microwaveable bowl, microwave the chocolate chips and milk in 20 second increments until you see that the chocolate is starting to melt.

Beat in the sugar and butter.
To assemble
To make this job simple, I recommend making and applying the caramel filling to the cookies first, then letting this cool and set on the cookies whilst you prep the chocolate topping.

Taking a teaspoon, spread about a teaspoonful of your caramel pecan mixture over the top of your cookie. Repeat until you have covered all your cookies.

Now drizzle half a teaspoon of chocolate topping over each cookie, gently spreading with the back of a spoon.

Top with half a pecan if you like.

Leave to cool, and then they will have set up enough to store in a tin.
Nutrition
Nutrition Facts
Vegan Caramel Chocolate Pecan Turtle Cookies
Amount per Serving
% Daily Value*
* Percent Daily Values are based on a 2000 calorie diet.
Nutritional Information Disclaimer
The automated nutritional information on my recipes can often be inaccurate due to the limitations within the programming. For exact measurements, there are lots of apps and websites that can calculate this information more accurately.
Tried it and Loved it?
Mention @sweeterthanoats or tag sweeterthanoats!