Easy Vegan Baked Cheesecake New York Style
Easy vegan baked cheesecake. Another classic dessert that has suffered the indignity of being sold re-hydrated in packets (just stir and see!) is the cheesecake. There are many different permutations of preparing a cheesecake, some involve being cooked within a bain-marie, and others are served with no cooking at all. Some are flavored and tinted. My favorite is what is traditionally known as a New York Cheesecake. This cheesecake is simple, creamy beyond belief, and tastes a lot like homemade vanilla ice cream but is made wonderfully tangy with the addition of some lemon juice and zest. Served with a simple fruit compote, it is a perfect, sophisticated dessert.
I use my favorite brand of plain vegan cream cheese, Violife, but please use your favorite. I have added silken tofu to add a creaminess, but more importantly, it helps the mixture setup during baking. Tofu is so good for this, I love using it in making vegan quiches too.
My easy vegan cheesecake recipe can be prepped in 10 minutes, and whilst it has to be chilled before serving (once baked), it makes it a perfect bake ahead dessert.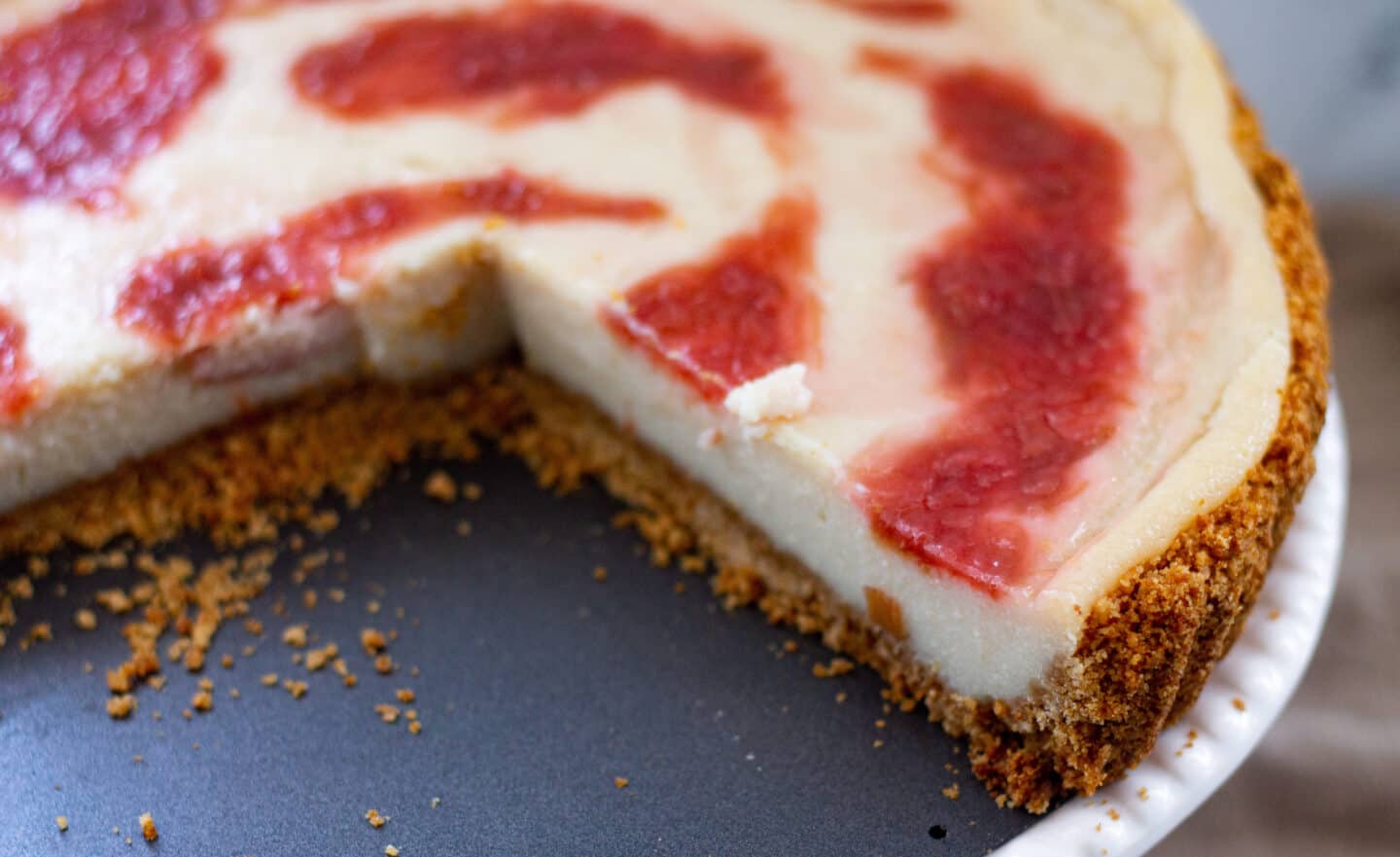 A good cheesecake has a rich, creamy filling, full of tangy, vanilla flavor with a delicious crust. My vegan version checks all the boxes, using simple cheesecake ingredients, and no faffy techniques like a water bath or lining a spring form pan with aluminum foil.
This is a basic vegan cheesecake recipe, allowing you to make your additions. I added a swirl of rhubarb puree onto the top of the cheesecake mixture before baking; you could use lemon curd or raspberry sauce, or just leave it plain and simple. However you modify your vegan baked cheesecake, you are guaranteed a perfect vegan dessert, just remember to make it the day before you need it!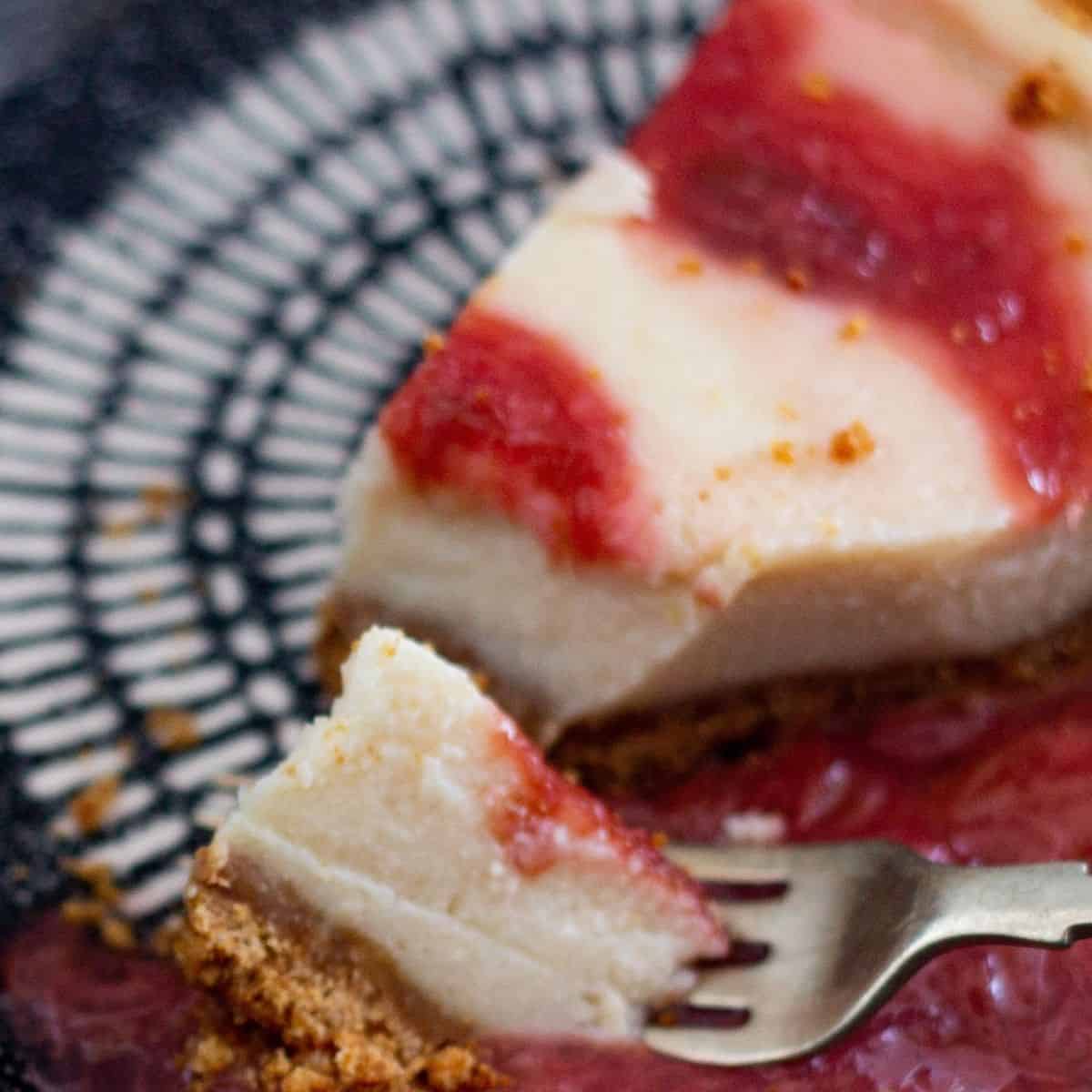 Ingredients
Vegan Cream Cheese
Silken Tofu
Lemon zest and lemon juice. Regular cream cheese has a tang to it that vegan doesn't, so the lemon zest ensures that the vegan cheesecake tastes tangy!
Vegan cookies: I use ginger nuts (ginger snaps) and digestive biscuits (the US equivalent would be vegan Graham crackers).
Corn starch (or cornflour), so help thicken the mixture. You can also use arrowroot powder.
Method
I use a loose-bottomed tart tin, but you could also use a springform cake pan too, to bake the cheesecake.
To make the base, use a food processor to blitz your vegan cookies into a fine crumb.
Melt the vegan butter in a small bowl in the microwave or small saucepan on the hob, then add to your biscuit crumbs, mixing well until you have a cohesive mixture.
Press this into the bottom of the pan and chill in the refrigerator whilst you prepare the cheesecake filling.
Preheat oven to 170c.
Place all the filling ingredients into a large mixing bowl, and using a hand mixer, blend everything until smooth and creamy. You can also use a high powered blender.
Pour onto your prepared crumb base, spreading evenly.
Bang gently on the worktop to knock out any air bubbles.
Bake cheesecake for 50 minutes. It will start to lightly brown in places (not much at all) but will feel dry to the touch. It will still be jiggly.
Turn off the oven, but leave the oven door open and let the cheesecake cool to room temperature in there.
Once cold, cover and chill in the refrigerator for at least four hours.
Remove carefully from the tin, and serve cut into wedges with a berry sauce or coulis.
Store in an airtight container in the fridge for about 48 hours.
Try my other delicious vegan sweet recipes
Easy Vegan Baked New York Cheesecake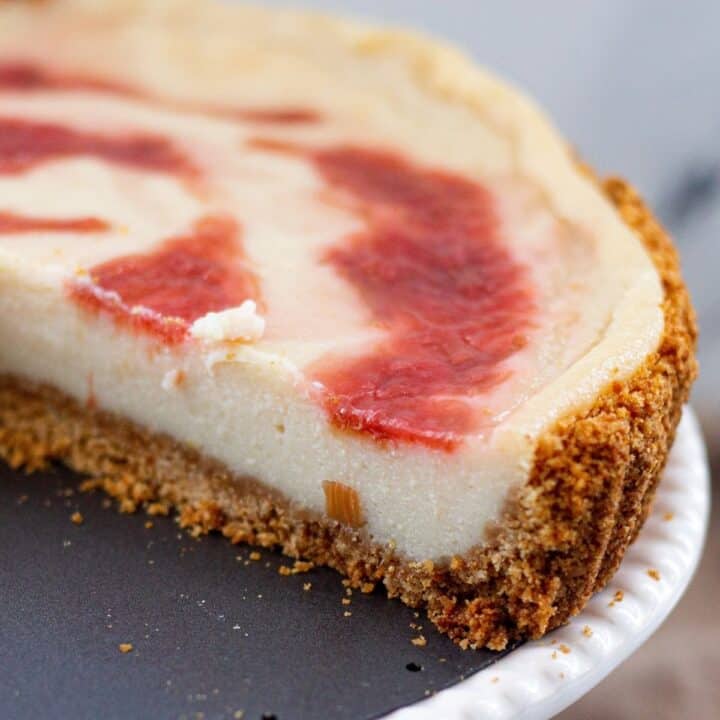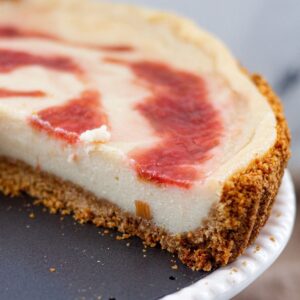 How to make a baked vegan cheesecake
Ingredients
Crust
150

g

Ginger Biscuits

-

vegan

150

g

Digestive Biscuits

-

vegan

50

g

Butter

-

vegan
Vegan Cheesecake filling
200

g

Cream Cheese

-

vegan, at room temperature

300

g

Silken Tofu

-

drained

1

cup

granulated Sugar

1

Juice and Zest Lemon

¼

cup

Cornstarch

-

(cornflour)

2

tsp

Vanilla Extract
Instructions
To make the crust
Crush the biscuits until you have fine crumbs. I use a food processor.

Gently melt the butter in a small microwaveable dish and add this to the biscuit crumbs.

Mix well until you have a cohesive mixture.

Press this into your tin, pressing up the sides too

Chill the crust whilst you make the filling.
To make the vegan Cheesecake filling
In a large mixing bowl, blend all the cheesecake filling ingredients together until smooth.

Pour this into your chilled cheesecake crust, smoothing over

Bake for 50 minutes or until the top feels firm to the touch. It will still be jiggly.

Turn off oven and leave the door open, allowing the cheesecake to cool in the oven.

Once cold, refrigerate for at least four hours before serving.
Please note that where the recipe asks for milk, butter or yogurt, this refers to any plant-based version that you prefer.
Nutrition Facts
Easy Vegan Baked New York Cheesecake
Amount per Serving
% Daily Value*
* Percent Daily Values are based on a 2000 calorie diet.