Vegan Pumpkin Pie Cheesecake recipe. Rich, creamy and full of delicious fall flavours, this baked cheesecake will become a new tradition!
Us Brits are a little bit wary of pumpkin. We don't understand it totally and we really only use them to carve scary faces in for Hallowe'en. Read on for my recipe for vegan AND gluten free Pumpkin Pie Cheesecake and that will convert the most cynical of pumpkin haters!
Jump to:
For more delicious vegan pumpkin desserts
The few times I have made Pumpkin Pie for a British Thanksgiving dinner, it hasn't exactly gone down a storm. I'm not sure why. I think it resembles an Egg Custard Tart, which is a common British pastry, found in bakeries across the land. Perhaps the colour is jarring, or maybe it's because the spices are too stringent.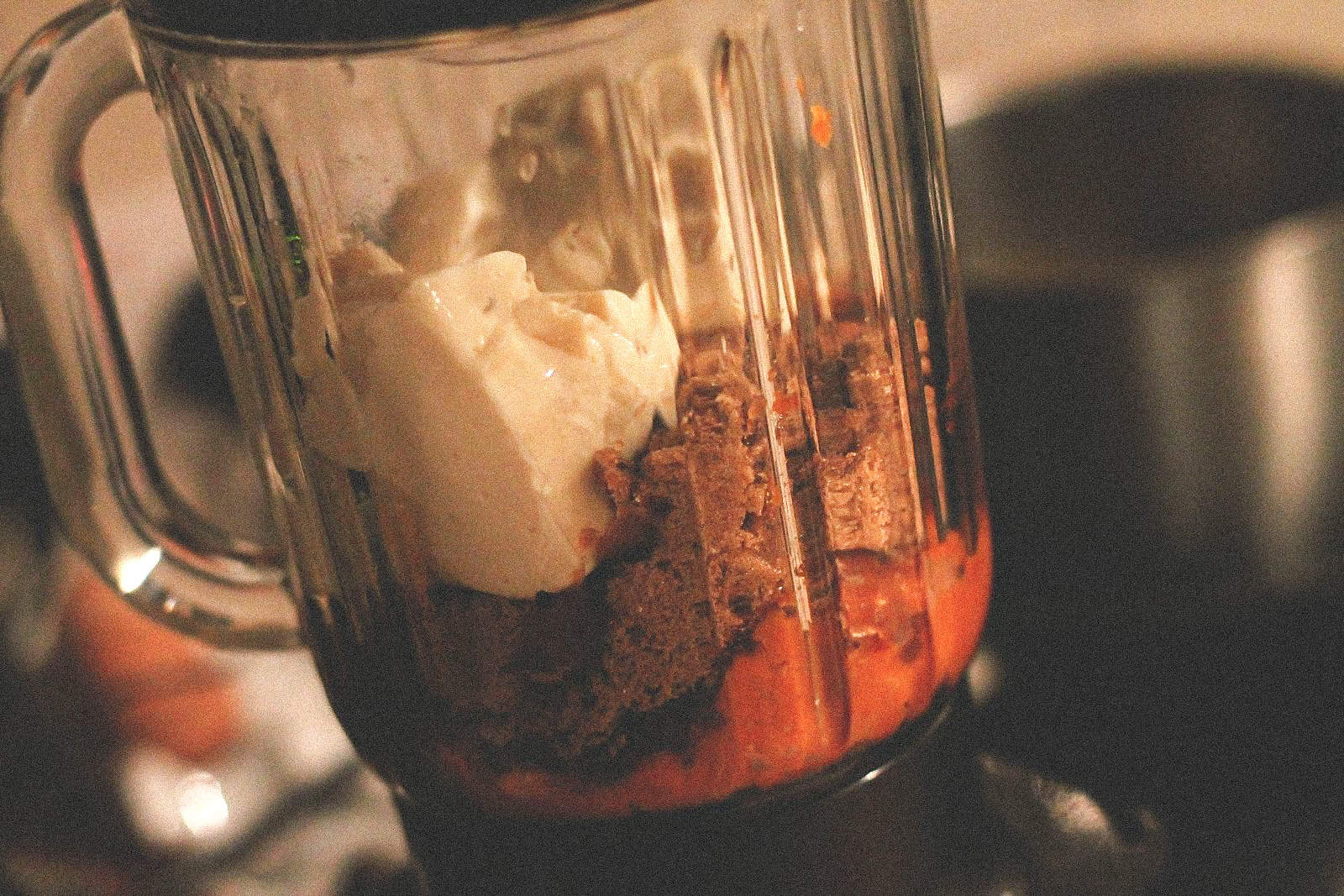 So, this year I had to find something that would satisfy everyone's tooth. Couple this with someone who is gluten-intolerant and vegan and this was no simple task. This is my Pumpkin Pie Cheesecake Vegan and Gluten Free recipe!
How do you make vegan Pumpkin Cheesecake?
The key element to a normal pumpkin pie is the eggy custard base, this is replaced with tofu, and is in fact so much easier to make, just blend and pour! If you want to try my vanilla baked cheesecake, click here for my recipe!
The original recipe uses a Flaxseed pie crust but I really love my cheesecake to have a biscuit crumb base, so I crushed up a packet each of vegan AND gluten-free ginger biscuits and Digestive biscuits, melting them with a little vegan spread and pressing into a 9" cake tin. Filled with classic pumpkin spice flavor, the house smells so cosy when this is baking.
I also wanted to add a little traditional touch to the cheesecake so I added a vegan sour cream topping, baked right on top of the cooked cheesecake. This is an optional touch. The cheesecake will taste delicious with or without it.
As I had hoped, everyone loved it! The cheesecake had just the right amount of spice and the right amount of crumbly base and the creamy vegan pumpkin pie filling had just the right amount of creaminess to satisfy everyone. It was so simple to make, and doesn't really need anything to serve with it, maybe a little plant-based pouring cream for added richness. For my vegan pumpkin cheesecake recipe, read on!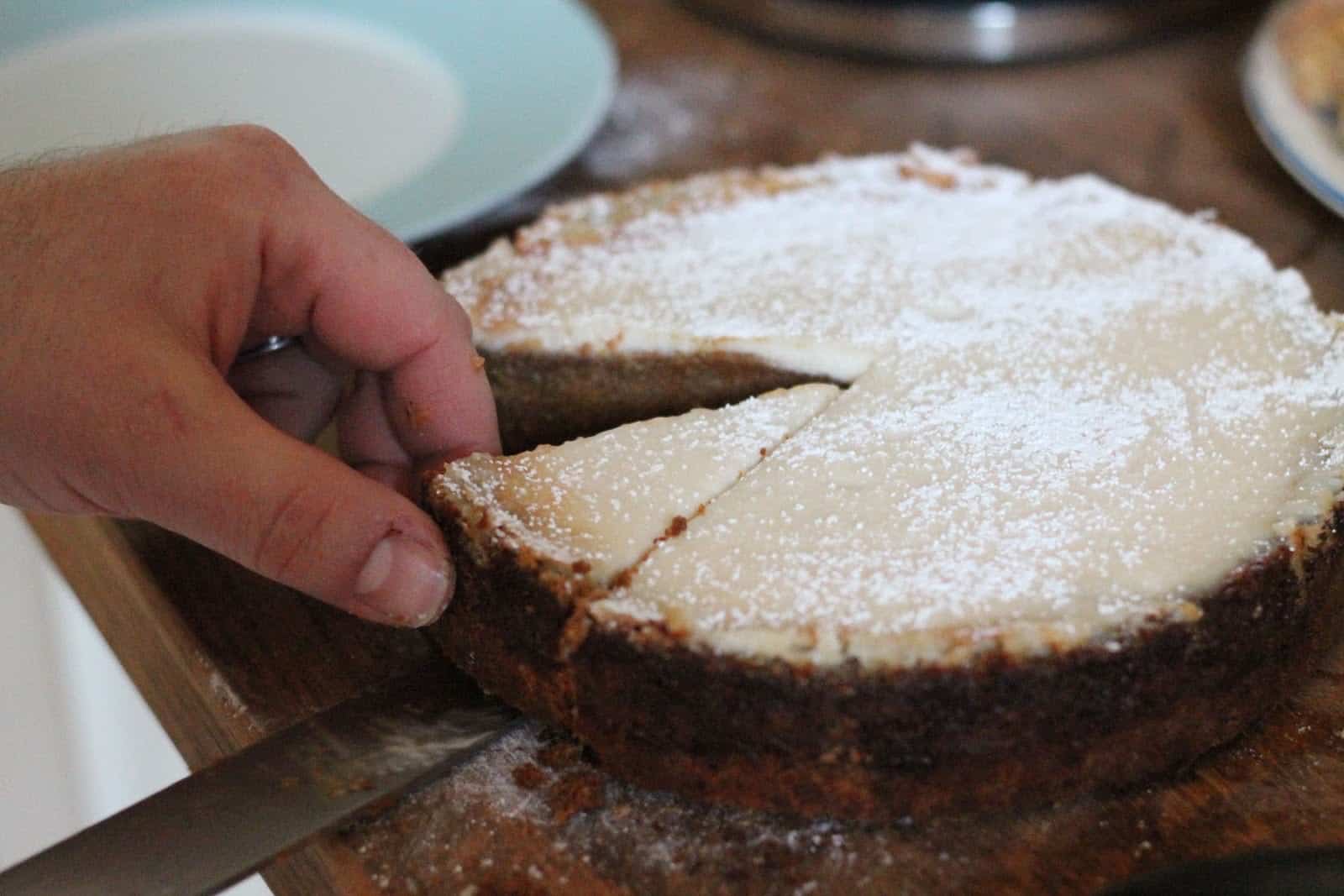 Ingredients
Vegan Pumpkin Pie Cheesecake Filling:
Silken Tofu, drained on kitchen paper. This is the secret ingredient, replacing both eggs and cream
Soft Brown Sugar. You can use coconut sugar or white sugar instead.
Canned Pumpkin purée, unsweetened. If you have some homemade pumpkin puree, please feel free to use that!
Tapioca Starch, this works as a thickener
Vanilla Extract
Cinnamon, Allspice, Nutmeg and Cloves. Classic pumpkin pie spice flavor flavours that evoke a cosy smell in the kitchen. You can use 2 teaspoons pumpkin pie spice mix if you prefer.
Sea Salt
Homemade Ginger Cookie Crust:
Ginger Biscuits for the base. I use Ginger Nuts, these are an accidentally vegan biscuit in the UK. In the US, these might be called gingersnap cookies.
Digestive Biscuits for the base. Check the packaging. Some of the budget ranges are vegan, the more expensive brands are not. If you are in the US, use vegan Graham crackers.
Vegan Butter. Use your favourite brand.
Vegan Sour Cream for the topping. I use Tofutti. Use at room temperature. You could also use coconut cream here if you prefer or can't find vegan sour cream, just the solids in a can of full-fat coconut milk, whisked up.
(This is ONLY a list of ingredients for the recipe; please see recipe card below for complete printable recipe. Or if you use the JUMP TO RECIPE at the top of the page, it will take you directly to the complete recipe.)
Method:
Crush the biscuits into fine crumbs and place in a medium bowl. You can use a food processor to blend them up.
Pour over the melted vegan butter and mix with a wooden spoon until the mixture starts to hold together.
Press this mixture into the bottom of the pan of a 9" pie dish or a loose bottom (springform pan) cake tin.
Using a food processor or high-speed blender, whizz up the remaining ingredients (excluding the sour cream topping) until you have a smooth consistency.
Pour this over the biscuit base, banging the tin on the work surface to remove any air bubbles.
Bake at 180c, for 55-60 minutes or until the top is light golden brown and feels firm to the touch.
Whilst your dairy-free cheesecake is baking, whisk up the sour cream with the sugar and vanilla extract.
Pour this over the top of your baked cheesecake and return to the oven for 10 minutes.
Turn the oven off, and with the oven door open, leave the cheesecake to cool completely.
Once cool, you can refrigerate, bringing up to room temperature when ready to serve.
It will last in the fridge for about 2-3 days.
📋 Recipe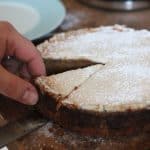 PRINT
Pumpkin Pie Cheesecake (vegan)
A twist on the thanksgiving favourite
Equipment
Blender

Rolling Pin

9" loose-bottomed Cake Tin

Measuring Spoons/Cups/Scale

Mixing Spoon

Spatula
Ingredients
Cheesecake Filling
1

box

Silken Tofu

drained

1

cup

Brown Sugar

1

can

Pumpkin puree

pure, not flavoured

¼

cup

Arrowroot

or Tapioca Starch

1

teaspoon

Vanilla Extract

2

tsp

ground Cinnamon

1

teaspoon

Lemon Juice

½

teaspoon

Allspice

¾

teaspoon

Nutmeg (preferably freshly grated but dried is ok)

⅛

teaspoon

Ground Cloves
Cheesecake Base
150

g

Ginger Biscuits

finely crushed (vegan/gluten free as your preference)

150

g

Digestive Biscuits

finely crushed

50

g

Vegan Butter

melted
Sour Cream Topping (optional)
1

cup

Sour Cream

vegan, I use Tofutti

¼

cup

Superfine Sugar

1

teaspoon

Vanilla Extract
Instructions
Crush the biscuits until they resemble sand.

In a small saucepan, gently melt the spread. Add the biscuits crumbs and stir well until coated and stick together when you press them lightly. You may need to add a little more spread to the mixture.

Press crumb mixture firmly into a 9"loose-bottomed cake tin.

In a blender, or by hand, mix together all the ingredients for the cheesecake filling until smooth.

Pour into the cake tin, over the biscuit base.

Bake for 55-60 minutes until firm to the touch.

Meanwhile, whisk together the sour cream topping, until smooth and creamy.

Remove the cheesecake from the oven, turn up to 200c. 

Pour the sour cream mixture over the baked cheesecake and return to the oven for 10 minutes.

Cool thoroughly at room temperature and then chill overnight.

Dust with a little icing sugar (optional) cut into slices and wow your guests!
Nutrition
Nutrition Facts
Pumpkin Pie Cheesecake (vegan)
Amount per Serving
% Daily Value*
* Percent Daily Values are based on a 2000 calorie diet.
Nutritional Information Disclaimer
The automated nutritional information on my recipes can often be inaccurate due to the limitations within the programming. For exact measurements, there are lots of apps and websites that can calculate this information more accurately.
Tried it and Loved it?
Mention @sweeterthanoats or tag sweeterthanoats!