Pasta with Zucchini, Peas and Vegan Cheese Recipe
This post contains links to affiliate websites, such as Amazon, and we receive an affiliate commission for any purchases made by you using these links. We appreciate your support!
Pasta with Zucchini and Peas is a delicious and healthy vegan dish that you can enjoy any time of the year. This recipe combines the freshness of zucchini and peas with the hearty flavor of pasta. It's easy to make and requires simple ingredients. Enjoy this vegan dish as a main course or as a side dish with a salad or some crusty bread.
Pasta can guarantee you a speedy, nutritious and tasty supper and if you've had a busy day, sometimes this is all you want. Pasta dishes just tick all the boxes. And the more inspiration I can get for quick pasta dishes the better, so feel free to share your favourite recipe in the comments!
Yesterday, I asked myself, what do I want for supper? The reply was brief and swift: "Pasta".
I like it when I prepare pasta because it generally means we will eat before 7pm. If I choose anything more complex, we're lucky if we eat before 8pm.
Apart from pasta being quick, it is also a good way of using up the rubbery vegetables shoved to the back of the refrigerator drawer. I remembered that I had a couple of courgettes (or zucchini, if you will) that were well past their 'freshly picked' status and a small block of vegan feta cheese that was really reaching its limit in the fridge!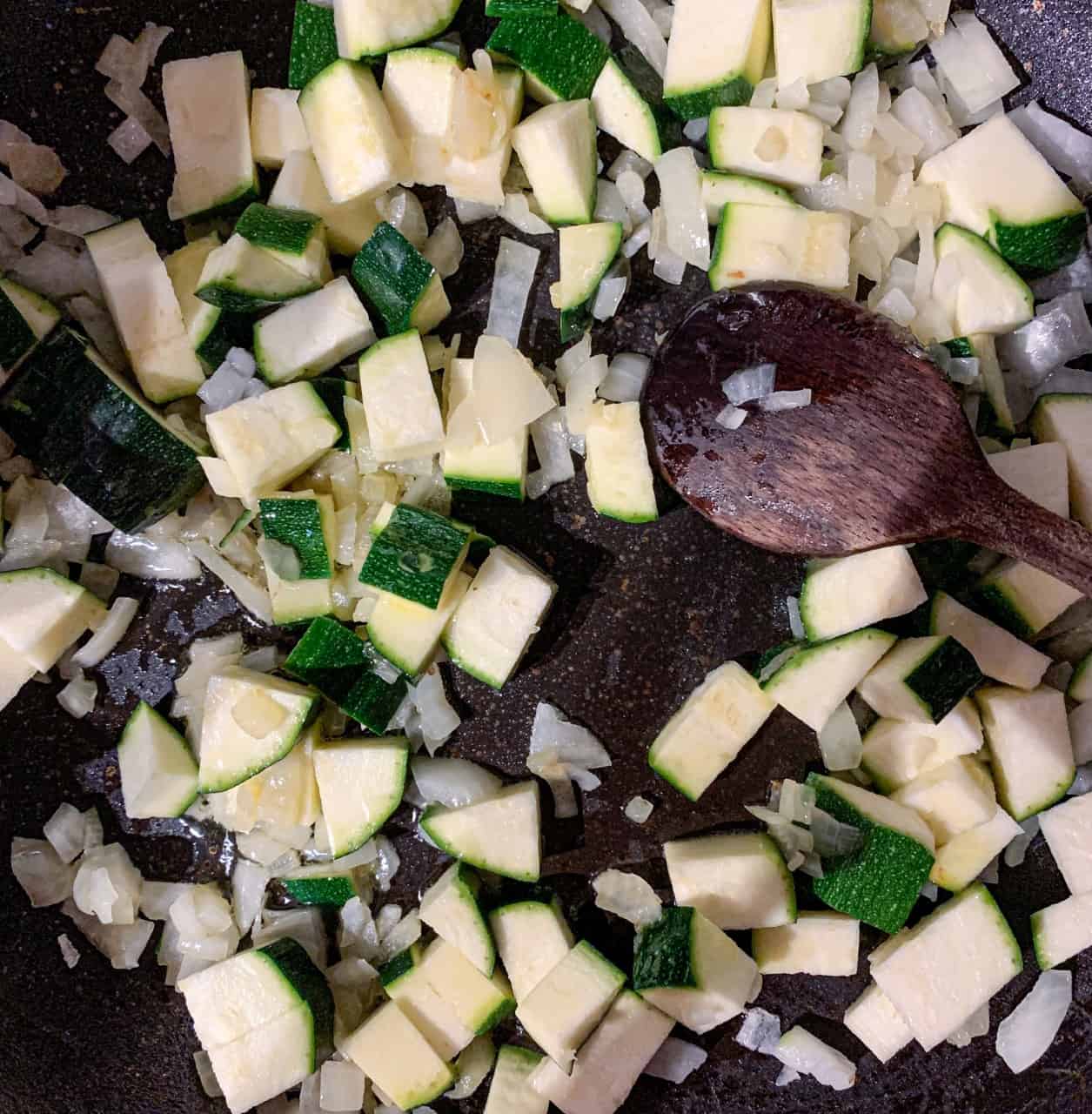 Aside from these two choice ingredients, some vegan parmesan, a half empty bag of penne, a mushy onion and a handful of frozen peas also woefully resided in my kitchen. An evil plan started to form in my brain. How about vegan pasta with courgette and peas?
And any fears I had of this being a little bland were quickly pushed to one side once I tried it. The feta cheese had added its familiar tang to the dish, the courgette chimed in with a yummy green bite, the peas threw in some pop-on-your-tongue sweetness for good luck and some sautéed onions and garlic tied the whole thing together with a big Allium bow.
What Kind of Vegan Cheese Can You Use?
I like to use Greek-Style (I like the Violife variety, available widely in UK supermarkets) and also vegan Goat-style cheese from La Fauxmagerie, vegan cheesemongers based in East London. They offer mail order options for their artisanal vegan cheeses, so this is not the cheaper option to use in this kind of dish. I had visited there so had some of their vegan-style herby goats cheese (comparable to the flavour of Boursin), and I used this. I would normally use the Violife Greek-style (Feta) cheese though.
Whatever cheeze you do decide to use, make sure it has a nice salty tang to it, needed to counteract the sweetness of the zucchini and peas.
I also have a feeling that this would be a great way to get vegetable loathing children to eat their greens, particularly if you use a fancy, child-friendly shaped pasta, like the bow-ties. You can also omit the feta cheese and use an alternative strong flavoured cheese, like cheddar or just parmesan all the way.
Ingredients
Store cupboard: dried pasta (I love to use penne, but use any shape that you have in the cupboard!), olive oil, white wine
Fresh ingredients: onion, garlic, zucchini (courgette), basil
Chilled ingredients: frozen peas, vegan feta cheese, unsweetened soy milk
Other Ways to Serve my Penne with Zucchini, Peas and Vegan Cheese Recipe
Fry up some vegan bacon and add this to the dish (but I think it would spoil the herby good-naturedness of the vegetables, turning into something a bit more decadent and, yes, fattening). But why not go the whole (vegan) hog, and just add the fried up bacon, and pour over a little plant-based cream to make it even more unctuous.
Try chopped asparagus, broad beans or green beans instead of peas.
Use your favourite shape pasta
Try my other delicious vegan supper dishes
Penne with Courgette, Peas and Vegan Feta Cheese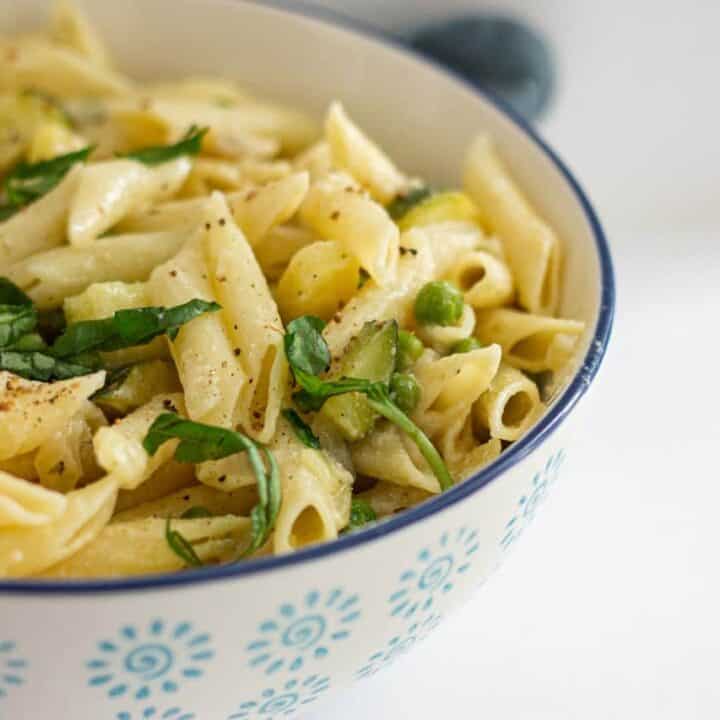 A fresh and delicious speedy vegan supper dish
Ingredients
200

g

Penne

-

dried

1

Onion

-

small, peeled, halved and sliced thinly

1

clove Garlic

-

minced

1

tbsp

Olive Oil

150

g

Feta

-

vegan, or vegan goat-style cheese

200

g

Courgette

-

topped, tailed and cut into roughly 1cm cubes

50

g

Frozen Peas

150

ml

Soy mik

-

or plant based cream, unsweetened

50

ml

White Wine

-

(optional but it does add a great dimension to the dish)

2

tbsp

Basil

Salt and Pepper

-

or parsley, roughly chopped or torn
Instructions
Cook the pasta according to the instructions on the packet, but leave it a little al dente. Drain, reserving a few tablespoons of the cooking liquor. Lightly oil the pasta and place to one side.

Heat the olive oil gently in a 

sauté

 pan and cook the sliced onion until soft.

Add the courgette and minced garlic, and fry gently until the courgette starts to turn translucent. Season lightly.

Crumble in the feta cheese and then add the pasta stirring well to combine.

Pour over the milk, white wine and pasta cooking liquor and bring to a rapid boil. You are aiming for most of the liquid to cookoff, leaving a light coating on the pasta. This should take no longer than 5minutes.

Remove from the heat, taste for seasoning and adjust as necessary. Stir in the basil or parsley

Serve in large, deep bowls sprinkled with a little vegan parmesan if you like
Please note that where the recipe asks for milk, butter or yogurt, this refers to any plant-based version that you prefer.
Nutrition Facts
Penne with Courgette, Peas and Vegan Feta Cheese
Amount per Serving
% Daily Value*
* Percent Daily Values are based on a 2000 calorie diet.