Vegan Macanese Minchi Recipe (Mince and Potato Hash)
Vegan Macanese Minchi recipe. If you are after comfort food that is a little bit different to the norm, tastes great and is ready within 30 minutes, Macanese Minchi could just be it!
I have mentioned a lot about how I love 30 minute meals. Is it because I'm lazy? Well, yes, but more greedy than lazy, and I love to think that, after a busy day in the office, I can be sitting down in front of some random YouTube nonsense watching icebergs about true crime. Note: if you're reading this in 10 years time, icebergs may no longer be a thing. Consult wiki if confused.
I have linked below to lots of my favourite vegan speedy suppers, but this one has definitely taken the spot of my favourite. And it's not just the perfect speedy supper dish, I think it makes a great brunch too, given that it's a hash-style dish.
What is Macanese Minchi?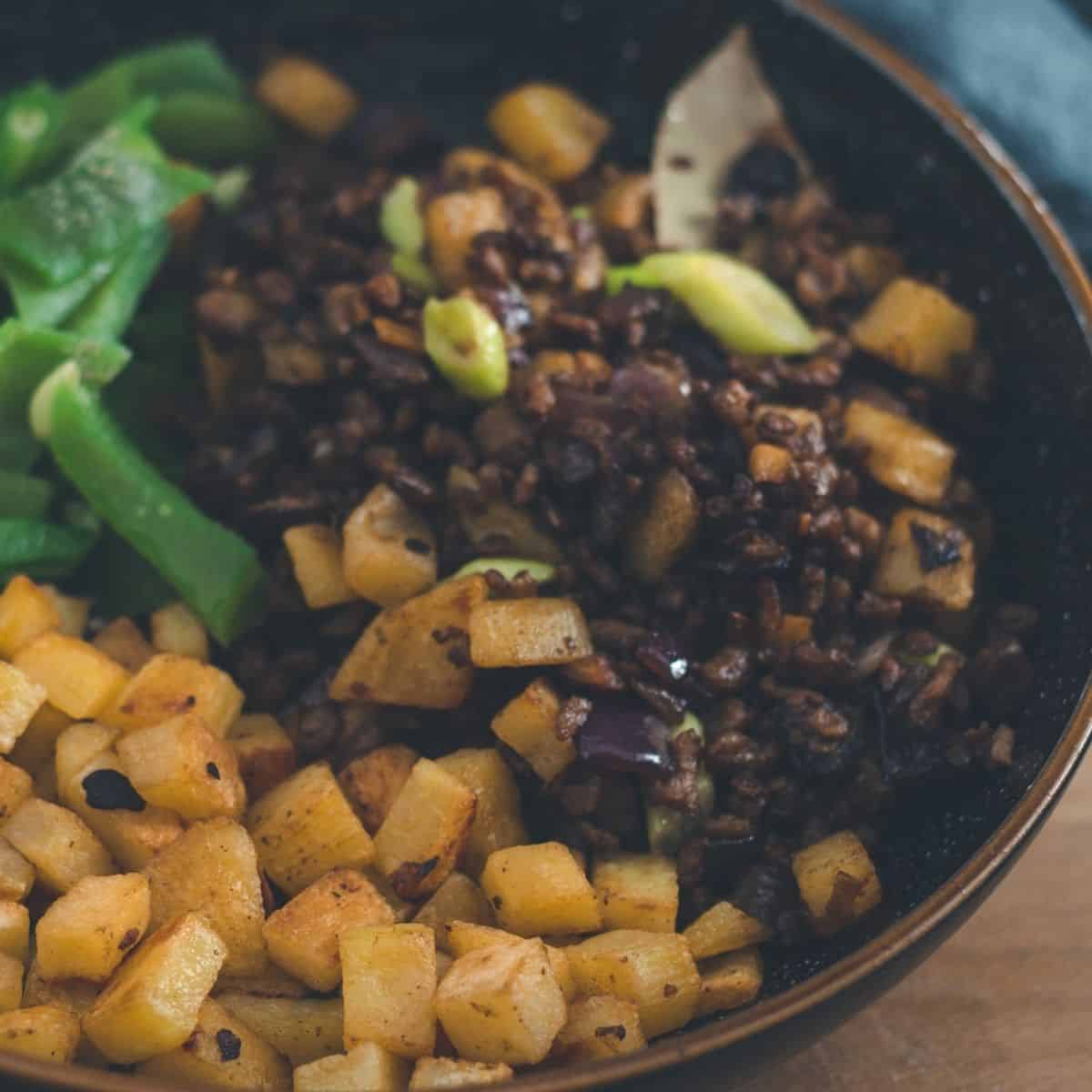 Macanese Minchi, also known as Minchee, is a traditional Macanese dish, usually minced pork or beef, seasoned with soy sauce, garlic and tossed with fried potato cubes. It strongly resembles the American recipe, corned beef hash, but is actually much tastier.
Minchi, as you might think, is derived from the word "mince", referring to the minced beef or minced pork element. It has strong Portuguese elements, but is one of the most well-known recipes in Macau. There is a delightful story about a Portuguese man requesting his Chinese wife to prepare him some classic western food such as burger and chips. His description was interpreted, incorrectly but no less successfully as Macau Minchi, and that's the version that has stuck. Frankly, I would rather eat Minchi than burger and chips!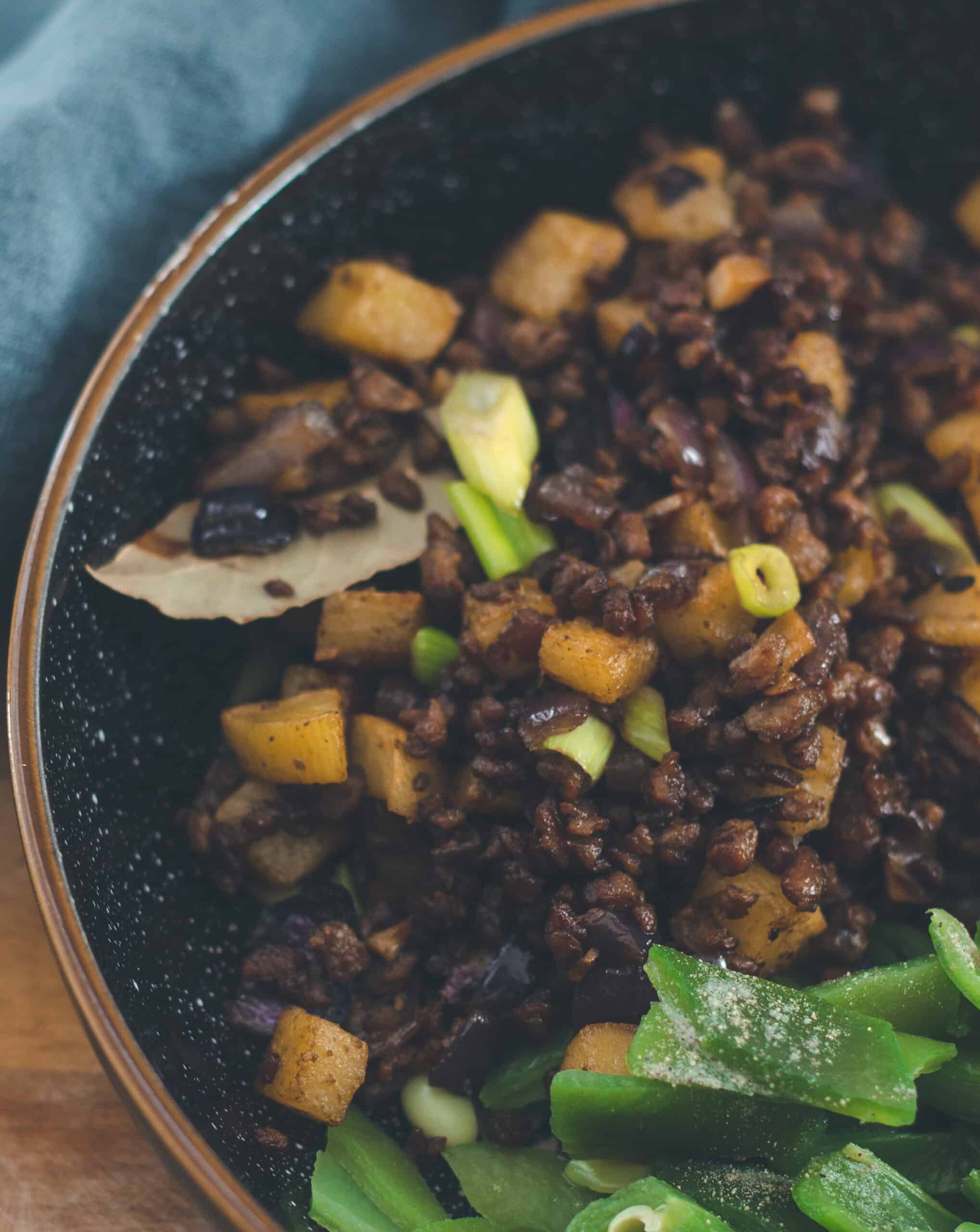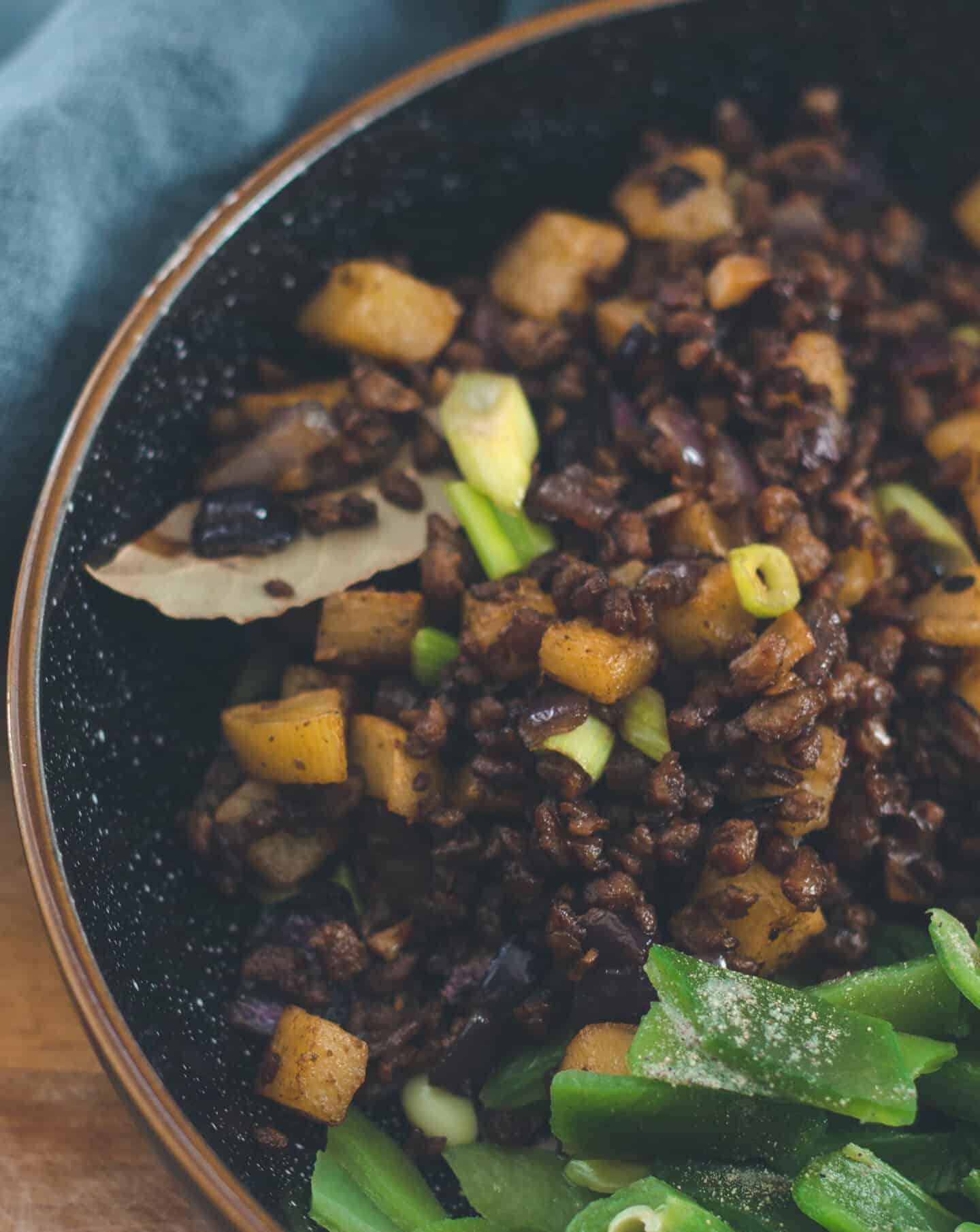 Normally, Macanese Minchi would be served with rice and a fried egg. Obviously we would omit the egg, but it is delicious with rice. Because it is an all-in-one dish, you could just serve it on it's own. I think it goes really well with some greens too though, like kale or green beans.
It stands to reason, that with such simple ingredients, this delicious Minchi dish should be easy to veganise, and indeed it was, although I couldn't find any veganised versions online, so decided to formulate my own.
Ingredients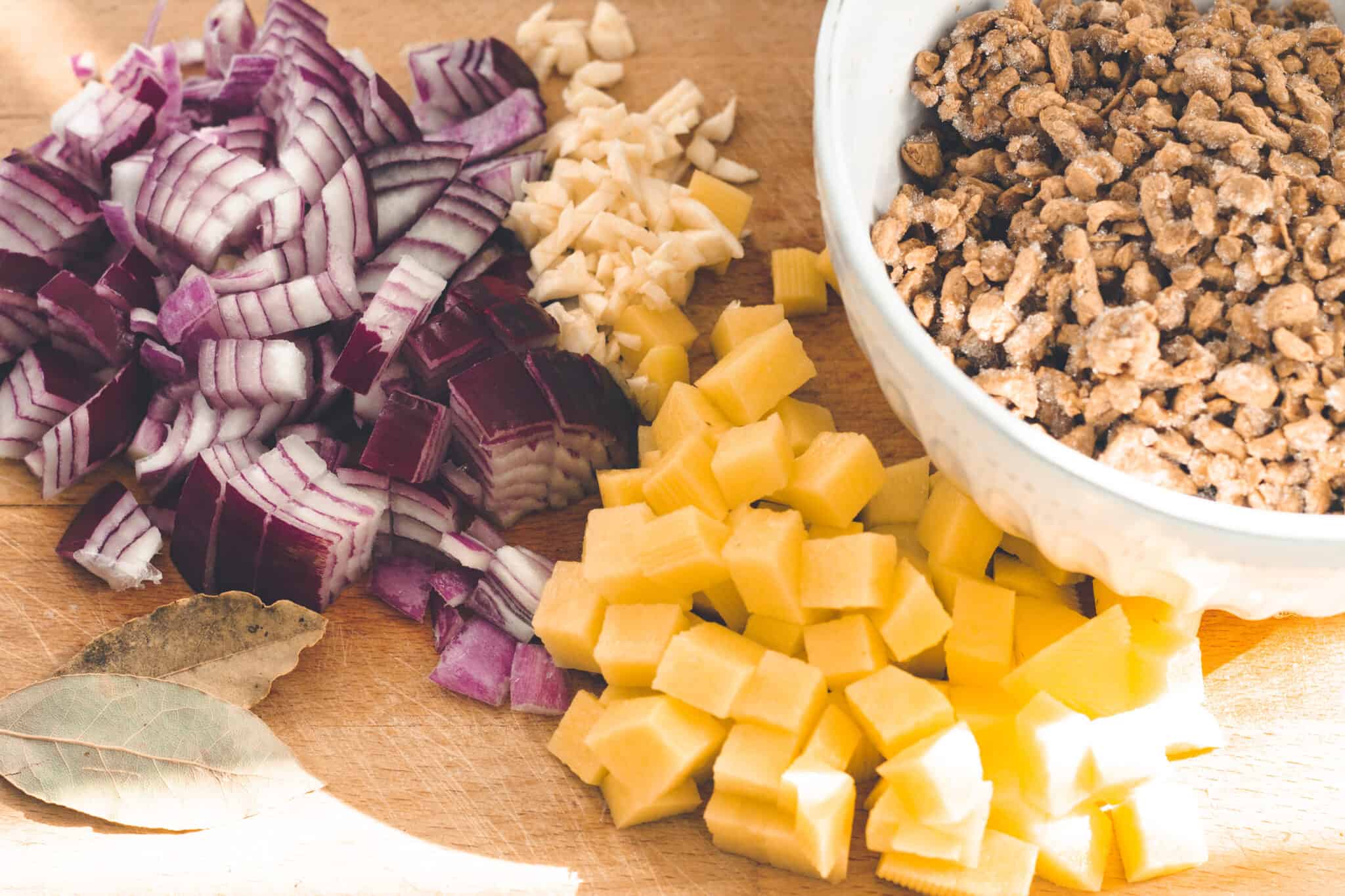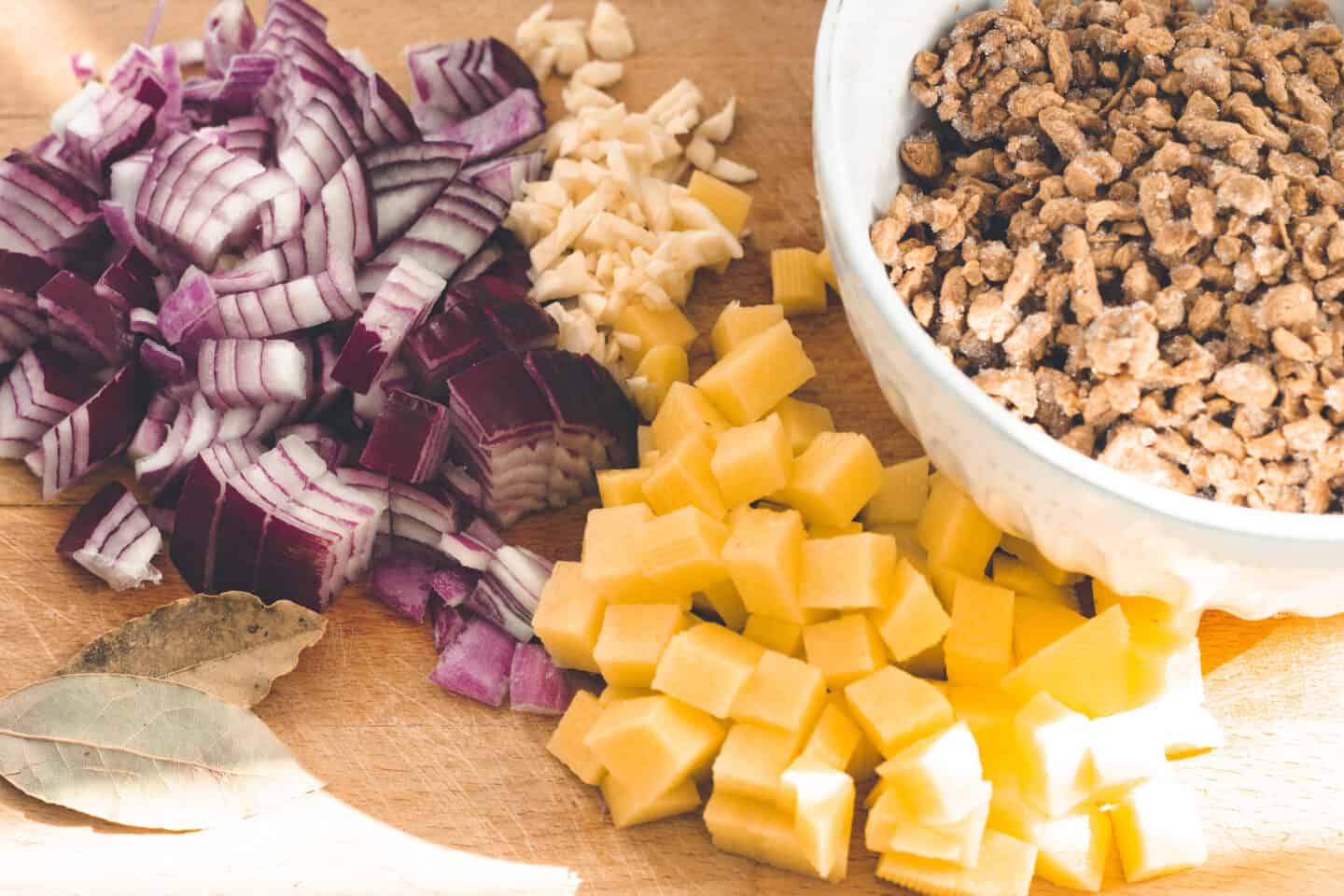 Vegan Mince. I used frozen (or chiller) mince, rather than TVP for this recipe. Frozen mince has a more "authentic" texture, and retains that texture during cooking. TVP is great, and definitely has a place in vegan cooking (see my TVP tutorial here), but it's not quite right for this recipe. Make sure you thaw the mince in a small bowl beforehand.
Potatoes, peeled and cubed. You don't have to peel them if you prefer skin-on. I parboil my potato cubes first, just for about 5 minutes as it speeds up the frying process. Note: make sure to dry your parboiled potato cubes on a little kitchen towel before frying.
Red Onion (or white onion), peeled and finely diced
Garlic, peeled and crushed finely
Bay Leaves, which add a delicate herbaceous flavour.
Dried Cumin. A delicious spice in an understated quantity. This dish is all about balance.
Soy Sauce. I use Kikkoman as that's my favourite brand, just ensure that you use a dark soy. Also, feel free to use Tamari instead.
Worcestershire Sauce. I use a vegan brand, Biona, as traditional Worcestershire Sauce has anchovies in it. If you can't find a vegan brand, use half a tablespoon ketchup whisked up with half a tablespoon soy sauce for a comparable flavour.
Molasses or Brown Sugar. This doesn't sweeten the dish but adds a smoky flavour which is delicious.
White Pepper. A little seasoning and a little warmth.
Spring Onions or Scallions. These add the perfect pop of freshness to the final dish.
Method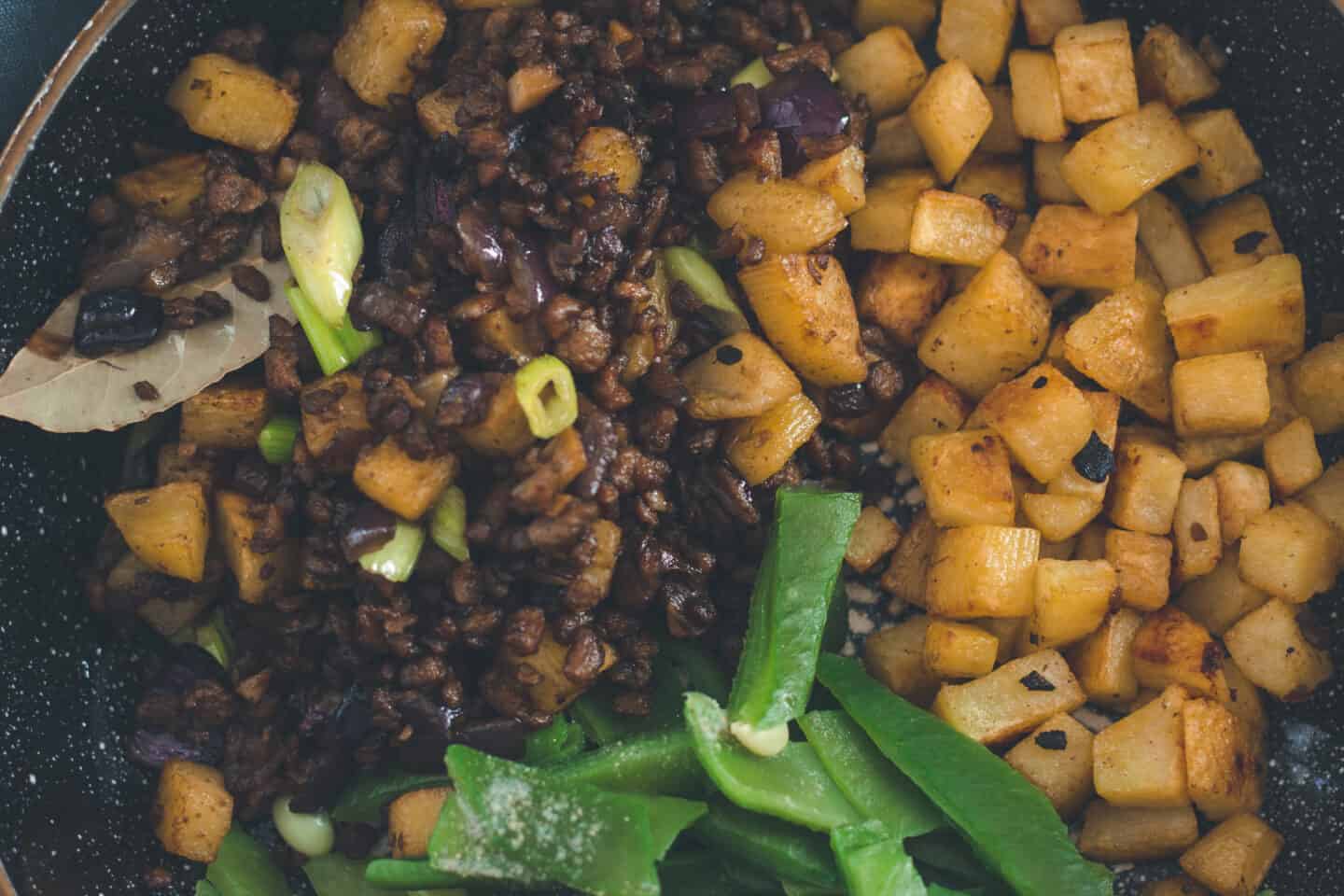 Parboil the diced potatoes for 5 minutes. Drain and dry on a piece of kitchen towel.
In a large skillet, add the olive oil and sauté the onion and garlic over moderate heat until fragrant.
Add the thawed vegan mince to the pan along with the bay leaves and cumin. Fry for a little bit until all the mince has started to colour slightly, a couple of minutes.
Add in the soy sauce, vegan Worcestershire sauce and molasses or brown sugar. Stir well until everything is well coated, and let simmer whilst you start to fry the potatoes.
You can do this in two ways:
you can fry the potatoes in a separate pan (or cook them in an air fryer) or
use the frying pan that you cooked the minchi in. I used this option, placing the cooked minchi in a separate bowl, then frying the potatoes in a little more oil. The reason I do this is because the pan still has a lot of the flavours left from cooking the minchi.
Once the potatoes are browned and delicious (this could take 15 minutes or so, but you will need to judge this by eye), add the minchi back to the pan with the potatoes.
Stir well, then add the chopped scallion or spring onion.
Taste for seasoning then serve!
Try my other vegan supper dishes
Vegan Macanese Minchi (veggie mince and potato hash)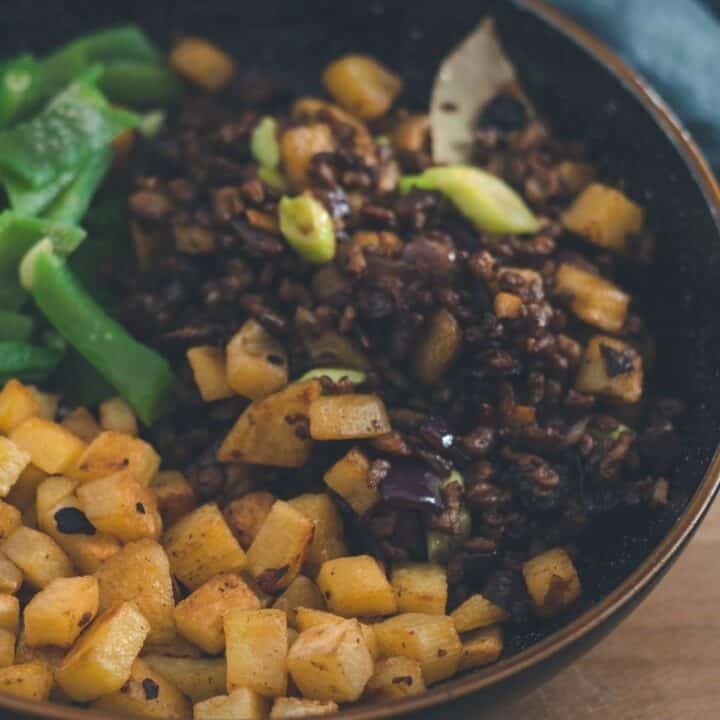 A delicious and quick supper or brunch dish
Ingredients
400

g

Potatoes

peeled and cut into small dice, about 2 medium potatoes

250

g

Mince

Plant-Based (not TVP)

3

tbsp

Olive Oil

1

Red Onion

small, peeled, diced

2

cloves

Garlic

peeled, finely chopped

2

Bay Leaves

¼

tsp

Dried Cumin

2

tbsp

Soy Sauce

1

tbsp

Worcestershire Sauce

vegan (I use Biona)

1

tsp

Molasses

or use brown sugar

¼

tsp

White Pepper

to taste

4

Spring Onions

finely chopped
Instructions
To make the diced potatoes
Peel and cut into small cubes.

Par-boil in a pan of boiling water for just a couple of minutes. Drain and dry on some kitchen roll.

Heat a little olive oil over medium heat and saute the potatoes until crisp and cooked through. Drain and leave to one side.
To make the Mince
Saute the onion and garlic in the olive oil until soft and fragrant.

Add the vegan mince, cumin and bay leaves and stir well, ensuring that the mince is well coated. If it seems a little dry, add a little more olive oil.

Now add the soy sauce, vegan Worcestershire sauce, molasses or sugar and white pepper. Stir well and cook over a medium low heat until the mince is cooked through andd thoroughly coated in all the flavourings.

Add half the potatoes and the spring onions to the mince mixture, combining well.

Taste for seasoning, then serve with some rice or green beans.
Nutrition Facts
Vegan Macanese Minchi (veggie mince and potato hash)
Amount per Serving
% Daily Value*
* Percent Daily Values are based on a 2000 calorie diet.