How to Make Vegan Lofthouse Cookies
To my British readers, you probably won't have heard of Lofthouse Cookies. I certainly hadn't, and despite having been to the US several times, I have never seen them.
A quick google search of Lofthouse Sugar Cookies brings up lots of copycat recipes, but I had to visit their official Facebook page (here) to discover that they are owned by a larger company called TreeHouse Foods. It seems that most of their production is based in Canada, New York, Pennsylvania, and a couple of others dotted around the US. So it would seem that they are somewhat of a randomly distributed grocery store cookie.
What are Lofthouse Cookies?
Lofthouse Cookies are soft sugar cookies with a cakey consistency, colorful buttercream frosting, and lots of sprinkles. Seasonally, they are available in different shapes, like easter chicks or eggs, spring blossoms, and festive wreaths.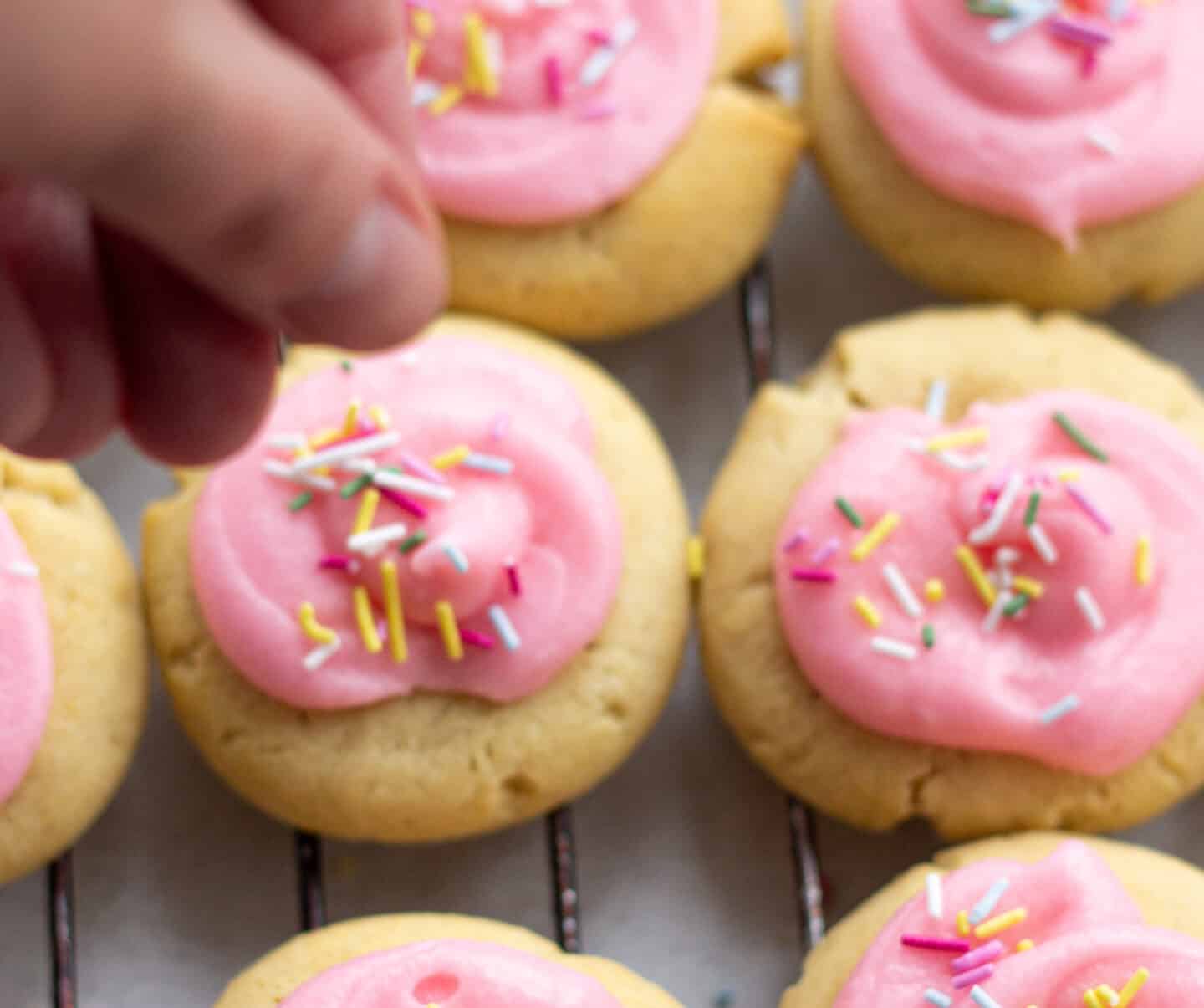 The packaging refers to them as a frosted sugar cookie, although I would say that they are a little cakier than a traditional sugar cookie. That is the allure of these cookies.
Looking at the ingredient listing, apart from egg, the cookie itself is vegan (so, obviously not vegan, but they don't contain powdered milk or other non-vegan ingredients), so is not too difficult to veganism. The icing does contain dried milk, but I have an easy workaround.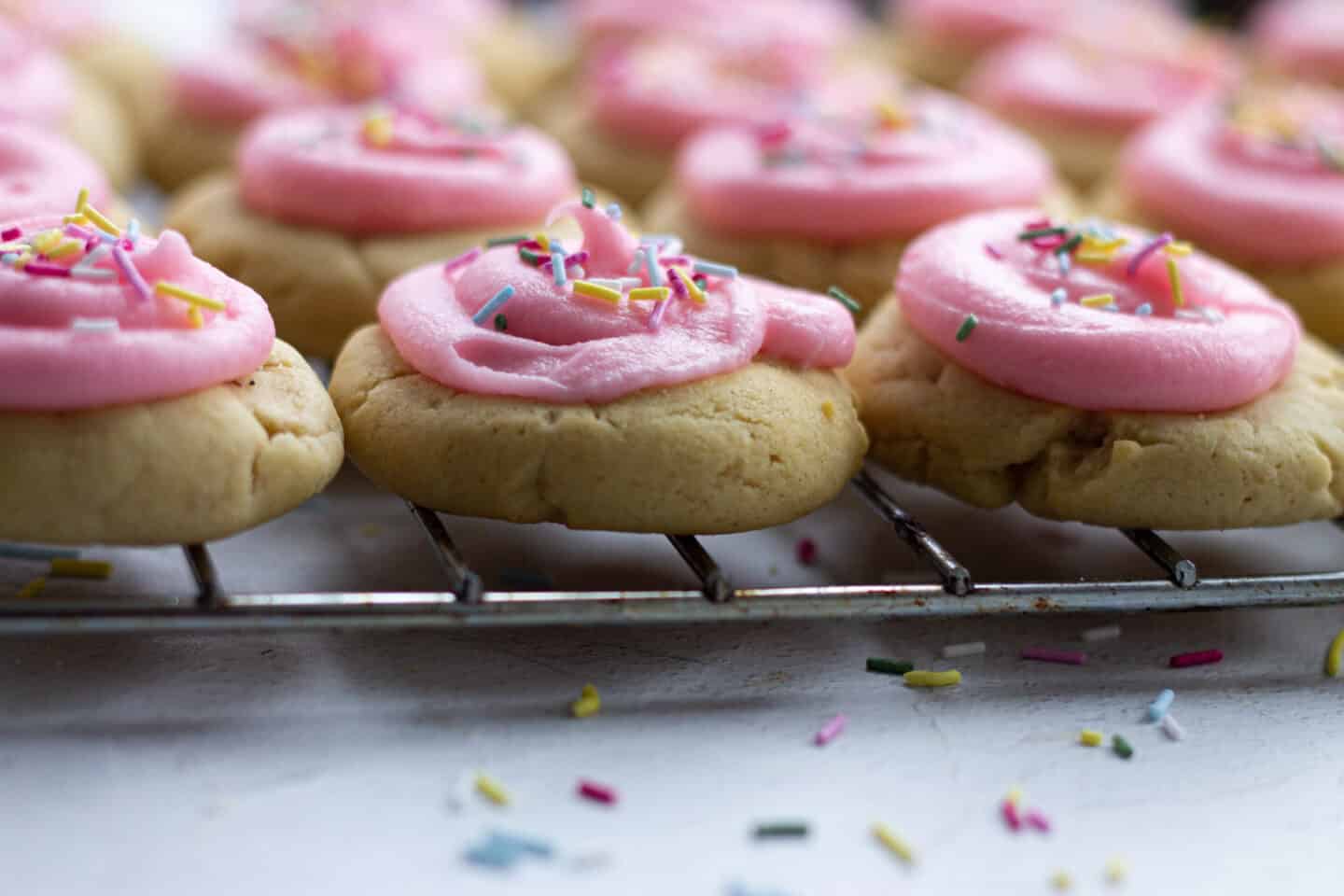 The traditional color of Lofthouse Cookies appears to be a hot pink frosting, but, and this would be perfect for birthday parties, you could use any bright pastel you wanted. Just don't forget the rainbow sprinkles!
How do you make Vegan Lofthouse Cookies?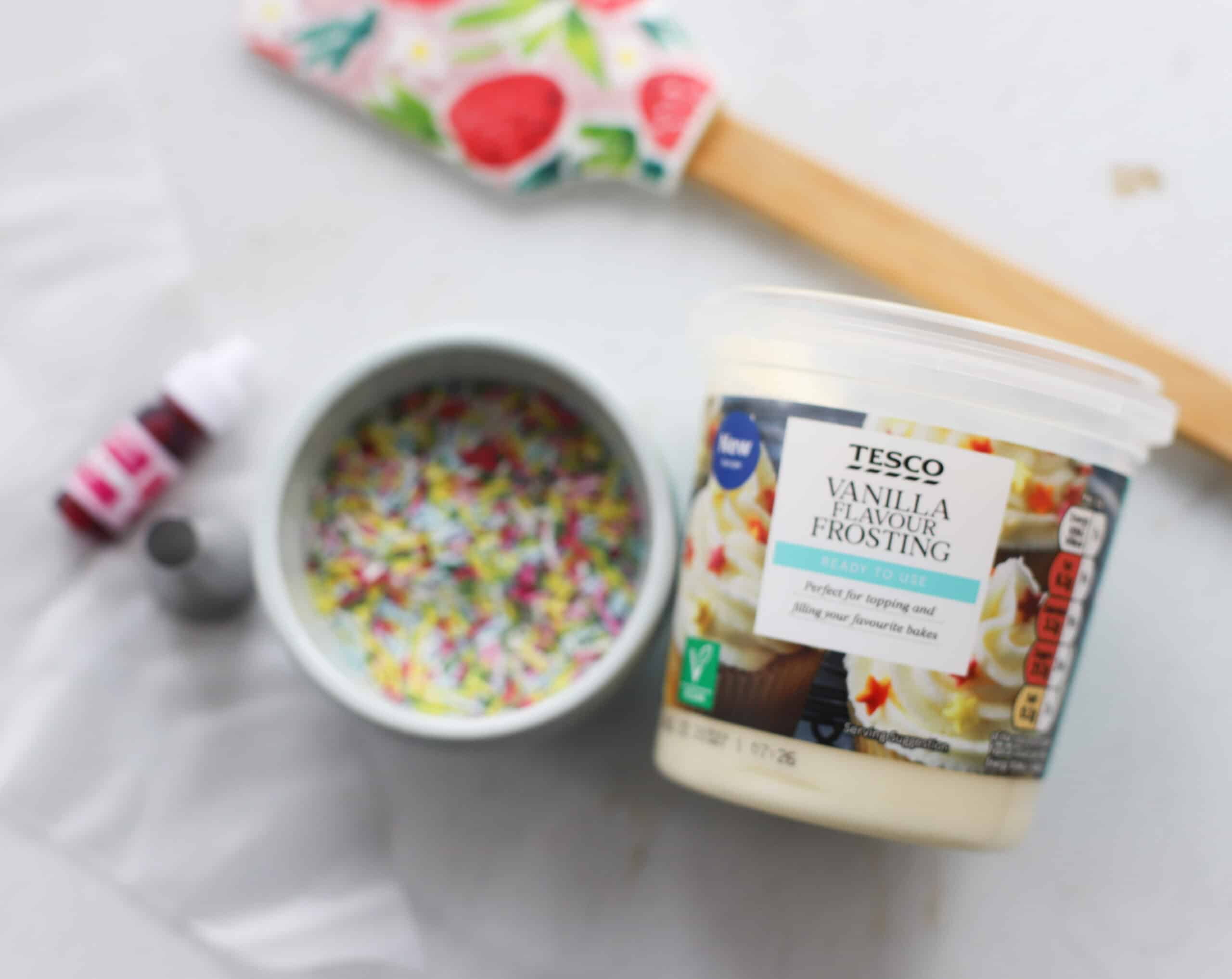 Most of you who have already googled this recipe might have come across this version from Liz at SugarGeekShow, and I have more or less adhered to her version, with a few tweaks. She has dissected this recipe almost scientifically, so please feel free to check out her findings!
Method
Using a hand whisk (or hands-free mixer), blend room temperature margarine and vegan butter with powdered sugar in a large bowl. According to Liz, the icing sugar contributes to the lightness of the cookie. This is a great idea for other cookies that need that "short" crumbly texture.
Next, beat in a vegan egg (I used Bob's Red Mill egg replacer), almond extract, and vanilla extract. I also added 2 tsp of apple cider vinegar instead of the cream of tartar that Liz used. This was because I didn't have any! A quick search of google suggests 1 tsp per 1/2 teaspoon of cream of tartar.
Finally, sift in the dry ingredients. I used a mixture of plain and self-raising flour, plus cornstarch (cornflour). Liz's recipe uses cake flour. This is not always readily available in the stores here, so I looked for 00 pasta flour but couldn't find that either! I used a little SR flour to help with the lift of the cookies. We are looking for fluffy cookies after all!
You will now have soft cookie dough. Cover bowl with plastic wrap and chill for at least a couple of hours (I left mine overnight).
When you are ready to bake, use a cookie scoop or spoon to portion out dollops of the chilled soft dough, then roll between your palms into cookie balls.
Place on a baking tray lined with parchment paper and gently press down to about 1/2″ thickness.
Bake for 8 minutes at 180c, and let cool on a wire rack before frosting.
Now, this is where I cheat. I use a pre-made vegan frosting (Betty Crocker makes a good vanilla one), which I then color and pipe onto my cooled cookies. Of course, feel free to use your favorite vegan buttercream frosting recipe. I used 5 or 6 drops of a vegan pink food colouring I bought in a set on Amazon but other recipes recommend Electric Pink Americolor (I can't find this over here).
Fill an icing bag fitted with a Wilton 2A Nozzle with your pink icing and pipe a swirl on the top of your cookies.
Sprinkle with, er, sprinkles before the icing starts to set and that's it! You now have the cutest cookies ever!

Store them in an airtight container for about 7 days.
Try my other delicious vegan treats
Vegan Copycat Lofthouse Cookies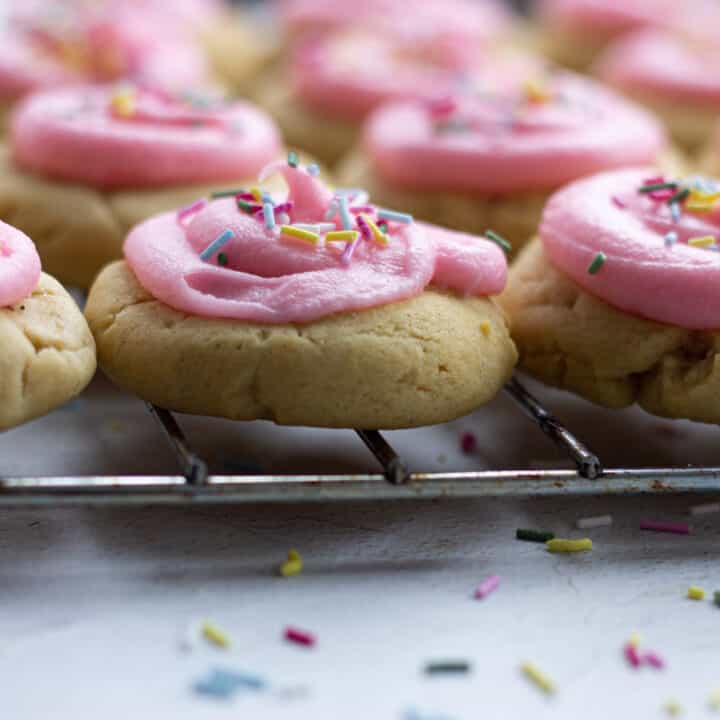 The famous American Cookie, veganised
Equipment
2 lined baking trays

Piping Nozzle and Bag

Wilton 2A nozzle
Ingredients
Cookies
170

g

Powdered Sugar

56

g

Butter

vegan, softened

170

g

Margarine

vegan, softened

300

g

Plain Flour

60

g

Self-Raising Flour

1

tbsp

Egg Replacer

whisked up with 2tbsp Water

2

tsp

Cornflour

1

tsp

Baking Powder

½

tsp

Bicarbonate of Soda

2

tsp

Apple Cider Vinegar

1

tsp

Vanilla Extract

½

tsp

Almond Extract

pinch

Salt
Icing
400

g

Vanilla Frosting

ready made

Pink Food Coloring

Sprinkles

these are vegan
Instructions
To make the cookies
In a large bowl, mix the butter, margarine and icing (powdered) sugar until pale and fluffy, a minute or so.

Add the extracts, vegan egg and apple cider vinegar and mix well again.

Sift in the flour, baking powder, bicarbonate of soda and salt, and, using a spatula, mix gently but thoroughly.

You should have a soft dough that you will now need to cover and chill for at least a couple of hours (I left mine overnight)

To bake, preheat oven to 180c.

Using a medium cooking scoop or a spoon, scoop out portions of the dough, and roll into balls.

Place onto your prepared baking sheets and gently flatten to about ½". Make sure you have 2" inches between cookies as they spread during baking.

Bake for 8 minutes. You do not want them to colour, and you do want them to remain soft inside.

Leave to cool for a minute on the baking tray, and then remove to cook on a rack. Leave to cool completely before icing.
Icing the Cookies
Mix your prepared icing with your coloring, until you achieve your desired shade of pink.

Fill a piping bag fitted with a 2A nozzle with the pink icing and swirl a circle on top of your cookies.

Sprinkle with hundreds and thousands.
Nutrition Facts
Vegan Copycat Lofthouse Cookies
Amount per Serving
% Daily Value*
* Percent Daily Values are based on a 2000 calorie diet.