How to make vegan compound fruit butter for toast. This is not a recipe for fruit butter (fruit cooked down and strained into a thick compote (although that is equally as delicious)), but instead, this is a recipe for (vegan) compound butter, which is butter that has been creamed and then has fruit mixed into it, producing a delicious, rich spread for toast or crumpets or muffin bread.
It is incredibly quick and simple to make and is great for brunch get-togethers, or Sunday morning pancake cook-offs.
How Do You Make Vegan Fruit Compound Butter?
Easy! Simply beat butter in a bowl until it is fluffy, then add a tablespoon of your favourite preserves or just some fresh berries, beat it a little more until amalgamated, chill for a while, then serve! I like to put my butter on a piece of clingfilm and roll into a log shape before chilling it. It gives it a nice shape and is easy to cut into butter pats when serving. This is entirely optional!
I like to use either Flora Plant Butter or Naturli Butter. Both are available in supermarkets throughout the UK.
How Do You Serve Vegan Fruit Compound Butter?
Compound butter is incredibly versatile. It is perfect served on hot toast, crumpets, muffins, beer bread, but is just as great on waffles or pancakes too! You could even serve it spread on a slice of fruit loaf or banana bread.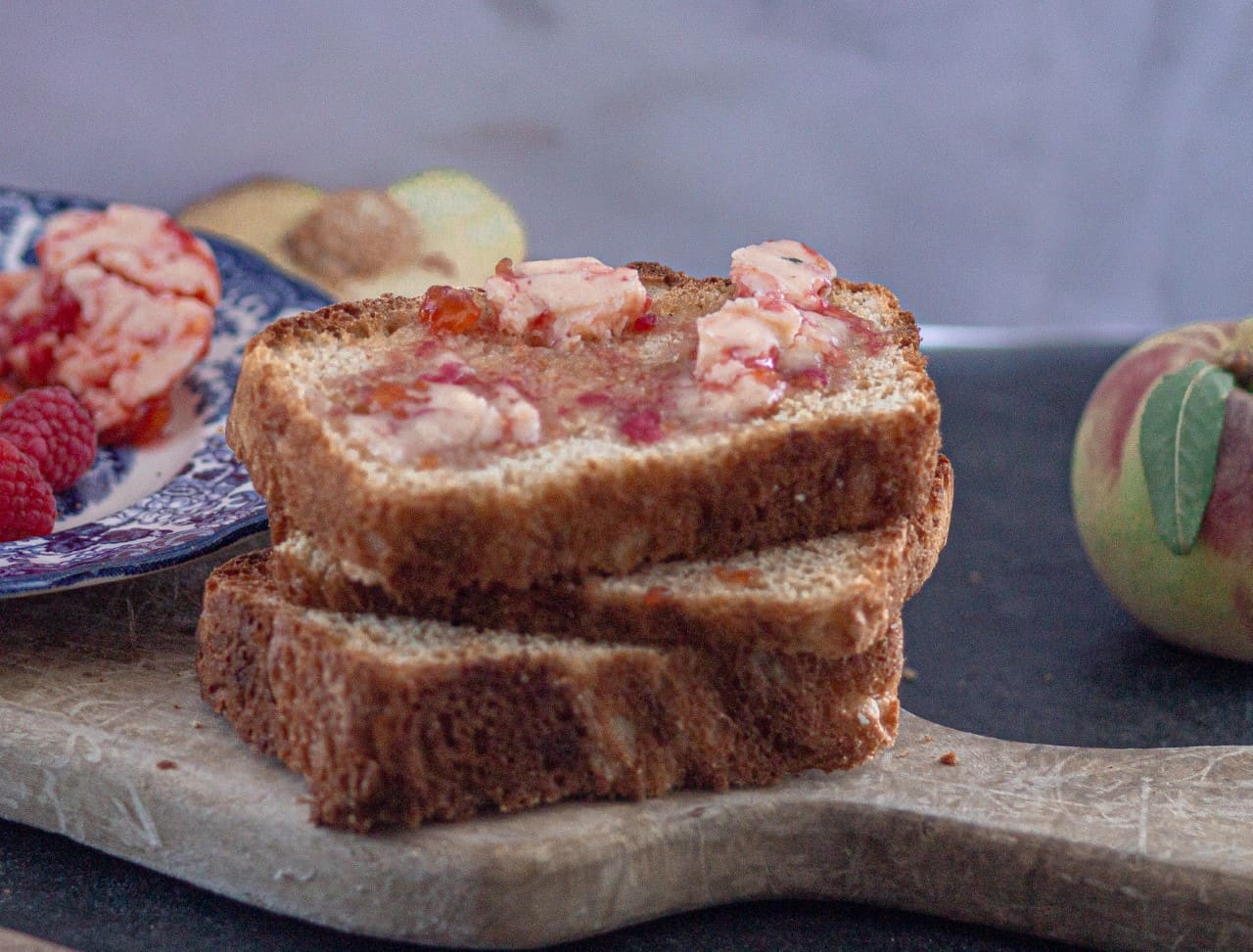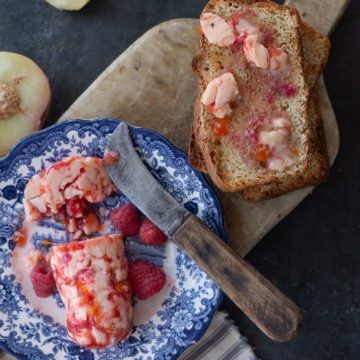 Equipment
Mixing Bowl

Electric Whisk

Clingfilm
Ingredients
¾

cup (or 100g)

Vegan Butter, softened

10

fresh Raspberries

or your favourite soft fruit

1

tablespoon

Peach Jam

or your favourite jam
Instructions
In a mixing bowl, beat the butter until it is soft and fluffy

Then beat in the fruit and jam, and mix until well combined.