How to make easy English Muffins
Easy English muffins recipe. In the UK we just call them muffins, but we toast them and serve them spread with butter and/or jam. We also call cakey muffins, muffins. Confused? Read on and I'll demystify the word muffin and show you how I make English yeast muffins.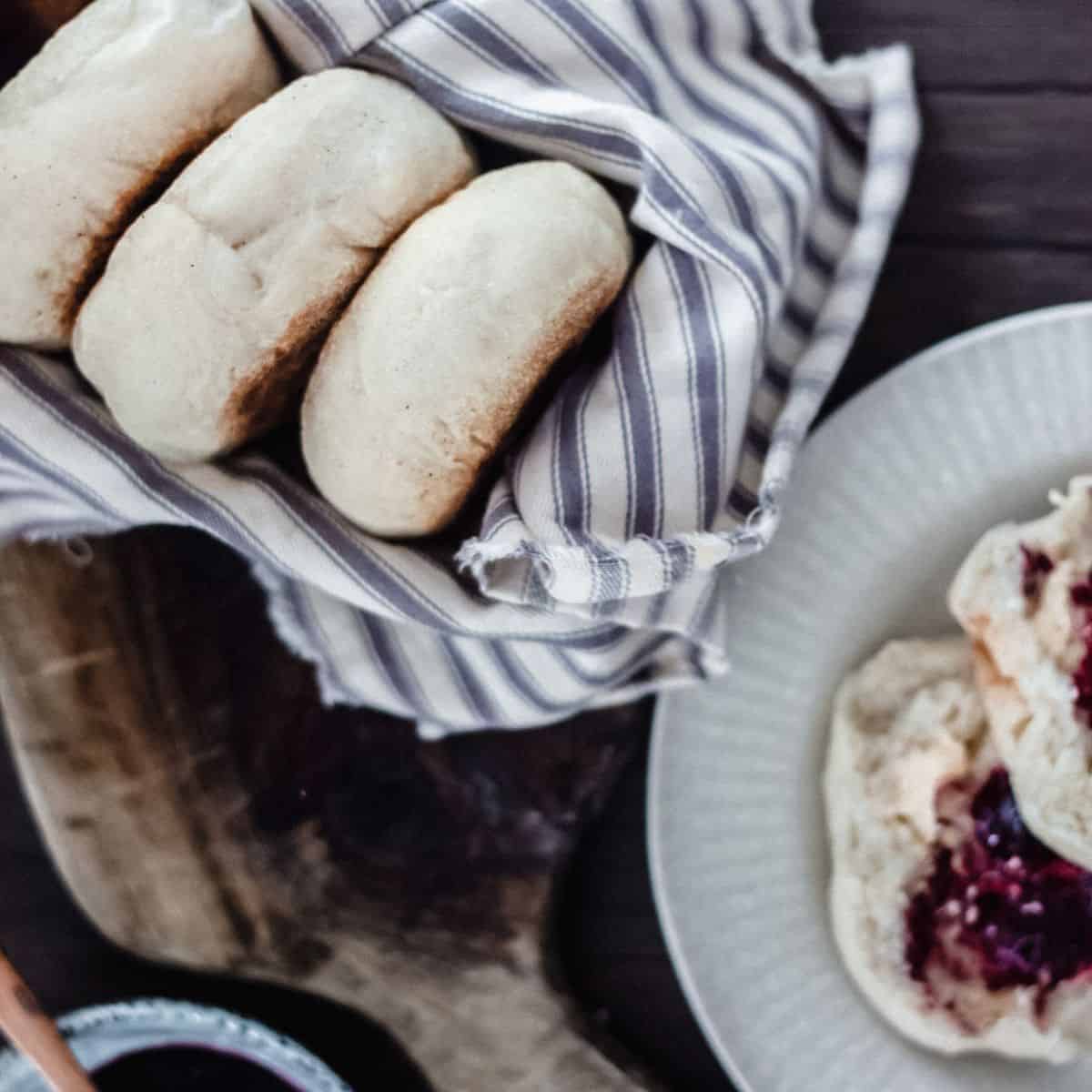 Muffins are the perfect cosy treat for a chilly day, snuggled up with a good podcast.
This was inspired by my simple white loaf recipe, and pairs well with my amazing vegan fruity butter. And if you love baking for breakfast, try my sticky and sweet vegan Cinnamon Rolls too!
So let's set the record straight. A muffin is simply an individually portioned cake or baked item. According to Wikipedia. It does go on to muddy the waters somewhat by stating that the term muffin is, after all that, somewhat of a free for all. So, there's no record to set straight. A muffin is a muffin is a, er muffin.
But for today we are cooking a yeasted bread muffin, known in the US as an English muffin. I think certainly I was aware of this type of muffin as a child, long before I knew that cakey muffins existed. Those were always called cupcakes or buns (another confusing term) and are considered a quick bread (due to the lack of yeast in the batter, similar to a banana bread or other such baked products that are actually just cakes!).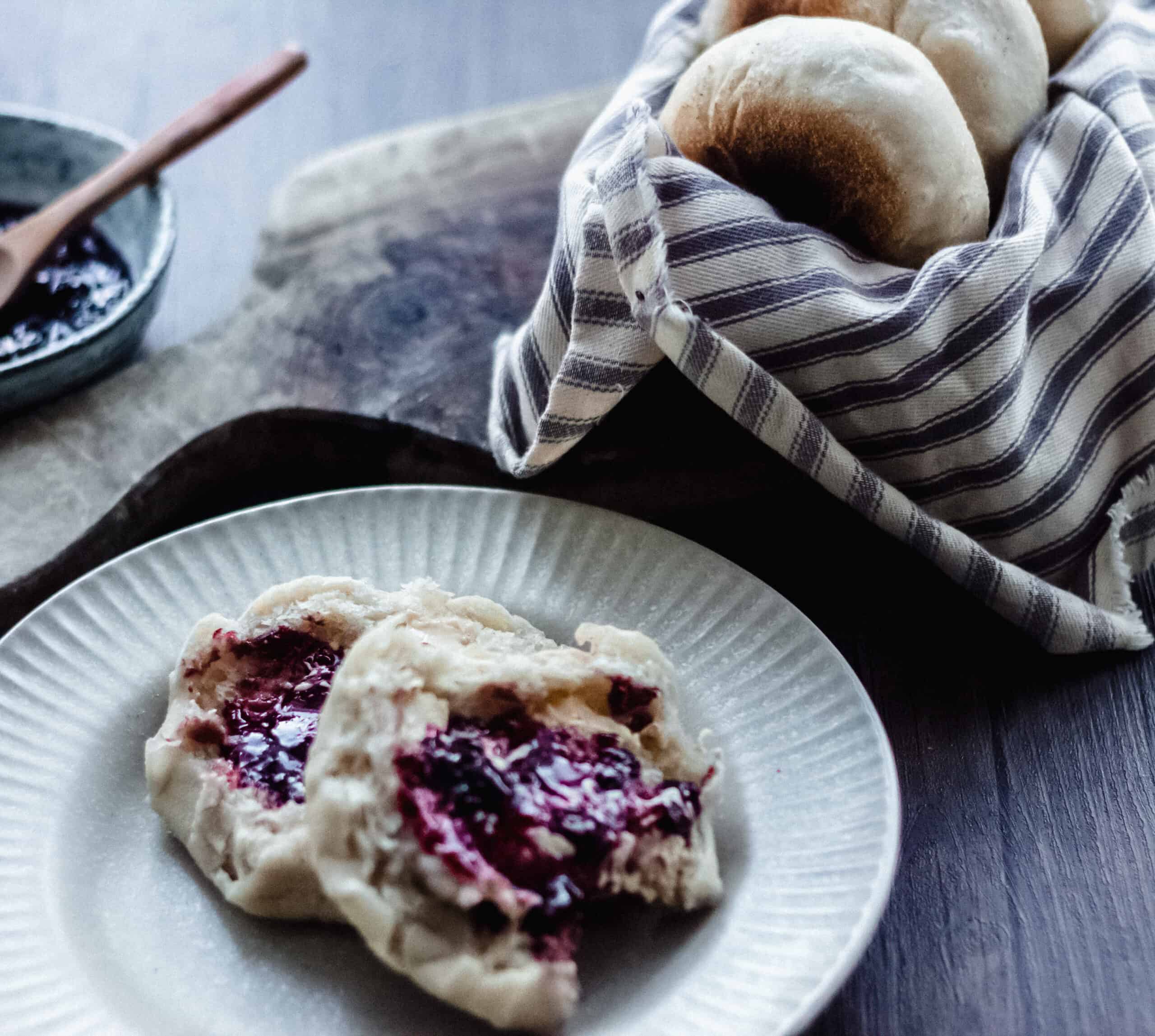 These muffins have a unique taste, that despite using just flour, yeast, water, salt and sugar, is distinctly muffin-like. In fact, I think it's purely the dusting of the semolina that gives them that taste, and that doesn't even go into the mixture!
Muffins freshly baked and still hot are delicious to eat just as they are, but the next day they definitely benefit from a toasting. When I was a child, we had an open fire and I remember sticking a muffin half on a toasting fork and thrusting it deep into the flames until it would char around the edges. Then I'd spread it thickly with butter and blackcurrant jam. I think I prefer this kind of muffin to the cake ones.
This recipe is borrowed from the third River Cottage Handbook, Bread, and I highly recommend seeking this out as it is a wealth of useful tips and breadmaking knowledge.
I hope that you give my easy English muffin recipe a try, they really are so good to make and eat, and a really good first-time baking recipe too!
Ingredients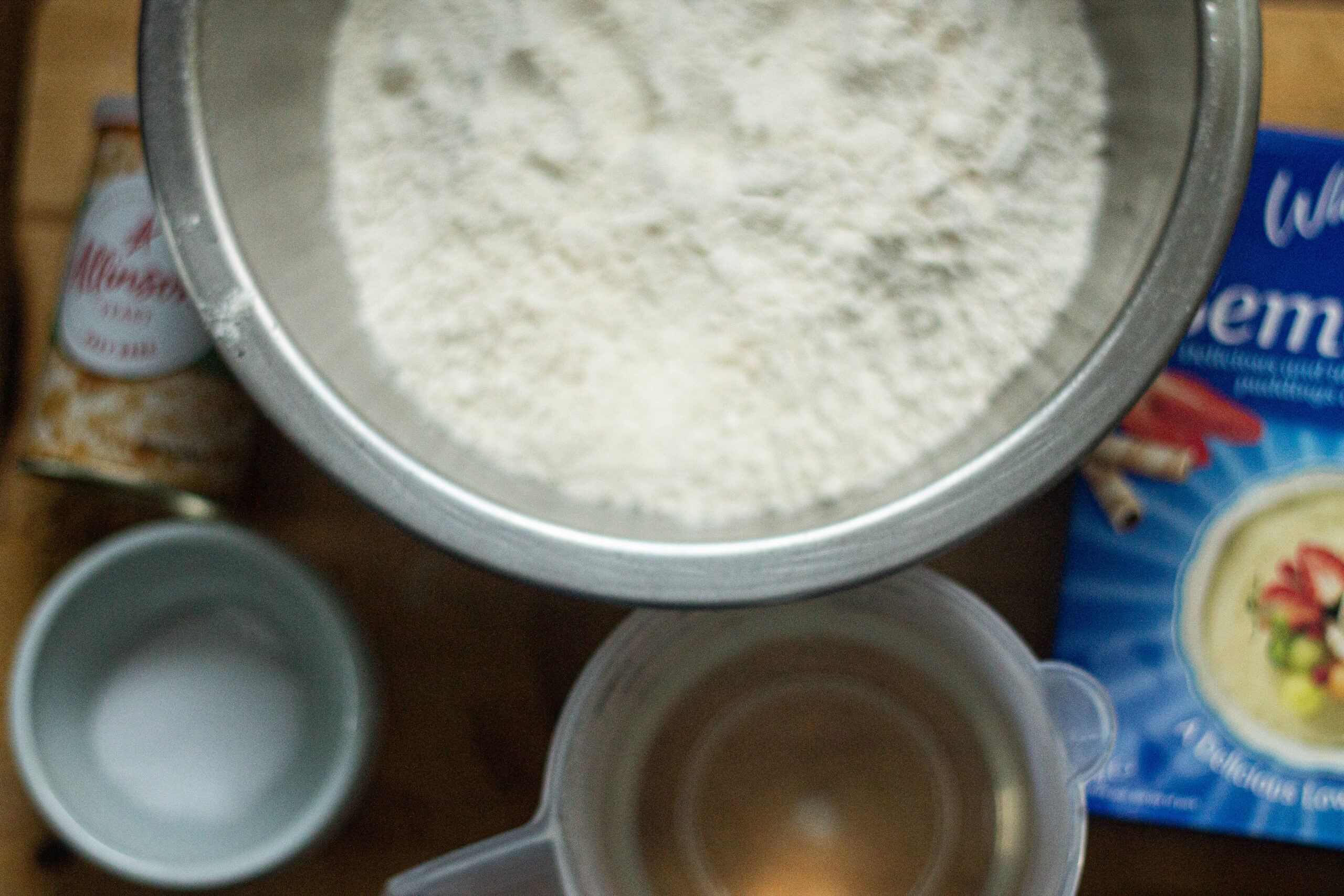 flour. I use plain, strong flour
yeast. I use instant.
semolina. This is a critical ingredient for giving you that classic crunchy outside, and you only dust the unbaked muffins with it.
See recipe card for quantities.
Instructions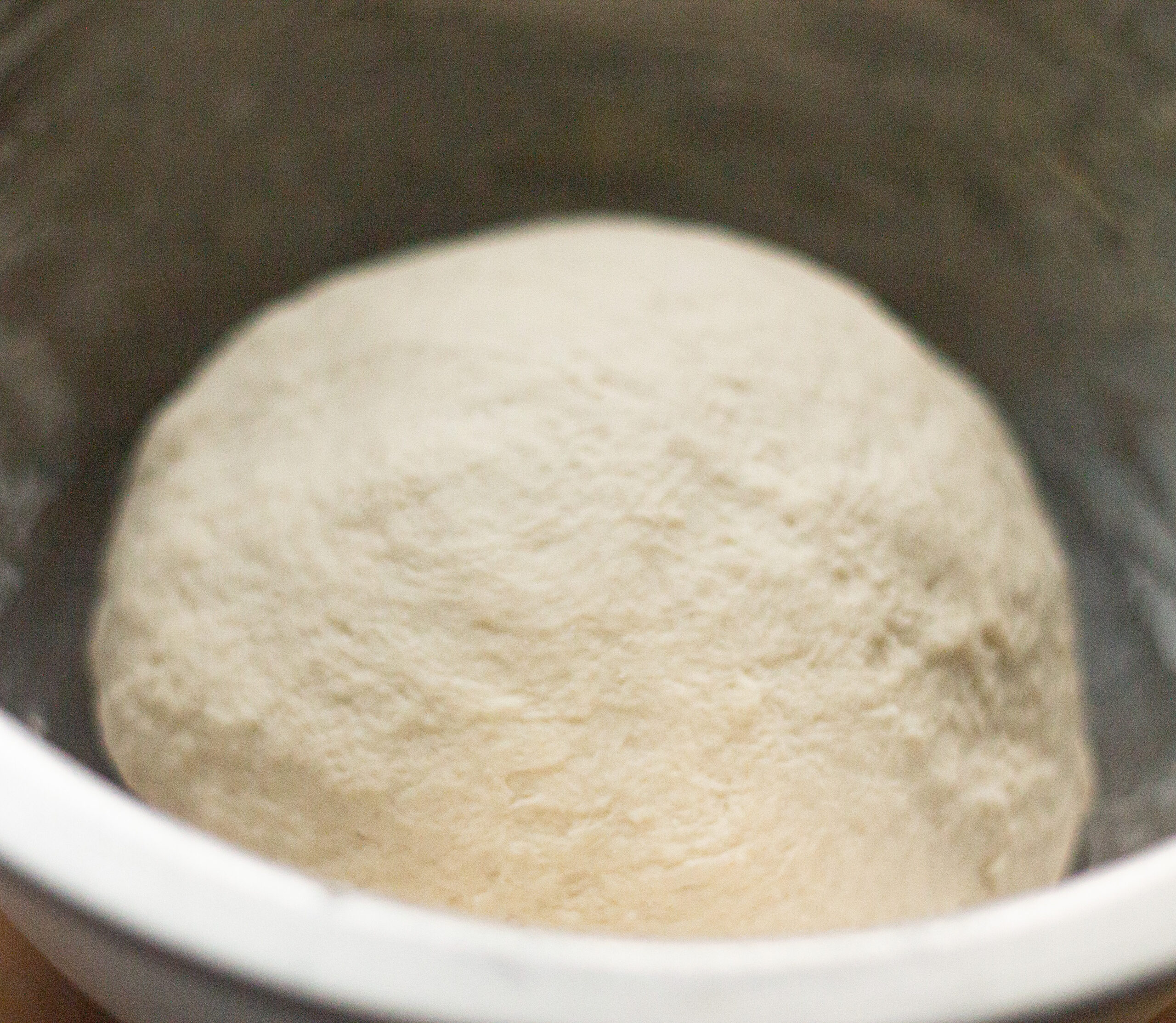 Mix the flour, yeast, water and sugar and knead until you have a rough ball of dough. Leave to prove for 2 hours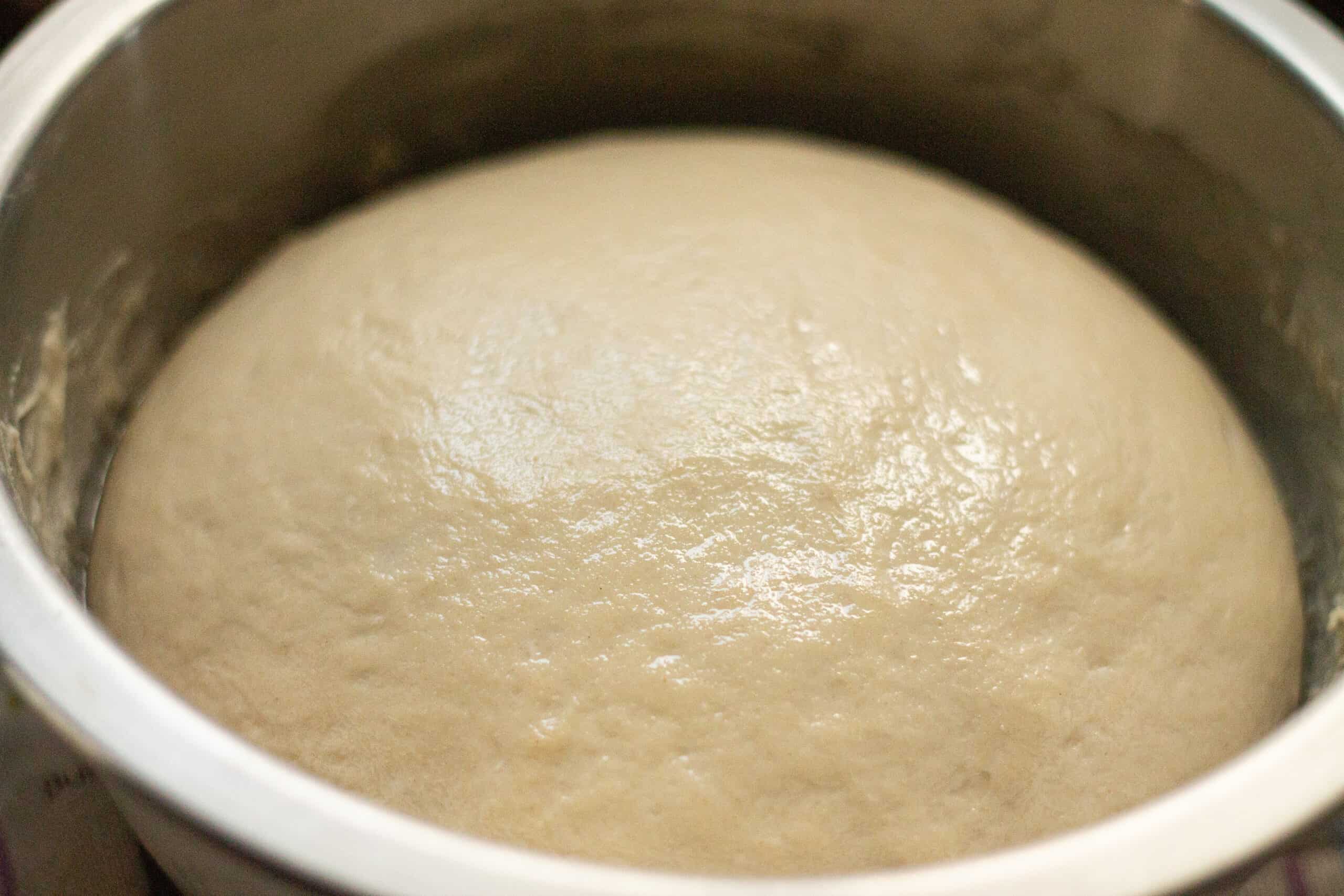 After a couple of hours, the dough will be doubled, smooth and shiny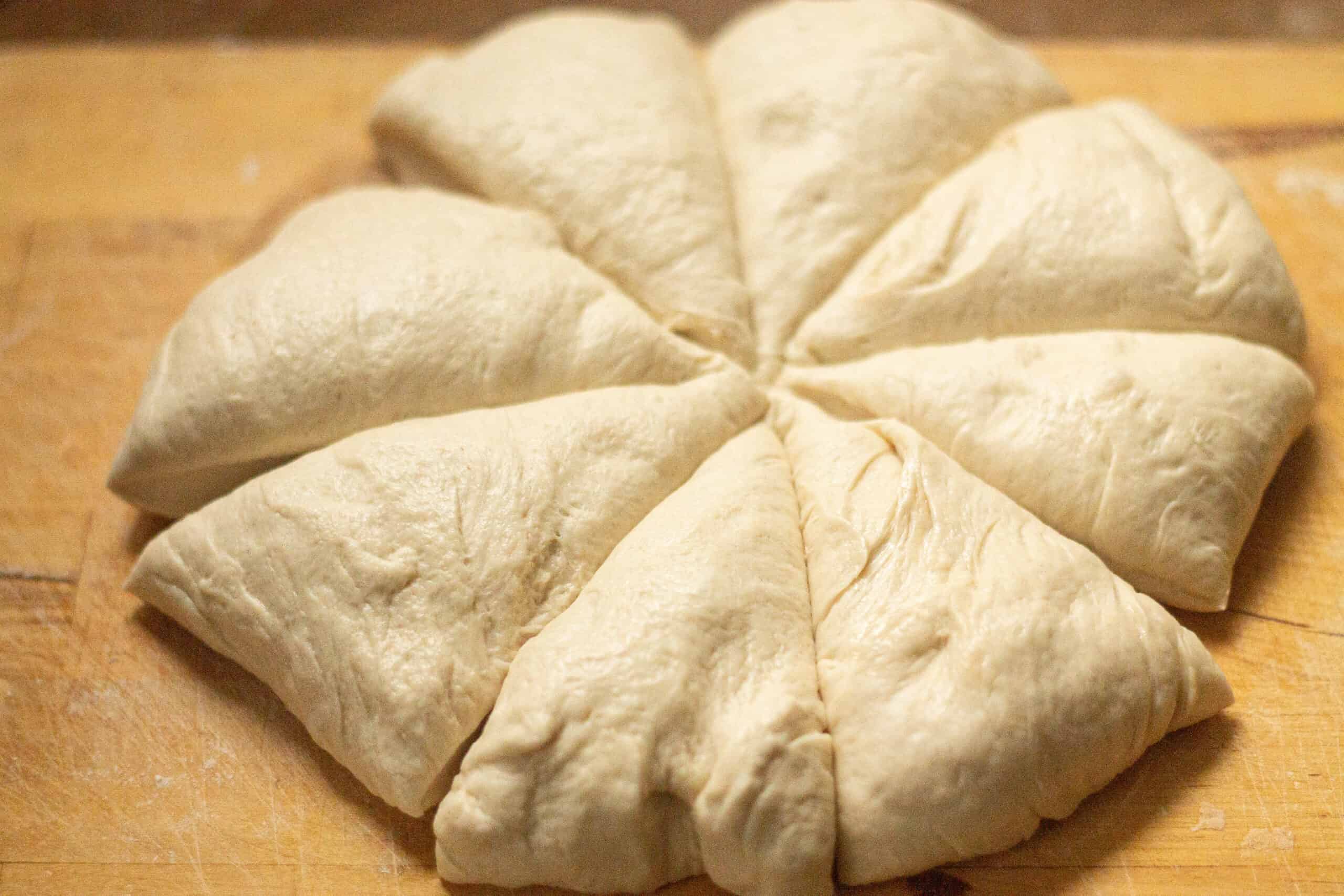 Knock down the dough, then shape into a circle and cut into 8 pieces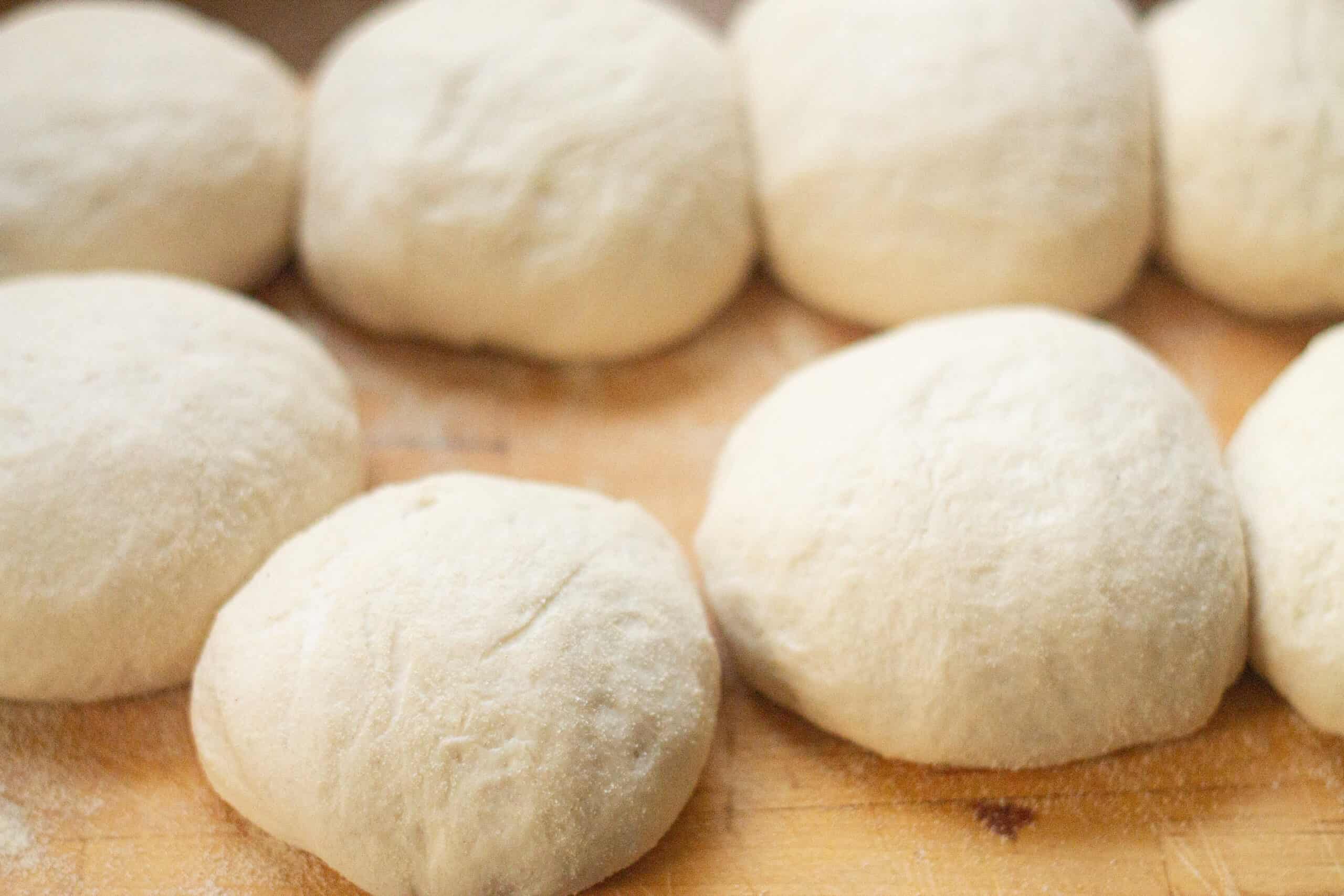 Roll into muffin shapes, flattening slightly, coat in semolina then leave to rise for another hour or so.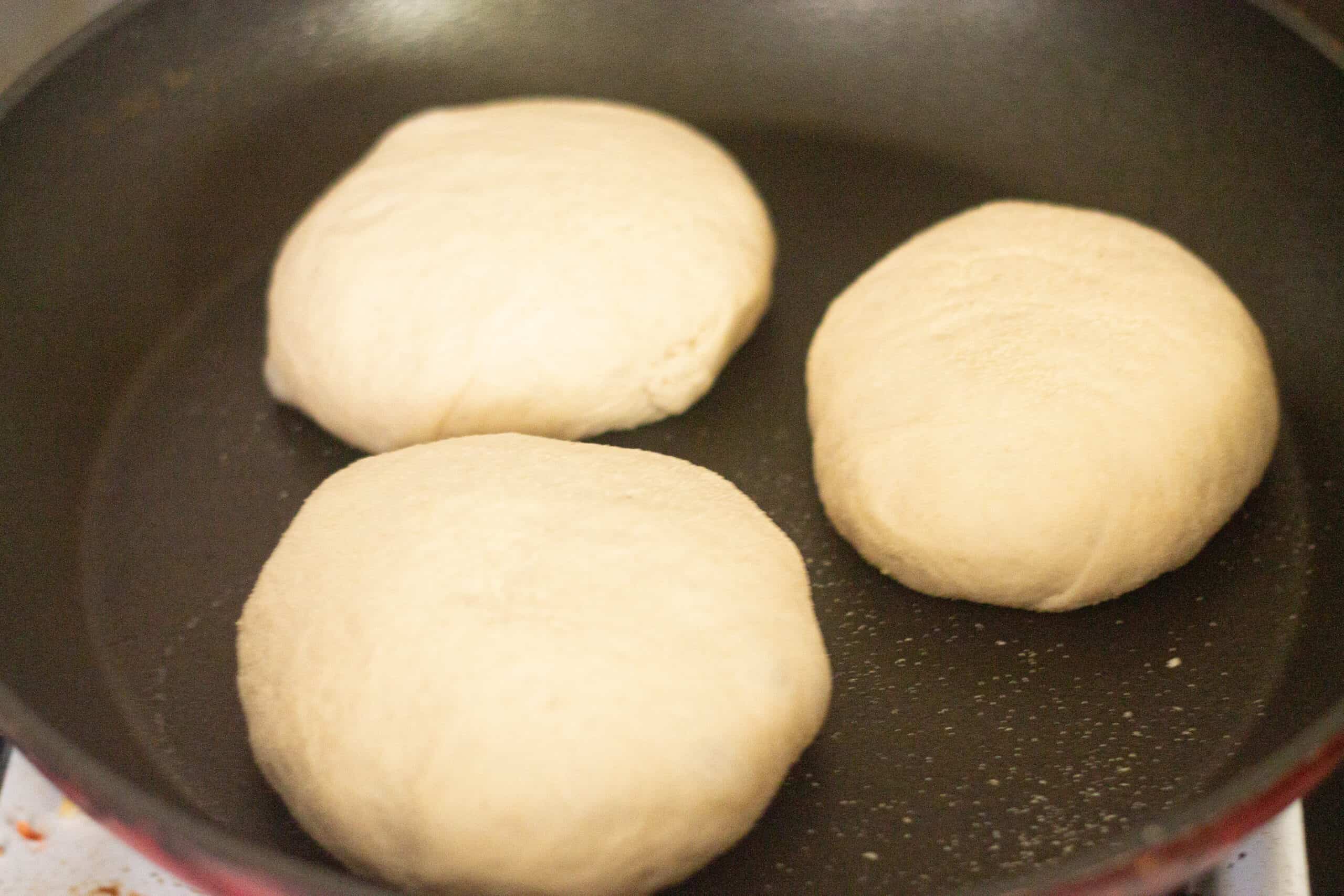 Cook in a heavy bottomed frying pan, on both sides for 15 minutes.
Hint: do not omit the semolina, it is cheap to buy and you will use it for lots of other baking purposes, like pizza crusts etc.
Equipment
A heavy bottom frying pan is essential. I love to use my Ninja Foodi Zerostick Frying Pan (shameless affiliate link) but any heavy based frying pan or skillet is perfect.
Storage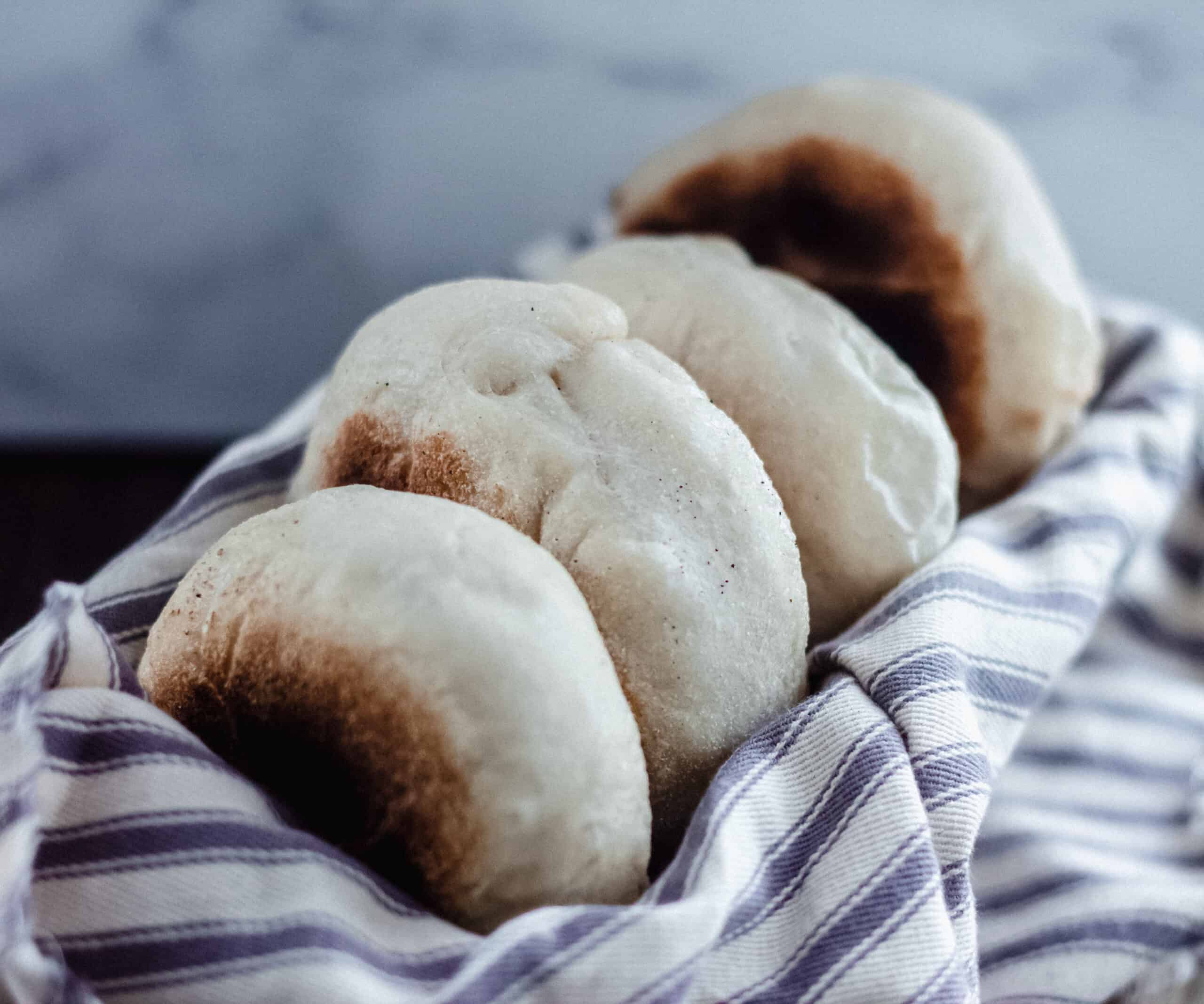 These are really only good for a day or 2 after you make them, and they definitely need toasting by day 2.
Freeze them on the day of baking, one cooled, then thaw at room temperature before toasting.
Top tip
Make a larger batch and freeze them on the day of baking so that you always have some lovely fluffy muffins.
FAQ
What are English muffins called in the UK?
We just call them muffins. And yes, we call things like blueberry muffins, muffins as well!
How do you eat an English Muffin?
I get really cross at this type of question, like, do you put jam or cream on scones first – you do you!
Personally, if they're freshly baked, I will tear the muffin in half and spread it with vegan butter and jam, but if they're cold or shop-bought, I'll use a knife to cut it in half. If you want to use the latest Tiktok method of splitting a muffin, go ahead!
Easy English Muffins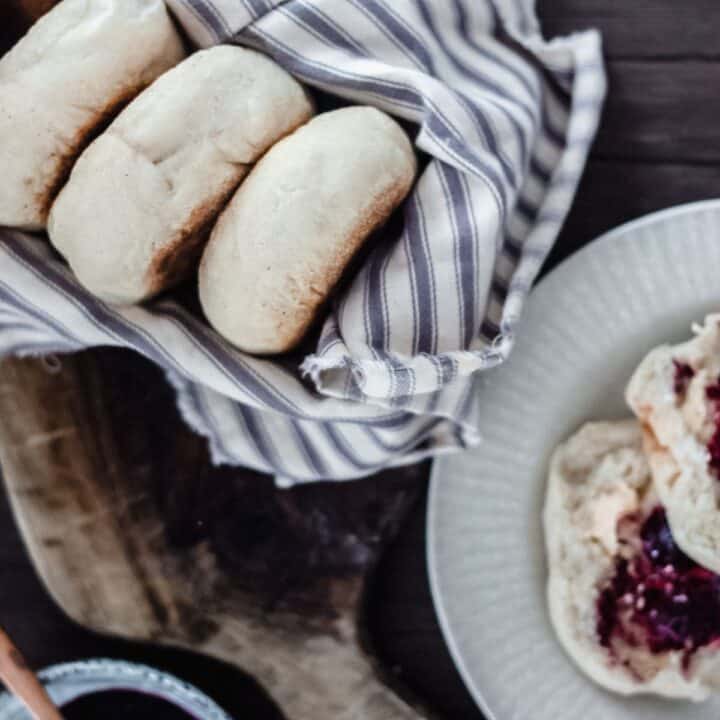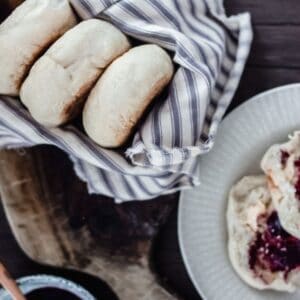 How to make English muffins, a simple recipe
Equipment
1 Heavy Bottomed frying pan or griddle
Ingredients
550

g

Plain Flour

-

white, extra strong

5

g

Instant yeast

1

tsp

Sugar

1

tsp

Salt

340

ml

Warm water

-

not boiling

1

tsp

Vegetable oil

Semolina -

for sprinkling
Instructions
Place the warm water, yeast and sugar into a small bowl or jug and let activate, just for a couple of minutes

Meanwhile, sieve the flour and salt into a large mixing bowl.

Once the yeast has started to activate a little, pour this into the flour and, using a wooden spoon, mix until you have a raggy dough.

Turn out the dough onto a clean work surface or chopping board, and lightly flour your hands.

Knead the dough for 10 minutes or until soft and silky.

Place dough back into the bowl, drizzle with a little flavourless oil, cover and leave to rise for a couple of hours in a warm-ish spot.

Once the dough has doubled in size (maybe a couple of hours), punch the dough down to release the air bubbles, and then turn out onto the work surface.

Roughly shape into flattish circle and divide into 8 portions.

Roll each portion into a neat ball, tucking the edges underneath to get a smooth finish, then gently press down so that they are about 3cm high.

Place on a baking sheet and dust with semolina. Cover and leave to rise until doubled in size again.

Once doubled, heat a flat-bottomed frying pan or griddle to medium-high temperature and place as many muffins on as you can without them touching each other. I could get about 3-4. Cook for 1 minute before turning over gently.

Then cook for another 15 minutes, turning every couple of minutes to ensure even browning and cooking throughout.

Once cooked, place to cool on a cooling rack. They are delicious served hot, split and spread with butter and your favourite jam, but once cold, they are better toasted.
Please note that where the recipe asks for milk, butter or yogurt, this refers to any plant-based version that you prefer.
Nutrition Facts
Easy English Muffins
Amount per Serving
% Daily Value*
* Percent Daily Values are based on a 2000 calorie diet.
Food safety
We sometimes take for a granted that we have years (or decades) of cooking experience, that the average visitor may not. Add to, or remove from, the list below with health and safety tips.
Cook to a minimum temperature of 165 °F (74 °C)
Don't leave food sitting out at room temperature for extended periods
Never leave cooking food unattended
Use oils with high smoking point to avoid harmful compounds
Always have good ventilation when using a gas stove
See more guidelines at USDA.gov.