Vegan Cinnamon Rolls – Like Cinnabon but Better (easy step by step instructions!)
This post contains links to affiliate websites, such as Amazon, and we receive an affiliate commission for any purchases made by you using these links. We appreciate your support!
Vegan Cinnabon Copycat Cinnamon Rolls. I'm not sure I've ever met anyone who doesn't like cinnamon rolls, but these are next level. Vegan Cinnamon rolls that taste better than Cinnabon, easy to make, with an overnight option too!
PIN my Vegan Cinnamon Rolls to make later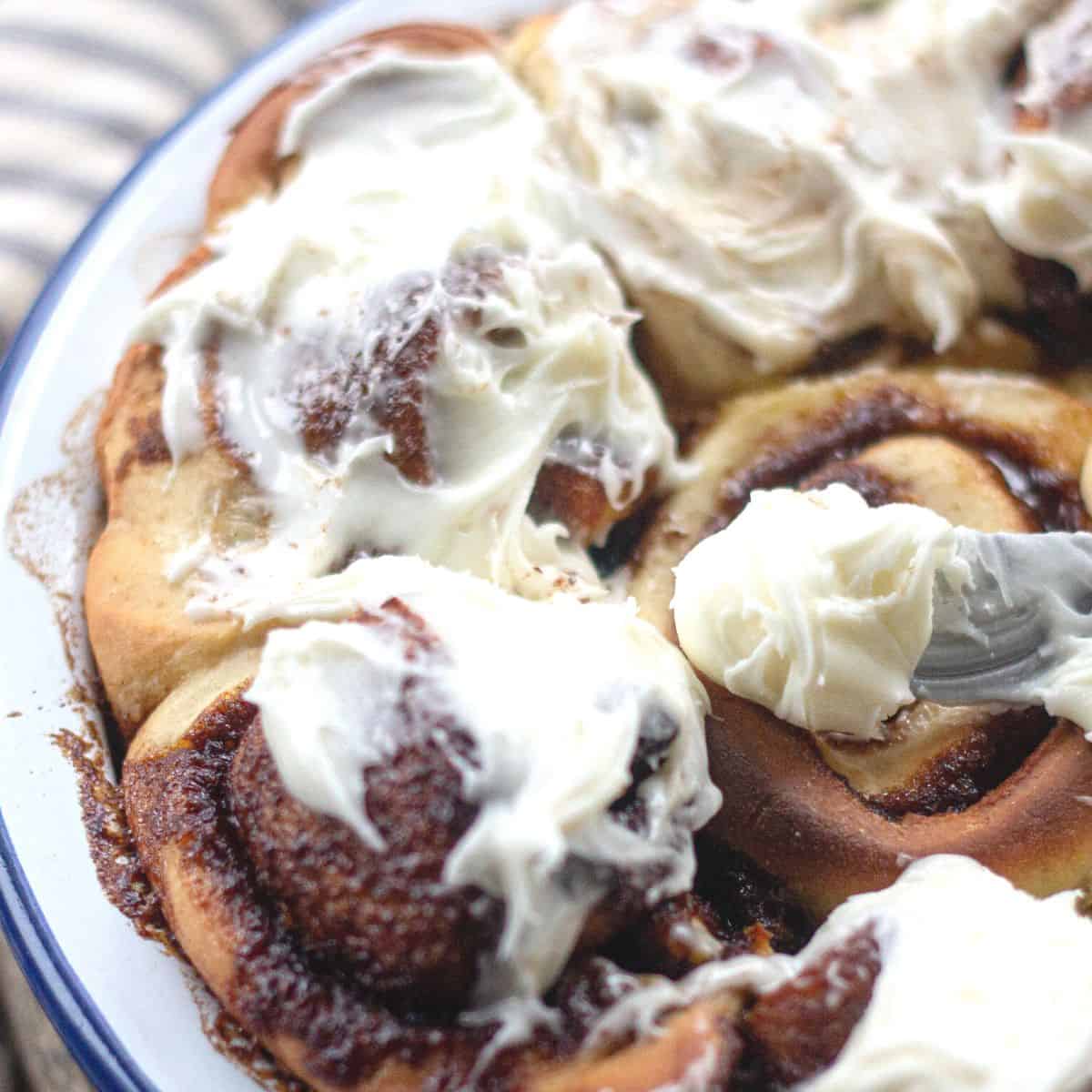 I think these might be a traditional festive breakfast, but honestly, they are great at any special time of the year. I think that the sugar and butter quantities make them a special treat, but they are so easy to make, that an impromptu craving for my dairy free cinnamon rolls could be satisfied within a couple of hours(ish).
This was inspired by my caramel cinnamon rolls, an old family recipe, the main difference being that they are cooked on a sticky, pecan sauce, before being turned out.
Whilst in the past it was easy to buy rolls from Cinnabon (not vegan and not over here in the UK anymore they have reopened in the UK and mail order (still no vegan options though)), I decided to take the plunge and make my own vegan cinnamon rolls, just like Cinnabon!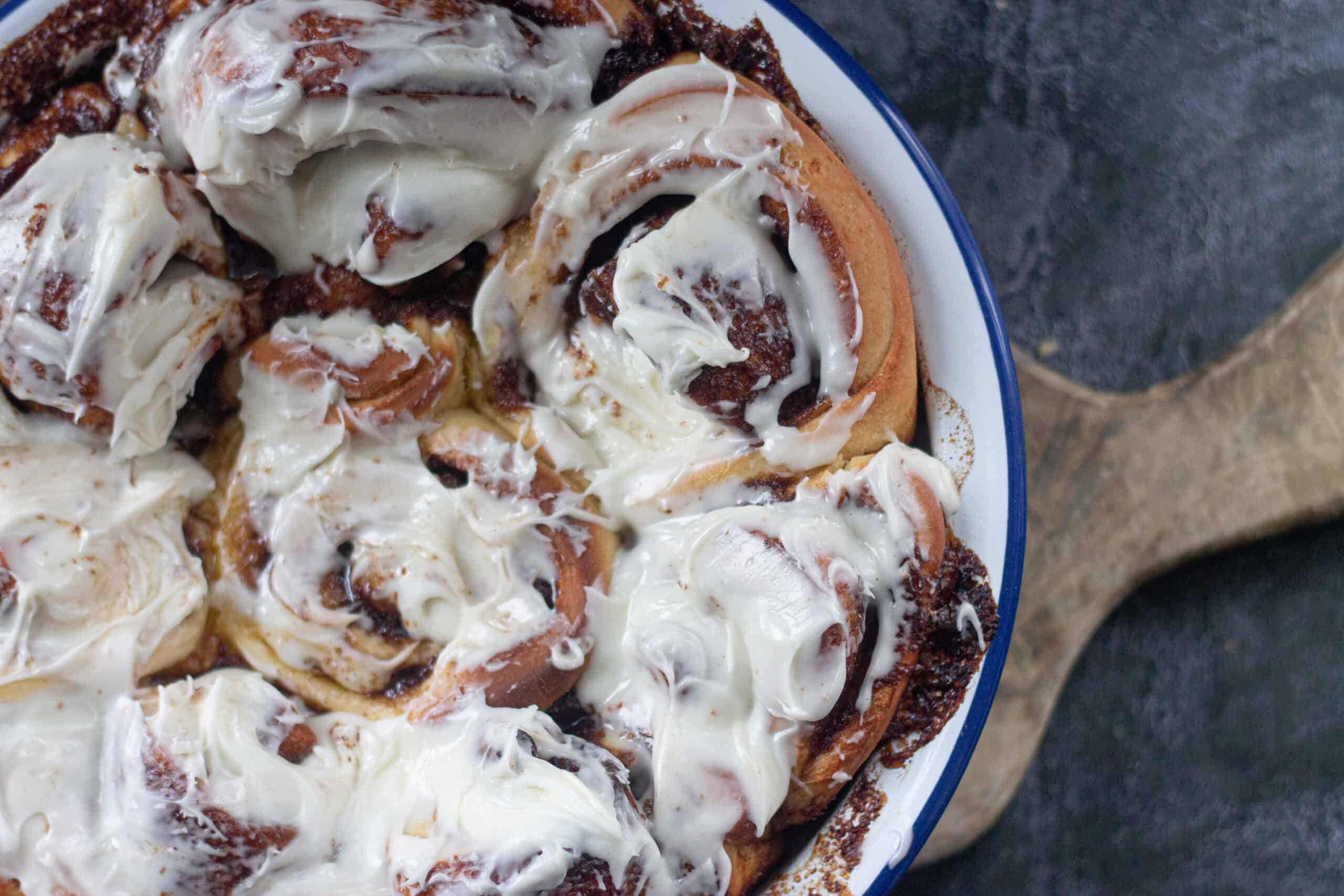 I found this recipe from a very old food blog that I used to follow (back in the days of my old Writing at the Kitchen Table blog) but I sadly can't find the blog anymore. I really miss the early days of food blogging, it really was more community driven and less about self-promotion and pristine white kitchen spaces.
How do you make Vegan Cinnabon Style Cinnamon Rolls?
But I digress. This is a simple sweet dough, originally enriched with eggs, I have replaced the eggs with natural vegan yogurt. This gives a very tender dough.
I have used my nemesis, Flora Plant-Based for the butter element, simply because it's on offer at £1 in my local Tesco. As of writing (Jan 2023), butter, whether it's plant-based or not, is almost prohibitively expensive. Use your favourite brand. You will need butter for both the dough (melted) and for the filling (room temperature). I like to use vegan salted butter.
Rolling Cinnamon Rolls
As you can see below, I have never quite mastered rolling out a rectangle, it always seems to end up as an oval instead, so my rolls are never quite uniform. They still taste great though, and to me, cooking is about having fun and relaxation, rather than pushing yourself for some unattainable Instagram perfection.
Some people recommend using dental floss to get a nice sharp cut. Again, I just use a sharp knife and a confident, quick slice through. If your knife is blunt, it will tear rather than slice the dough. This all comes down purely to aesthetics, and the results will all taste the same.
Ingredients
flour
yeast
vegan butter
vegan yogurt
cinnamon
brown and white sugar
See recipe card for quantities.
Instructions
Whilst the yeast is activating, whisk together the melted, cooled butter, yogurt and sugar.
Stir the activated yeast mixture into the butter/sugar mixture and mix lightly.
Now add the flour to the mixture, a cup at a time, beating well with a wooden spoon, until you have used up all the flour and you have a dough you can start to knead.
Knead dough for 5 minutes until it is soft and springy, then leave to rise for 2 hours, covered.
Mix together the butter, cinnamon and sugar for the filling. Leave to one side.
Once the dough has doubled in size, knock it back and, on a lightly floured surface, roll out to approx 21″ x 12″.
Using a spatula, gently spread the butter/cinnamon mixture over the dough.
Now, tightly roll the dough up, longest side towards you, like a swiss or jelly roll.
Cut the roll into equal portions (trimming the ends if they are a bit rough or raggedy) and place, cut side up in a lightly buttered ovenproof dish.
Bake, then ice with cream cheese frosting.
Hint: I use Betty Crocker's Cream Cheese style frosting because it's vegan and much easier than making my own icing!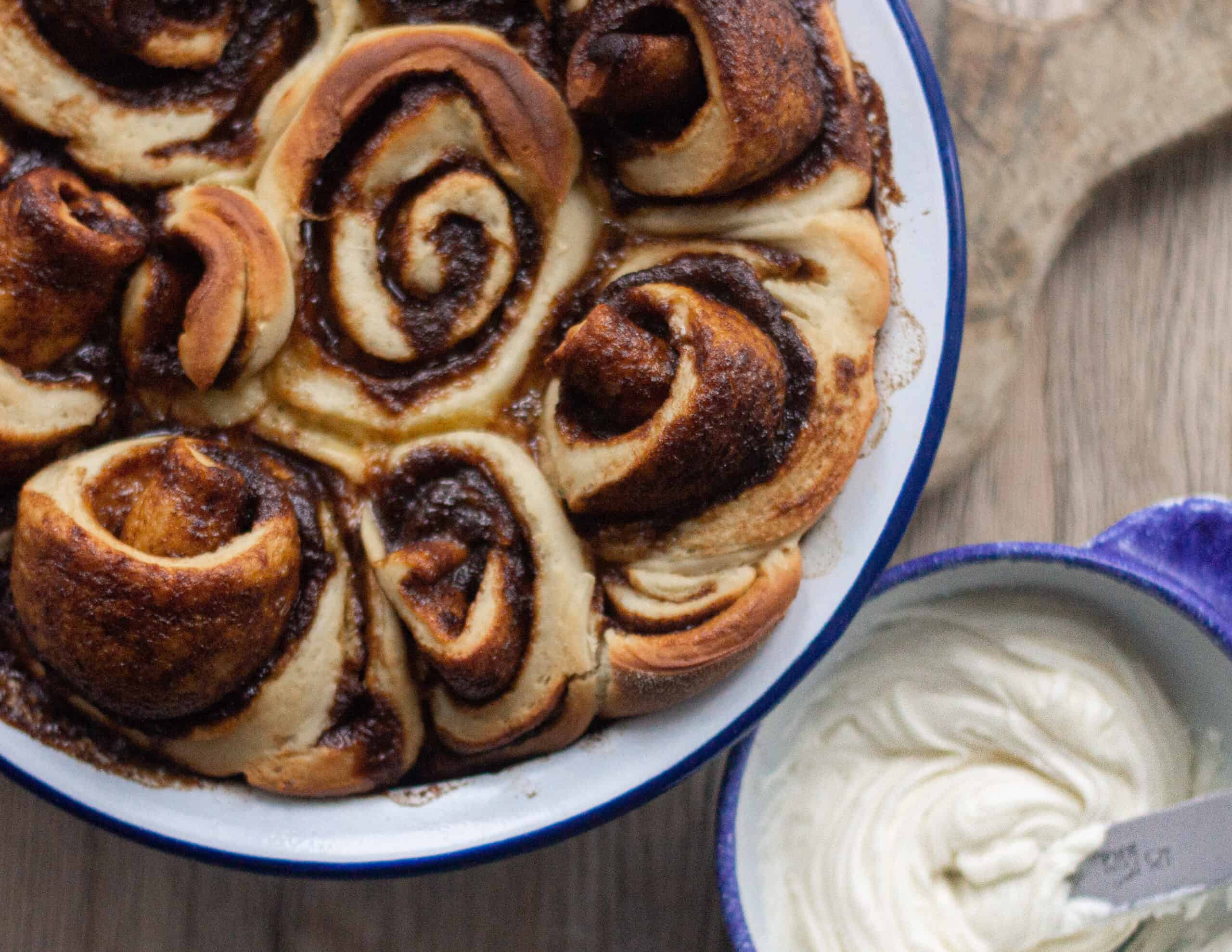 Storage
You can clingfilm the rolls once they are ready for the oven and refrigerate for up to 72 hours. Remove from the fridge and bring up to room temperature before baking.
Once baked, my vegan cinnamon rolls are best eaten on the same day, however they are still yummy warmed up the next day (I just put them in the microwave for 10 seconds or so) and add more icing!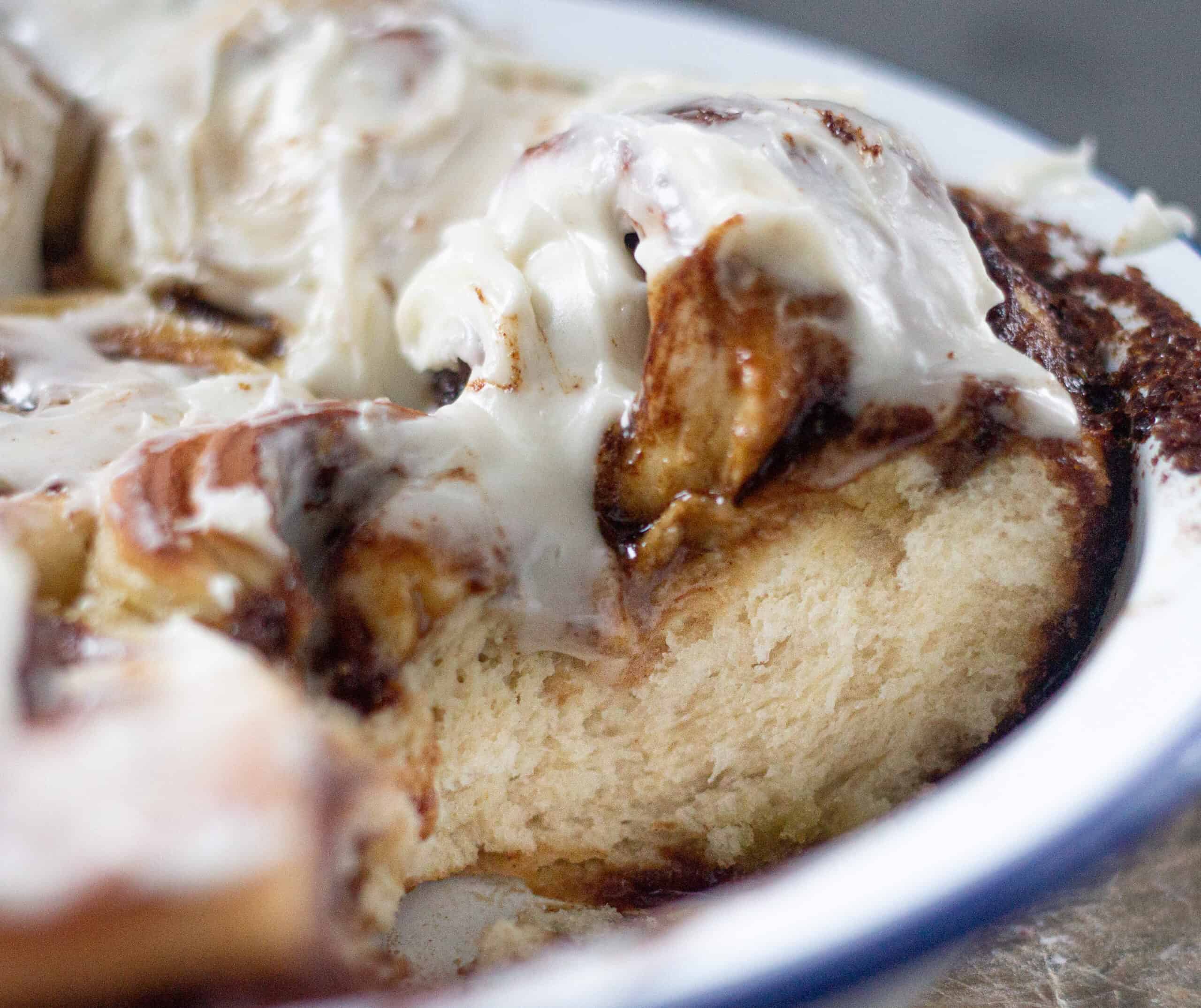 Top tip
I love making a tray of these in advance and giving them as a gift. I use a disposable foil tray and place a little pot of the icing alongside some instructions. It makes a delicious, homemade gift!
FAQ
Can I make gluten free vegan Cinnamon Rolls?
You can replace the flour with gluten-free flour, although I can't guarantee the results as this is a yeast-risen dough. If you try it, do share with me!
What can I use in Cinnamon Rolls if I don't like Cinnamon?
Well, then they won't be cinnamon rolls, so I guess you could make chocolate rolls, by adding two tablespoons of dark cocoa (sifted) instead of cinnamon. You could also spread them with vegan chocolate hazelnut spread too.
What is the filling in Cinnamon Rolls made from?
It's butter, cinnamon powder and sugar. I like to mix mine all up together, but some people spread the butter on first, then sprinkle over the sugar and cinnamon.
My cinnamon roll dough was dry, help?
I think perhaps you used too much flour in the dough or your overworked the dough. This dough is supposed to be quite soft, so don't add all the flour at once. You may not need all four cups.
Because you are making a light, cakey dough, you only need to knead the dough once at the beginning, and only for about 5 minutes.
If you cinnamon rolls are dry, but still edible, just add more icing to make them a little more palatable and make sure to serve them warm.
Vegan Copycat Cinnabon Cinnamon Rolls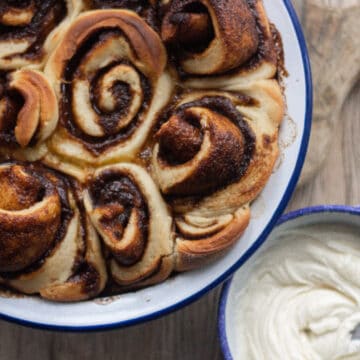 A quick and easy vegan version of the classic Cinnabon rolls!
Equipment
1 8" square baking dish, lightly greased
Ingredients
For the dough
2

tsp

Instant yeast

1

cup

Soy milk

warm

½

cup

Sugar

⅓

cup

Butter

vegan, melted

1

tsp

Salt

½

cup

Yogurt

plain, vegan

4

cups

Flour

plain
Filling
⅓

cup

Butter

vegan, softened

2

tbsp

Cinnamon

powdered

1

cup

Brown sugar
Instructions
To make the dough
Place the warm milk and yeast in a large mixing bowl and allow the yeast to activate, 10minutes or so.

Meanwhile whisk together the cooled, melted butter with the yogurt, sugar and salt.

Once the yeast is frothy and activated, mix in the butter/yogurt mixture with a wooden spoon.

Now beat in the flour, adding a bit more if necessary, to achieve a soft but kneadable dough.

Lightly knead the dough for 5 minutes then leave to rise in a lightly oiled mixing bowl for 2 hours.
To make the filling
Mix together the butter, sugar and cinnamon until you have a thick paste.
To make the Cinnamon Rolls
Once your dough has doubled in size, roll it out on a lightly floured work surface to approx 21" x 12" and is ¼" thick.

Spread the butter/cinnamon/sugar mixture evenly all over the dough, right up to the edges.

Now roll up the dough, from the long edge, to make a swiss roll/jelly roll.

Cut into 8 equal pieces and place cut side up in your greased baking dish.

Cover and leave to rise for another 30 minutes. You can also clingfilm them and refrigerate overnight if you like.

Bake the rolls after their second rise for 20 minutes, or until golden brown. Don't overbake as they will lose their lovely fluffy texture.

Once baked, remove from oven and leave to cool for about 10 minutes, then spread with vegan cream cheese icing.
Nutrition Facts
Vegan Copycat Cinnabon Cinnamon Rolls
Amount per Serving
% Daily Value*
* Percent Daily Values are based on a 2000 calorie diet.