These are an oldie but a definite goldie: a rich, oaty, buttery biscuit, quick and easy to make and they taste just like a Hobnob!
PIN my Vegan Melting Moments to make later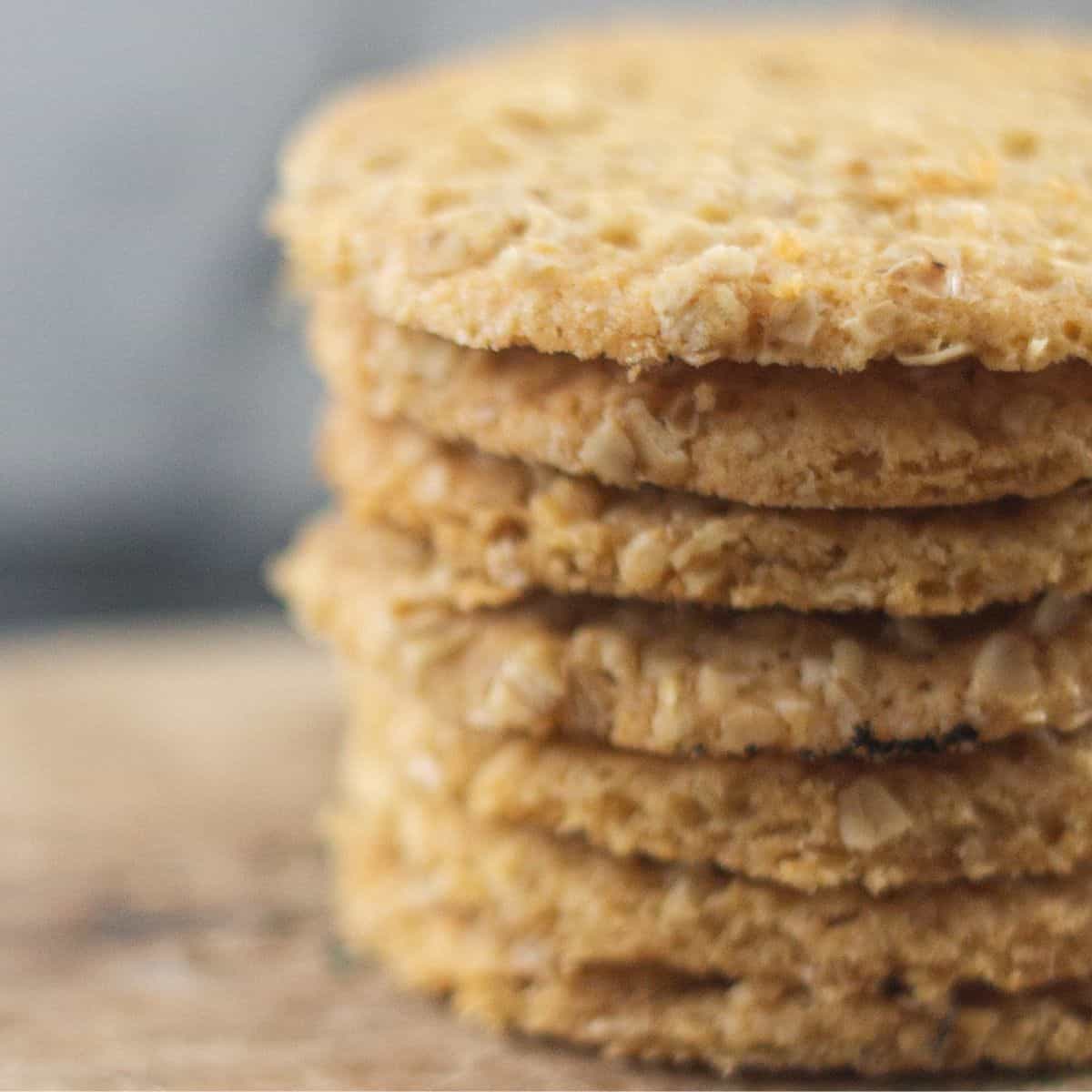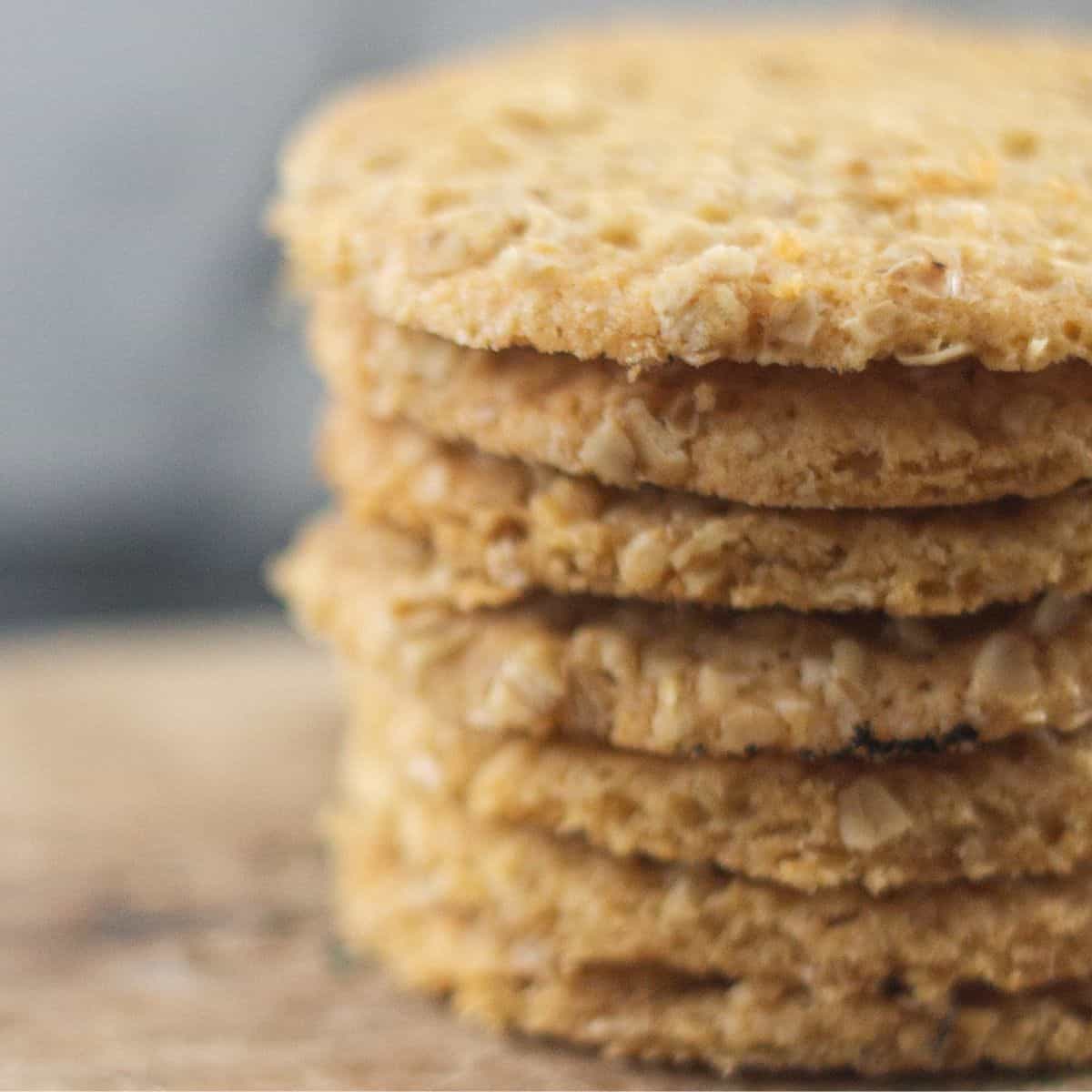 It seems that in January we go back to eating porridge for breakfast as we try desperately to detox a little (but not toooo much) from all that rich festive food. As much as I enjoy a bowl of oatmeal, I also love oats in cookies!
Similar to but more crumbly than my Anzac Cookies, and certainly less chewy than my flourless oat cookies, these really do live up their melting title.
Jump to:
Despite being surrounded by food growing up, my mother was not a big cook. In fact, she pretty much hated it. However, she enjoyed eating, so she was more than happy for me to potter around in the kitchen, an industrious, fearless 8 year old, baking cookies. I don't recall ever cutting or burning myself, yet the idea of an 8 year old chopping and using a hot stove fills me with dread!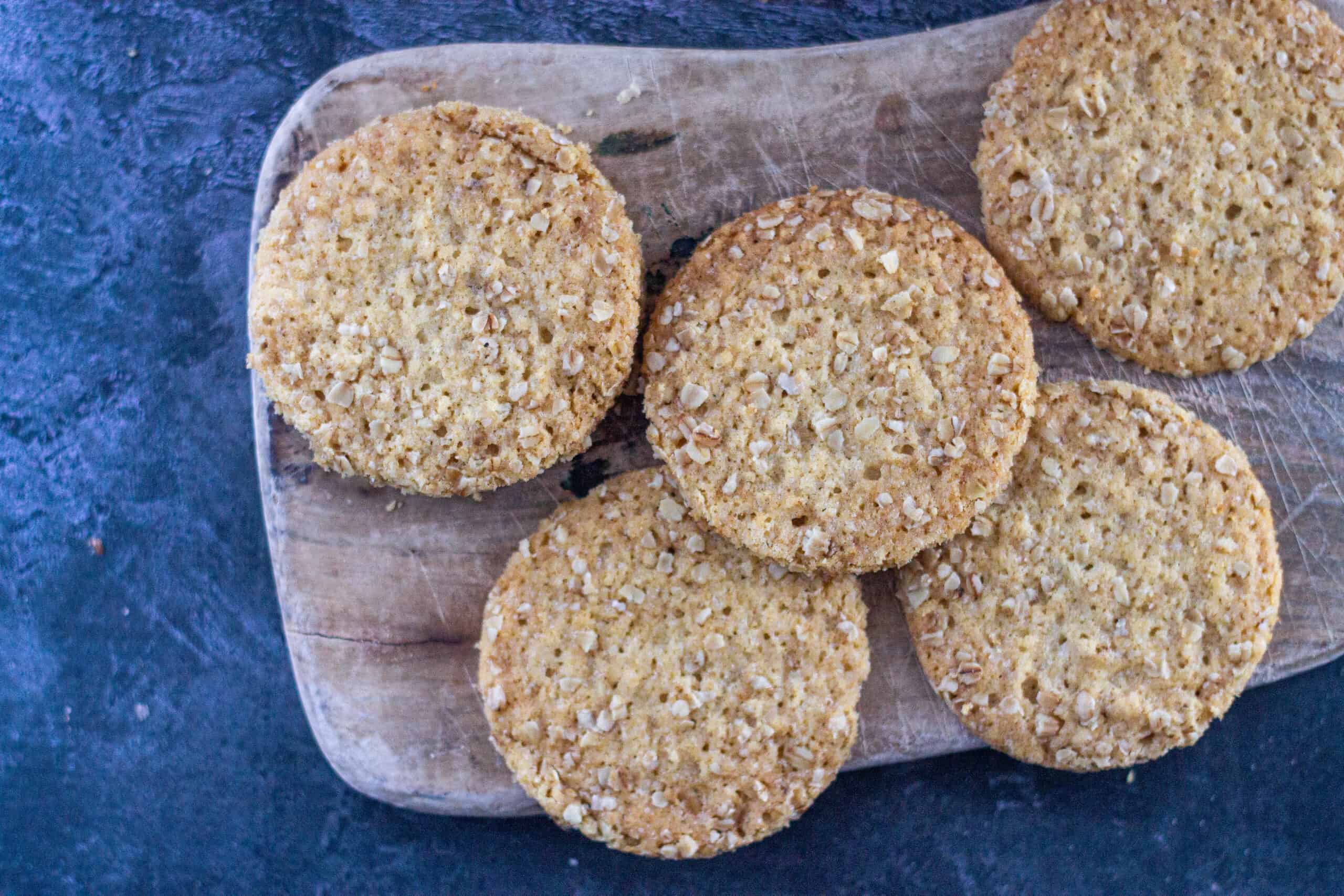 These are a variation on a cookie that I made quite often as a kid, and they were always popular. The recipe was from a Dairy Diary cookbook. The Dairy Diary used to be delivered to housewives across the country, once a year, with their milk delivery. I'm pretty sure most households had a copy back in the 70s and 80s. It had lots of interesting recipes, and I cooked avidly from that book, until I realised that other cookbooks were available.
What are Melting Moments?
Melting Moments are an oaty cookie (or biscuit) that has a high quantity of vegan butter in it, giving a short, crumbly, rich texture that is irresistible.
Melting Moments are also a Viennese style cakey-biscuit (see my easy vegan Viennese cakes here), and also several other variations of cookie if you do a quick google search! But, these are the original, oaty versions from the Dairy Diary cookbook.
These taste like a lighter, airier Hobnob. I often find Hobnobs to be a little too sweet, a bit too dense, but these have less sugar.
The dough doesn't require any chilling (unless it's particularly hot) so you could definitely whip a batch of this up in about half an hour.
Ingredients
rolled oats
vegan butter
plain flour
vanilla extract
egg replacer
(This is ONLY a list of ingredients for the recipe; please see recipe card below for complete printable recipe. Or if you use the JUMP TO RECIPE at the top of the page, it will take you directly to the complete recipe.)
Instructions
Cream the butter and sugar until light and fluffy.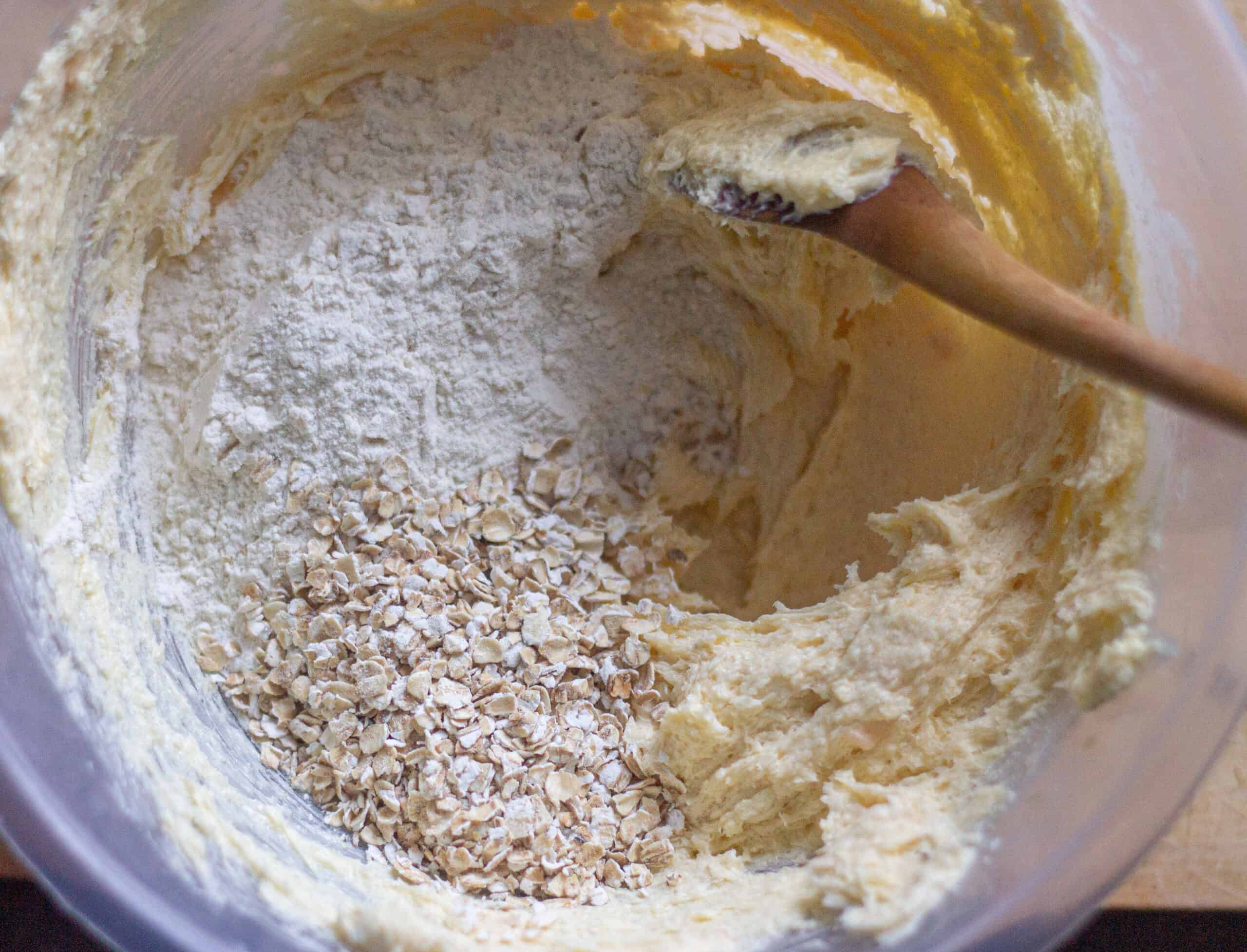 Beat in the vanilla and egg replacer, then mix in the oats and flour.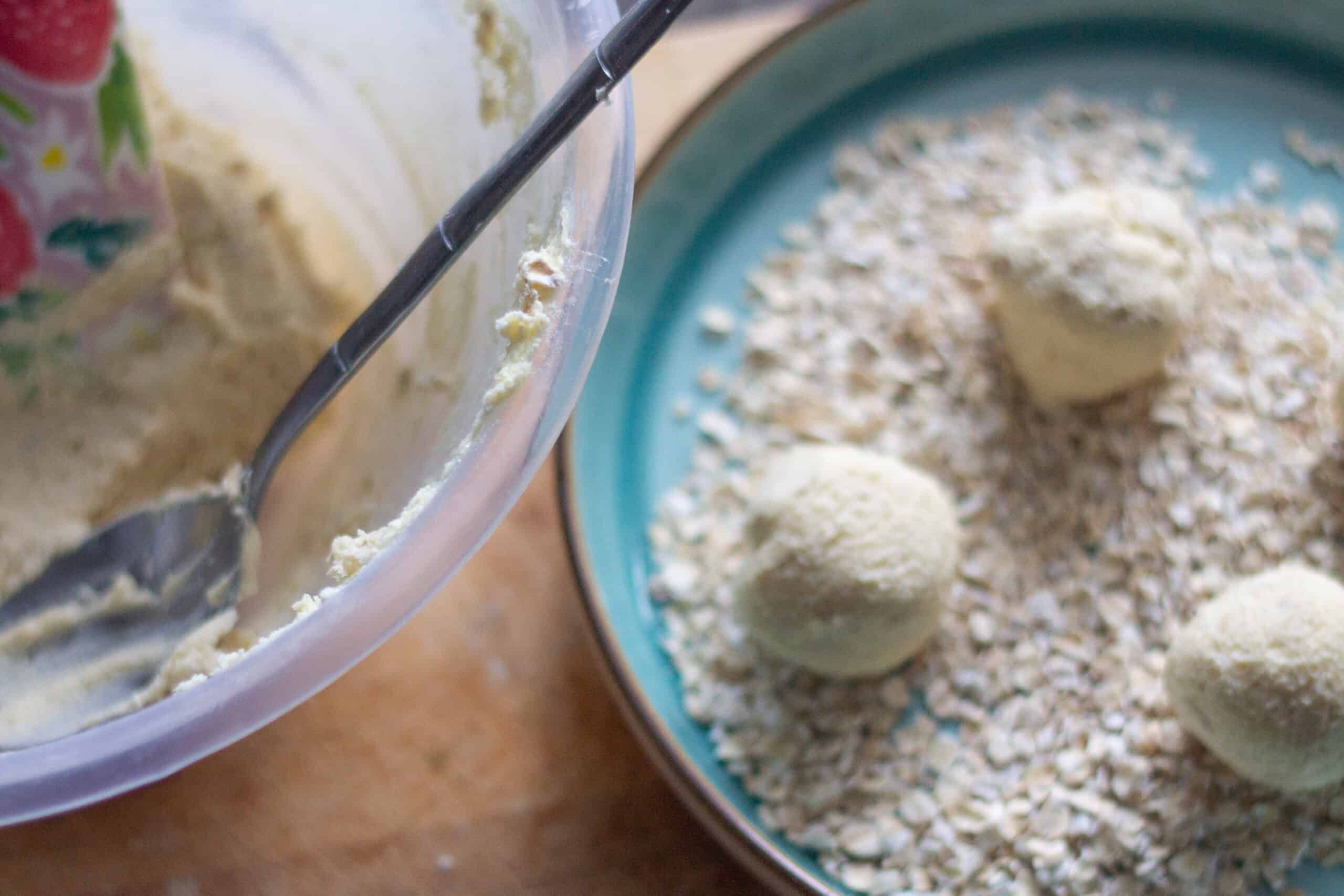 Now roll into walnut-sized balls and coat with more oats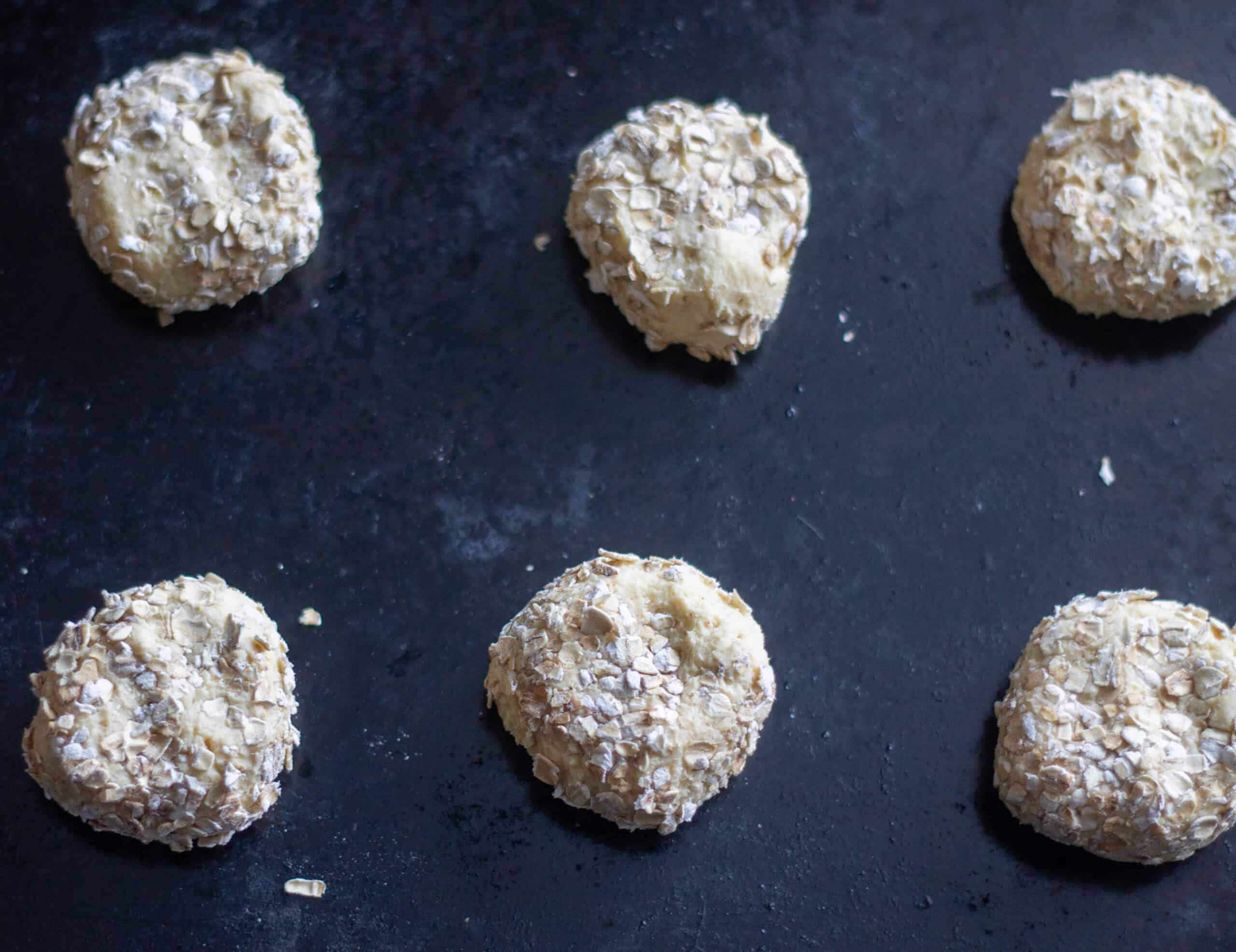 Bake for 20 minutes.
Hint: I use a metal spoon to scoop out the dough, then roll it quickly and lightly between my hands. The dough is soft and a bit sticky but still easy to work with.
Substitutions
Oats - to make this completely gluten-free, use rolled buckwheat instead of oats
Flour - use gluten free instead of plain to make this gluten free
Storage
Store the baked and cooled cookies in an airtight container and they will be good for at least a week!
These cookies don't freeze well because they are quite fragile.
Top tip
If, like me, you were tempted to slightly overcrowd the baking tray and the cookies spread, don't panic! Take a round cutter and cut out the cookies whilst they are still really hot. You can see from my pictures, some that look perfectly round. Yeah, I used a cutter for those. And I ate the cookie scraps left (cook's privilege).
You need to act quickly though because they do crisp up as soon as they leave the oven.
FAQ
Can I use pinhead oatmeal in Melting Moment cookies?
No, I wouldn't recommend it as it is too coarse a texture for this delicate biscuits.
Can I use gluten-free flour to make Melting Moment cookies?
Yes, you can! Use your favourite self-raising blend of plain flour. You may need to adjust the measurements slightly to get a consistent that you can handle easily.
📋 Recipe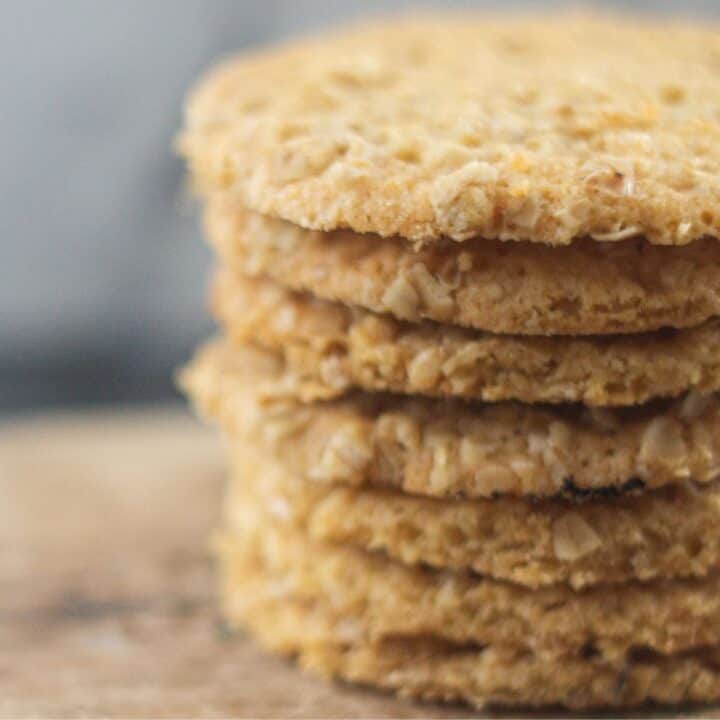 PRINT
A meltingly oaty crisp biscuit, simple to make, and delicious to eat!
Ingredients
150

g

Butter

vegan, softened

75

g

Sugar

I use white granulated

1

tablespoon

Egg Replacer

whisked up with 2tbsp water

½

teaspoon

Vanilla Extract

100

g

Plain flour

1

teaspoon

Baking Powder

25

g

Oats

rolled, plus extra to roll the cookies in
Instructions
Blend the butter and sugar in a mixing bowl until pale and fluffy.

Beat in the vanilla extract and egg replacer.

Now mix in the flour, baking powder and rolled oats to make a stiff dough.

Sprinkle some more rolled oats onto a plate or shallow dish.

Roll walnut-size pieces of the dough into balls and coat in the rolled oats.

Place on your prepared baking sheet 3" apart, pressing them down slightly.

These cookies spread out a lot!

Bake for 20 minutes or until pale golden.

Leave to cool for a couple of minutes before removing carefully to a cooling rack.
Nutrition
Nutrition Facts
Vegan Melting Moments
Amount per Serving
% Daily Value*
* Percent Daily Values are based on a 2000 calorie diet.
Nutritional Information Disclaimer
The automated nutritional information on my recipes can often be inaccurate due to the limitations within the programming. For exact measurements, there are lots of apps and websites that can calculate this information more accurately.
Tried it and Loved it?
Mention @sweeterthanoats or tag sweeterthanoats!