Easy and Quick Anzac Vegan Biscuits Recipe
Easy vegan Anzac biscuits. Anzac Cookies are a delicious, oaty, and naturally vegan biscuit (or cookie, depending on your location), that is as interesting as it is scrumptious.
Anzac Cookies are as antipodean as kangaroos, Peter Jackson, or Neighbours, being named after the Australian and New Zealand Army Corps acronym. During the first world war, they were produced for the soldiers as a nutritious and somewhat tasty food source, during those long, dark days.
According to a fascinating article in the Guardian, the biscuits reached the soldiers, not always in the most pristine condition, and were commonly referred to, in more polite terms, as hard-tack, jawbreakers, dog biscuits, or the rather tongue-in-cheek, Anzac wafers. A wry nod to them being anything but light and airy like a wafer.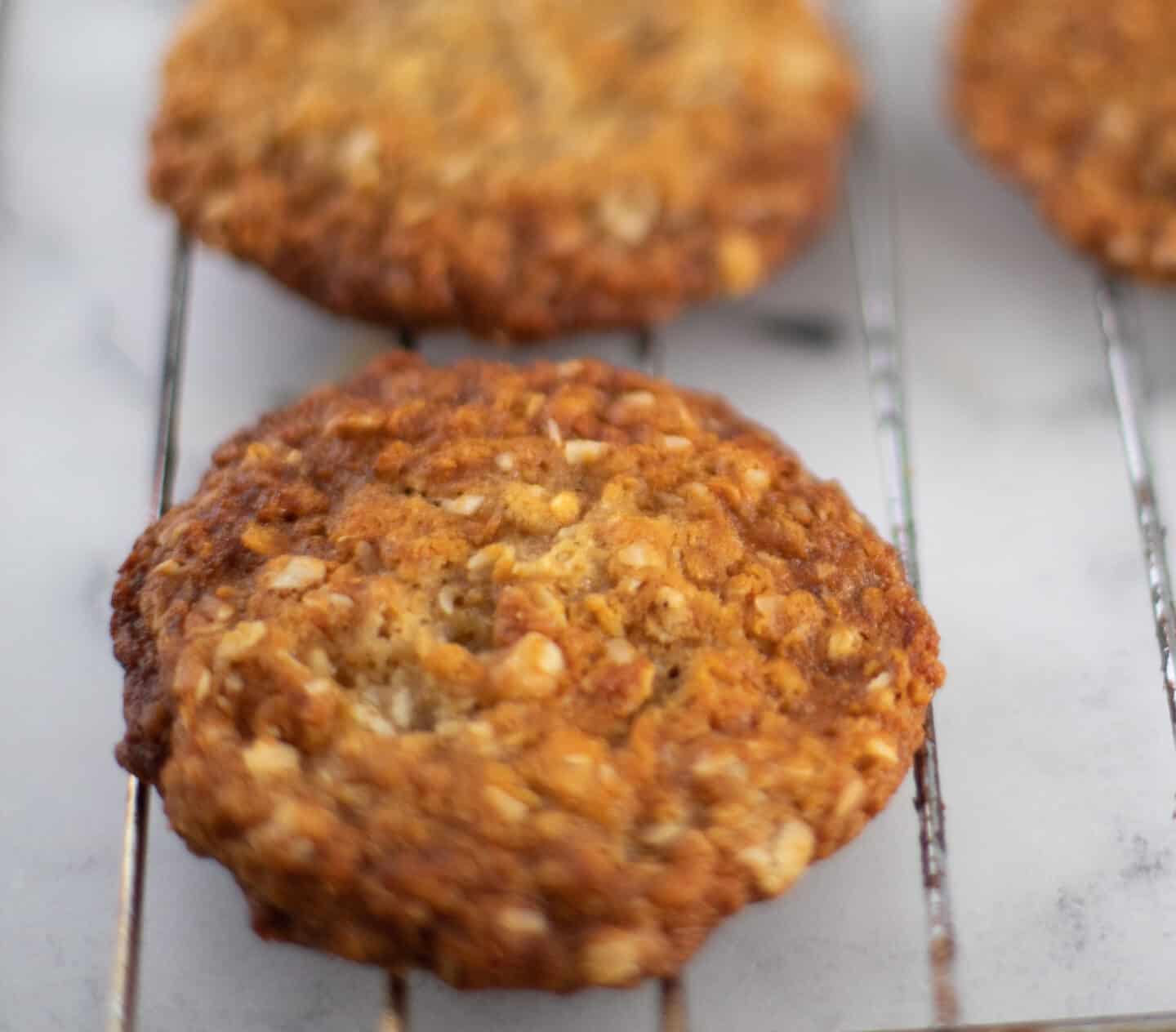 The article goes on to further note:
"They were so hard soldiers would grate them into tea to make "trench porridge". In Discovering Gallipoli Research Guide the hard-tack biscuit was described as "one of the most durable materials used in the war, reputed to be bulletproof!"
Anzac Day is celebrated on April 25th, a day of remembrance, where no doubt copious amounts of traditional Anzac biscuits are consumed. And perhaps the most fascinating thing about Anzac biscuits is that they are still as popular today, some hundred years after they were first produced for the soldiers, a biscuit that still binds in the memory the past with the present.
This is a classic vegan Anzac biscuit recipe, using a melted butter mixture mixed with coconut, white flour, and oats.
How do you make Anzac Cookies?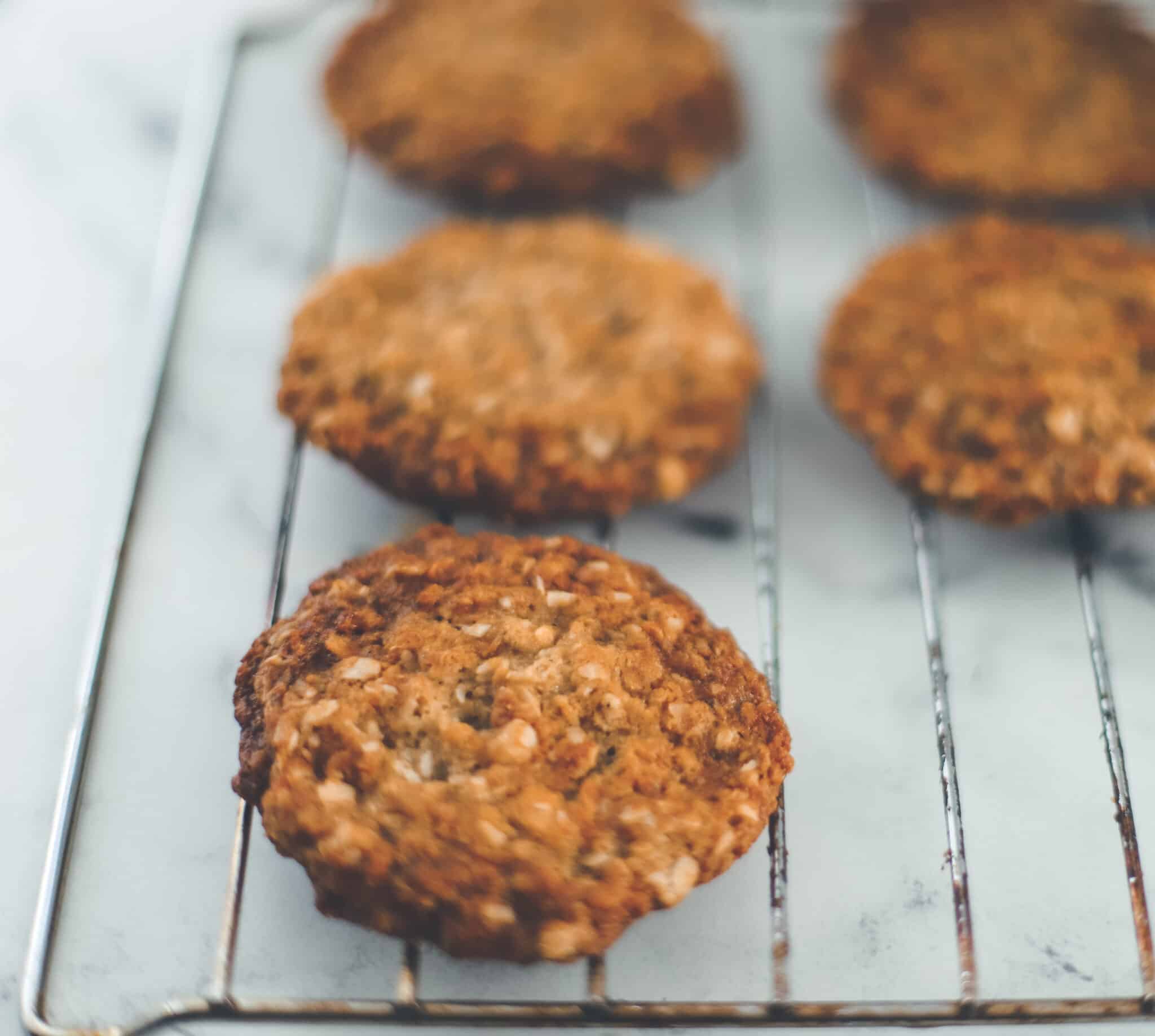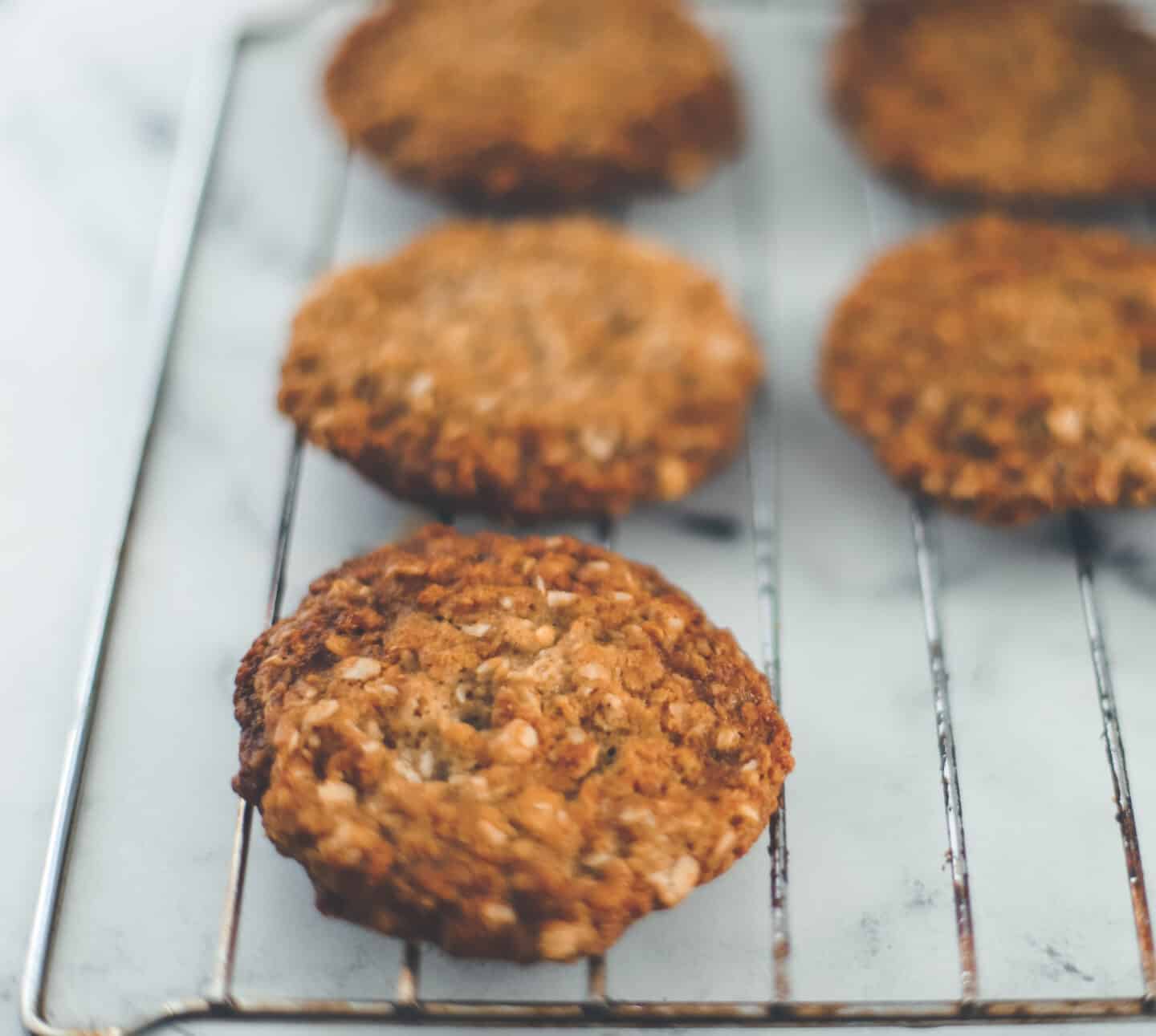 They are really simple and quick to make!
Combine oats, flour, coconut, and sugar in a large mixing bowl.
Melt your butter or marg in a small saucepan. I do use margarine as I have yet to find decent vegan butter for baking.
In a separate bowl, whisk together some baking powder with boiling water, then some golden syrup.
Add this to the butter, then add all of this to the oat mixture. You could mix it up in a food processor but there's no need, this mixture comes together really easily.
Mix to make a wonderfully handleable dough, roll into balls, then bake on a baking sheet, lined with parchment paper.
I don't flatten the balls of dough, they will naturally spread out in the oven, leaving you with a golden brown biscuit with crunchy edges and a soft chewy middle.
This is such an easy recipe. You can whip up a batch of Anzac biscuits in less than an hour.
What Ingredients are in Vegan Anzac Cookies?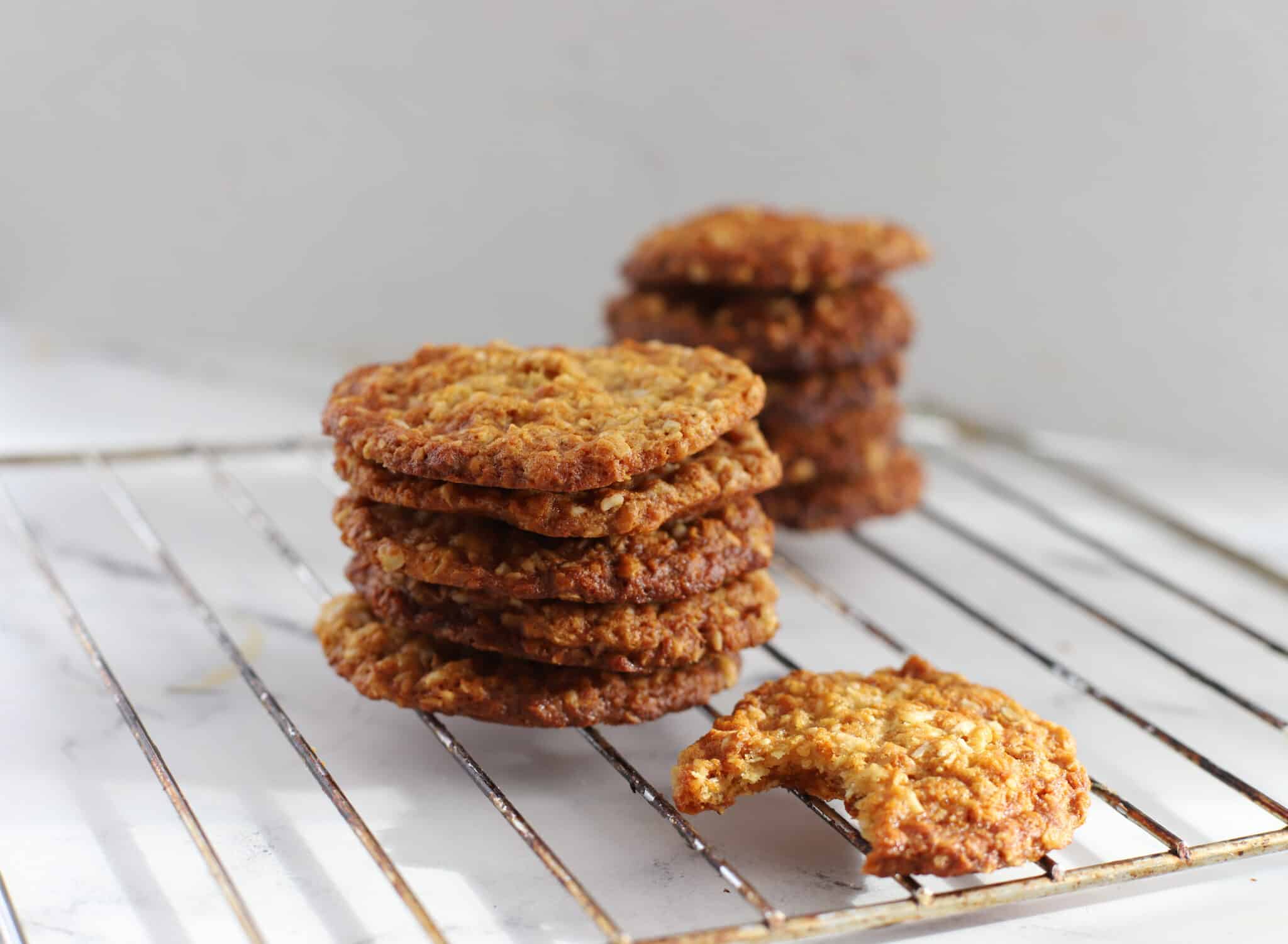 Desiccated Coconut. If you are not a fan, give them a try first. The oats and golden syrup overpower the coconut taste, giving them just a faint hint of tropical deliciousness.
Rolled Oats. As Kim from Kath and Kim would say, "you mind your rolled oats". But seriously, do use good quality large, rolled oats. They crisp up perfectly.
Golden Syrup. If you have never tried Golden Syrup, I can't explain it to you. It is both a British and Australian baking favorite. I used to have it drizzled on hot buttered toast. It doesn't taste like maple syrup, and is much thicker, more like the texture of molasses. That thick and sticky. It is a light golden color, as you would imagine, and has an ethereal caramel flavor, not quite like honey either. If you can't find it though, use Maple or Agave Syrup, or maybe corn syrup, but you won't get that richness of flavor. I do urge you to try and seek some out if you can. It comes in a large tin and lasts for a long while in the cupboard and is invaluable when making flapjacks too. Either way, this syrup also works as a binding agent in the cookies AND gives them chewy middles!
Melted Vegan Butter. As I mentioned above, I use melted margarine because I get better results with baked goods. I don't like the flavor as much as butter, but I'd rather not throw away a whole batch of something because the butter failed.
Bicarbonate of Soda. This simply causes a chemical reaction when mixed with the ingredients which creates an almost honeycomb texture in the cookie. That's a good thing
Flour. I used plain all purpose, although you could use self-raising in a pinch.
Can you Make Gluten-Free Anzac Cookies?
Yes, you can make this delicious crunchy cookie gluten free because the cookies are not supposed to be "cakey" in texture, and they are already packed with coconut and oats, you could use your favorite gluten-free flour blend. You could also use coconut flour, oat flour, or even brown rice flour mixed with a little potato starch.
Also, ensure that you use gluten-free oats though!
Try my other delicious vegan cookies
How to make Vegan Anzac Biscuits
A deliciously chewy, oaty biscuit that takes no time at all to mix up
Ingredients
55

g

Margarine

melted, or vegan butter of your choice

½

cup

Plain Flour

½

cup

Desiccated Coconut

½

cup

Rolled Oats

¼

cup

White Sugar

2

tbsp

Boiling Water

½

tsp

Bicarbonate of Soda

2

tsp

Golden Syrup
Instructions
Melt your margarine or butter in small bowl in the microwave or in a small pan on the hob

Whilst the margarine cools slightly, mix together all the dry ingredients in a large mixing bowl

Pour the boiling water in a small bowl, then add the bicarb. Stir well.

Add the golden syrup to the hot water/bicarb and stir again, just to soften the syrup a little.

Whisk this sticky mixture into the melted butter, then pour into the dry ingredients and mix thoroughly with a wooden spoon.

Using a teaspoon, scoop out dollops of the mixture, then roll into balls between your palms.

Place on a baking sheet, about 2" apart. Don't flatten them at all.

Bake for 12 minutes or so, until just golden brown.

Leave to cool for a couple of minutes, before gently moving to a cooling rack.
Nutrition Facts
How to make Vegan Anzac Biscuits
Amount per Serving
% Daily Value*
* Percent Daily Values are based on a 2000 calorie diet.