The Best Vegan Thai Green Curry Soup Recipe
Vegan Thai Green Curry soup. The joy of soup is in its relative simplicity, quickness and the instant gratification you get from the very first spoonful. This easy Thai Green Curry soup needs you to make a little paste from fresh ingredients but after that, the rest is so easy!
But, when I tell my Mother that I'm cooking soup for tea, she's quick to point out: "how on earth can you be full on that?"
I have noticed that certain people from a certain generation feel that meat and two veg is the only meal you can serve after a hard day's work. After all, we need our nourishment. So, a plant-based diet can be extremely confusing to some people.
What most people is that I was a vegetarian in my youth and survived on a diet of boiled rice and soy sauce for much of my early 20s. For which I thank young me profusely.
My life is made that much easier by by my non-committal to a raging, carnivorous desire to eat red meat garnished with the odd overcooked sprout or soggy carrot. I have never spent my evenings gnawing on ribs and tossing the bones to my drooling, anticipatory hounds, or nibbling chicken wings clean, cartilage, tendons and all.
So for last night's meal we tucked into steaming bowls of Green Thai Curry Soup, bolstered generously with Mange Tout, vegan chicken-style pieces , French Beans and Beansprouts. And that's the thing about soup. You think it's never going to be enough, but as you reach the bottom of the bowl, scooping out all the best bits that have sunk to the bottom, concealed like buried treasure beneath the pale green broth, you start thinking: "I couldn't manage another bite. Well, maybe a couple of Oreos."
For those of you who are Thai Green curry virgins or have only used the stuff in jars, I would suggest that you try to make your own paste. Most ingredients are readily available from your local supermarket now and it keeps for a couple of weeks in the fridge in a seal-tight container (I keep mine in the little coffee/spice grinder I make it in), and in fact, improves over time, becoming more mellow and flavourful. At a push, the jarred pastes are generally quite good.
One final note: the vegetables and protein recommended is just that: a recommendation. I use what I have lying around. Vegetables could include fresh thinly sliced shiitake mushrooms, baby corn, bok choi, aubergine, courgette, or perhaps even some diced squash. You could add tofu, tempeh, or whatever vegan meat pieces you enjoy. I also place some of those ready-cooked Singapore rice noodles in the bottom of the bowls and pour the soup over the top. This recipe is based on an old Nigel Slater one, from his seminal book, Appetite.
What is in Thai Green Curry Paste?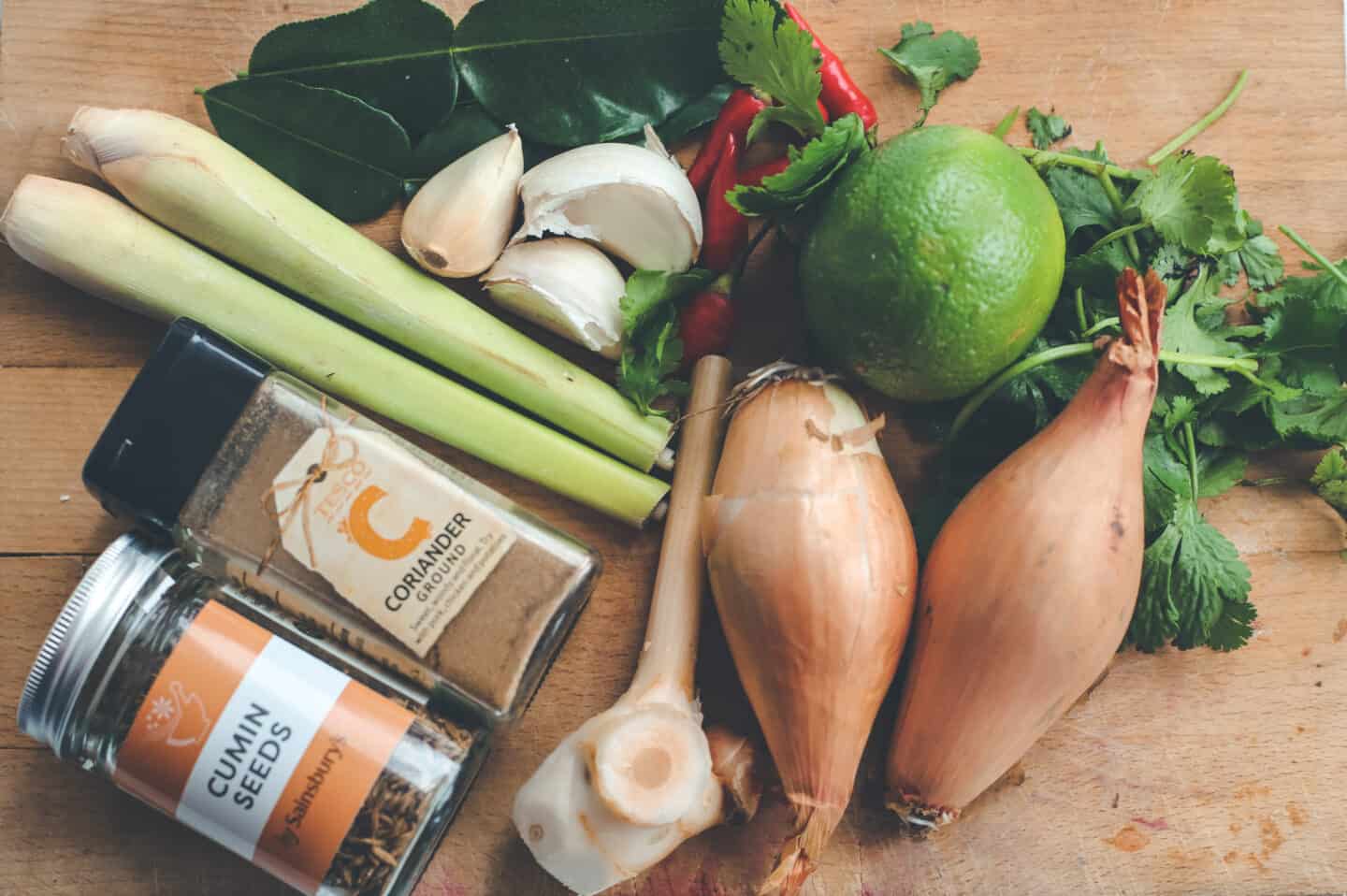 Ingredients
There are a few ingredients that are traditional to a Thai Green curry paste, giving it it's distinctive fragrant yet spicy flavour:
Birds Eye Chilis (use as many as you dare!), I used four
Shallots (I love banana shallots), or use a white onion
Garlic
Lemongrass stalks
Galangal or ginger root
Kefir lime leaves (use lime zest if you can't find Kefir lime leaves)
Juice of a lime
Ground Coriander and Cumin (you can use whole spices toasted, and grind them yourself for a superior flavor)
TIP! A way to make the soup even more nutritious and savoury is to add half a block of creamed coconut to a pint of boiling vegetable stock and then stir in a tablespoon of crunchy peanut butter. Whisk together well then add to the paste where you would normally add the coconut milk.
Other delicious 30 minute vegan soups
Vegan Thai Green Curry Soup
A speedy, nourishing soup, ready in less than half an hour
Ingredients
Thai Green Paste
2

lemongrass stalk

tougher outer leaves discarded

2-6

Birds Eye Chilis

3

cloves

garlic

peeled

2

inches

galangal

or ginger, peeled

2

shallots

or half a small white onion, peeled, cut in half

4

tbsp

coriander

chopped

1

tsp

ground cumin

1

tsp

chopped lime zest

½

tsp

ground black peppercorns

1

tsp

Soy Sauce

½

tsp

Sea Salt
Soup
1

tin

Coconut Milk

400

ml

Vegetable Stock

500

g

mixed vegetables

Baby corn, mange tout or sugar snap peas, halved Green Beans, Beansprouts, Diced Aubergine (nb: If you are using Aubergine, fry it off before you add the pasta, sliced Shiitake Mushrooms, etc.

500

g

Vegan Chicken

pieces

3

Tablespoon

Groundnut Oil

Juice and Zest from 1 Lime

1

teaspoon

Soy Sauce

1

tsp

Sugar

Palm Sugar is traditional if you have it, if not use white sugar

Half a Bunch of Chopped Coriander

Seasoning to Taste
Instructions
To make the paste, throw all the ingredients into a spice grinder and whizz until fragrant and smooth. You may need to add a little more lime juice to get everything to cohere. Alternatively, you could probably do this in a blender or, the worst possible scenario, in a pestle and mortar.

To make the curry, heat the oil in a wok or shallow frying pan. Fry off the aubergine if using, until browned on all sides. Remove to a plate.

Turn the heat down to medium and add a little more oil if the pan seems dry. Stir in a couple of tablespoons of your freshly made (or jarred) Thai Green Curry sauce. It will sizzle but then start to simmer. After a couple of minutes it will smell deliciously fresh and fragrant.

Pour over the coconut milk and stock or coconut/peanut butter mixture and bring to a brisk simmer. Leave to mingle for 5-10 minutes then add the lime juice and zest, sugar, soy sauce, browned aubergine, mixed vegetables and half the chopped coriander. Simmer for another 5 minutes.

Taste for seasoning. I always need to add a little salt and pepper but you may not need to.

To serve, ladle over cooked noodles, into deep bowls and sprinkle with the remaining chopped coriander.

You can also make this into a more substantial meal by adding a little cornflour dissolved in cold water to thicken it and serving with Jasmine rice.
Nutrition Facts
Vegan Thai Green Curry Soup
Amount per Serving
% Daily Value*
* Percent Daily Values are based on a 2000 calorie diet.