Vegan Caldo Verde Soup Recipe
Caldo Verde soup recipe. A simple but nourishing soup, full of flavour and comfort. Ready in about half an hour.
People tend to overlook the humble Spring Greens, simply because they don't have the fancy purple flowers that sprouting broccoli has, or, are under the misconception that it tastes just like cabbage. This is a huge shame because, in my opinion, the spring greens have a richer yet Spring-like flavour than sprouting Broccoli. Broccoli is broccoli after all.
This particular brassica is very tender, and when finely chopped, requires little more than 3 or 4 minutes of rapid boiling to retain its vivid emerald color and slight chewiness. Not only this, but they are high in Vitamin C, Folic Acid, and fiber, so are an excellent source of nutrition. Kids that normally balk at cabbage might also prefer this milder version.
Because I am always trying out different recipes, I like to to take the odd evening out, to allow the equilibrium of my stomach to return to normal. So, I had already decided to make soup last night.
Soup is the great restorer, sometimes it seems that there is no problem that can't be solved at the bottom of a soup bowl. Of course, this isn't true, but for those few minutes that you spend supping nourishing broth, you can at least dream that it is.
What is Caldo Verde?
This simple recipe, – just three ingredients – comes from Elisabeth Luard's wonderfully evocative book,
" rel="nofollow">The Food of Spain and Portugal and is called Caldo Verde or Green Broth. Traditionally it would use a Portuguese Brassica, Galegas, but the recipe suggested using Curly Kale or spring greens.
The key to the success of the dish, according to Luard, is cutting the greens "as fine as angels hair" to ensure that it is not tough, and this is the only time-consuming part of the recipe.
The final flavor, despite the minimal ingredients, is a delicately flavored broth, which reminded me of something my mum used to feed me when I was poorly as a child. It has a peppery yet, comforting flavor, slightly starchy, from the potatoes, with the ferrous tang of the greens and a final grind of sea salt. And whilst you can eat this soup straight away, it's even better reheated the next day.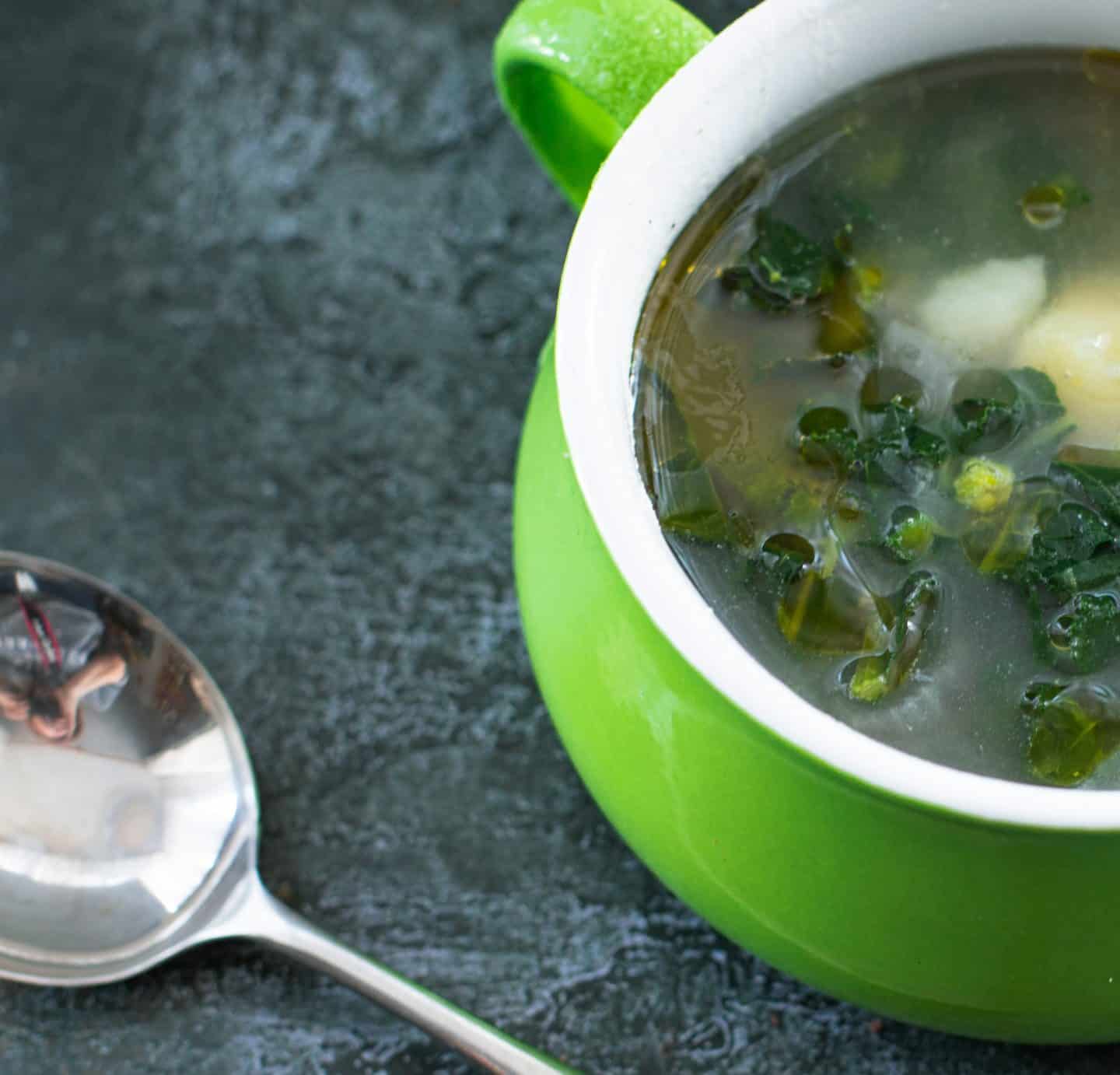 The whole broth is brought together with a large slug of Olive Oil and served with nothing more than some crusty bread and perhaps a few dots of pepper sauce on the top.
Try my other delicious vegan soup recipes
Caldo Verde Soup Recipe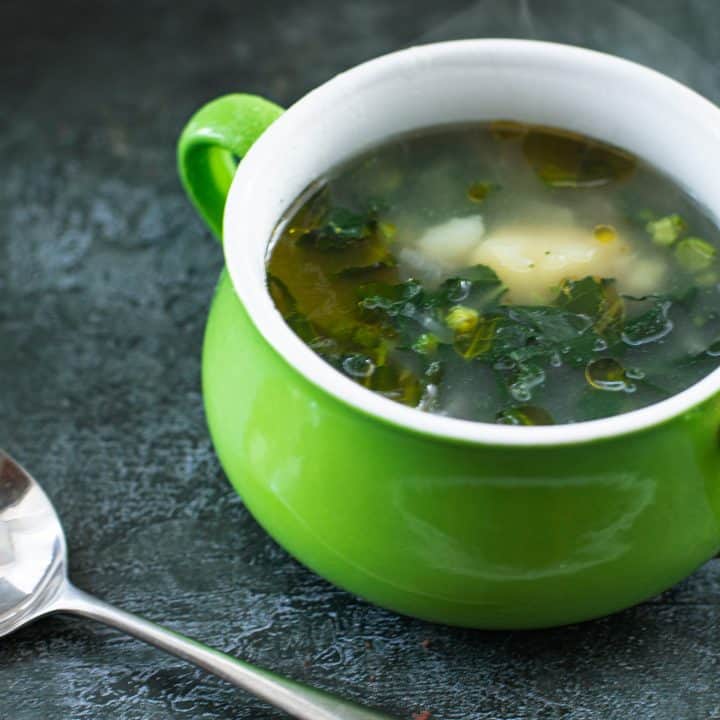 A simple, wholesome soup using only three ingredients
Ingredients
4

Potatoes

-

floury, peeled and diced

1

large

Onion

-

peeled and finely sliced

450

g

Spring Greens

-

or Curly Kale cut finely

Salt and Pepper

2

Tablespoons

Olive Oil
Instructions
Put 1 litres of water (the original recipe suggests Spring Water, but I used tap) in a large pan, with the diced potatoes and sliced onions, bring up to the boil and then add plenty of salt.

Turn down to a brisk simmer and cook until the potatoes are totally tender. Mash some of the potatoes into the broth to thicken it, add some salt and pepper and the olive oil.

Bring up to the boil again and add the finely chopped Brassica. Rapidly boil for about 4 minutes.

Turn off the heat and taste once more for seasoning. Serve, steaming hot, in large bowls with some bread and pepper sauce.
Please note that where the recipe asks for milk, butter or yogurt, this refers to any plant-based version that you prefer.
Nutrition Facts
Caldo Verde Soup Recipe
Amount per Serving
% Daily Value*
* Percent Daily Values are based on a 2000 calorie diet.