Easy rice bread recipe – A deliciously simple loaf made with cooked rice, giving it great texture and flavour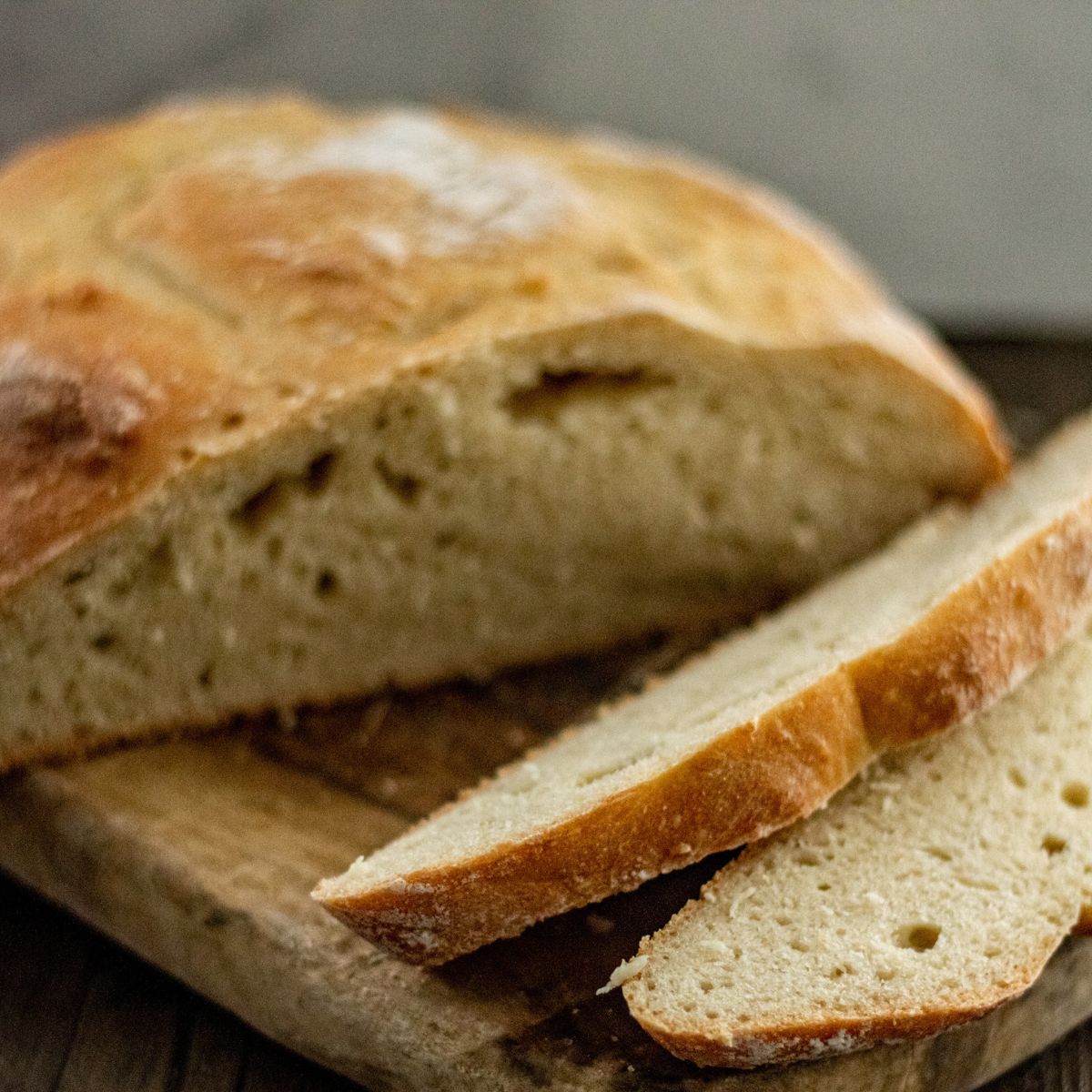 This was inspired by my simple white loaf recipe, and is delicious when spread with my vegan fruity compound butter.
Baking is a bit intimidating for a lot of people. I've known people who can cook a really good bit of fish or season a steak to perfection but ask them to make some rolls to have on the side and they become instantly sullen. I think the reason that baking evokes so much fear in so many would-be chefs is the methodology of baking.
Baking is a science. If you've ever spent time in a chemistry lab you'll know that you must be sure of quantities and reaction times or risk blowing up the entire Science Department. While there's little fear of blowing up your kitchen with biscuit dough, it is important to understand the chemical process of baking to yield good results.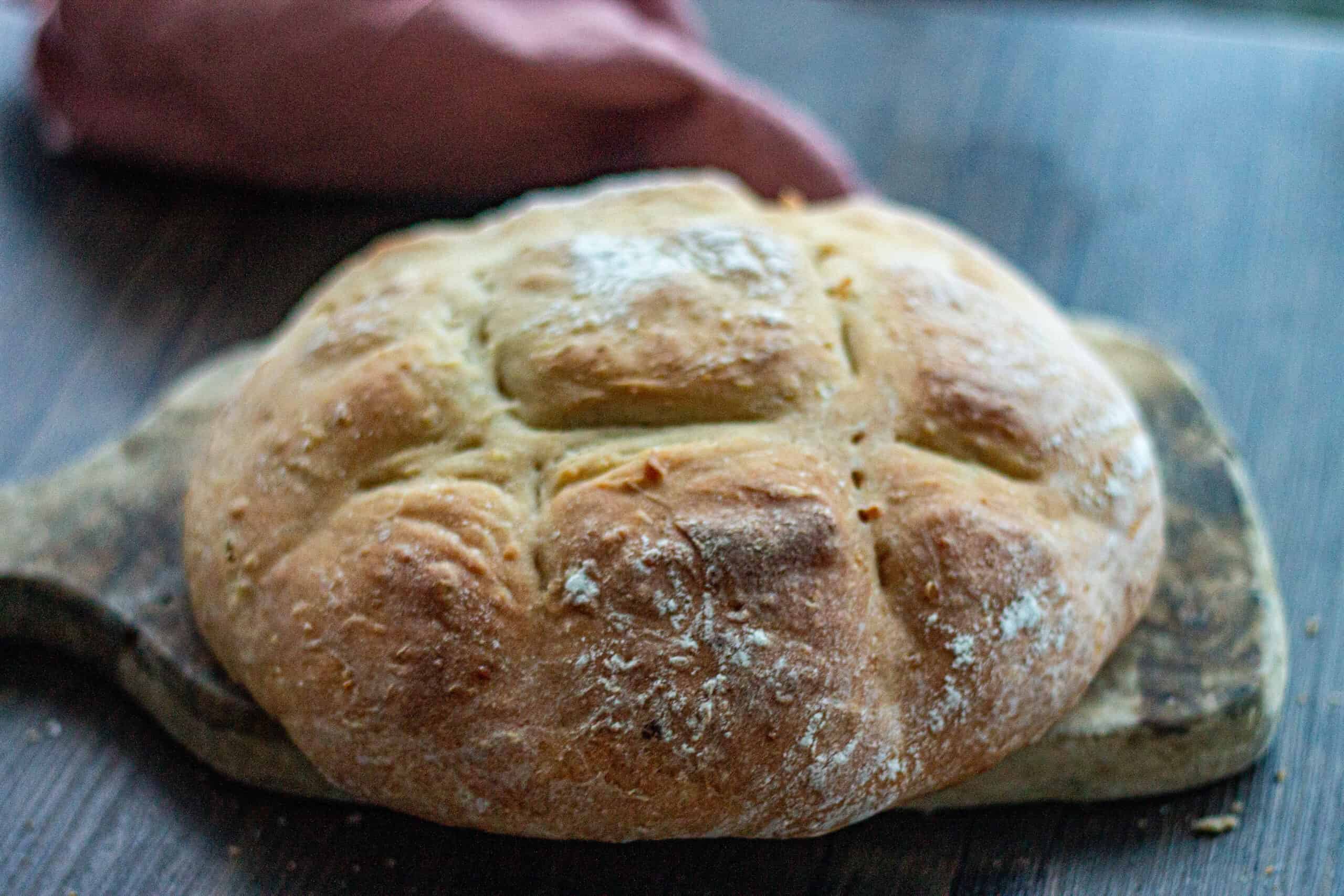 Making a decent loaf of bread is the result of a variety of factors. People tend to think of bread in terms of components. Yeast, flour, and water are indeed useful, but the single most important ingredient in bread is carbon dioxide. The device whereby every loaf of bread, every roll, and every muffin you make rises is the distribution of CO2 throughout the dough.
The recipe is slightly unusual in that it makes use of cooked rice and rice water, but it is also very simple to make.
I slightly undercooked the rice (easy cook long grain) leaving a bit of bite in the middle. I left the grains of rice whole and mixed them into my flour. The rice was distributed throughout the bread and some was on the outside of the loaf. It was similar in texture to a seeded loaf, but without exacerbating my intolerance to seeds and grains. We polished our loaf off in about two hours, with some of it going to make massive grilled cheeze sandwiches!
Ingredients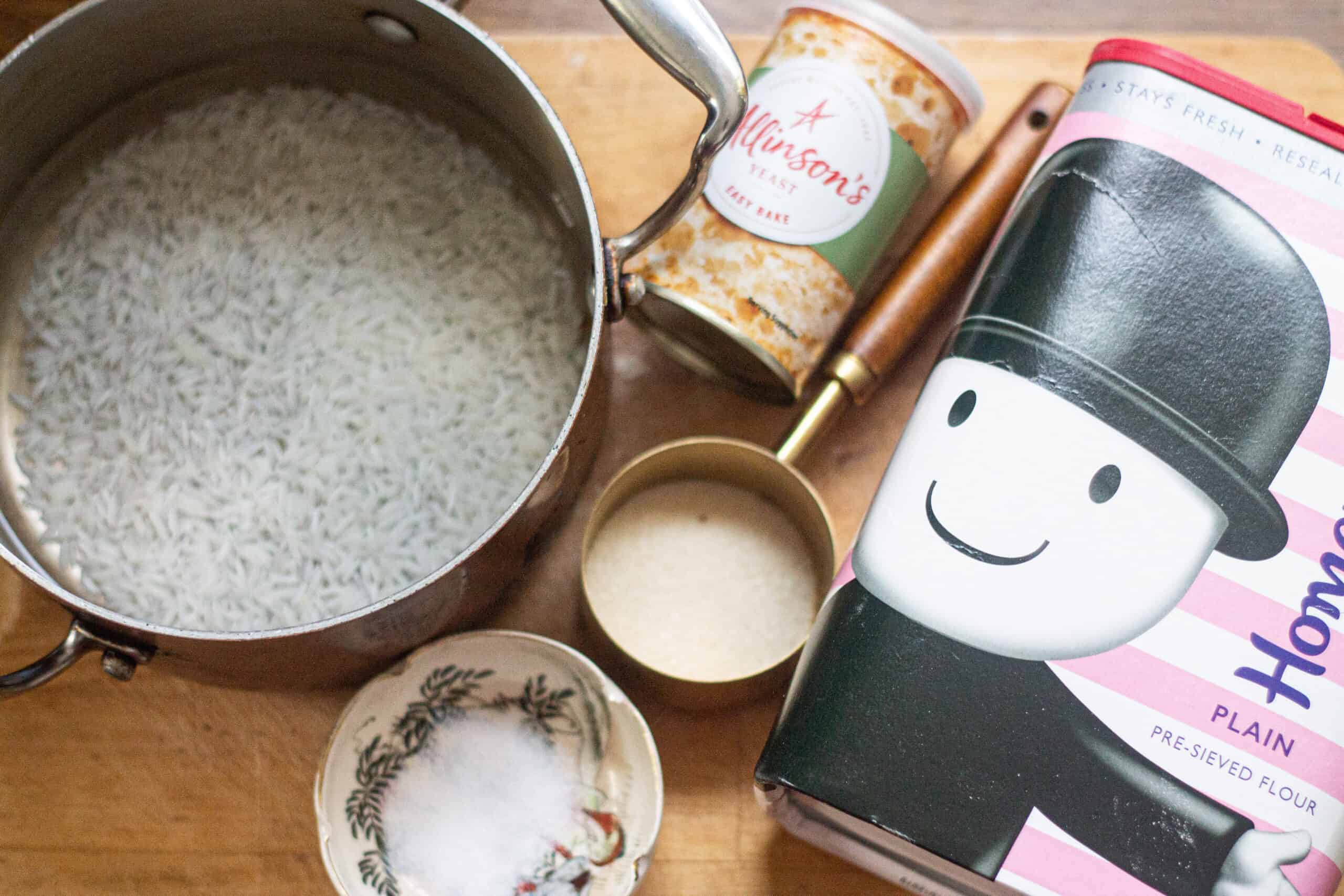 cooked rice and the water. You can use any rice for this
flour. I use a strong white bread flour
yeast, I use dry yeast, but you could use fresh
sugar and salt. The sugar helps activate the yeast, the salt seasons the bread. Don't omit the salt as this bread is very bland without it.
See recipe card for quantities.
Instructions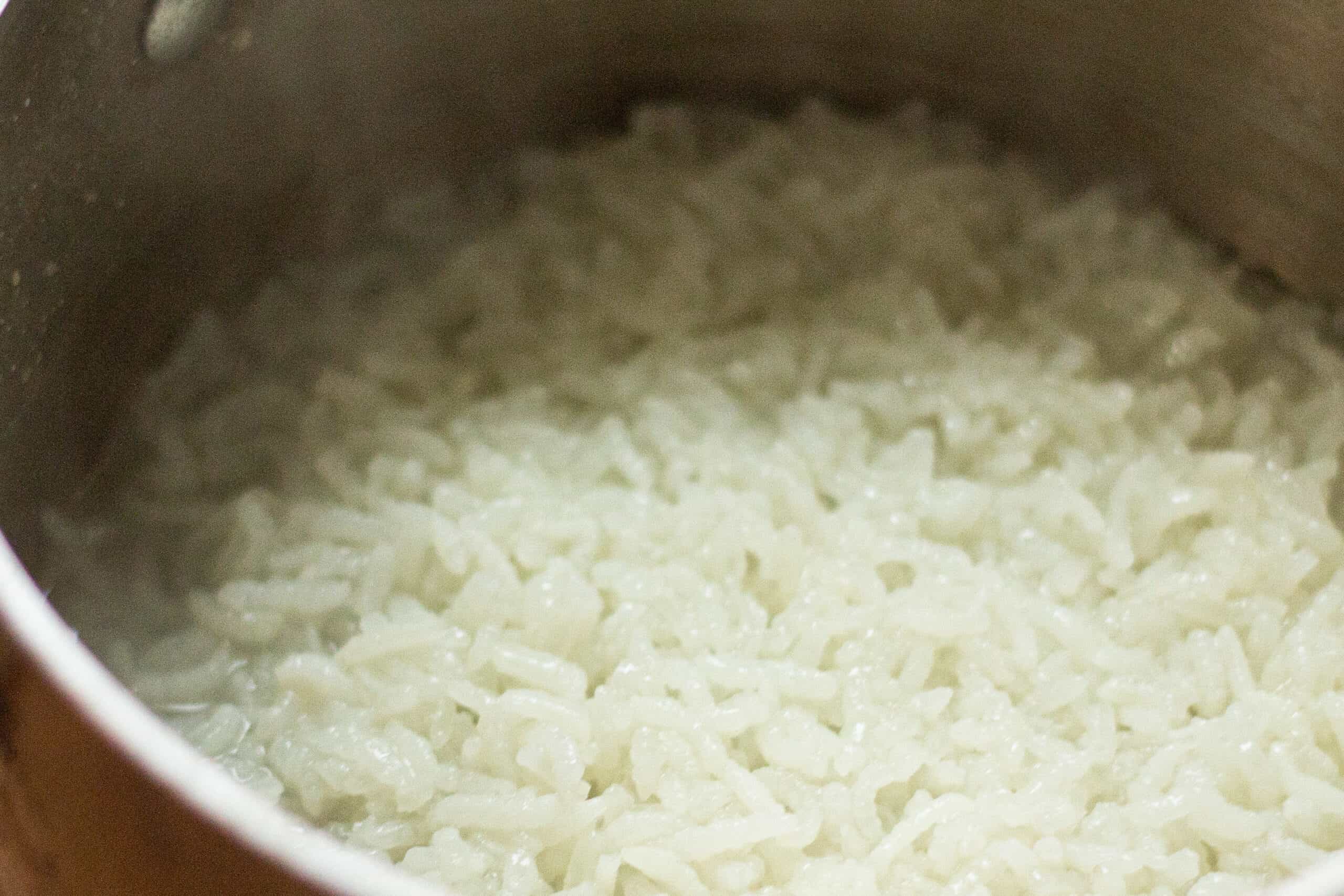 Cook your rice until very soft, drain the remaining liquid. Make the liquid up to 340ml using blood temperature water, and use this to activate the yeast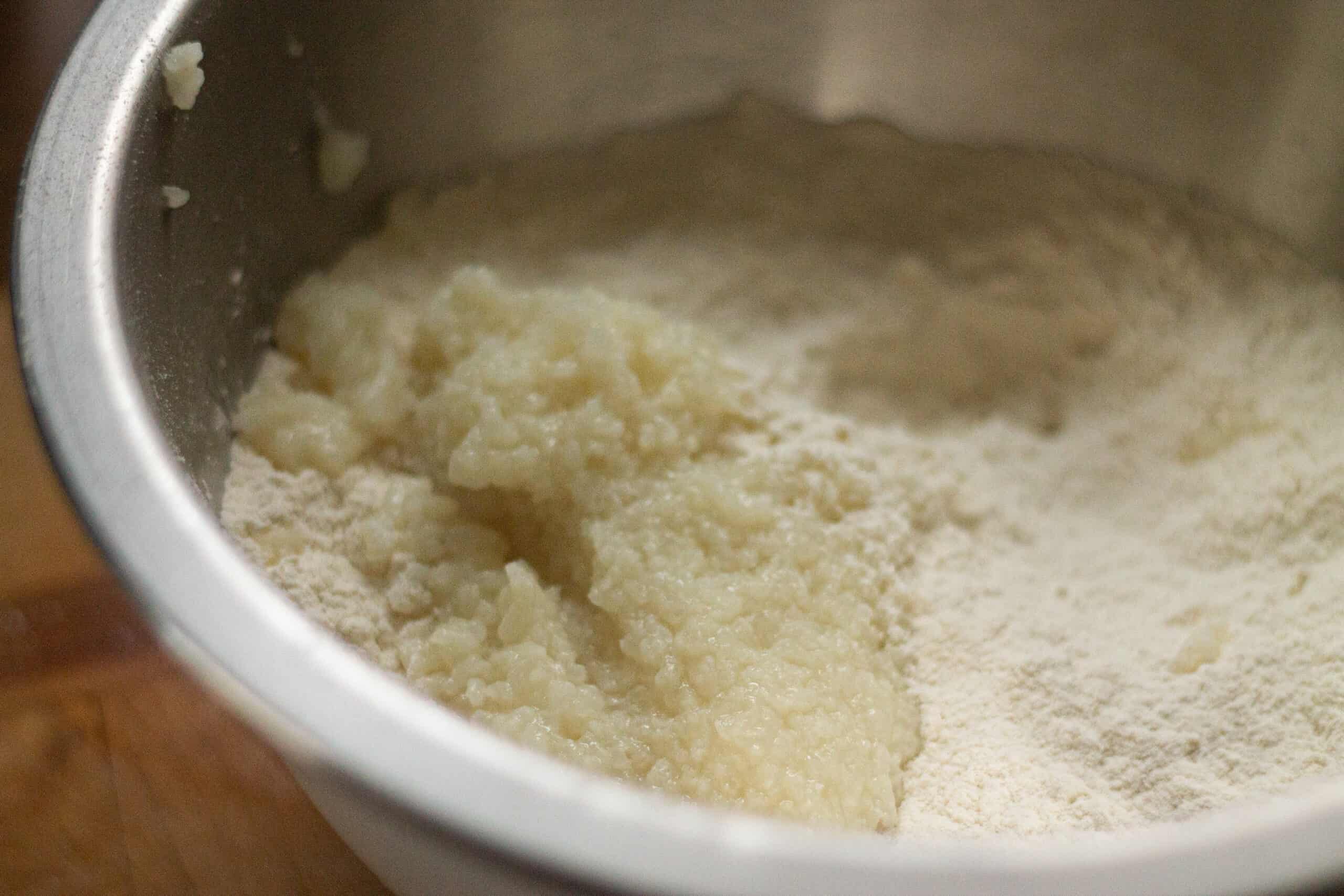 Whilst the yeast is activating, add the rice mush to the flour and salt and mix until you have a nubbly flour mix
Leave the dough to rise for a couple of hours
Shape for the second rise and score, let rise for another 45 minutes before baking.
Hint: using a spray bottle filled with water to humidify the oven shelf just before baking helps with the initial baking of the loaf, allowing it ample oven-rise.
Substitutions
rice – instead of basmati, try brown rice, although it will need a longer cook
Storage
Store the cooled loaf in a bread bin for up to 4-5 days. Will be good if kept covered, and if not, will still toast perfectly
Freeze this cooled loaf, wrapped a couple of times tightly in clingfilm, for up to 3 months. Thaw in a low oven.
Top tip
try using different types of rice for different flavors and texture, brown rice will add a nutty taste, for example
FAQ
What does rice bread taste like?
It tastes like regular white bread but with slightly more depth of flavor, depending on what type of rice you use. Rice bread is made, not just for its taste, but also for texture the rice imparts to the bread.
Why was my bread dense and not soft?
A couple of reasons: either the yeast was not activated enough (possibly the water was too hot or the dough was not allowed to rise long enough) or the dough wasn't kneaded for long enough.
To rectify, always ensure that your activated yeast is thick and bubbly like this and that you knead the bread for the time noted on the recipe.
Rice Bread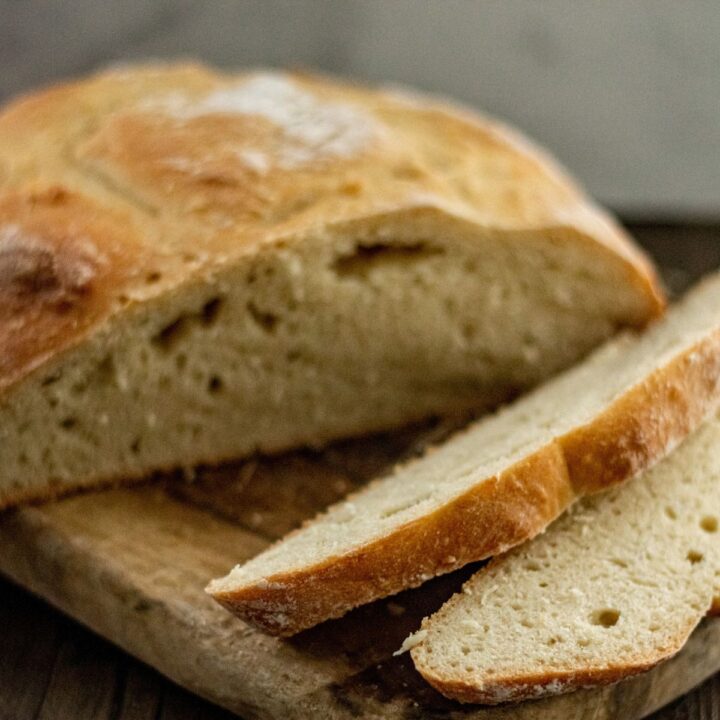 How to make this tasty, simple bread
Ingredients
4

cups

white flour

plain, sifted

¼

cup

rice

any white variety

2

cups

water

7

g

dry yeast

1

teaspoon

sugar

10

g

salt
Instructions
Boil rice in water for twenty minutes until tender or longer until mushy. Drain water through a sieve into a bowl. Reserve rice for later or push through the sieve with a pestle.

Note: If you find you don't have a lot of rice water, just make it up to 340ml using water from a boiled and cooled kettle (so that it is about 110c).

Allow rice water to cool briefly (temperature should be about 100°F). Add yeast and sugar, mix thoroughly, and allow ten minutes to activate.

Mix flour, salt, and any remaining rice in a bowl. Add yeast and water and mix until all ingredients are amalgamated.

Turn out onto a floured work surface and knead for 15 minutes adding more flour if dough is too sticky or more water if dough is too dry (I boil a kettle and let the water cool a bit before I start making my dough. Then if I need some tepid water while I'm mixing I can take it from the kettle.).

Put dough in a clean bowl, cover with a damp cloth and allow to rise for 2 hours. Punch down the dough and knead for about a minute. Reshape the dough and put in bread pan or onto a pizza stone. Make a few slashes in the bread with a razor or sharp knife and allow to rise for 30 minutes.

Preheat oven to 450°F/230°C. When the oven is up to temperature, humidify. Put the bread in the oven. After 15 minutes, turn the oven down to 400°F/200°C, misting with water again. Cook for an additional 15 minutes. Remove from oven and allow to cool.
Nutrition Facts
Rice Bread
Amount per Serving
% Daily Value*
* Percent Daily Values are based on a 2000 calorie diet.
Food safety
Cook to a minimum temperature of 165 °F (74 °C)
Don't leave food sitting out at room temperature for extended periods
Never leave cooking food unattended
Use oils with high smoking point to avoid harmful compounds
Always have good ventilation when using a gas stove
See more guidelines at USDA.gov.