Easy Vegan Lemon and Blueberry and Chia Pancakes – no added sugar
Vegan Blueberry and Lemon Pancakes – like regular eggless pancakes but make them supercharged with fresh blueberries, lemon zest and chia seeds! Easy to make and sooooo easy to eat!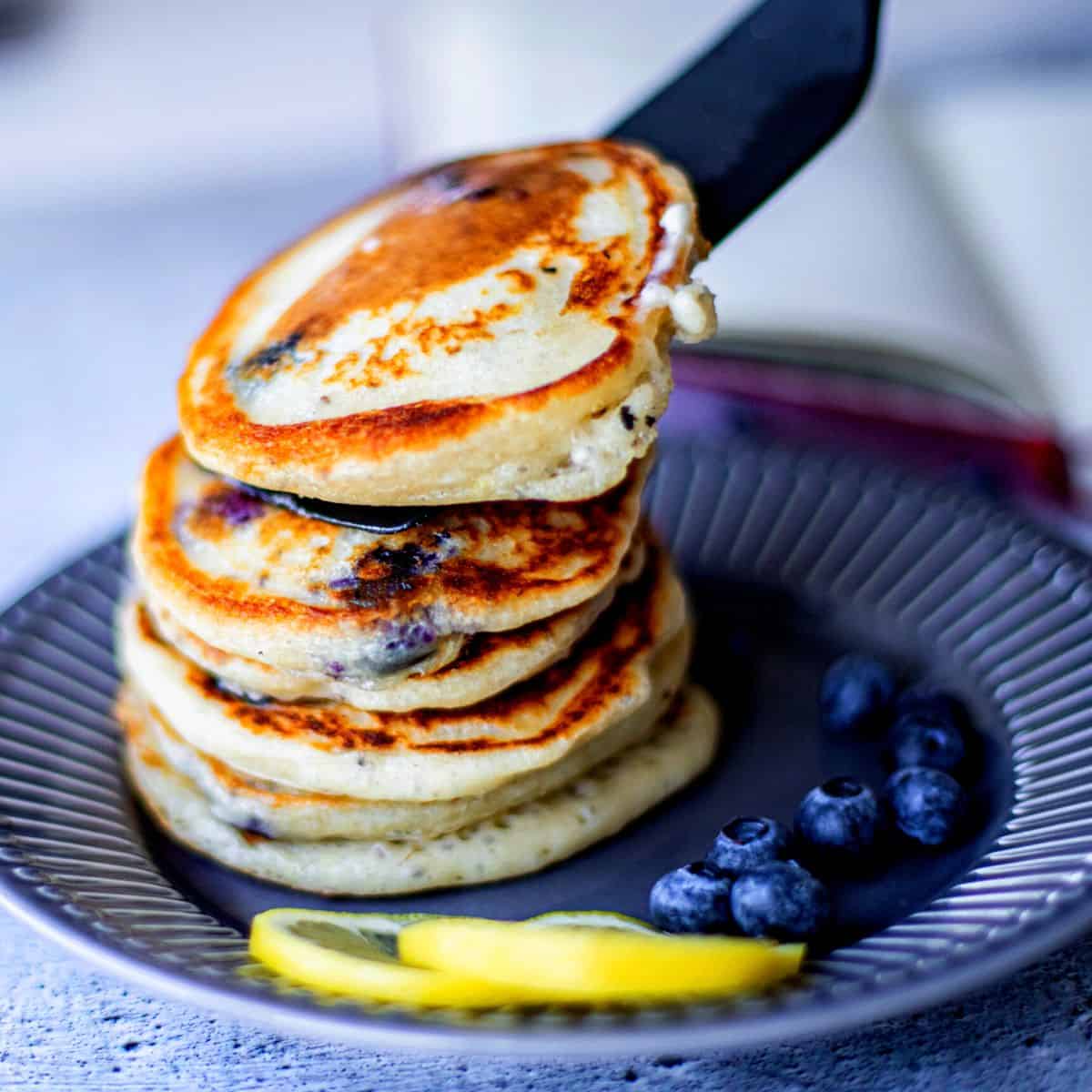 Weekday breakfasts for me look boring: oatmeal (although I love oatmeal), or a yogurt and fruit. But then I have awesome waffles or pancakes to get excited about at the weekend!
If you love this pancake recipe, you might also enjoy my luxurious tiramisu pancakes, my classic vegan pancakes or my delicious, perfect waffle recipe, all eggless and dairy free!
It has taken me a while to get the hang of making homemade vegan dairy free pancakes, and I have had a few disasters, but I think practice makes perfect, and this recipe might just be my best one yet.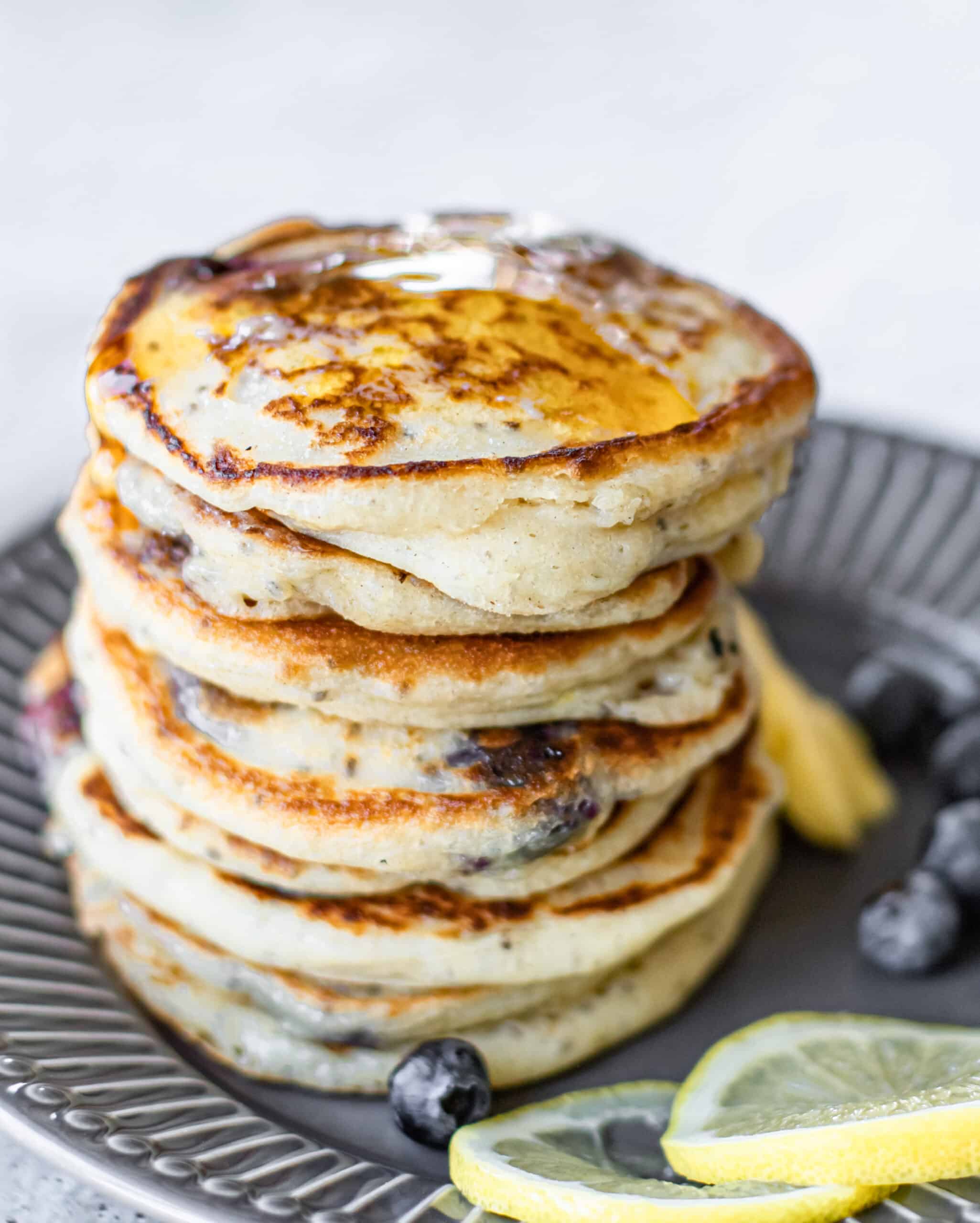 Why is this such a great recipe?
These pancakes are quick and easy to make, they rise beautifully, giving you a delicious fluffy pancake and they're full of bursting blueberries and tangy lemon zest. What's more, these contain no added sugar!
Ingredients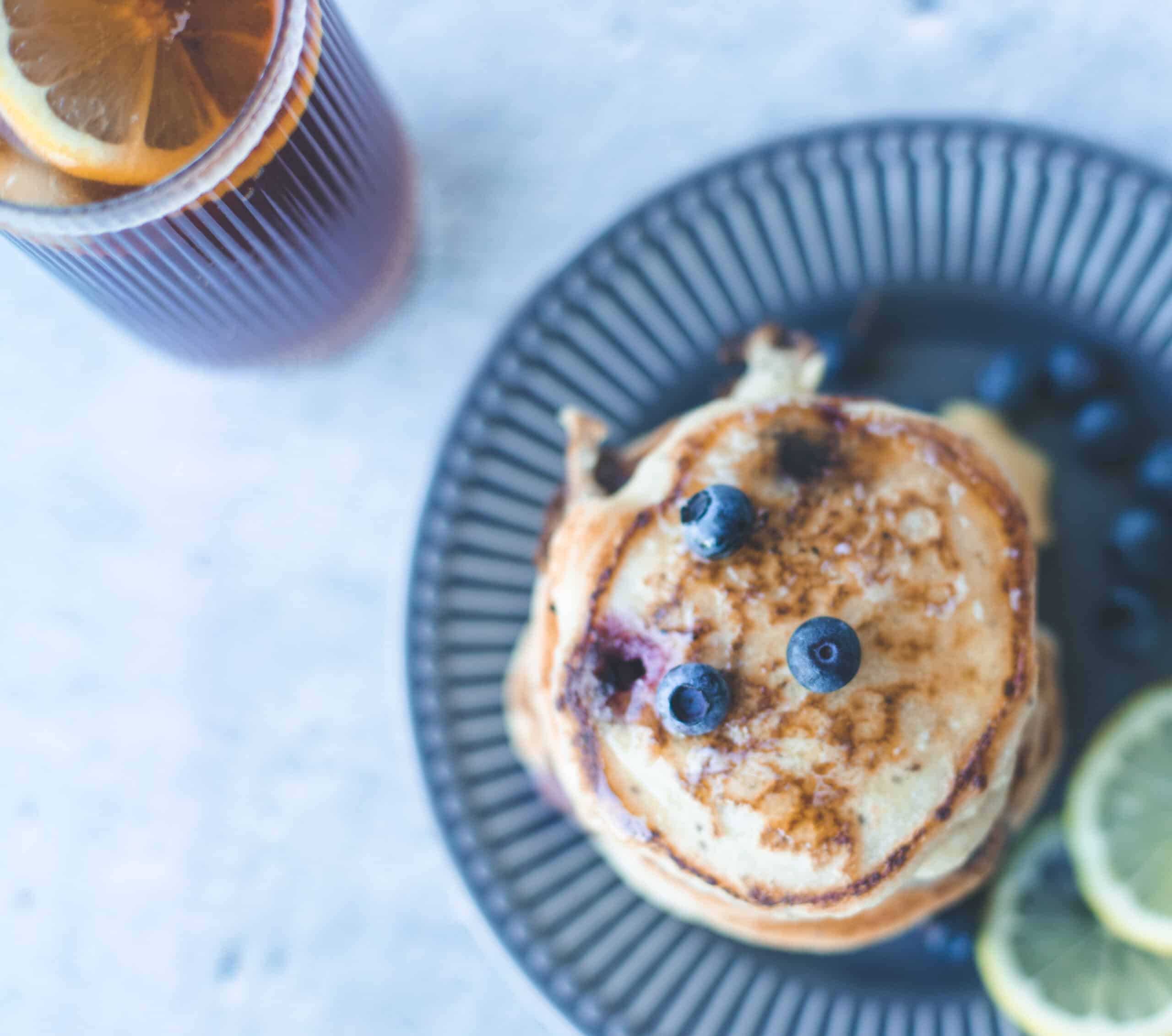 Because vegan pancakes don't contain egg, these need a little extra help with getting a fluffy rise.
To facilitate that lift, I use self-raising flour, baking powder and chia seeds. The chia seeds seem to work more effectively than ground flaxseed, and add a delicious crunch to the pancakes. I think it resembles egg white, and helps to bind the ingredients without making them claggy. You could use a flaxseed egg if you prefer (1 tbsp ground flax, whisked with 3 tbsp water).
Plant based milk. I used almond milk, but you could also use soya milk, oat meal, coconut milk or hazelnut milk. Whichever you prefer!
Plant based yogurt. I like to use plain Greek style as it's thick and creamy.
Blueberries. You could also use raspberries or chopped strawberries.
Lemon juice and lemon zest. Adds a deliciously fresh flavor.
Coconut oil, melted
Method
Firstly whisk your chia seeds with water. Place to one side whilst you prep everything else. They won't take long to start their gelatinous shenanigans.
In a large jug, whisk together the yogurt, milk, vanilla extract, lemon juice and melted coconut oil. Don't worry if the lemon juice makes the mixture split a little.
In a large mixing bowl, whisk together the flour, baking powder, salt and lemon zest.
Now whisk the chia seed mixture into the wet ingredients, and pour this all into the dry ingredients. Whisk well, then fold in the blueberries.
You can cover this and refrigerate overnight if you like, or make the pancakes straight away, using your favorite method. I heat oil in a skillet until it's really quite hot, then drop in spoonfuls of the batter, flipping once lots of bubbles start to appear on the surface.
Pancakes should take no longer than a couple of minutes per side and, size dependent, you should be able to fit 3-4 into your pan.
I love to use my Ninja Foodi Zerostick Frying Pan (shameless affiliate link) for vegan pancakes as you don't need to use as much oil.
Try my other delicious vegan recipes
Vegan Blueberry, Lemon and Chia Pancakes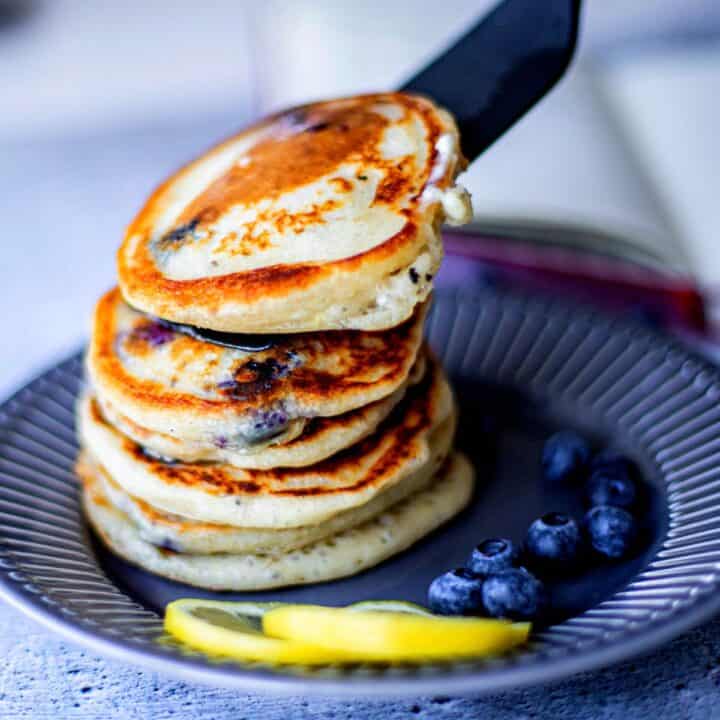 Simple and quick pancake recipe, thickened with chia seeds instead of egg, and flavored with lemon zest and blueberries. No added sugar make these super healthy!
Ingredients
2

cups

Self Raising Flour

2

tsp

Baking Powder

½

tsp

Salt

2

tsp

Vanilla Extract

1

tbsp

Chia Seeds

-

whisked up with 3 tbsp water

1

cup

Yogurt

-

plain, vegan

2½

cups

Milk

-

plant-based, of your choice

1

Lemon

-

juice and zest

2

tbsp

Coconut Oil

-

melted

1

cup

Blueberries
Instructions
In a small bowl, whisk up the chia seeds with water, and leave to plump up whilst you prep the other ingredients

In a large mixing bowl, whisk together the flour, baking powder, lemon zest and salt

In a large mixing jug, whisk together the milk, yogurt, coconut oil, vanilla extract, lemon juice and mixed up chia seeds.

Make a well in the middle of the flour, then pour in the wet ingredients. Mix well, then

fold

in the blueberries.

If you like, you can cover the bowl with clingfilm and refrigerate until you need the mixture.

To cook the pancakes, heat some oil (I use coconut) in a skillet or frying pan, until a little pancake batter starts to sizzle and then drop in spoonfuls of the mixture.

Once the mixture starts to show bubbles and look dry on the top, it's ready to flip. This usually takes a minute or two, depending on how much batter you use per pancake.

Cook for another couple of minutes on the other side, then remove to a plate and serve!
Please note that where the recipe asks for milk, butter or yogurt, this refers to any plant-based version that you prefer.
Nutrition Facts
Vegan Blueberry, Lemon and Chia Pancakes
Amount per Serving
% Daily Value*
* Percent Daily Values are based on a 2000 calorie diet.