Delicious Oat Vegan Breakfast Muffins
This post contains links to affiliate websites, such as Amazon, and we receive an affiliate commission for any purchases made by you using these links. We appreciate your support!
Delicious Oaty breakfast muffins. Soft, fluffy and gently spiced, these breakfast muffins are filling, packed full of fruit, oaty goodness and so quick to whip up!
If you enjoy baking but find you don't always have the time, muffins (or indeed cupcakes) are the perfect thing for you. It takes no time at all to knock up a batch and – given the opportunity – they last several days in an airtight container. If you've already tried my vegan blueberry muffins or even my quirky beetroot chocolate muffins, so you'll know how good vegan bakes can be!
It is a long-running joke amongst my work colleagues that I used to work for Costa Coffee. I constantly allude to, starting a sentence, several times a day with "when I worked at Costa…". This is usually followed up with some anecdotal story about coffee or annoying customers, and my colleagues smile indulgently at me as I waffle on.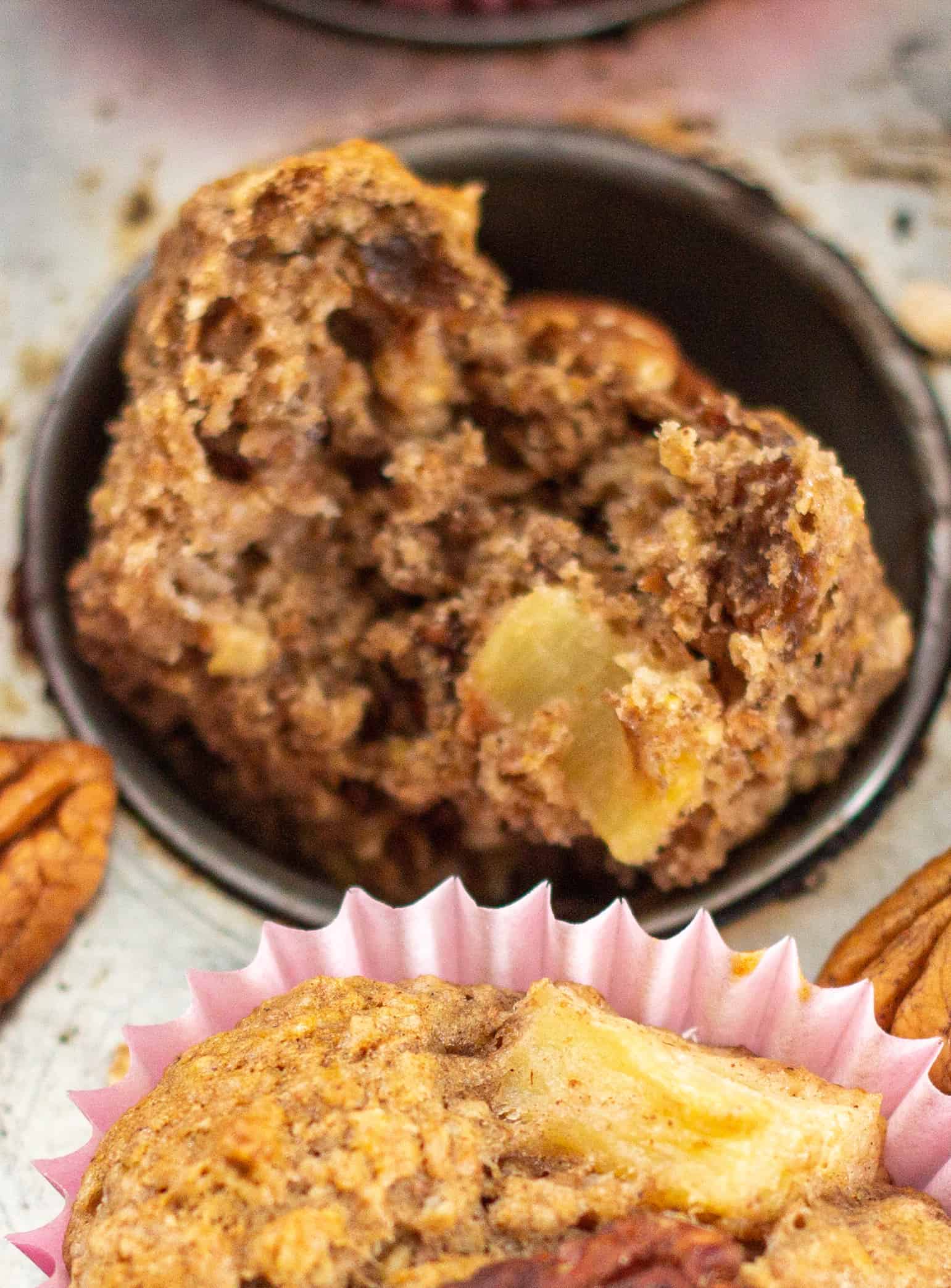 What does this have to do with today's recipe? Well, most of you will be familiar with the notion that muffins and coffee shops seem to go hand in hand. When I worked for Costa (told you), we sold four classic flavors: blueberry, lemon, double chocolate muffins, and white chocolate/raspberry. I was not particularly a fan of any of them. I'm not sure if Costa has ever sold a vegan muffin. I digress. These were one of our best-selling items, and there is something about peeling the wrapper off a fresh muffin, breaking it open, and biting into it that's very appealing.
Making your homemade muffins is simple, mixing blended wet ingredients into dry ones, with no overmixing. My low-fat vegan muffins are also easy to make, simply replace the egg element with perhaps flax eggs, yogurt, ripe bananas, and unsweetened applesauce. In this case, egg replacer. I've used egg replacer because I don't want the batter mix to be too wet. If you are new to baking, muffins will always yield good results.
My hearty vegan breakfast muffins are chock full of good things like pecans, pineapple, and raisins and make a delicious and hearty breakfast treat. I think you could even add some vegan dark chocolate chips if you wanted to make these a little more decadent, or even cacao nibs.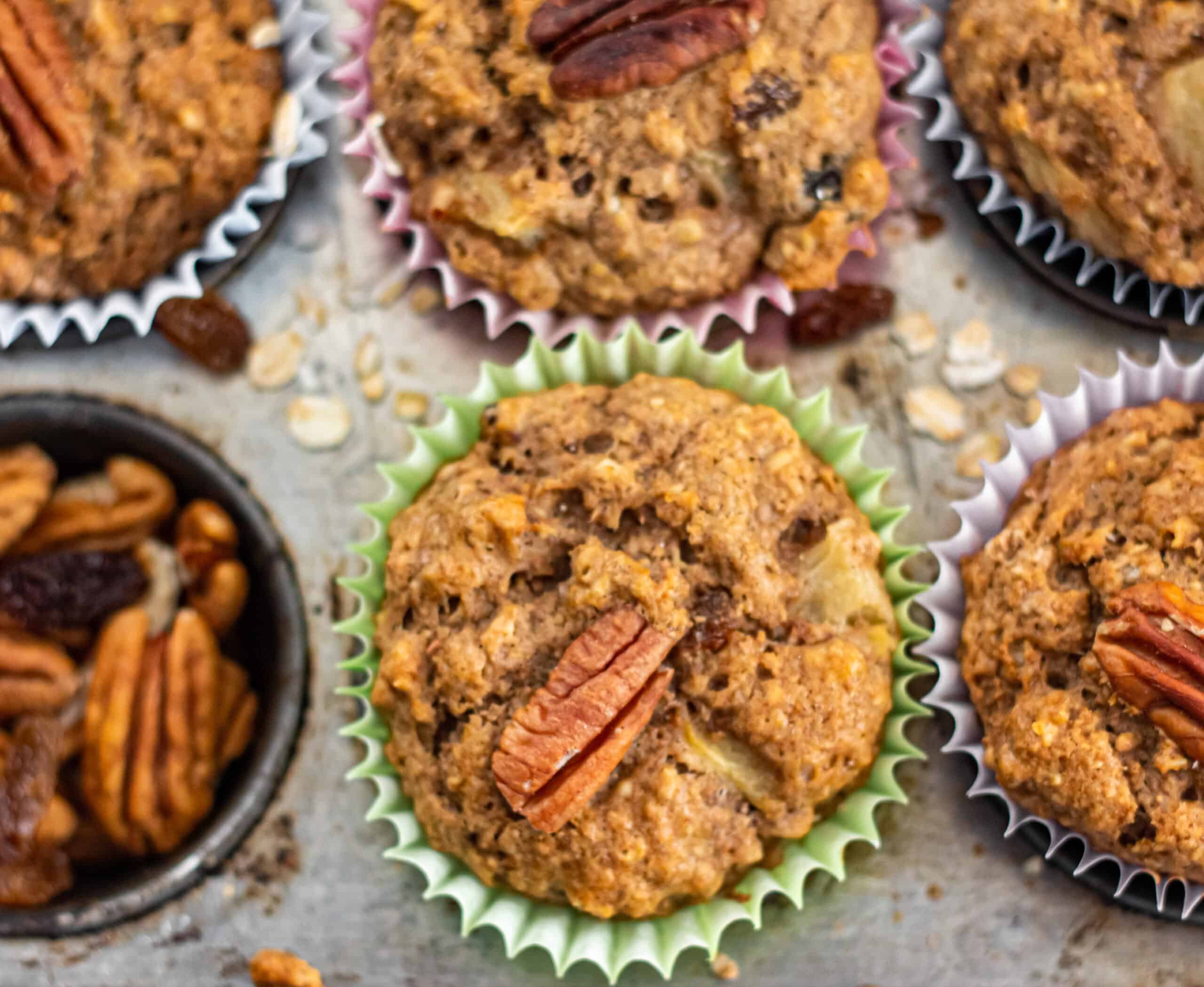 Inspired by an original recipe from Carla Kelly's Vegan Bake Sale cookbook, I find myself returning to this recipe time and time again. Serve with a glass of cashew milk or orange juice, fresh fruit, a newspaper, and a sunny morning.
Ingredients
Wholemeal all-purpose flour. You can also use your favorite gluten-free flour blend. I like to mix this with spelt flour.
Pineapple. I use one of those little tins, in the water, not syrup. I break it up into small pieces.
Sultanas or raisins. You could also use dried cranberries.
Vanilla Extract, that perennial flavor for baking.
Oatmeal. Use rolled oats for a great source of fiber.
Coconut oil, melted. You can also use melted vegan butter or canola oil, olive oil, or vegetable oil.
Soy milk, or use your favorite dairy-free milk. You could use coconut milk, almond milk, or oat milk.
Pecans. You could also use walnuts or hazelnuts. Omit altogether and replace with additional dried fruit if you prefer.
Pineapple. I used a small tin, drained, and crushed with a fork. Try to find the pineapple in juice rather than syrup.
Light brown sugar. You could also use dark brown sugar, for a richer flavor, or use your favorite sugar replacement.
This is ONLY a list of ingredients for the recipe; please see recipe card below for complete printable recipe.
Method
Firstly whisk up your egg replacer in a small ball. Set aside.
In a large mixing bowl, combine dry ingredients, including the pecans and raisins.
Blend together the milk, vanilla, and coconut oil.
Pour the wet ingredients into the dry mixture, along with the crushed pineapple, and mix until just combined.
Spoon the muffin batter into a lined muffin pan and bake for 20-25 minutes in a preheated oven.
Remove and leave to cool for about 5 minutes before eating.
Store in an airtight container for about 3 days.
Equipment
Try my other delicious vegan muffins
Oaty Vegan Breakfast Muffins
A delicious muffin, perfect for breakfast, full of lots of good things!
Equipment
1 12 hole Muffin Tin

lined
Ingredients
1

tbsp

Egg Replacer

-

whisked up with 2 tbsp juice from pineapple

½

cup

Wholemeal Flour

⅓

cup

Brown Sugar

1

tsp

Baking Powder

2

tbsp

Cornflour

1

tsp

Ground Cinnamon

1

cup

Oats

-

rolled

¼

cup

Dried Cranberries

¼

cup

Sultanas

¼

cup

Pecans

1

cup

Soy Milk

⅓

cup

Coconut Oil

-

melted, or vegetable oil

5

rings

Pineapple

-

canned, drained, crushed

2

tsp

Vanilla Extract
Instructions
Whisk up the egg replacer first, leave to one side

Sift flour, baking powder, cinnamon and cornflour into a large bowl.

Add the cranberries, sultanas and pecan nuts

Whisk the oil, milk and vanilla in a jug

Pour wet ingredients into the dry, and add the crushed pineapple.

Fill muffin cases ¾ full and bake for about 20-25 or until lightly browned on top.
Notes
Replace nuts with extra dried fruit if necessary.
You can use gluten-free self-raising flour
You can use all sultanas, or all cranberries rather than a mixture
Please note that where the recipe asks for milk, butter or yogurt, this refers to any plant-based version that you prefer.
Nutrition Facts
Oaty Vegan Breakfast Muffins
Amount per Serving
% Daily Value*
* Percent Daily Values are based on a 2000 calorie diet.