Cajun style vegan tacos. Spicy, and full of exciting flavors, my spicy tofu tacos are the perfect supper dish, made amazing by the addition of my creamy cajun slaw!
I am always looking for new and interesting ways to serve my velveted tofu. I usually use an Asian inspired peanut sauce or maybe a spicy sweet and sour type sauce, but I wanted something that would be really good in tacos. And what better than my vegan crispy tofu filling in tacos?
Jump to:
Tacos, like Burritos, are a food that I often crave but rarely cook for myself. I have no idea why, although I think it could be because I'm usually only cooking for two and I feel that Tacos are food for a crowd. Plus I always end up chopping way too much lettuce and tomato for them, but a generous portion is never a bad thing.
I first tried Tacos at Taco Bell in the US, and, whilst I wasn't disappointed, I wasn't blown away by them. I knew there had to be more to Tacos than this fast food joint could offer. Later on the same trip, we visited a Mexican restaurant that served the most delicious green chilli pork tacos and I was permanently converted. Whilst I no longer eat meat, I love the fact that with such amazing ingredients as Jackfruit or Tofu or Seitan, we can replicate the textures of the foods that many of used to enjoy.
I don't think it's bad to admit that you used to enjoy certain foods before you became plant-based. In many respects it reveals your absolute dedication to your new lifestyle, whether you've made the change because of ethical or health reasons. Before I made the change, I really enjoyed meat and dairy to the max and justified it to myself by always choosing the organic option. Whilst this is still a better choice than meat/dairy straight off the supermarket shelves, it doesn't address the ethical or health reasons that people really become vegan or plant-based. But that debate should not be on a recipe page for Tacos
What are Tacos?
In case you have had the misfortune in life never to have tried a Taco, it is a small flour or corn tortilla, sometimes crunchy, sometimes soft, filled with all sorts of delicious toppings. It is a Mexican street food or Antojitos but is just as commonly seen on the dinner table nowadays due to its versatility.
In Mexico, fillings vary from region to region, for example, fish tacos from Baja, and more traditional fillings such as organ meat are found in true taco taquerias throughout the country. One of the fillings that I come across the most, and is seen in adverts for taco shells and seasonings (in the yellow packaging) is a minced beef filling with shredded lettuce, cheese, refried beans and salsa. This was probably the least satisfying of all the taco fillings to me, even when I made them with vegan mince.
My recipe is definitely a mutt, using flavours from Cajun cooking, a slaw and then some traditional taco toppings too, but it really works. And if it tastes good, I'm a happy girl.
Ingredients in my Easy and Delicious Vegan Tofu Tacos with Cajun Slaw
Tofu
Make sure to use firm tofu. Press it and dry it between kitchen paper before coating. To press it, I wrap it in a couple of layers of kitchen paper, place it in a bowl and put a chopping board on top with some cans. If your tofu is extra firm, you don't really need to go to all this trouble, just drain and dry.
The Tofu Spice Mix
This was my first spice blend. I used to coat chicken and fry it, but it works great on tofu or (drumroll……) in mashed potatoes!)
2 teaspoon black pepper
1 teaspoon white pepper
1 teaspoon cayenne pepper
2 teaspoon thyme
1 tablespoon garlic powder
What is velveted tofu?
Click here to read my tips about velveting tofu.
Tortilla Wraps
I like soft flour ones. They should be of the small size, 4" dia or thereabouts. I'm not a fan of the crunchy ones as they are just annoying to eat but, if they're your preference, use these! Ideally fresh ones, but I know that's not always possible (certainly not around here).
The Slaw
I used a pre-sliced coleslaw mix which contained red and white cabbage, carrot and a little bit of red onion. You can of course slice your own veg, add some spring onions or radish for some extra crunch.
The sauce is a slightly healthier version that full fat mayo. My favourite brand of vegan mayo is Hellmann's. I think they've just nailed the flavour without it being too vinegary, and it's just delicious. I like to mix it with a little vegan Greek yogurt as it just lifts the slight heaviness that mayo on it's own can have. This is optional. By all means use all mayo if you prefer!
I then flavour the mayo/yogurt mixture with mustard, jalapeno, lime, smoky paprika and a secret ingredient of maple syrup which helps counterbalance all the spicy, smoky, sharp flavours. A perfect umami balance.
📋 Recipe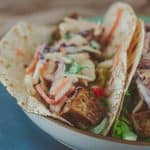 PRINT
Vegan Tofu Tacos with Cajun Slaw
A delicious supper or lunch dish, full of flavour and texture
Ingredients
Cajun Spice Mix
2

teaspoon

Ground Black Pepper

1

teaspoon

Ground White Pepper

1

teaspoon

Cayenne Pepper

1

teaspoon

Dried Thyme

½

teaspoon

Onion Powder

4

tablespoon

Cornflour
Slaw
300

g

Coleslaw Mix

¼

cup

Mayonnaise

vegan

¼

cup

Greek Yogurt

vegan

1

tablespoon

Maple Syrup

½

teaspoon

Cayenne Pepper

½

teaspoon

Chilli Flakes

1

teaspoon

Dijon Mustard

1

Green Chilli

finely chopped

1

juice of Lime

Salt and Pepper to taste
For the Tofu Tacos
1

Firm Tofu

firm block, drained, dried, cut into cubes

5

Taco Shells

Tortilla wraps or taco shells

Chopped toppings of your choice: lettuce, tomato, cucumber, red onion

3

tablespoon

Vegetable oil for frying the Tofu
Instructions
To make the spice mix
Add all the ingredients from the spice mix ingredients together in a large ziplock bag, seal and shake well to mix!
To make the Cajun Slaw
In a large mixing bowl, whisk together all the ingredients except for the coleslaw mix.

Stir in the coleslaw mix, or your own sliced veg if using.
To assemble the tacos
Cube your drained and dried tofu and drop into the Ziplock bag and gently mix to ensure it is all coated. You can now refrigerate overnight, or freeze for upto a month before using.

Heat a couple of tablespoons of oil in a frying pan until it starts to shimmer slightly.

Drop in your coated cubes of Tofu and fry, turning frequently, until browned and crisp on all sides.

 Heat your frying pan and warm your tortillas until they puff up. No oil is needed.

Then, starting with your chopped lettuce and tomato, start building your tacos! Add some cubes of fried tofu, then top with some slaw.
Nutrition
Nutrition Facts
Vegan Tofu Tacos with Cajun Slaw
Amount per Serving
% Daily Value*
* Percent Daily Values are based on a 2000 calorie diet.
Nutritional Information Disclaimer
The automated nutritional information on my recipes can often be inaccurate due to the limitations within the programming. For exact measurements, there are lots of apps and websites that can calculate this information more accurately.
Tried it and Loved it?
Mention @sweeterthanoats or tag sweeterthanoats!