Spicy Vegan Jambalaya Recipe
My vegan Jambalaya is a delicious and flavorfoul dish perfect for those following a plant-based diet. This recipe is a vegan twist on the classic Louisiana dish, combining a variety of vegetables, spices, and rice to create a hearty and satisfying meal. With ingredients like bell peppers, kidney beans, and vegan chorizo, this dish is packed with flavour. The secret to its delicious taste lies in the perfect blend of spices. Whether you're a vegan looking for a new recipe to try or simply want to incorporate more plant-based meals into your diet, my vegan Jambalaya is a must-try!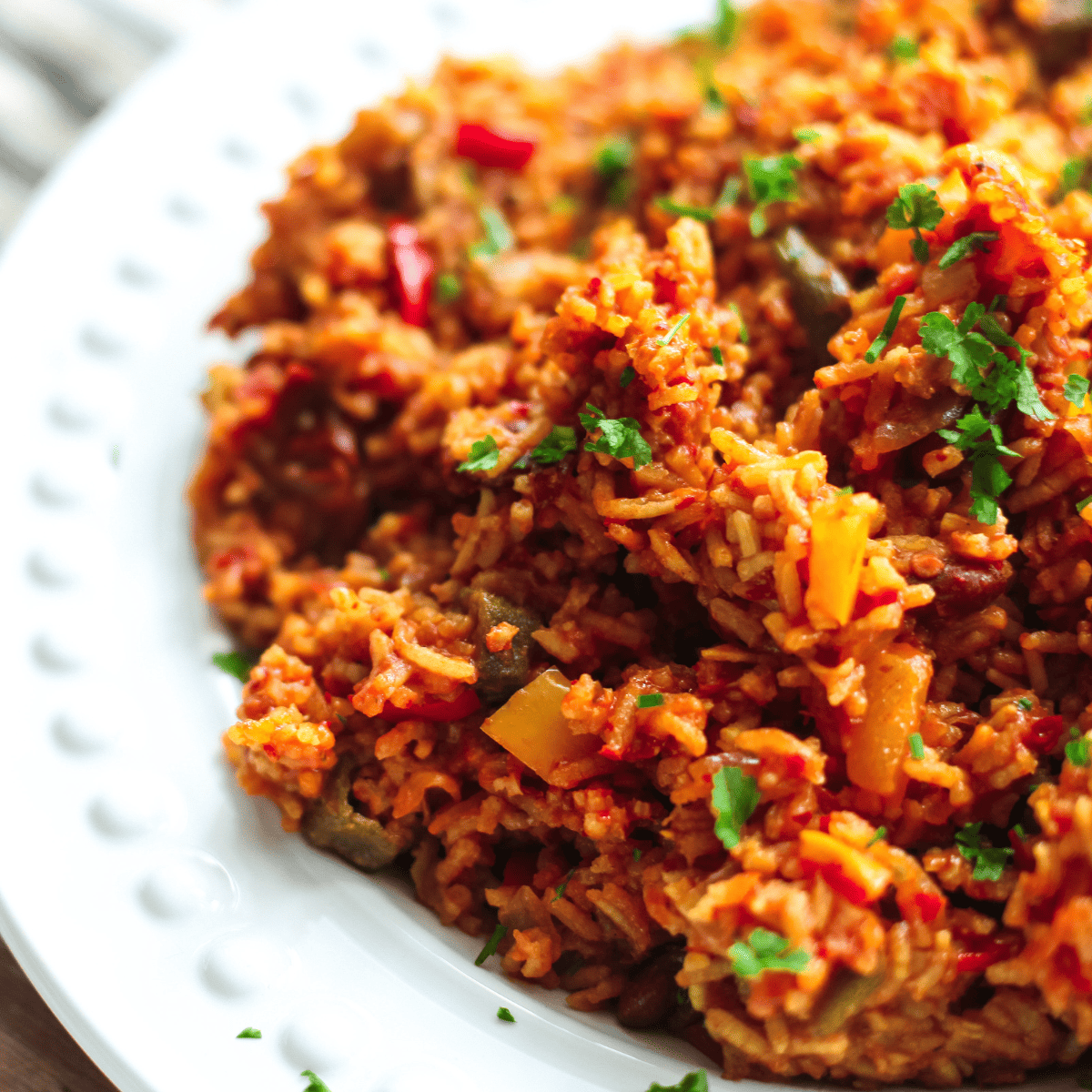 I love a dish that you can prep in one pan. That's why rice dishes are so important to my weekly cooking repertoire, and I frequently have this Jambalaya recipe, my vegan paella and risotto on constant rotation.
What is Jambalaya?
Jambalaya is a traditional Creole Cajun rice dish, packed full of heat and traditional Cajun spices. It was first found in recipes in New Orleans in the last 18th Century, but the roots of this dish go way back. Some people opine that jambalaya is a version of paella, produced by settlers from Spain using the ingredients they had available in New Orleans. The two dishes are indeed similar: one pan rice dishes using peppers, onions and meat. Saffron would have been difficult to find, and cost-prohibitive so this was replaced with other flavourful ingredients. The dish evolved over time and included sausage and cajun spices.
The name jambalaya is just as puzzling, although Laura Siciliano-Rosen from Britannica, brings up two plausible suggestions, none more convincing than it being traced back to an old provencal word for a rice dish (very similar to jambalaya and, indeed paella), called jambalaia.
It is often served alongside dishes like gumbo or creole, but is also the perfect one-pan meal. When you prepare a vegan jambalaya, it is an incredibly easy and quick supper dish to make, taking only the time it needs for the veg to soften and the rice to cook, making it great for a mid-week meal. And I love the leftovers!
Why do People Hate Okra?
Okra. I don't care what anyone else says about it, I love the stuff. Its gentle bite, the taste of green iron, the depth it lends to dishes, its beautiful shape that in cross section resembles the lotus root. Why do other people still not see its versatile, good-naturedness? Okra doesn't want to be a fighter, it wants to be a lover and that is why okra works so well with bolder flavours like tomatoes and chillies and peppers.
Okra has a taste that, if you imagine a cross between a cooked green pepper and cooked celery, it would be something like that. It doesn't have the slight bitter twang of green peppers, nor the herbaceous hit of celery; it really is its own flavour.
Fortunately, West Indian, Cajun and Middle Eastern cuisine knows a thing or two about utilising this under-used and nutritious vegetable. In India, it is shredded, coated in highly seasoned gram flour and deep fried, similar to an onion bhaji or pakora, and called Akri Bhindi.
Cajuns have long used it as a thickener in gumbos or serve it deep fried. Furthermore, a pickled Okra pod can be used in a Martini, thereby making an Okratini.
However, I wanted to use Okra in a more conventional way, making it the key ingredient of a dish, and not just a thickener or bolsterer to other ingredients, and it is an integral part of a traditional jambalaya.
Ingredients
onions, garlic and celery
bell peppers, use a mixture of colours and chillis for heat.
okra, a classic cajun ingredient.
basmati rice.
tinned kidney beans.
vegan nduja or chorizo.
Cajun seasoning, tumeric, tabasco sauce
This is ONLY a list of ingredients for the recipe; please see recipe card below for complete printable recipe.
Instructions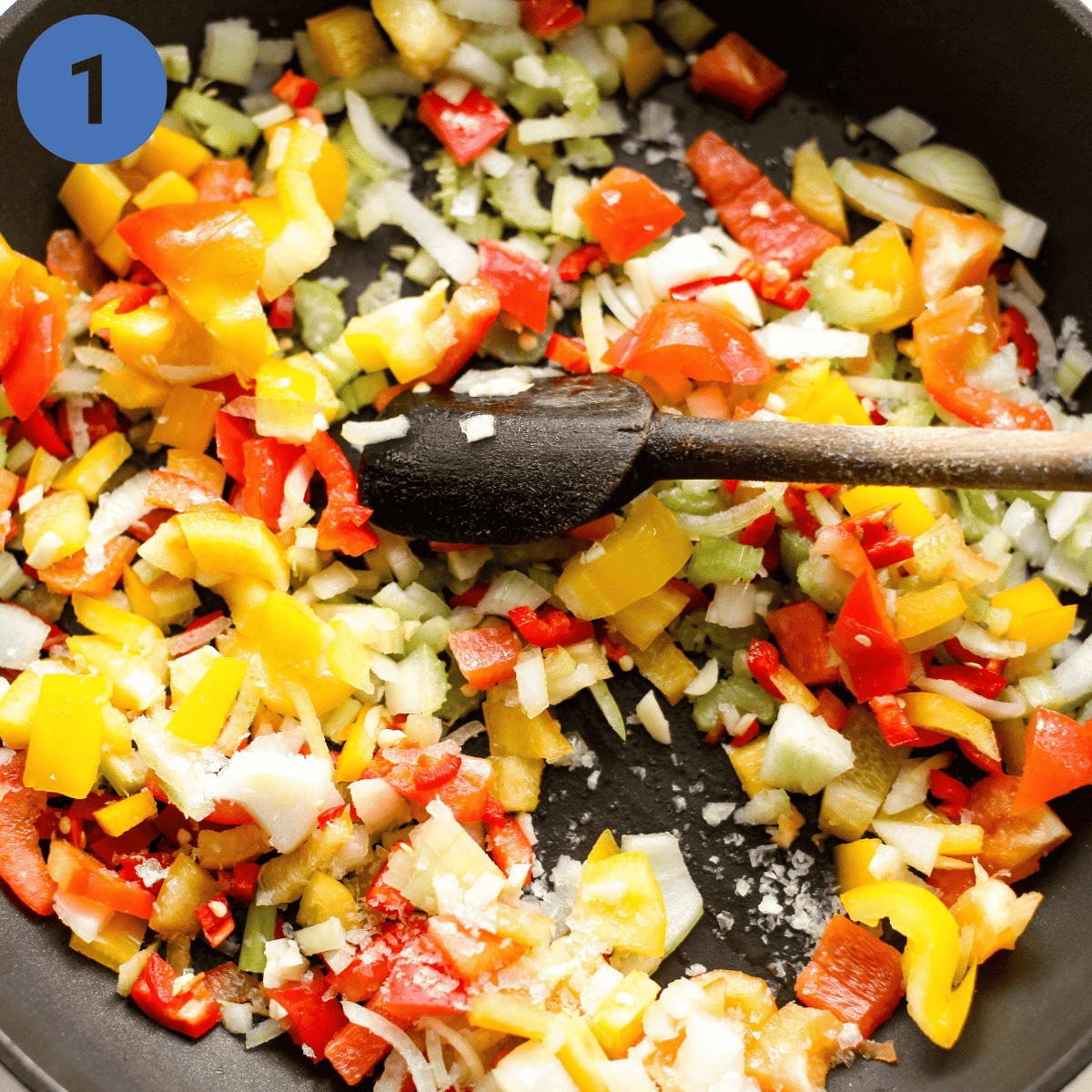 In a large saucepan, sauté the onions, peppers, chilli and celery until just starting to turn tender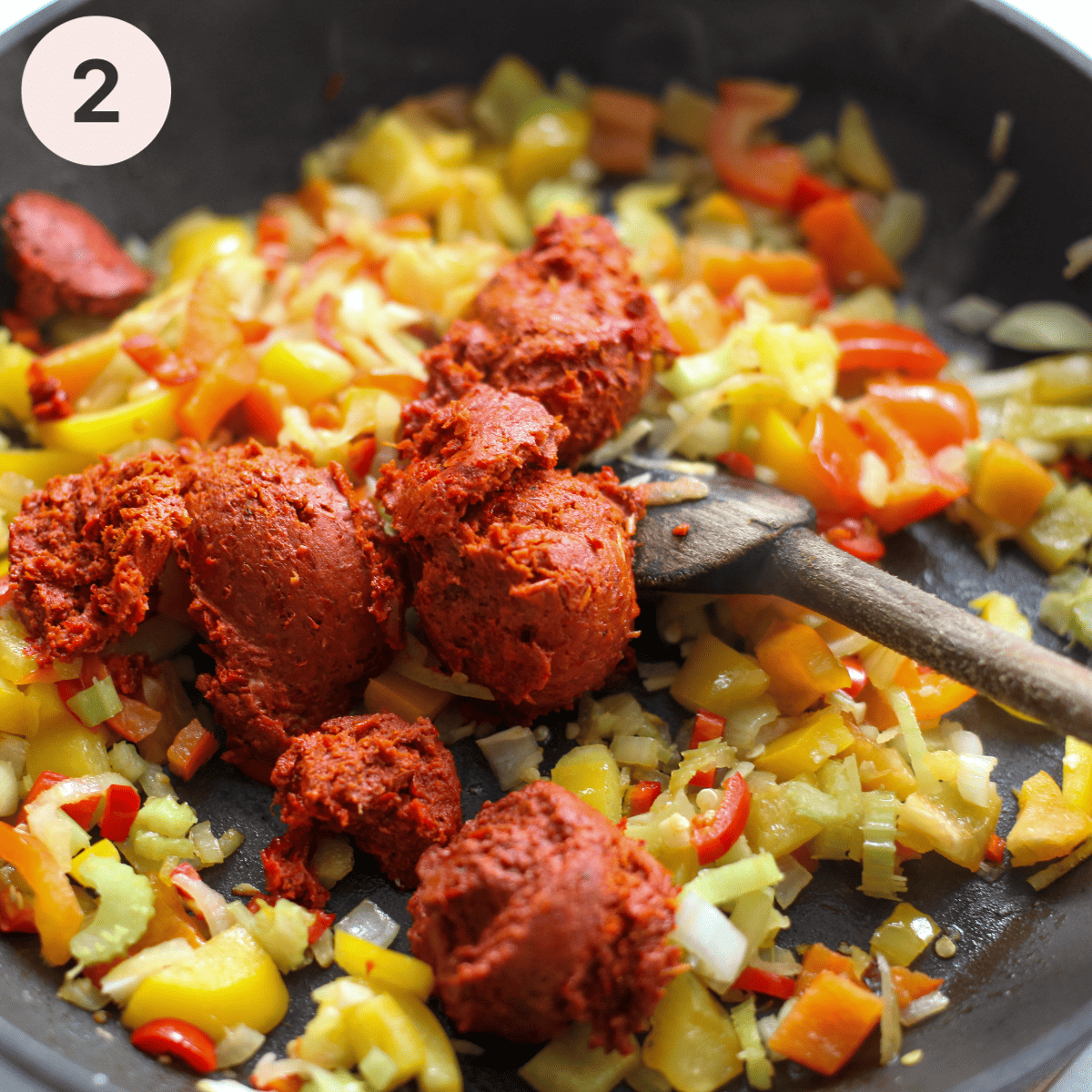 Add the vegan chorizo or Ndujo and mix to combine.
Now stir in the kidney beans, okra and spices, and cook for a couple of minutes.
Stir in the rice and coat thoroughly in the spicy mixture.
Cover with stock, put a lid on the pan (or tin foil) and simmer until tender, about 20 minutes or so.
Give a final taste for seasoning and the Jambalaya is ready to go!
Substitutions
Celery – omit the celery if you really dislike it!
Mushrooms – if you want to make the dish slightly less heavy or carby, replace the beans with sliced mushrooms instead.
Rice – you could replace the rice with cauliflower rice if you really wanted to, adding it at the point you added the uncooked basmati, and adding much less stock (use directions on the packet).
Storage
You can store the cooled jambalaya in the fridge for 2-3 days, gently reheating when needed.
Jambalaya doesn't freeze very well, so I wouldn't recommend it.
Vegan Jambalaya Recipe
A simple and quick vegan version of the Louisiana classic dish
Ingredients
50

ml

Olive oil

4

cloves

Garlic

-

finely diced

2

Bell peppers

-

diced

1

Onion

-

peeled and diced

150

g

Okra

-

topped and then sliced into 1cm pieces

400

g

Kidney beans

-

can, drained

2-3

Chillis

-

finely diced and de-seeded if liked

200

g

Vegan Nduja

-

or you can use vegan chorizo, chopped

1½

cup

Basmati rice

2½

cups

Vegetable stock

1

tbsp

Cajun spice

2

tsp

Turmeric

2

tsp

Pepper sauce

-

I use Tabasco but whatever your favorite is

Salt and pepper

-

to taste
Instructions
Heat the oil in a large pan, then add the onions, garlic, nduja paste, chilies, and peppers.

Sauté

until onions are soft and translucent.

Add okra and kidney beans and cook for about five minutes

Stir in rice and all seasonings until rice is thoroughly coated in oil.

Add stock and bring to a boil. Reduce heat to low and simmer, lid on for 15 minutes or until rice is tender.

Taste for seasoning.
Please note that where the recipe asks for milk, butter or yogurt, this refers to any plant-based version that you prefer.
Nutrition Facts
Vegan Jambalaya Recipe
Amount per Serving
% Daily Value*
* Percent Daily Values are based on a 2000 calorie diet.