Vegan Arroz con Leche - If you love rice pudding but can't be bothered to put the oven on to bake one for three hours, try my vegan Arroz con Leche, a simple, sweet rice dessert cooked right on the hob, ready in less than 30 minutes!
Jump to:
My Mum made the best rice pudding. It was thick, sweet and enriched with evaporated milk, baked in the oven until a thick, chewy skin formed. I would eat it, with more sweet milk poured over it, bowl between my knees, reading Chalet School stories.
Sadly, vegan Rice pudding is just not the same. Non-dairy milk seems to give the rice a decidedly cardboard-y taste which is not really to my liking.
Why is Arroz con Leche so Delicious?
There is hope, however, in Arroz con Leche (literally rice with milk), a traditional Spanish celebratory dish, that uses coconut milk and is deeply spiced with cinnamon, ginger and cloves.
The kicker? It's cooked on the hob, not baked in the oven, so that the rice remains creamy and soft, but more importantly, is ready in just about half an hour.
Inspired by my easy mango coconut sticky rice on this site, or try my delicious New York style cheesecake.
Ingredients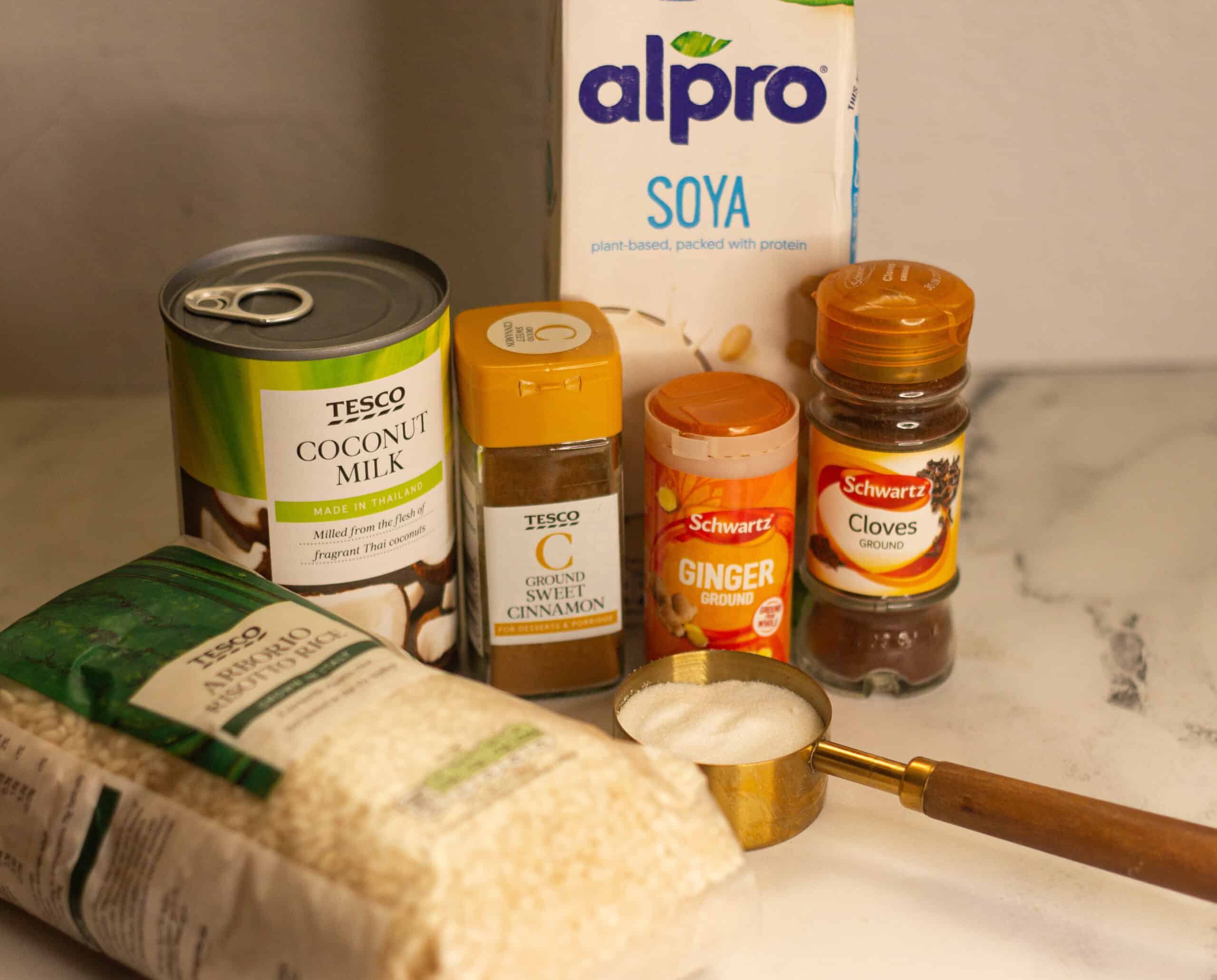 Rice, of course! I like to use basmati, preferably, but I only had risotto rice today so I used that. Don't use an easy-cook rice as they are too mushy.
Coconut milk, canned. You could use fresh coconut milk or all soy milk, but I don't think you will get such a rich, creamy rice pudding.
Cinnamon. I don't recommend omitting this, but if you absolutely hate spices, go ahead and replace it with a dash of vanilla instead, for a more traditional rice pud!
See recipe card for quantities.
Instructions
Gently heat the milks, sugar and spices until just simmering
Add the rice and simmer until tender
This dessert is just so simple. Heat the milks, sugar and spices until just simmering and amalgamated.
Add in the rice, stir gently, and reduce heat to a very gently simmer. Stir periodically to ensure that it isn't sticking.
Hint: because of the nature of risotto rice, it does tend to stick a little towards the end of the cooking time, so do keep an extra close eye on it.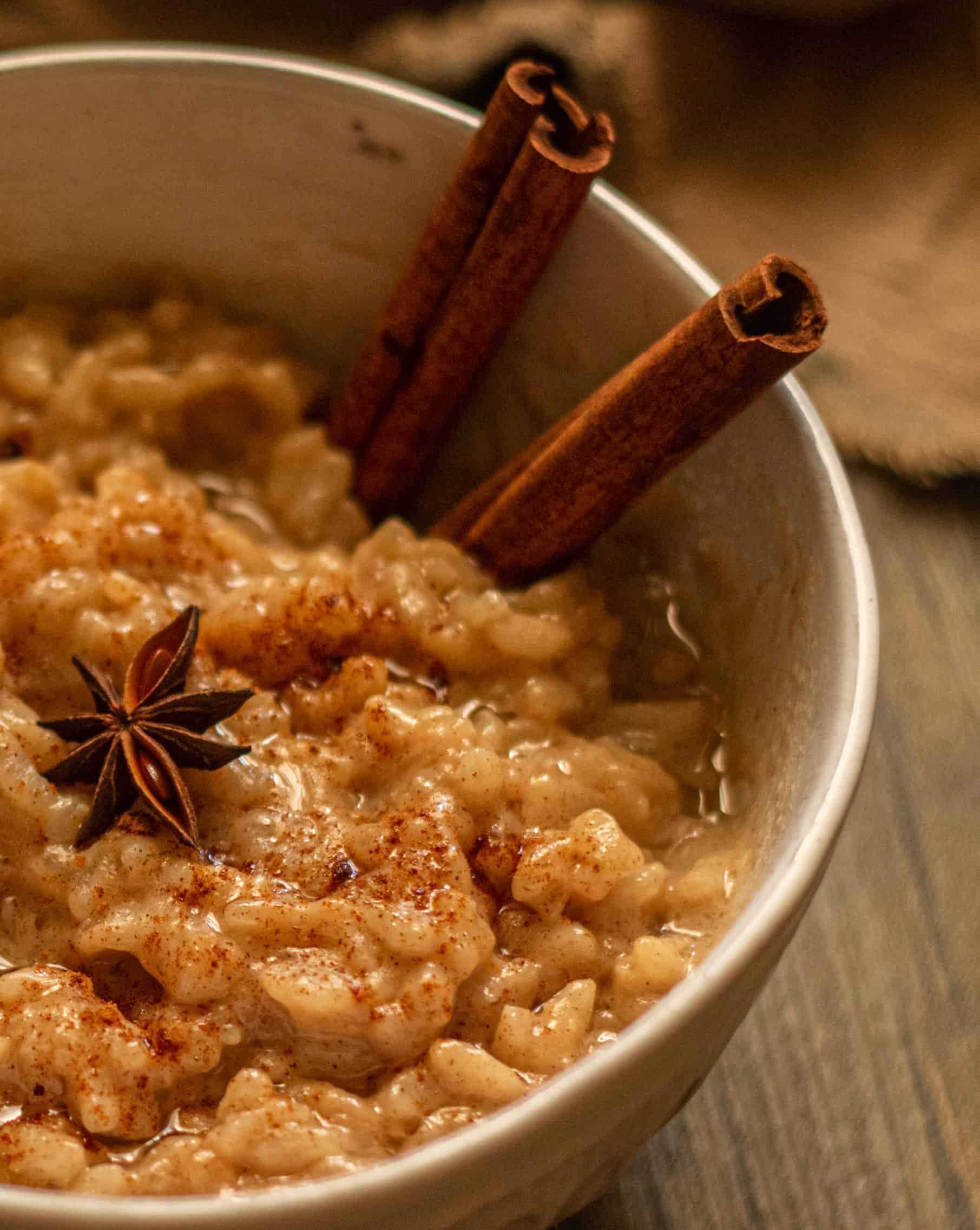 Substitutions
Rice - you can change out which type of rice you use, and even use brown rice for an almost healthy dessert! You could also use black rice or jasmine rice.
Sugar - use sweetener of your choice, or reduce the quantity to suit your palate
Milk - you can replace the soy milk with the plant-based milk of your choice
Variations
You can change this dessert up a little to suit your guests.
Kid Friendly - stir in some chocolate chips just before serving
Deluxe - stir in some vegan double cream at the end to really enrich the flavor
Healthy - replace the sugar with some natural sweetener or add some chopped dates and hazelnuts
Serve hot or cold - I love to serve this cold with some sliced mango
Equipment
I like to use a small saucepan to cook this in, but one with a heavy bottom. I like to leave the rice gently to cook whilst I do other things, and I need to trust the pan I'm using. I love this Kuchenprofi pan which has a clad bottom to avoid sticking and burning.
Storage
Refrigerate for a couple of days and gently reheat in a saucepan when required.
Not suitable for freezing.
Top tip
I have found that some coconut milks cause a little bit of extra oil towards the end of cooking, so try and find a low fat coconut milk if you don't like the idea of this.
📋 Recipe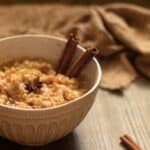 PRINT
Vegan Arroz con Leche (Mexican Sweet Rice)
A deliciously creamy rice dessert, gently spiced with cinnamon, ginger and cloves and cooks much quicker than a baked rice pudding
Ingredients
½

cup

Long Grain Rice

You can also use Arborio or Basmati rice but not, under any circumstances, Easy-Cook. It will turn to mush.

13

oz

Coconut Milk

can

¼

cup

Non-Dairy Milk

½

teaspoon

Salt

¼

teaspoon

Ground Ginger

¼

teaspoon

Cinnamon

⅛

teaspoon

Ground Cloves

¼

cup

Sugar

(or to taste)

¼

cup

Raisins

(optional)
Instructions
Gently heat the Coconut Milk and non-dairy milk in a medium saucepan until it starts to simmer.

Stir in the rice, spices, salt, sugar and raisins (if using).

Cover and turn down to the lowest heat setting. Give it a stir every so often so make sure it doesn't stick.

Cook until the rice is tender and the sauce is thickened. If the rice seems like it is absorbing too much liquid and is getting too thick, add a little more milk.

Serve dusted with a little more cinnamon.
Nutrition
Nutrition Facts
Vegan Arroz con Leche (Mexican Sweet Rice)
Amount per Serving
% Daily Value*
* Percent Daily Values are based on a 2000 calorie diet.
Nutritional Information Disclaimer
The automated nutritional information on my recipes can often be inaccurate due to the limitations within the programming. For exact measurements, there are lots of apps and websites that can calculate this information more accurately.
Tried it and Loved it?
Mention @sweeterthanoats or tag sweeterthanoats!