Easy Vegan Mango Coconut Sticky Rice Recipe
This post contains links to affiliate websites, such as Amazon, and we receive an affiliate commission for any purchases made by you using these links. We appreciate your support!
Easy Mango Coconut Sticky Rice recipe. There are certain puddings that are like big, warm, enveloping blankets of love and comfort. They kiss you on your forehead at night with vanilla scented lips and tuck you in with creamy, gentle hands.
In particular, to me, Rice Pudding will always be that dish. My mother has made Rice Pudding for as long as I can remember and no one makes it quite as well as she does. She doesn't use Vanilla or cream or fancy sugars. Just milk, pudding rice and granulated sugar. I always stir in a rosy dollop of strawberry jam into my bowlful and pour extra milk over it, to cool it off so I can eat it quicker. And then, later on, I eat the cold leftovers straight from the dish using the serving spoon.
If I fancy something a little more spiced, I love to make my Arroz con Leche too, and this creamy Chinese rich coconut milk pudding from Nomss!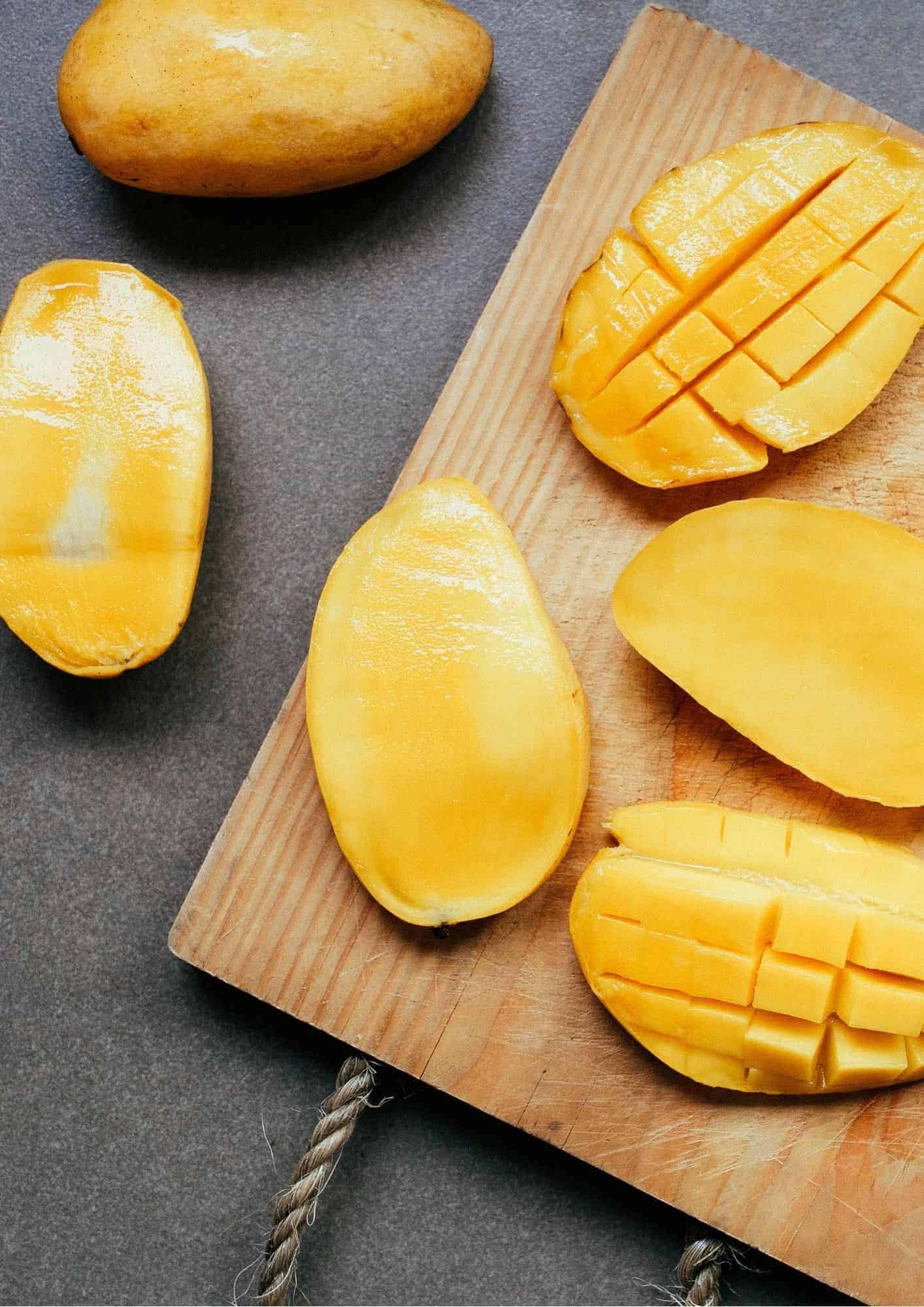 I have made several variations on the Rice Pudding theme: a traditional vegan baked rice pudding, Nigella Lawsons stovetop rice Pudding, which is like a sweet Risotto and perfect for quick-fixers, chocolate Rice Pudding which really does live up to its name, Spanish Arroz con Leche, and now this: Mango Sticky Rice or khao niaow ma muang, to use its Thai name.
I know. It seems like a startling digression from the nursery rice pudding I so love, and it is. However, I had a bag of sushi rice that had just the right amount left in it, a couple of mangos that were refusing to ripen and a powerful craving for something sweet but different.

Unfortunately, my mango was not as canary yellow as I would have hoped, due in no small part to the unripeness of it. However, it was full of flavour and very sweet.
The rice pudding I made for dessert yesterday is as simple to make as a regular rice pud: milk, rice, sugar and long, gentle cooking. The only slight difference was the type of rice and that it was cooked in coconut milk. The rice itself has very little sugar in it: you use the leftover coconut milk to make a sweet coconut sauce to drizzle over the rice, A drizzle of this coconut nectar poured over the hot rice and served with almost fluorescent (or, in my case, not) slices of the mango. Best of all? It's a naturally vegan and gluten free dessert.
Served this way, as a sweet, it is very dense and requires a necessary drizzle of cream or coconut milk (but what good Rice Pudding doesn't?) to moisten it, and the sugar and coconut to compliment the strong rice flavour without masking it under a veil of saccharine. Brown Sugar or Demerara is perfect. If you are watching your sugar intake, then use your favourite alternative.
Of course, the mango slices are completely essential. They add a fruity, fragrant flavour to the tropical coconut.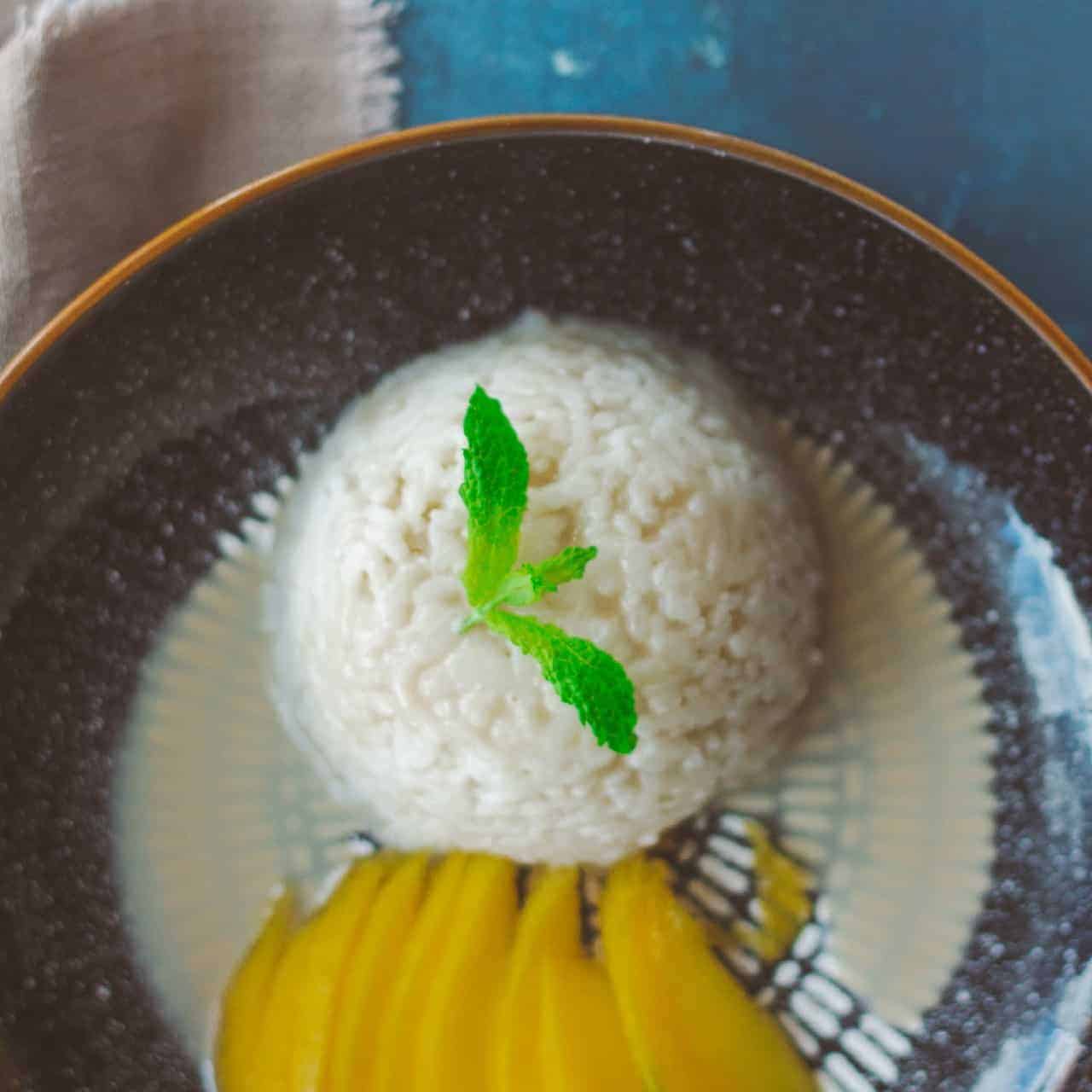 I modified a recipe from the wonderful blog, The Spruce Eats. The original recipe uses Thai Sticky Rice but I struggled to find it locally. Instead, I substituted it with sushi rice which is of a similar texture and worked really well. Of course, if you can find the traditional rice for this classic Thai dessert, please use that instead!
How do I shape the Sweet Coconut Sticky Rice?
This is really easy!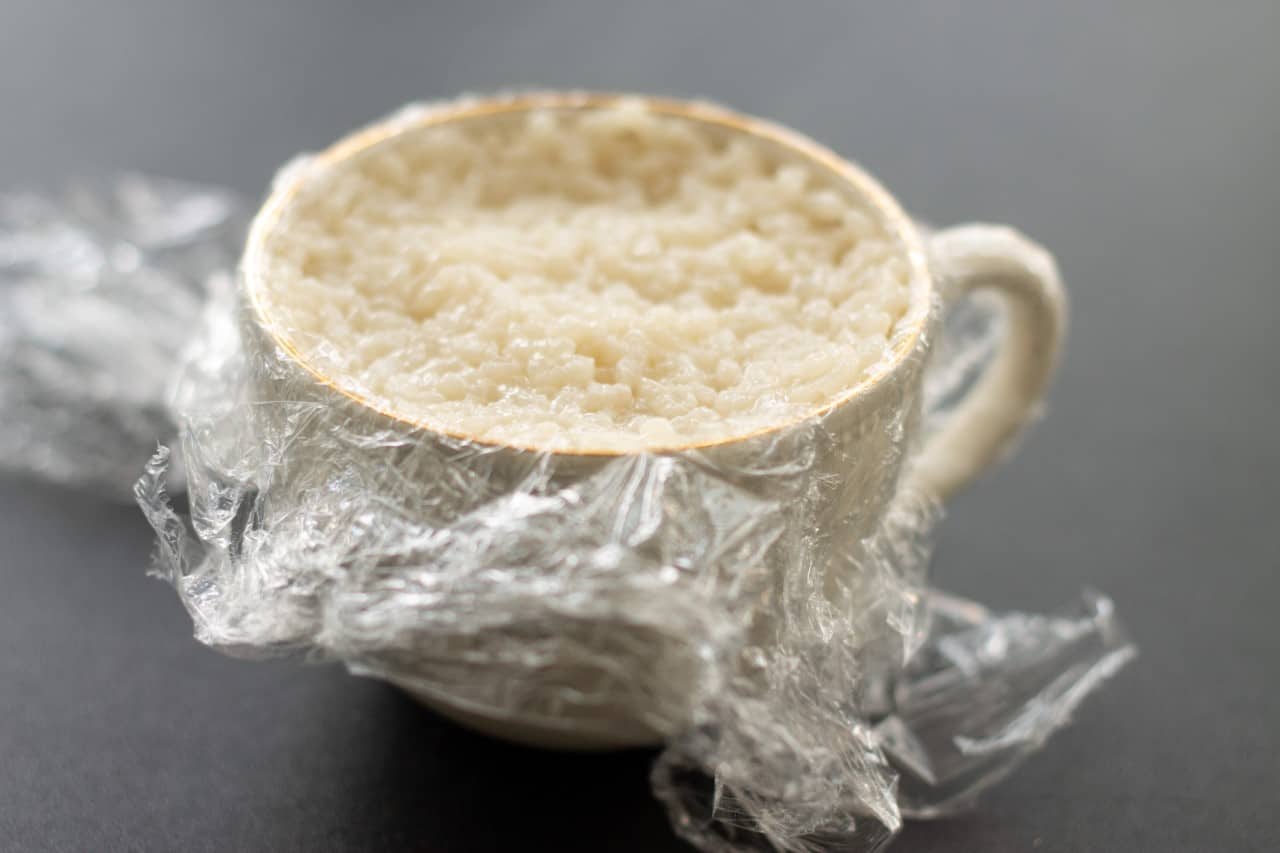 Take a teacup (or a small measuring/mixing bowl)
Line it with clingfilm, leaving a little overhang
Pack the lined teacup with your cooked rice
Draw the clingfilm overhang to cover up the rice and gently press down
Now, get your serving dishes ready.
Uncover the top of the teacup and invert onto your dish.
It should come out with a resounding plop (maybe not resounding) onto your dish
Peel off the clingfilm
Decorate with Mango, and drizzle with the Coconut Nectar!
What Kind of Rice Can I Use for your Mango Sticky Rice recipe?
Obviously Thai Sticky Rice
Sushi Rice
Risotto Rice (the shorter grains, like Arborio)
Pudding Rice
Jasmine Rice might work because it is a stickier rice.
I would not recommend Basmati Rice, Easy Cook or Brown Rice. You can of course use whatever rice you like, the flavour will be slightly different depending on what type you use, as will the texture, but I highly recommend a short grain rice. If you do find yourself in a pickle and you only have long grain rice, then so be it, but just adjust the cooking times and liquids accordingly. Basmati, for example, cooks much quicker than sushi rice, but is more absorbent, so just bear that in mind.
Ingredients:
Glutinous Rice, see above
Coconut Cream, canned (maybe called coconut milk, but ensure that it's in a can)
Brown Sugar. Of course, you could use coconut sugar too!
Fresh mango, peeled and sliced
Pinch sea salt, just to balance out the sweetness
This is ONLY a list of ingredients for the recipe; please see recipe card below for complete printable recipe.
For more of my delicious vegan sweet treats
Sticky Mango Rice (Khao niaow ma muang)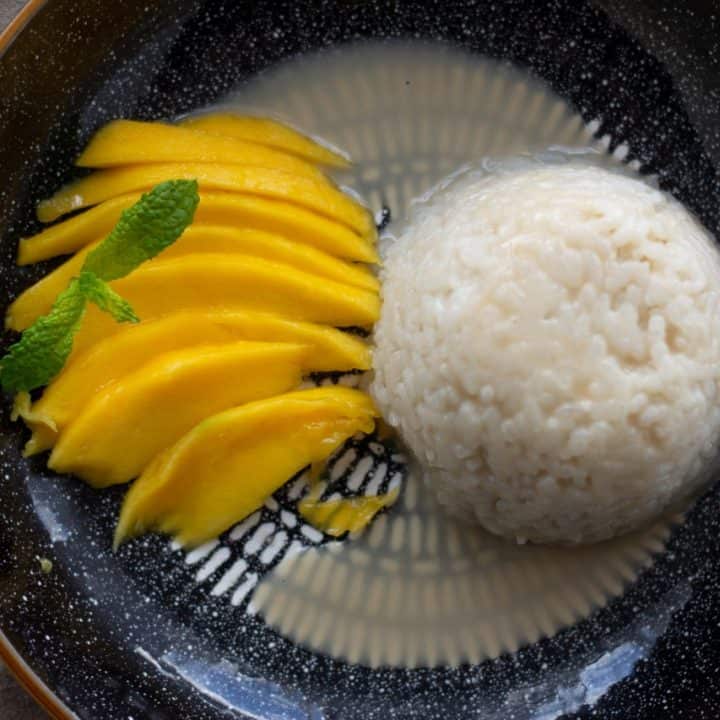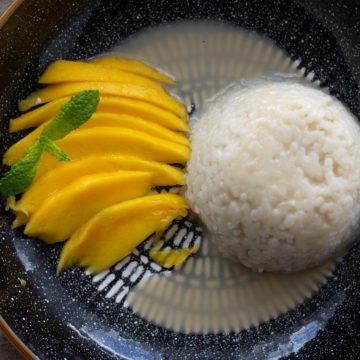 How to make the classic Thai dessert
Ingredients
1

cup

Sticky Rice

-

Thai, (or sushi rice) soaked overnight in coconut milk

1

can

Coconut Milk

-

canned

pinch

Sea Salt

4

tbsp

Brown Sugar

1

Mango

-

large, ripe, peeled and sliced
Instructions
Rinse your rice and leave it to soak overnight (or at least a couple of hours) in coconut milk (or water). You can reuse the coconut milk when you cook the rice.

The next day, drain the rice and reserve the coconut milk if used.

Place the soaked rice in a pan with 1½ cups water, 200ml of the coconut milk, 1 tbsp sugar and the salt. Stir thoroughly.

Bring to a gentle simmer, cover and turn down to a low heat.

Simmer for 20 minutes, or until the rice is tender and has absorbed the milk
To Make the Coconut Sauce
Place the rest of the coconut milk and the sugar in a small saucepan and bring to a brisk simmer. Whisk quickly until the sugar has dissolved and it starts to thicken. It won't thicken much, just like condensed milk. Leave to one side.
To Serve
This is an optional step if you'd like to serve your rice in the traditional dome shape.

Line a teacup with cling film.

Fill the teacup to the top with with the cooked sticky rice.

Fold

down the clingfilm over the top. Press down gently to compact it into the cup.

To plate, remove the clingfilm from the top of the rice pudding, invert it onto your serving plate and it should just pop out onto the plate. Remove the rest of the clingfilm.

Pour over a drizzle of the coconut sauce, and dress with mango slices.
Please note that where the recipe asks for milk, butter or yogurt, this refers to any plant-based version that you prefer.
Nutrition Facts
Sticky Mango Rice (Khao niaow ma muang)
Amount per Serving
% Daily Value*
* Percent Daily Values are based on a 2000 calorie diet.