Best vegan chocolate brownies recipe. Possibly the most perfect of all the ways to indulge in Theobroma Cacao. The chocolate hit in a well-made brownie is so strong it can feel like you've just downed three double espressos in less than 10 seconds flat. And there's the non-prep side of things. It takes no time at all to whip up a batch of brownies and even less time to devour them. The only difficult part is melting the chocolate...and how difficult is that?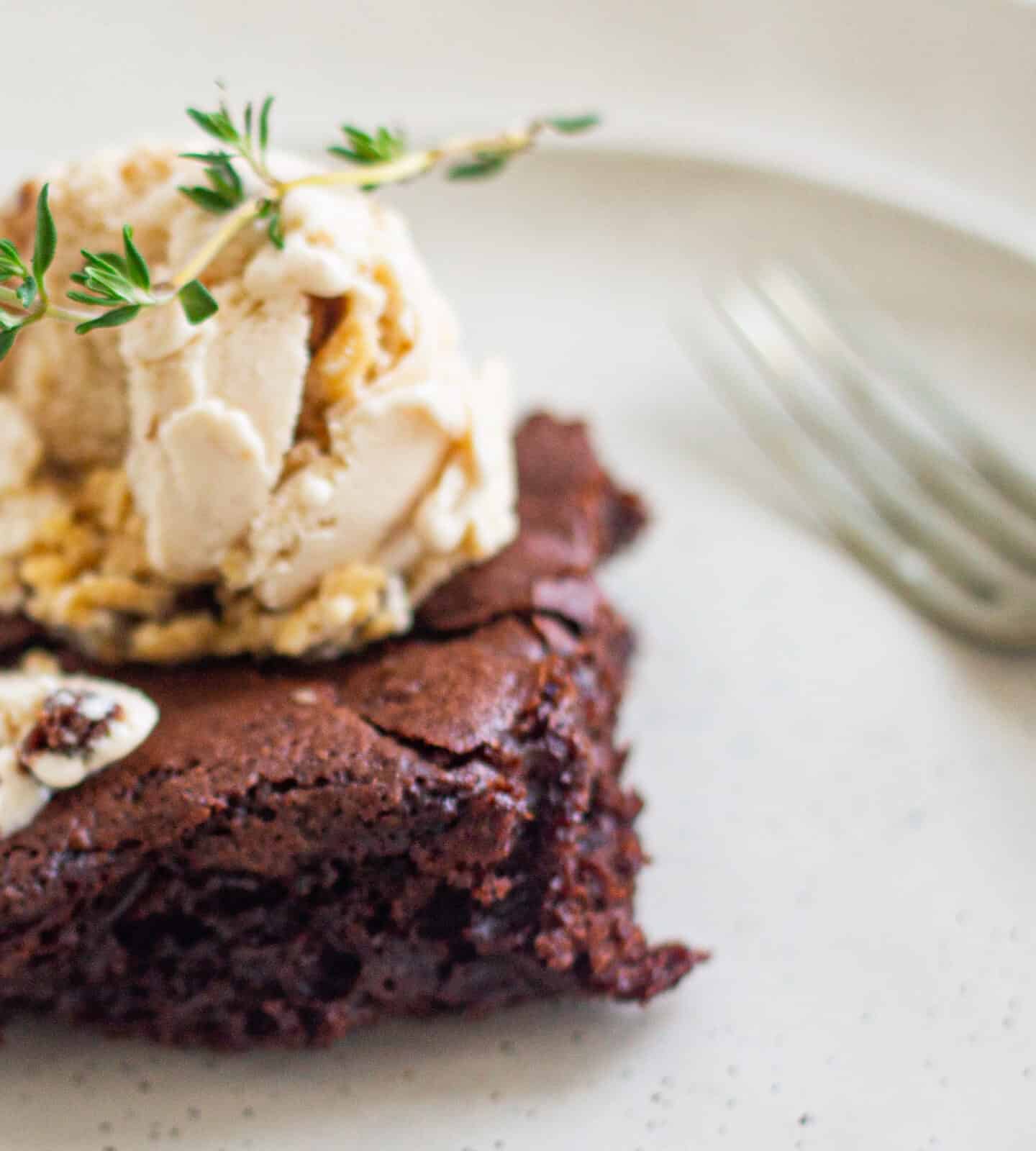 Jump to:
Of course, there is a downside to such a simply wonderful cake. Brownies don't look like much other than brown, heavy, stodgy bits of brick. But think again! There lies within a simple, evil genius. People unfamiliar with the Brownie may overlook it once, but once bitten, never again shy.
The characteristics of the brownie, whether it's chocolate or otherwise (blondies also exist and are just as yummy) is that moist, almost undercooked middle that takes very little time to get used to. This is where I always have problems. 9 of my brownies out of 10 are nearly always under or overcooked. I adore that crackly top and squidgy middle so much that I have strong reservations about leaving them in the oven for the stated cooking time in the recipe. I need to learn to just trust the process.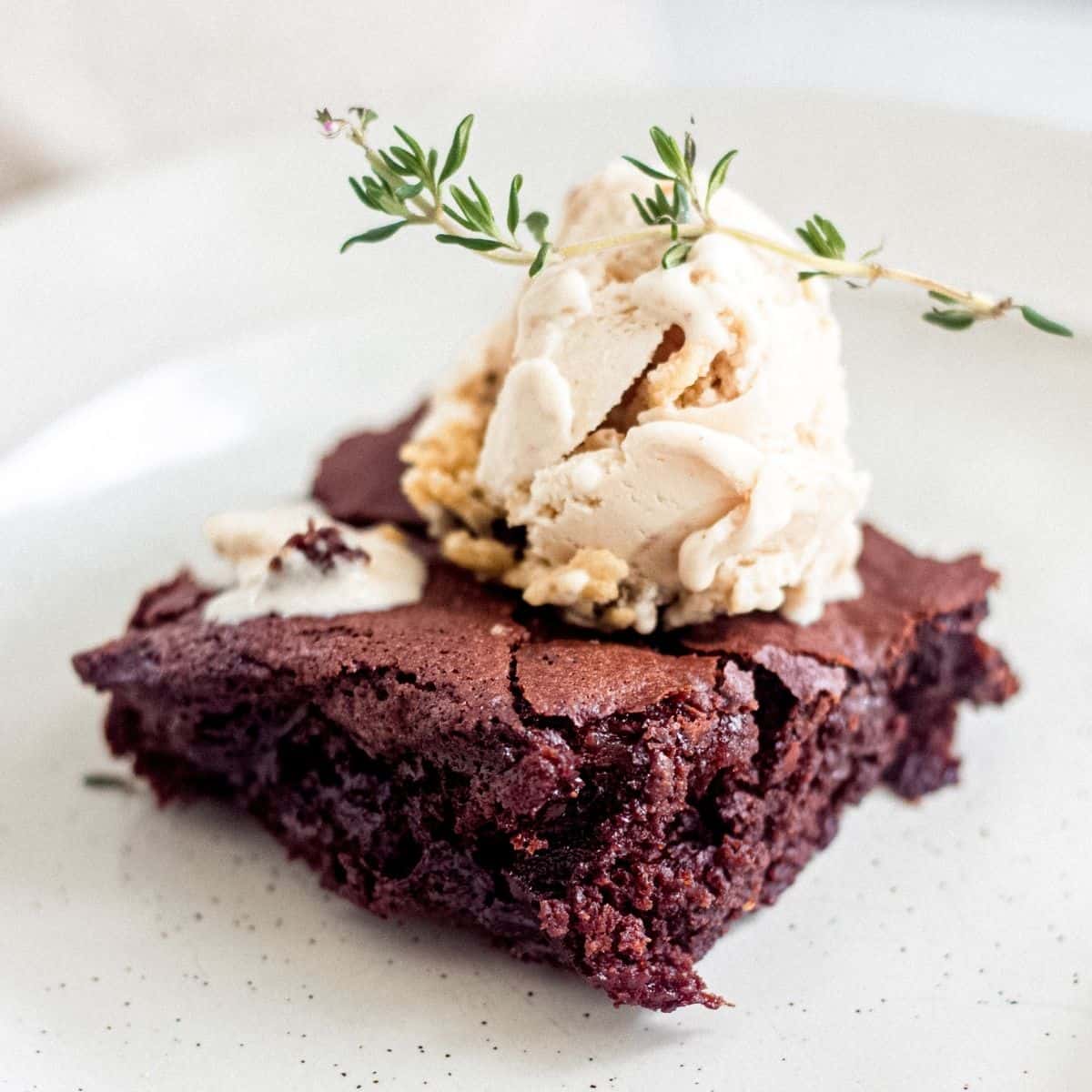 The worst thing that can happen is that you undercook your brownies and then have a sticky brownie pudding, or you overcook and you have cakey brownies. Either way, you will still have a delicious disaster that is completely edible! To me, the best part of a brownie is the crispy edges anyway! These are just the most perfect vegan brownies to satisfy any chocolate craving and if you love chocolate desserts, you will go crazy for these!
These brownies are from the Erickson family cookbook, a delicious and guilt-free way to enjoy Chocolate Brownies. And - bonus!! - they're really low in fat! My applesauce brownies are virtually oil and butter free! Of course, if you wanted to, you could stir through half a cup of walnuts, hazelnuts or pecans, or even some vegan chocolate chips.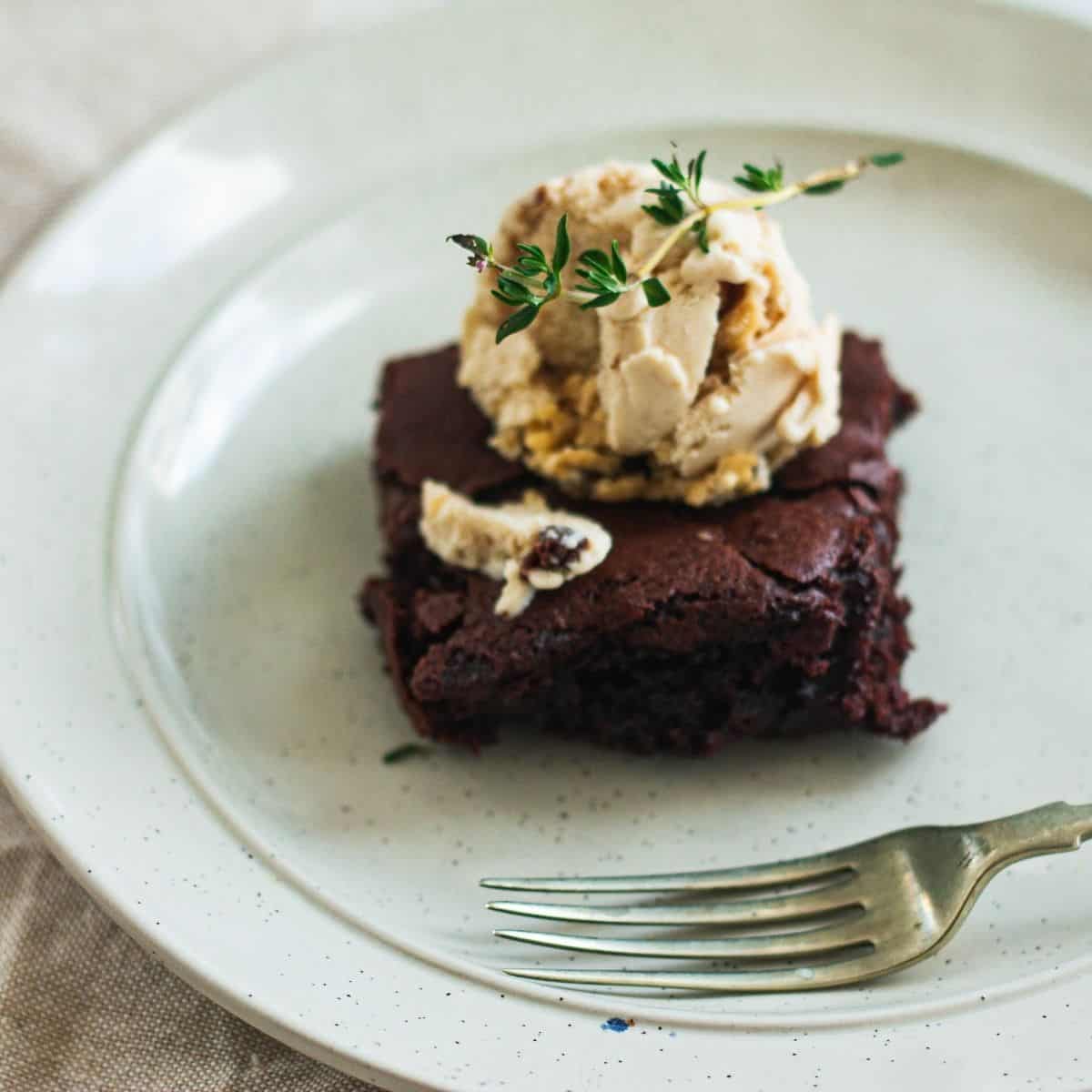 These fudgy vegan brownies are prepared in no time at all, so your chocolate cravings could feasibly be satisfied in 30 minutes or less, and the vegan butter element is replaced by unsweetened applesauce.
Ingredients:
Good quality dark melted chocolate. I use 70% dark chocolate chips.
Apple sauce. This replaces the oil/fat element of the brownies. Preferably unsweetened.
Natural cocoa powder (Dutch cocoa powder), I use good quality dark cocoa powder. This guarantees an intense chocolate flavor.
Vegan Egg Replacer. You could also use flax eggs if you prefer.
Sea salt
Self Raising Flour. You can also use all purpose flour, regular flour (plain), or gluten-free flour to make gluten free brownies! I think oat flour might also work well, and whole wheat flour too.
White Sugar
Optional: chocolate chunks, pecans, or walnuts
Vanilla Extract
Method
Line an 8" brownie tin or baking dish with parchment paper.
Whisk the egg replacer up with water.
Add the applesauce and sugar to a large mixing bowl.
In a small bowl, melt the chocolate and tablespoon of vegan butter in a microwave, or in a small saucepan over low heat.
Add this chocolate mixture to the applesauce and sauce, along with the egg replacer, and whisk well.
Now sift the dry ingredients into the wet ingredients and mix well until no pockets of flour are visible.
Pour into your lined square baking tin and bake for no more than 25 minutes! You are looking for a shiny top but dry, with no wet batter.
Remove from the oven and place on a wire rack to cool.
You can cut these brownies quite quickly, but they will be really gooey!
Once cold, store in an airtight container for several days, but I don't think they'll last that long!
Try my other delicious vegan chocolate treats
📋 Recipe
PRINT
The Best Vegan Brownies Ever
An easy and quick recipe for brownies, ready in less than 30 minutes
Ingredients
½

cup

Dark Chocolate

70%, vegan

1

tablespoon

Butter

vegan

6

tablespoon

Apple sauce

2

teaspoon

Vanilla Extract

1

cup

Sugar

1½

teaspoon

Egg Replacer whisked up with 2 tablespoon Water

½

cup

Self-raising flour

2

tablespoon

Cocoa Powder

¼

teaspoon

Salt

½

teaspoon

Baking Powder
Instructions
Preheat oven to 180c.

In a small pan gently melt together the butter and dark chocolate. Do not boil.

Whisk in the applesauce, vanilla, sugar and whisked-up egg replacer.

Sieve the flour, cocoa, salt and baking powder into a medium bowl.

Stir in the melted chocolate mixture until just combined.

Pour into an 8" x 8" baking dish and bake for no more than 20 minutes.

Leave to cool before cutting into squares or just drive straight in if you really can't wait!

These will get fudgier on cooling.
Nutrition
Calories:
189
kcal
|
Carbohydrates:
34
g
|
Protein:
2
g
|
Fat:
6
g
|
Saturated Fat:
3
g
|
Polyunsaturated Fat:
1
g
|
Monounsaturated Fat:
2
g
|
Trans Fat:
1
g
|
Cholesterol:
4
mg
|
Sodium:
101
mg
|
Potassium:
103
mg
|
Fiber:
2
g
|
Sugar:
26
g
|
Vitamin A:
46
IU
|
Vitamin C:
1
mg
|
Calcium:
24
mg
|
Iron:
1
mg
Tried it and Loved it?
Mention @sweeterthanoats or tag sweeterthanoats!