Yummy and Easy Vegan Flapjacks – oaty bars
Flapjacks are a real taste of childhood. I remember standing next to my mum at the cooker, stirring, stirring oats in warm, melted sugary butter, until they glistened. Then we would press the sticky mixture out into a baking pan, baking them until the kitchen was filled with the smell of butter and hot oats.
Sometimes we would pour melted chocolate over the top, once they had cooled. Other times we had them just plain, still warm from the pan so they crumbled into your lap as you tucked into them.
It seems to me that you reach a certain age when you 'grow out' of the treats that you begged your mum to make when you were just that bit younger.
If you love oats, try my Anzac cookies recipe. A healther recipe using oats are my delicious oaty protein balls.
Since reaching middle-age though, I have become fascinated with those 'old-fashioned' foods, the foods that my grandmother made and her mother before her. All of a sudden, these foods that we eschewed for more 'sophisticated' cuisines are piquing our taste buds again.
What are Flapjacks?
Flapjacks are subject to much universal confusion. In the UK, Flapjacks are an oaty/sugary/buttery baked bar, beloved by schoolchildren from a certain generation everywhere (American readers may know Flapjacks, however, as a sort of pancake). They are also known as Granola bars, although these have dried fruits, nuts and seeds in them too.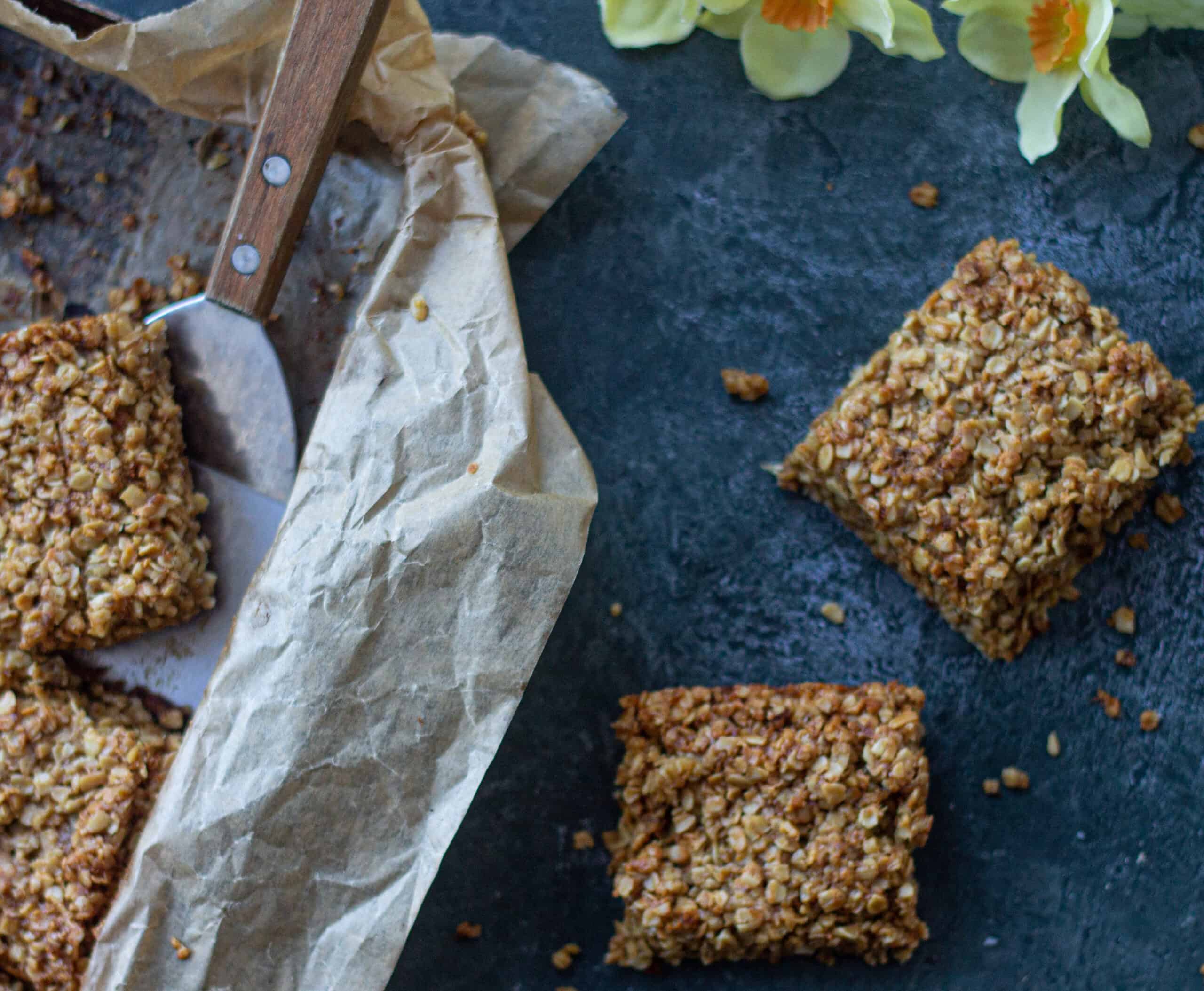 They (that is, the British version) are incredibly simple to make (melt butter with some sugar and syrup, stir in oats, press into tin and bake) and have a slightly higher nutritional value on the sliding scale of sugary treats (which ranges from saccharin hell up to sweet, sweet heaven (this higher echelon is currently inhabited by candied yams). However, flapjacks do contain oatmeal which, even combined liberally with butter and sugary stuff, is incredibly good for you, having cholesterol busting properties and offering slow-releasing carbohydrates and sugars (hey, nothing wrong with looking for the good in everything!)
Freya's Cautionary Tale. Running short on golden syrup (the traditional ingredient in Flapjacks), I scoured my shelves and saw that I had some malt syrup so decided to give this a go. I love the flavour of malt, so what could go wrong? Well, turns out, as delicious as it is, malt extract is stickier than tar and a week later I am still soaking my pan trying to remove the welded on oats!! Lesson learned: not all syrups are made equally.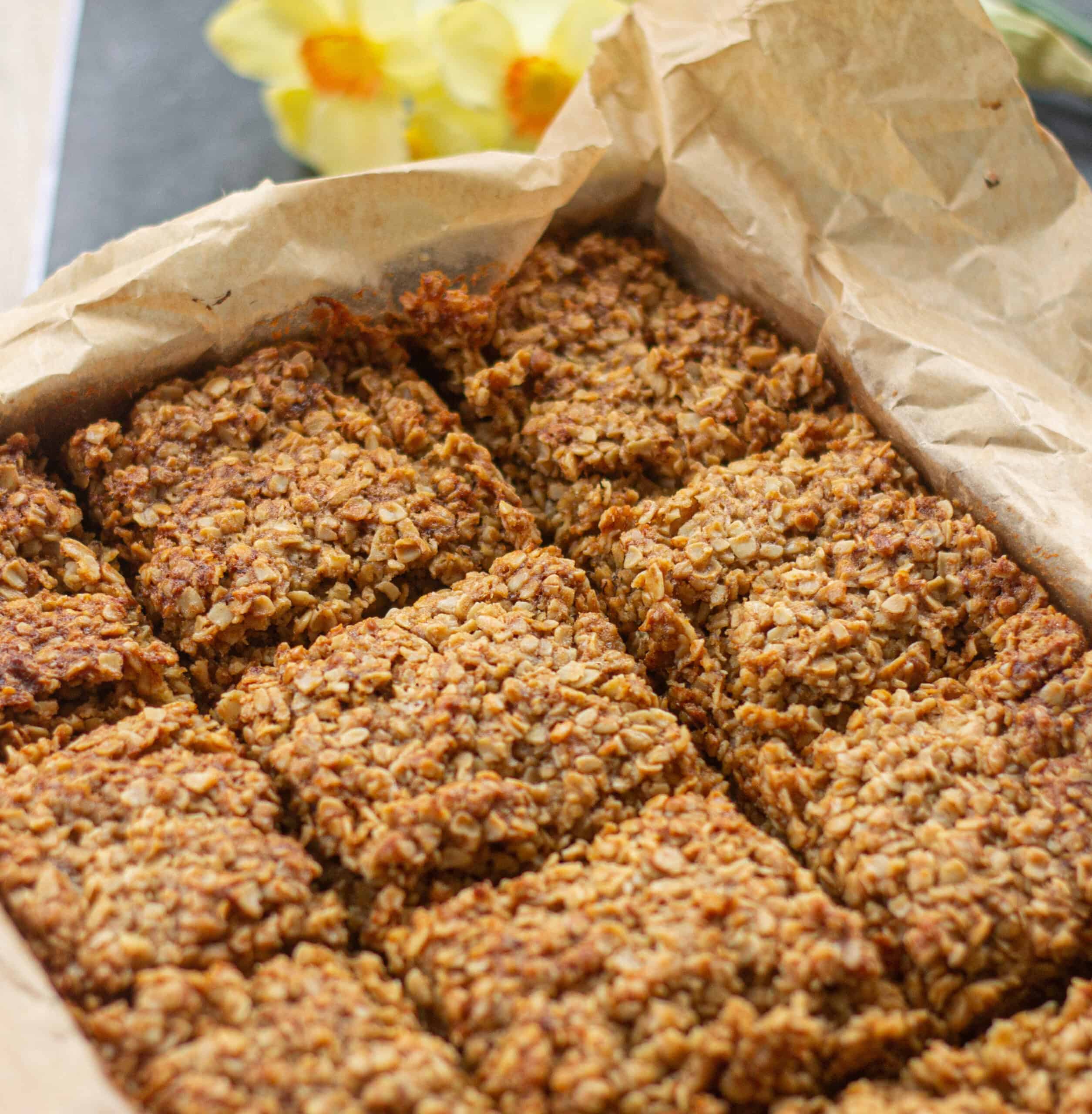 My oaty vegan flapjacks are a quick and easy recipe to throw together, the prep literally takes less than 10 minutes (maybe even 5), so they are a perfect mid-week treat to make.
Ingredients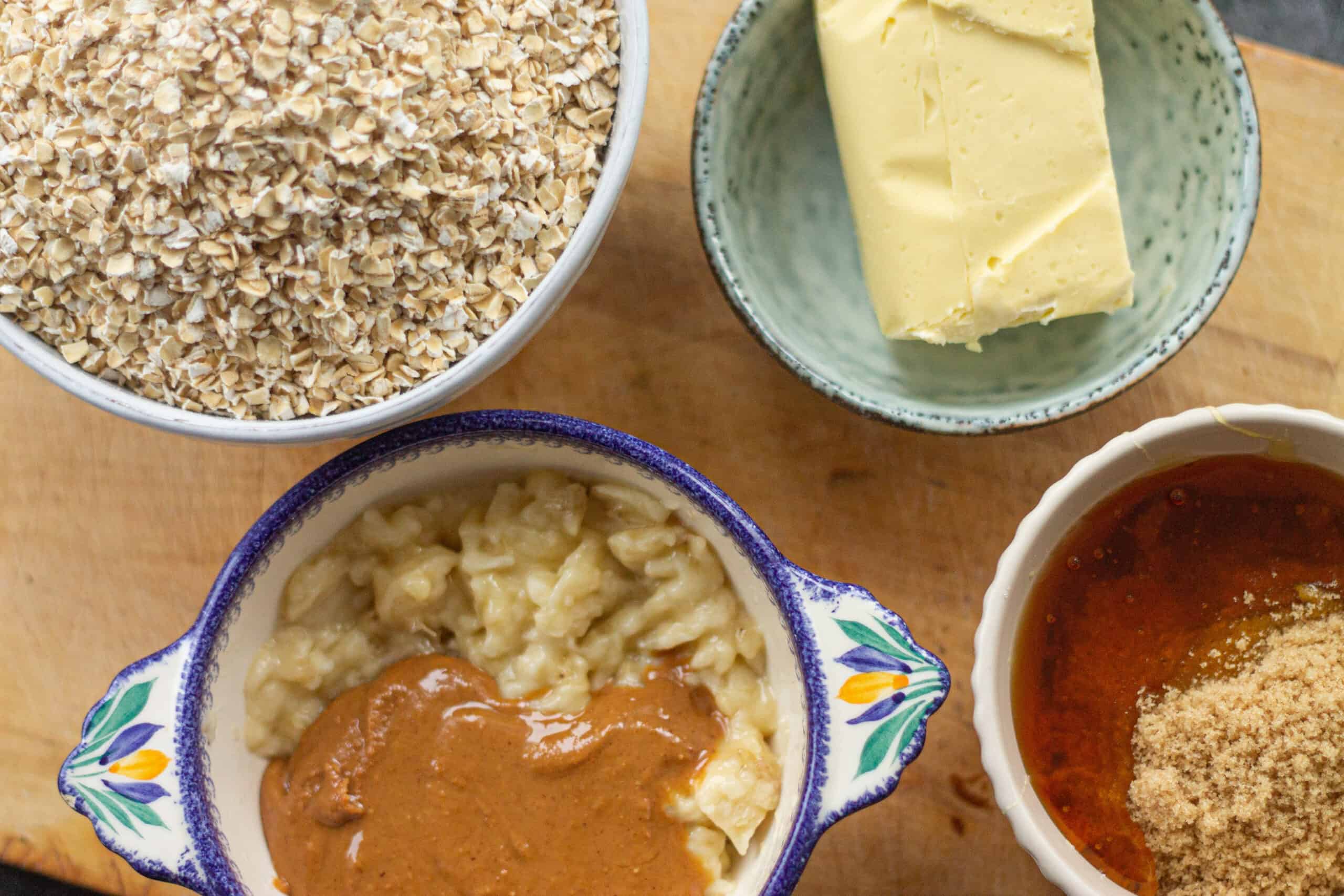 Oats. Use ready cook or rolled. Do not use pinhead.
Butter. Use your favourite vegan brand.
Syrup. I used golden syrup but you could agave syrup, maple syrup or even corn syrup.
Peanut Butter. You can replace this with another banana if you prefer.
Banana. Ripe and mashed.
This is ONLY a list of ingredients for the recipe; please see recipe card below for complete printable recipe.
Instructions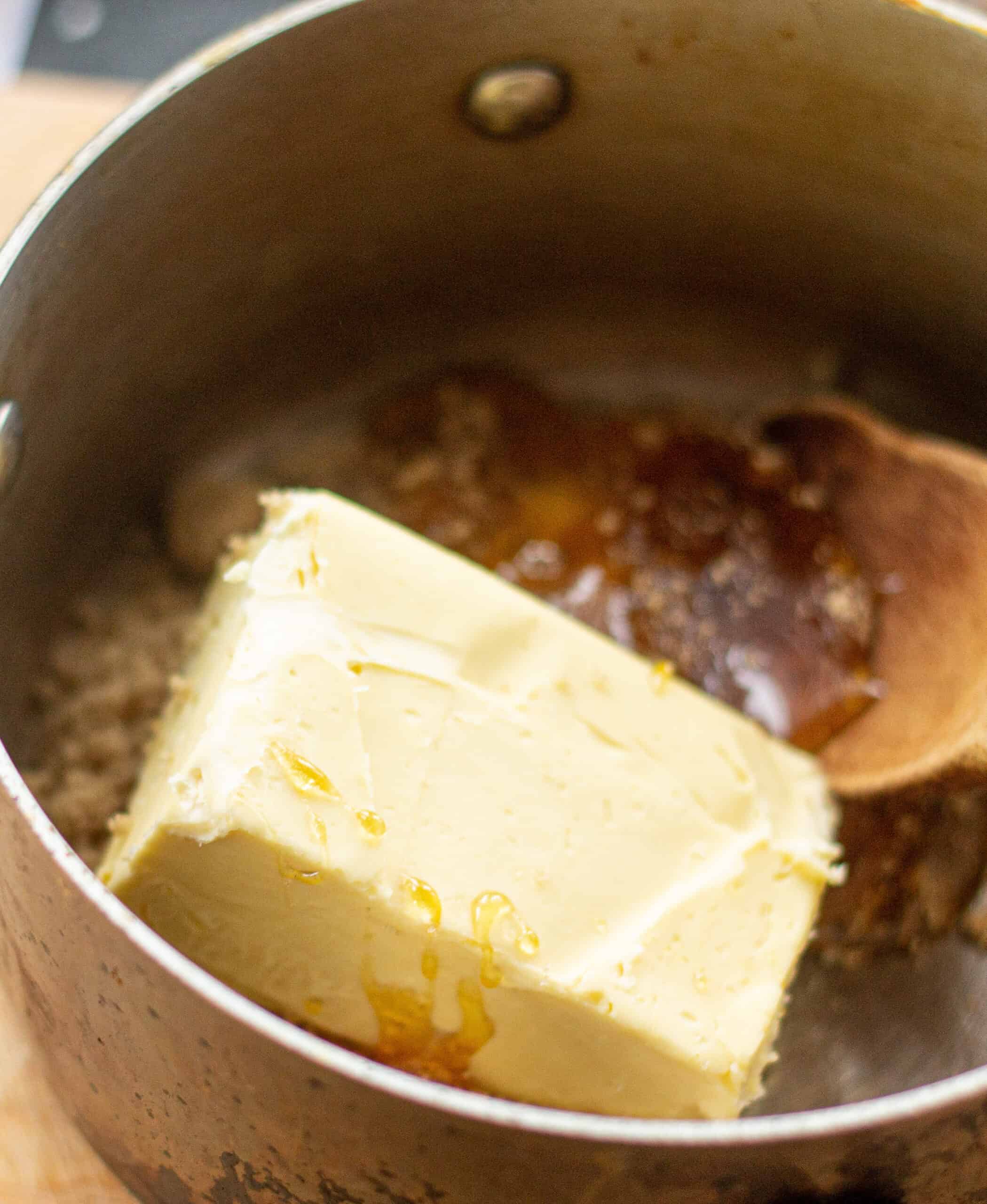 Preheat oven to 180c. In a large saucepan, gently melt the butter, sugar and syrup.
Once melted, remove from heat and whisk in the peanut butter and mashed banana.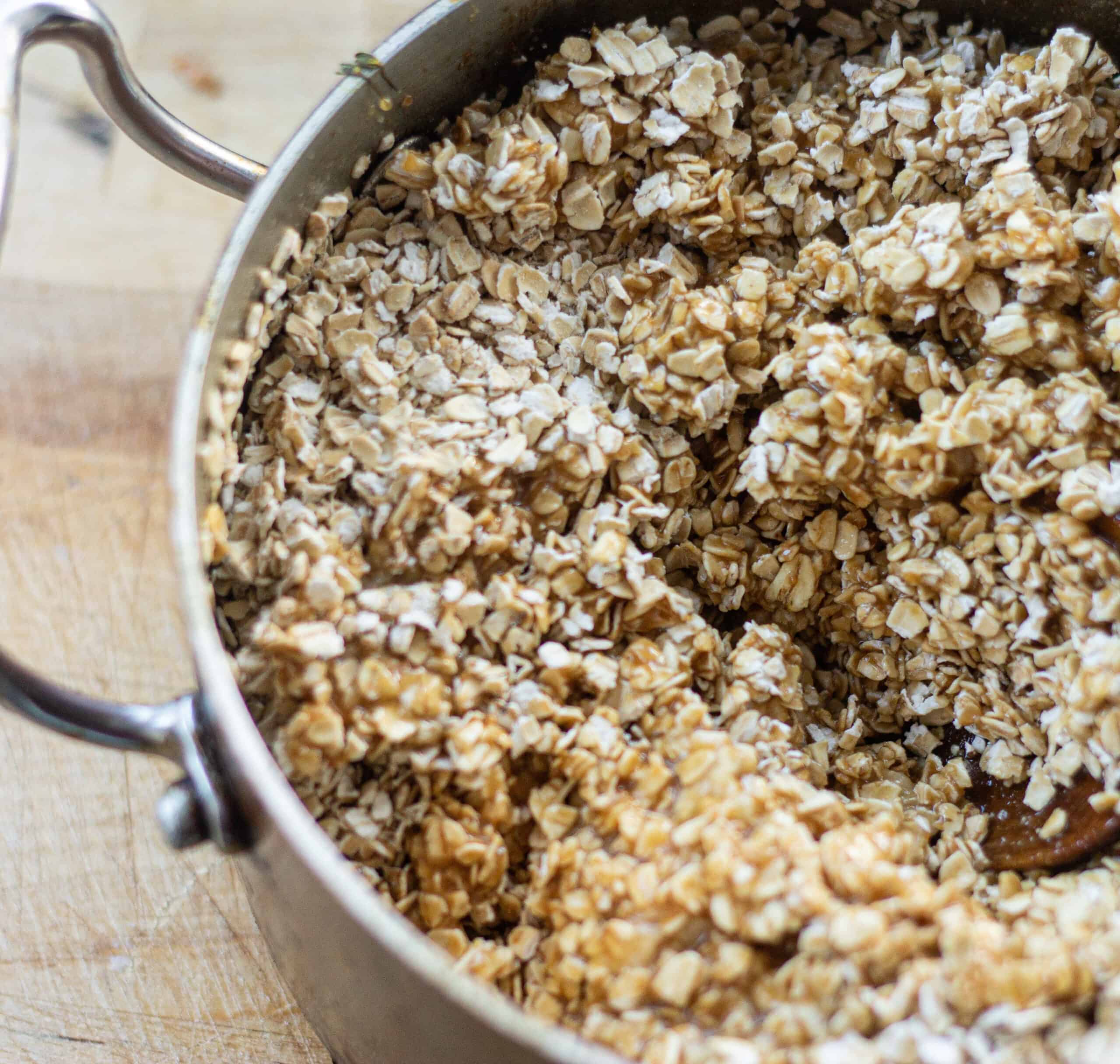 Now stir in the oats.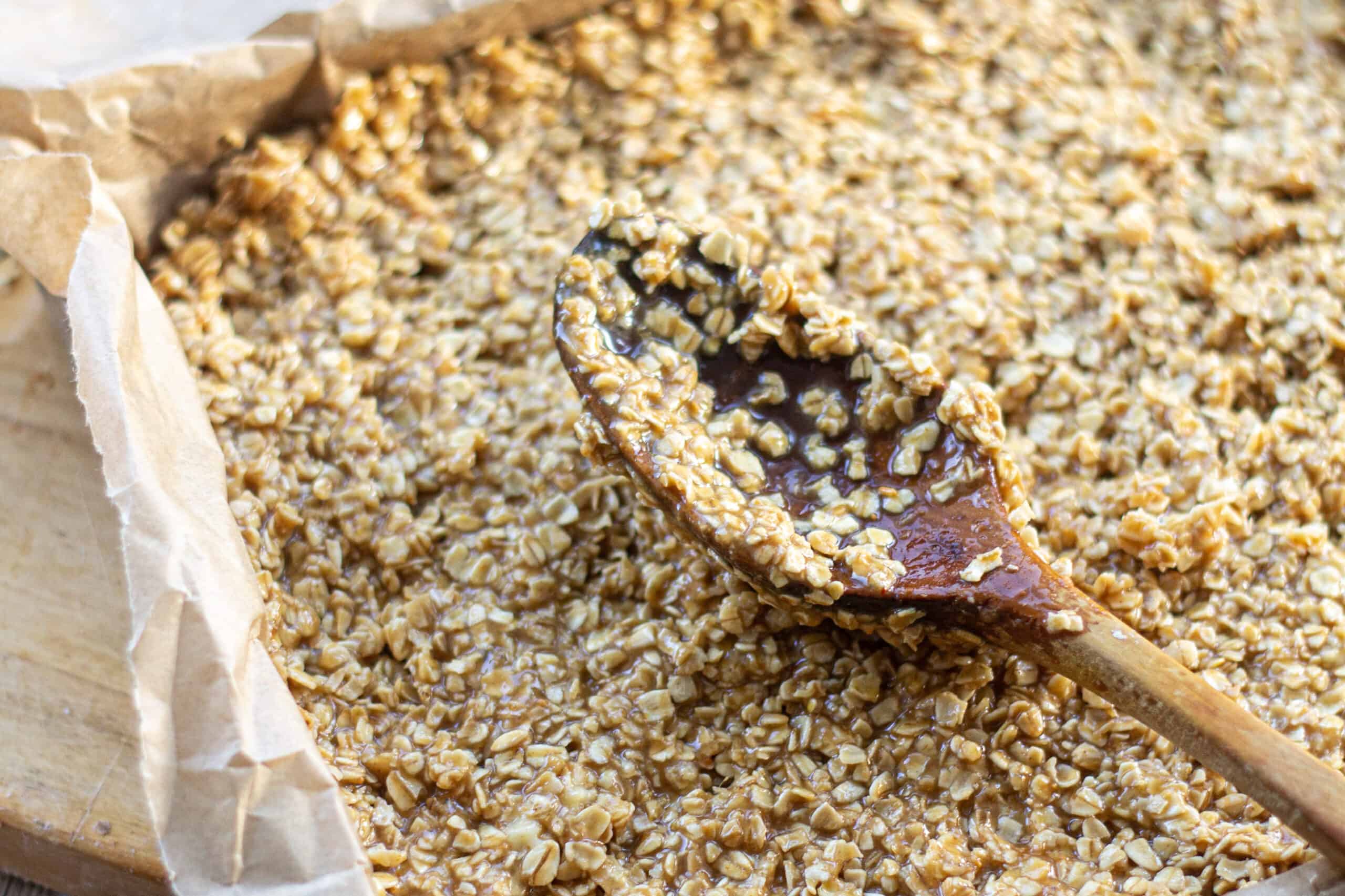 Press into a lined baking tin and bake for 20 minutes. Once removed from the oven, leave to cool for just a couple of minutes before placing a layer of foil on top and another smaller baking dish with a couple of cans in it. This will press down the flapjacks.
Hint: flapjacks never looked fully cooked when they are first taken out the oven, so leave them to cool on a baking rack for a couple of minutes, then press them down for 10 minutes to ensure a nice dense flapjack (see method). Remove weights then mark out into squares, before to leaving to cool completely.
TOP TIP: Do not be tempted to remove the flapjacks from the tin until completely cold (I like to chill mine first) because they can crumble if you don't press them first.
Substitutions
Oats – you could use buckwheat flakes instead of oats
Peanut Butter – use a quarter cup of apple sauce or another mashed banana instead
Butter – use coconut oil instead
Variations
Dried Fruit and Nuts – to make a granola bar, add a quarter cup each of dried raisins or cranberries and chopped nuts of your choice.
Deluxe – melt some chocolate and pour over the top before you cut into squares.
Kid friendly – add a quarter cup of small vegan chocolate chips or drizzle with some melted chocolate
Storage
Store baked and cooled flapjacks in an airtight tin for at least a week.
You can freeze baked and chilled flapjacks if they are nice and firm. Wrap them up in clingfilm, then place in a ziplock bag. Remove and thaw at room temperature when needed.
Easy Vegan Flapjacks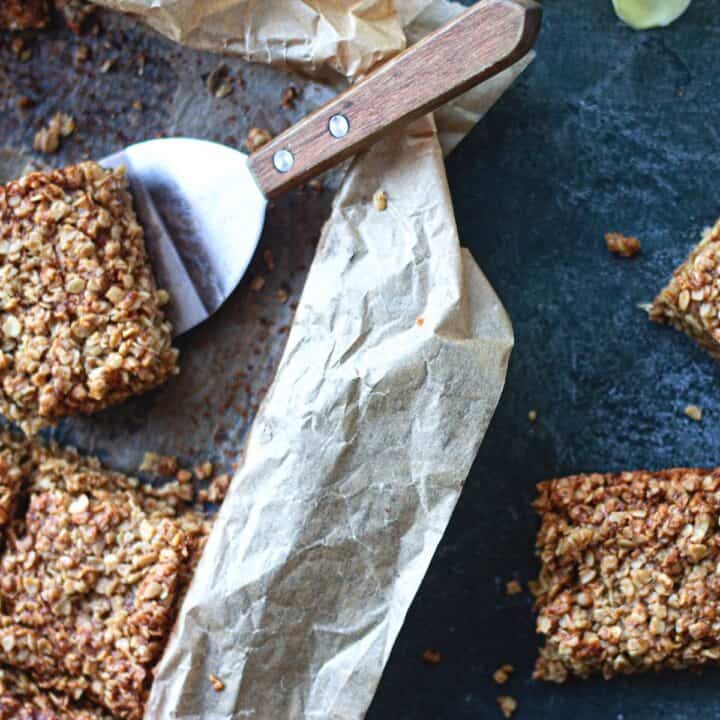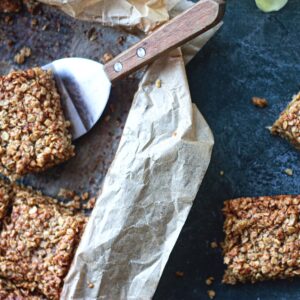 How to make the childhood treat, quick and so simple!
Equipment
1 8" brownie tin, lightly oiled
Ingredients
130

g

Butter

vegan

85

g

Brown Sugar

2

Tablespoons

Golden Syrup

350

g

Porridge Oats

1

tsp

Bicarbonate of Soda

1

Banana

ripe, peeled and mashed

¼

cup

Peanut Butter

smooth or nutty
Instructions
Gently melt the butter, sugar and syrup in a large saucepan.

Remove from heat and stir in the peanut butter and mashed banana.

Stir in the porridge oats along with baking soda until completely combined.

Turn out the mixture into the greased sheet. Press down firmly.

Bake for about 20 minutes or until the Flapjacks are starting to brown around the edges and the middle feels firm to the touch. They will firm up as they cool, so leave in the baking sheet before cutting and removing.

Cover with foil after they have cooled for a couple of minutes, then add a smaller baking dish on top with a couple of tins. This will press down the flapjacks, ensuring they are not crumbly.

Cut into 2-3" squares.
Nutrition Facts
Easy Vegan Flapjacks
Amount per Serving
% Daily Value*
* Percent Daily Values are based on a 2000 calorie diet.