Vegan Coffee Shortbread Cookies (Costa Coffee copycat)
Vegan Coffee Shortbread Cookies. Costa Coffee have recently introduced a new cookie to their impulse range, the Coffee Shortbread. I did try it (for market research only) and it was delicious. But I knew I could make it just as delicious and vegan. And for a fraction of the cost!
PIN my Vegan Coffee Shortbread Cookies to make later
Because shortbread is such a sturdy little biscuit, these are perfect to give away as gifts to the coffee lover in your life. And you can always use decaf coffee too!
This was inspired by my original shortbread fingers on this site (and this post has lots of tips on how to make the perfect shortbread every time), and I also highly recommend that you try my vegan millionaire's shortbread, sourdough shortbread cookies, my fruited Easter cookies and vegan Chai Shortbread!
Shortbread is possibly the easiest biscuit to make, regardless of whether you have to make dairy-free or not. You simply pop all the ingredients into a large mixing bowl and beat them all together. This is a dough that is designed to be quite hard, quite sturdy. You are not particularly looking for a soft, flaky texture.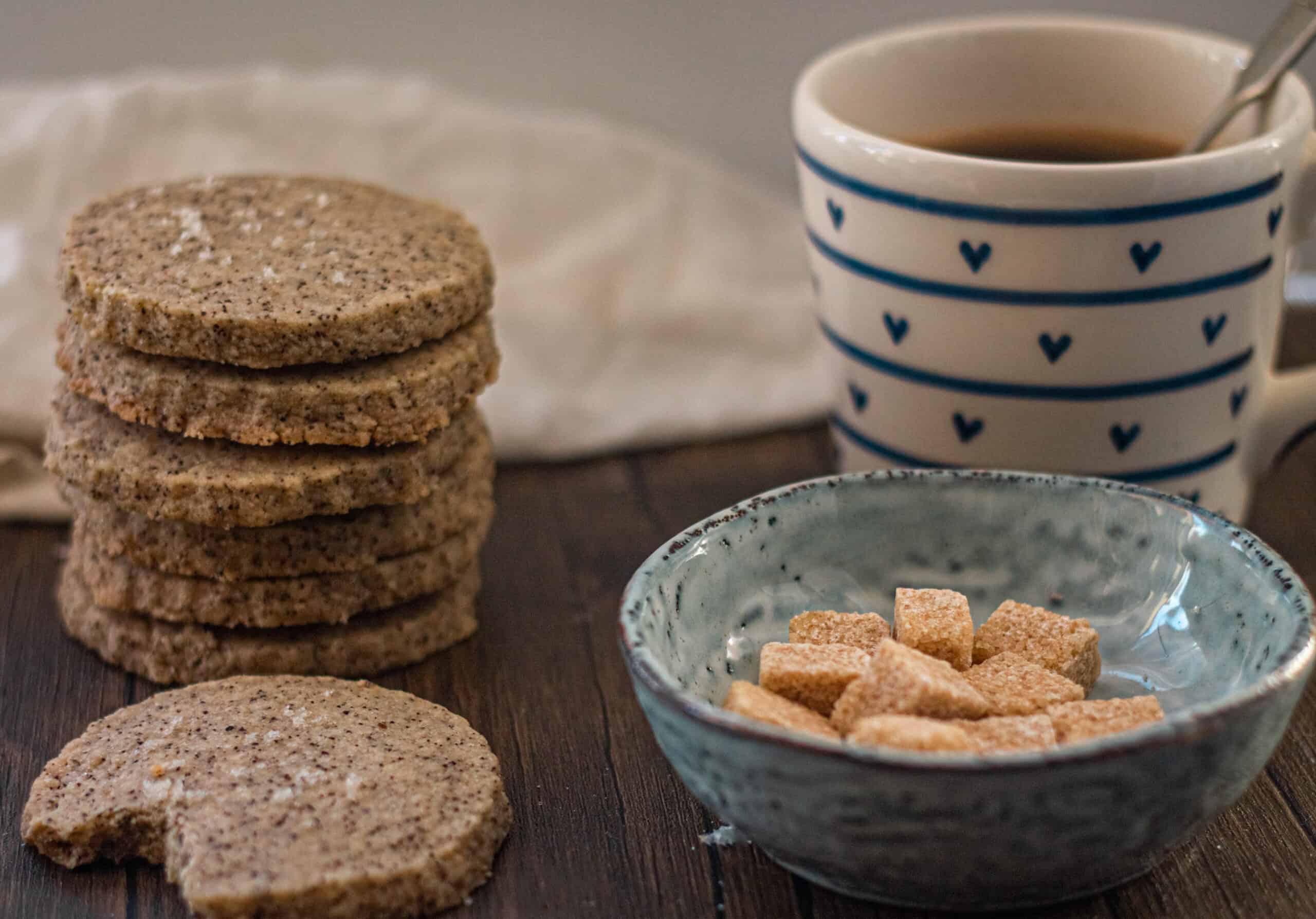 For that reason alone, I love shortbread. It's good nature makes it so adaptable for different flavours, and it's sweet, gentle flavour complements so many bolder flavours and textures.
Coffee shortbread is not something I had considered until I had that first taste in Costa Coffee. And I was hooked. But I knew I could veganise this recipe, saving myself £4 per box and creating something much nicer and much kinder.
Note: I use ground coffee, the kind you would use in a cafetiere, instead of instant. The reason is that I think ground coffee gives a stronger depth of flavour but it doesn't overpower the shortbread like instant would (it would dissolve in the cooking process).
My vegan coffee shortbread cookies have a nice longevity which means you can give them as a gift to the coffee lover in your life, or, if you're like me, enjoy one for breakfast, with a black coffee. You can never have too much coffee!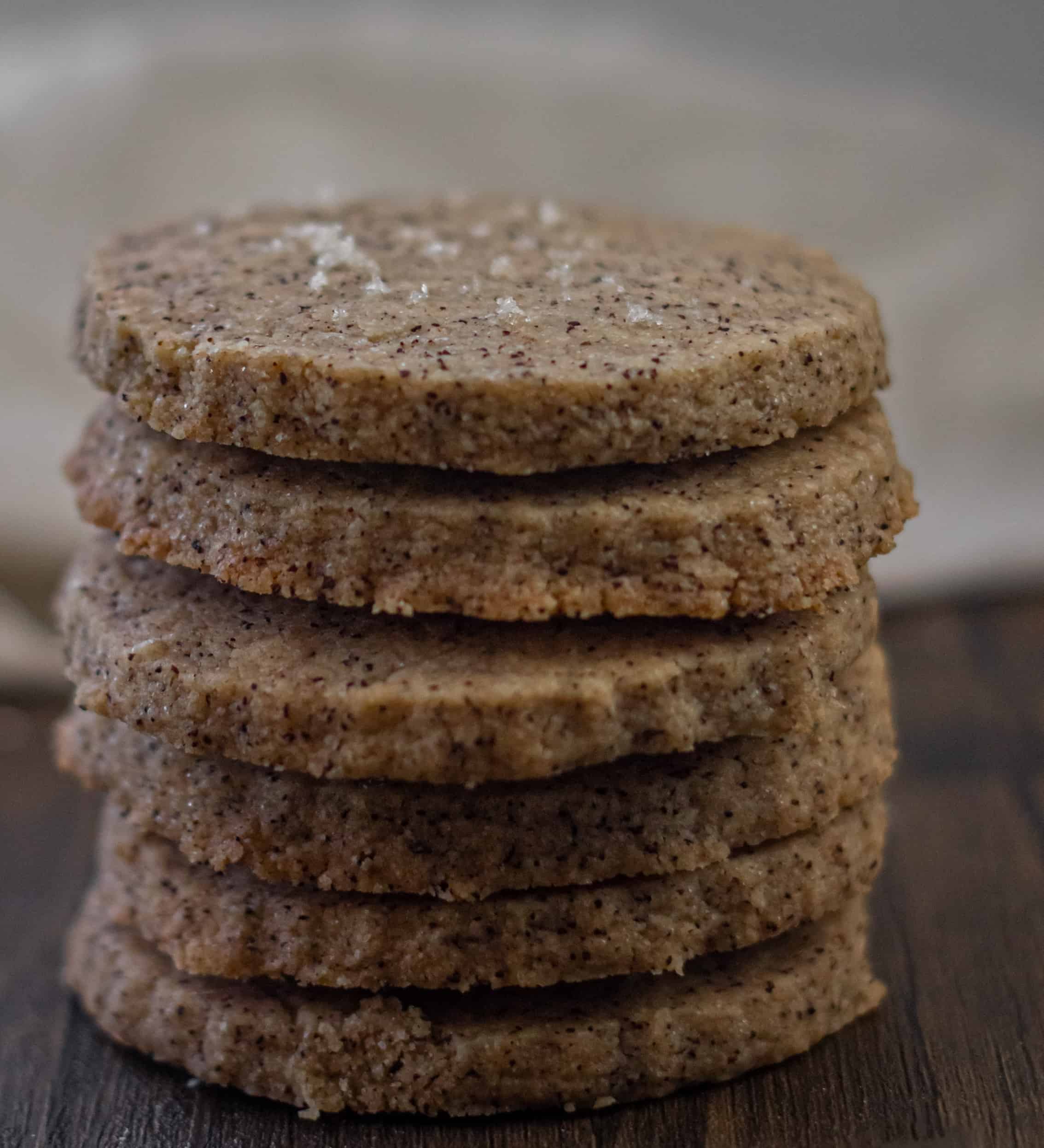 Finally, if you're a decaf drinker, no problem! Simply use your favourite brand of ground decaf coffee instead. All the flavour without the palpitations.
Ingredients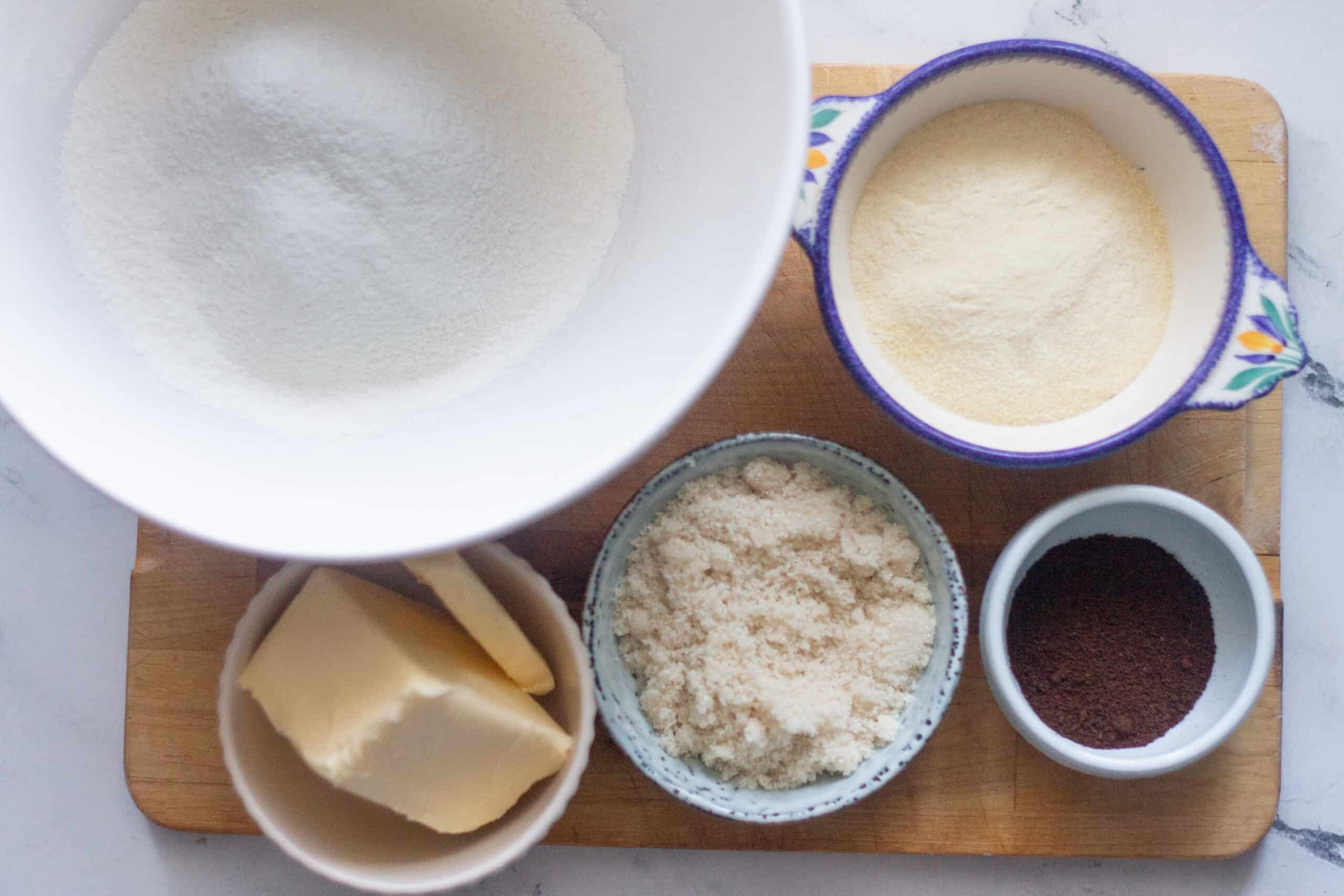 plain flour and semolina
great quality vegan butter
ground coffee
sugar
vanilla for a subtle balancing of flavours
HINT: If your butter is very soft, I suggest chilling the dough before rolling out. Using very soft butter in shortbread can cause the cookies to spread a little during baking.
(This is ONLY a list of ingredients for the recipe; please see recipe card below for complete printable recipe. Or if you use the JUMP TO RECIPE at the top of the page, it will take you directly to the complete recipe.)
Instructions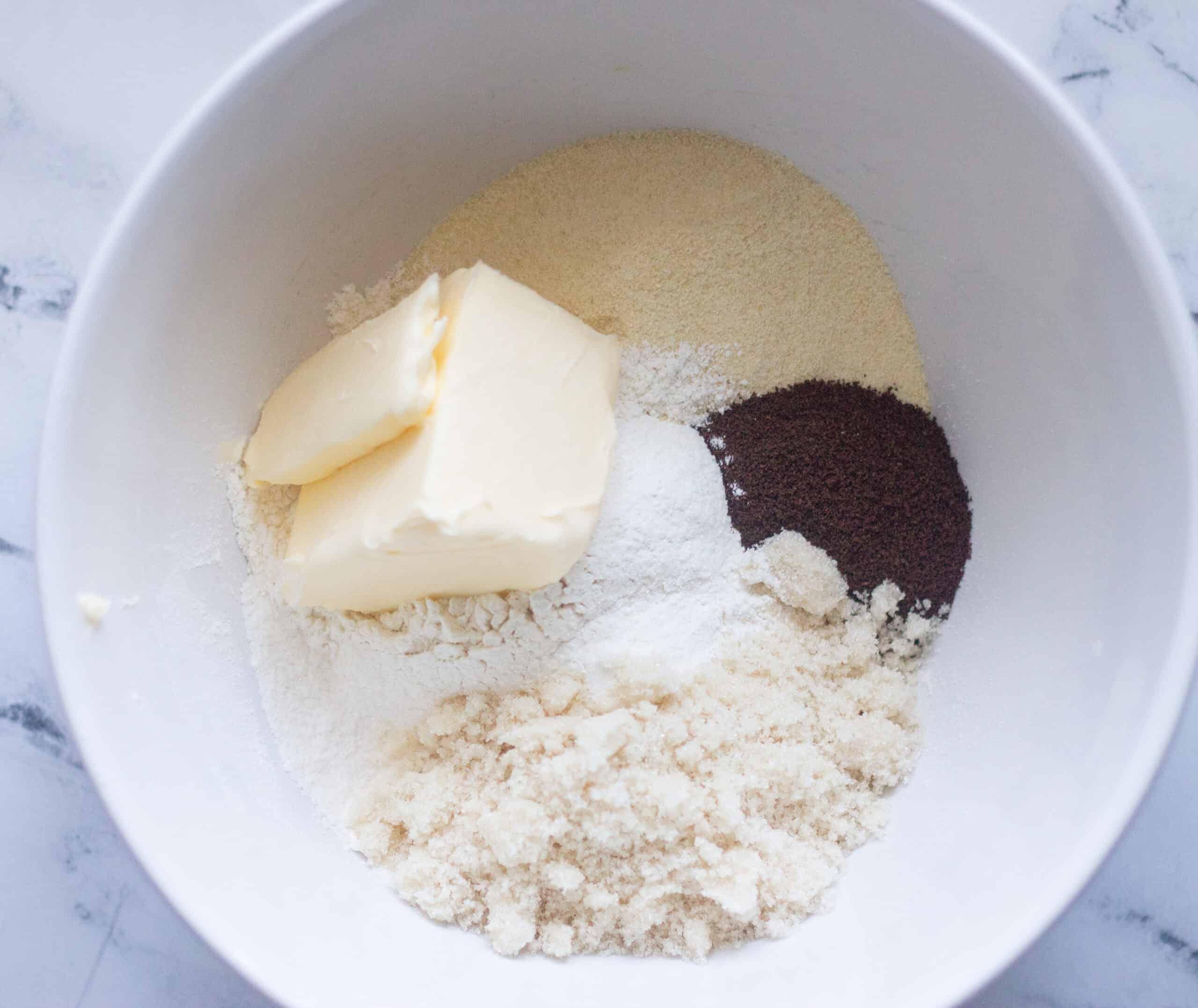 Place all the ingredients in a large mixing bowl.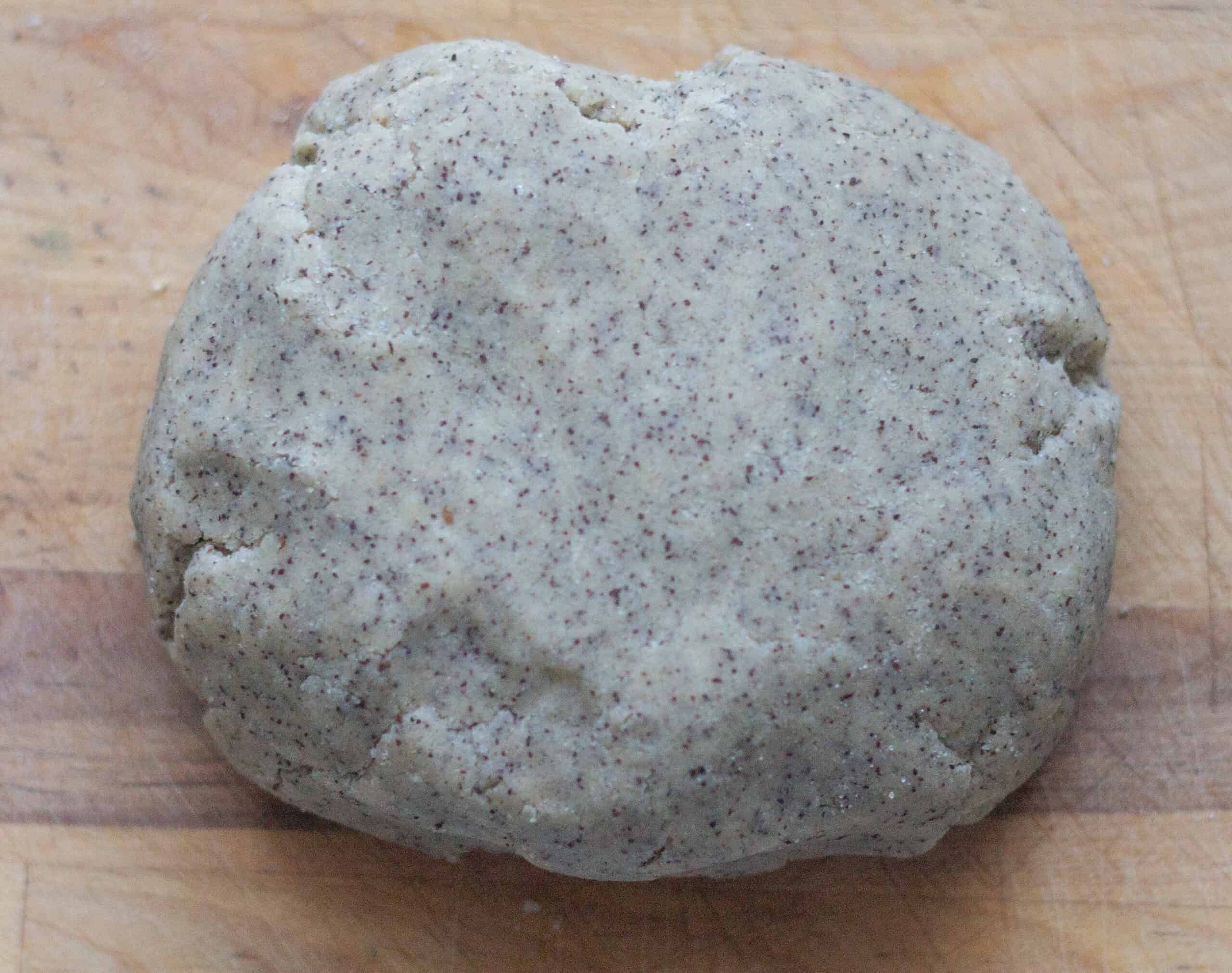 Mix well until you have a cohesive ball of dough.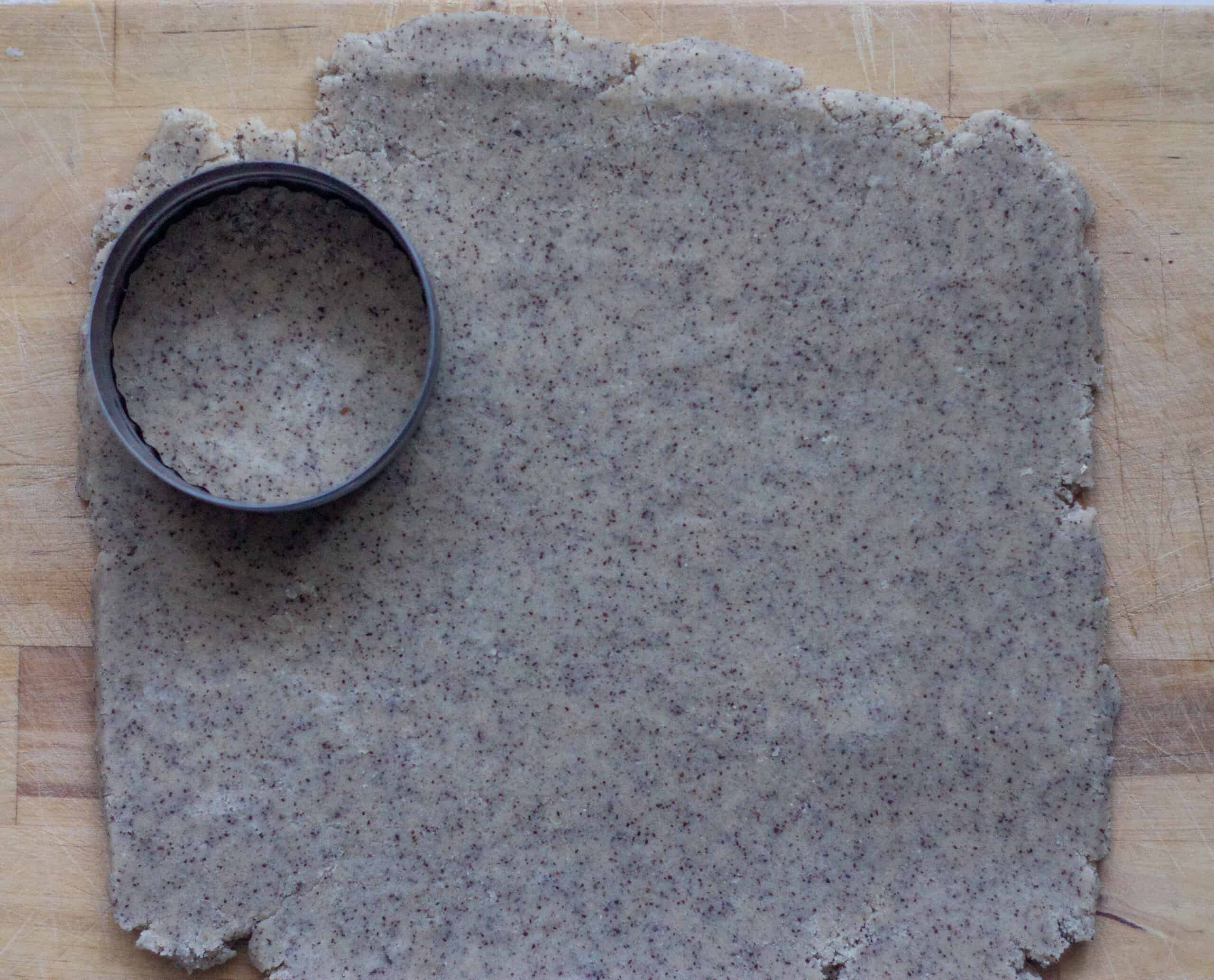 Roll out to 1/2″ thick and cut into 3″ rounds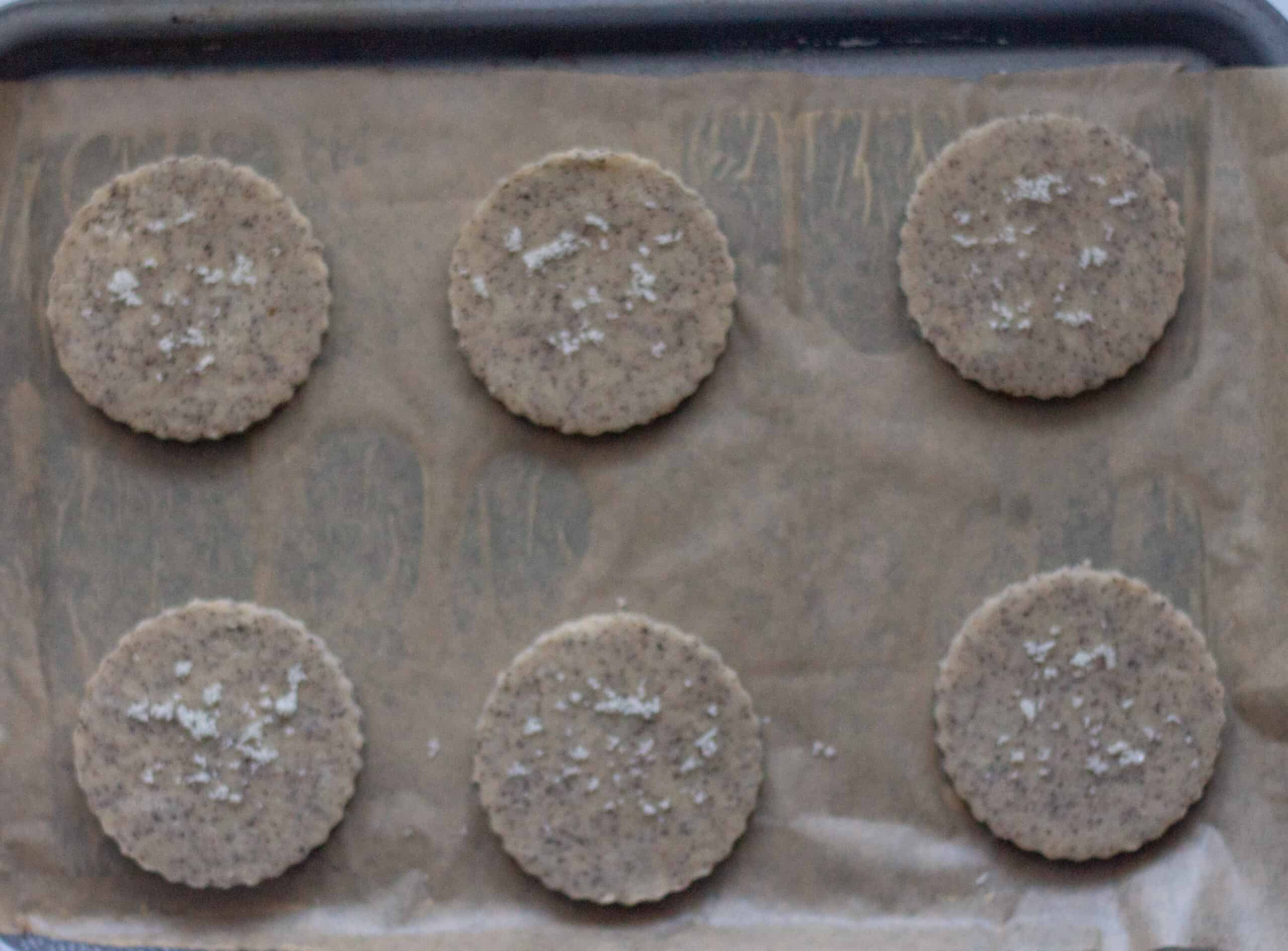 Place 1″ apart on a baking sheet and sprinkle with a little sugar. Bake for 20 mins.
Substitutions
Coffee – use decaf coffee if desired
Flour – replace with gluten-free flour if desired
Nuts or chocolate chips – add some finely chopped hazelnuts or great quality dark chocolate to the mixture for a mocha flavour cookie
Storage
Store the baked and cooled cookies in an airtight tin. They will be good for at least two weeks.
You can chill the dough for up to a week in the fridge (placed in a ziplock) or you can freeze it for up to 6 months (wrapped tightly in clingfilm).
Vegan Coffee Shortbread Cookies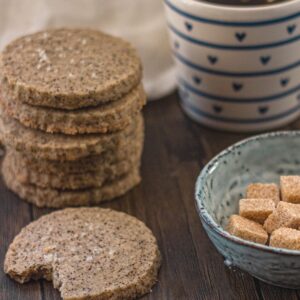 A delectable, crumbly cookie, perfect for lovers of coffee!
Ingredients
175

g

Plain Flour

sifted

85

g

Semolina

75

g

Superfine Sugar

180

g

Vegan Butter

at room temperature

1

tbsp

Coffee

ground

½

tsp

Vanilla Extract
Instructions
In a large mixing bowl, beat together all the ingredients until they form a cohesive dough. I used a wooden spoon and did it by hand, but feel free to use your mixer to start. You might need to bring the mixture together with your hands towards the end as it will seem like it's never coming together!

Place dough on a work surface.

Roll out until you have a rectangle that is approx ½" thick.

Using a 3" cutter, cut out rounds and gently place on your prepared baking sheet, spaced 1" apart.

Keep re-rolling the dough until you have used it all up.

Bake for 20 minutes until it feels firm to the touch, and no longer soft. Make sure it doesn't overcolor.

Remove from the oven, leave to cool for 5 minutes and then gently place on a cooling rack.
Nutrition Facts
Vegan Coffee Shortbread Cookies
Amount per Serving
% Daily Value*
* Percent Daily Values are based on a 2000 calorie diet.