Delicately Spiced Vegan Chai Shortbread Cookies
This post contains links to affiliate websites, such as Amazon, and we receive an affiliate commission for any purchases made by you using these links. We appreciate your support!
If you, like me, you start to feel like you need to add some warming spices to your menu, and I always think that Autumnal spices begin with classic chai flavours: cinnamon, clove, nutmeg, ginger….my crumbly, sweet and comforting vegan chai shortbread cookies will fulfil that craving!
And whilst you can make these when the weather starts getting cooler, really they are amazing at any time of the year!
These are made using my chai spice mix recipe, and were inspired by my traditional vegan shortbread and Easter biscuits recipes and my coffee shortbreads, and are so delicious served alongside by vanilla poached pears.
I adore the flavours of chai, and, after having made my own spice mix recently, I got to wondering…surely, I can make more with chai than just a latte?
Chai, the Hindi word for tea, is a blend of spices, often unique in Indian households, and often varies from blend to blend in intensity, taste and even preparation.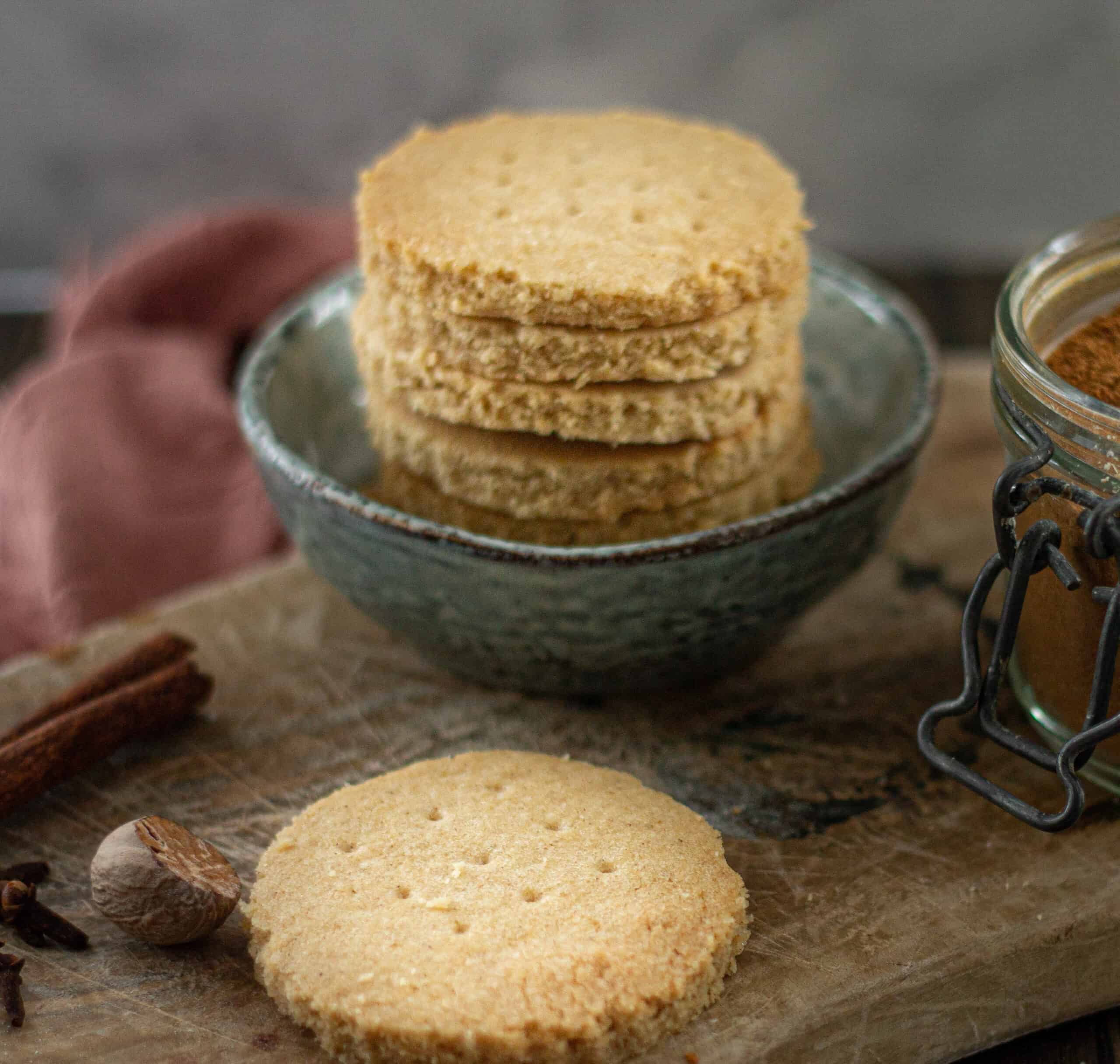 Traditionally it contains heady but warming spices like ginger, cardamom, black pepper, cinnamon, cloves, nutmeg and allspice. I used ready ground spices (but freshly bought) for my chai mix, but I imagine that the finest flavour comes from roasting and grinding your own whole spices.
However, whilst I would recommend that you mix up your spice blend (particularly if you love chai lattes), you could also use a shop-bought blend of spices. Please ensure that the mix has just spices and not milk powder listed as one of the ingredients (i.e. not a chai latte mix).
How to make Vegan Chai Shortbread Cookies
Shortbread is so easy to make, and it gives so much reward. I always recommend this as a first time baker for children (accompanied by an adult, as always) or if you're just dipping your toe into home-baking.
Simply sift the dry ingredients into a large bowl, then mix in the butter until you have a soft dough.
TOP TIP! I like to chill shortbread dough for half an hour so once I've cut it into cookies and placed on the baking sheet. If the weather is particularly warm, there is the risk that they can spread a little during baking if the dough is too warm.
Ingredients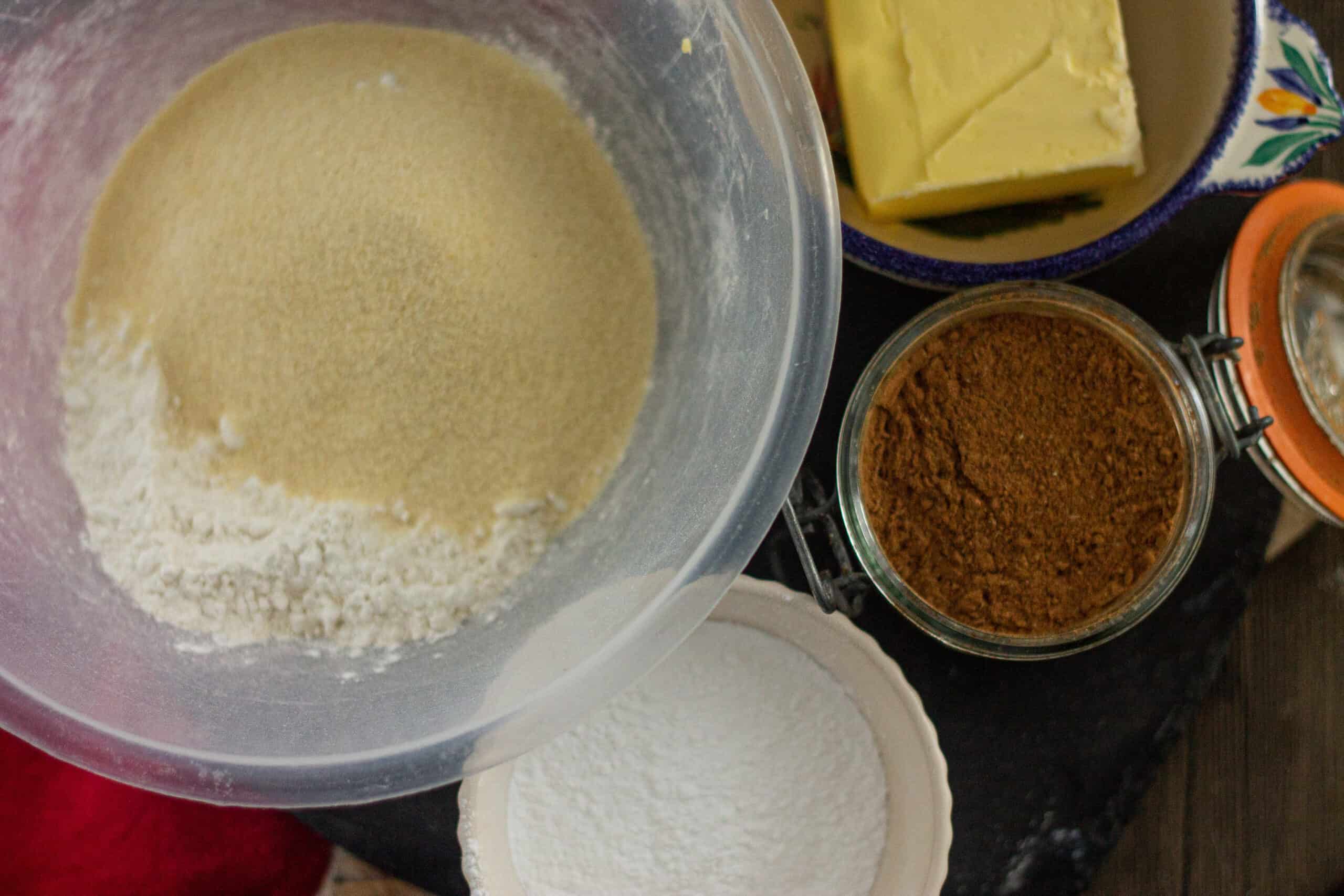 flour and semolina. The semolina adds the traditional "grainy" texture to shortbread. You could also use rice flour, which is traditional too.
Caster (superfine) sugar
Vegan butter. This must be at room temperature.
Chai spices. I have my own chai spice mix will I'll be sharing here soon,
Instructions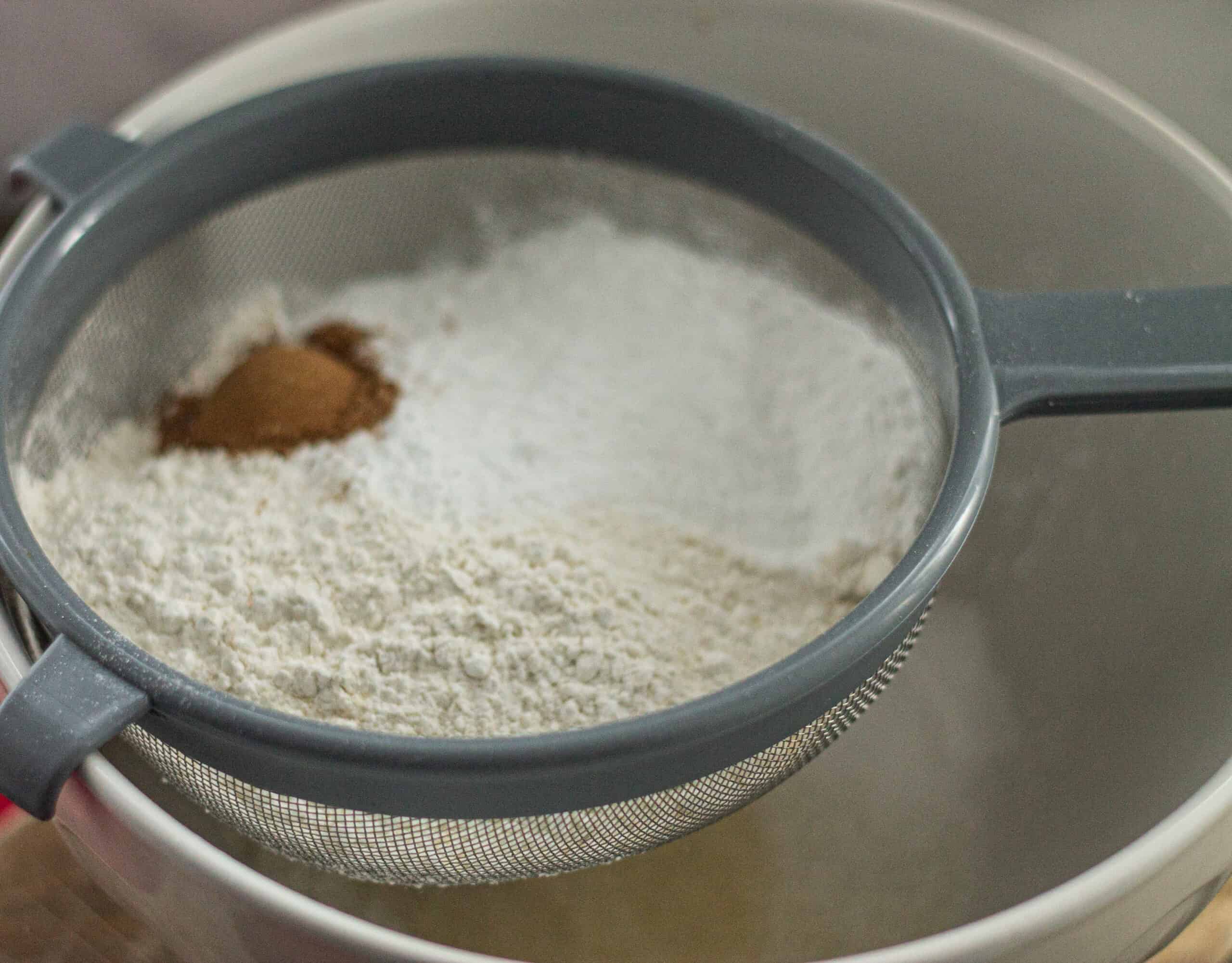 Sift the flour, semolina, chai and icing sugar into a large bowl.
Beat in the butter until you have a soft but not sticky dough.
Cut the cookies into rounds, then prick with a cocktail stick. Chill for half an hour and then bake.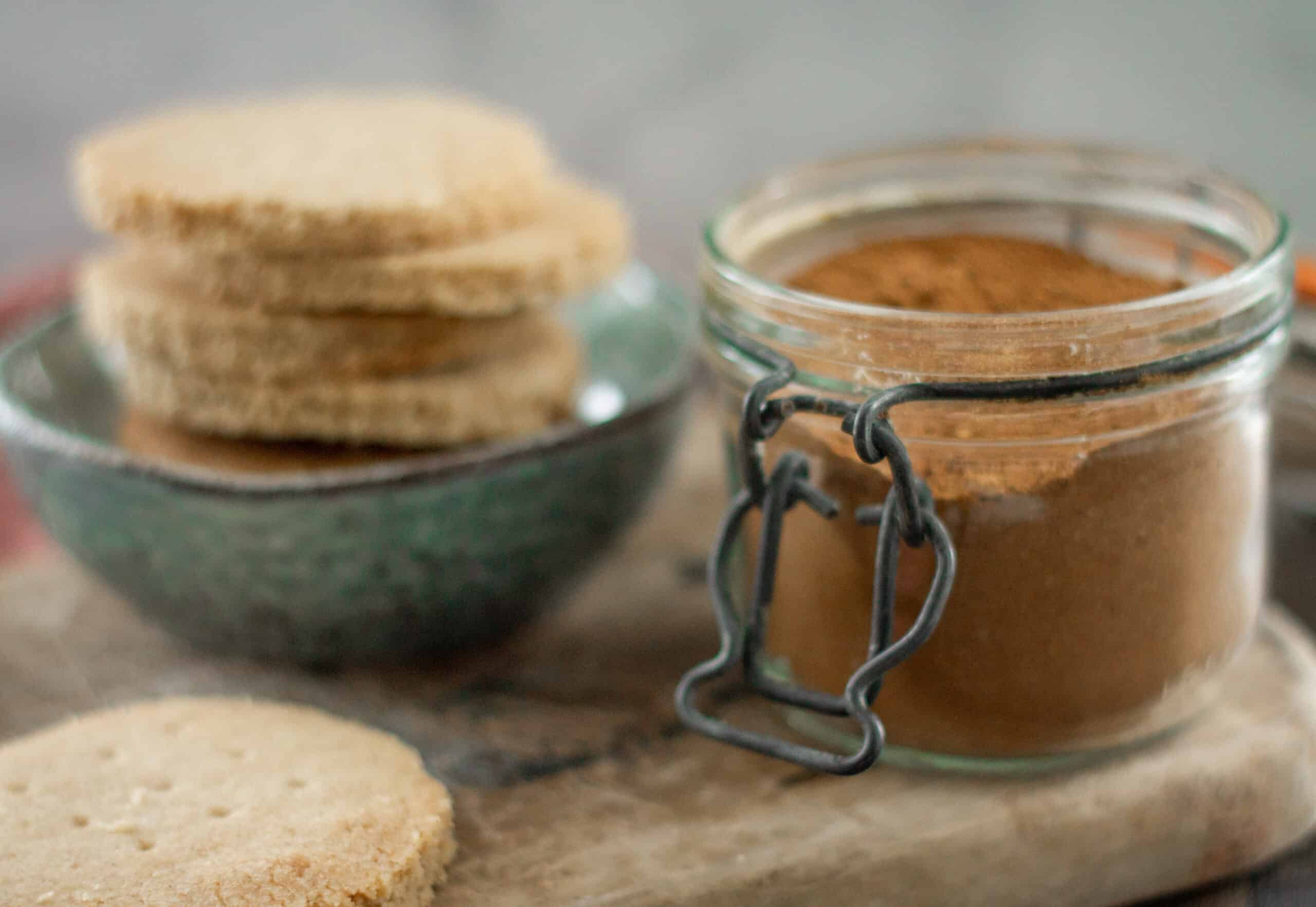 Hint: leave the cookies to cool for just a couple of minutes before removing to a cooling rack where they will finish crisping up nicely.
Storage
The cookies will last for a couple of weeks in an airtight tin.
The dough, if wrapped tightly in clingfilm, will freeze beautifully for several months.
Vegan Chai Shortbread Cookies
A delicious, gently spiced shortbread biscuit
Equipment
Baking sheet, very lightly greased
Ingredients
200

g

Plain Flour

-

sifted

85

g

Semolina

75

g

Sugar

-

caster or superfine

175

g

Vegan butter

-

at room temperature

1

tsp

Chai powder
Instructions
Sift the flour, confectioners (icing) sugar, semolina and chai powder into a large bowl.

Add the butter and then beat together all the ingredients until they form a cohesive dough. I used a wooden spoon and did it by hand, but feel free to use your mixer

Lightly sprinkle a work surface with a little sugar and turn out your dough

Roll out until you have a rectangle that is approx ½" thick.

Using a cutter, cut out circles and gently place on your prepared baking sheet, leaving at least an inch between them.

Prick them with a cocktail stick to make a traditional (or non traditional!) shortbread design. This step is optional but they do look professional if you do.

Chill the cookies for 30 minutes.

Sprinkle each cookie with a tiny pinch of caster (superfine) sugar.

Bake for between 20-25 minutes, until they feel firm to the touch, and no longer soft. Make sure they don't overcolour.

Remove from the oven, leave to cool completely on the baking sheet.
Please note that where the recipe asks for milk, butter or yogurt, this refers to any plant-based version that you prefer.
Nutrition Facts
Vegan Chai Shortbread Cookies
Amount per Serving
% Daily Value*
* Percent Daily Values are based on a 2000 calorie diet.