How to make a Vegan Pandoro
Vegan Pandoro recipe – Pandoro is a classic Italian yeast and egg/butter enriched bread – sounds difficult to make plant-based? Not as hard as you might think! This sweet bread with its sugary coating is a fun and simple bake. As with most baking, you just need time and patience.
PIN my Vegan Pandoro to make later
You will start to see Pandoro in the stores in November, just in time for Christmas. It will come in beautifully colourful boxes but will not generally be suitable for people with food intolerances. My version is eggless and dairy-free, but tastes just as fabulous as shop-bought!
This vegan pandoro recipe was inspired by my other interesting breads that you might like to try, my Chelsea Buns, for example or my simple granary loaf?
What is Pandoro?
Pandoro (also called Pandoro di Verona, the golden bread of Verona) is a classic Italian, enriched sweet, yeasted bread. It is similar in shape to Panettone, in that it is quite a high, cylindrical shape (and it should be sliced in circles, not in cake slices). However, a Pandoro is baked in this beautiful star shaped mould. Panettone is filled with dried fruits and is a spicier bread, but a similar dough recipe.
Replacing eggs and butter in enriched doughs
Classically, any "enriched" bread gets that rich, buttery flavour and flaky or light texture from lots of eggs and butter. We all know how delicious cakes are, and it comes down to both the flavour and the texture they get from eggs and butter, and a sweetened bread is the same principal.
It means that, for people like Tim, who has a rather unpleasant egg intolerance, or my work colleague Imy, who has a dairy allergy, these foods are out of the question. However, there are ways around this! Replacing butter is generally pretty easy, although I find that some vegan butters have a high-water content, and this tends to make makes "spread out" more than I would like. So, I tend to use a baking block instead.
A baking block is usually a supermarket's own brand of Stork which, yes, is margarine. And I know, this doesn't give the same, rich flavour as butter but sometimes we have to make sacrifices. However, if you have a vegan butter that you love and that works well for you, please go ahead and use it. I am still having a love/hate relationship with Flora plant-based, and we're currently on a break.
To replace the eggs in this vegan Pandoro recipe, I have used yogurt. The original recipe (from Visions of Sugarplums, by Mimi Sheraton) uses several 2 whole eggs and 3 yolks, so I played around with the measurements, and this seems to work.
Making Pandoro
So, this is not a difficult process by any means, but it does require a little bit of baker's knowledge and experience.
The dough requires very little kneading, just a couple of minutes at the beginning to bring it all together and get that gluten going.
The second part of the pandoro will be familiar to you if you've made puff pastry. It's the same principal of adding butter to the dough, folding it in thirds, then rolling it out, and repeating this process (see below).
Finally, the dough is curled into a swiss roll and placed inside the mould, left to rise, and then baked.
So, it's three fairly straightforward steps, and can be done over two days. I like to make the dough and leave it in the fridge overnight. I take it out of the fridge the next day, bring it up to room temperature, and then start the rolling process.
Notes: The first time I made pandoro, the dough was full of holes, and whilst it tasted delicious, it did not look light and fluffy. Originally, I had dotted vegan butter over the rolled-out dough, and as this had melted, it had left large, unsightly pockets in the dough. And we don't want this to look like a sourdough! I tried again by spreading the softened butter over the dough instead, and this worked much better.
Ingredients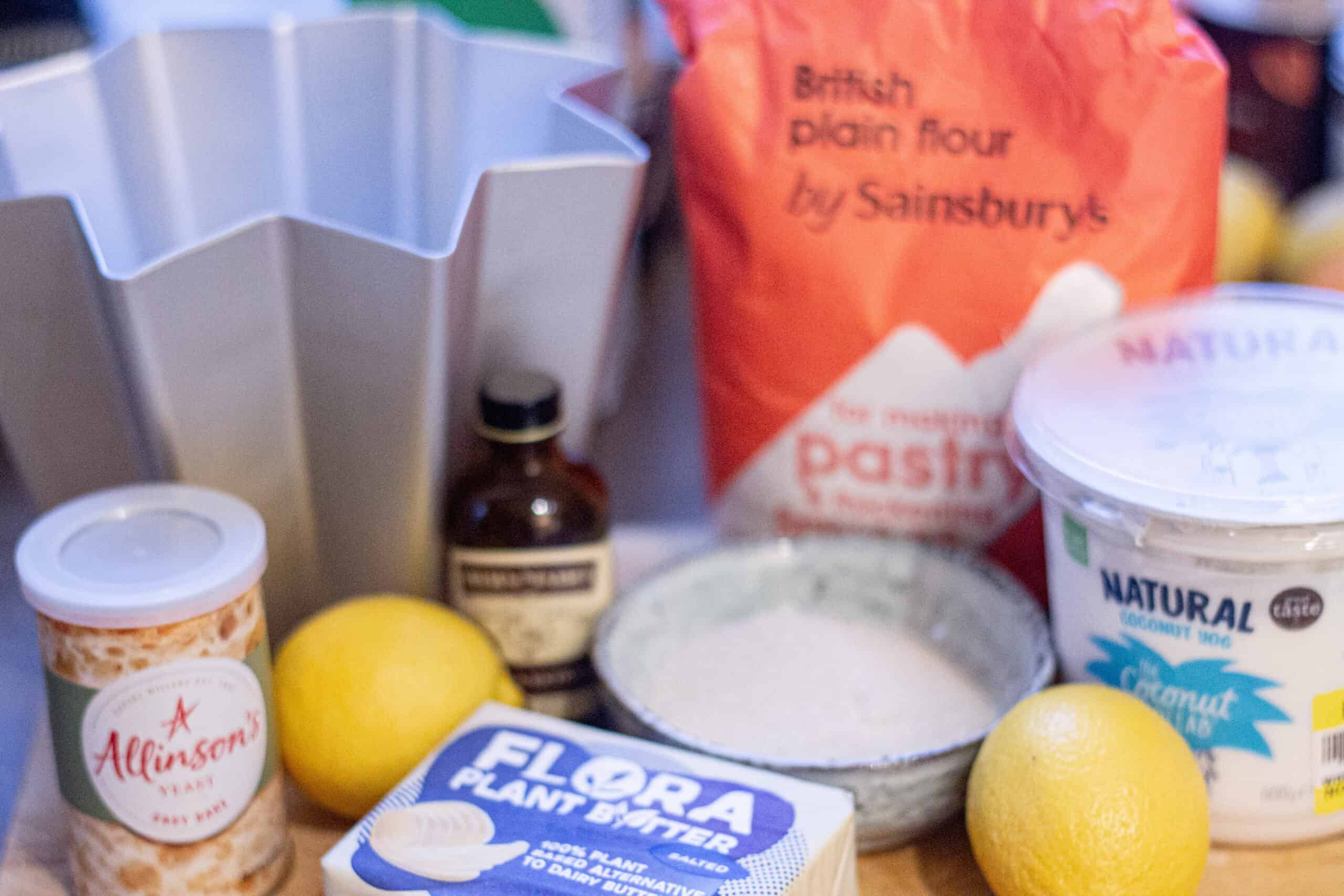 plain white flour
yeast
vegan butter
sugar
vanilla extract and lemon zest
plain vegan yogurt (to replace the eggs). You could also use vanilla yogurt.
(This is ONLY a list of ingredients for the recipe; please see recipe card below for complete printable recipe. Or if you use the JUMP TO RECIPE at the top of the page, it will take you directly to the complete recipe.)
Instructions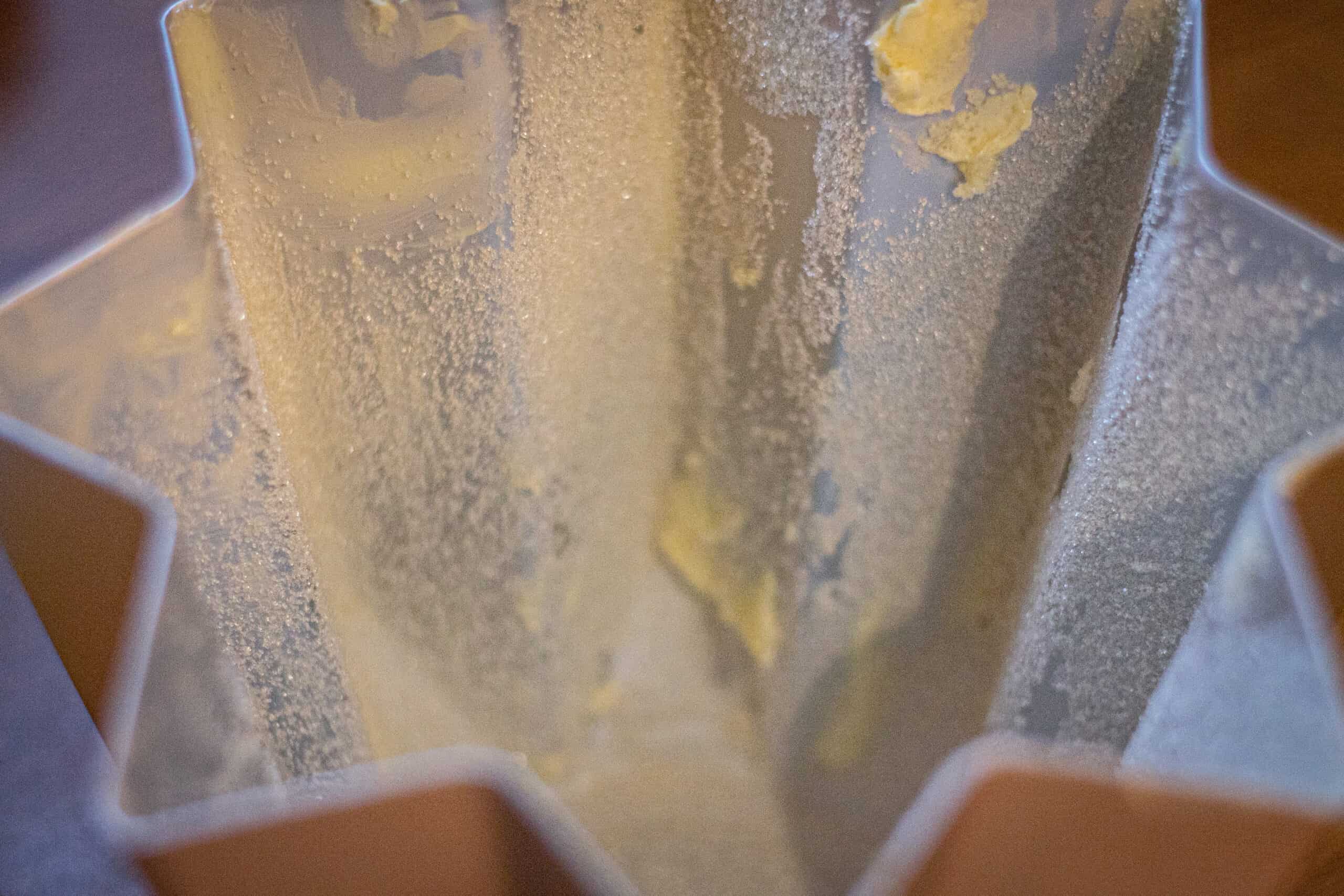 Lightly butter the inside of the Pandoro tin and sprinkle with granulated sugar. This gives the Pandoro a delicious crisp crust.
Whilst your yeast is activating, beat together the yogurt, salt sugar, lemon zest, vanilla and melted (cooled) butter until you have a smooth mixture.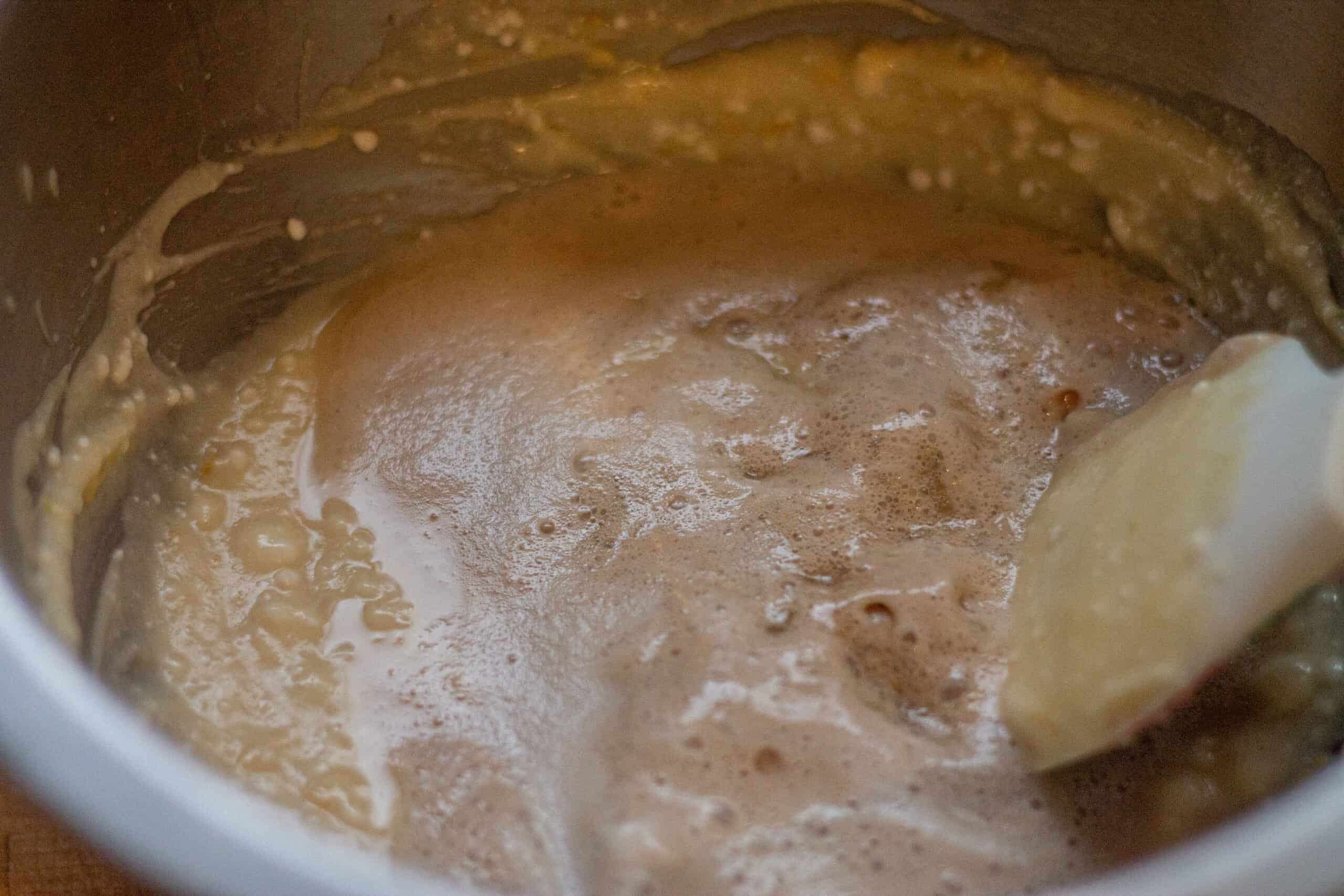 Add the activated yeast to this mixture, then beat in the flour until you have a dough that is soft, but not sticky, and that you can form into a ball. Knead for a couple of minutes. Leave to rise for a couple of hours or overnight in the fridge.
Roll the dough into a rectangle and spread half the butter down the middle (second third) of the rectangle. Fold over the left-side to the centre and now spread the rest of the butter on top of this third. Then bring the other third over the top (the right side), to form a "book" shape.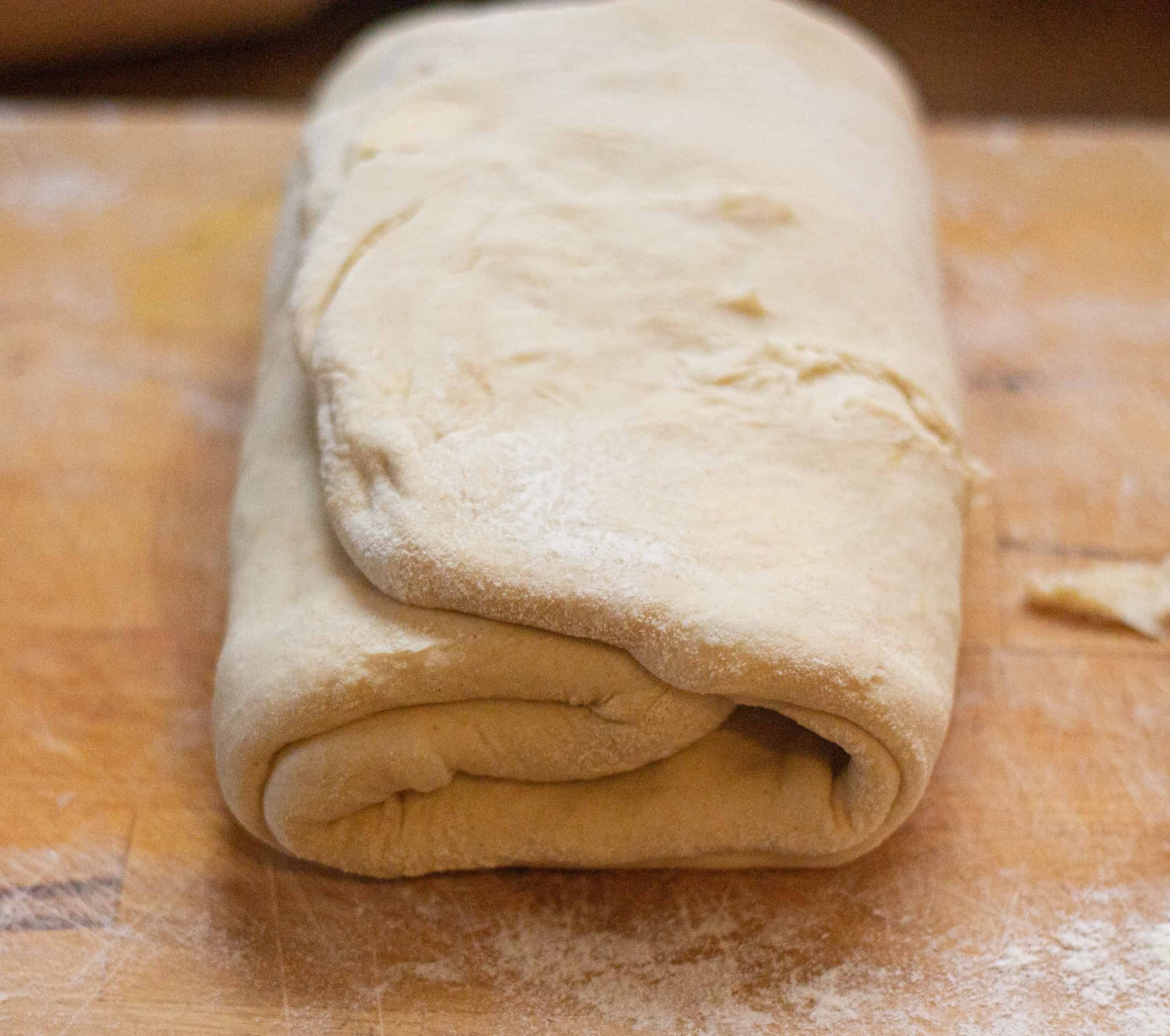 Roll this "book" flat, wrap in clingfilm and chill for half an hour. Repeat this process three more times.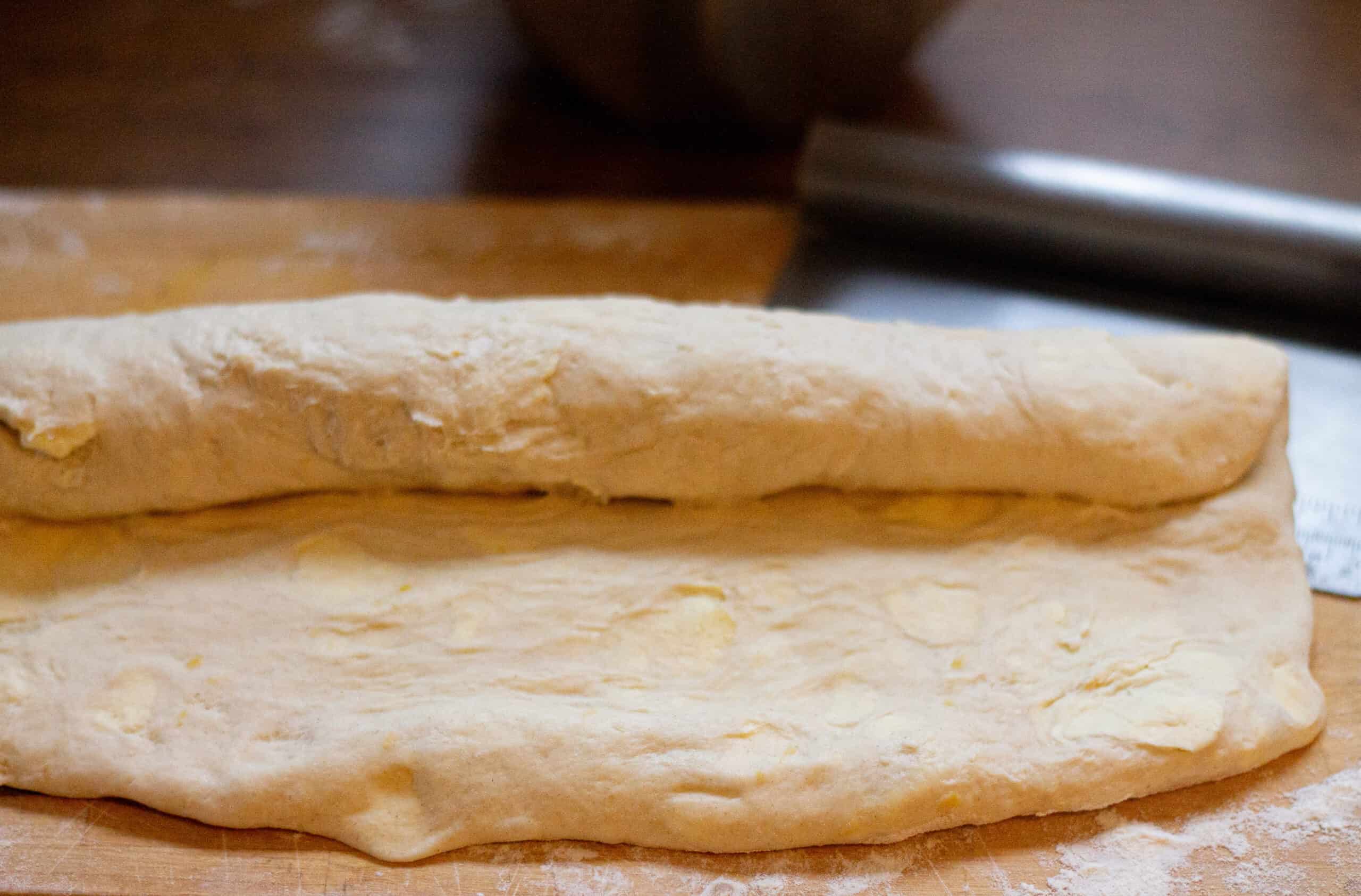 On the third roll, once you have rolled the dough flat, now roll it into a swiss roll shape.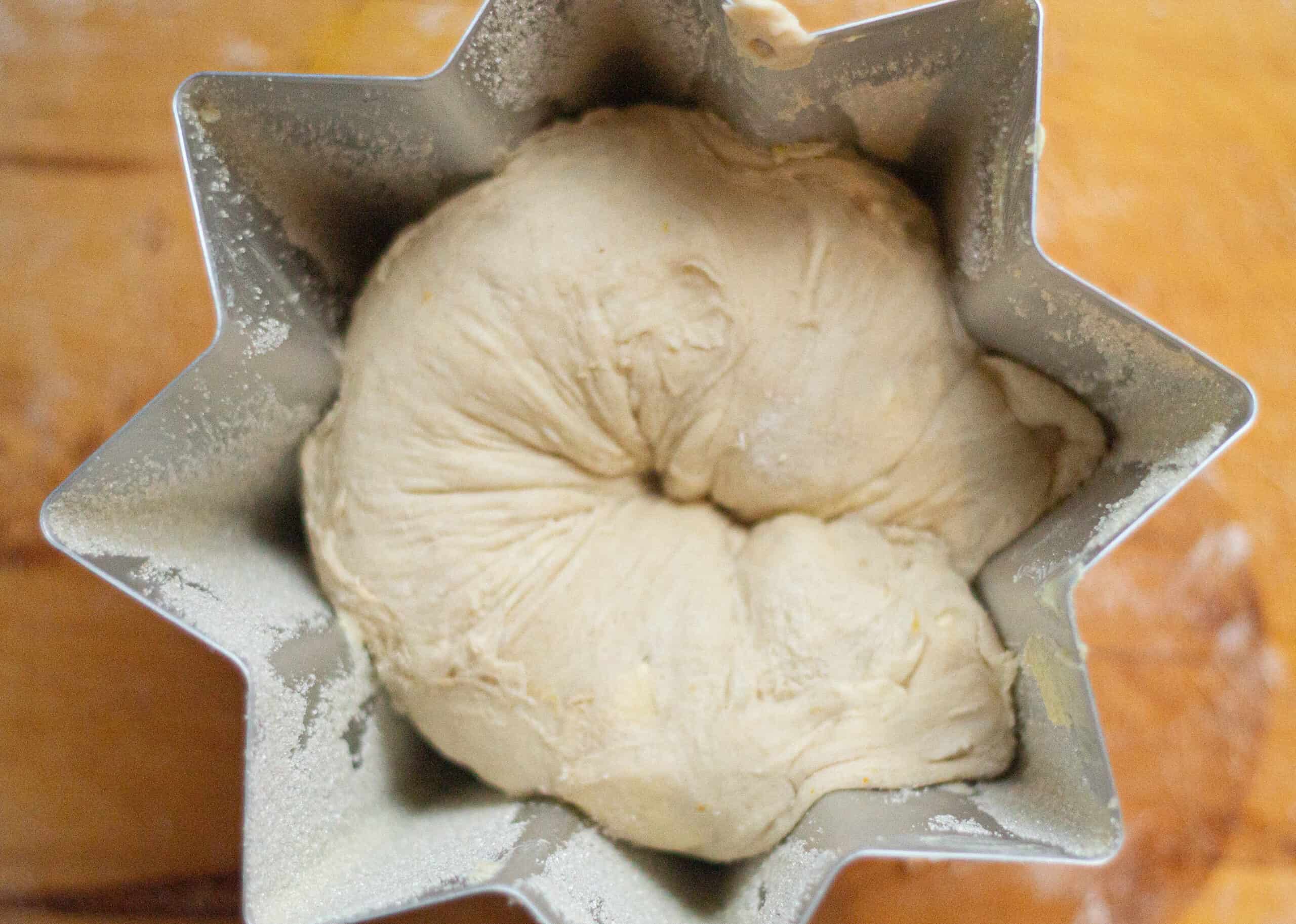 Curl the roll into the prepared Pandoro tin and leave to rise for another hour and a half.
Bake for 40-50 minutes until a skewer comes out clean and it sounds hollow on the bottom. Dust with icing sugar.
Hint: make sure the butter is at room temperature before you spread it, otherwise you might end up tearing the dough trying to spread it!
Variations
Fruity – add some dried fruit or glace cherries to the dough
Kid friendly – add some chocolate chips to the dough during the first knead
Equipment
I purchased a pandoro pan on Amazon for quite a reasonable price but you could use a kugelhopf pan if you have one.
Storage
Will keep at room temperature, if wrapped up well, for up to 7 days.
You can freeze this pandoro. Wrap it up tightly in clingfilm and freeze once completely cool. To defrost, unwrap and place in an oven on the lowest heat.
Top tip
Use any leftovers of your pandoro to make sweet breadcrumbs or cut into chunks to make a bread pudding!
Vegan Pandoro
How to make the classic Italian sweet bread
Equipment
1 Pandoro tin

or a kugelhopf mould
Ingredients
To activate the yeast
2

tsp

Instant yeast

¼

cup

warm water

1

tbsp

Sugar
For the Pandoro
1

cup

Natural Yogurt

vegan, plain or vanilla

1

tsp

Salt

⅓

cup

Sugar

Lemon

zest only

2

tsp

Vanilla Extract

55

g

Butter

vegan, melted

2½

cups

Plain Flour
for rolling the Pandoro
⅔

cup

Butter

vegan, softened
Extras
Icing sugar

for dusting the finished Pandoro

Butter and sugar

for the inside of the tin
Instructions
Lightly oil your tin and sprinkle half a teaspoon of sugar on top. Not too much as it will burn during cooking.

Activate the yeast by mixing it with the warm water and tbsp of sugar.

Meanwhile, beat together the yogurt, lemon zest, salt, sugar and vanilla and melted (but cooled) butter

Now add the activated yeast mixture to this and beat in the flour until you have a soft, but not sticky ball of dough.

Leave this to rise for 2 hours (or overnight in the fridge).

Punch down the dough and roll it out into a rectangle, approx 14" by 8". Because this needs to be refrigerated, I like to roll it out on a large chopping board (or perhaps on some clingfilm that you can move to the fridge).

Spread half of the softened butter in the middle third of the dough.

Fold the left-hand third of the dough over the butter.

Now spread the remaining dough on top of this layer.

Finally, bring the right-hand third of the dough over the top. It should be a bit like a dough book now!

Roll the dough out once more to 14" x 8" and then refrigerate for 20 minutes.

After 20 minutes, fold the dough as before (omitting the butter), left-hand third to the middle, right-hand third over the top.

Roll out again to 14" x 8" and chill for another 20 minutes.

Repeat this step once more but don't worry about chilling it now.

Once you've rolled it to 14" x 8", now you're going to roll it, lengthwise, into a jelly roll (swiss roll) shape, quite tightly.

Curl it round into a circle and place into your prepared tin.

Leave to rise in a warm place for 2 hours.

Preheat oven to 200c and bake for 45 mins or until a skewer comes out of the loaf clean.

Remove from oven, leave to cool in the pan for 5 minutes, then turn out and leave to cool completely. Make sure not to leave it in the pan too long because it might stick.
Nutrition Facts
Vegan Pandoro
Amount per Serving
% Daily Value*
* Percent Daily Values are based on a 2000 calorie diet.