How to Bake a Simple and Delicious Granary Style Loaf
This post contains links to affiliate websites, such as Amazon, and we receive an affiliate commission for any purchases made by you using these links. We appreciate your support!
Easy Granary loaf recipe. Granary Bread is wholesome, nutty, tasty and nutritious, but did you know just how easy it is to make your own? Read on and find out!
As a child I was a strictly white bread person, and I loved it whether it was fresh from the bakery, or came thinly sliced in a plastic bag.
These days my tastes are a bit adventurous and, of all the breads I have made recently (from the simple white loaf to the unusual barley bread and then my experiments with sourdough starters!), this granary loaf has to be my favourite.
Nutty, with a rich, wholesome, slightly sweet flavour, my easy granary loaf recipe is perfect to eat thickly spread with butter or toasted with jam.
What is Granary Bread?
Granary Bread is made with granary flour, which is trademarked by Rank Hovis Ltd. So, unless you buy your granary flour from Hovis, it will come under different names, but will be a mixture of some of all of the following ingredients:
strong white or brown flour
malt flour
seeds
malted wheat flakes or malted grain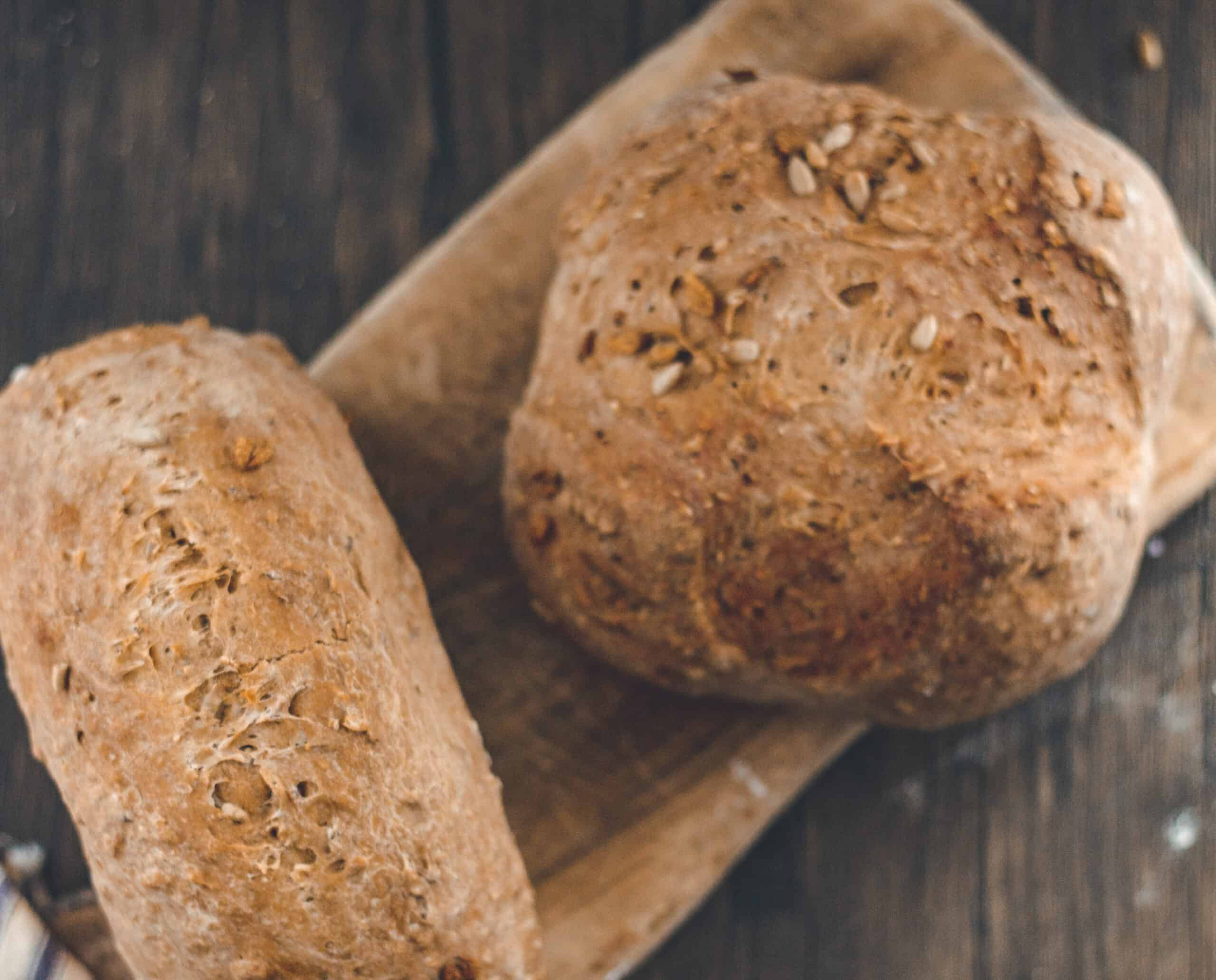 I love the selection of comparable flours that Cotswold Flour do, but your own favourite flour company will sell a very similar in-house blend.
It is this special blend of flour with a malt flour that gives your loaves a distinctive flavour: rich, slightly sweet and much more satisfying than a white loaf. My recipe uses molasses to enhance that malty flavour (although you can also use treacle). Some sunflower seeds add an additional interesting crunch, and you could create your own blend should you find yourself completely enthralled by this delicious granary bread.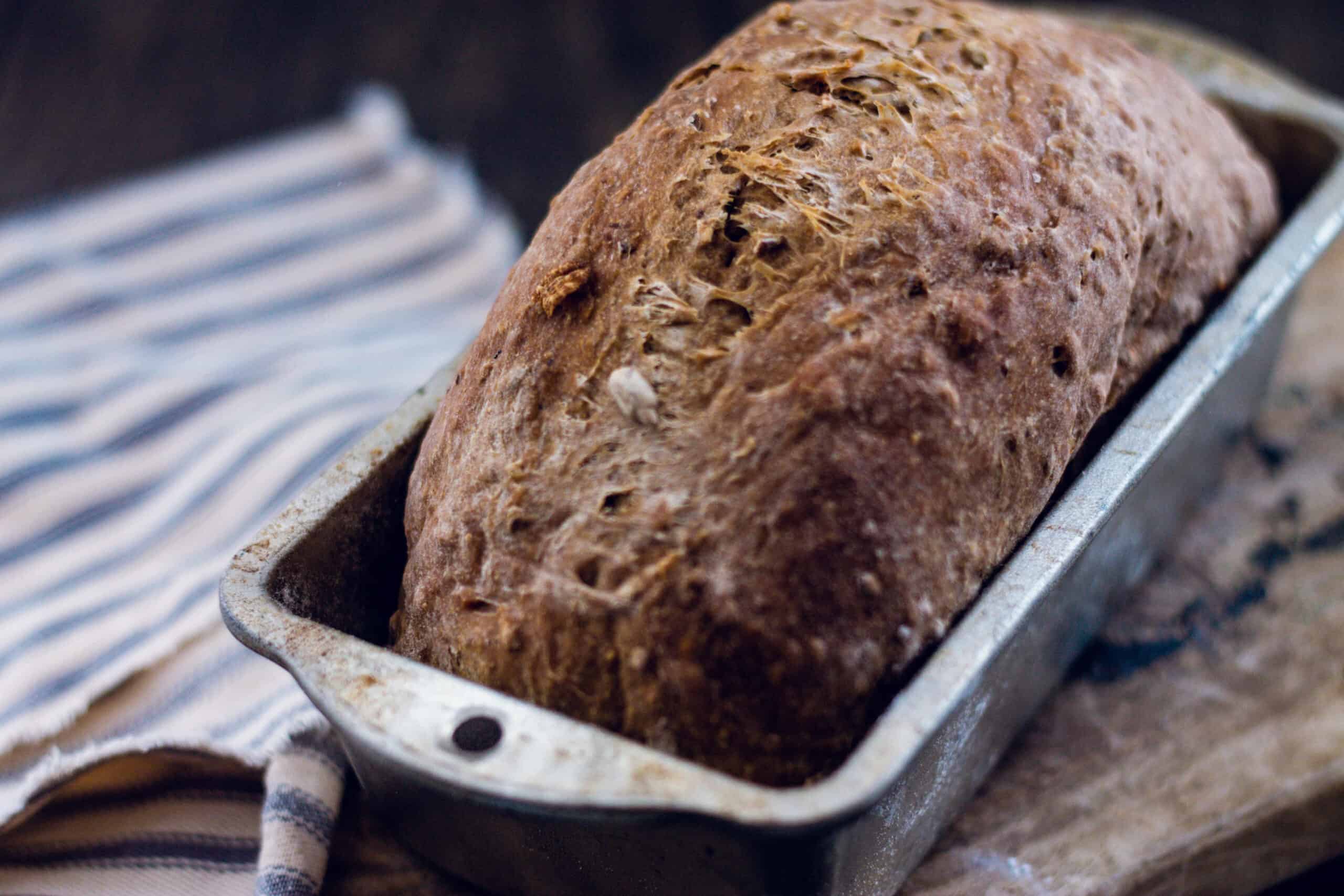 A homemade granary loaf lasts a long time (certainly longer than, say a sourdough loaf), and is a really easy bread to make, perhaps the easiest one I have tried so far. I had a concern that I hadn't kneaded it for long enough as the dough is quite sticky, but still it rose beautifully. If you like brown bread, and want to make your own, I certainly recommend this for the novice bread maker.
Ingredients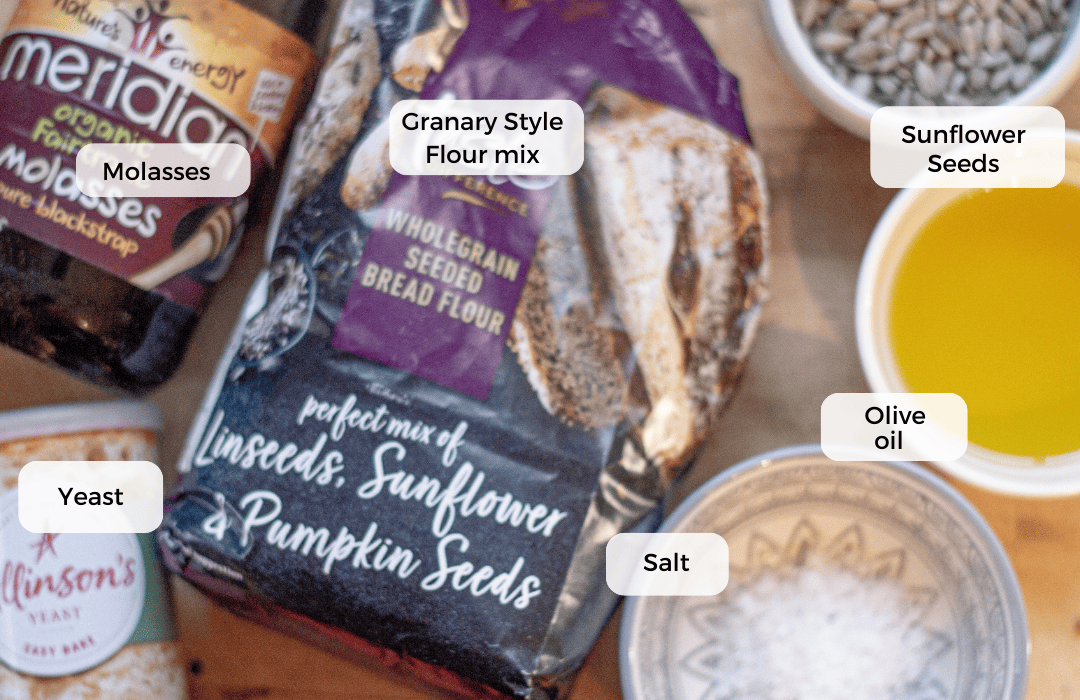 granary mix flour
yeast
olive oil
salt
sunflower seeds (optional)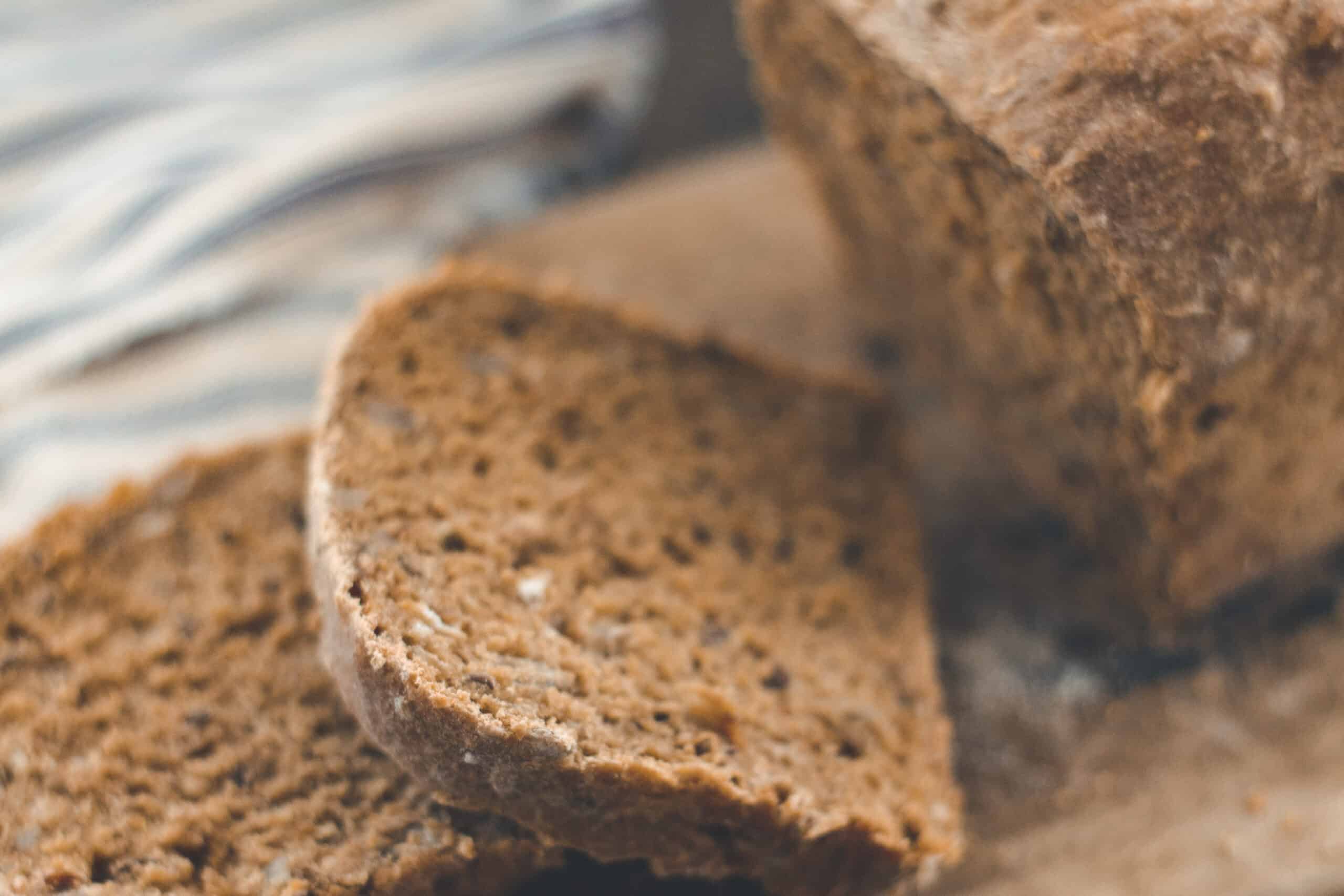 This is ONLY a list of ingredients for the recipe; please see recipe card below for complete printable recipe.
Instructions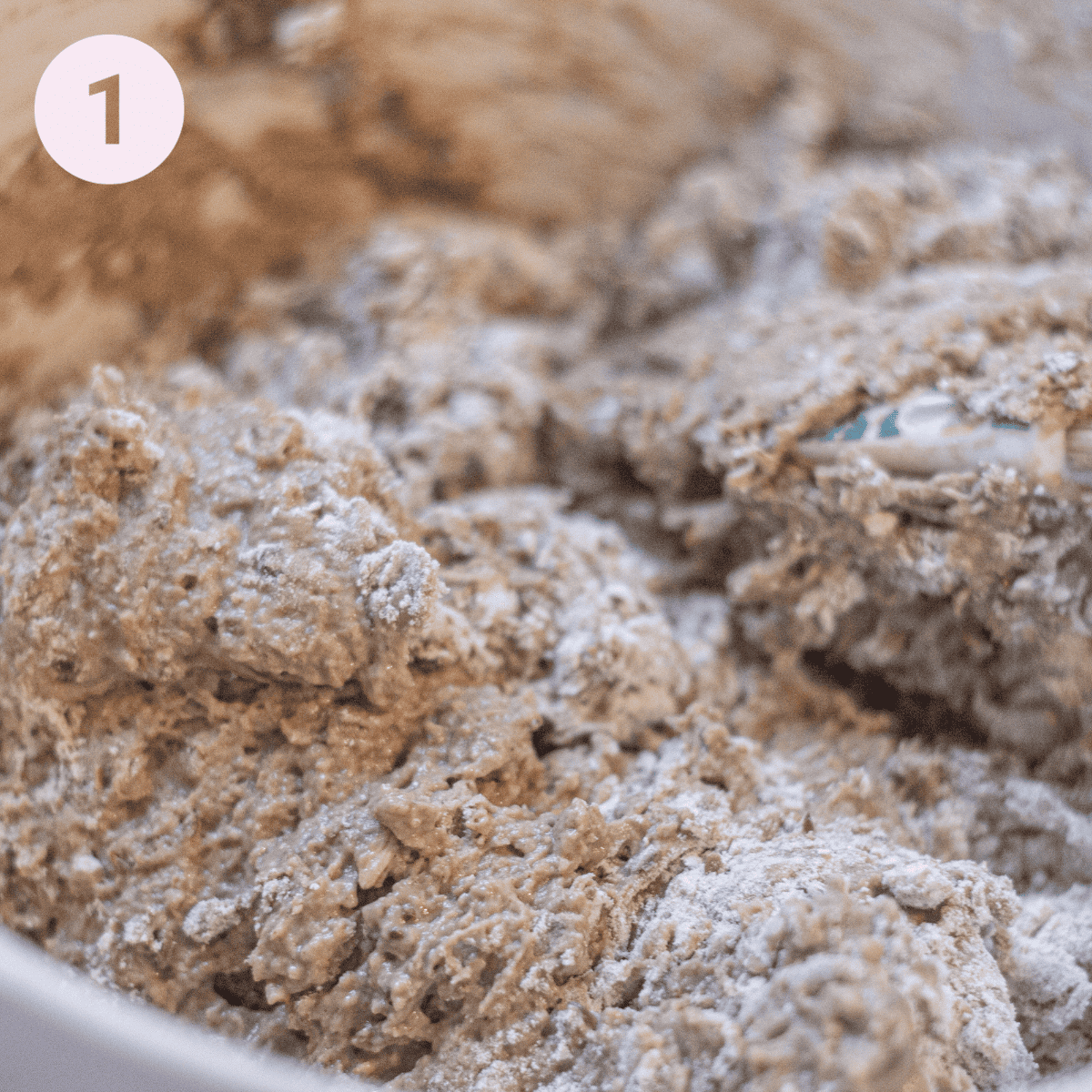 Add the activated yeast and molasses mixture to the flour and mix well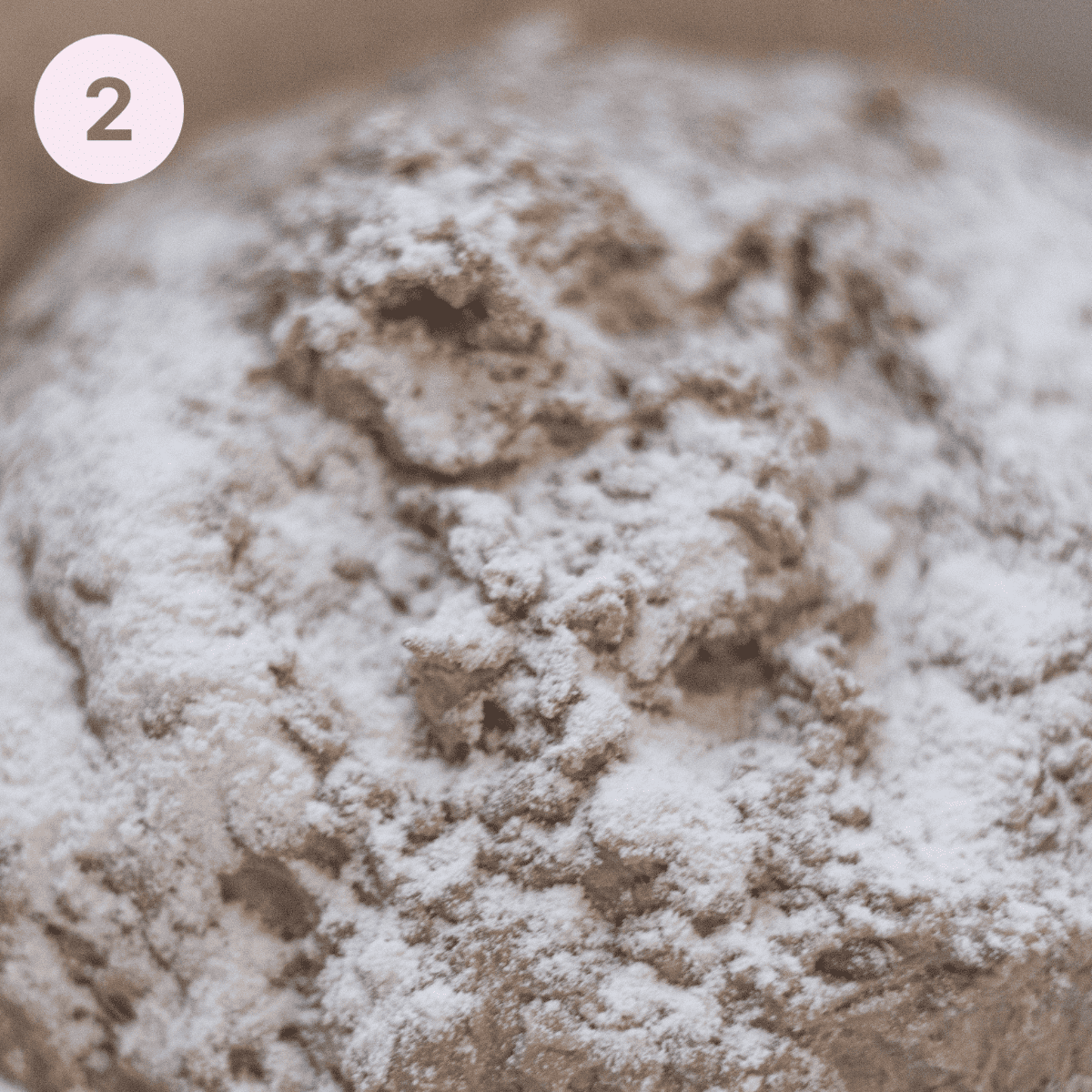 Knead it into a ball, dust with flour and leave to rise for a couple of hours.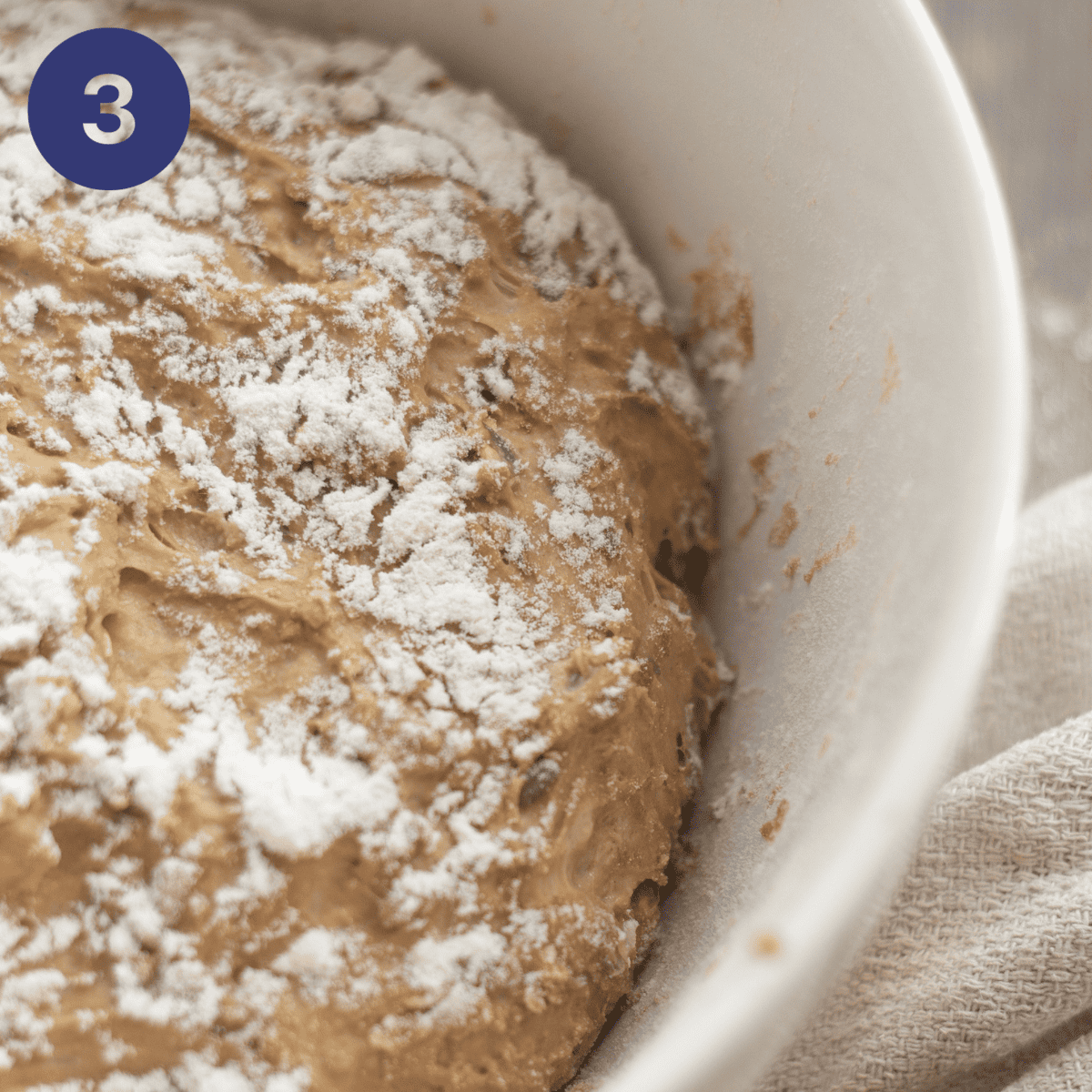 After two hours, knock back the dough.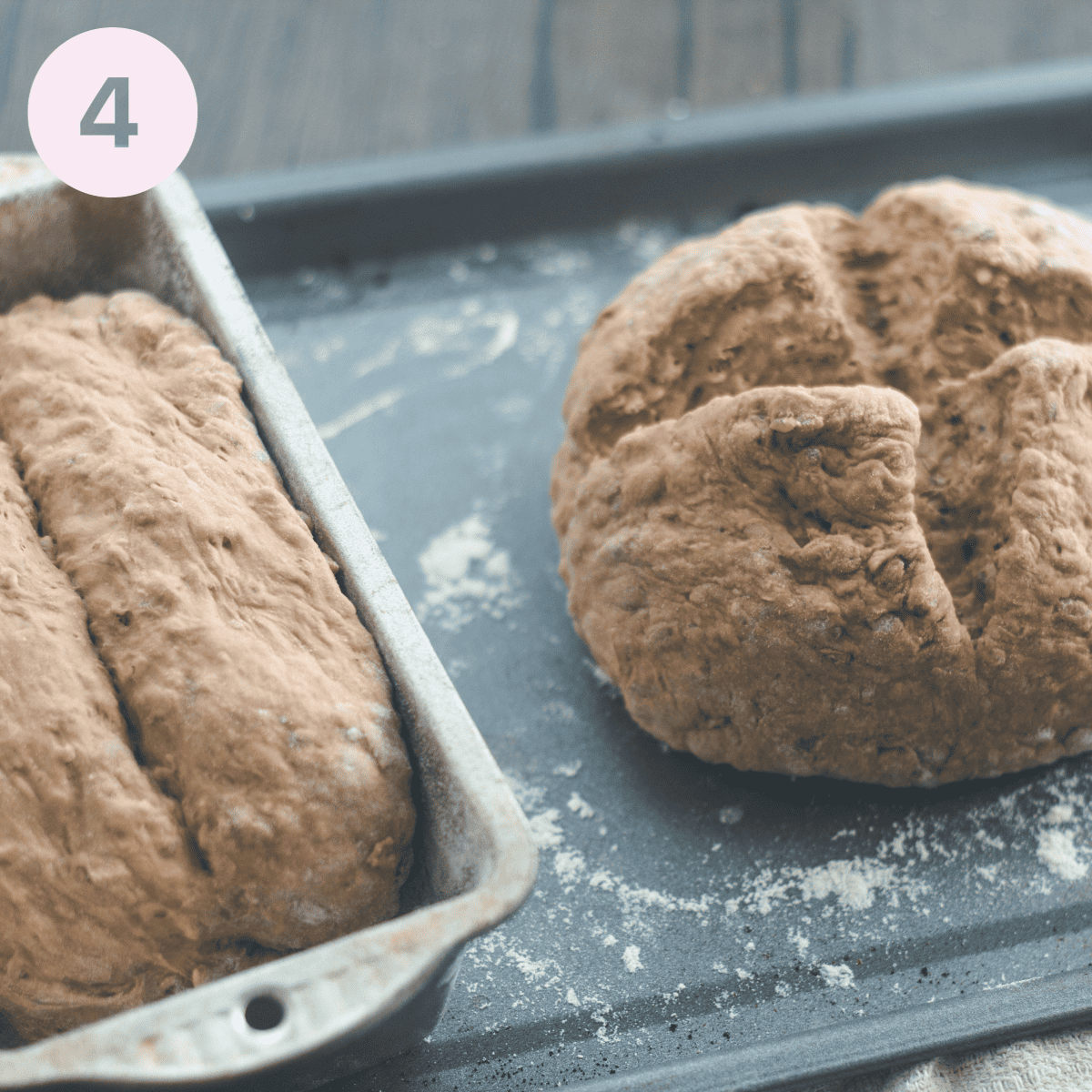 Form into loaves and give another 30 minute rise, before baking for 35-40mins at 200c.
Hint: I sprinkled my loaf with sunflower seeds and some toasted malt flakes, but the loaf rose so much that they all popped off! Instead, whilst the seeds look delightful, it might be better to just stir more into the dough!
Equipment
I made a small 1lb loaf and then a freeform loaf, just to compare the two processes, and both worked beautifully. I don't see why you couldn't make one large loaf in a standard 2lb loaf tin, or one large, round free-form loaf.
Storage
If wrapped up well or kept in an airtight container (once cooled), this loaf will be good for up to a week, and maybe longer (although might need toasting).
You can freeze these loaves. Once cool, wrap in several layers of clingfilm and freeze for up to 3 months. To thaw, unwrap and place in a low oven.
Granary Loaf
A quick, nutritious, easy and very tasty loaf
Equipment
2 1 lb loaf tins

or make free-form loaves
Ingredients
700

g

Flour

-

Granary mix, or seeded bread mix

2

tsp

Olive Oil

1½

tsp

Salt

1

tsp

Instant Yeast

420

ml

Warm water

1

tbsp

Molasses

-

or treacle

¼

cup

Sunflower seeds

-

optional
Instructions
Dissolve the yeast in 50ml of the warm water, leave until activated and frothy

Meanwhile, dissolve the molasses in the remaining warm water, and add the olive oil

Mix the flour and salt in a large mixing bowl.

Add both the molasses and yeast mixtures to the flour and mix well using a wooden spoon.

Flour your hands very thoroughly and bring the dough together into as smooth as ball as you can. This dough is quite sticky so don't worry about it being perfect.

Leave it to rest for 10 minutes before kneading it for 3-4 minutes, or until it starts to feel springy. You may need to add more flour if the dough still feels really sticky.

Leave the dough in a bowl, dusted with a little flour, and covered with a tea towel, to rise for 2 hours. Make sure it is in a draft-free room.

After two hours, turn the dough out and divide into two. You can now either

1. shape into balls and place on a floured baking sheet or

2. place in 2 x 1lb loaf tins.

or 3. do one of each like I did 🙂

Leave to proof for another half an hour or until the dough has grown by about half.

Preheat your oven to 200c.

Place the loaves in the oven, either on their baking sheet or in their loaf tins and bake for 35-40 minutes.

Be careful with this loaf, it can sound hollow on the bottom but still be a little underdone in the middle if you take it out too early (30 minutes is too early).

Turn out of their tins or slide off the baking sheet and leave to cool on a rack before slicing and spreading with lovely thick vegan butter and enjoying!
Please note that where the recipe asks for milk, butter or yogurt, this refers to any plant-based version that you prefer.
Nutrition Facts
Granary Loaf
Amount per Serving
% Daily Value*
* Percent Daily Values are based on a 2000 calorie diet.