Vegan Celery, Leek and Blue Cheeze Soup Recipe
My vegan celery, leek and blue cheeze soup is such a delicious combination of flavours, perfect for guests, but easy enough for a simple supper.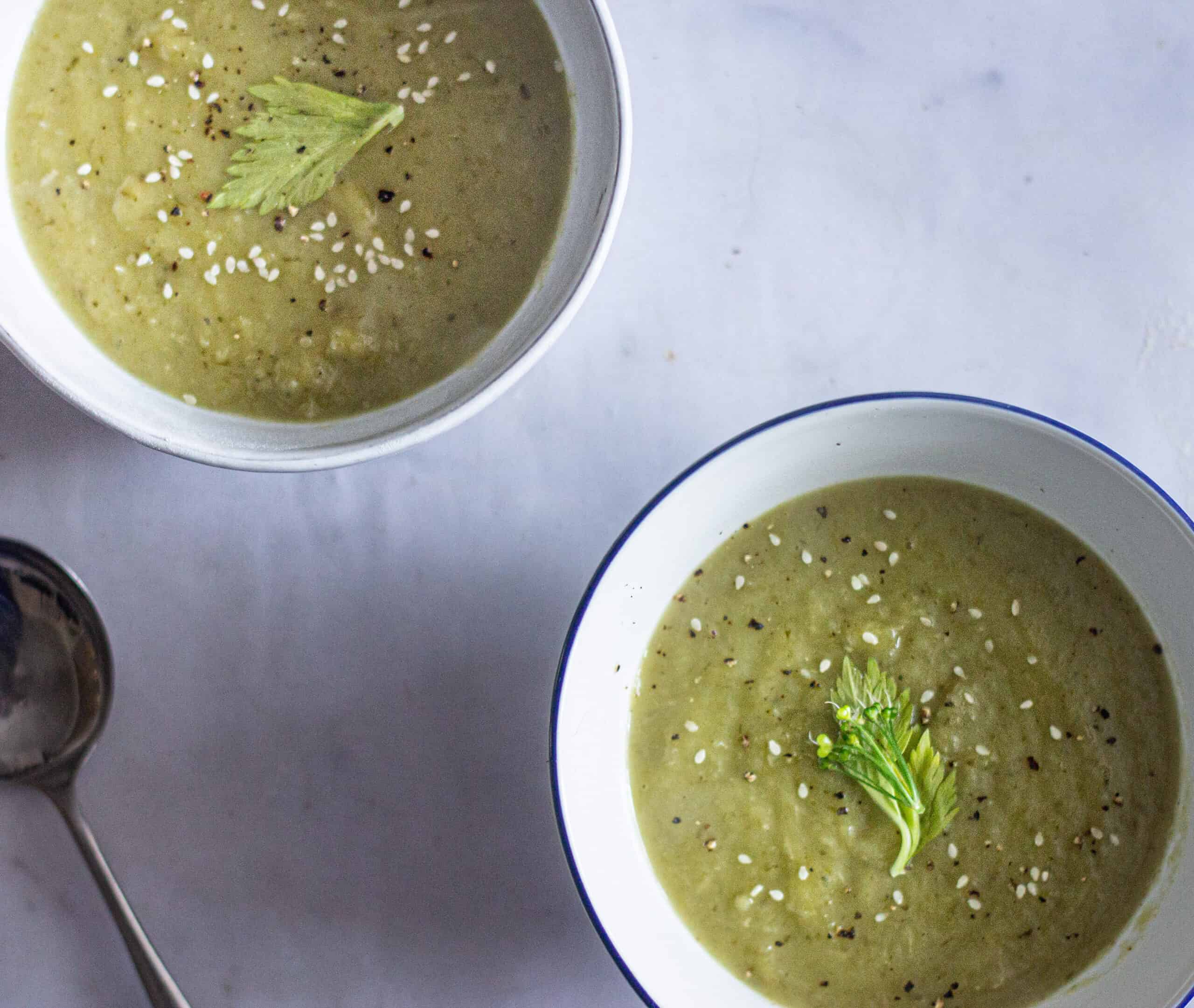 Ah, soup. The great nourisher. It's what I always turn to when I'm cooking for just me.
I'm not sure if I enjoy the ritual tearing of the bread most or slathering it with unsalted vegan butter that hasn't been out of the fridge long enough. Perhaps it's the dunking of buttery bread into the scalding hot soup, watching the butter pool, meltingly into the soup.
But it can be a thick, bolstering soup, like Jerusalem artichoke or gumbo that you swig from a soup mug or a thin broth that makes you feel like a recovering convalescent and that you sip daintily from a teaspoon like some kind of Jane Austen heroine.
Soup can be made by anyone with any kind of fridge situation. The soup that I am writing about today was made with very little in the by now cliched store cupboard.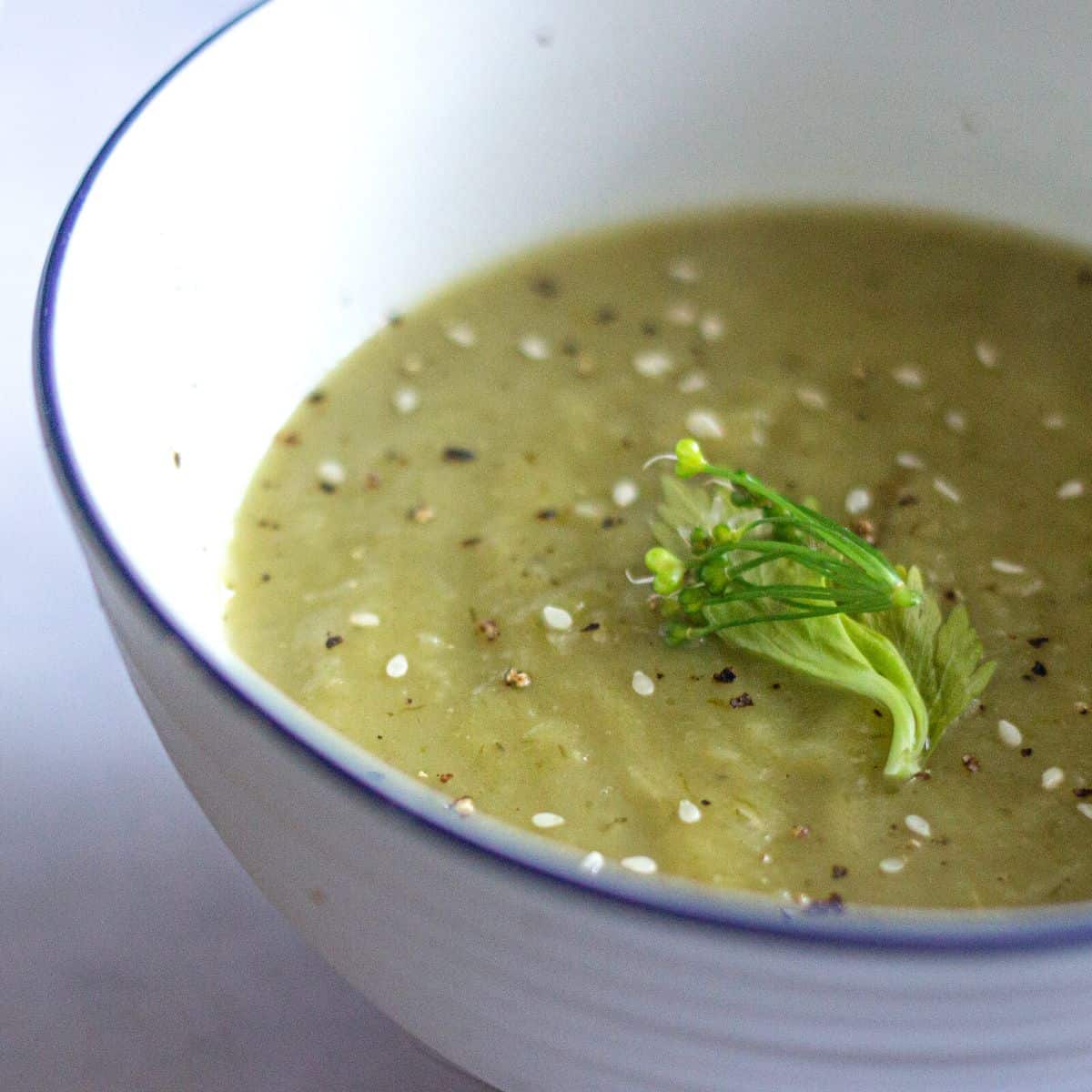 I had no onions left. No onions in the house is a very poor state of affairs and a state that no one should ever be in. Thank goodness I had a couple of rapidly shrivelling leeks left. No carrots, no peppers, just a bunch of celery, slightly wilted.
So, with the celery and leeks in mind, I flipped through Jane Grigson's Vegetable Book. Almost instantly I am enticed by the celery and blue cheese soup recipe although I could have gone for celery and dill too.
I modified the recipe to suit my distinct lack of onions and produced a nutritious, wholesome and delicious vegan celery, leek and blue cheese soup. Feel free to use regular white onions instead. I find that vegan blue cheese is really successful, of all the vegan cheeses, and it works so well in cooking.
I also used some wild garlic that my local farm shop had in stock, but, unless you have access to some, you could just omit or use garlic cloves.
I feel sorry for celery because it seems to have so many people that want to bully it. It's not the fault of this graceful, pale green plant that it's a bit stringy. That's what vegetables peelers were invented for! Tim hates it raw, but loved the delicate herbaceous hit in this soup.
And, once you cook celery, it loses that strong, nutty, herbal flavour and becomes tender hearted, delicate and as generous of flavour as you could wish from any vegetable. It makes stews sublime and I feel lost without celery in the fridge.
Ingredients
celery
leeks or onions
vegan blue cheese
vegan butter
Instructions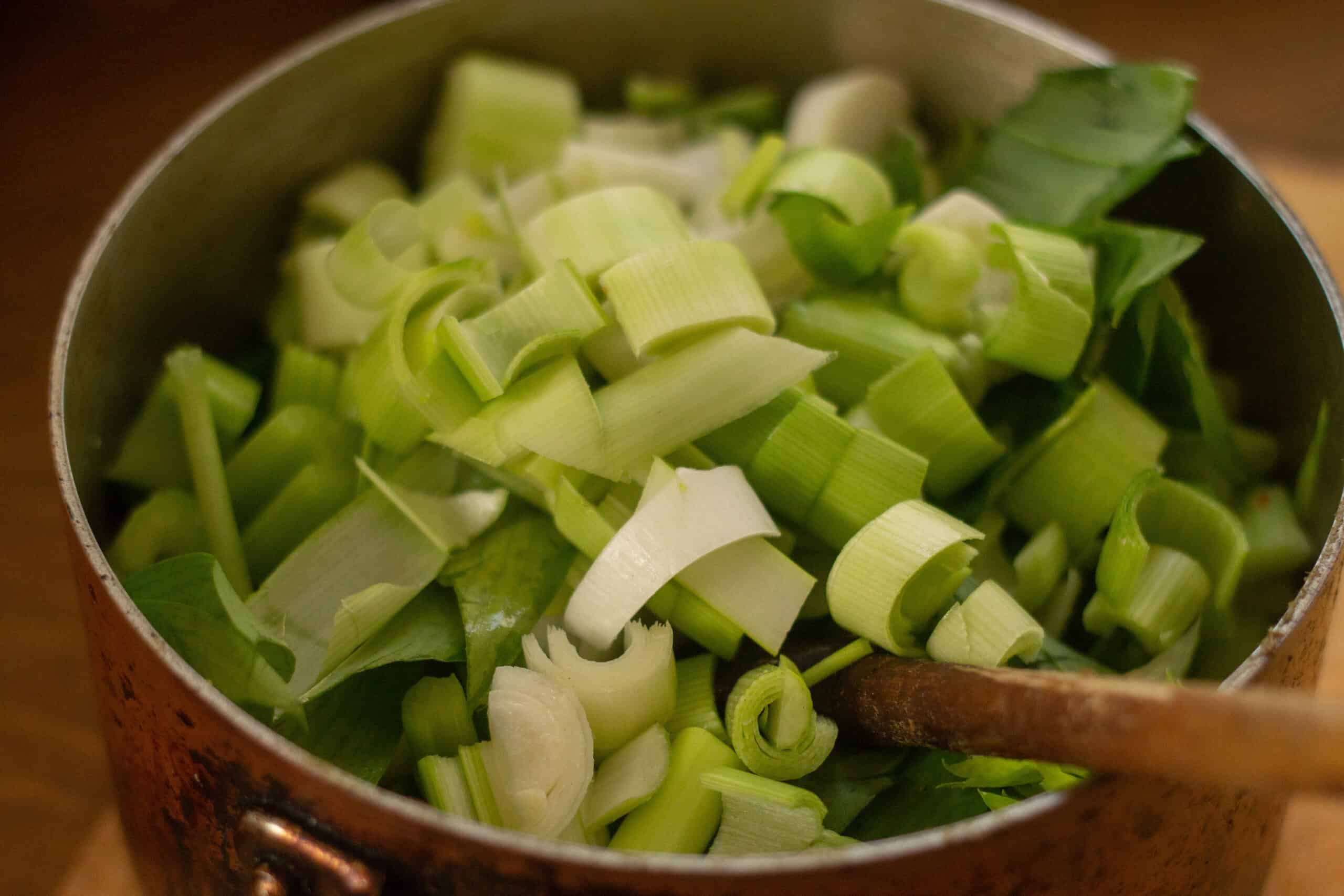 Sauté the sliced leeks, celery and wild garlic (or regular garlic) in the vegan butter until tender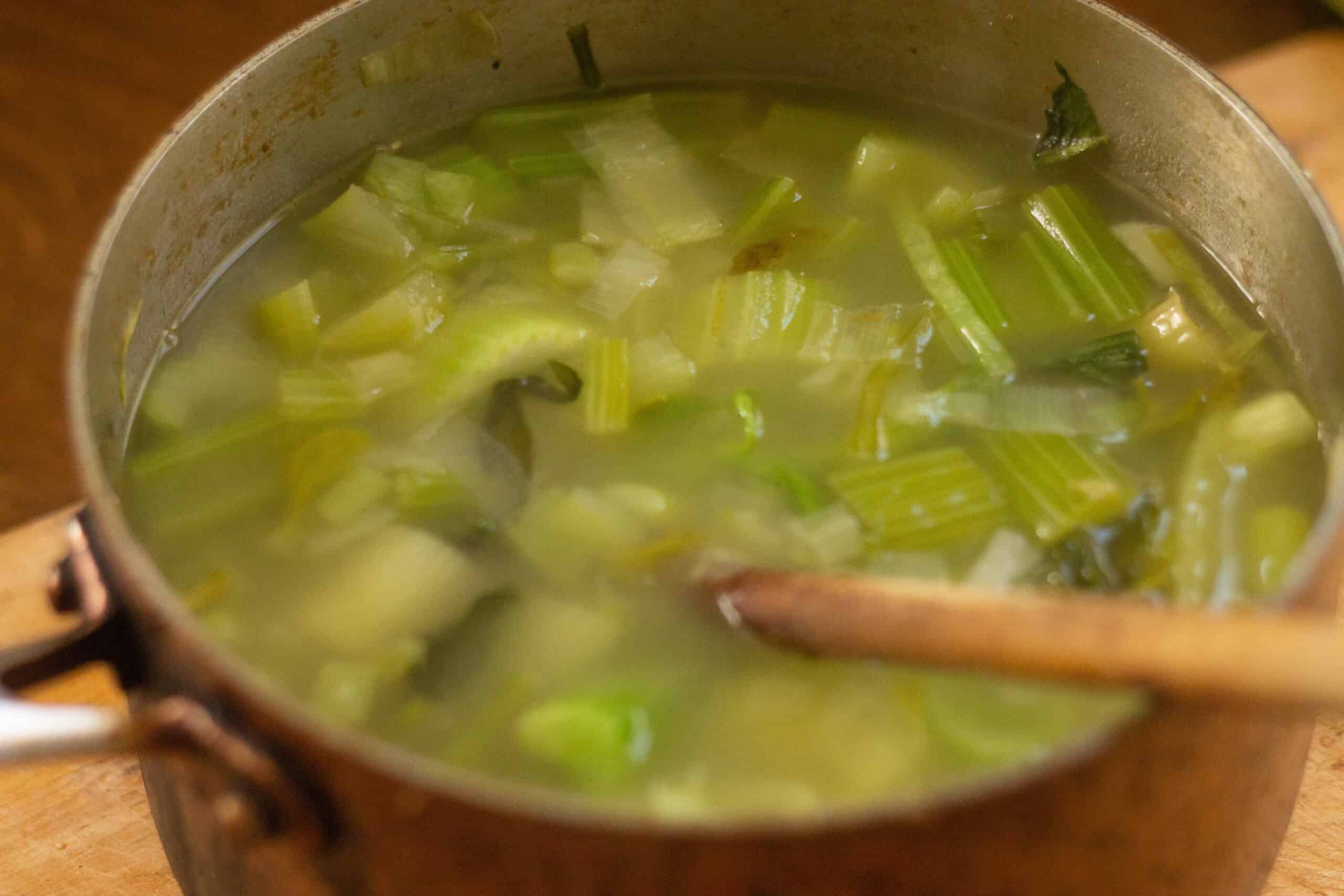 Once the vegetables are tender, add the stock and bring to a simmer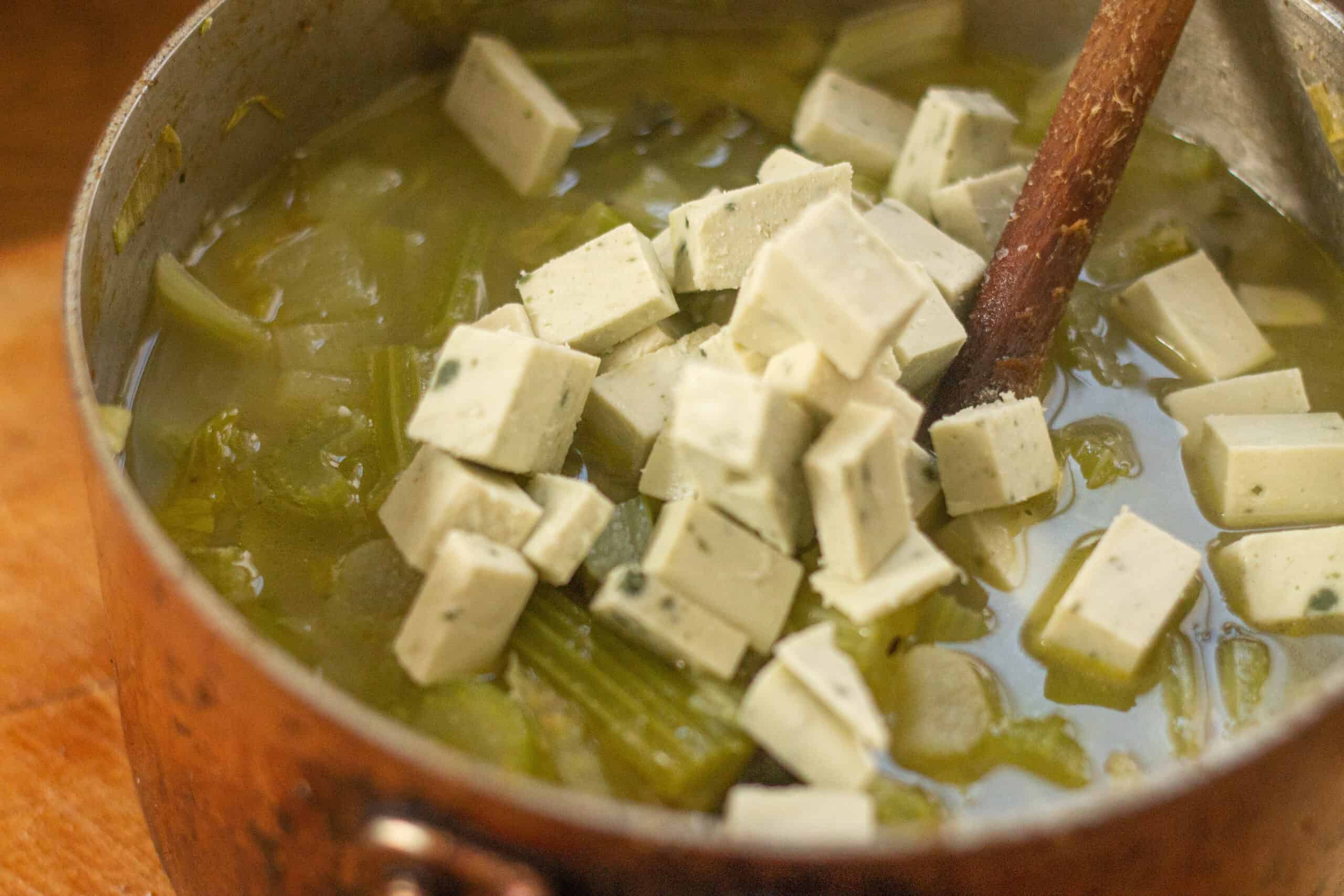 Add the vegan blue cheese to the soup and stir until melted
Blend the soup up until smooth. If some stringy bits of celery remain, strain the soup. Return to the pan to warm through, and taste for seasoning.
Hint: I like to strain the soup once I've blended it because the soup can retain a few of the celery fibres.
Storage
This soup is good in the fridge for a couple of days. Reheat gently.
This vegan soup freezes beautifully. Leave to cool, then decant into a ziplock bag or container and freeze for up to 3 months. Thaw in the fridge before reheating gently.
Top tips
You can add other spring vegetables to this dish: peas, asparagus and omit the cheeze altogether if you can't find it.
If you prefer a more refined texture to your soup, stir through a little plant-based milk or cream to make it more velvety.
NOTE: Season once you have blended the soup. Blue cheeze can be quite salty, so always play it safe!
Related
Looking for other vegan soup recipes like this? Try these:
Vegan Celery, Leek and Blue Cheeze Soup
An easy and delicious soup
Equipment
1 Smoothie blender or immersion blender
Ingredients
1

Celery

whole head, roughly chopped into small chunks

2

Leeks

outer leaves removed and discarded, the rest of the leek rinsed and cut into rings

2

tbsp

Butter

vegan

1.5

litres

Vegetable Stock

40g

vegan Blue Cheeze

Salt and Pepper to taste
Instructions
Melt the butter in a large sauté pan and throw in the chopped celery and leek, making sure to coat them thoroughly in the butter.

Turn the heat down to low and put the lid on. Leave to sweat down for at least 20 minutes.

Pour over the hot stock and stir well to disperse any lumps. Season.

Simmer gently for another 30 minutes or until the vegetables are tender and yield under a spoon.

Remove from the heat and crumble the blue cheese into the soup, stirring well to ensure that it melts.

Serve in bowls sprinkled with a bit more cheese and some chopped parsley (optional) and, of course, some bread and butter.
Nutrition Facts
Vegan Celery, Leek and Blue Cheeze Soup
Amount per Serving
% Daily Value*
* Percent Daily Values are based on a 2000 calorie diet.