Vegan Beetroot Knodel Recipe
Easy Little Vegan Beetroot Dumplings (or Knodel) – a perfect little starter for 4, or main course for 2
This was inspired by my rich, creamy vegan beetroot risotto, and pairs well with my cumin roasted carrots.
Sometimes I have more than one recipe that I want to cook at one time. This usually coincides with various ingredients going bad in the fridge that I need to use up in a hurry. Last night was such a night. I had a large bag of green beans, some mushrooms and some vacuum packed cooked beetroot that were looking sadder by the minute.
I spent the evening scanning all my cookbooks but couldn't find a recipe that seemed quite right, either it didn't use the beans or it didn't use mushrooms, and besides I didn't really fancy all of them mixed together anyway.
So, armed with Diana Henry's Roast Figs, Sugar Snow (one of the most beautiful and usable cookbooks I have ever encountered), I spent my lunch-hour chowing down on Southern Fried Chicken flavoured Super Noodles and looking for something completely different to cook. That recipe soon came to me in a bolt of lightening: Beetroot Knodel. Knodel are Tyrolean dumplings, lightly poached in water until they bob to the surface, puffy and light.
Unfortunately cooking sometimes relies on what you have in the fridge and providing the end product is good and there is nothing left on the plate, it has been a success, albeit an unorthodox one.
What are Knodel?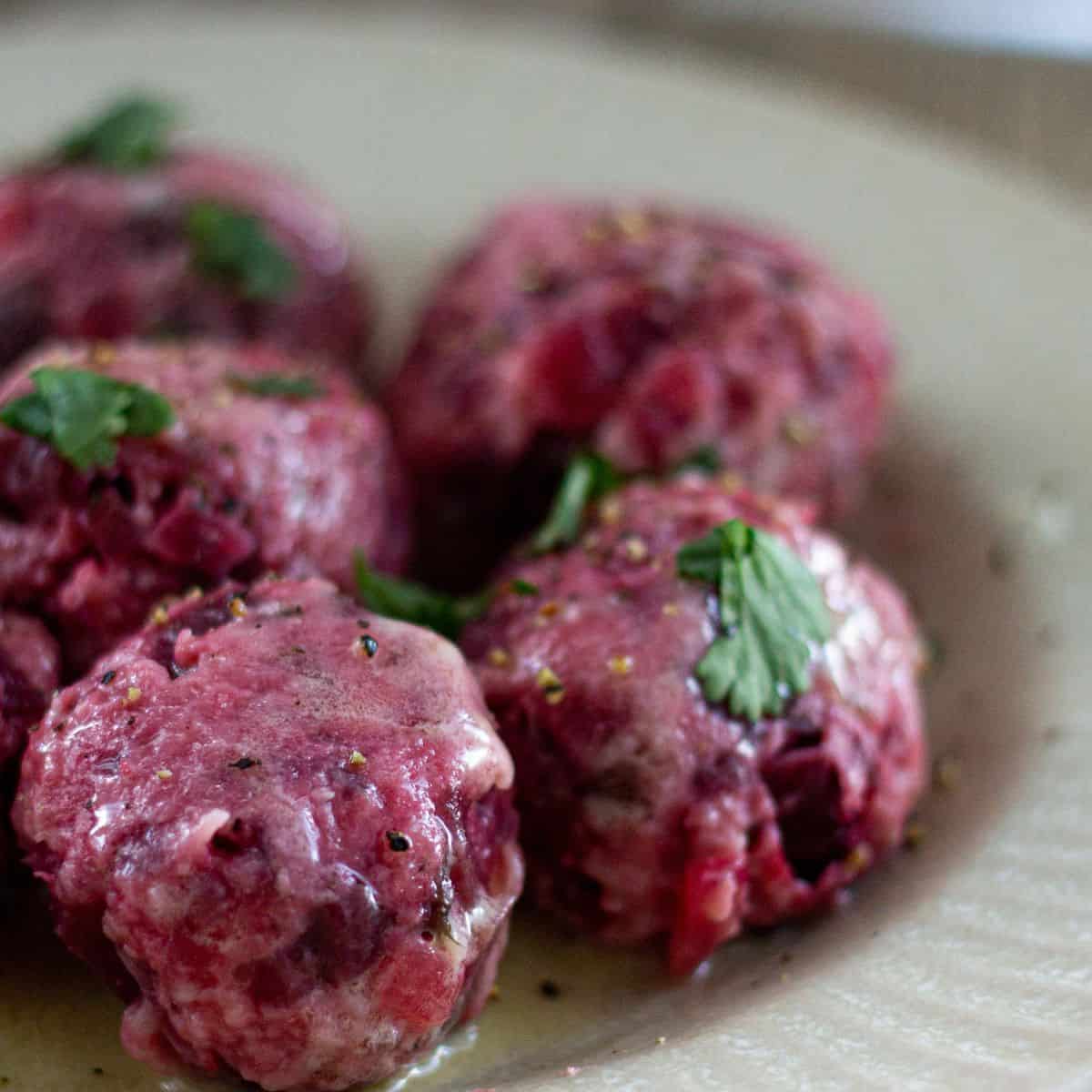 Knodel are East European boiled dumplings, made with breadcrumbs and then flavored with veg such as potatoes, spinach, or in this case, beetroot. Knodels were "invented" back in the 15th century (roughly), where a Tyrolean cookbook first makes use of the recipe.
Note: These knodel are not 'pretty' or look like the dumplings our mums used to serve us in stews. They are nubbly and blotchy in colour, more like varicose veins I suppose. However, their taste far exceeds the look of them. They are delicious.
Ingredients
beetroot. I use vacuum packed cooked for this recipe, but you could roast your own.
breadcrumbs. I have used panko as that's what I had in the house!
sautéed onion and garlic, to add flavor and texture.
See recipe card for quantities.
Instructions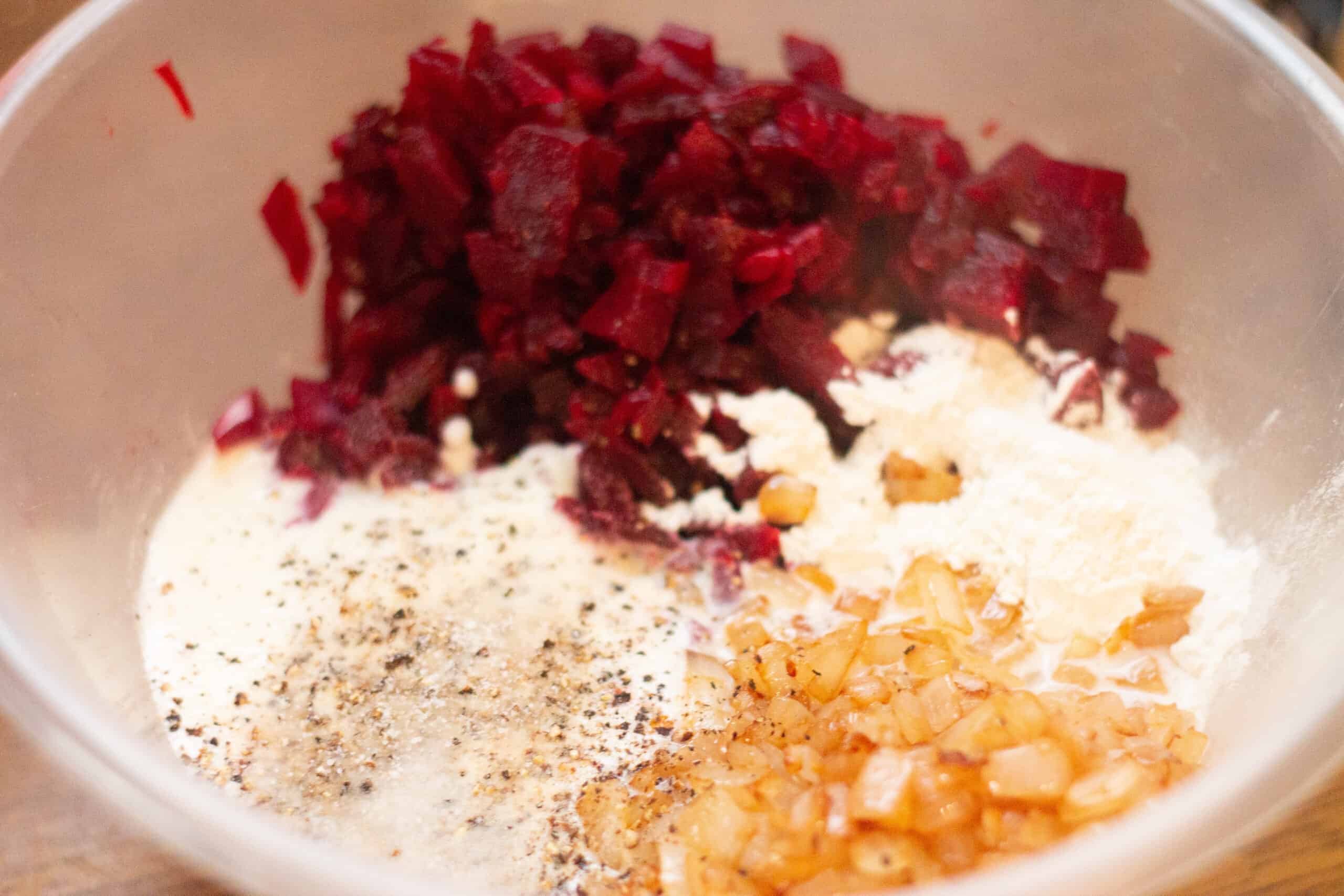 Sauté onion and garlic and mix into all the other ingredients to form a sticky dough
Such a vibrant colour!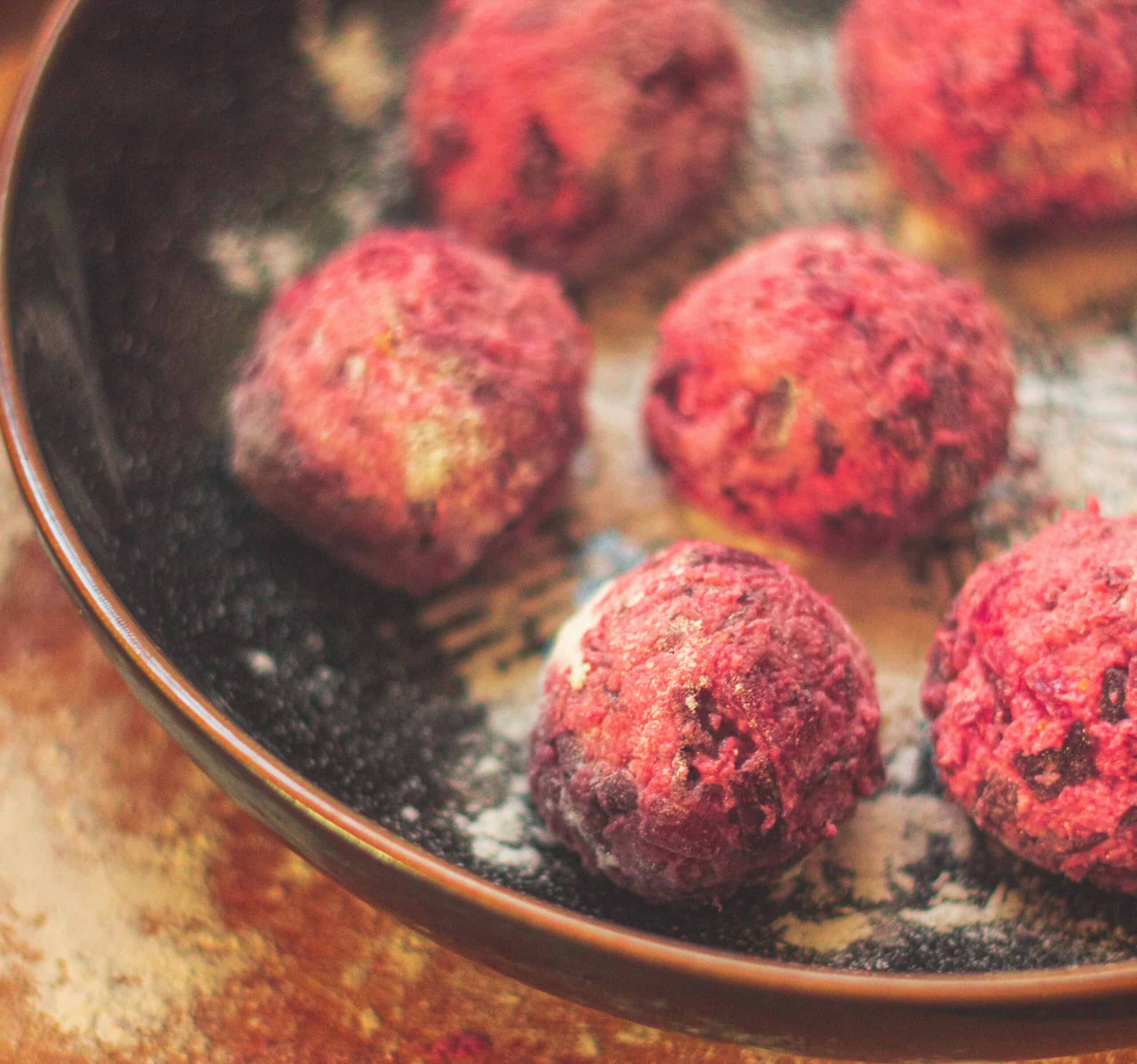 Form into round dumplings and poach in simmering water until they bob to the top!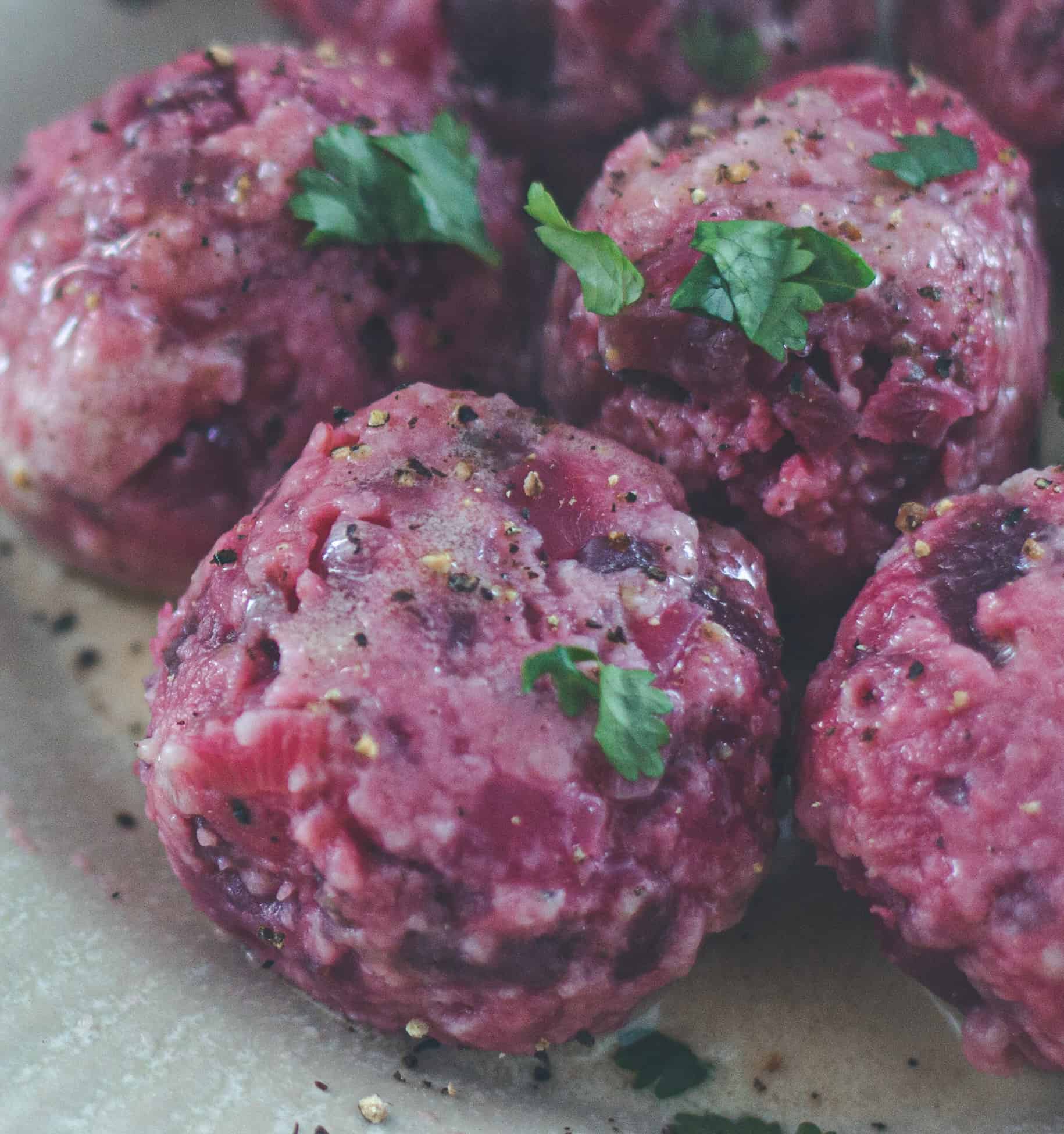 Serve with lots of melted vegan butter and a little chopped parsley or coriander
Hint: make the mixture the night before, refrigerate and it will setup nicely to make into dumplings the next day.
Substitutions
Beetroot – use cooked chopped spinach or mashed potato, or even cooked, diced carrot
Breadcrumbs – use gluten free breadcrumbs and gluten free all purpose flour instead to make this gluten free
Storage
Store the knodel mixture in the fridge overnight before cooking. They need to be cooked and eaten the same day.
I don't recommend freezing.
Top tip
I think that these beetroot dumplings would make a perfect starter because the batter is so easy to prepare and put to one side until you're ready to cook them.
When you remove your cooked knodel from the water, place them on some kitchen towel to remove any excess water, before plating.
FAQ
Vegan Beetroot Knodel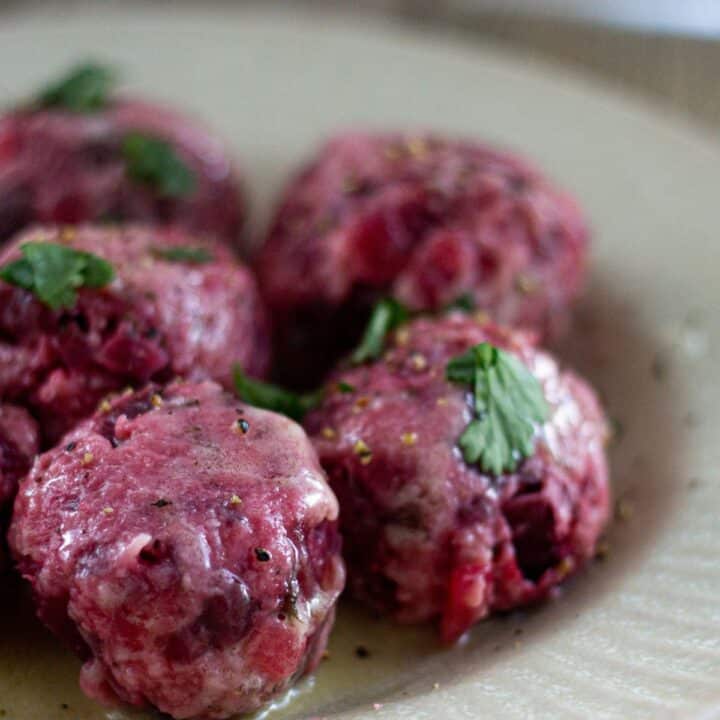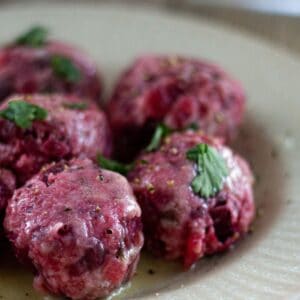 Simple delicious beetroot dumplings, perfect for a cold evening
Ingredients
½

tablespoon

olive oil

½

onion

finely chopped

1

clove

garlic

finely minced

250

g

beetroot

cooked, peeled and finely diced (you can use ready cooked in the vacuum packs)

200

g

breadcrumbs

I used panko

125

ml

milk

¼

cup

natural yogurt

I use soya

2

tablespoon

plain flour

Seasoning
Instructions
Heat the oil in a frying pan and very gently sweat off the onion and garlic until translucent and fragrant.

Add to a mixing bowl, along with all the other ingredients.

Stir thoroughly and season well. This mixture will stand for a while before it needs preparing if you have other things to prep in advance.

Bring a pan of salted water to the boil then turn down to a simmer.

Lightly flour a baking sheet.

Wetting your hands, break of bits of the dumpling batter, which will be very sticky, and form them into rough ball shapes, around the size of walnuts.

Place them on the floured baking sheet.

Drop them carefully into the simmering water and poach for about five minutes or until they bob to the surface, like tiny, pale purple meteors. Serve drizzled with melted butter and grated vegan Parmesan.
Nutrition Facts
Vegan Beetroot Knodel
Amount per Serving
% Daily Value*
* Percent Daily Values are based on a 2000 calorie diet.