Vegan Black Forest Protein Smoothie Bowl Recipe
Vegan Cherry protein smoothie bowl recipe. I thought I would share a simple recipe that is perfect for using up your summer fruits, even during these cold winter months.
The onset of summer always fills me with a strong desire to go fruit picking, those glossy red berries seemingly symbolising everything wonderful about the summer, and reminding us of eating raw berries with stained fingers when we were children.
Unfortunately, the shelf life of soft berries is as transitory as the season itself and unless you know people who will gratefully accept jars and jars of jams, you may find yourself throwing out berries that have grown grey fur coats out to the birds (they're not as picky as us humans).
Fortunately, it is really easy to freeze fruits, you just need to lay them out flat on a baking sheet in the freezer for a day or so, before bagging up. By freezing in this way, you're left with whole fruits that haven't been crushed by other freezer hogging fruits that are demanding their own space in the bag.
The recipes I'm sharing today is really simple but dazzingly delicious, perfect for quenching your thirst AND your appetite: my Black Forest Smoothie.
I love to use my favourite brand of vegan smoothie powder, Herbalife's Nutrition Vegan Protein Mix. Of course, you can use your own favourite powder, but this one is particularly good, packed full of vitamins, and will keep you full throughout the morning. I also add cacao or cocoa powder (depending on which I have in the cupboard), banana, some cherries (or any red berry of your choice) and a little maple syrup to sweeten.
How Do You Make A Smoothie Bowl?
Simple! You just blend up your smoothie ingredients, pour them into the bowl of your choice, and then add toppings:
sliced fruit
coconut
nuts or seeds
drizzle of maple syrup
yogurt
And of course, you can just drink as a regular smoothie if you'd prefer!
Customise your Smoothie Bowl!
Use any berries you want. I used cherries in this one, because, Black Forest, but a combination of frozen blueberries and strawberries (which particularly benefit from the baking sheet method of freezing) but raspberries, loganberries, blackberries or currants would be just as good.
Feel free to omit the chocolate if you just want to enjoy that fruity flavour instead. It gives you a feeling of having grasped onto a fleeting moment of the summer when, in reality, in the midst of winter, you've extracted a bag of frosty berries from the freezer.
I have been experimenting with freezing various fruits and then blending them to see what is achieved and the most successful thing was this chilly drink. The banana isn't obligatory and if you enjoy the tartness that some early season berries carry, then you'll love this. If, like me, you have a sweet tooth that constantly needles your pancreas, then the banana adds a natural sweetness as well as a definite creaminess and makes this drink more like a milk-shake than a healthy drink. Always a winner in my book if the health aspect is downplayed.
Vegan Black Forest Protein Smoothie Bowl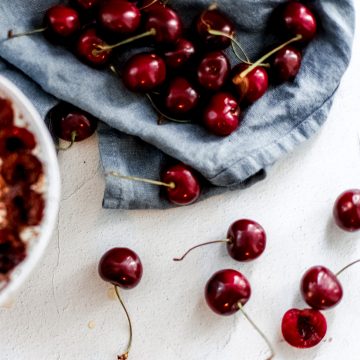 How to make a simple but decadent smoothie bowl
Ingredients
1

Banana

peeled

1

tbsp

Protein Powder

I use Herbalife's Nutrition Vegan Protein Mix

6

Cherries

fresh or frozen (stoned)

2

tsp

Cacao Powder

or use vegan cocoa powder

2

teaspoon

Maple Syrup

optional, or your liquid sweetener of choice

½

cup

Plant based drink

Soy, almond, hazelnut or coconut, plain, of your choice

1

cup

Ice
Instructions
Add all the ingredients to your smoothie maker and blend!

Pour into a bowl and decorate with your favourite smoothie bowl toppings!
Nutrition Facts
Vegan Black Forest Protein Smoothie Bowl
Amount per Serving
% Daily Value*
* Percent Daily Values are based on a 2000 calorie diet.

Try my other healthy breakfast ideas:
Click here for my Black Forest Smoothie Web Story!