How to Make Vegan Keto Chocolate Truffles
Vegan keto chocolate truffles. Truffles are one of the most indulgent treats, and now you can can enjoy them even when you're following a keto diet! Quick and easy to make, rich and delicious to taste!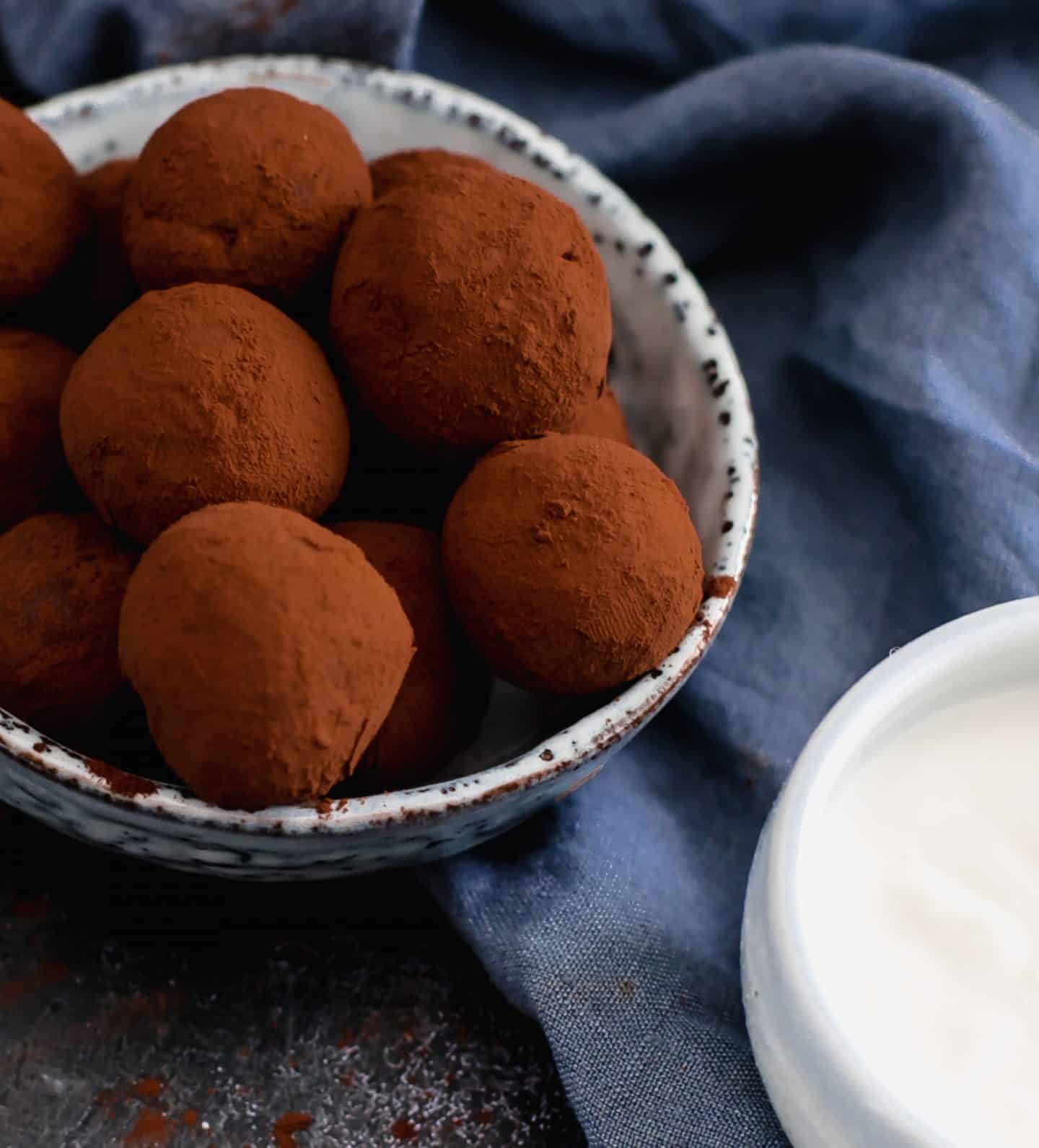 It's January, you might be on a healthy food kick. January symbolizes cutting out sugar/reducing calories for me, and by the 3rd of the month, I am already over healthy eating. Last night I was scouring the cupboards for anything that might have been sugar-free. There was nothing so I had to take matters into my hand! And so, here's my version of chocolate truffles, rich and dark, but decadent enough to feel that I'm eating my favorite chocolate bar. These truffles are also nut-free, no cashew cream or almond butter in them!
Nothing tastes more delicious, more naughty than a chocolate truffle, and these dark chocolate truffles are truly what you need when you are feeling a bit down or bored with healthy eating. They have a deep flavor, quite smokey almost. I love to use Callebaut 70.4% callets: they melt beautifully and have a far superior taste to any other dark chocolate I've ever used in baking.
These vegan truffles contain just two simple ingredients, plus a couple of additional (and optional) flavorings: dark chocolate chips and plant-based yogurt. If you want to go vegan, just use your favorite plant-based yogurt. If you want to be 100% keto, use almond or coconut yogurt, unsweetened. I love to add a little dash of espresso powder and vanilla extract to the truffle mixture.
Some vegan truffle recipes use coconut oil or coconut cream in them, to give them that unctuous melt; however, not everyone enjoys that taste or texture. The secret ingredient of yogurt gives texture and flavor to these truffles without being overpowering. Traditional truffles also rely on heavy cream as well, none of that here! These are easy vegan chocolate truffles!
How to make Vegan Keto Chocolate Truffles
Such an easy recipe, in just two steps:
Simply melt your chocolate. I like to utilize the microwave for melting chocolate, placing my chocolate chips in a bowl, and heating for 10-second bursts until you have a glossy, liquid chocolate. You may prefer to use a double boiler (or a small bowl over a pan of hot water simmering at medium heat) for greater control over melting your chocolate, so whichever method you prefer.
Once you have your silky, melted chocolate, add your optional flavorings (see customize your truffles), and then stir in the yogurt. Leave to chill in the fridge for several hours and you will have a firm chocolate ganache that you can mold into truffles, coating them in dark cocoa powder. I like to use a mini ice cream scoop (or small cookie scoop) for nice, even-sized truffles, but a teaspoon will work just as well! Then, roll in dark cocoa powder or chopped nuts, and that's it!
How do I fix Seized Melted Chocolate?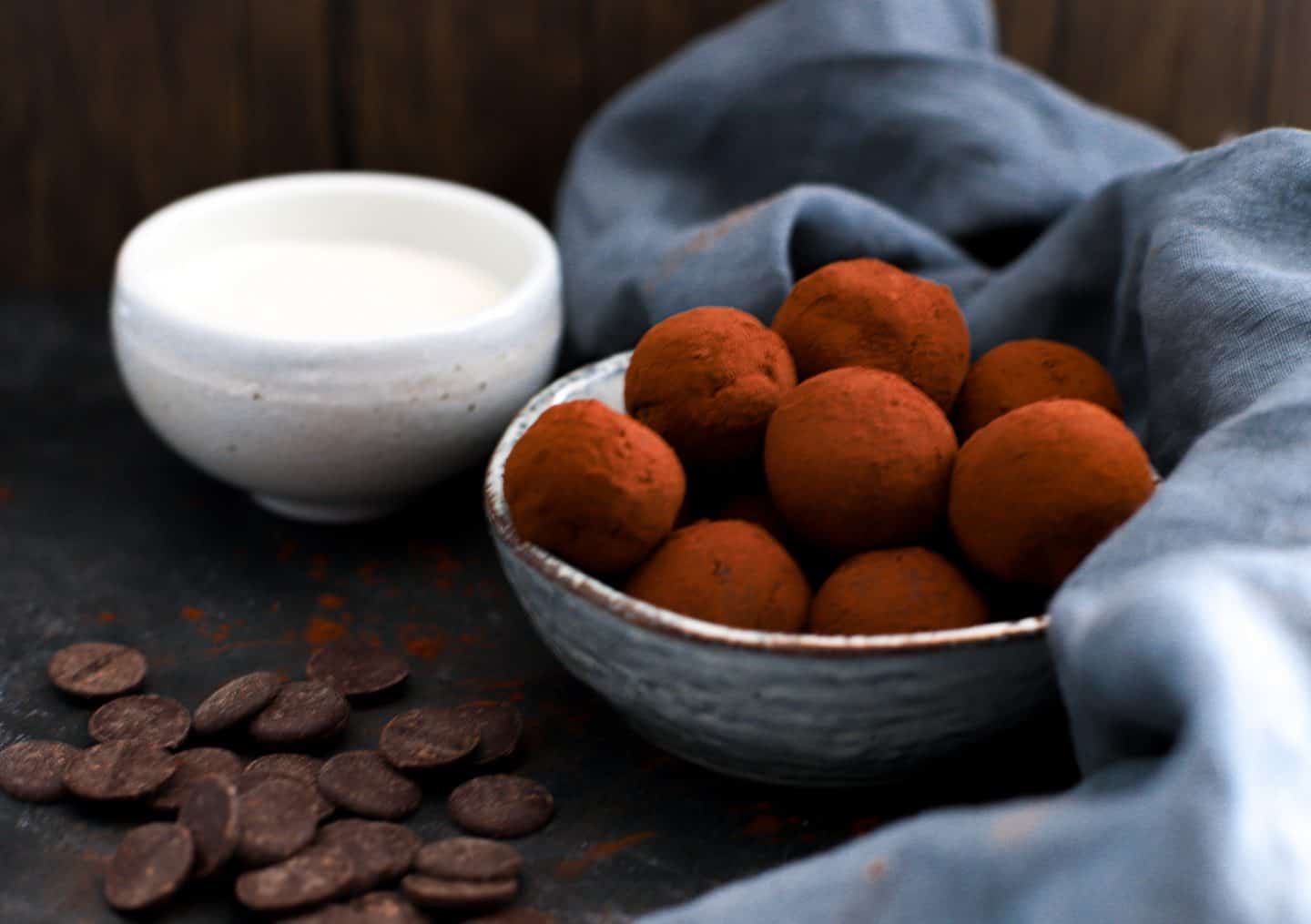 Seized chocolate happens when the chocolate is overheated or you might get a splash of water in it. Instead of being glossy and liquid, it will go thick and dull. Don't panic though! You can save it by adding either a couple of drops of water and beating it hard or you can simply add a teaspoonful of yogurt to the mixture. This exact thing happened the first time I made these truffles and I managed to get it back to a thick, glossy ganache by adding a little yogurt.
Modifications
I love to add a little Espresso Powder and Vanilla Extract. If the chocolate is extremely bitter, and I'm not too worried about sugar watching, I might also add a little maple syrup to balance out that bitterness. I love to roll mine in just cacao powder, but here are some other ideas for different flavors:
Sprinkle a little sea salt onto your ganache before you pop it into the fridge. A pinch of salt makes all the difference and is one of my secret ingredients in my chocolate recipes.
Add a little orange zest for a classic festive flavor
Add a little bit of mint extract
Roll in chopped nuts or coconut flakes
Stir in pieces of chopped maraschino cherries to your ganache
Melt some dairy-free chocolate chips and roll the small balls in it to give them a crisp chocolate coating
Stir in some cacao nibs
Stir in 3 tbsp peanut butter to add a delicious nutty flavor
I think that these simple decadent chocolate truffles would make a perfect gift for the chocolate lover in your life or a special someone on valentine's day, and no one need ever know how easy or healthy they are! This is one of the best vegan chocolate truffles recipes that I've ever tried, and I love the health benefits!
Equipment
Try my other delicious vegan chocolate recipes
Vegan Keto Chocolate Truffle Recipe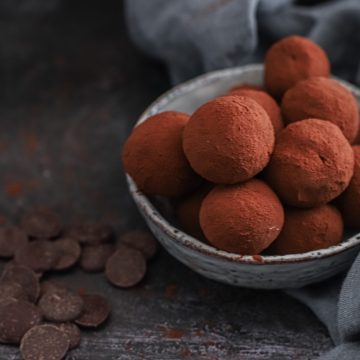 A simple two ingredient recipe for a treat when following the keto diet!
Ingredients
½

cup

Chocolate Chips

for these to be keto, they must be at least 70% cocoa

⅓

cup

Almond Yogurt

you could also use any plant based yogurt of your choice

½

tsp

Vanilla Extract

½

tsp

Espresso Powder

1

tsp

Maple Syrup

optional

3

tbsp

Cocoa Powder
Instructions
Place the chocolate chips in a microwaveable bowl, and, in 10 second bursts, melt the chocolate until it glossy and completely melted

Stir in the espresso powder, vanilla extract and maple syrup, if using

Fold in the yogurt until completely amalgamated

Cover with clingfilm and refrigerate for at least 3 hours
To roll the truffles
Sift the cocoa powder onto a plate

Using either a mini scoop or a teaspoon, scoop out balls of the chilled truffles and roll between the palms of your hands to get a uniform round shape.

Drop your truffles into the cocoa powder and coat thoroughly.
Nutrition Facts
Vegan Keto Chocolate Truffle Recipe
Amount per Serving
% Daily Value*
* Percent Daily Values are based on a 2000 calorie diet.