Easy Vegan Rhubarb Cake Recipe
This post contains links to affiliate websites, such as Amazon, and we receive an affiliate commission for any purchases made by you using these links. We appreciate your support!
Vegan Rhubarb Cake is a delicious and moist cake that is perfect for any occasion. Made without any animal products, this cake is great for those following a vegan lifestyle or for anyone wanting to try a healthier alternative. The tangy flavor of rhubarb pairs perfectly with the sweetness of the cake, creating a winning combination that will satisfy any sweet tooth.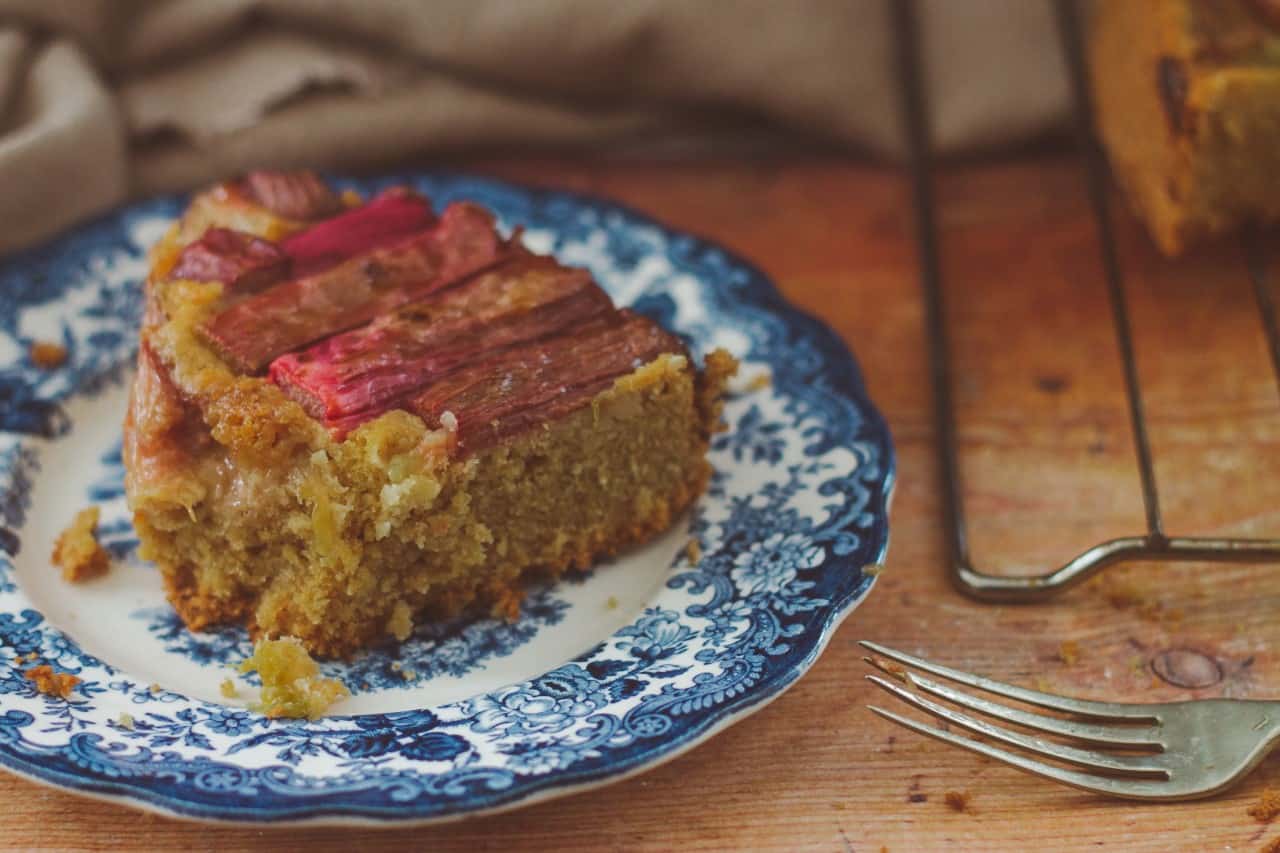 Rhubarb always reminds me of my grandad. He would tell me, as he tucked into a bowl of stewed rhubarb and custard, that his favourite way to eat fresh rhubarb was raw. During rhubarb season, freshly picked and dipped into a bowl of sugar. He would sit on this front door step as a boy, the warm summer sun on his face, rhubarb snapped from it's mass of bushy leaves. His sisters fussing around him, as he was the baby of the family. He passed away four years ago, and I hope that he felt that warmth on his face, and feeling of love as he slipped away. I miss him everyday. He was such a positive, grounding influence on our family, gentle and kind, always supportive and always proud.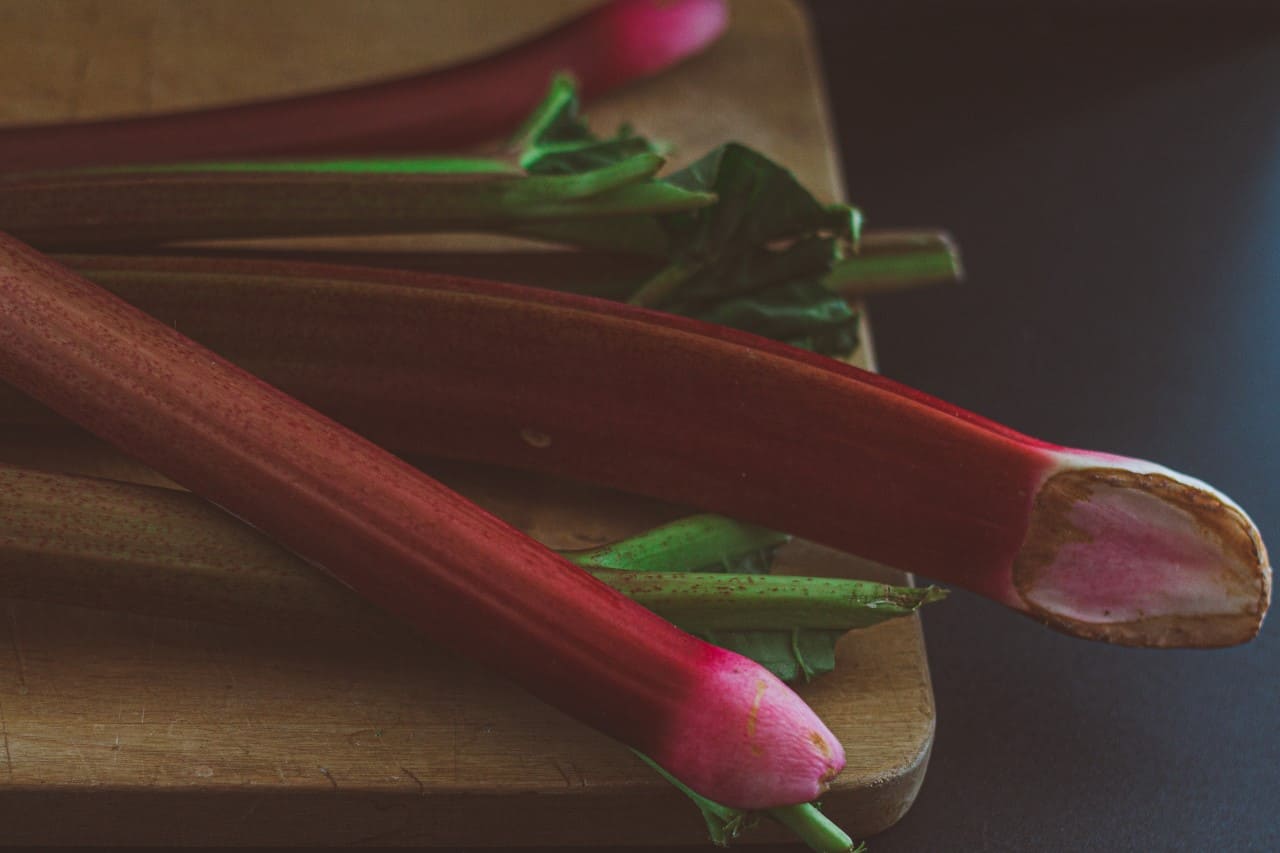 I still have to try raw rhubarb that way, but I know he also would have loved this vegan Rhubarb Cake. There is a deeply evocative, old-fashioned mood to fruits like rhubarb and gooseberries. It's a little bit Enid Blyton, washing down cucumber sandwiches with lashes of ginger ale.
Fact: Did you know that rhubarb can be grown above ground or in dark tunnels (forced rhubarb)? The forced gives you the beautiful jewel coloured pink rhubarb.
Last week I bought some rhubarb from my local farm shop, and was idly scrolling through google, looking for rhubarb recipes, when this beautiful, chevron-designed rhubarb cake from KateBird Bakes leapt off the screen at me.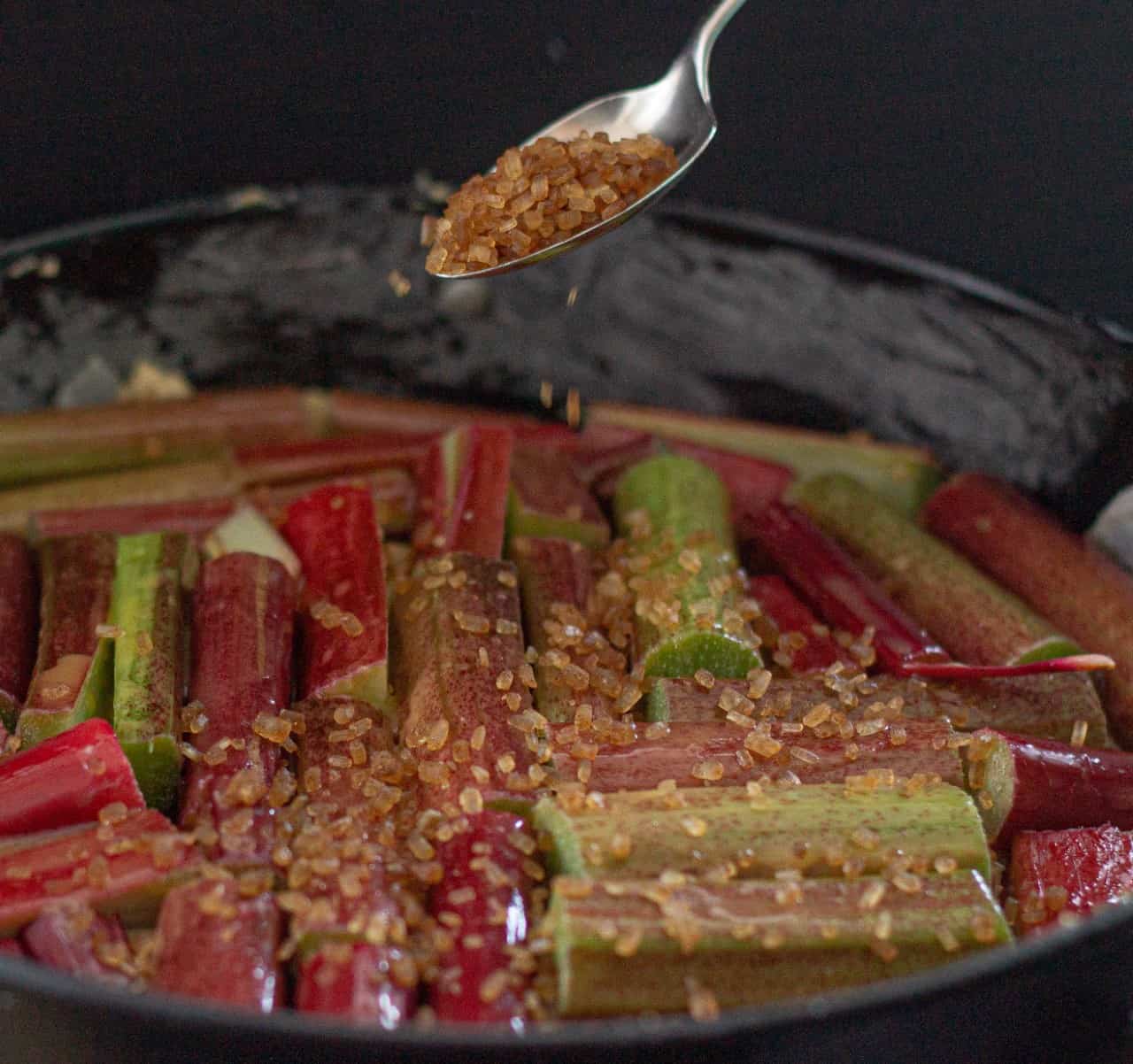 Her rhubarb cake is not vegan, so I made my own adjustments to make it so, but what her cake is, is a labour of love. She details how she worked and reworked her recipe, to produce the most perfect, delicately scented almond rhubarb cake. I have been able to streamline some of the steps in the original recipe (and I apologise to Kate if this to the detriment of her recipe), which makes this quite a quick cake to put together.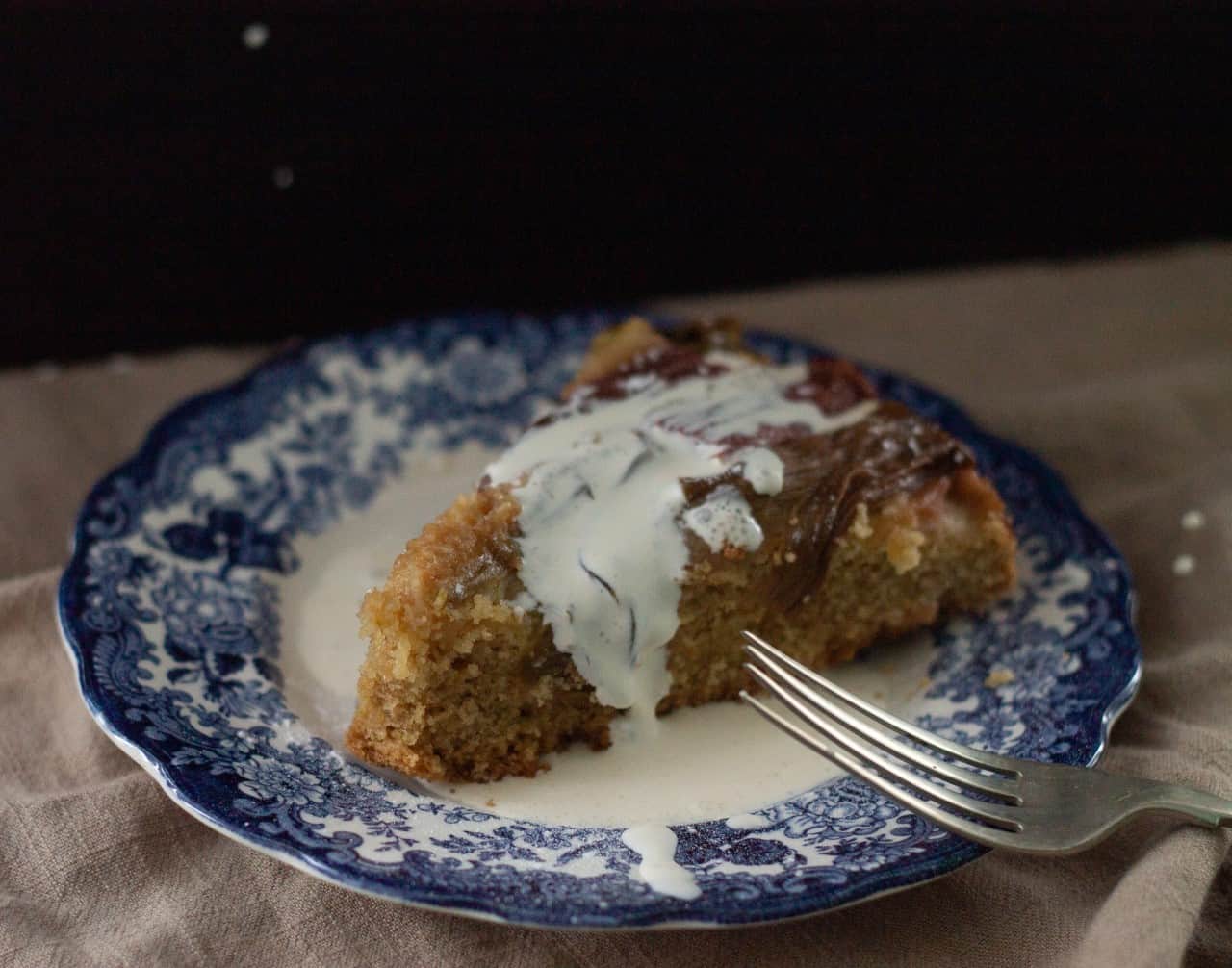 What Can I use Instead of Rhubarb?
If you don't like rhubarb, you can use the following fruits, all of which will be just as delicious:
plums
pineapple
pears
peaches
apricots
apples
cherries
bananas
Make sure to peel, core or stone any of the fruits as necessary. You could even use tinned fruit, thoroughly drained, in a pinch.
What Makes This Cake Vegan?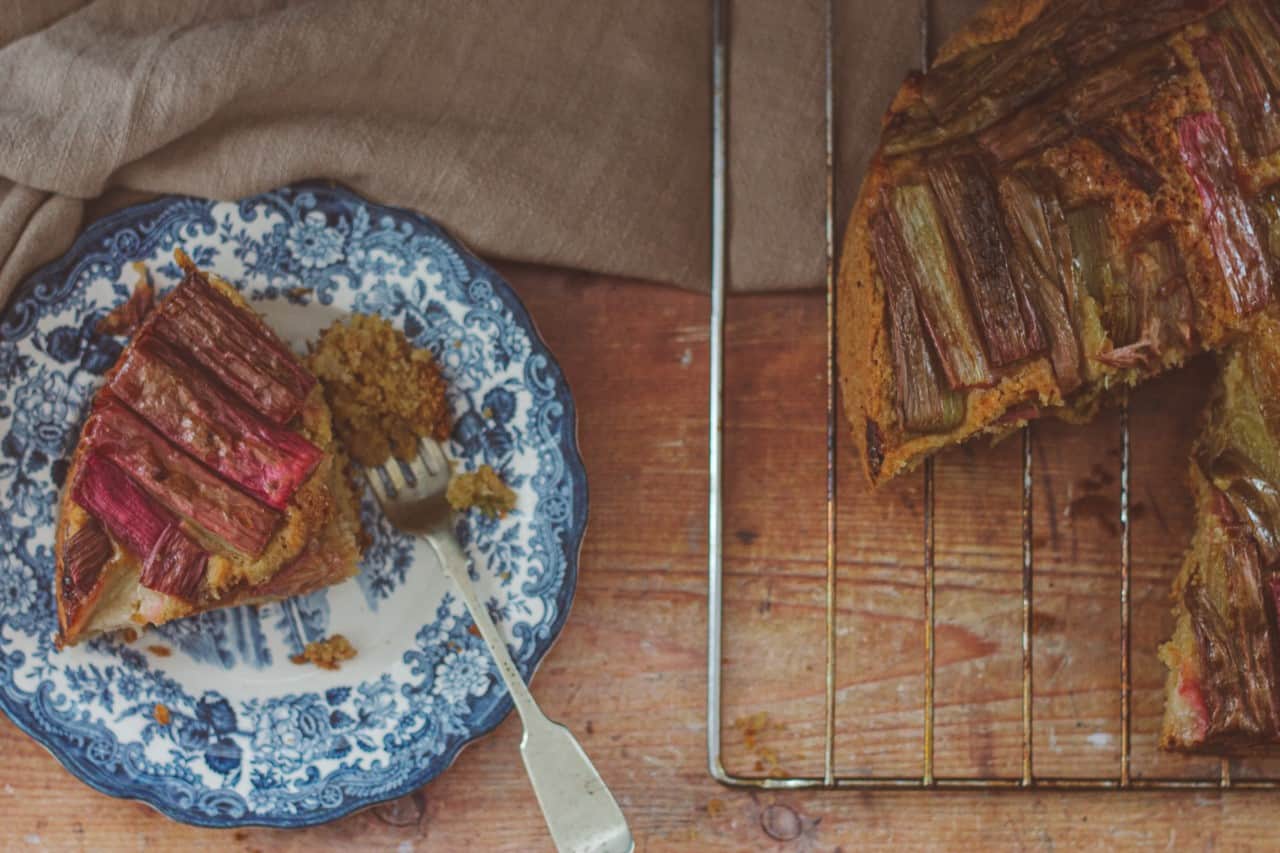 Replacing the eggs with egg replacer. My favourite brand is Orgran.
Vegan Yogurt, instead of buttermilk. It adds a comparable tenderness to the crumb. I love use a vanilla flavoured vegan yogurt in sweet baking.
I used extra baking powder for a little extra lift in baking
I also used soft brown sugar in the recipe instead of white sugar. I prefer the flavour and colour that brown sugar gives to cakes. An almost imperceptible caramel hint. The choice here, is of course yours. Don't let lack of brown sugar stop you making it. Just go ahead and use white!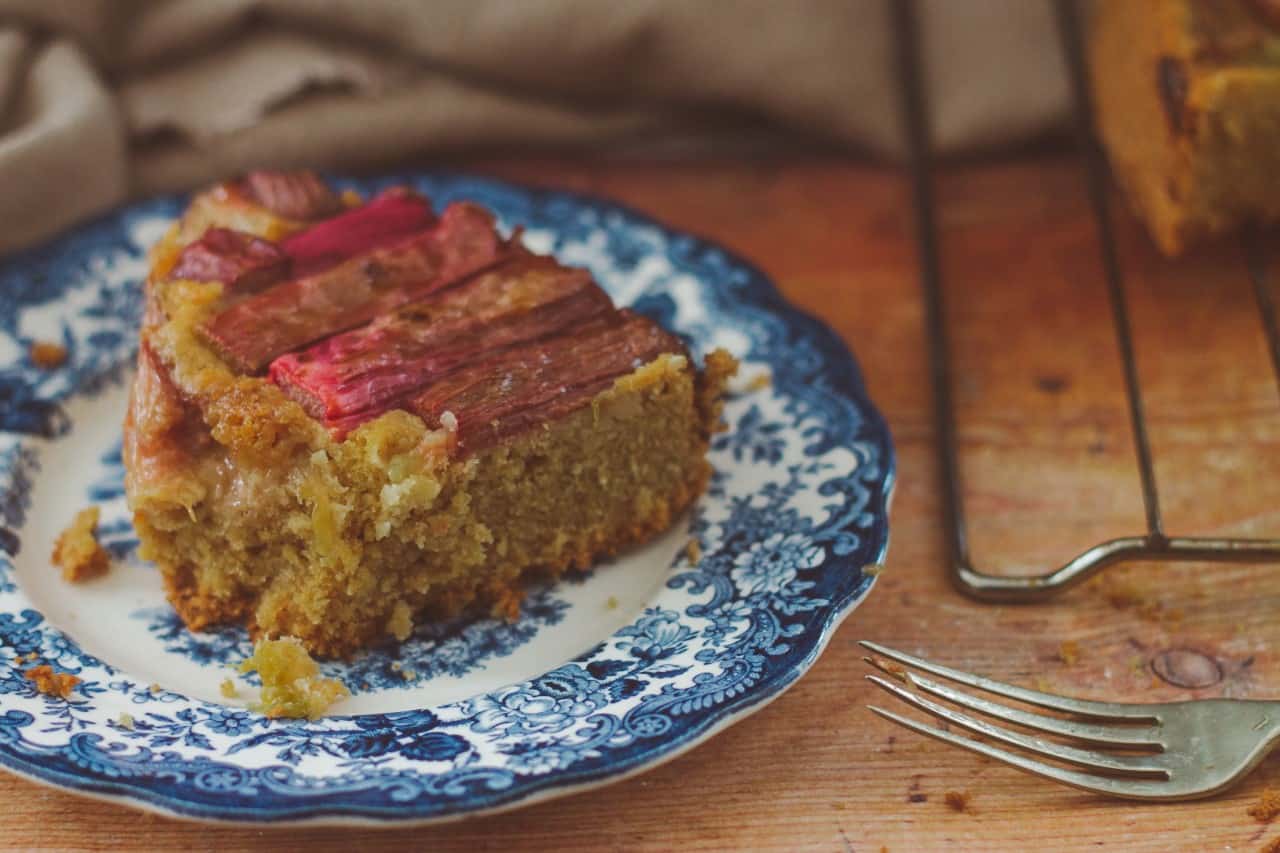 It's pretty simple. Cream your butter and sugar together until it's pale and fluffy. Beat in your prepared egg replacer, and then the remaining wet ingredients. Fold in the flour, ground almonds and baking powder and that's your basic cake mix done. So you can see at this point that you have a traditional creamed cake batter that can now be used with a lot of different ingredients.
I tried to copy KateBird's beautiful chevron design, with mixed results, but overall I think it came out looking quite dramatic. I cut my rhubarb into 1-2″ chunks and then did a sort of chevron design. Really, I think that tart rhubarb is so beautiful, with such a stunning colour, that any pattern will look simply perfect. I love to serve it for afternoon tea with some cucumber sandwiches (or at least, in my head, I like to think that I'm that classy!) and it makes a perfect coffee cake.
I hope that you enjoy making my easy vegan rhubarb cake recipe as much as I did!
Ingredients
All purpose flour (plain flour). You can also use self raising flour or whole wheat flour.
Ground almonds (almond flour). Adding that moist texture and adding longevity to the cake.
Vegan butter. Use your favourite brand, but ensure it is at room temperature.
Brown sugar. This adds an indefinable caramel hint to the cake. You can use white sugar, but it won't give you that soft, golden brown sponge and caramel flavour.
Rhubarb stalks, cut into 1″ rhubarb pieces. Tangy rhubarb has such a unique flavour: some people enjoy it unsweetened but I think that sugar and vanilla brings out the lovely tart fruity flavor.
Egg replacer. I use Orgran, but you could also use a flax egg instead.
Vanilla extract and almond extract. Both complement the rhubarb perfectly.
Vegan yogurt. I use Alpro soy, but you could use your favourite plant based yogurt.
This is ONLY a list of ingredients for the recipe; please see recipe card below for complete printable recipe.
Method
Line a 9″ springform pan with greaseproof paper.
Preheat oven to 180c.
Sift the dry ingredients into a large bowl.
In another bowl, beat together the butter and sugar until creamy, then beat in the prepared egg replacer.
Add the yogurt and extracts, then gently fold in the dry ingredients, until you have a smooth batter (you can also use a stand mixer).
Pour into your prepared cake pan.
Now arrange your chopped rhubarb on top of the batter in an even layer, before sprinkling with a little bit of sugar.
Bake for 40-45 minutes, checking if it's cooked using the toothpick test.
Leave to cool completely in the tin, placed on a wire rack before gently turning out onto a cake plate.
Serve, cut into wedges with vegan vanilla ice cream or pouring cream.
For more delicious vegan sweet treats
Vegan Rhubarb Cake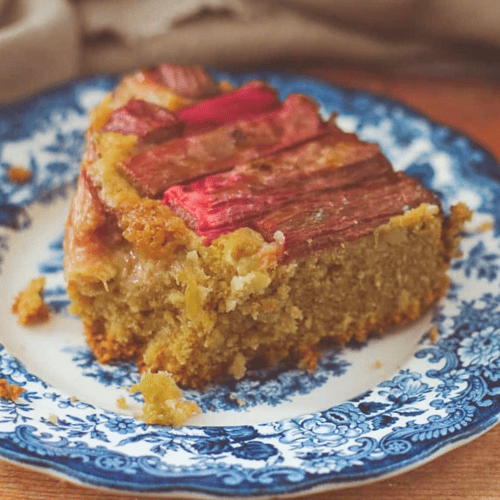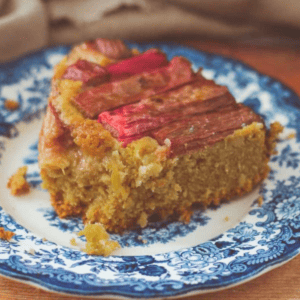 A delicious old fashioned cake
Equipment
9" Lined Cake Tin (springform or loose bottomed)
Ingredients
1½

cups

Plain Flour

-

or use Gluten Free

½

cup

Ground Almonds

2

tsp

Baking Powder

½

tsp

Bicarbonate of Soda

½

cup

Vegan Butter

-

at room temperature

¾

cup

Brown Sugar

2

tbsp

Egg Replacer, whisked up with 4 tbsp water

1

tsp

Vanilla Extract

1

tsp

Almond Extract

½

cup

Vegan Yogurt

-

I like to use a vanilla flavour

8

Stalks

Rhubarb

-

trimmed and cut into 1" lengths
Instructions
In a large mixing bowl, whisk together flour, ground almonds, salt, baking powder and soda

Using hand mixer (or by hand), beat the butter and sugar until creamy

Beat in the vegan egg replacer and mix for another couple of minutes

Add the yogurt, vanilla and almond extracts and beat in

Finally,

fold

in the dry ingredients gradually until thoroughly combined

Pour mixture into prepared cake tin

Place your chopped rhubarb in one layer on top of the batter. The pattern is up to you!

Sprinkle a little more brown sugar over the top of the rhubarb

Bake for 40-45 minutes, or until a toothpick comes out clean.

Let cool completely before removing from cake tin.
Please note that where the recipe asks for milk, butter or yogurt, this refers to any plant-based version that you prefer.
Nutrition Facts
Vegan Rhubarb Cake
Amount per Serving
% Daily Value*
* Percent Daily Values are based on a 2000 calorie diet.