How to Prepare Brussels Sprout Tops
Brussels Sprout tops recipe. Brussels Sprouts are a polarising vegetable. They are almost universally loathed by children, and as our taste buds develop, we may suddenly gain a love for them in adulthood. Did you know that you can also eat the tops? Or did you know such a thing even existed? Read on!
You may only eat them once a year, on Christmas Day, but the beloved Brussel can be enjoyed in dishes other than a roast (although, you'd be foolish to avoid my delicious, braised sprouts with chestnuts)
When are Brussels Sprouts in Season?
You can buy frozen Brussels Sprouts all year round, but you will start seeing stalks of them around October/November. They have their best flavour after the first frost. They start to disappear from the shops early in the year.
What are Brussels Sprout Tops?
You might have seen the slightly raggedy, mini cabbage-type brussels sprout tops in your local veggie shop. You almost certainly won't see them in Tesco. They taste sprouty but not as strong as the tight little buds of sprouts in the grocery store.
How do you prepare Brussels Sprout Tops?
I like to shred them and sauté them in a little olive oil with some garlic, onion and seasoning.
You can also stir fry Brussels sprout tops too, again simply shred and add to your favorite stir-fry mixture.
Add them to mashed potato to make a bubble and squeak.
Stir them into a quiche or tart for a fancy supper dish.
Try my other delicious vegan sides
Braised Brussels Tops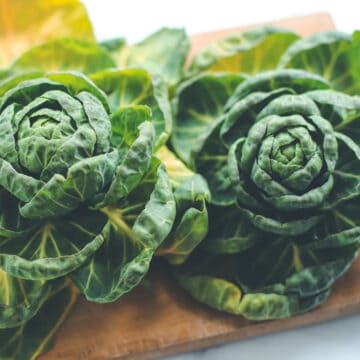 A simple but delicious way to serve Brussels Sprouts tops
Ingredients
1

Brussels Sprouts

-

top only, shredded

1

Onion

-

small, white, peeled and thinly sliced

1

tbsp

Olive Oil

1

tsp

Butter

-

vegan

½

tsp

Sea Salt

½

tsp

Black Pepper

-

freshly ground
Instructions
Heat the oil and butter in a frying pan or skillet

Add the onion slices and

sauté

until soft and golden

Add the shredded brussels tops and saute for a couple of minutes.

Add a ¼ cup of water and simmer until tender, another 5 minutes or so.

Taste for seasoning and serve
Please note that where the recipe asks for milk, butter or yogurt, this refers to any plant-based version that you prefer.
Nutrition Facts
Braised Brussels Tops
Amount per Serving
% Daily Value*
* Percent Daily Values are based on a 2000 calorie diet.