Light and Fluffy Vegan Hot Cross Buns
I love Easter and I love hot cross buns. The beginning of Spring and the warm weather, daffodils and easter eggs. I know that many hot cross buns are accidentally vegan anyway nowadays, but if you fancy making your own, I have just the recipe!
PIN my easy vegan Hot Cross Buns to make later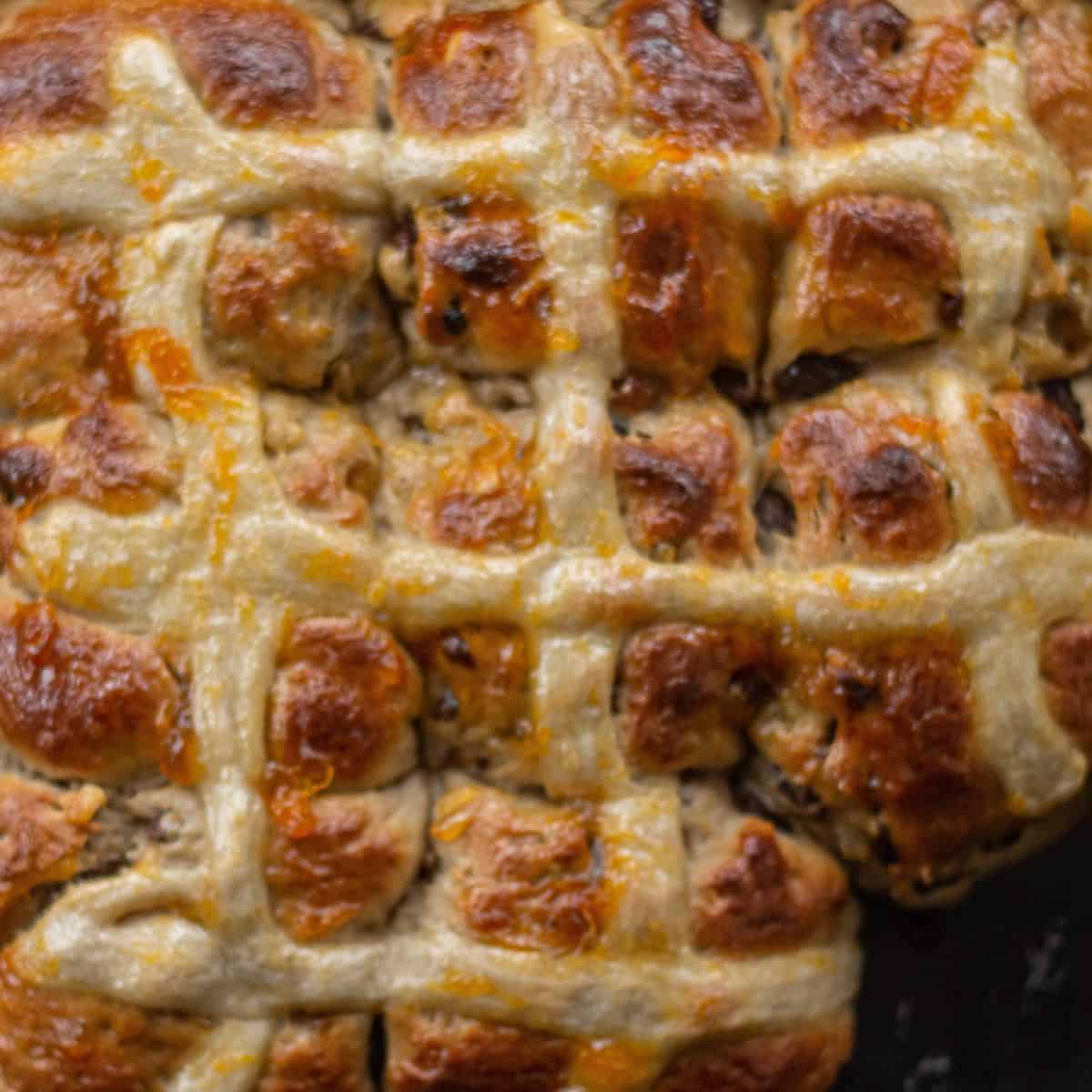 Of course, Hot Cross buns seem to fill the shelves around February and in many different flavours. My favourite is the classic fruited bun, but stores like M&S bring out all sorts of wacky flavours like marmite or cheese, and some that are really quite nice, like Bramley apple or marmalade.
This was inspired by my easy vegan Chelsea Buns recipe, which are a different type of fruited bun, but still really good and my spiced Easter shortbread. Got leftover hot cross buns? Try my delicious cheats vegan hot cross bun bread pudding!
"Half for you and half for me, between us two shall goodwill be"
I remember how exciting it was when the Easter goodies started to appear in the stores. Row upon row of brightly coloured Easter eggs, saffron-coloured edible chicks or bunnies, a surfeit of marzipan vegetables and, of course, the spiced hot cross bun.
Nowadays you can buy them all year round but there is something so intangibly Easter about biting into those soft, highly spiced and fruited buns, lightly toasted and spread thickly with butter.
I have wasted several pounds of ingredients trying to produce a decent vegan hot cross bun. One that retains that soft, bready texture of a traditional bun, with no compromise. I have made kneadable doughs that didn't rise and buns that resembled cricket balls, until I had a "Eureka!" moment (I have a few of these).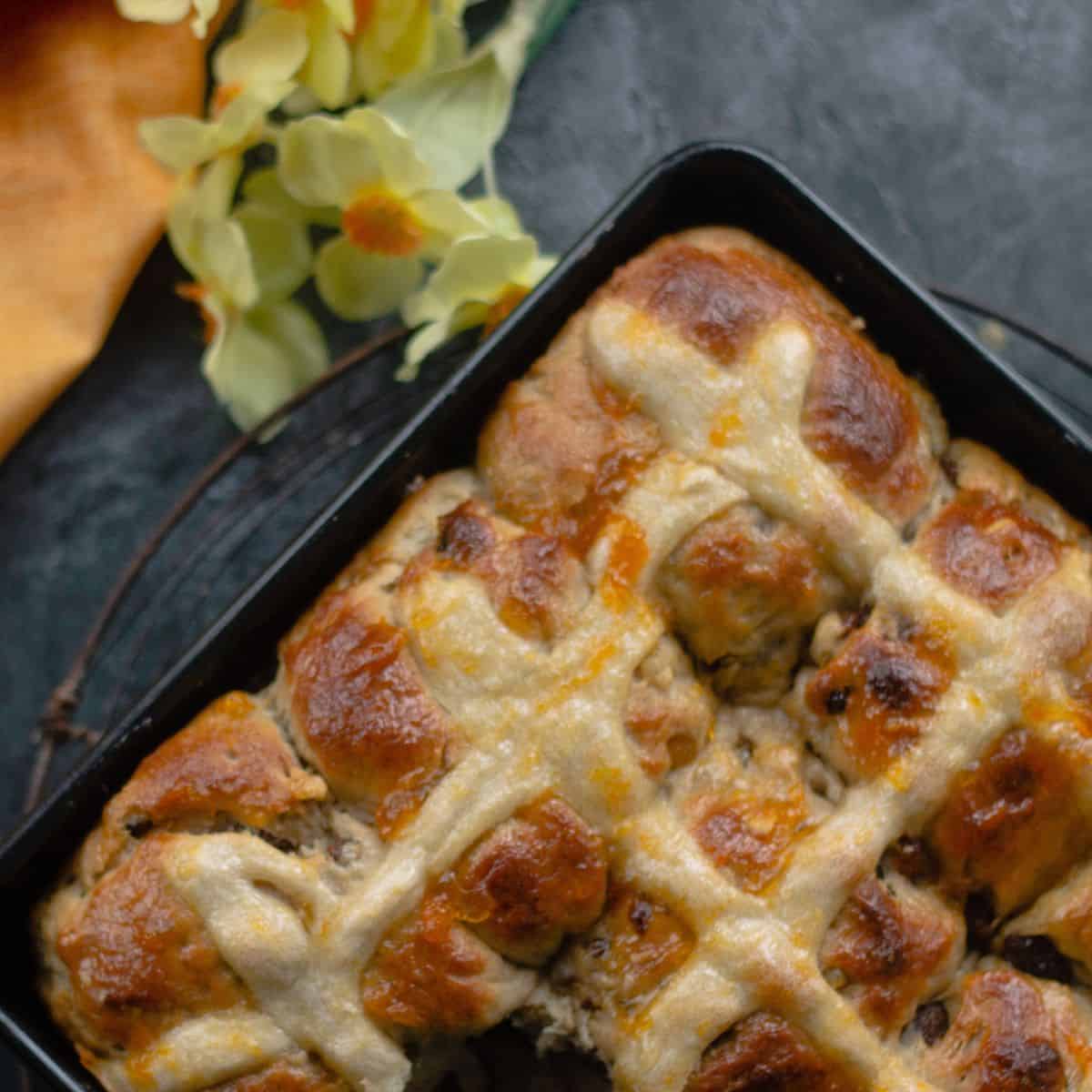 I had used an online recipe for a Christmas panettone and remembered how it had risen sky-high and produced a delightful bready texture that was redolent of a true panettone. Why could this dough not work as a hot cross bun?
So, this vegan hot cross bun dough, similar to a butter-enriched brioche, gives us a light, fluffy texture, is simple to make, and you might just find yourself making these vegan buns all year round!
Ingredients
plain flour or strong bread flour
yeast, I use instant
vegan butter, very soft. You might want to soften it in the microwave or put it near a radiator. You don't want melted, but you do want very soft.
raisins and chopped peel. I cover them with a little warm water to help soften them. This helps them get incorporated into the dough much easier. Hard raisins tend to pop out of dough during kneading, and it's really annoying!
spices: allspice and cinnamon
yogurt. This enriches the dough to give a very tender bun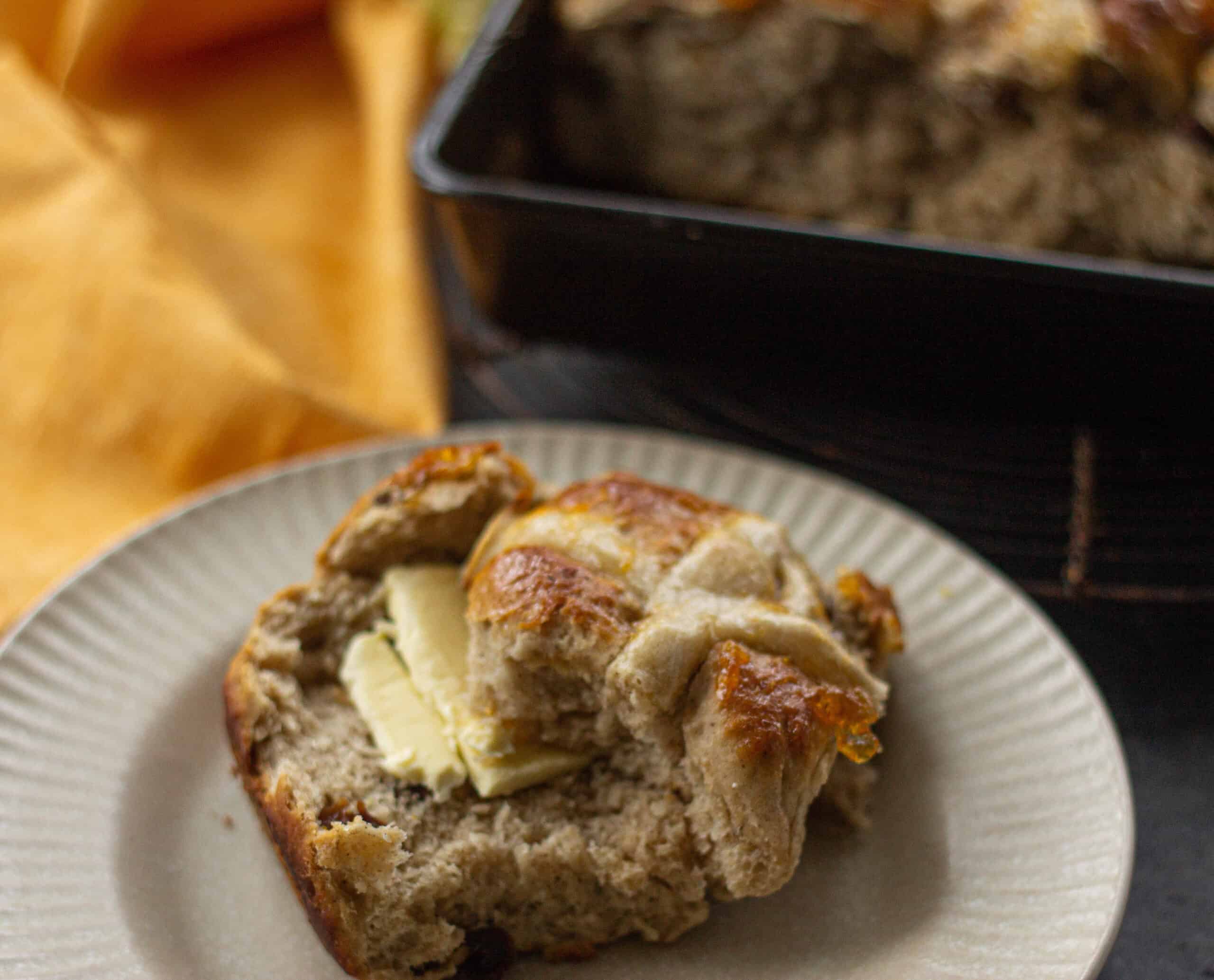 Instructions
Mix the yogurt mixture and activated yeast into the flour, spices and sugar
Mix, then start to beat in the softened butter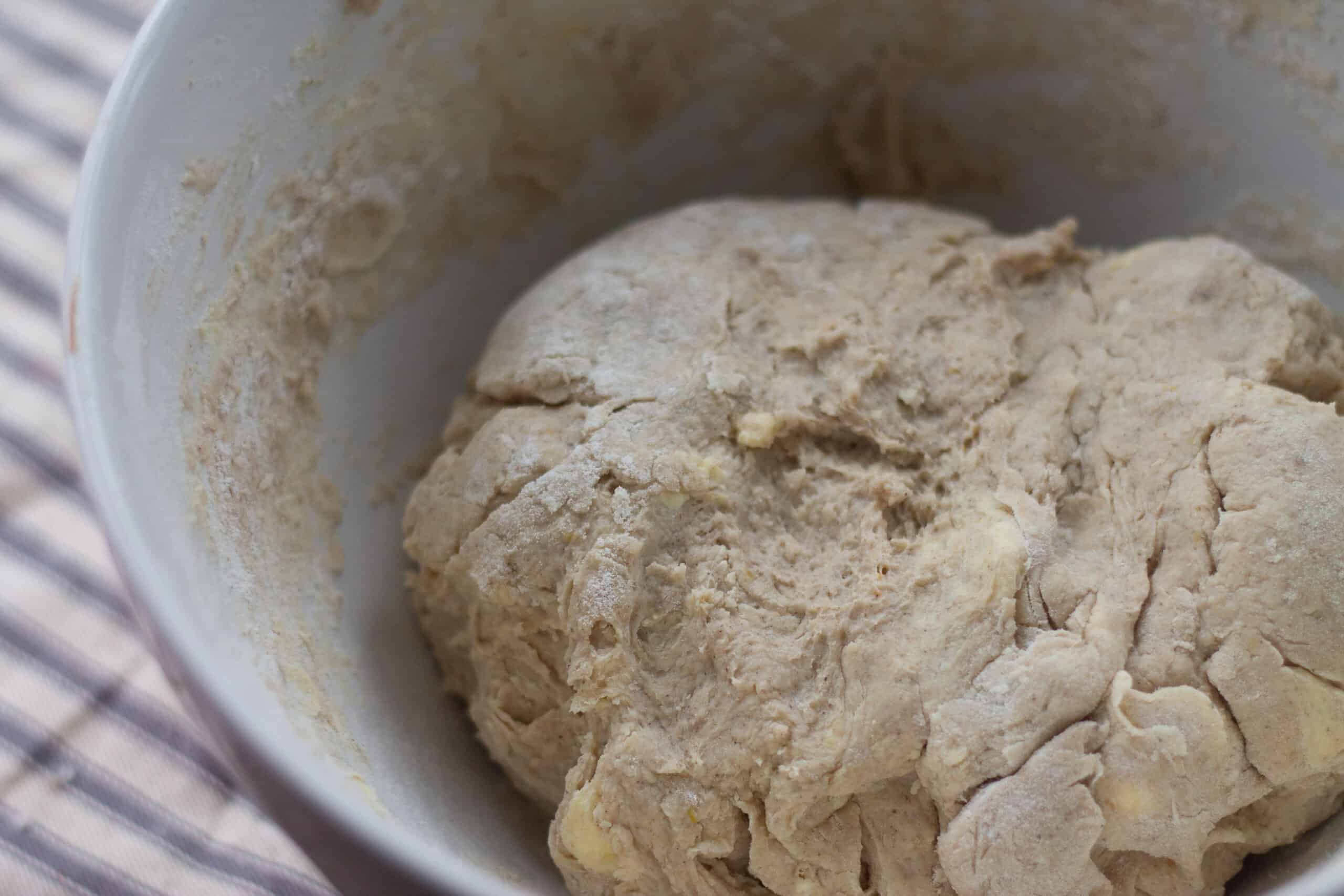 Once you have a soft dough that's not too sticky, leave it to rest for 10 minutes or so.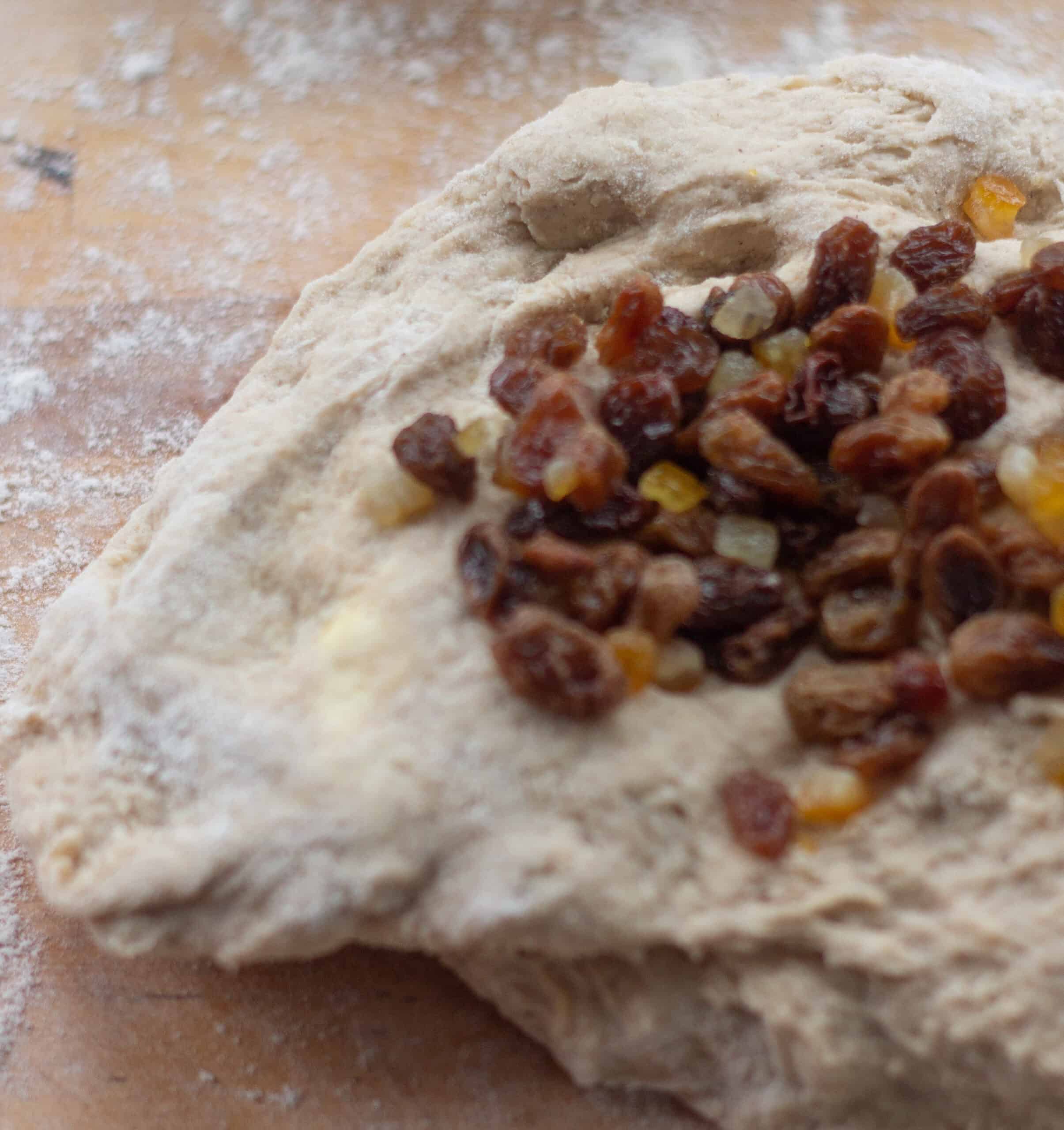 Now knead in the raisins and peel, until you have a soft and smooth ball of dough.
Leave to rise until doubled.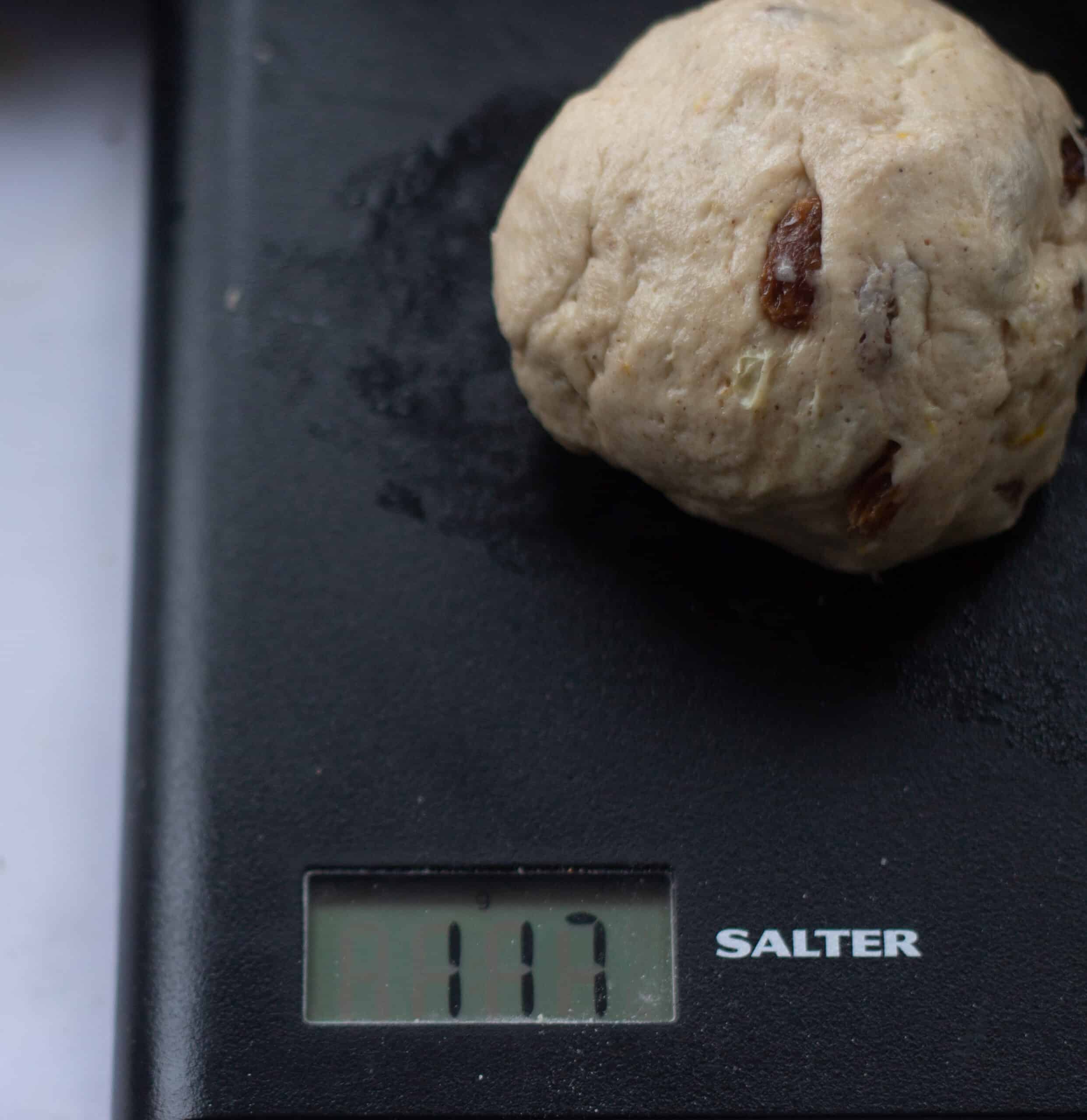 Weigh the dough and divide into 12 balls
Place in your lightly oiled tin, just touching and leave to rise for another half an hour.
Make the dough for the cross if using and place in a piping bag
and pipe across the top of the buns just before you put them in the oven.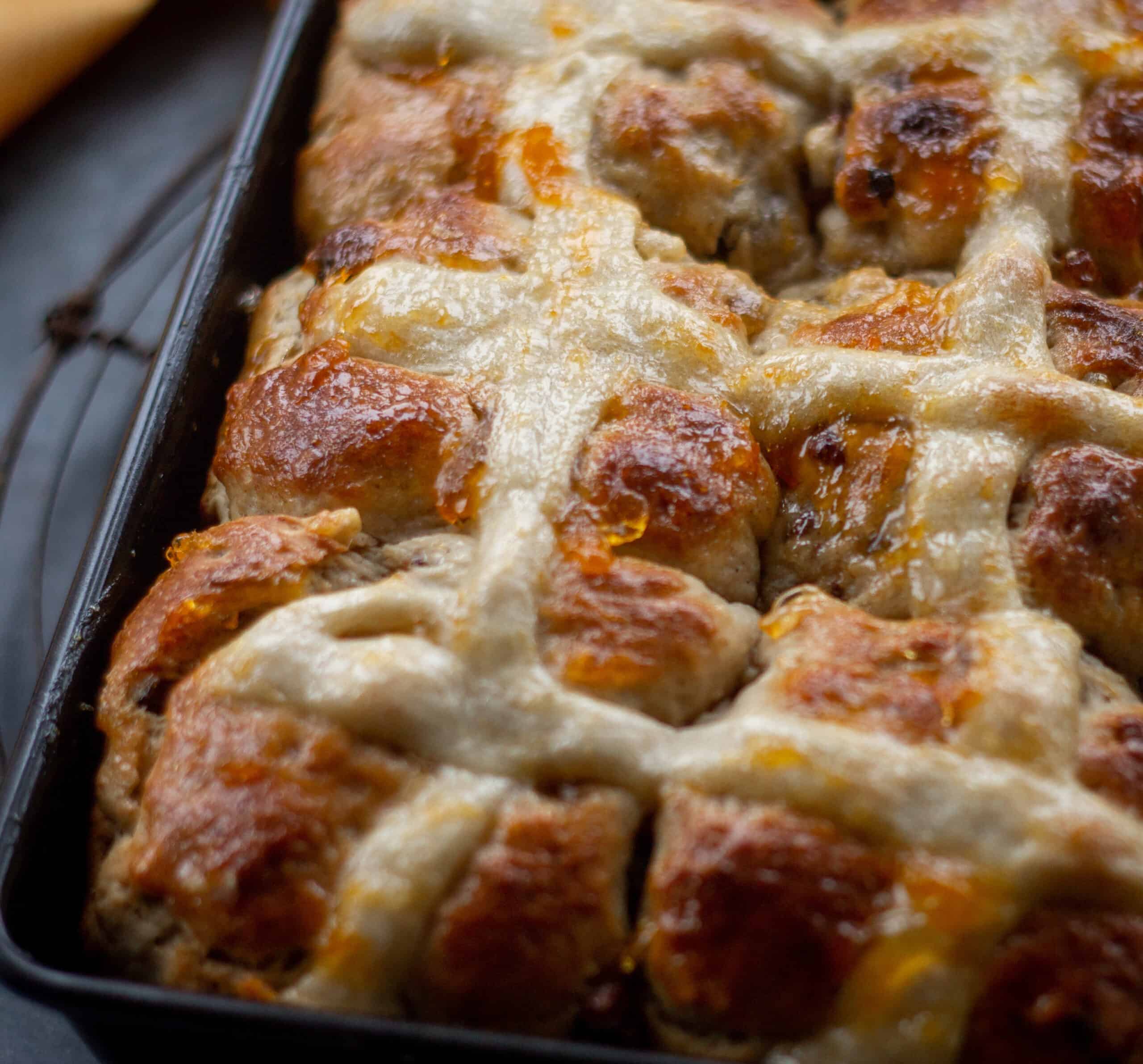 Bake for 30-35 minutes or until golden brown, then brush with some melted apricot jam.
Hint: if you don't want to make the cross on the top of the bun using dough, you can just simply slice a cross into the buns after you have rolled them out and placed them for the second on the baking tin. Make the cross quite deep (although not all the way through). Or you can omit this step altogether.
Substitutions
flour – you could use a mixture of white and wholemeal flour if you prefer
Variations
Fruit– try adding some diced apple instead of dried fruit or try dried cranberries for a tangy fruit
Kid friendly – replace the dried fruit with chocolate chips
Storage
The buns are best eaten on the day you bake them, but if you store them in an airtight container, they will still be great toasted for up to 5 days.
These vegan hot cross buns freeze beautifully. Once cool, place in a Ziplock bag and freeze for up to 3 months. Remove them as you need, defrost at room temperature and then toast!
Top tip
Leftover hot cross buns? Try making a bread pudding using leftovers!
Related
Looking for other vegan Easter or baking recipes like this? Try these:
Vegan Hot Cross Buns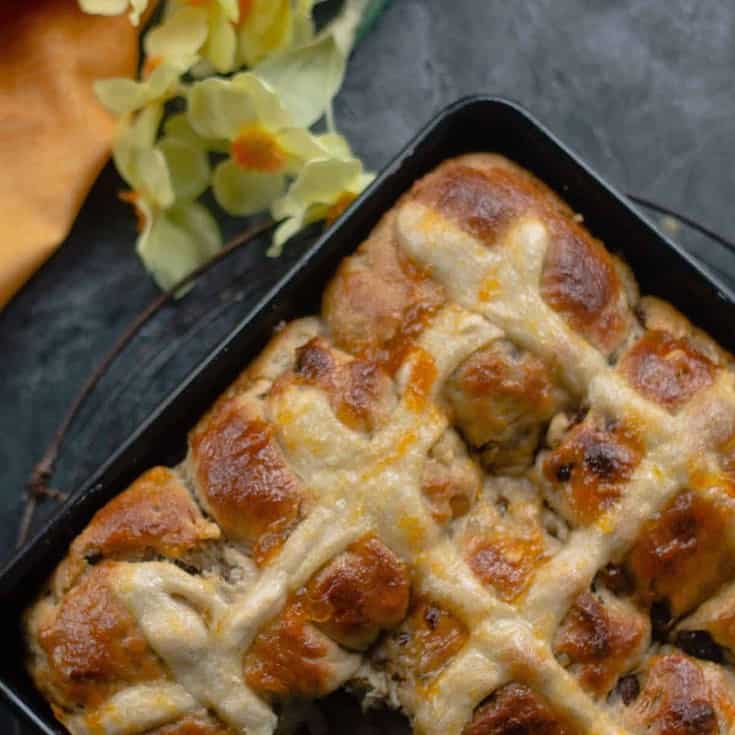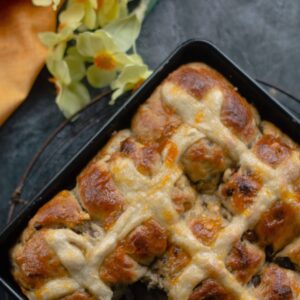 How to make the Easter classic, veganised, all year round!
Equipment
1 Baking tin 9"

lightly oiled
Ingredients
3

cups

Plain flour

or use strong bread flour

½

cup

sugar

3

tsp

Instant yeast

2

tsp

mixed spice

½

tsp

cinnamon

½

tsp

salt

1

Lemon

zest only

1

cup

raisins

¼

cup

peel

chopped (optional)

1

tsp

vanilla extract

½

tsp

apple cider vinegar

½

cup

Soy milk

warm

1¼

cups

Plain yogurt

vegan

110

grams

Butter

vegan, very soft
For the cross (optional)
⅓

cup

White flour

5

tbsp

Water
Glaze
3

tbsp

Apricot Jam

warmed, to glaze
Instructions
Place the raisins and mixed peel in a small bowl, and cover with a little water. This will soften them and help them to be incorporated easily into the dough when kneading.

Add the yeast to the warm milk and leave to activate for about 5-10 minutes

In a jug, whisk together the yogurt, vanilla extract and apple cider vinegar.

In a large bowl, mix together the flour, lemon zest, sugar, spices and salt with the activated yeast.

Pour in the whisked yogurt mixture, and, using wooden spoon or electric mixer, start beating in the softened vegan butter, dropping it in by tablespoonsful.

Leave the dough to rest for 10 minutes.

Drain the raisins and mixed peel, then knead into the dough until fully mixed, continuing to knead for 5 minutes or until the dough is soft and smooth. You may need to add a little more flour if the dough still seems sticky.

Place mixture in a lightly oiled bowl, cover and leave to rise for 2 hours or until doubled in size.

Knock down the dough and divide into 9 equal sized balls. I weigh the total dough first, then divide by 9 to work out how much they each should weigh.

Place the balls, very closely together on your lightly oiled baking tray, cover and leave to rise for another 30 minutes.

If you want to make the cross, whisk together the 75g flour with the water until you get a thick, smooth paste. Pour into a piping bag and pipe a cross on each bun.

Bake for about 30 minutes until golden brown.

Once baked, remove from the oven and brush immediately with the warm apricot jam to glaze, return to the oven for 2 more minutes to set the glaze.
Nutrition Facts
Vegan Hot Cross Buns
Amount per Serving
% Daily Value*
* Percent Daily Values are based on a 2000 calorie diet.