Vegan Tomato, Cream Cheese and Onion Marmalade Tart – Perfect for Father's Day
A simple and quick savoury vegan tart you can rustle up for a family supper or a romantic meal for two. Use your favourite brand of plant-based soft cheese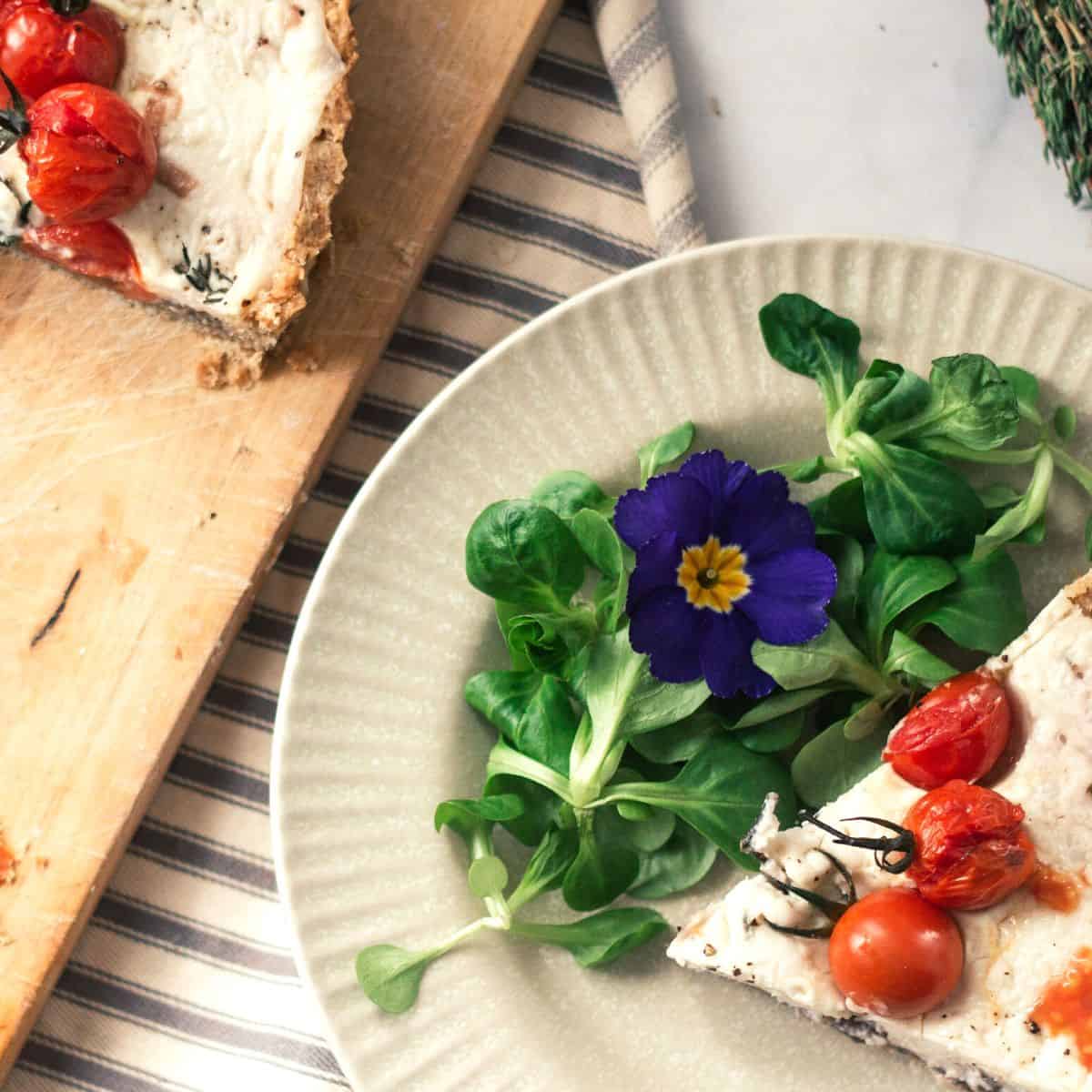 I originally made this as a simple vegan Valentine's day meal idea, in lieu of making a romantic pudding. As usual, my desire for something savoury got in the way of, so I made a distinctly unpudding-like main course: cherry tomato, soft cheese and onion marmalade tart.
This was inspired by my vegan quiche, and pairs well with my delicious vegan Caprese salad!
As I recall, the original recipe, entitled Love Apple Tart (literally cannot remember where this original recipe was from), had a slightly more Mediterranean feel than my taste buds were dictating, using anchovies, yuk, but I wanted something more bolstering. I wanted onions and I wanted tangy cheese!
My version has a sticky onion layer (red onions cooked down until they become like a marmalade, almost), a tangy vegan cream cheese layer, topped with on the vine tomatoes, cooked until they are roasted and start to pop.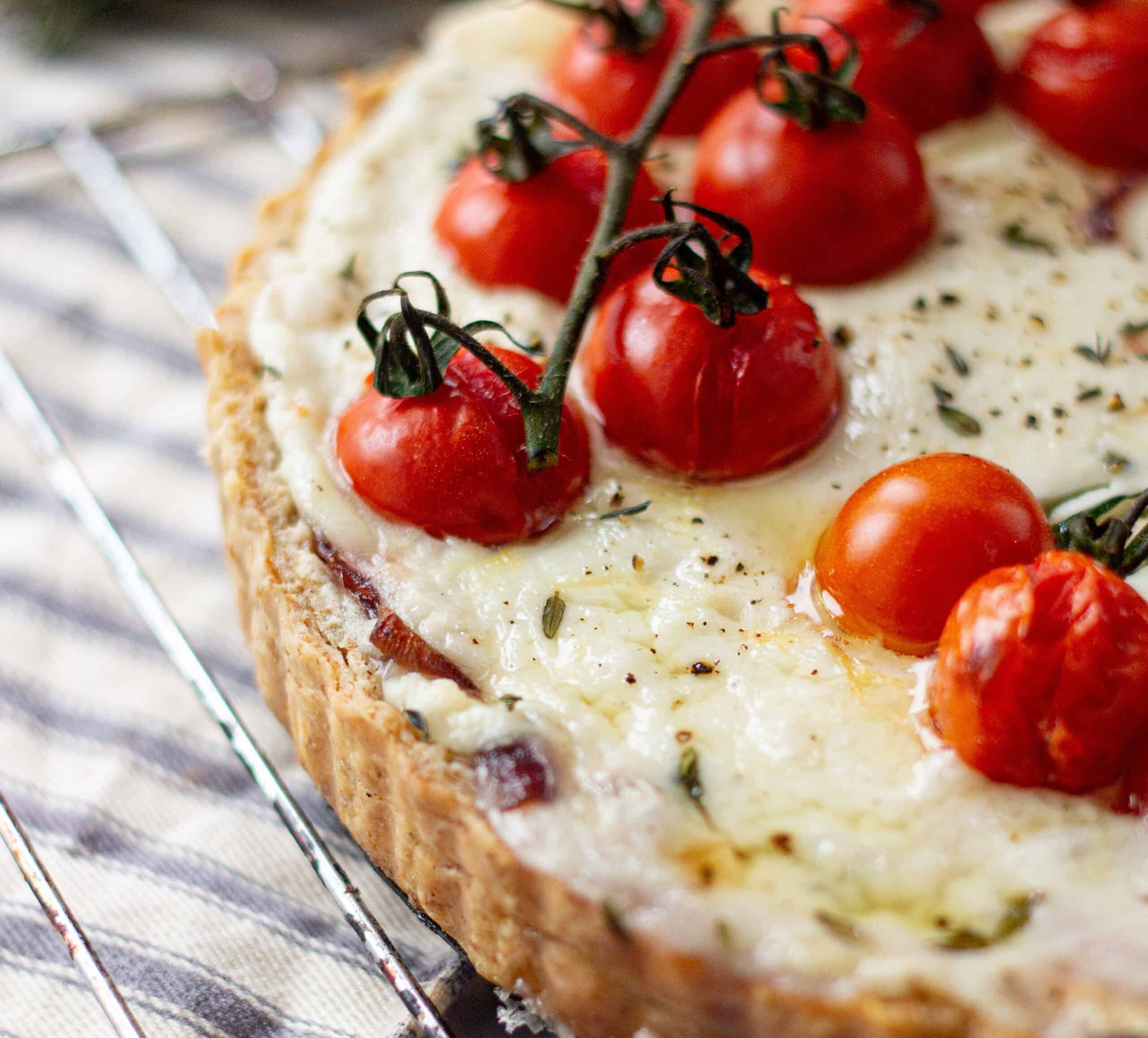 Now, all plant-based cheeses are hit and miss. Some taste great but having that "stick to you teeth" thing, others have a nice texture but no flavour! Vegan cream cheese usually has a pretty good texture but lacks flavour so I add a little bit of nutritional yeast, which seems to bring out a natural cheesy flavour where ever you add it!
And whilst I'm posting this recipe as a vegan Valentine's meal idea, it really could be served all year round, and makes a perfect family supper too!
Ingredients
vegan cream cheese. Use your favourite brand, I like Violife.
Tomatoes on the vine. You could add sliced tomatoes instead, but I like how dramatic these look on top of the tart!
onions. I used red because that was what I had, use whatever onions you have, you could also use leeks!
pastry. I use my shortcrust pastry recipe here, but in this instance I used 150g of plain white flour and 110g of wholemeal flour, to give a nutty flavour to the pastry. This is entirely optional.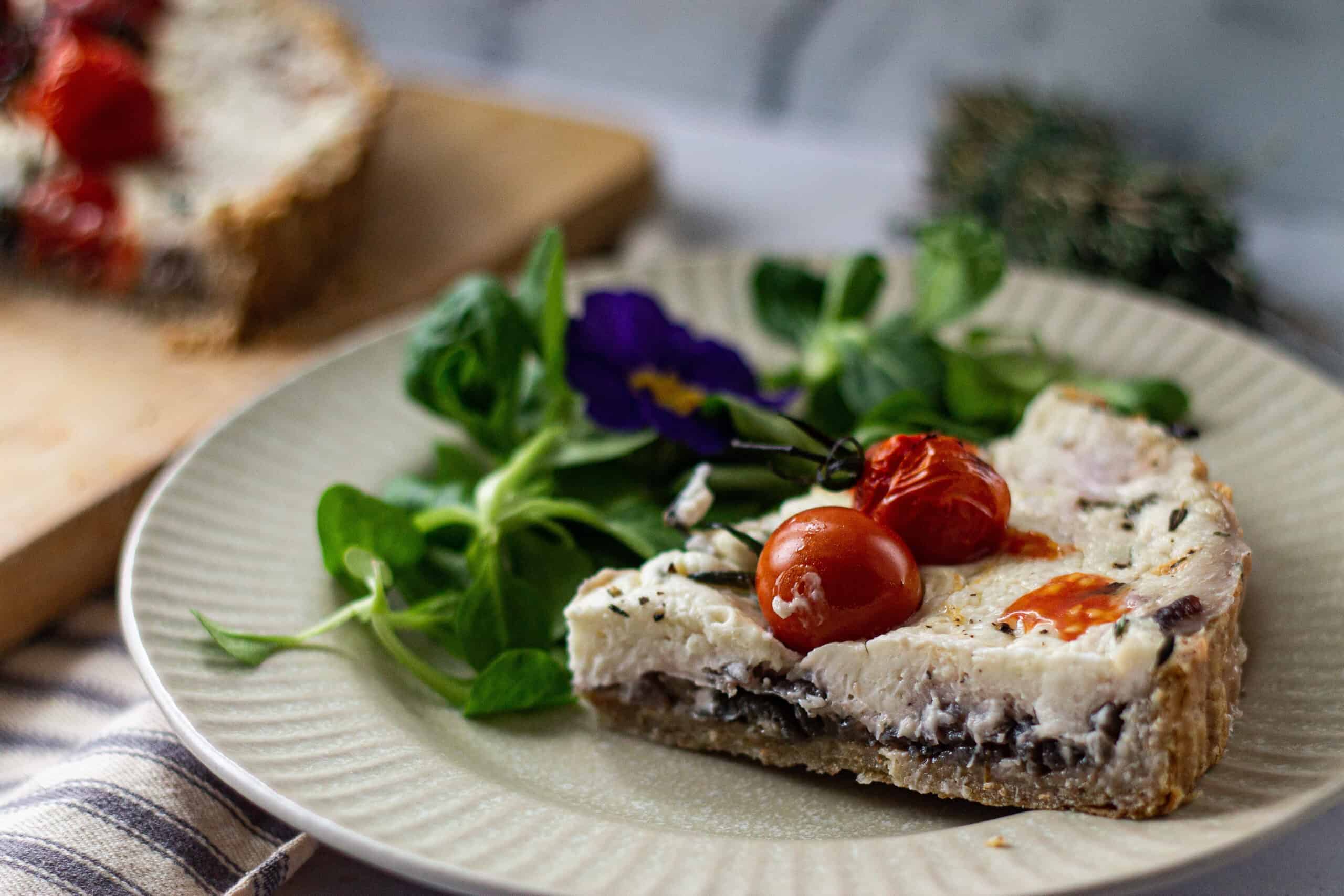 Instructions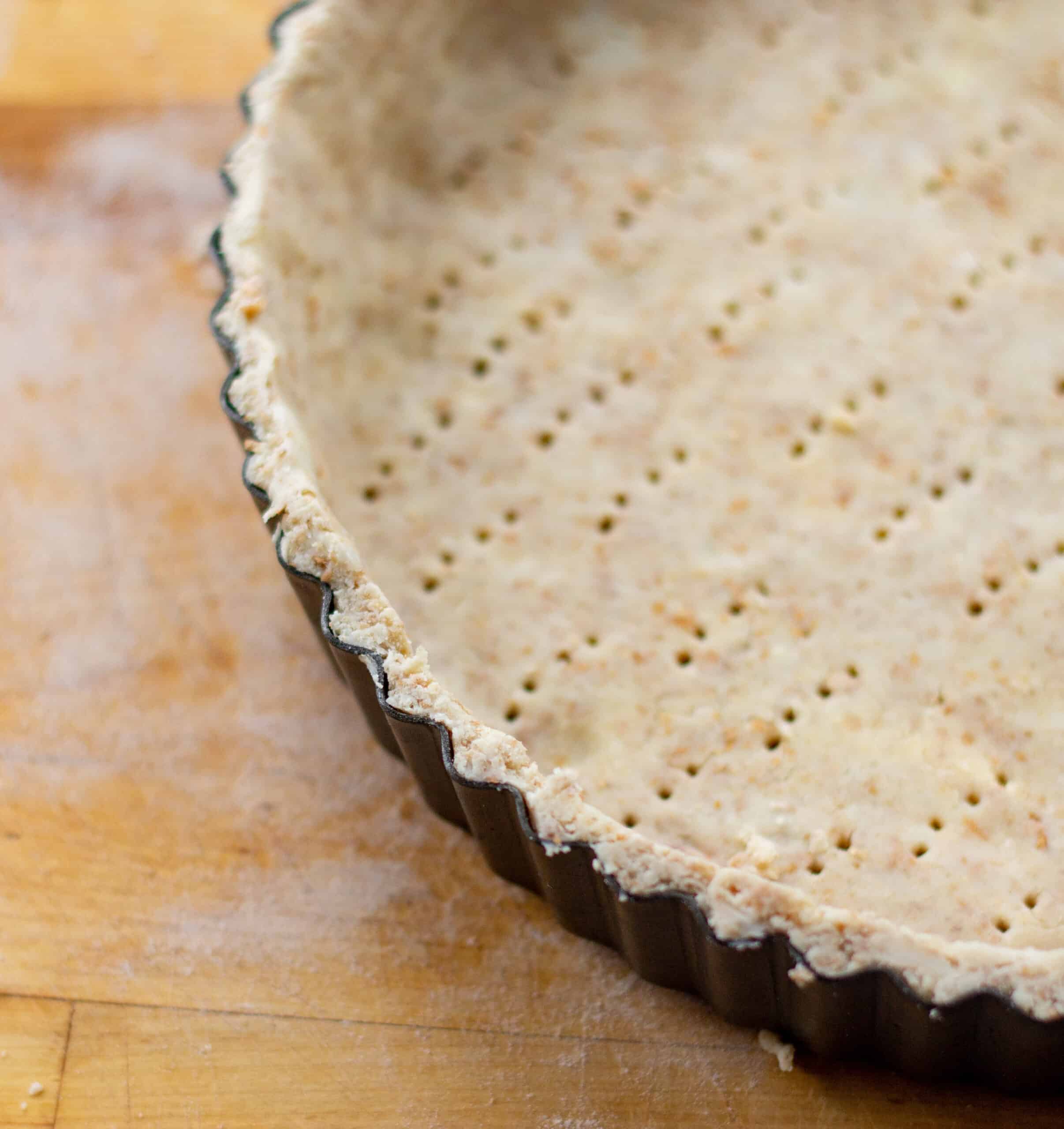 Blind bake your pastry case for 20 minutes whilst you prep the other ingredients.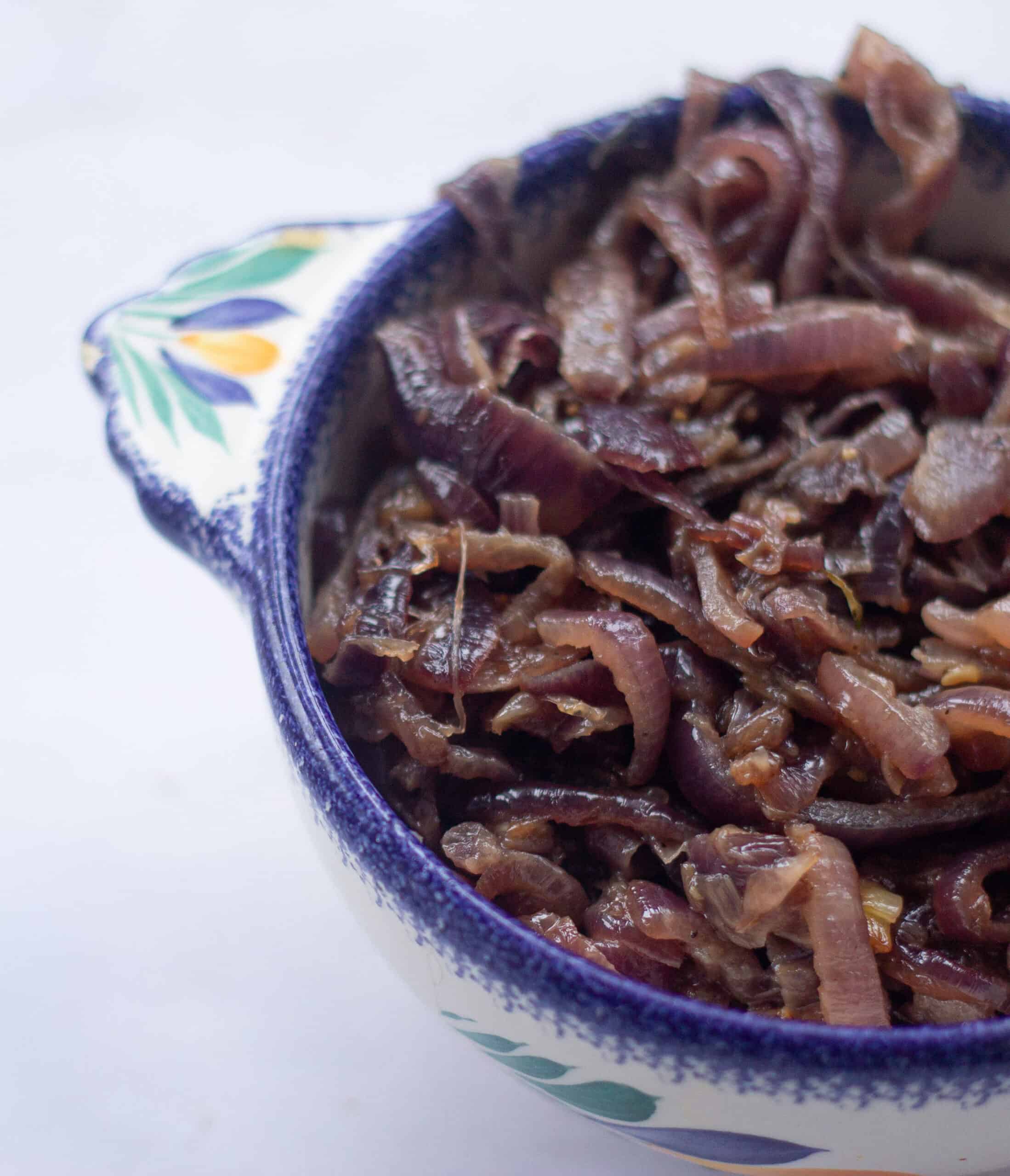 Cook down the onions and garlic with the balsamic vinegar and brown sugar.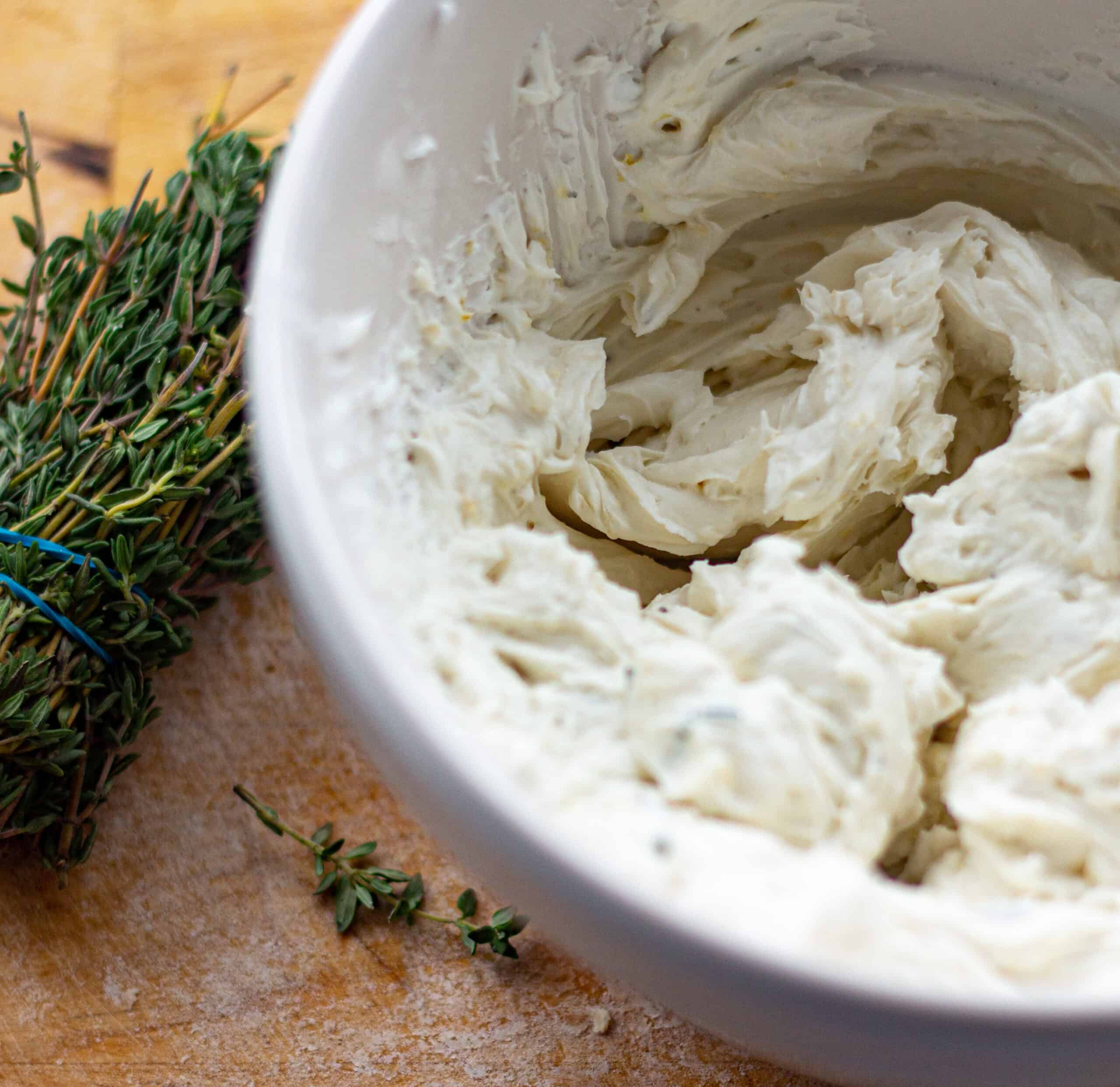 Mix together the cream cheese, nutritional yeast and thyme
Spread the onion mixture over the tart case, then top with the cream cheese
Place the tomatoes on top, still on the vine and bake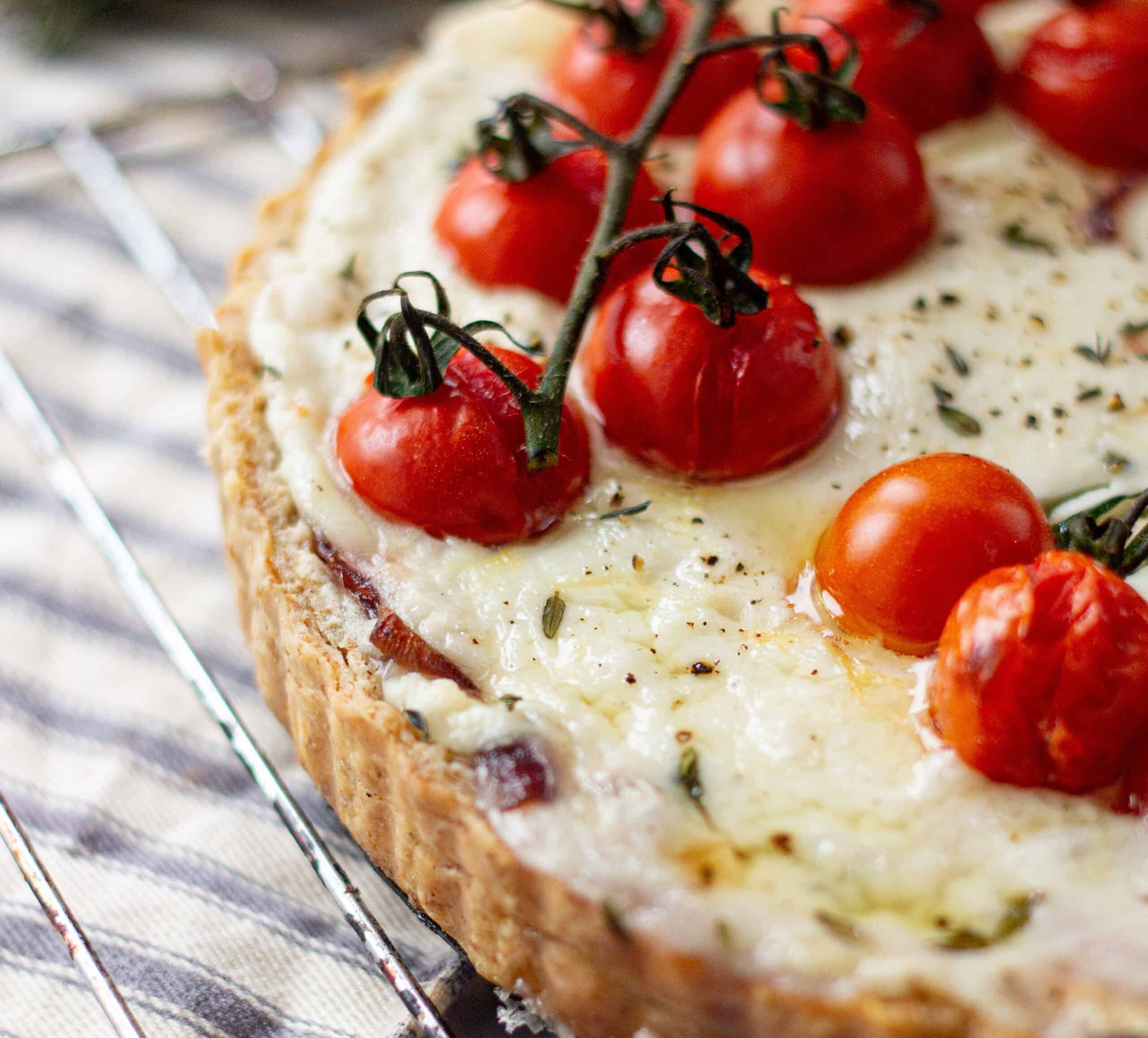 Once cooled for about 10 minutes, unmold the tart and serve!
Hint: this tart tastes even better cold, so you could make it the day before, refrigerate overnight and then bring up to room temperature before serving the next day!
Substitutions
red onions – you could use white onions or even chopped leeks instead
Pastry – use gluten free flour in the pastry to make this tart gluten free
Thyme – use some fresh basil instead of thyme, or even fresh mint or parsley!
Variations
Spicy – add chili pepper flakes to the cream cheese to make this a bit spicy, or stir in some hot sauce!
Mediterranean – try stirring in a little tapenade into the cream cheese, or adding some chopped black olives
Equipment
I used an 8″ deep pie tin for this recipe, similar to this one but you could use a quiche dish instead.
Storage
Once baked and cooled, this tart will last for up to 3 days, covered and refrigerated.
Tomato, Cream Cheese and Onion Marmalade Tart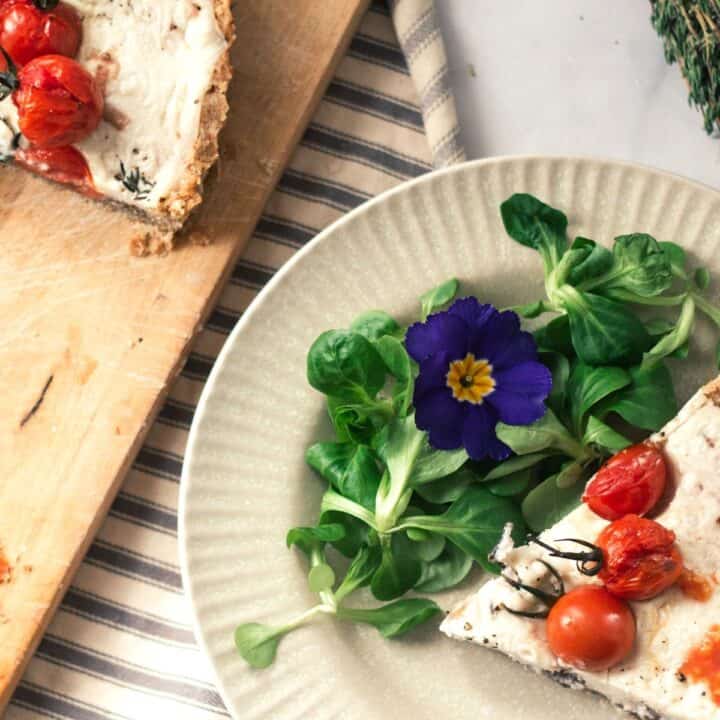 Ingredients
Shortcrust Pastry

use my recipe here

300

g

Tomatoes

choose flavourful ones on the vine

400

g

Cream cheese

vegan, can be flavoured

2

tsp

Nutritional Yeast

¼

tsp

Fresh Thyme

4

Large onions

peeled and sliced thinly

2

Garlic

cloves, peeled, finely chopped

20

g

Butter

vegan

Salt and pepper

teaspoon

Brown sugar

½

tsp

Balsamic Vinegar

1

tsp

Olive oil
Instructions
Preheat the oven to 180c.

Line your pastry tin with the pastry and blind bake for 20 minutes.

Meanwhile, melt the butter in a frying pan and add the onions, some salt, lots of pepper, balsamic vinegar and the sugar. Let them sweat down over a low heat for half an hour or until collapsed, golden and a bit like marmalade. Leave to cool.

Whilst the onions are sweating down, place the cream cheese, thyme, nutritional yeast and ¼ teaspoon salt in a bowl and mix until you have a spreadable mixture. Taste for seasoning and adjust as necessary.

Spread the cooled onion mixture over the pastry case then gently spread the cream cheese over the top of this then top with the tomatoes, still on the vine. Grind over some more black pepper, a pinch of salt and a little olive oil.

Turn the oven up to 200c.

Bake for 30 minutes or until the tomatoes start to pop but not collapse.

Leave to cool for about 10 minutes before unmoulding.
Nutrition Facts
Tomato, Cream Cheese and Onion Marmalade Tart
Amount per Serving
% Daily Value*
* Percent Daily Values are based on a 2000 calorie diet.