How to make a simple vegan Caprese Salad. Some of the simplest things are just the nicest, and if you're using the best quality ingredients, they will taste delicious and stay on your repertoire forever.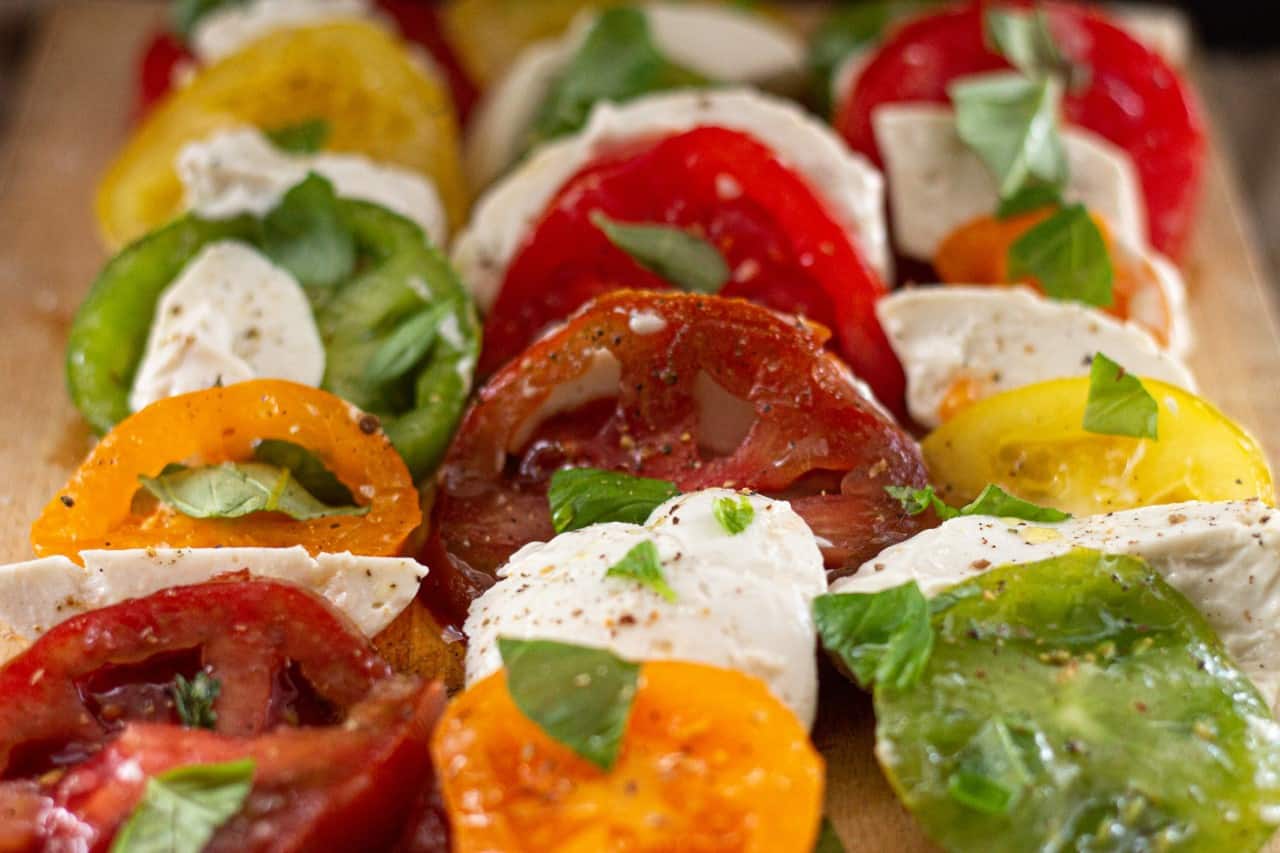 Jump to:
Even if you can't afford or find the best ingredients, there are some easy things you can do to improve the flavour.
Take the Italian classic, the Caprese Salad. It is an undeniably simple dish of sliced tomatoes layered with mozzarella, drizzled with olive oil and balsamic vinegar. But over here in the UK, tomatoes are not always the most flavourful (particularly outside of Summer). However, a simple sprinkling of sea salt and black pepper will liven up the saddest slices of tomatoes and make them sing on your tongue.
What is a Caprese Salad?
It is named after the Island of Capri, known for it's warm weather and glamourous location. According to Wikipedia though, it is not an old dish, first served in the 20th Century to film stars and the glitterati who wanted a healthy, yet delicious meal. Another tale suggests that it was made to look like the Italian flag: red tomatoes, green basil and white mozzarella. I prefer this story, true or not. It is undeniably Italian, whatever it's origin, and it is a dream of mine to enjoy a Caprese salad, not in my dingy, windy, overgrown back garden, but overlooking the Gulf of Naples, taking in the vistas of the Faraglioni at Lo Sfizio Ristorante. A girl can dream.
How Do You Make a Caprese Salad?
Ingredients
Tomatoes, the finest quality you can find, as a preference. I like to use Heritage as they so colourful, and each type tastes slightly different. However, if you can only buy normal tomatoes from the supermarket, use those. Don't use cherry or those small plum ones. They will be a faff to slice, and much of this dish is about how it looks on the place.
Mozzarella. If you are not vegan, then use a good quality Burrata or Buffalo Mozzarella, in the liquid. However, I love to use Bluffala Burrata Style from Strictly Roots Vegan. It is available here, at La Fauxmagerie. It is creamy, and flavourful, and actually much nicer than its dairy counterpart. I strongly recommend a visit to La Fauxmagerie if in London because they supply the best artisanal vegan cheeses in the UK.
Basil. Fresh of course. Although some recipes do suggest fresh Oregano instead. This is quite hard to buy in the UK, although it grows weed-like, yet fragrantly in my garden. Basil is found in all supermarkets, and you can either buy it picked or as a plant that will keep offering you up its fragrant leaves all summer long, if you treat it right with a little sun, and a little water.
Extra Virgin Olive Oil. Use the best oil you can afford. Of course, you can use rapeseed if you prefer, but you want that rich, yellowy-green colour, and richness of flavour.
Balsamic Vinegar. I tend not to use too much as I find it a little overpowering. If you can afford it, try this delicious Balsamic Vinegar from Amazon. If not, you can buy a smallish bottle from the supermarket for about £3.00 that will last ages.
Salt and Pepper. I like to use Maldon Salt, and freshly ground black pepper.
Method
It is so simple. Slice up your tomatoes into rounds. Spread out onto your serving platter. I recommend using either a large wooden chopping board, or a large plate. The tomatoes will produce a lot of liquid.
Sprinkle generously with salt and pepper, and a drizzle of olive oil. Leave at room temperature for at least half an hour.
Drain your vegan mozzarella. Tear into chunks and layer between your tomato slices. Season once more.
Tear your basil leaves and scatter across the tomatoes and mozzarella.
Finally drizzle carefully with some more olive oil and a little balsamic vinegar (in accordance with your taste buds, of course).
Leave to mingle for another 10 minutes.
Serve with a good rustic loaf, like a white sourdough or a ciabatta, and some great company.
And that is simply all you do. You can certainly prepare your tomatoes in advance, although not too far in advance if it is a hot day. Maybe an hour or two. This is supposed to be a relaxed, delicious meal, perfect for a couple, or a larger gathering.
Try my other laid-back summer recipes
📋 Recipe
PRINT
A simple but utterly delicious Italian Salad
Equipment
Large Serving Plate or Wooden Chopping Board
Ingredients
10

Tomatoes

ripe, not cherry or beefsteak

1

ball

Mozzarella

vegan (or normal, if that's your preference)

Sea Salt and fresh Black Pepper

2

tablespoon

Extra Virgin Olive Oil

5

leaves

Basil

fresh

1

teaspoon

Balsamic Vinegar
Instructions
Slice your tomatoes into rounds. Layer onto your serving dish.

Sprinkle generously with salt and pepper, and a tablespoon of Olive Oil

Leave to stand at room temperature for 30 minutes

Drain your Mozzarella, and tear into chunks. Layer in between the tomato slices.

Tear your basil leaves and strew over the tomatoes and Mozzarella

Season with salt and pepper once more

Drizzle with the remaining olive oil and balsamic vinegar.

Serve with warm toasted Ciabatta Bread
Nutrition
Nutrition Facts
Vegan Caprese Salad
Amount per Serving
% Daily Value*
* Percent Daily Values are based on a 2000 calorie diet.
Nutritional Information Disclaimer
The automated nutritional information on my recipes can often be inaccurate due to the limitations within the programming. For exact measurements, there are lots of apps and websites that can calculate this information more accurately.
Tried it and Loved it?
Mention @sweeterthanoats or tag sweeterthanoats!